Being healthy and productive starts with the basics. You need to eat right, get sufficient exercise, and take your vitamins. It's also important to get a good night's sleep. Sleep is a critical time for the body to heal and rejuvenate.
This isn't just true for your body; it's equally true for your brain. When you aren't getting enough sleep, it can be difficult to concentrate. You end up with brain fog that makes life unenjoyable, as well as making you less productive. With all of these reasons to get a good night's sleep, it's no wonder that sleep is a big industry. Mattresses alone make up a significant market.
But getting a good night's sleep requires more than just a comfortable mattress. A lot of it comes down to creating a tranquil environment and a relaxing routine. If you can set the right mood, it's easier to fall asleep – and easier to stay asleep. This can mean many things for many people.
For example, you might like to curl up with a nightcap and a good book before you turn in. One other common tool is a noisemaking machine. A noisemaking machine can be used to block out outside noise and create a peaceful bubble. The sound can also be relaxing in and of itself, which helps many people to sleep.
Dreamegg D1 Sound Machine
We're about to review the Dreamegg D1 Sound Machine. This is a compact little device that's designed to sit on your nightstand. It provides a number of soothing sound effects, and it boasts a built-in night light. It even has a timer mode, if you prefer not to leave it running all night.
Of course, we'll have to take a much closer look in order to really understand this sound machine. We'll need to look at the control scheme, and how you change your various settings. We'll have to consider the power supply, and what it's compatible with. In addition, we'll also want to go over the various sound effects and options. Let's get started, and see how the D1 performs!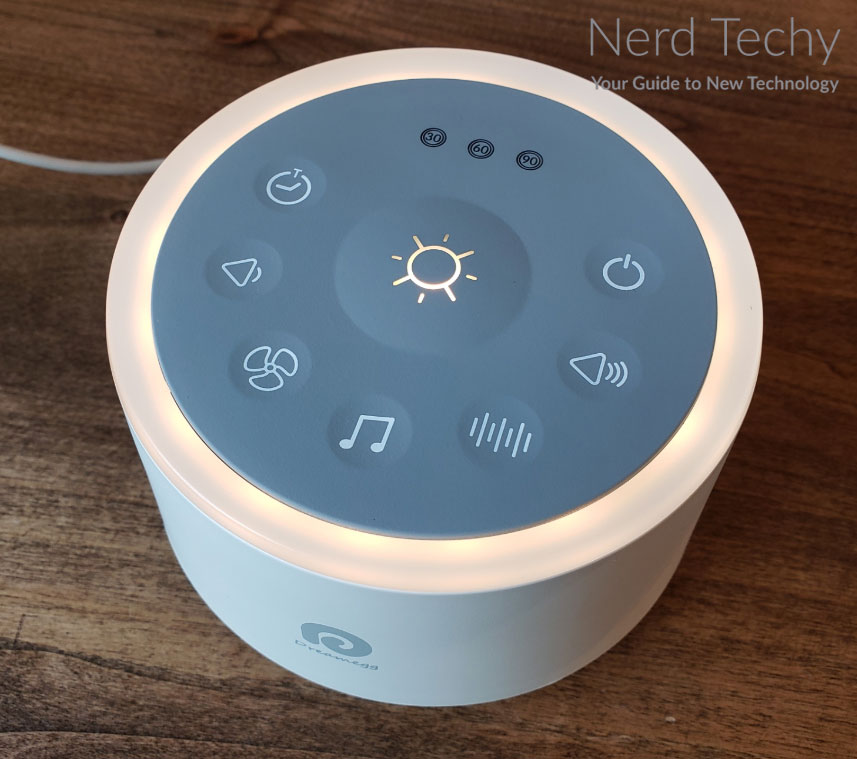 Overall Design
The Dreamegg D1 Sound Machine has a round profile, with a tapered cylindrical shape. It measures 4.1 inches in diameter in the base, and narrows somewhat towards the top. At 2.5 inches high and only 1.35 pounds, it's lightweight and easy to move around. On your nightstand, it won't take up much more space than an old-school alarm clock.
The housing is plastic, with a little black base and a matte upper housing that's easy to keep clean. This upper housing is available in white or navy blue, so you can match it to your room's color scheme.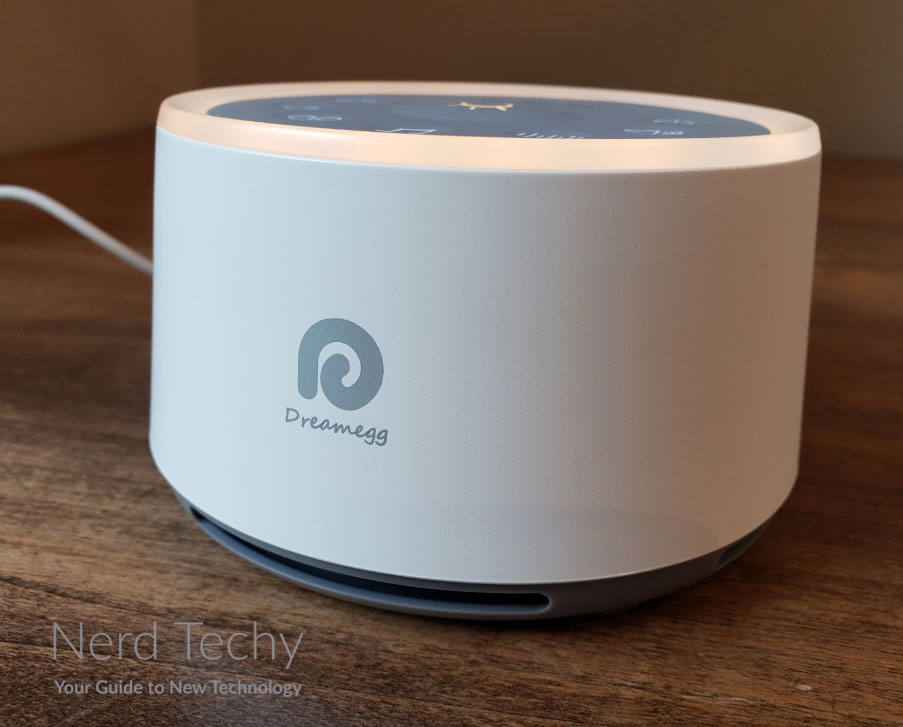 Most of the visible features are found on the top of the housing. There, the controls are arranged in a circular pattern, around the central light button. The LED light ring itself runs around the outer edge of the top, and produces a warm white light. The only feature of note on the front of the housing is a Dreamegg logo and imprint. This is grey on the white version, and white on the navy blue version.
The D1 is backed by Dreamegg's 12-month manufacturer's warranty. You don't have to worry about any manufacturing defects. If anything fails prematurely, you'll receive a refund or a free replacement.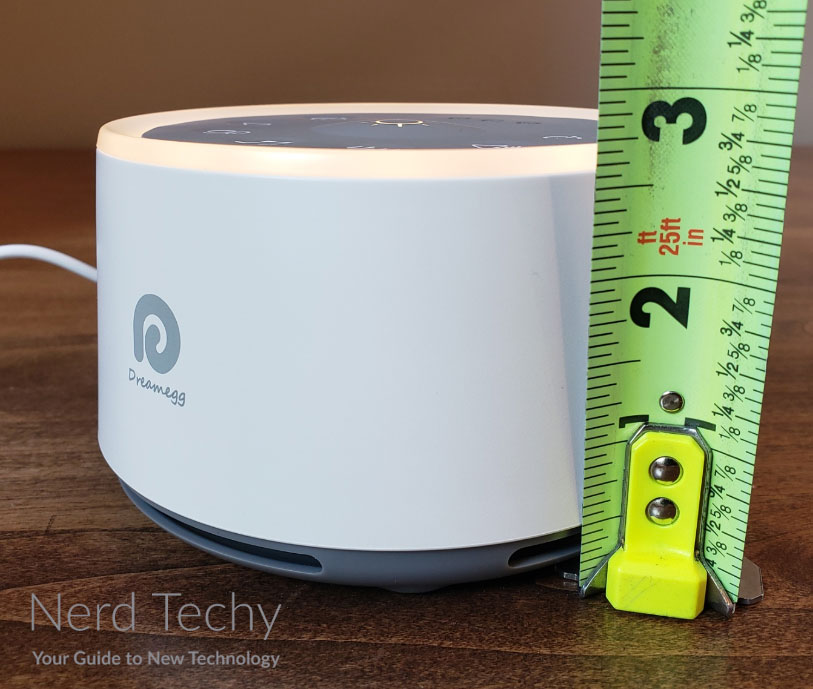 Controls
The controls consist of a set of soft buttons, with a large one in the center. This central button controls the LED light, and lights up along with it. The rest of the buttons are smaller, and are arranged in a semicircle around the light button. At the top left is the timer button. Pressing this will add time to the timer, which is indicated by a set of lights above the central button. The timer can be set for 30, 60, or 90 minutes. The power button is located at the top right, and should be self-explanatory.
Beneath the power and timer buttons are the volume up and down buttons respectively. Beneath these are three more buttons, which control the various sound modes. The first button, with the fan symbol, is used to cycle through different fan sounds. The one on the right, with the vertical lines, is used for the white noise function. The bottom center button activates the sound effect function. Pressing the same button multiple times will rotate you through different versions of that effect.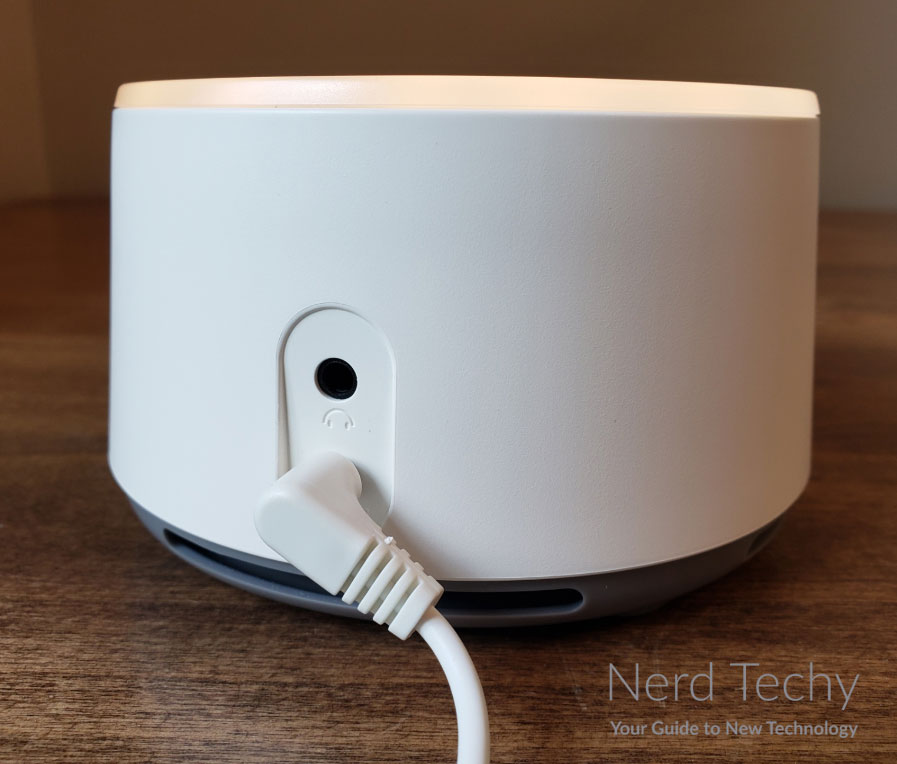 One thing we very much appreciated about the D1 is the memory function. When you turn the power off, it remembers all your previous settings. When you turn it on, it will have the same light, sound, and volume settings as where you left off. It even remembers your timer setting. So if you always want to set the timer for 60 minutes when you go to bed, all you have to do is program it once. After that, all you'll need to do is press the power button.
Sound Functions
Ultimately, a sound machine is only as useful as the sound effects and the quality of the speakers. So, what kind of performance are we talking about? To begin with, the speaker itself seems to be well-engineered. The audio is clean and clear, without any fuzz or artifacts. The volume can be either very quiet or surprisingly loud. You can use it for subtle background noise, or crank it up to drown out noisy neighbors.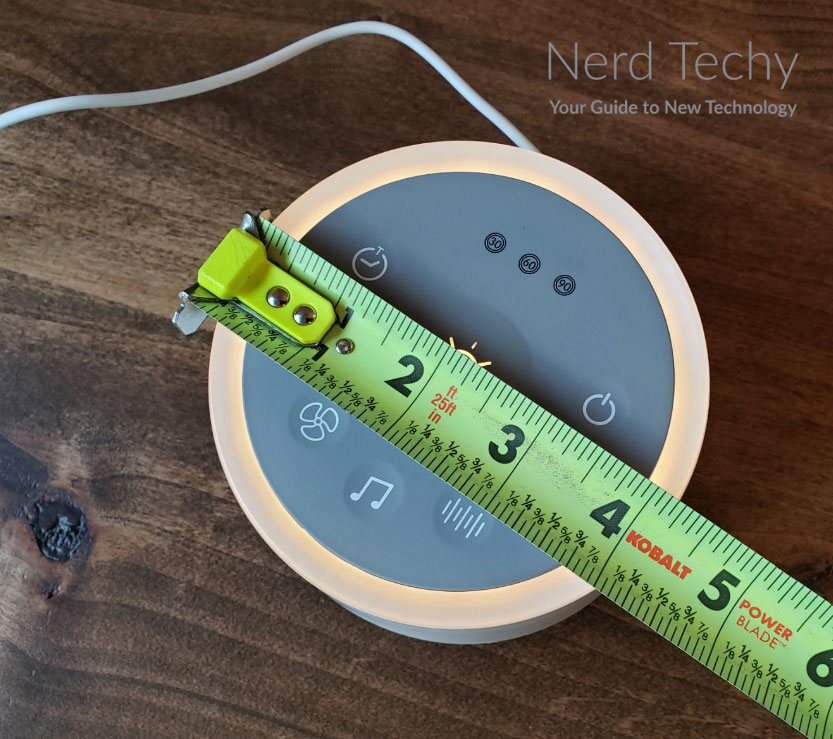 The white noise and fan modes both have seven different options. The white noise options will give you slightly different types of noise, from a deeper rumble to a softer hiss. The fan sounds, similarly, are different types of fans. Some have more buzz than others, and it's a matter of what sounds best to you.
When it comes to the sound effects, you have 10 different options. These are: birdsong, waves, a brook, a thunderstorm, rain, crickets, a fetal heartbeat, and three relaxing music settings. Some are a bit odd – for example, there's a dog barking in the cricket soundtrack. But all in all, you get a nice array of sounds. No matter what your preferences, at least one of these sound effects will be soothing for you.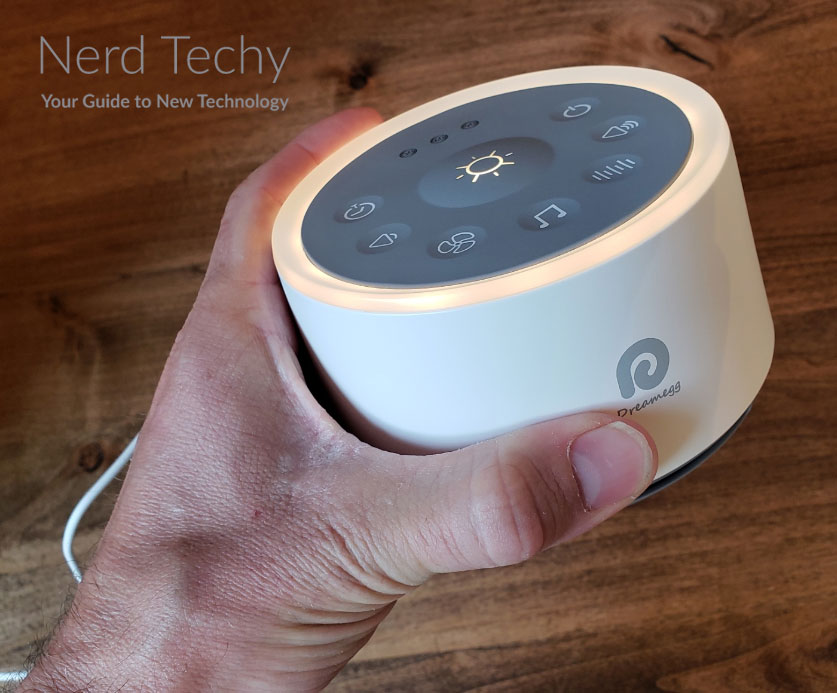 Lighting and Extras
The night light mode works in two different modes. First, it can be a simple, steady light. But if you press the button again, it will go into a breathing mode. The breathing is smooth and slow, so it creates a soothing effect. Alternatively, you can simply turn the light off, and only use the audio function.
One thing that disappointed us was that the light isn't dimmable. You either have it on, or it's turned off, and for a night light, it's fairly bright. However, the breathing function shows that the LED diodes themselves can be dimmed. There's just no way to control it manually. If you want a dimmer night light, you may want to look elsewhere.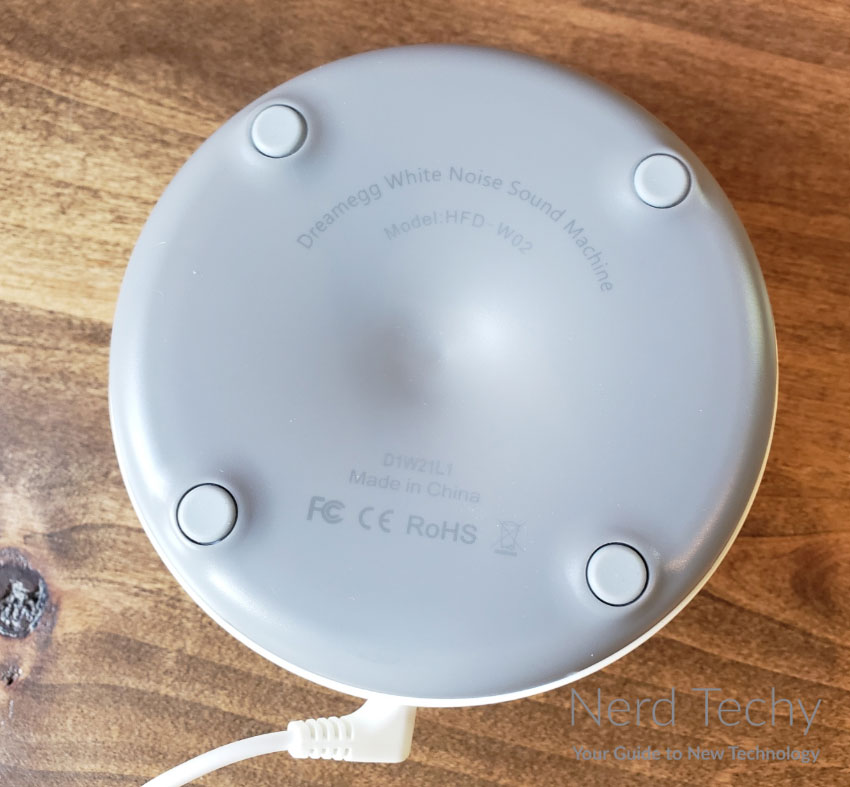 On the plus side, you don't have to worry about your noisemaker running all night long and wasting power. The timer function can be used to shut it off automatically after 30, 60, or 90 minutes. If you want the same consistent noise all night, you can just leave the timer off. This gives you plenty of flexibility, which is always a plus.
If you're looking for a light that's designed as a sleep aid, take a look at the Dodow Sleep Aid Device. It's a small, ring-shaped night light that sits on your counter. The breathing pattern starts out timed to match normal human breathing. But over the course of several minutes, the pattern slows down. This is designed to subconsciously slow your breathing, and help you fall asleep.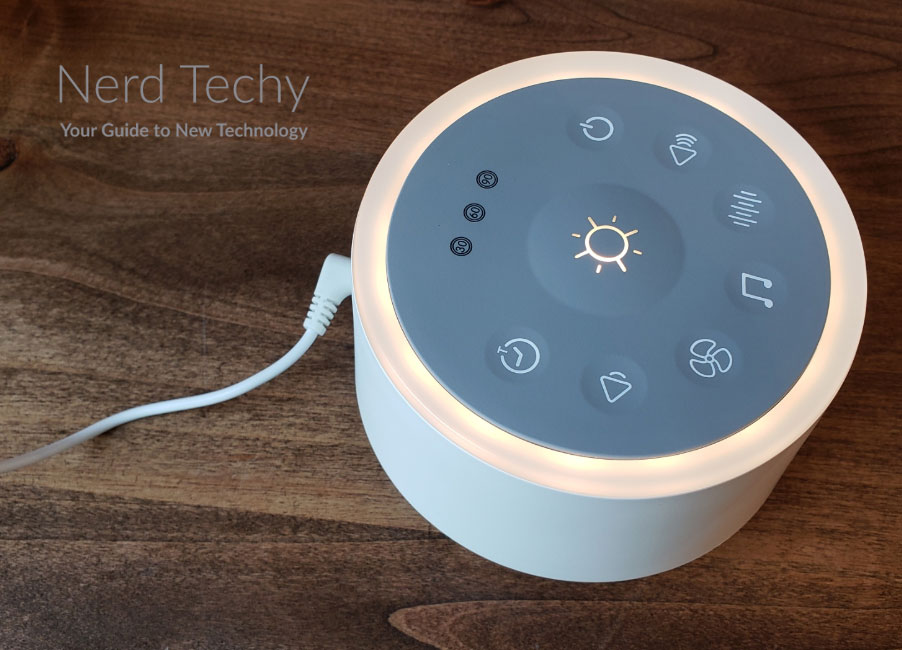 Power and Connectivity
The Dreamegg D1 receives power via a USB-to-DC power cord. This cord connects to a little round port on the back of the housing. On the USB end, it plugs into an AC power adapter block, which is included with the kit. It can also get power from a laptop, or even from a portable power bank. This gives you the ability to stay powered under almost any circumstances. And since there's no internal battery, you don't have to worry about keeping anything charged.
Unfortunately, the power cable is non-standard. This isn't a big deal as long as you're able to hang onto it. But if it gets damaged or lost, you'll have to order a replacement from Dreamegg. You can't just pick up a standard cable at the store.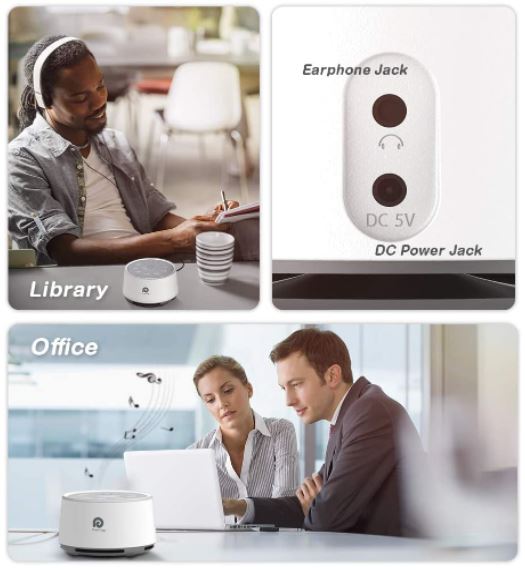 Another potential issue is that the circuitry has a built-in over-voltage protection. This could be a good thing, but it shuts off if you're getting more than 5.5 volts. For a standard 5V/1A or 5V/2.4A charger, this won't be a problem. But if you're using a fast charger, it won't work correctly, and the D1 will shut down.
Just above the DC power port, there's a little 3.5mm aux port. This can be used to connect a pair of headphones, or even a set of external speakers. The result is a more immersive experience, where you're totally surrounded by sound.
Then again, there are many ways to get an immersive relaxation experience. One great choice is a pair of eye mask headphones. These combine sound with a calming eye mask that shuts out distracting lights and shadows. You can even plug a pair into the D1 Sound Machine using an aux cable.
Final Verdict
All in all, the Dreamegg D1 Sound Machine is a well-engineered little device. It's compact and lightweight, so it's the perfect size for your nightstand. The controls are simple and straightforward, and the memory function makes operation as easy as falling off a bike.
While the LED is a bit bright, it works as advertised, and the warm white light is conducive to sleeping. The sound functions are varied enough that you're almost guaranteed to find something you enjoy. And with a 3.5mm aux port, you can switch up the D1's speaker for headphones or an external speaker.