For light sleepers, isolation can be essential to getting a good night's sleep. This is particularly true if you live in an urban environment, where traffic and construction sounds run late into the night and start well before dawn. Wearing a pair of headphones or earbuds is a great way to block this noise out, but headphones and earbuds can fall off easily during the night while you're tossing and turning in your sleep.
Eye-mask headphones solve this problem in one of the most ingenious ways we've seen. By combining headphones with an eye-mask, not only can they block out extraneous noise, they also block out light. And the headphones stay in place much better than a traditional top of the head pair of headphones. Basically, they're one of the most powerful tools in a light sleeper's toolkit. Here, we'll be looking at three of the highest quality eye-mask headphones on the market. Let's dig in!
Features to Look For
When we were making our selections, there were a few specific features we wanted to find, and they're things you'll also need to consider when you're making your choice. To begin with, we focused exclusively on Bluetooth headphones. Some eye-mask headphones use an aux cord. While this means you don't have to worry about batteries, there are just so many downsides to having an aux cable running through your bed that it's not worth it. Besides, as long as you have enough battery life to sleep, do you really need any more?
Another useful feature is noise cancelling. On more affordable models, this will generally just be passive noise cancelling, which means they fit tightly to your ear, but there are also models available with active noise cancelling. In addition, some eye-mask headphones can produce white noise or other soothing sound effects, so you aren't necessarily limited to soft music. Of course, with most eye-mask headphones, you'll also have the option to listen to music loudly to drown out noise. That's generally not a good idea, since you can seriously damage your hearing if you do this often.
Weight and feel are also essential considerations, because they're going to affect your comfort. For weight, under half a pound is where you'll want to be. On the other hand, the feel is more a matter of preference. For example, you may prefer a fuzzy cloth or a smooth cloth, or you may prefer a tighter or looser fit. Speaking of fit, it doesn't hurt to find an adjustable pair of headphones, since it's doubtful that any set is going to fit perfectly right out of the box. You should also take into consideration how dark the eye mask itself is. If you've ever worn a partially sheer blindfold, you know that cheap fabric doesn't keep the light out, and you want your eye mask to be as dark as possible.
Finally, see if the manufacturer offers a warranty. In and of itself, a warranty is no guarantee of quality. However, it tells you two things: first, the manufacturer is willing to stand behind their product, so at least they think it's well-made. Secondly, if something does go wrong, you know you're going to be taken care of.
Sleep Headphone Alternatives
Of course, there are other ways to block out extraneous noise while you're sleeping. We've already talked about ordinary earbuds, since they won't always stay in reliably. If you still want to go this route, at least use a pair that's difficult to lose. The Mpow Flame 2 is a solid choice here, due to its better than average retention. The earbuds are also linked by a short cable, so if they do fall out, they'll be easier to find.
Another option would be simply to use cheap foam ear plugs. These won't play music or white noise, but they'll block out other noises just fine. Best of all, they're very affordable. You can buy huge packages of them at a discount store, and throw them out after use so they won't get dirty and gross.
Finally, you could purchase a white noise machine. These machines sit on your bedside table, and play white noise to help block out sounds. They can be very effective, although obviously they're not going to block out very loud noises, since they don't cover your ears. That said, many of them can also play various sound effects, such as babbling brooks, chirping crickets, and ASMR sounds.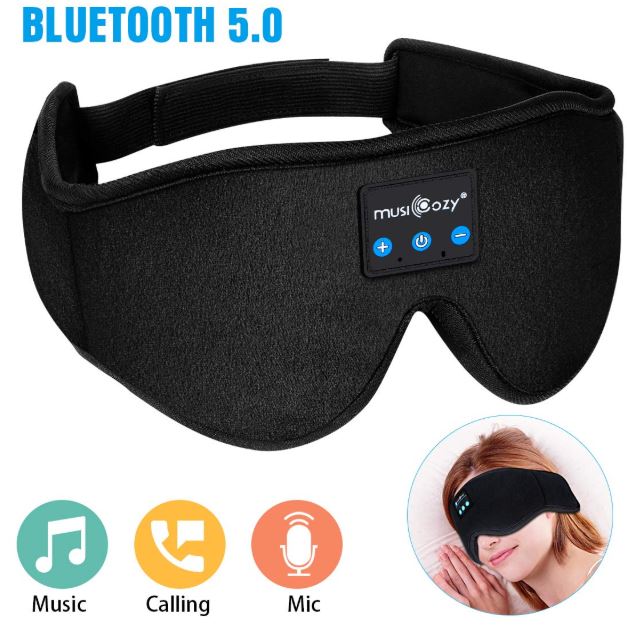 MUSICOZY Sleep Headphones
MUSICOZY Sleep Headphones are bold, black, and beautiful, with a fuzzy outer cotton layer that features a blue rubber control panel in the center. The padding is constructed from memory foam, with a smooth, cool-breathing cotton-polyester inner lining. It weighs less than 4 ounces, so it's very light on your face, and doesn't put a lot of pressure on your eyes. The strap on the back is adjustable, with a simple hook and loop closure and enough padding for comfort. The front control panel features a power button as well as volume buttons, all of which has a soft touch. Inside the back of the mask, an unobtrusive slit allows for access to the USB charging port.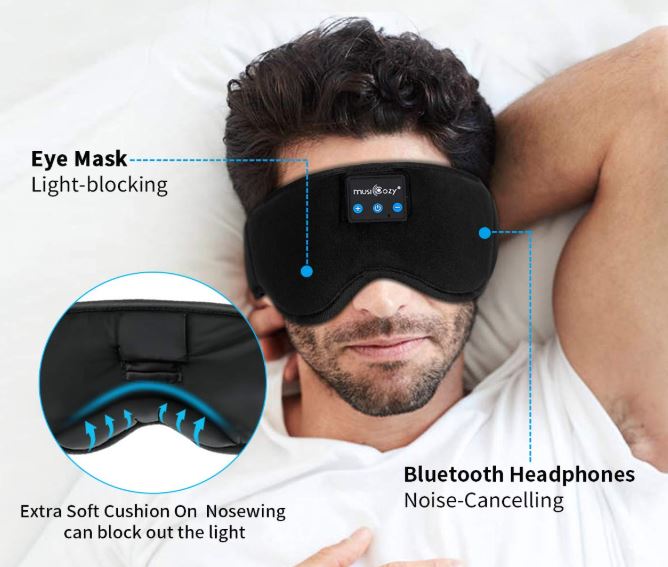 Because the sleep mask is so wide, it will cover even very large faces. It won't slide down over your nose or dig into your skin, either; a padded nose bridge ensures your comfort and a reliable fit. This thickness, as well as the memory foam padding, makes the MUSICOZY very dark. Provided it's positioned correctly, light won't get through it or around it.
The Bluetooth 5.0 connection is secure and stable, with minimal lag, although that's not a major concern with eye-mask headphones. While the MUSICOZY is capable of hands-free calling, we're not sure why you'd ever want to use this feature, unless you're an on-call surgeon or someone else who needs to be reachable 24/7.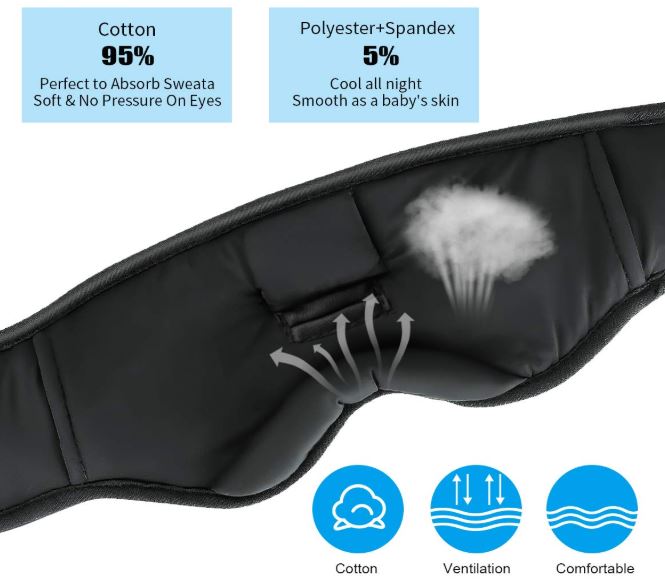 Overall sound quality is good, considering the extra small, slim drivers. These headphones, like most sleep headphones, are designed to emphasize mids, which improves vocal clarity in audiobooks, as well as a solid, all-around balance for listening to a variety of genres. Bass is on the weak side, but that's not a serious complaint, since you're probably not buying a set of eye-mask headphones to rock out to driving drums or intense synths. The active noise cancelling is reasonably effective, although these are inexpensive headphones, so there's always room for improvement.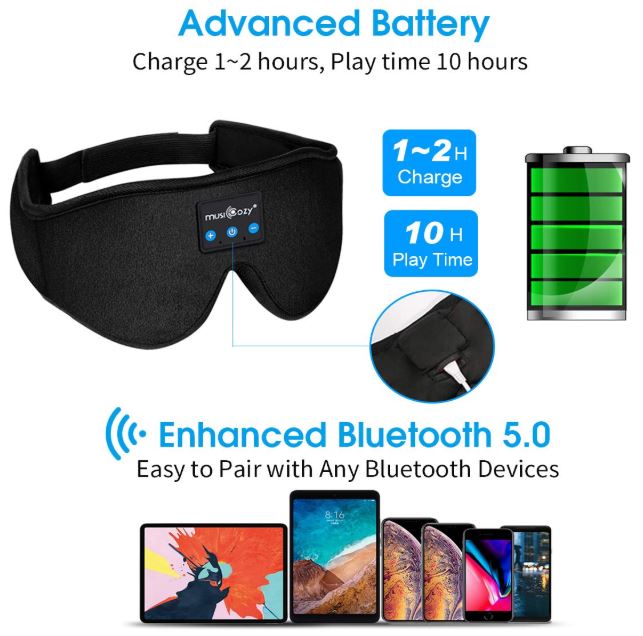 The battery is rated for 8 to 10 hours of use, which is about standard for a set of Bluetooth headphones. Your exact performance is going to depend on exactly what you're listening to and what your volume level is, but even 8 hours should be enough to get most folks through the night. Recharging takes only about 2 hours, so you can even use the MUSICOZY headphones again for a noontime nap, meditation, or an airplane ride. The warranty on this eye-mask headphone combo is 2-tiered: for the first year, you get a no questions asked money back guarantee. For the next year, you get a warranty on parts and manufacturing.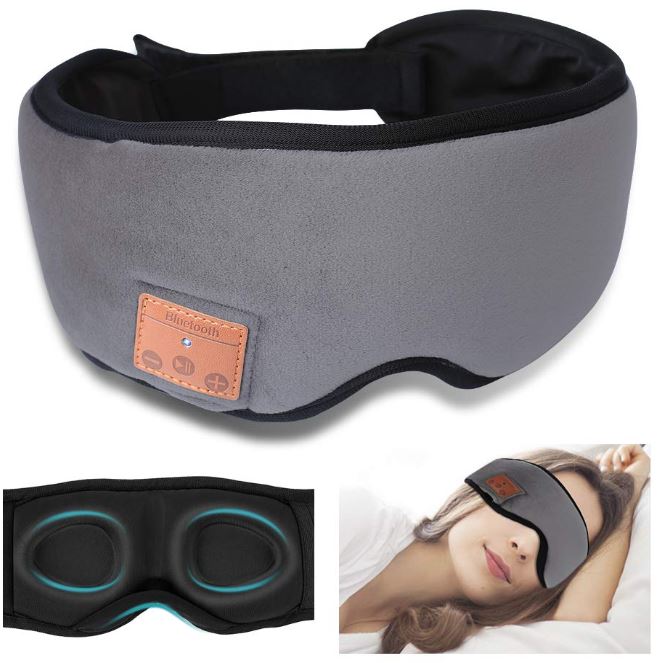 MOITA Bluetooth Sleeping Eye Mask
The MOITA Bluetooth Sleeping Eye Mask has a breathable, 5-layer construction that offers a winning combination of comfort, durability, and light-blocking power. The outer layer is a fuzzy polyester, with a similar texture to fleece. Underneath, there's a thin layer of standard foam, with a second layer of polyester separating the standard foam from an inner layer of memory foam. The inner membrane is a cotton/polyester blend, which is smooth, breathable, and won't make you sweat. The mask is available with a grey or a black finish, with a brown rubber control pad at the bottom of your right eye.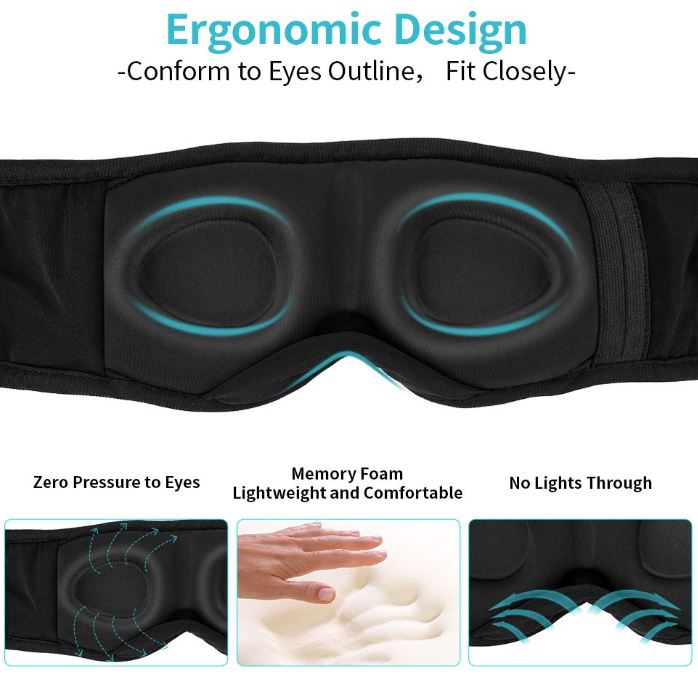 The inside of the MOITA's mask features a pair of heavily padded 3D rings that are designed to keep the mask from pressing against your eyes, instead ensuring that the mask's weight rests primarily against your eye sockets and on the bridge of your nose. The rings are quite wide, extending all the way to your temples depending on the size of your face, so the MOITA's bantamweight 5-ounce weight will be well-distributed. This thick padding does an excellent job of keeping out light, as does the inner polyester divider.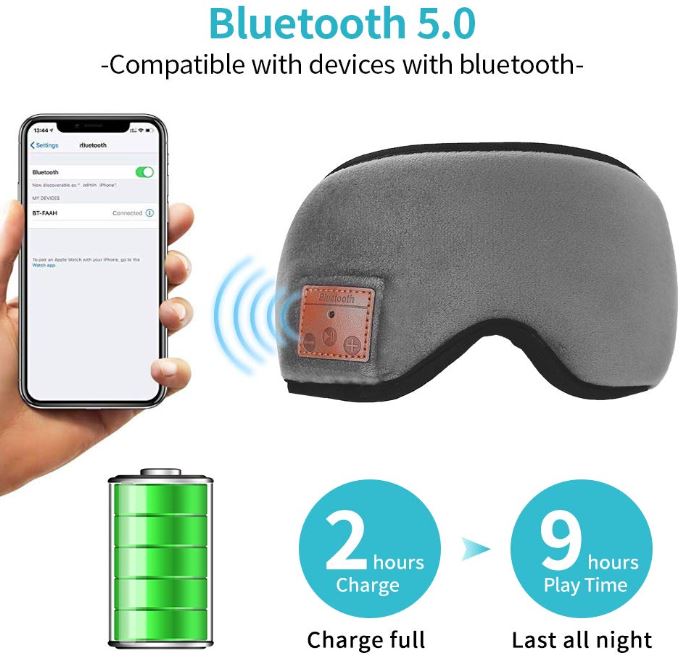 The access slot for the USB charger is located at the bottom of the control pad, just beneath your right eye. There's also a larger access slot on the inside, so you can remove the Bluetooth module and speakers for cleaning. This is a useful feature, but you may need a soft, firm object, like a plastic pusher, to reinsert the speakers. Still, this significantly extends the MOITA's useful life. You do get a 1-year warranty, so if anything goes seriously wrong, you can always get a replacement.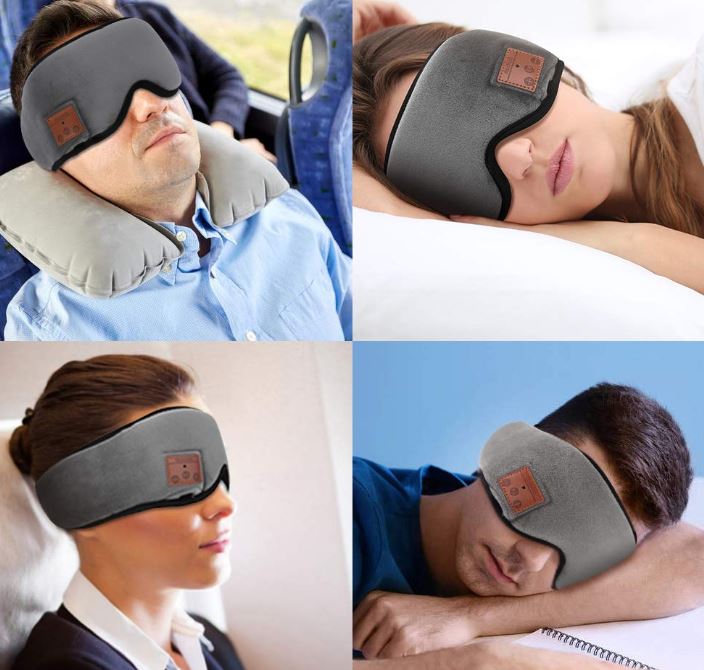 The MOITA connects easily to any device that's compatible with Bluetooth 5.0, allowing for minimal lag and higher bitrate audio than the 4.2 protocol. How important this is will depend on how much you're actually going to be listening, as opposed to actually sleeping. You can also use the iSkey for hands-free calling, including voice commands. We suppose this would be useful in a pinch, and it's easy enough to do, but we're not sure why you would ever need or want this feature.
The battery in these headphones recharges in about 2 hours, and can get up to 10 hours of use out of a charge. As always, your exact performance will depend on how you're using the headphones, but in general you'll have more than enough power to get through a night's sleep. The speakers are decent for the size, with good mids and no serious complaints. The bass is middling, which is just fine, but there's no active noise cancelling. They advertise noise cancelling, but it's just passive noise cancelling from the fabric covering your ears.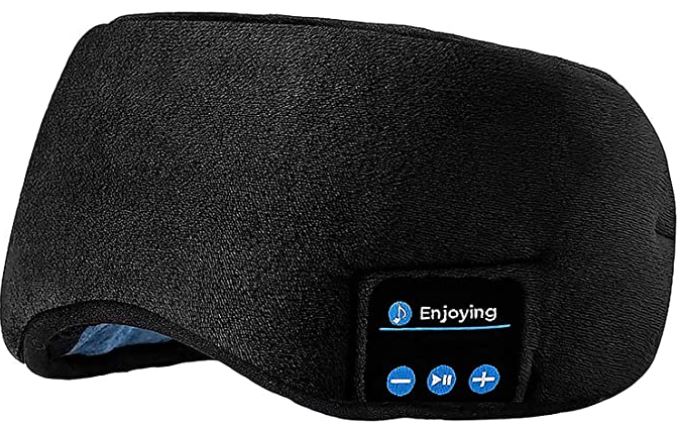 Joseche Sleep Headphones
Joseche Sleep Headphones are a bit different than the last two we've looked at. While it has the same overall shape, with a black fleece outer layer, the inner layer has a little bit more texture to it. If you prefer a textured fabric instead of a smooth fabric, you'll appreciate the finish on these. This more organic approach extends to the padding, which consists of thick, soft fabric piling, rather than memory foam. The control pad is located at the bottom of the left eye, and has a fun blue design that pops on the otherwise plain black fabric surface.
The fabric does an excellent job of blocking out light, so you can sleep in total darkness and not have to worry about the sun waking you up at zero dark thirty. However, you should be aware that the control pad has a bright blue LED that flashes every few seconds when the Bluetooth is connected. If you share your bed with a partner, they might not appreciate this feature.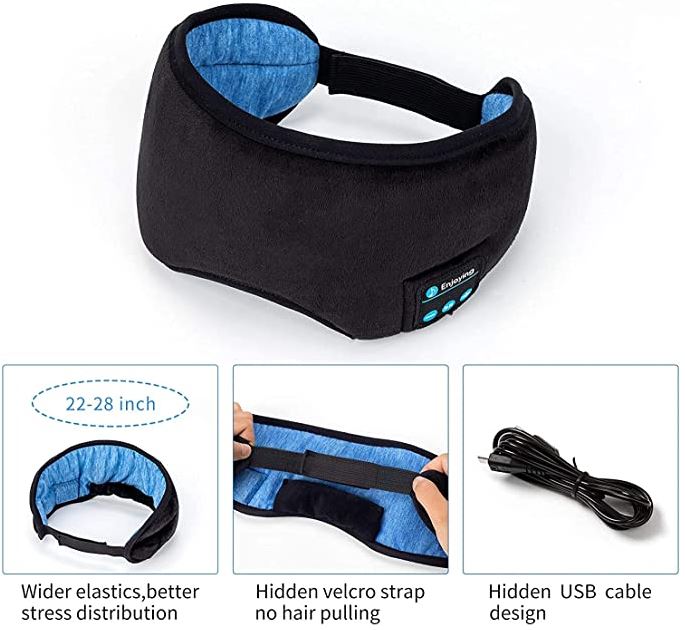 The Joseche headphones have an adjustable velcro back strap, which can be opened or closed to comfortably fit a variety of head sizes. Even children can use these headphones, so they're an option for the whole family. The Bluetooth module and speaker drivers can also be removed, so you can wash the mask as needed.
The Joseche headphones connect to your phone, tablet, or MP3 player using the current industry standard Bluetooth 5.0 protocol, which is faster and allows for deeper bit depth than older protocols. It has a range of about 33 feet, which is more than enough to leave your phone on the charger across the room and still get a clear signal. The lithium battery is good for up to 10 hours of use, assuming low bitrates and moderate volumes. It recharges in about 90 minutes, so you can quickly turn your headphones around and use them again.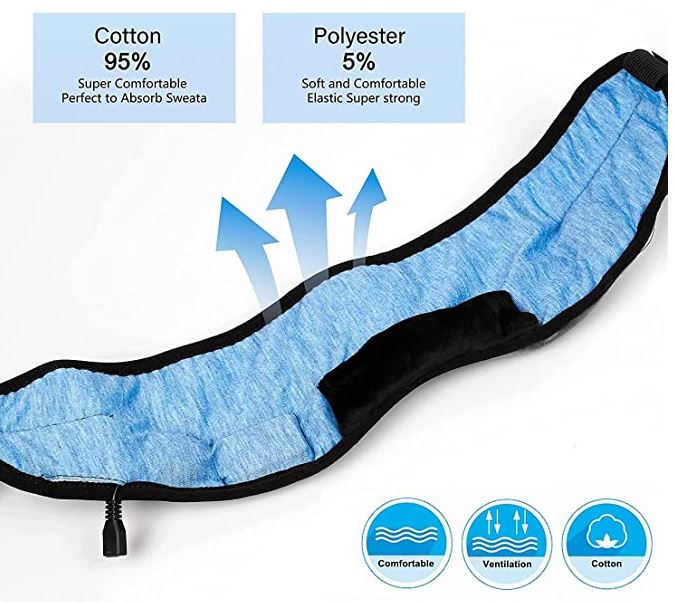 When it comes to sound quality, we didn't have any complaints. The mids and highs are about what you'd expect from an affordable pair of headphones, and offer plenty of clarity and sparkle for soft music and audiobooks. As you'd also expect, the bass is only so-so. The noise cancelling is also passive, not active, and the fabric padding doesn't do quite as good a job of blocking sound as memory foam does.
Joseche offers a 1-year warranty on their sleep headphones. This is fairly standard for the industry, and it tells us they have some confidence in their product. They also guarantee a 12-hour response time on all warranty claims, so you won't have to worry about waiting for days or weeks just to get your claim handled.
Final Verdict
Our favorite pair of eye-mask headphones is the MUSICOZY, primarily for one reason: it actually offers active noise cancelling, which is impressive at this price point. Considering the fact that you're buying one of these devices to keep out noise and light, we're more concerned with noise cancelling than we are with most other features.
That said, everyone has different priorities, and comfort and fit are also important concerns. If you're more interested in softness and comfort, the Joseche Sleep Headphones are the way to go. The inner lining is significantly more comfortable if you prefer a textured fabric.