Electrical current doesn't always reach its intended destination. Even with perfectly intact and functional insulation, current will be lost along the way. In the real world, perfectly intact and functional insulation isn't always a given. Insulation wears down from heat, cold, vibration, dirt, and similar forces. Routine testing keeps you in-the-know on whether or not your electrical systems are performing as effectively and safely as you expect, and help you identify problems before they occur.
An insulation resistance test helps give you a quantifiable figure to estimate the condition of conductor insulation inside various electrical equipment. It applies a current to the system you're testing, and some of that current will charge the insulation inside. The resistance reading on the meter will gradually build-up as electrons find themselves stored inside the insulation. Your reading, as provided in megohms, will tell you how rapidly charged the insulation has become.
Diagnostic Roles for Electrical Current
Different testers may apply a number of different currents, each with their own diagnostic purposes. Capacitive current is the initial charge of current when voltage is first applied. Absorption of that charge starts out high, but slowly drops as voltage builds up and absorption decreases inside insulation. That makes capacitive current a great reflector of energy storage in insulation.
But there's also a polarization or absorption current that gets absorbed, depending on the extent of the damage to the insulation you're inspecting. If the insulation has been damaged by the presence of moisture, absorption of this current will skyrocket. But polarization current takes longer to build, so brief test using capacitive current may not reveal underlying problems with contamination.
For the most accurate maintenance and troubleshooting applications of an insulation resistance tester, you'll want polarization and absorption tests in addition to capacitive charge tests. Some resistance testers are equipped to perform tests with all these types of currents, and others specialize in just one.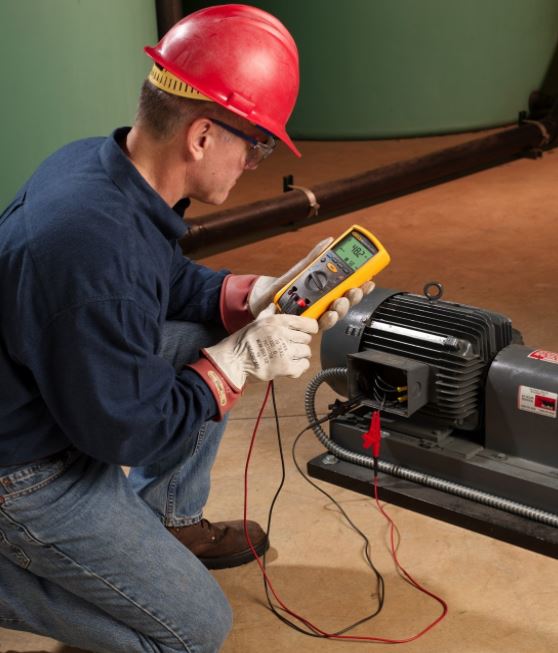 Choosing the Right Insulation Resistance Tester
Finally, there's leakage. Any insulation resistance tester on the planet can help you find leakage current, but if you're working within an industrial application, then you'll want a tester that can get this data automatically, as is made possible by detachable sensors. But whether or not you'll need fancy features like that depends entirely on your intended use. To select the best insulation resistance tester for your purposes, you'll have to consider nearly half a dozen different factors.
Testing Subjects
What kind of electrical systems and equipment do you need to test? Start by writing down the nominal voltage of the equipment you're interested in checking, as well as an approximation of the total number of resistance tests you'll perform over the course of a year. Nominal voltage can help you decide which test voltage you'll need from an instrument. The number of tests you conduct each year helps determine the importance of extra convenience features, as well as the durability of the instrument you pick.
Required Voltage
Often times you'll find yourself testing a system where the manufacturer doesn't provide information about the test voltage you need for DC insulation resistance. That being the case, you have to rely on best practice data provided from within the industry. If you don't know the kind of voltages you'll be working with, the InterNational Electrical Testing Association maintains a published list of recommendations for a wide variety of electrical systems.
Based on those standards, it's fair to say that for gear that's rated with a nominal voltage of 250 volts, you need minimum insulation resistance test voltage of 500, as well as 25 megohms of insulation resistance. As you need to test larger voltages, those figures change. For large voltages of 15,000 or greater, you'll want to see minimum insulation resistance of 2500 test voltage, and a minimum insulation resistance of 5,000 megohms.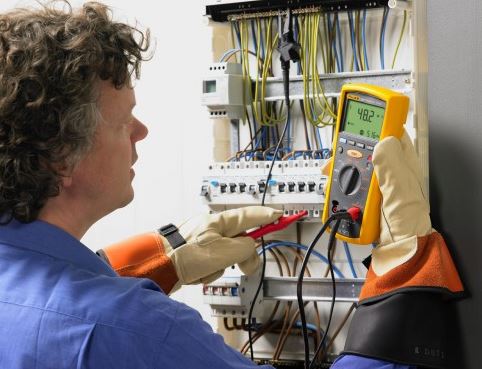 Testing Environment
HVAC technicians don't only look for failing insulation, but are also often checking capacitors, voltages, temperature measurements, and other metrics. Some instruments can double as an insulation test and a digital multi-meter. If you're dealing with circuits, it's easier to carry one piece of equipment than it is to carry two, so these extra features can be worth looking out for.
Will the resistance tester will be used for preventative maintenance and troubleshooting? Will it spend its days in a workshop or a plant? The kind of portability you need depends on the answer to those questions. A portable insulation resister is typically lightweight enough to clip onto a belt, or otherwise be carried around the workplace in a seamless fashion. Other testers may be accurate and powerful, but ultimately bound to a benchtop.
The Tester
Finally, you'll want to think about the experience level of the person running the test. Simplicity is a good thing when the requirements of carrying out your next test application are minimal, but for more complex testers you'll want to ensure there's a manufacturer's manual provided to help catch you up to speed. Manuals may also be good for on-the-job training.
Category Ratings
Megohmmeters are sometimes rated between CAT I and CAT IV. These are designations established to describe and ensure the tools you're using are suitable for specific conditions and applications. Category I indicates a resistance tester is suitable for measuring voltages from secondary circuits that have been specially protected. Special equipment, electronics, circuits powered by low voltages, and similar gear may demand a CAT I rating.
Category II involves electricity being distributed on the local level, namely it indicates that the device follows regional standards used for wall outlets and plug loads. Category III devices are made to measure hard-wired equipment like circuit breakers, distribution boards switches, bus bars, and similar electrical systems that have fixed positions. And finally, category IV refers to devices made for utility measurements, through the help of over-current protection or ripple control units.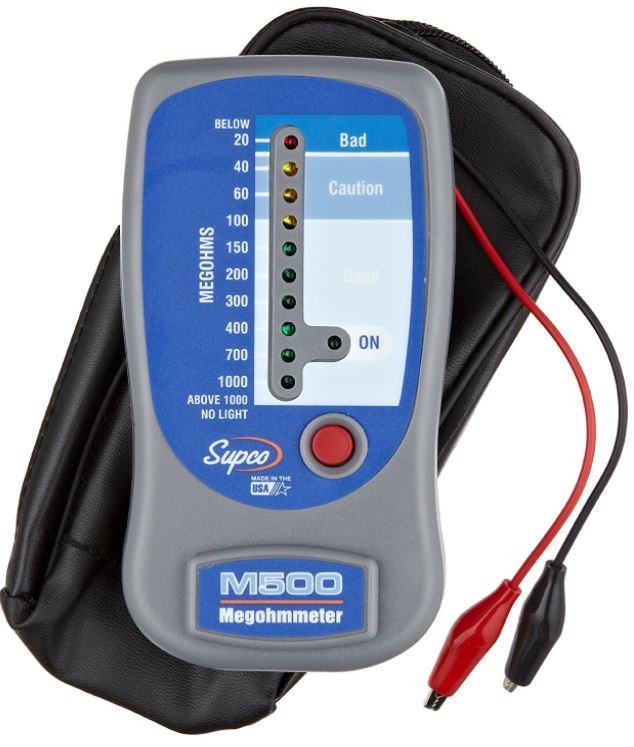 Supco M500 Insulation Tester
The Supco M500 is an inexpensive alternative to high end megohmmeters that doesn't sacrifice much in the way of precision or accuracy. It supports a wide 0 to 1000 megohm range when under 500 volts AC. The M500 is ideal for testing motor winding, heat damage, or spotting insulation that's deteriorating inside a common home environment. The included zone scale is great for indicating the condition of insulation, which makes the M500 also applicable to relay control circuits, appliances, and refrigeration compressors.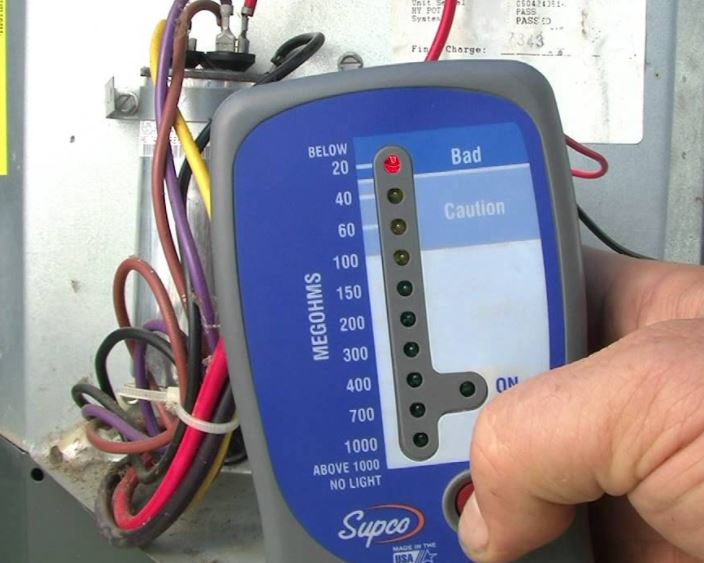 Build & Design
The face of this tester reflects the simplicity of design involved in the M500. You'll find an easy to read display, a one button design, and a 10-light rating system for megohms. You'll find no fancy LCD screen here, which is also reflected in the inexpensive price of the M500.
With the M500, Supco has used an impact resistant design that's rated to be dropped from just over three feet and still survive. In other words, the tester won't die just because it slipped out of your hands a couple of times. With any luck, those slips won't happen at all thanks to the 9.3 x 6 x 1.8-inch design that feels fairly light in your hand, weighing only about 10 ounces.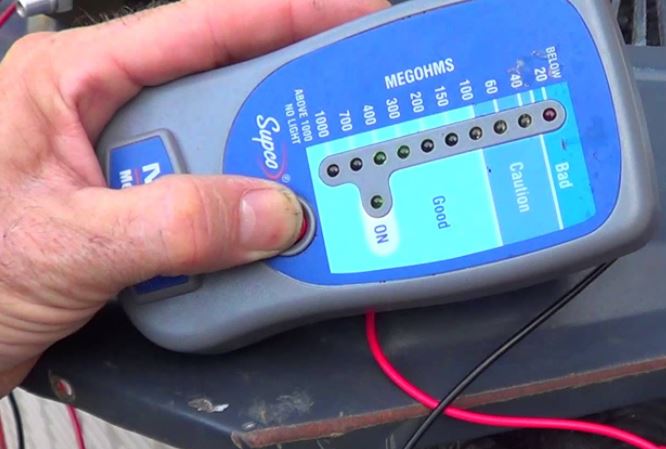 Other Considerations
The Supco M500 isn't CAT rated – it's what you would call a strong indicator tool. It's well-suited to spotting where problems may be occurring, or to give you warning before they occur. But the accuracy for devices in this price range ensure it's not a true diagnostic tool, and can't provide true conformation of precisely where and what has problems.
It includes a soft plastic carrying case that has ample room for the megohmmeters, as well as the included test leads. For power, the M500 requires two C-cell batteries, which are not included.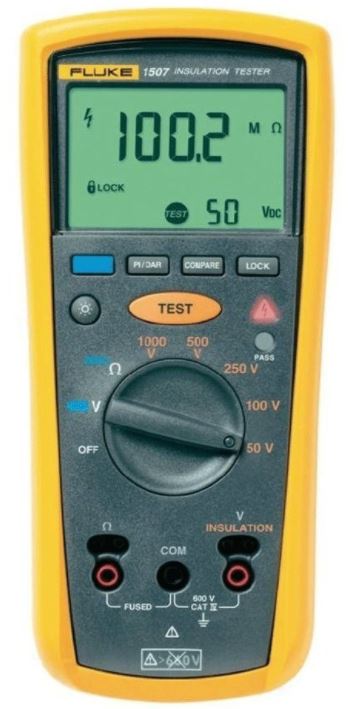 Fluke 1507 Digital Megohmmeter
Fluke has been a leader in electronic testing kits since 1948. Among their long history of excellent products, the Fluke 1507 fits right in. It's compact, durable, and thoroughly reliable. It supports multiple test voltages, making it ideal for several types of application. And the included remote probe can save you time or provide consistent monitoring as may be needed for large and valuable machinery.
For testing frequently or consistently, you'll save time with the 1507's repetitive test function that can pass or fail a machine at a glance based on settings you've established. That means for maintenance, troubleshooting, any other application where you're doing mobile testing at multiple locations, the 1507 will be a strong choice.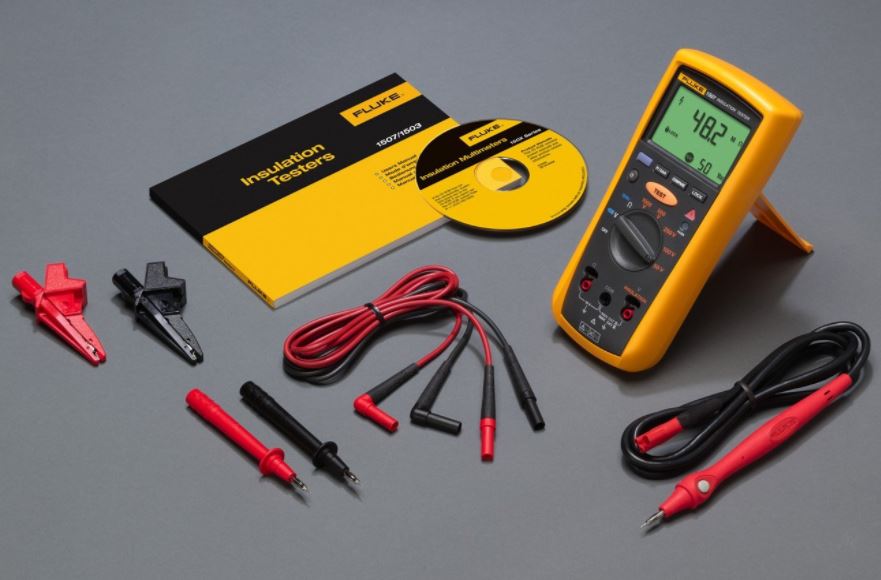 Build & Design
Inside the 1507, you'll find a relatively impressive range of test voltages, including 50, 100, 250, 600, and 1000 volts. This megohmmeters is set for reading resistance as little as 0.01 ohms or as great as 20 kilo ohms. It has a particularly low input impedance rating, which helps desensitizes the meter to low quantities of energy, and ultimately prevent ghost voltages or similar anomalous readings.
For connectivity, the 1507 supports headphone input plugs and COM plugs. The front of the device also hosts a test button, lock button, and of course the voltage dial. For an added layer of protection, this megohmmeters includes auto-discharge of the capacitive voltage after each use. And the 1507 is as readable as is safe, thanks to a large backlit LED.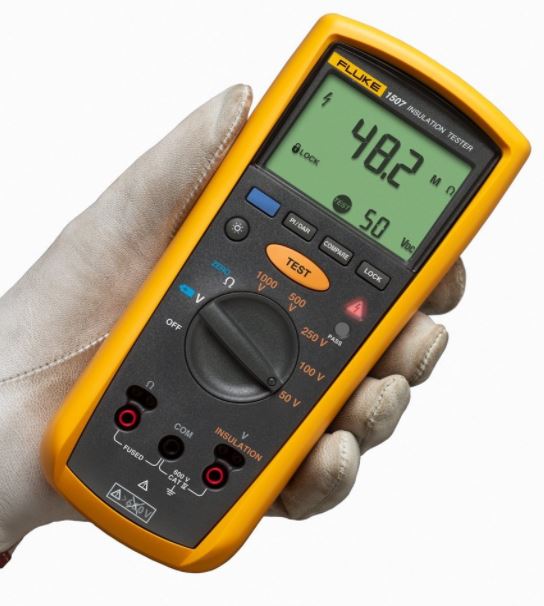 Other Considerations
The 1507 is rated CAT III for 1000 volts, and CAT IV for 600 volts. The 1507 uses a bulky 2.9 x 5.9 x 11.75-inch design, with an equally large 3lb weight to match. It includes a remote probe, insulated test probes, silicone test leads, alligator clips, and user documentation. Unfortunately, it doesn't include a NIST certificate or case.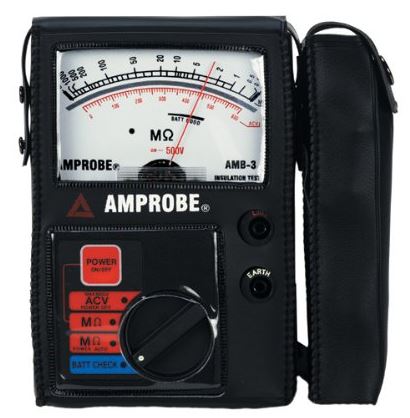 Amprobe AMB-3
The Amprobe AMB-3 is an analogue insulation resistance tester that's well suited to working on common electrical systems, motors, transformers, and wires. The manual selection knob can help you toggle between Megohms and ohms measuring ranges, so you probably won't need to do any homework before you can start using the device.
The AMB-3 supports a 0 to 600 voltage range for AC and a DC insulation, and a resistance range of 0 to 1,000 megohms while under 500 DV voltage. For the sake of convenience and accuracy, the AMB-3 supports a lock function for consecutive tests. All in all, this tester is a mixture of durability and portability. That makes it a great choice for electricians, electrical contractors, or anyone doing repetitive testing on non-industrial electrical systems.
Build & Design
The AMB-3 is built to a sizeable 9.9 x 5.8 x 1.8-inch design, weighing about one pound. It's lightweight and portable enough for daily use, though it's also bulky enough that it may end up taking more space than you'd like inside a toolbox. The AMB-3 is powered by the four included AA batteries, which should last for hundreds of hours before finally needing to be replaced. Also included are the required test leads, and a soft carrying case to keep everything safe and operational.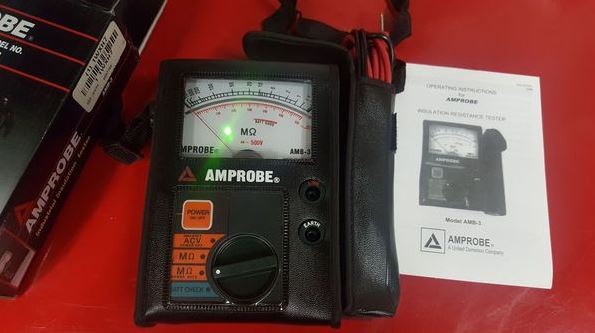 Other Considerations
For testing ordinary engines and cables, this kit will be great at helping reduce shock hazards and keeping your electrical systems working. After testing, the instrument automatically discharges capacitance, so test leads can be safely removed, which is an added layer of protection that anyone regularly working with current can appreciate. However, this device isn't CAT rated, and has a relatively limited range of supported voltages, ensuring it's only suitable for a select number of tasks.
Choosing Between 3 Accurate Insulation Resistance Testers
Sometimes you don't need to know precisely how damaged insulation is, you just need a good estimate of whether or not there's going to be a problem. The Supco M500 is a great indicator instrument that's an inexpensive option for adding an insulation resistance tester to your toolbox. If you don't need to totally trust the readings because a general indication is enough, then the M500 is a steal.
If you're testing powerful equipment, specialty equipment, or otherwise need support for huge test voltages, then you're going to want the Fluke 1507. It's accurate to industry standards and boasts CAT III and CAT IV ratings for specialty testing. It also has a full range of adjustability, allowing it to test and diagnose very large electrical systems.
Finally, there's the Ambprobe AMB-3. Most people probably won't need the immense power and versatility of the Fluke 1507, but will want more accuracy and more diagnostic options than the M500 can offer. For something between the inexpensive and the industry standard, the Ambprobe AMB-3 is a great medium point. For common HVAC applications, you can do no better.