Whether you're working at the library, on the bus, at the coffee shop or using your laptop on an airplane, it can be difficult to keep strangers and those passing by from seeing your screen. These are just a few scenarios where your personal and/or confidential information should be kept safe from prying eyes, but there are so many situations like this that come to mind.
Rather than choosing to wait and use your laptop when people aren't around, adding a privacy screen that acts as a filter and minimizes the viewing angle is often a better choice. It'll distort any view from the side or from above and darken your screen to everyone but you. Often seen in banks, medical offices and financial institutions, a privacy screen can add a whole new element of security – especially in public places.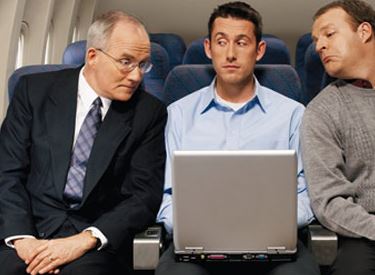 One problem still exists, however. There are seemingly unlimited brands, makes, models and varieties of laptops – how are you supposed to know which one will work for your computer? Today we're going to look over a few of the best choices that work universally well on any laptop, and since each is available in multiple sizes, you'll have no trouble finding the best one for your own specific laptop. We're going to take a few things into consideration including the quality, durability and overall privacy that each one offers so you can rest assured knowing that the one you invest in will suit you well.
Preparing for Installation
Before we begin, let's go over a couple of things that you'll need to know before adding one to your laptop. Knowing the exact screen size is essential if you want to select one that'll fit perfectly. If you know the precise make/model of your laptop you can likely find the screen size with a quick Google search. Otherwise, simply measure diagonally from corner to corner, making sure that you're precisely measuring the actual screen and not the border or edging as well. Once you've determined the screen size, you can be certain that you chose one that will properly fit.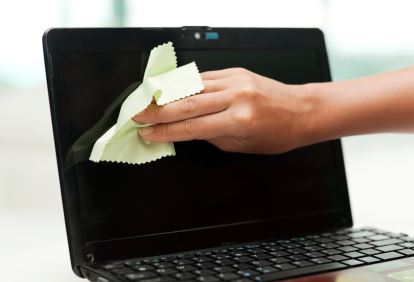 Since privacy filters are designed to adhesively stick onto or extremely close to the surface of your screen, you'll also need to make sure that it's well-cleaned and free from any dust, debris or fingerprints before installing it. To do this, a clean microfiber cloth and a light spray of ammonia-free glass cleaner can work wonders.
Akamai Office Products Laptop Privacy Screen
Available in a wide variety of sizes, the Akamai Office Products Laptop Privacy Screen is built with excellent, long-lasting quality that does a great job at keeping your screen confidential. Measuring diagonally across with an aspect ratio of 16:9, it fits clean and neatly onto either three available screen sizes so there's no area of your view that's left out. By minimizing the viewing angle of your screen to 60 degrees, only the person using the laptop will be able to see.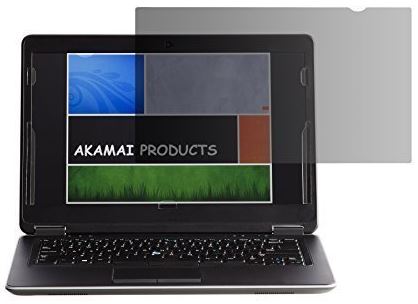 The installation process is quite simple and very straightforward, even for someone who has a limited experience. There are two options for installation – you can either utilize the clear adhesive tabs and securely hold it in place, or you can use double sided tape to stick it directly onto the screen in a more-permanent fashion. Rest assured, it's not a permanent addition to your laptop – you can always take it off in the future without any downsides. Also, the adhesive tabs and double sided tape are both included so you won't have to go out of your way to set it up for the first time.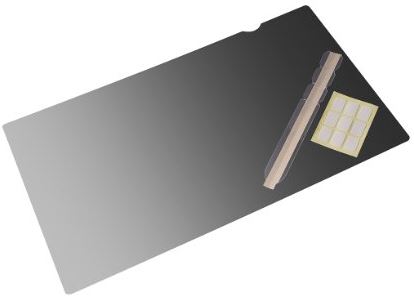 Although it's labeled that it's "not compatible with touchscreens", the Akamai Office Products Laptop Privacy Screen boasts an incredibly sturdy feel with a thick and durable build quality that'll likely outlast even the lifespan of the laptop you're placing it on. Best of all, it comes included with an impressive lifetime guarantee that will cover it from the day you install it and forever beyond that point. If you're ever unsatisfied or unhappy with it, you can always contact Akamai Office Products and they'll offer you a full refund. This guarantee adds a whole new element of value by assuring it'll forever deliver effective privacy.
3M Privacy Filter
Made by the trusted 3M brand, this privacy filter delivers on its promise of keeping unwanted onlookers out of your laptop's viewing angle. By decreasing the viewing angle to 60 degrees, it effectively creates the same minimized view that the Akamai Office Products offers, but it features a reversible design to cater for both glossy and matte filters. If you prefer a matte view over a glossy view or vice-versa, you have the option to choose, and always the freedom to flip it over and switch back when you please. While the matte side minimizes glare and is a better choice for bright areas, the glossy view is ideal for movies, entertainment and gaming.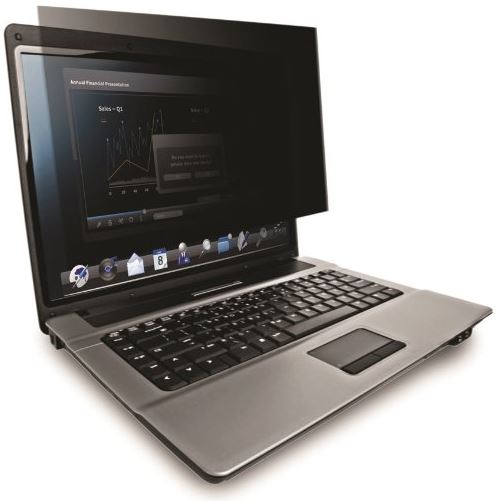 The 3M Privacy Filter is available in both black or gold colors so you can select whichever preference you have and know for a fact that it'll fit your screen size to the T. We say this because there are 19 different screen sizes available, catering to a massive range of both standard and widescreen aspect ratios anywhere in the range of 10.1 inches, all the way up to 17.3 inches. There's even one for the 11 inch Chromebook.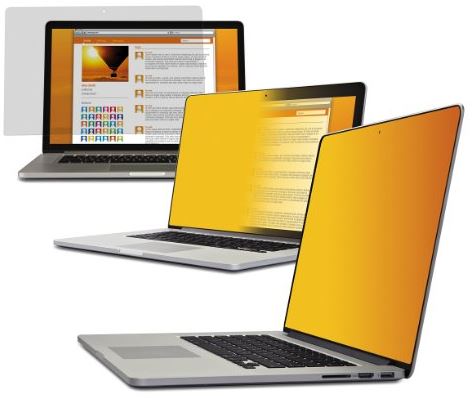 With it's light, frameless and thin design, it doesn't have quite the "heftyness" as the Akamai Office Products option, but it does offer the same two attachment methods. You can choose to install it with a few pieces of tape on the extended tabs, or just adhesively stick it in place, directly on your screen. As long as you choose the right size, it'll surely fit perfectly.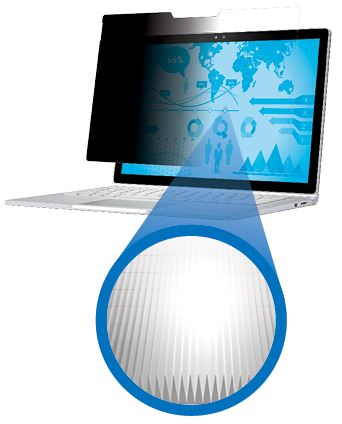 Built with an ingenious Advanced Light Control Film (ALCF) technology, the filter contains an array of closely spaced black microlouvers that are individually positioned at the correct angle to assure that nobody can glance at your screen unless they are right behind it. This 3M patented technology incorporates over a dozen of these microlouvers per every millimeter, simulating the same effect that a pair of Venitian blinds would do for a window in your house.
SightPro Premium Privacy Screen
Although only available in three different sizes for widescreen-only laptops, the SightPro Premium Privacy Screen offers an effective and high-quality solution for keeping unwanted eyes from seeing what you're up to. Designed with optic-grade clarity and fully protected against scratches, it'll even inherently prevent up 96% of ultraviolet and 99.99% of LF-radiation from your screen – ultimately protecting your eyes over any period of time.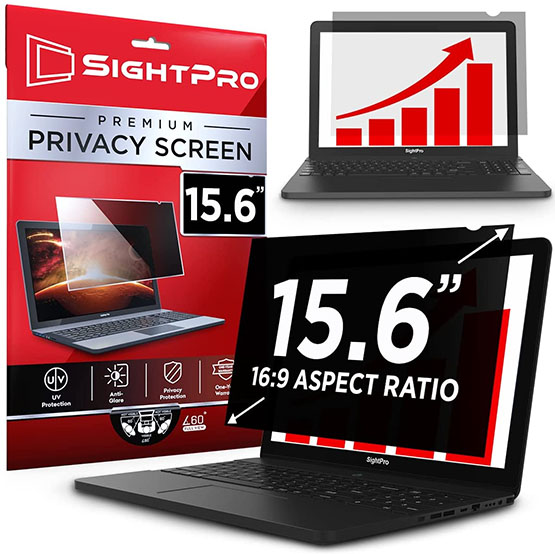 Just like the other two options that we've previously discussed, you're given two different options for installation. The included double sided tape will provide a snug fit to secure it directly onto the screen. The other option is to utilize the built-in clear adhesive tabs to securely hold it in place over top of the screen. Both options work equally well, it really just comes down to a matter of preference.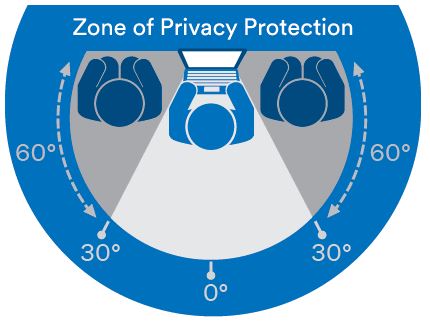 Boasting a conical 30 degree field of view, it protects from onlookers whether they're above, to the right or to the left of your screen. By minimizing the viewing angle to 60 degrees (30 on each side of you), and adding a darkened tint, it has a thicker and more solid feel than even the 3M filter. Best of all, it comes included with an incredible lifetime guarantee, just like the Akamai filter, to assure that it'll always provide exceptional privacy for years to come.
Final Thoughts
Although each of these three options all work quite well, we whole-heartily believe that both the Akamai Office Products Laptop Privacy Screen and the SightPro Premium Privacy Screen offer a surprisingly better option than the 3M filter.
Whereas the 3M Privacy Filter is created by a more reputable brand, we found that the other two seemed to offer a better improvement of privacy and include both a thicker and sturdier design. To our surprise, it's one of the first times that we've seen lesser-known brand names as a better option over a long-living widely known company like 3M. The 3M filter seemed a bit lacking in terms of both quality and viewing filtration. Although it's available in either black or gold, it didn't impress us quite as much as we initially thought it would.
That's not to say it isn't a sufficient choice – 3M still provides an ample amount of protection. However, you truly can't beat the peace of mind that the other two options offer. Both backed by lifetime guarantees, it's really a no-brainer to us.