PITAKA MagEZ Slider
Pros
Combination desktop charger and power bank.
Practical carousel-style design.
Built-in AirPod charger and optional watch charging dongle.
Durable zinc alloy and aramid fiber construction.
Cons
Relatively low power bank capacity.
Only compatible with some smartphones.
Our smartphones are more than just tools. In many ways, they're extensions of ourselves, that allow us to interact with the real world. Yes, they're a way to stay in touch with friends and family. But think about something as simple as your banking app.
If someone hands you a check, you can snap a picture, and the money shows up in your account. Without that technology, you have to drive down to the bank and make a deposit. The same is true for any app on your phone. Apps like GrubHub save you from driving out for take-out. And streaming apps have literally put Blockbuster out of business.
But all of that functionality goes away when your battery dies. These days, it's even normal for people to bring a phone charger when leaving home for a few hours. You just don't want to risk getting caught out with no charge.
An ideal charging solution will keep you supplied with power not just at home, but also on the road. That's one reason portable power banks have gotten so popular. They give you a way to top off your battery, no matter where you are. Some even provide wireless charging.
Besides our phones themselves, we're also using more battery-powered accessories than ever. A few years ago, you might have a pair of wired earbuds with your phone. Now, wireless earbuds are the norm, and they need to be charged.
If you're a fitness enthusiast, you may also have a smart watch. That's yet another battery that needs to be topped off. It's not enough just to have a good phone charger. You need a charging solution that works with all your electronic devices.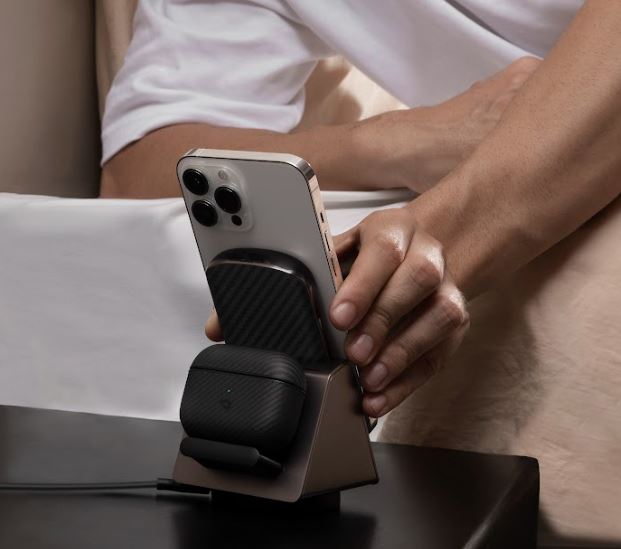 PITAKA MagEZ Slider
Today, we're going to review the PITAKA MagEZ Slider. This is a three-in-one charging station that's designed for your phone, earbuds, and smartwatch. For anyone with a compatible smartphone or case, it's an optimal way to maintain a full charge. It also boasts a removable power bank for on-the-go use.
But those are just the broad features of a more complicated device. To fully understand how it works, we'll have to take a much closer look. We'll need to think about the physical design, and how it's put together. We'll have to talk about what phones it works with, and how quickly it charges them. In addition, we'll also have to talk about the power bank capacity, and any notable extra features. Let's get going!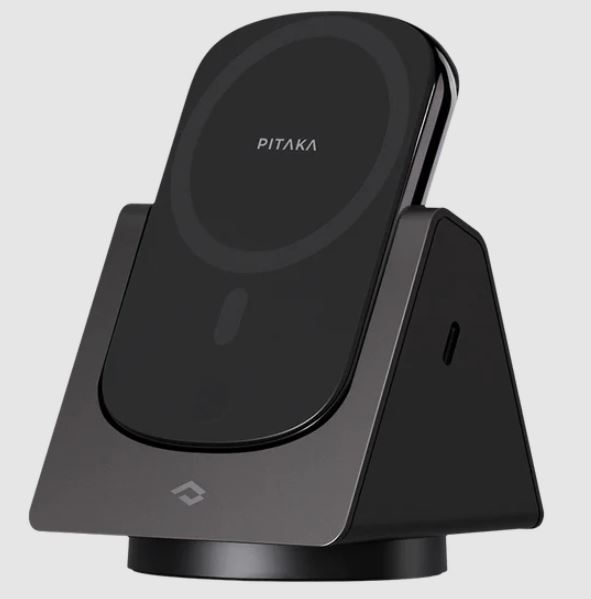 Overall Design
The PITAKA MagEZ Slider is constructed from a rugged zinc alloy. It's exceptionally durable for a desktop charger, with a matte black finish that' doesn't collect dust and fingerprints. It's roughly wedge-shaped, with a fat, square bottom and a flat, narrow rectangular top edge. The footprint is three inches square, so it doesn't take up too much space. And at 4.4 inches high, it's not obnoxiously tall.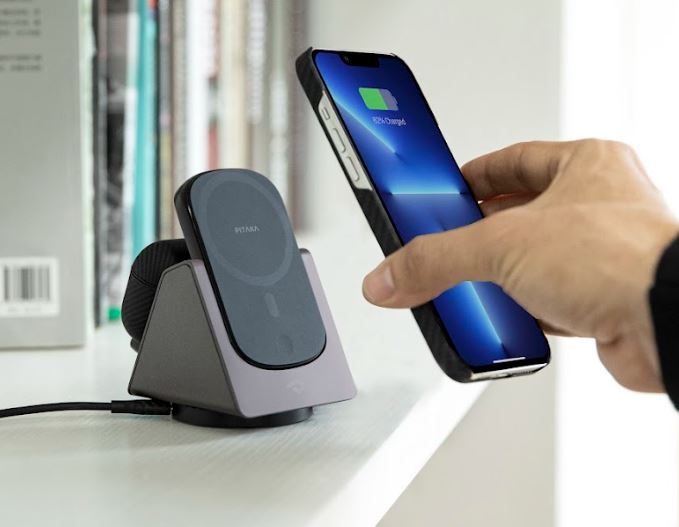 The front edge of the wedge has a cutout in it, with a USB Type-C plug sticking up from the bottom. The removable wireless charge pad sits here. When inserted, it forms a flat surface, where your phone can stick magnetically and charge. The pad also functions as a power bank when it's removed, but we'll talk about that feature later on.
The back slope of the wedge is also magnetized, and serves as a wireless charging surface. But instead of a phone, this surface is optimized for wireless earbuds. The kit includes a little magnetized "shelf," which you can stick onto the bottom part of the surface. This will support your earbuds while they're charging.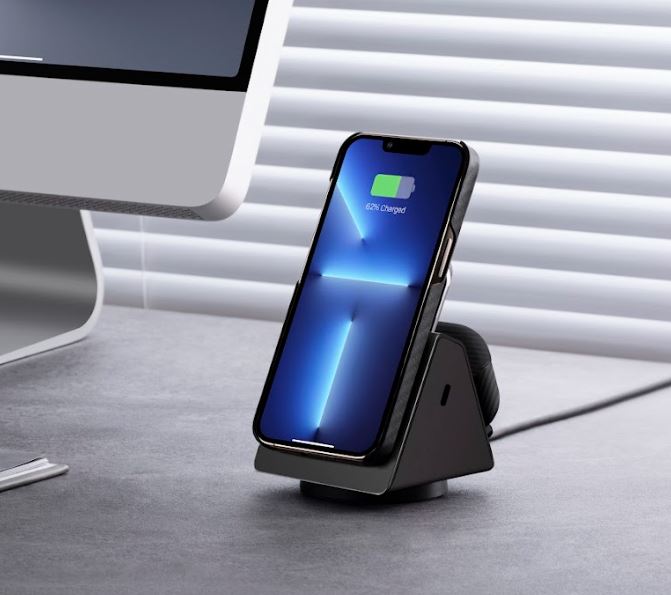 Underneath the MagEZ Slider is a slim circular base. This base has a carousel design, so you can spin the charger freely. It's smart engineering, because the USB Type-C power cable plugs into this slim base. As a result, you can freely swivel the charger without tangling up your cable. The cable will remain in place, pointed in the same direction.
This charger ships with a USB Type-C to Type-C cable for power. It also includes a 20-watt USB Type-C wall adapter, so you have everything you need to get started.
Compatibility
The MagEZ Slider is designed to take advantage of MagSafe technology. This is a new technology that allows for a magnetized smartphone or case. Right now, the only phones with native support are the iPhone 12 and iPhone 13. Some other phones, like the newer Samsung phones, are compatible, but require a specialized case. If you don't have a new iPhone or a MagSafe case, the charge pad won't work with your phone.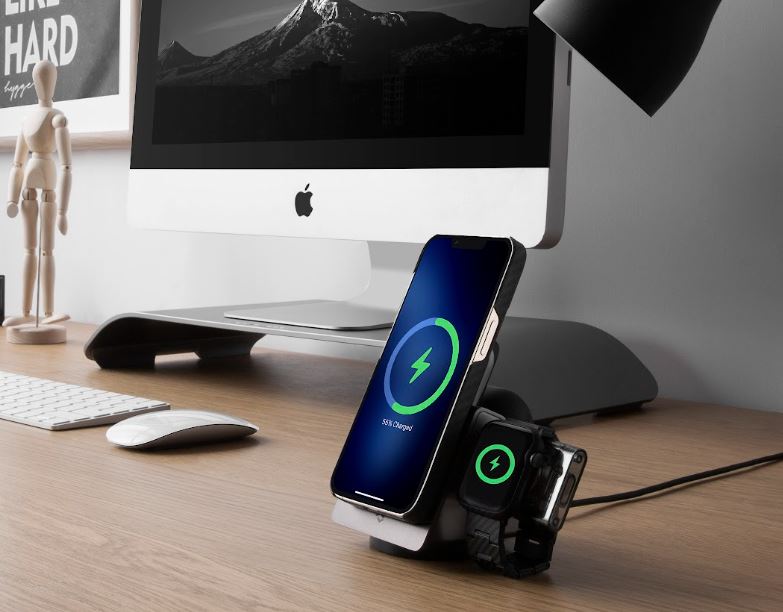 Note that that there's a built-in safety feature in the front wireless pad. It will only work when it detects a compatible phone. When it does, mechanical magnets will kick in; you'll hear a whir while the phone is "attached" to the pad. At that point, the charging coils will start operating. This sound is normal, and it's a sign that the charger is working as intended.
As for the charging pad, it's only compatible with the Apple Watch. Unfortunately, it doesn't work for any other devices.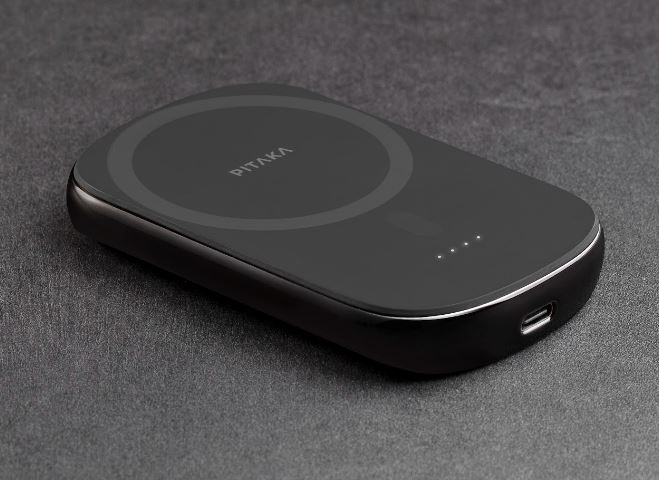 Out of the box, the MagEZ Slider won't charge your smart watch. For that, you'll need the Power Dongle, which is sold separately. This is a transparent rectangular dongle, which plugs into the Type-C port on the side of the housing. When it's plugged in, it serves as a charging bracket where you can hang your watch. It's compatible with any Qi-compatible watch, which more or less covers most models. It can also be removed when not in use; there's a protective cap to cover the USB Type-C plug.
Charging Capability
The front pad on the charger has a wireless charge output of 5 watts, which is standard for wireless chargers. We should point out that this is much slower than modern wired charging. Even an ordinary, run-of-the-mill USB port will provide 12 watts of power.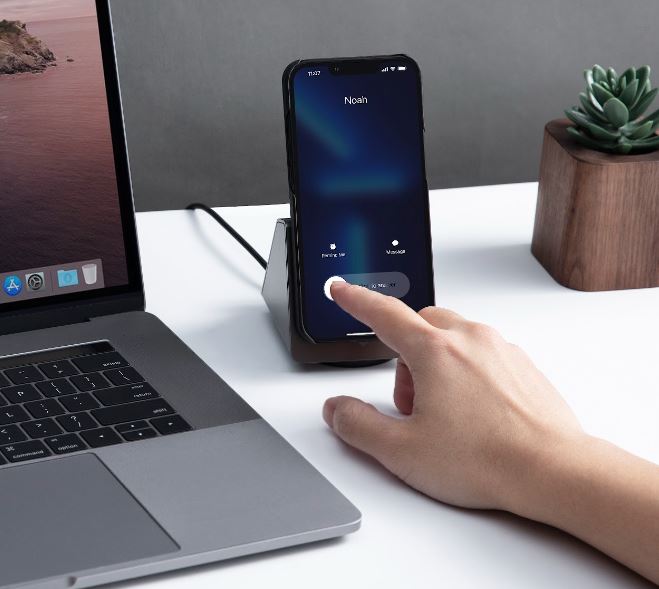 Some advanced USB Type-C chargers can put out as much as 100 watts. You can typically expect your phone to take 2-3 times longer to charge than with a wired charger. Then again, that's not why you use a wireless charger to begin with. You use it because it's convenient, and you don't have to fiddle around with a wire.
The charging surface also charges at 5 watts. The same goes for the smartwatch dongle if you've plugged it in. If not, the USB Type-C port on the side of the housing can also be used for wired charging. If you're going to do that, keep in mind that the port only outputs 5 watts of power. You won't get the charging speed you'd typically expect from a Type-C port.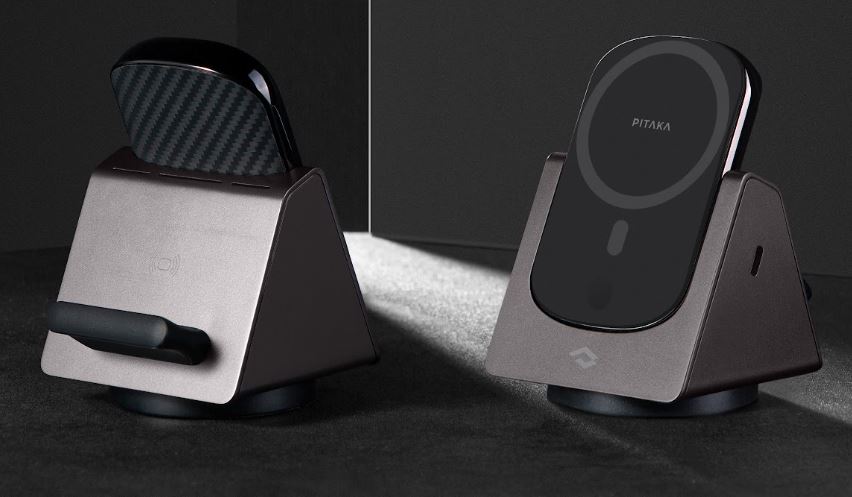 If you want blazing fast wired charging, there are better options. The VOLTME Revo 100 is a good example. It's an advanced Gallium-Nitrite (GaN) charger with a pair of Type-C ports and a single standard USB port. Under the right circumstances, it delivers up to 100 watts of power.
Power Bank Function
The power bank itself is very well crafted. It's engineered from an aramid fiber, which is an advanced polymer that's built to take a beating. It's so lightweight and durable that it's actually used in ballistic armor. The unit is about the size of a deck of cards, so it can be conveniently carried on the back of your phone. It even vibrates when the battery gets low, so you know you're running out of reserves.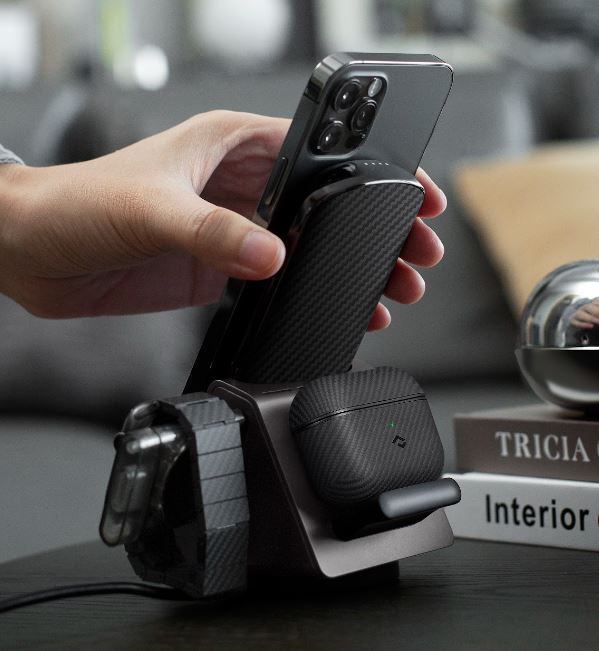 This is more important than you might think; thanks to its small size, the power bank's capacity is only 4,000mAh. That's enough to charge most smartphones once, with a little bit of extra power left over. Then again, the MagEZ Slider isn't made for going on vacation. It's made to power you through an ordinary day.
When used as a wireless power bank, your battery will charge at a standard 5 watts. Alternatively, you can plug into the USB Type-C port on the bottom edge. This will get you a slightly faster 7.5-watt charge. Again, you're looking at sub-par wired charging performance, but that's not what this device is designed for.
If you want a power bank with a little more juice, check out the EcoFlow RIVER Mini. It has an impressive 58,400mAh capacity, along with up to 100 watts of power delivery. On the other hand, it's a bit larger, and somewhat bulky.
Safety & Extras
As you might expect, there are some important safety features built into the MagEZ Slider. There's a temperature sensor, which shuts down the charging element if it starts to overheat. You're protected from over-voltage and over-current, so your devices won't get damaged. And short-circuit protection keeps you safe from damaged wires.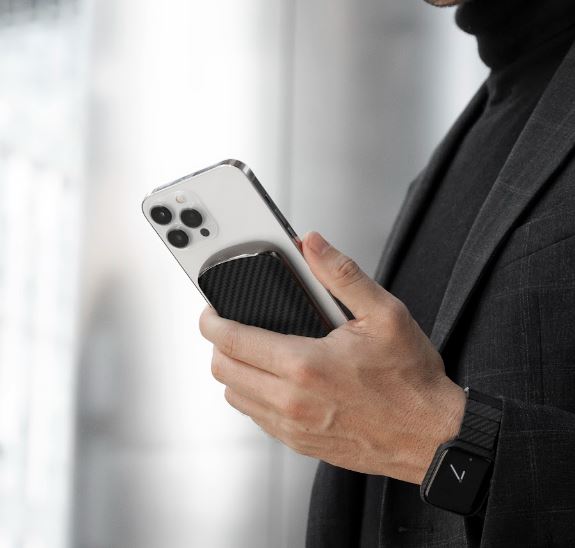 International users can use this charger without any adapters. It can be ordered with North American or EU power adapters, which is a nice added touch. It also comes with a 1-year warranty to protect you from any defects in parts or labor.
The MagEZ Slider isn't the only innovative wireless charger available. If you want a charger that's practically invisible, check out our list of the best under desk wireless chargers. They mount under your desk, and charge your phone when you set it on a specific spot. Talk about low-profile!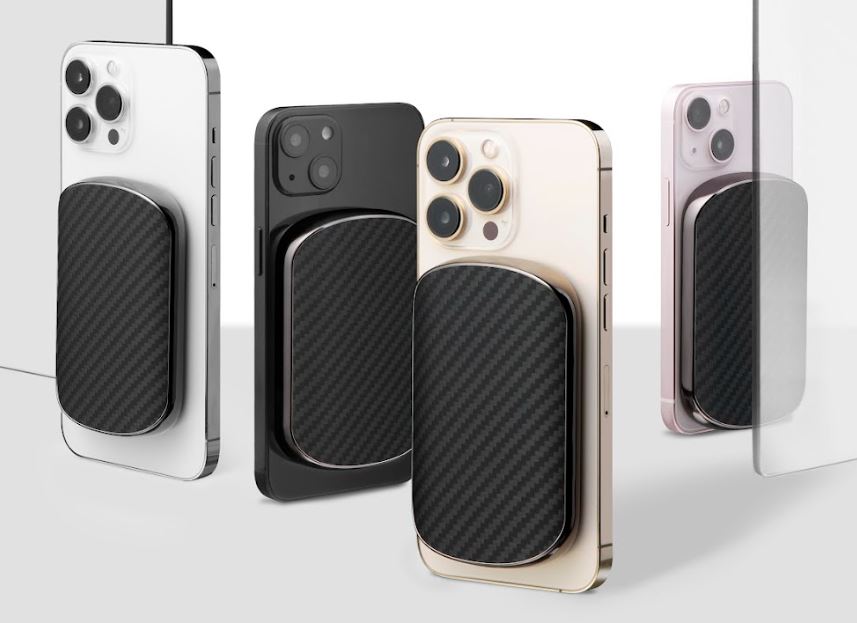 Final Verdict
The PITAKA MagEZ Slider is one of the most unique chargers you'll find. To begin with, we loved the modular design. The idea of building a portable power bank into a desktop charger is really creative. For that reason alone, it could be worth the purchase.
We would have liked to see faster charging from the wired ports, but that's a minor complaint. You can charge your phone, earbuds, and smartwatch all at the same time. The carriage-style base lets you rotate the charger without messing up your cords. And when it's time you go, you can take the power bank with you. All in all, we were pleased.