Over the last several years, the way we charge our devices has changed a lot. Not all that long ago, there was no such thing as a standard charger. Every smartphone manufacturer, for example, used a different charger type. USB charging has changed all that.
Nowadays, just about every device uses a USB charger. This is great news if you want to mix and match chargers. However, USB charging isn't a perfect solution. You still need to deal with wires, which can lead to a tangled mess. For this reason, more and more manufacturers are adopting wireless charging alongside USB.
Wireless charging uses magnetic induction to charge your battery without physical contact. Electric coils in the charging pad create a magnetic field in the immediate vicinity. This field, in turn, generates a current in the phone's internal circuitry. With a wireless charger, you don't have to plug and unplug your phone all the time.
Just set it on the charging pad whenever you want to top off your battery. Of course, no technology is perfect, and wireless charging is no different. For one thing, you get a slower charge than you do with a USB cable. For another thing, there's still a charging pad and cable taking up space on your desk.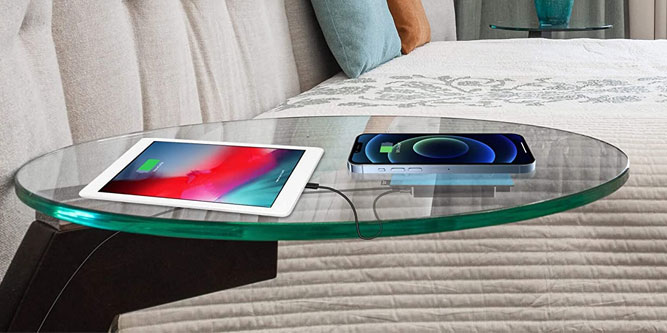 We can't help you out with the charging speed. For now, the fastest wireless chargers provide up to 10 watts. That's the limit of the current technology. But if you want your wireless charger to have a cleaner, seamless look, an invisible charger is your best bet. These chargers are designed to project a magnetic field through a desk or table. You mount them on the underside of the surface, and set your phone or other device on top. They're great for charging mice in particular. But they can also be a great amenity for restaurants and other public spaces.
Today, we'll be reviewing three of the best invisible wireless chargers for under your desk. These chargers are all designed to be compatible with all Qi-compatible devices. They're also easy to install, without the need to permanently damage your furniture.
But there are also important differences we need to talk about. We'll have to look at the physical design, and how they're put together. We'll have to evaluate the installation process, and see how simple it is. And of course, we'll have to see if there are any extra charging features. After we've given all three chargers a thorough inspection, we'll be able to make a fair comparison. Let's begin!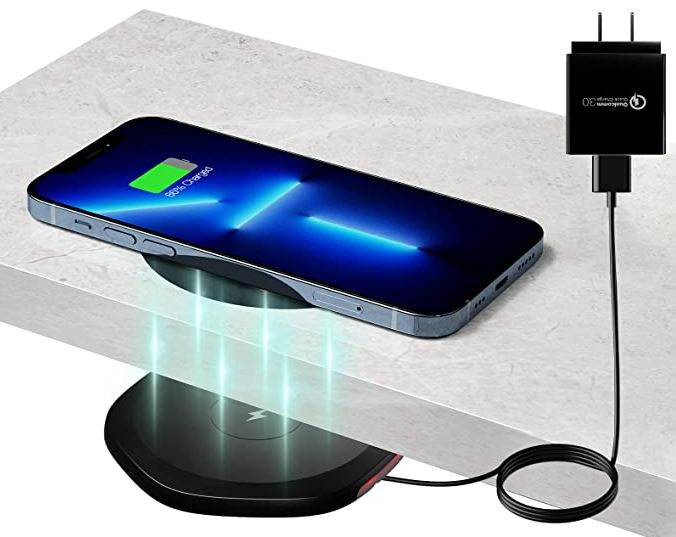 Best Overall: JiffyPoint Invisible Wireless Charger
The JiffyPoint Invisible Wireless Charger is a slim, black charger with a hexagonal housing. It has an attractive matte finish, and almost looks like it could sit on your desktop. However, it's actually made to mount on the underside of your desk or table. It comes with a low-profile mounting bracket, which is made from a matte black aluminum. The whole thing sits very tight against the bottom of your desk, so it stays clear of your knees.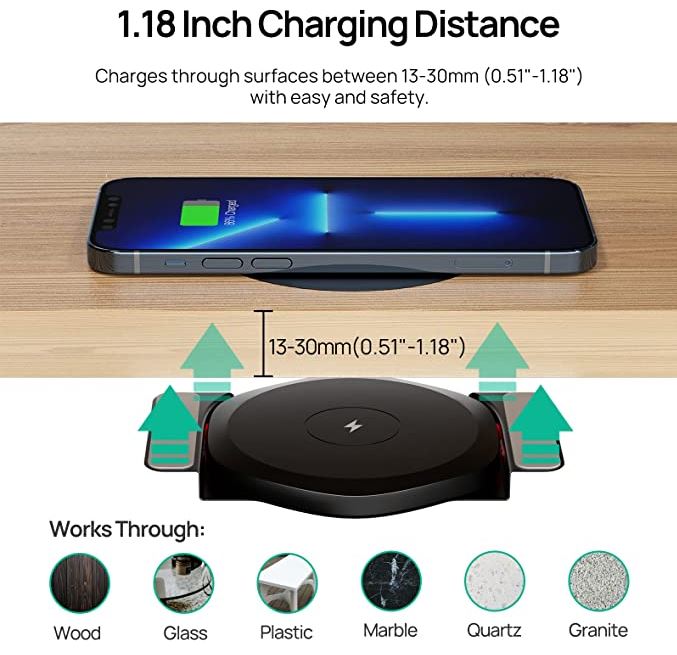 This charger can function on tables or desks that are made from any non-metallic material. It will charge through wood, glass, stone, and polymer desks. Be careful, though. If your desk has a lot of metal in the frame, it can interfere. Depending on the design, this can happen even if the metal is not directly in the path of the charger.
The recommended charging distance is between 0.5 and 1.18 inches (13-30mm). As such, it's suited for thicker, heavier desks and tables. Inside of half an inch, the charging performance drops precipitously. If you have a thinner surface, you'll want to go with another wireless charger. JiffyPoint specifically says not to put your phone directly on top of the charger, as it can damage your battery. It's only designed to be used on a desk or table within the rated thickness.
Installing the JiffyPoint charger is straightforward. One thing we appreciated is that you can precisely locate the spot you want to mount it. There's a decal in the package, which sticks on the top of your desk. There's a little lightning bolt in the center, which will be the exact center of the charger. Decide where you want to have your charger, then apply the decal.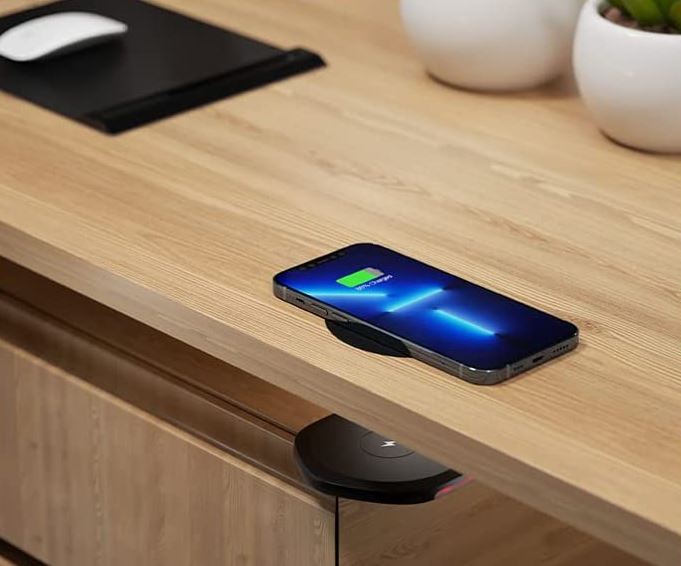 There's a set of three small, cylindrical magnets in the package. Set one on top of the sticker, directly on the lightning bolt icon. Stack the other two magnets end to end, and put them on the bottom of your desk or table. They're strong enough that they'll stick to the magnet on the top, even through your surface. When everything is lined up, you're ready to put the bracket in place. It has a hole in the bottom center, which you can slide over the stacked magnets.
Make sure you're happy with the placement on the top and the bottom, and you're ready to attach the bracket. There's a double-sided adhesive on the flanges, which can stick right on your desk. Or, if you want a more permanent installation, it can be screwed into place. There's a set of small wood screws included in the kit.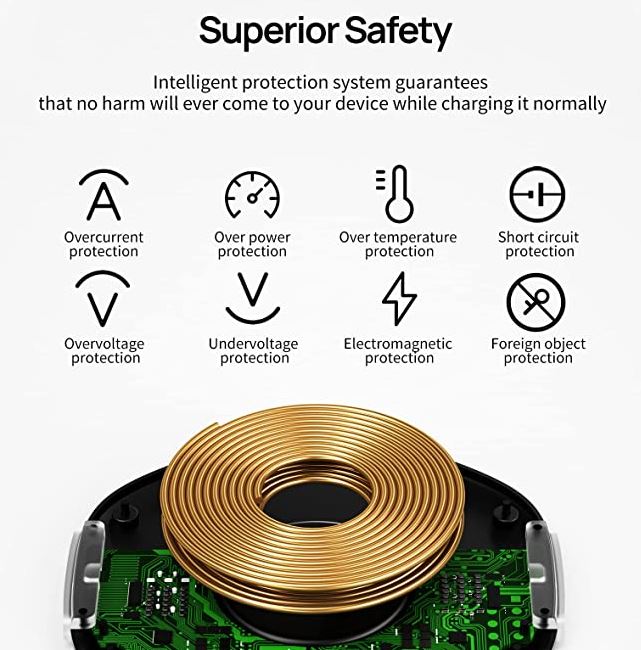 Once the bracket is in place, you're ready to insert the charger. Slide it into the bracket, and make sure the USB port is left exposed. There's a USB power cable included, along with an AC adapter. The cable is just a few feet long, but if you need a longer one, it's easy to upgrade. You can use any standard 5V USB power source, cable, and adapter.
All of this assumes that you're looking for a concealed wireless charger. If you're looking for a more radical, but visible design, check out the EXCITRUS Wireless Charging Stand. It's a tabletop charger with a magnetized vertical phone support, and a wireless charging base for your earbuds.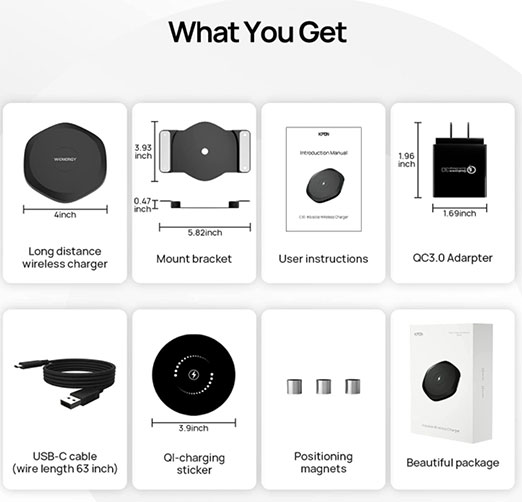 Charging Capability
When it comes to compatibility, the JiffyPoint charger will work with any Qi standard phone. This includes any wireless-capable iPhone, Samsung phone, as well as most other major brands. This is thanks to the wide wattage support.
In addition to high-speed 10-watt charging, you can also take advantage of 7.5-watt and 5-watt charging. So even if you have an older model phone with slower charging, it will still be compatible. It will also charge any Qi-compatible wireless mouse. Used correctly, you may never have to plug your mouse in again. The only significant device it can't charge is the Apple Watch.
In addition to wide compatibility, this charger also protects you from most types of potential damage. To begin with, there's an internal temperature sensor. If the charger starts to get too hot, it will automatically shut off. It also has built-in circuitry to protect you from overcurrent and overvoltage. Meanwhile, short circuit protection ensures that a nicked USB cable won't ruin your day.
Most importantly, the JiffyPoint charger features foreign object detection. Let's say you were to set down a conductive object, like a key, on top of your charger. Without foreign object detection, the magnetic field can heat up the object. After enough time, the object could be hot enough to start a fire. When this charger detects anything other than a Qi wireless device, it temporarily shuts down. You don't have to worry about starting a fire just because you set your keys in the wrong place.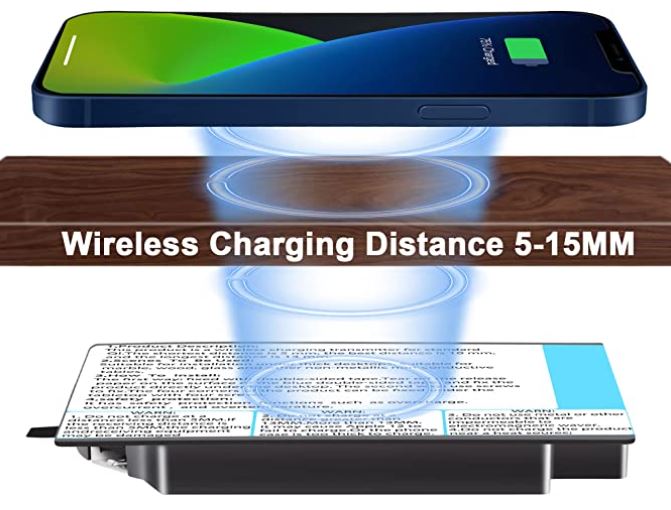 Best Runner-Up: UUMAO Invisible Wireless Charger
The UUMAO Invisible Wireless Charger is an all-in-one device with no separate bracket. The housing is constructed from black aluminum in the center, with a plastic outer frame and flanges. The overall size is 3.46 inches wide, 3.62 inches deep, and only 0.35-inch thick. This is slim enough to stay well out of the way, so it can be mounted even under a low desk.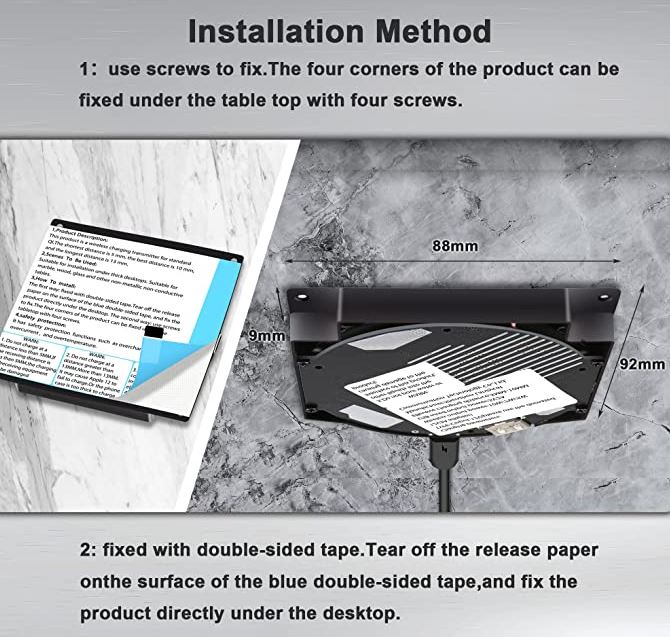 Like the JiffyPoint charger, the UUMAO charger can work on just about any table material. As long as there's no metal interfering with your signal, you'll be good to go. However, this charger is designed for comparatively thinner desks. It can work with desks that are anywhere from 0.19 to 0.59 inches thick (5-15mm). This is thinner than most wood desks, although there's some overlap at the top. But for glass in particular, you're looking at an optimal thickness.

The charger can be installed with a set of four wood screws, which are included in the package. Or, you can peel away the backing and use the double-sided adhesive to stick it right to your desk. It plugs into your nearest wall outlet with a 4.5-foot AC adapter. If you need to do a longer run, you can. The adapter has a USB Type-C style tip, so a USB Type-C charger will do the trick.
Also included in the package is a small signal detector. This little device lights up when it's directly on top of the charger. Use it to locate your charger from the top of your desk, and you can apply the included decal. This will give you a visual indicator of your ideal charging spot.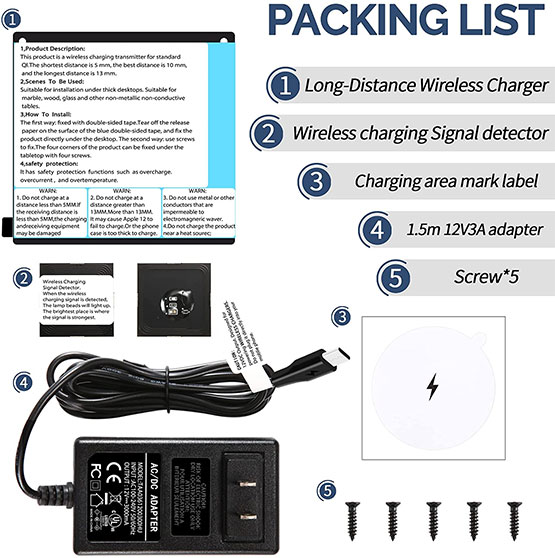 Charging Capability
As with all of today's chargers, the UUMAO is compatible with all Qi standard phones, earbuds, and other devices. With 5, 7.5, and 10-watt charging, all your bases are covered. There's also a USB Type-A port on the front of the charger. This can be used to plug in another device, and used for pass-through charging. The Type-A port provides 10 watts of power, less than the 12-watt standard, but not by much.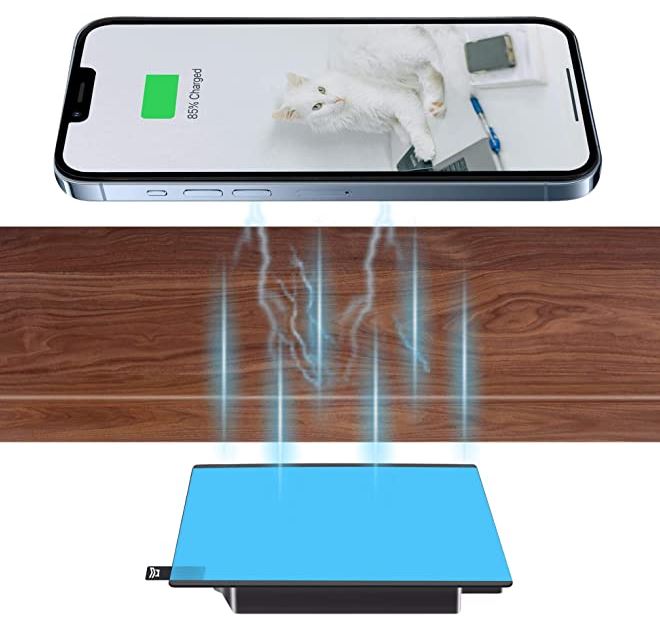 Best Alternative: WLICNE Invisible Wireless Charger
The WLICNE Invisible Wireless Charger has a superficially similar design to the UUMAO charger. To begin with, it's an all-in-one unit, with a combination of metal and plastic in the design.
It has similar measurements, along with flanges. It's even rated for the same desk thickness, and it installs with screws or an adhesive. The included charger has a 4.5-foot cord, with an AC plug on one end and a USB Type-C tip on the other. The package also includes a white sticker to mark the hotspot on your desktop. And there's a small signal detector to help you position the sticker.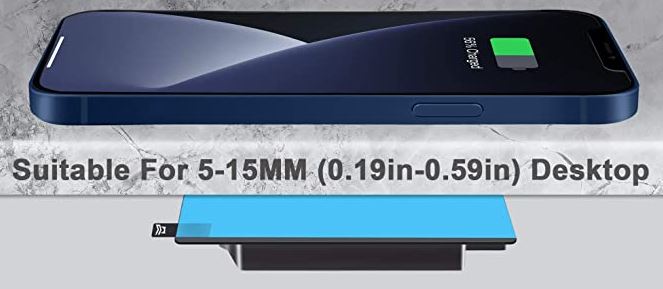 Charging Capability
This charger works with any Qi standard device, and also provides 10 watts of USB Type-A pass-through charging. In addition to plenty of charging power, it also has a number of built-in safety features. You get protection from overcharge, overcurrent, and overvoltage, which keeps your batteries from getting damaged. Meanwhile, temperature protection keeps you safe from starting any fires.
Which Under Desk Wireless Charger is Best?
So, which of these invisible wireless chargers is the best one to go under your desk? There are a few different things to consider. However, the biggest difference between the three of them is the compatible desk thickness. You ultimately have to choose one that's compatible with your particular desk. But let's go over everything we've learned.
We started out by reviewing the JiffyPoint Invisible Wireless Charger, which is designed for thicker desks. We particularly liked the mounting magnets, which make it easy to locate the charger. You don't have to worry that your charging zone will be misaligned. Moreover, you get an impressive suite of safety features, for both the charger and your other devices.
The UUMAO Invisible Wireless Charger has an all-in-one design, so it installs a bit quicker. It's also designed for thinner desks, less than 0.59-inch. The pass-through charging port is also a nice touch.
The WLICNE Invisible Wireless Charger is mostly identical to the UUMAO charger. However, it comes with additional safety protections, and it's slightly more affordable. This makes it the ideal choice for a thinner desk.
Meet Derek, "TechGuru," a 34-year-old technology enthusiast with a deep passion for tech innovations. With extensive experience, he specializes in gaming hardware and software, and has expertise in gadgets, custom PCs, and audio.
Besides writing about tech and reviewing new products, Derek enjoys traveling, hiking, and photography. Committed to keeping up with the latest industry trends, he aims to guide readers in making informed tech decisions.