Not long ago, only businesses and the wealthy owned security cameras. This was for good reason. Old-school security cameras needed to be hardwired into your building. You needed a TV to monitor them, and a VCR to save your footage. And at the end, all you got was a grainy black and white recording. For the average person, it just wasn't worth it.
But like with so many things, technology has opened up new possibilities. Today's security cameras are far more affordable than their traditional counterparts. They're easier to install, and wireless technology has made hardwiring a thing of the past. Meanwhile, the quality of video footage has considerably improved. And smartphone apps allow you to monitor your footage wherever and whenever you like.
Today, we're going to review the Noorio B210 Outdoor Security Camera. This is a wireless, weather-resistant camera with a unique magnetic base. But there are many features that go into a good security camera, and those just scratch the surface. Is it the right choice for you? We're about to take a deep dive into all of its features and find out. Let's begin!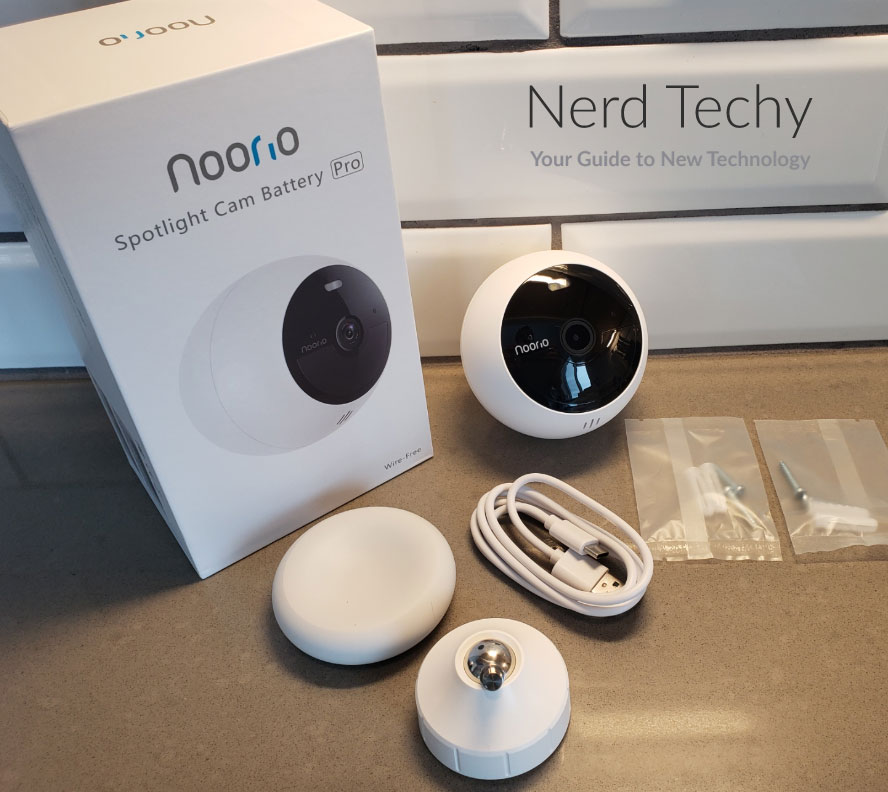 Overall Design
The Noorio B210 Outdoor Security Camera has a unique appearance. The camera itself is entirely spherical, with a matte white finish. It's only plastic, but it seems pretty tough, and the matte surface is easy to keep clean. The housing measures just 3.35 inches in diameter, so it's fairly compact. It also weighs in at only 10.6 ounces. This doesn't just make it easy to carry. It also means it's light enough to mount on a fence or other marginally sturdy surface.
The front of the main spherical housing is cut off to reveal the black inner lens housing. The lens itself is a dark spot directly in the center. To the left is a small Noorio logo. Above, you'll see a flat, oval-shaped spotlight. This kicks in at night to enable color night vision.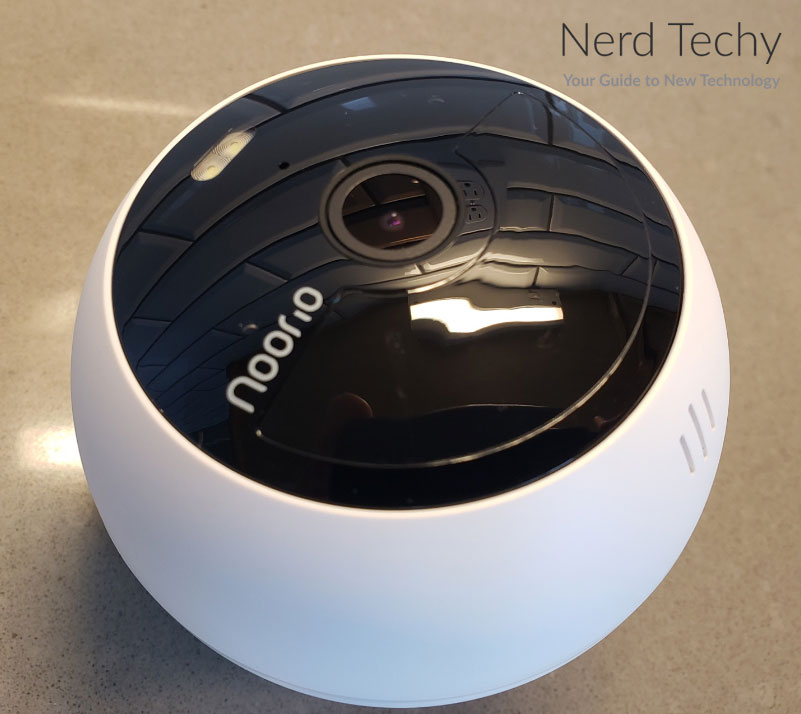 The camera has a weather-resistance rating of IP66, which is pretty powerful. The first "6" is the highest possible level of dust resistance. Even on the surface of the moon, dust would be a non-issue. The second indicates a high level of water-resistance. It's not submersion-proof. But short of that, water is no problem. You can spray it down with a hose and it's easy to keep clean.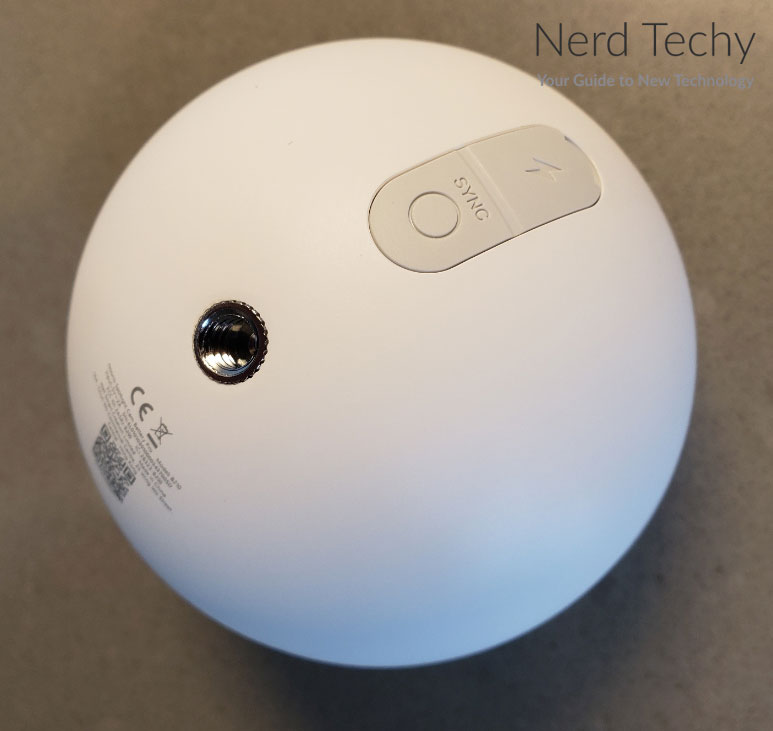 The thing that makes the B210 truly unique, though, is the magnetic base. The base has a concave surface, and the camera sits right inside. You can then pivot it in any direction. The base can sit flat on a shelf or a table, or you can attach it to a wall or an eave. This makes it far more versatile than most home security cameras.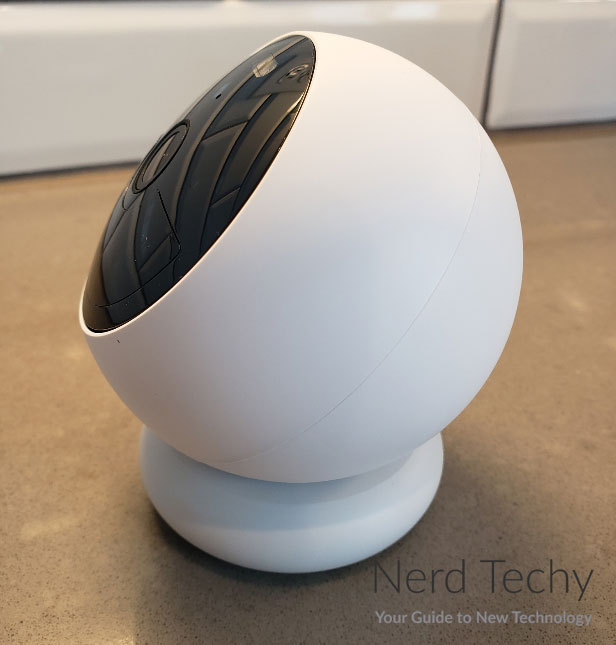 Installation
Installation of the B210 camera is pretty straightforward. Because it's wireless, you won't need to run any wires through your walls. Depending on how you use it, you may not even need to use any screws. If you want to use it as an indoor camera, you can just put the base on a shelf and leave it at that.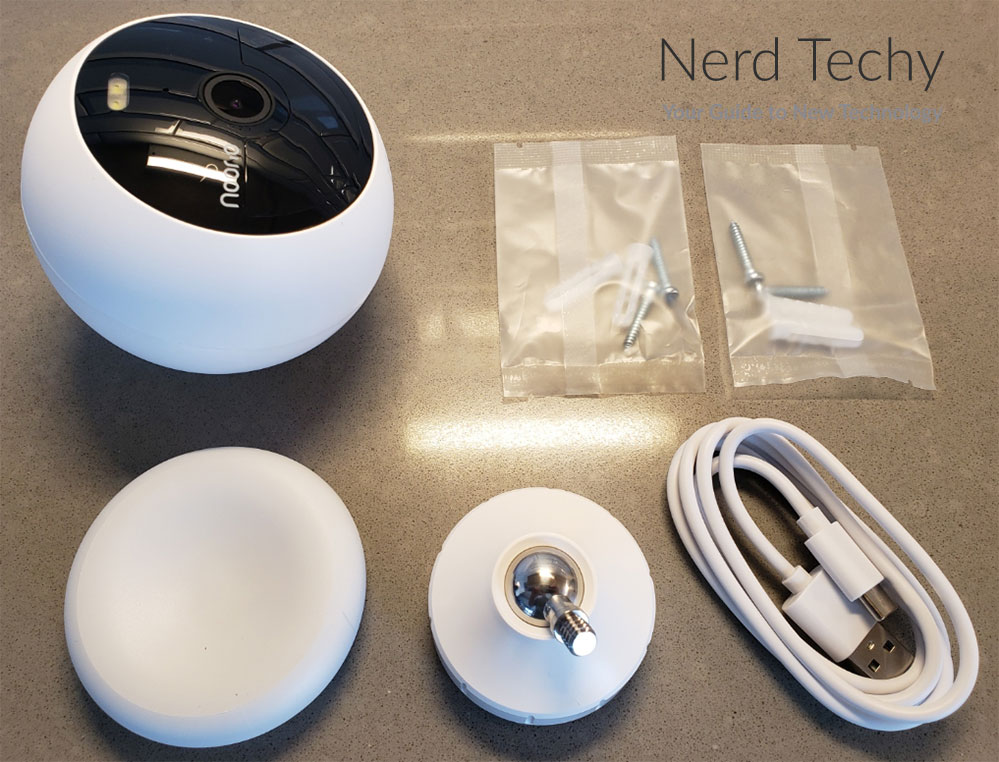 If you want to mount the camera, it's easy enough. The kit includes a screw mount, along with the screws you need for mounting. There's even a template for drilling your holes. It's adhesive on one side, so you can stick it to your mounting surface. Then you just pre-drill your holes if necessary, and drive in your screws in the appropriate spots. The base can be mounted horizontally or vertically, so location is a non-issue.
It's worth noting that the camera also comes with a little warning sticker. It's not much, but it's something you can throw up in your window to deter thieves.
If you prefer a more traditional security camera, check out the Reolink Argus PT 2K. It has a standard bracket mount that attaches to your wall, and a round camera hanging beneath it. It offers similar video quality and features to the B210, but has significantly shorter battery life.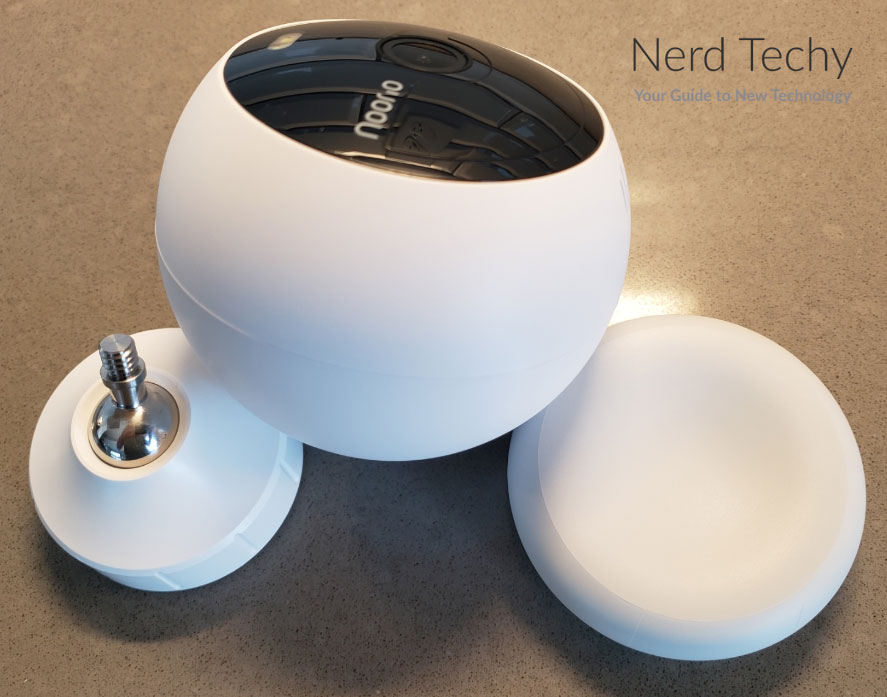 Connectivity and Storage
As we mentioned, the Noorio B210 connects via WiFi. It takes just a few minutes to set up, and once it's connected, it reconnects very easily. You don't have to run any wires, which saves a ton of trouble during installation. And since it uses the 2.4GHz wireless band, you'll get the maximum range possible for your router.
There are two ways of storing the videos you've recorded. The first and simplest option is to use the built-in internal storage. The internal drive has a capacity of 16GB, which can store up to 6,000 30-second clips. When it gets full, it will automatically start overwriting the oldest footage first. That should be more than enough capacity for pretty much anybody.
That said, you might want to keep a permanent record of your footage, or you may just want more capacity. In that case, you can subscribe to a cloud storage package. For a monthly fee, you'll gain access to unlimited storage space. You can even save money by signing up for an annual cloud subscription.
If your security camera needs to work off the grid, consider the Ebitcam 4G Camera. This camera connects via 4G wireless, so it works anywhere you can get a cell signal. It also comes with two-way voice communication. On the downside, you have to pay for a data plan for it.
Power
In keeping with its wireless nature, the B210 runs on an internal battery. The battery is incredibly powerful, and is rated to last for six months. Now, obviously there's going to be some variability here. If you're farther from your router, for example, your battery will have to push harder to stay connected.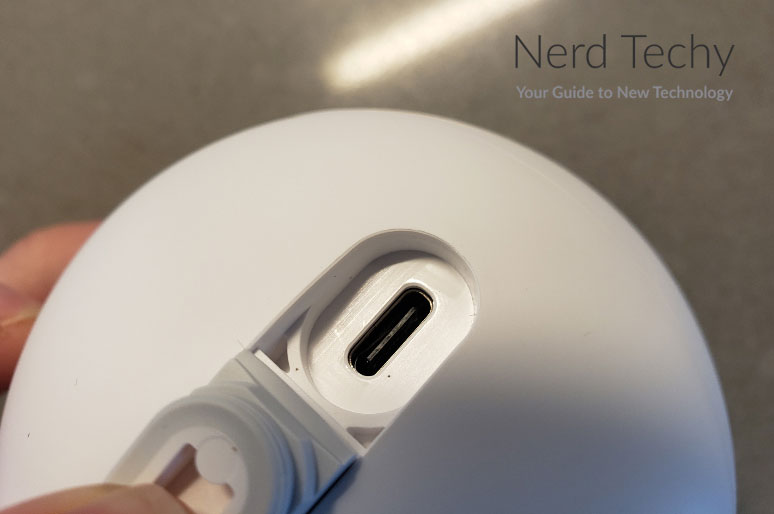 The most significant variable will be how often the camera turns on. If your door is very active, the battery will die a lot faster than it would on a seldom-used door. Regardless, you're talking about far more battery life than most battery-powered cameras. This is a good thing, since nobody wants to have to take down their camera for charging.
When it does come time to charge, it's about as easy as possible. Thanks to the magnetic mount, all you have to do is pop the main unit off and plug it in. The process only takes a few hours, so you won't be without your camera for long. And a USB charging cable is included in the package, so you have everything you need to keep going.
Video Quality
We've talked a lot about the B210's physical design, how you install it, and how you set it up. But how well does the video quality stand up to the competition? In this regard, we were mostly very pleased.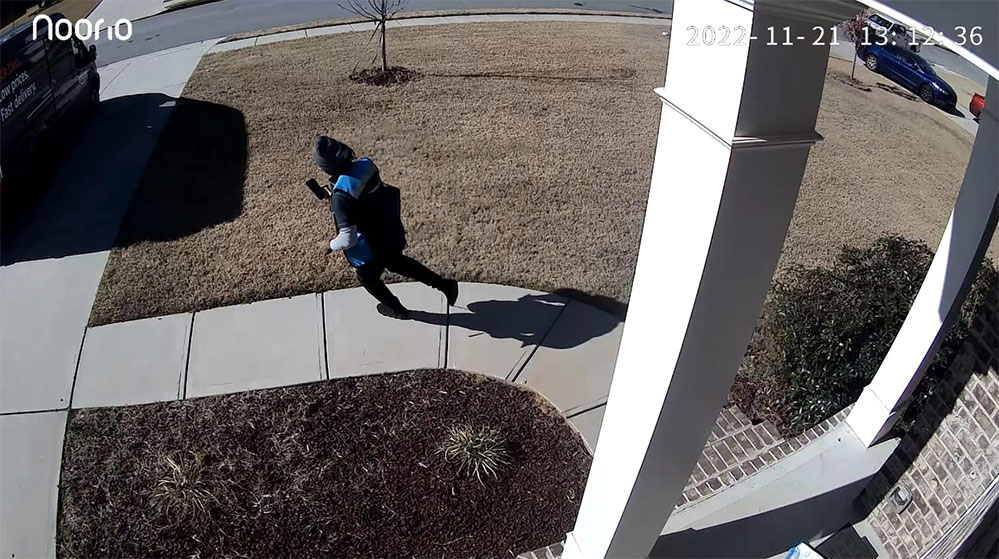 The camera has a 2K resolution, or 1440p. That's good enough to make out fine levels of detail. You can read a license plate on a car out in the street. If a delivery driver is wearing a nametag, you'll be able to read their name. It's not quite 4K resolution, but for all practical purposes, it might as well be. It does everything we'd expect from a good quality security camera.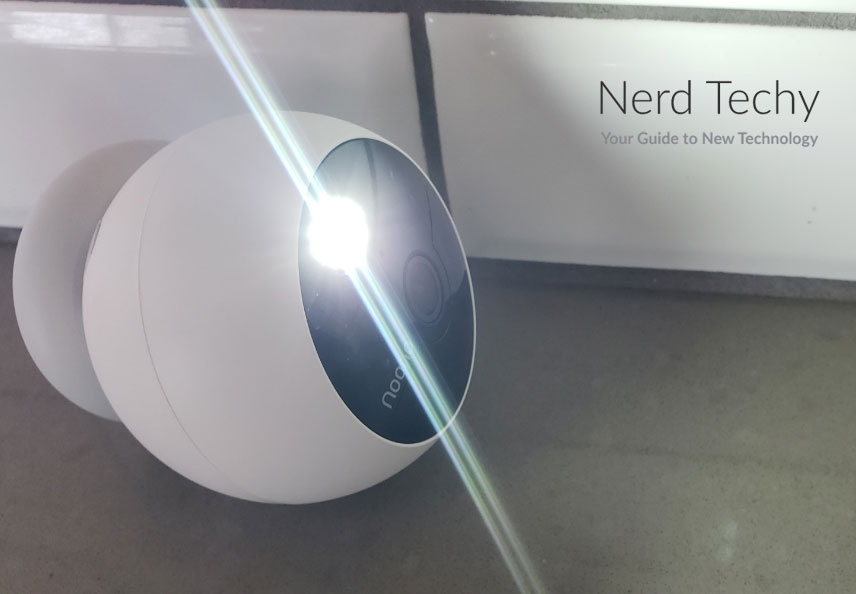 The night vision is full color, but it's also not technically night vision. Instead, the spotlight turns on when the motion activator kicks in. It's extremely bright, and can light up a very wide area. In a sense, this is even better than night vision. The bright light will give thieves notice that they're on camera.
The motion sensor is designed only to kick in when it detects a human being. In theory, this is a good thing, because you don't get any false alerts. This much is true. It's not going to trigger just because there's a branch blowing by or your dog went outside. That said, it doesn't reliably trigger beyond 10 feet. Depending on your camera placement, this may or may not be a problem. But it's something you definitely need to be aware of.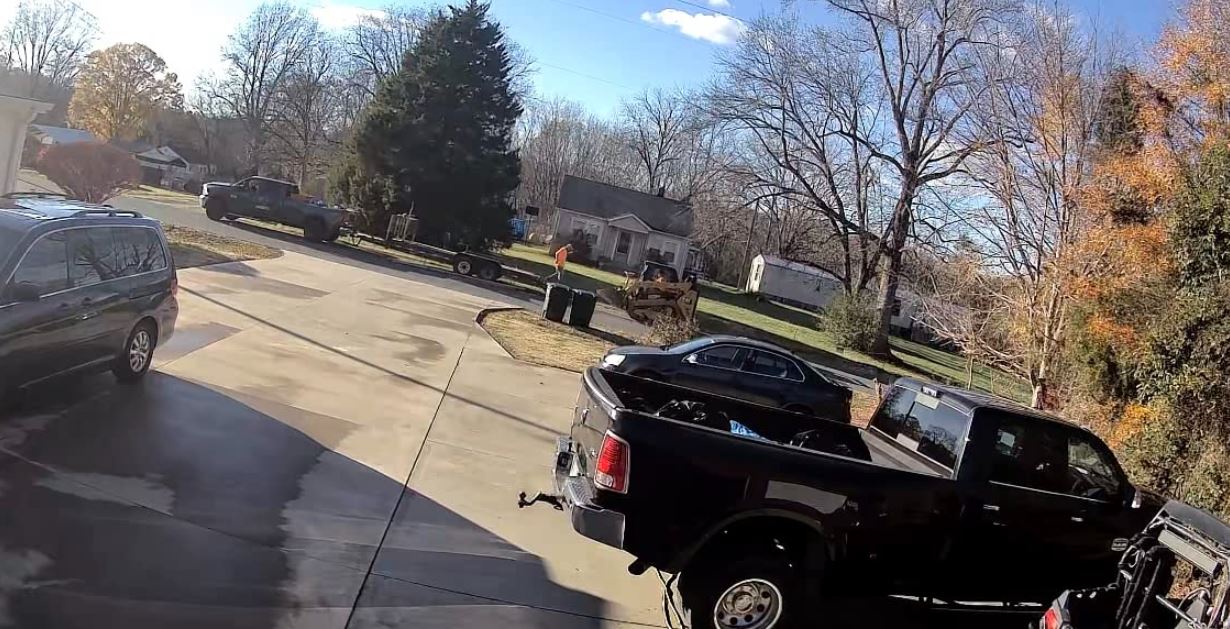 As for coverage, the camera has a 140-degree field of view. That's a fairly wide field, and it will cover a relatively large area. But it's not ultra-wide like a fisheye lens, so it won't distort the video.
If you really need accurate person detection, take a look at the Annke AC800. It's very accurate, and it records in full 4K. Then again, it requires an Ethernet connection, and it's markedly more expensive.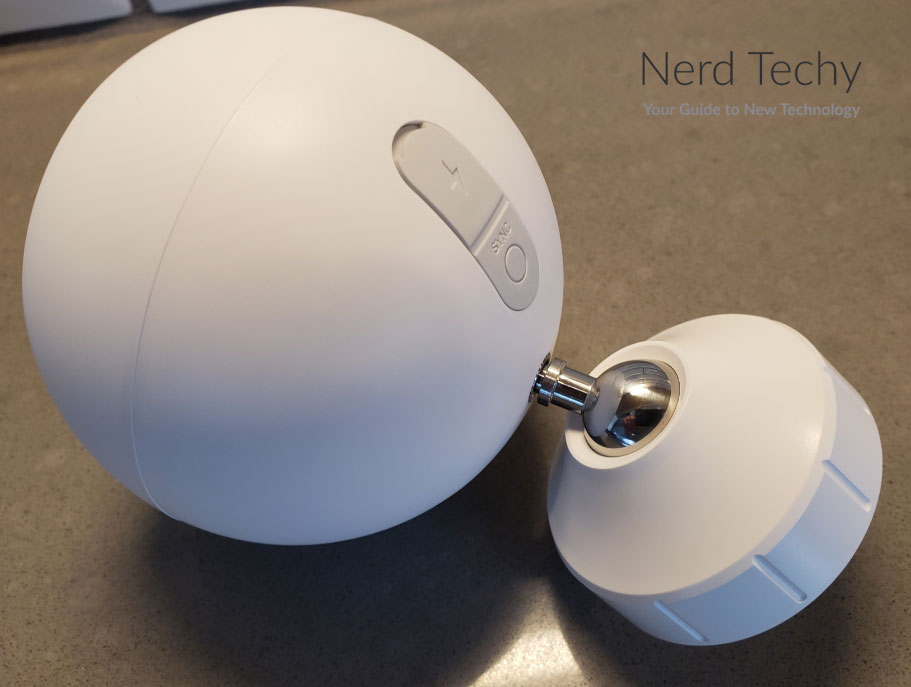 Monitoring and Extras
The B210 records a clip every time the motion detector is triggered. There's no option for continuous, 24/7 recording. However, you can check in on your camera feed at any time by using the smartphone app. The app is free to download, and sets up in just a few minutes. After that, it's quick and easy to pair it with your phone.
From that point, you can peek in on your camera feed at any time. You can also get push alerts whenever the camera detects a person. One of the cool features we found was the ability to connect and name multiple cameras. This can be handy if they're positioned around the house. You'll be able to easily tell from a menu which one is in your living room and which is in your backyard. You can also pair the app with Amazon Alexa. This allows you to call up a live feed from any camera just by asking your voice assistant.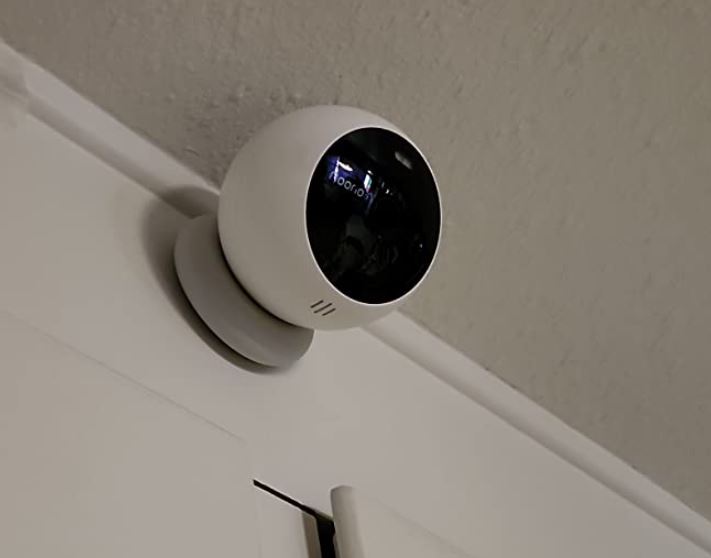 Final Verdict
The Noorio B210 is a unique little camera that's incredibly versatile. It's tough to state just how much of a game changer the magnetic base is. It's absurdly easy to adjust the angle and take on and off for charging.
The 2K video quality is on par with other similar cameras, and the color night vision is bright and easy to see. As for connectivity, it's a no brainer. Just connect the camera to WiFi, pair it with your phone, and you're all set.