Okaysou Apollo 810 GT
Pros
Powerful five-stage filtration system.
Large coverage area.
Straightforward controls.
Relatively affordable.
Filter changes are simple.
Cons
Not powerful enough to suck up pet hair.
Replacement filters are a bit pricey.
If you're looking for an air purifier, you already know that indoor air quality is a concern. But what you might not know is that it can actually be more of a concern in a newer home. Yes, older homes can have problems with mold and can get drafty. But environmental improvements to newer homes have made them incredibly well sealed. So when the air inside gets polluted, the contaminants simply linger.
A good air purifier can help alleviate these issues. It can remove mold, dust, and even chemical contaminants from your home's air. This can be very beneficial for your overall health. And if you have allergies, it can do you even more good. Imagine being able to walk around your own house without sneezing and getting itchy eyes.
Today, we'll be reviewing the Okaysou Apollo 810 GT. This is a mid-sized air purifier that punches well above its weight. Not only does it cover a large area, but it filters almost any contaminants from your air. But there many different factors that go into making a well-designed air purifier. To give this one a fair evaluation, we'll have to take a much closer look. Let's dig in, and see what we find!
Overall Design
The Okaysou Apollo 810 GT Smart Air Purifier comes in two colors. The first is a matte white, which is easy to keep clean. The gloss black version can collect fingerprints, but it really comes down to your taste. Besides the color and finish, the two variants are identical.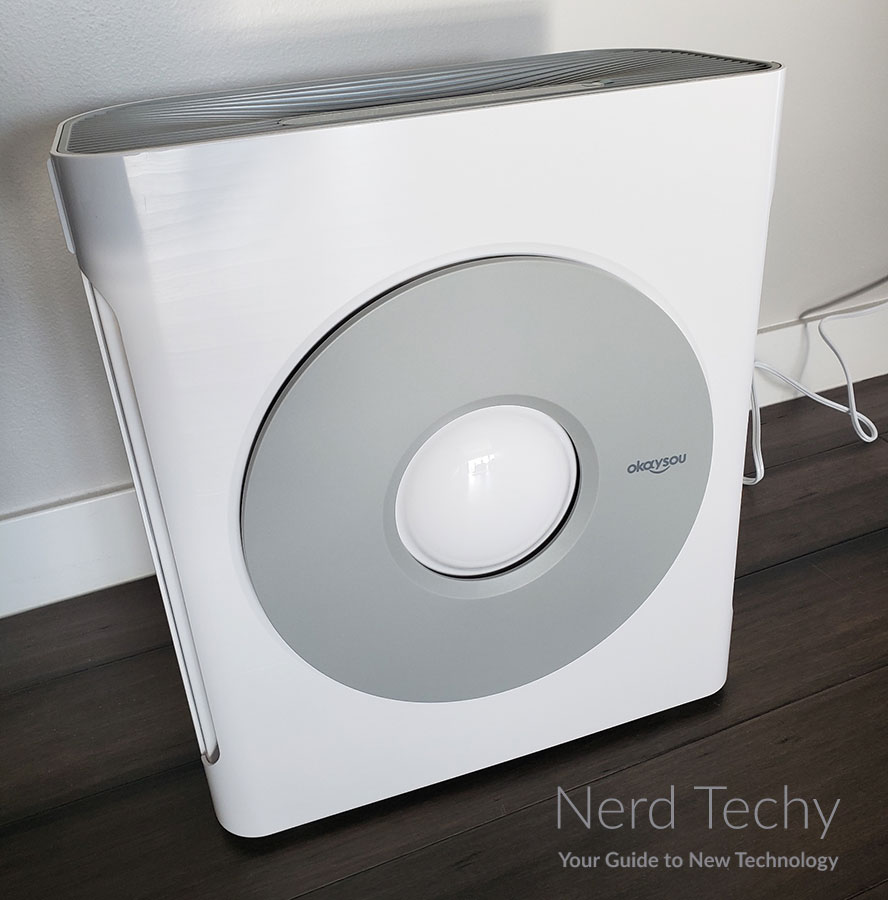 The housing is rectangular in shape, with rounded corners and a vertical orientation. It measures 17.83 inches wide, 20.31 inches high, and only 9.68 inches deep. At 13.85 pounds, it's also pretty lightweight. If you want to move your air purifier around the house, it won't be a problem.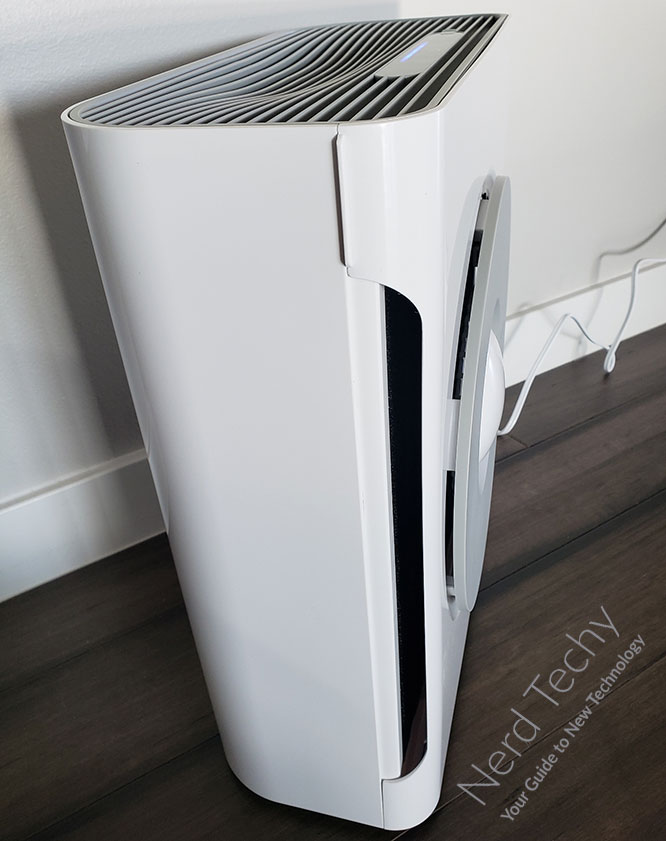 The primary air intakes are located on the sides of the housing. You'll notice a pair of long, wide vertical slots that permit air to enter the purifier. There's also an additional circular vent on the front. The vent looks like an old-school control wheel like you'd find on an iPod, but the design is purely practical.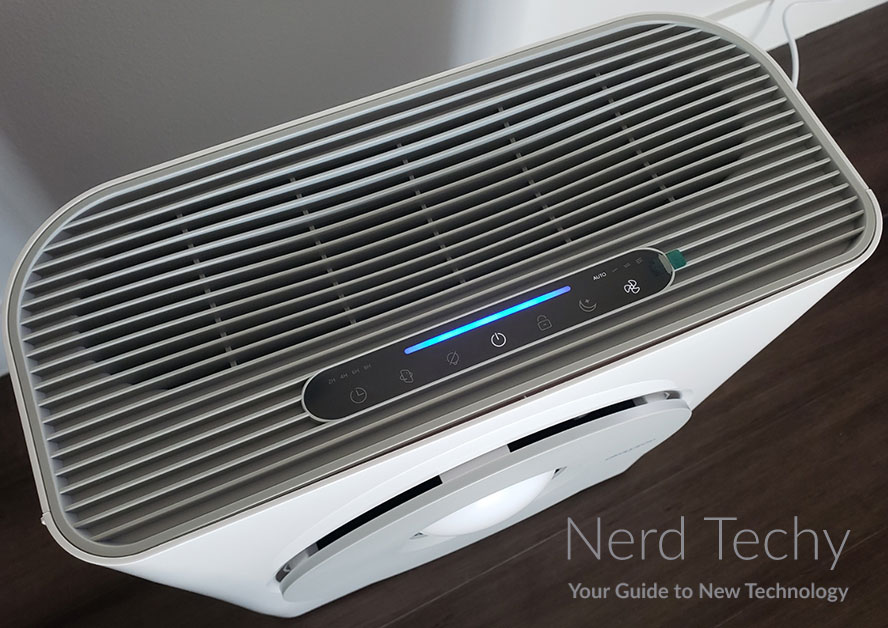 The actual controls are located on the top of the housing, along with the exhaust vent. Most of the top consists of a charcoal surface with multiple rows of horizontal louvers. As a result of this positioning, you can put the filter up against a wall. As long as the front, sides, and top have plenty of clearance, the air will freely distribute throughout the room.
Okaysou backs the Apollo 810 GT with a five-year manufacturer's warranty. This warranty is one of the best in the industry, and protects you from defects in parts or labor. If anything fails prematurely, you'll get a full refund or a replacement.
Controls
The control bar is a simple strip of soft touch controls across the front of the top. They're easy to operate, and respond at the slightest tap.
The button at the far left is used to set the timer. Tap it once to set it for two hours. A second tap will increase that to four hours. Taps three and four will get you to six and eight hours respectively, and another tap will deactivate the timer. There's a set of LED numbers above the button that light up to show the current setting.
Next in line is a filter reset button. This button will light up when it's time to change the filter. Press the button, and the filter change indicator timer will reset.
The third button turns the LED lighting on and off. This can make it easier to sleep with the purifier running. Following that is a power button, then a lock button. Hold this button for a few seconds, and it will lock out the other controls. Press and hold it again to unlock the control panel.
After the lock button is the night mode button. This button will instantly switch the motor to its lowest setting. At that speed, it will only produce 24dB of sound – literally less than a whisper.
The last button is a speed control that can adjust the fan to three power levels. Alternatively, you can set it to auto mode. In this mode, the built-in particle sensor takes over and adjusts the speed based on your air quality. When the air quality is good, it will run on low. When the quality goes down, the fan speed will go up. As with the timer button, there's a row of indicator LEDs above the button to let you know your settings.
Across the back part of the control strip is a bright LED bar. This bar will change color based on the air quality: blue for good, orange for moderate, and red for poor.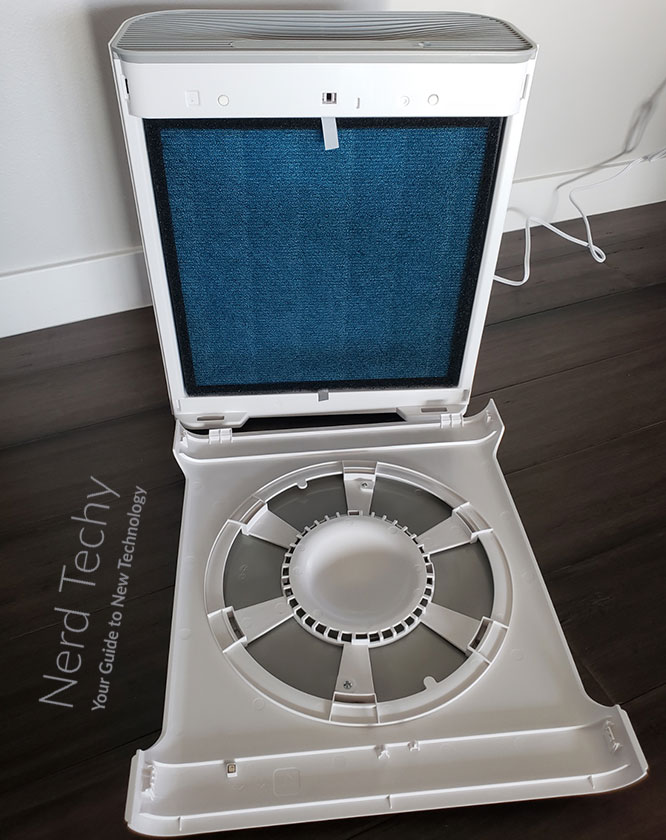 Filtration System
The Apollo 810 GT has a five-layer filtration system that's designed to remove more than just particles. It also scrubs out odors, VOCs, and other air contaminants.
The first layer is a dense black foam mesh. It's the first line of defense against larger particles. Following this is a pair of particulate filters – a loose blue accordion filter, and a larger white HEPA filter. Next are a pair of filters for odors and chemicals. The first is a black honeycomb-pattern activated carbon filter. The second is a thinner cold catalyst filter. All of these filters are big and broad, and occupy almost the entire inside of the housing.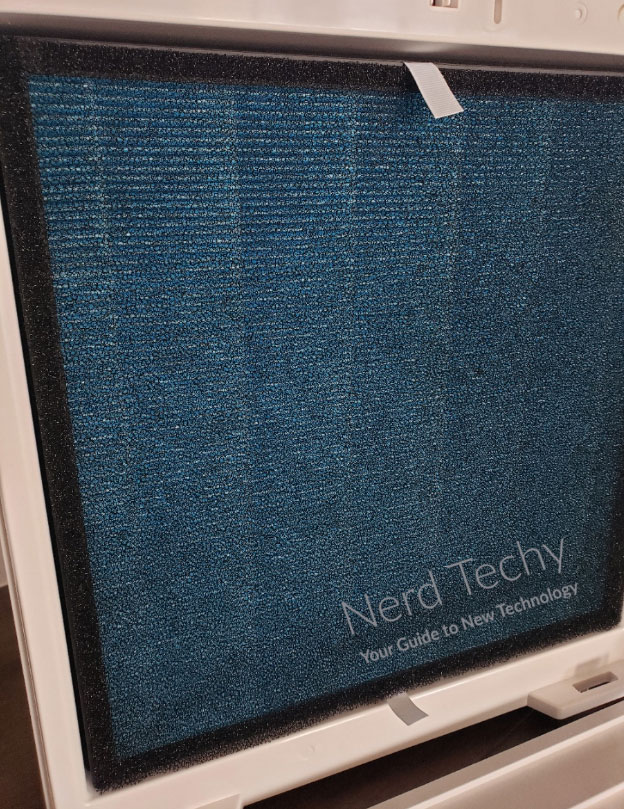 The motor can move a lot of air in a short period of time. Over the course of an hour, it can purify the air over a 1,200-square foot space. It can purify 550 square feet in just half an hour. Keep in mind that these numbers assume standard eight-foot ceilings. If you have a drop ceiling, you'll get more coverage. With cathedral ceilings, you'll have correspondingly less coverage. Either way, you're looking at enough power for almost any apartment. And two of these purifiers would be sufficient for most suburban homes.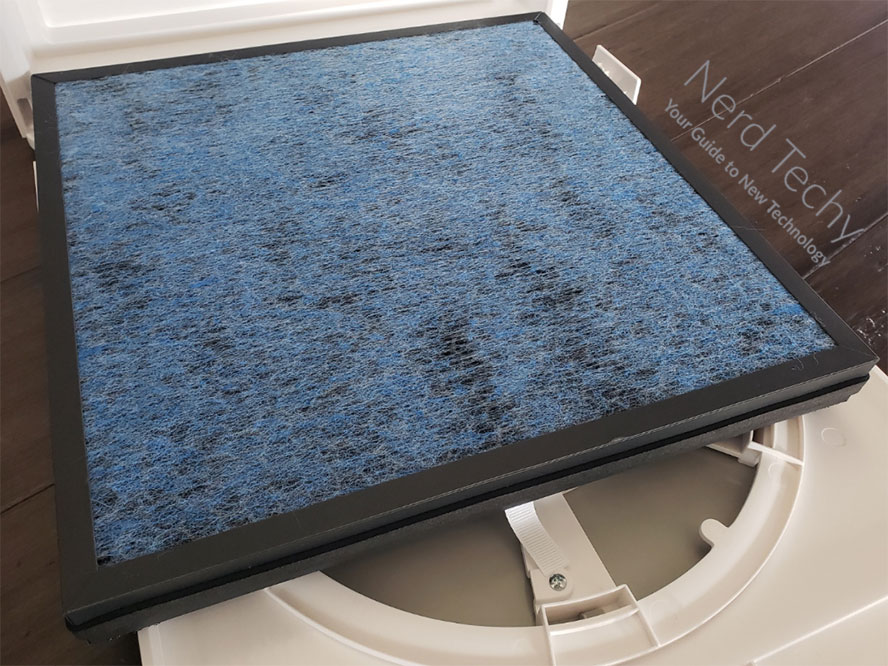 If you need even more coverage, take a look at the Okaysou Apollo 818. It can filter an impressive 1,500-square foot area, 25% more than the 810 GT. You can also purchase individual filter stages instead of buying them all at once. On the downside, the air quality sensor isn't always accurate.
What Does it Remove?
Now that we know how the filter is set up, let's talk about what it's capable of. To begin with, the pre-filter is designed to remove larger debris from the air. It will collect larger bits of dust, pet hair, and similar things. If you're looking to clean pet hair from a large area, though, look elsewhere. It will remove hair floating in the air and that's about it.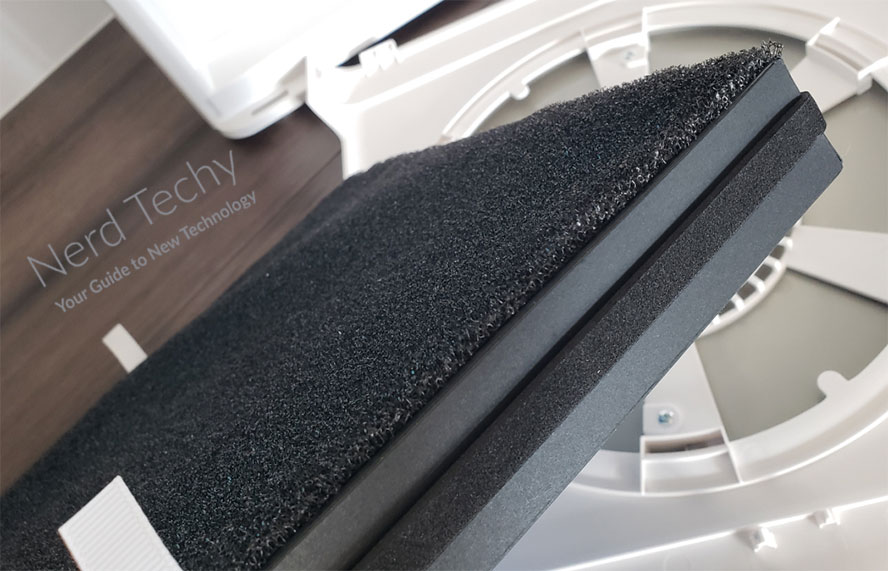 The first, blue accordion filter is a generic one. It will collect smaller bits of dust and other fine debris, including most pet hair and larger pollens. The next, white accordion filter is the real workhorse. It's an H13 True HEPA filter that's capable of removing 99.97% of particles as small as 0.3 microns. This includes all dust, pollens, and mold spores, along with smoke and pet dander. It can even collect most bacteria and a handful of the largest viruses. While the Apollo 810 GT isn't a medical-grade purifier, this is the type of filter element used in hospitals.
The hex-pattern charcoal filter is primarily used to remove odors. It scrubs out smells from cooking, pets, and smoking. The cold catalyst layer, meanwhile, is designed to remove VOCs. If you're worried about fumes from cleaning chemicals, it will remove most of them. It also removes the formaldehyde that can leech out of modern upholstery.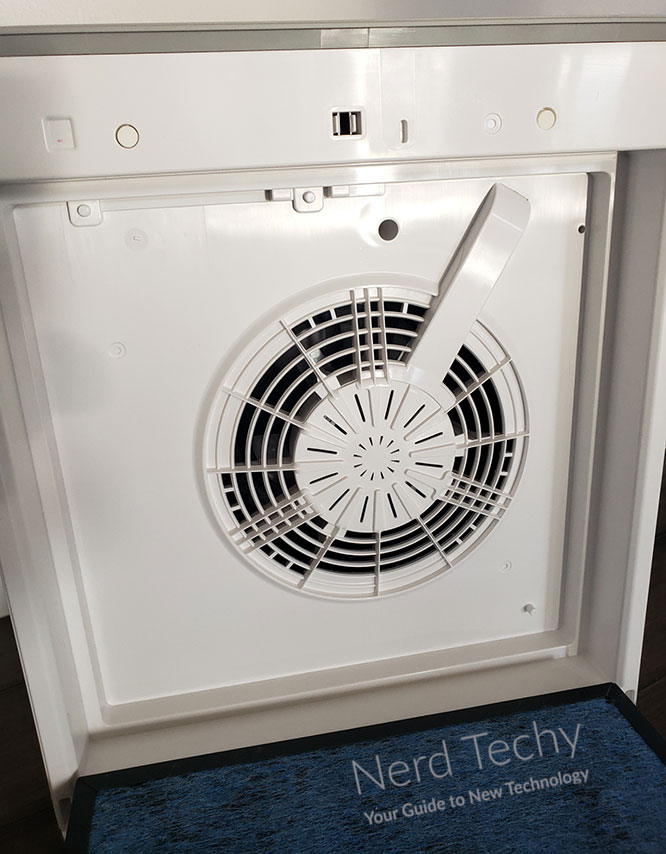 If you like the filter system but prefer a different design, check out the Okaysou AirMax 10L. It has a similar multi-stage filter, along with the same general profile. But the controls are solid clicky buttons, and there's a large air quality indicator on the front. That said, it also covers less area.
Maintenance and Extras
Maintenance on the Apollo 810 GT is straightforward. When the filter needs to be replaced, the light on the control strip will illuminate. When it turns on, turn off the power and open the front of the housing. The front panel pops right off, and you can replace individual parts of the filter or the entire thing. Then again, you can only order the entire set of filter layers. This is a bit pricey, and can get frustrating if only one of the layers needs to be replaced.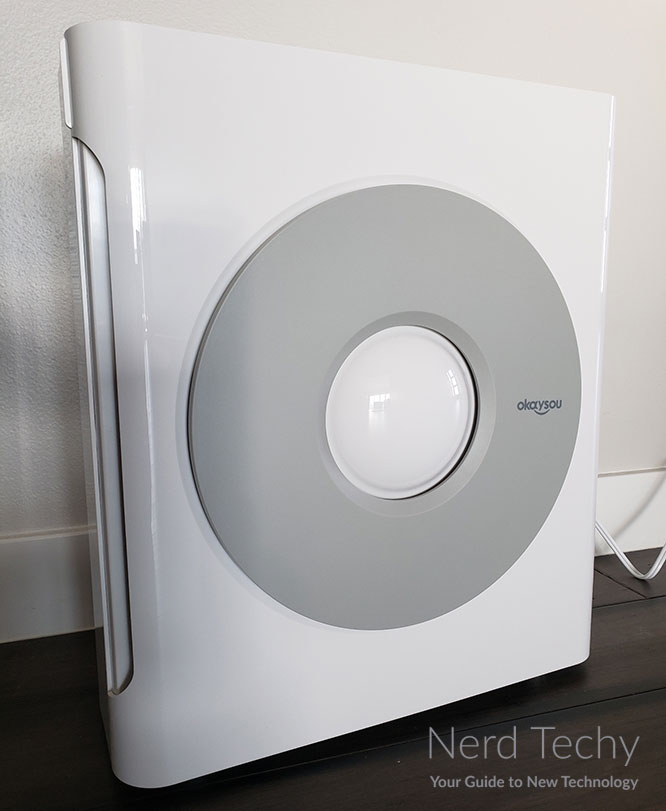 When you change the other parts of the filter, it's a good time to wash the pre-filter. Hold it under a faucet and run cool water through it in reverse. This will knock out any dust and debris and should leave the front of the mesh nice and clean. Set it aside for a few hours and let it dry. Once the pre-filter is dry, you can put it back in the housing and replace the front cover. That's all there is to it.
In addition, the motor is exceptionally efficient. It draws only 45 watts, which is far less than most comparable air filters.
If you want a simpler filter system, consider the Okaysou Apollo 630. It utilizes a three-stage system with an H13 filter. Better yet, you can purchase and swap out filter stages independently. Then again, it "only" covers around 800 square feet of living space.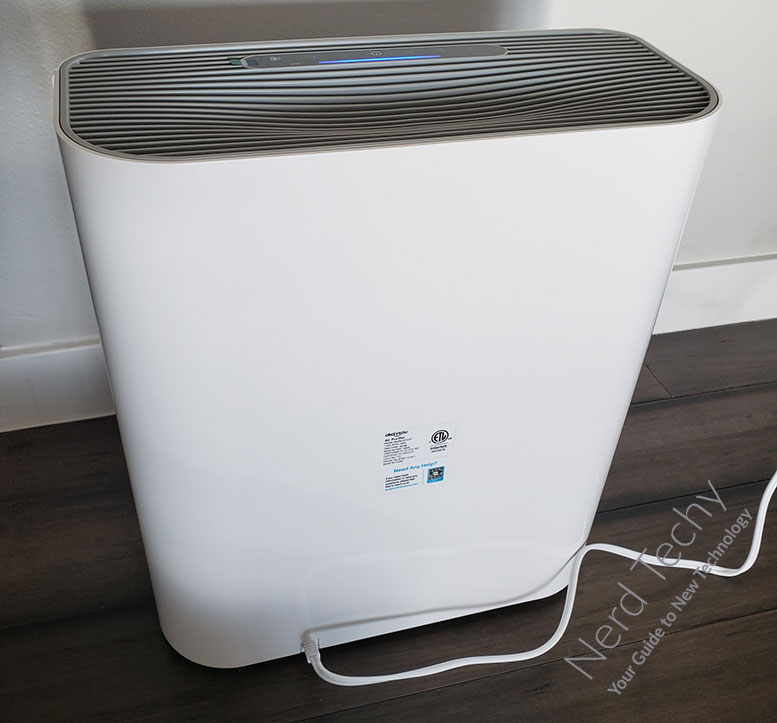 Final Verdict
The Okaysou Apollo 810 GT Smart Air Purifier is a lot more powerful than it looks. With the ability to purify a 1,200-square foot area, it's no shrinking violet. The controls are easy to operate, and the timer and air quality sensor work well. We also appreciated the powerful, 5-stage filtration system that leaves your air perfectly fresh.