Okaysou Apollo 818
Pros
Powerful H13 filter with cold catalyst.
Huge coverage area.
Quiet operation.
Can replace filter stages individually.
Sleek looking appearance.
Cons
No smartphone app.
Air status indicator not always perfectly accurate.
A bit expensive.
These days, people are more concerned than ever about the quality of their home's indoor air.
In part, this is because we've become a more health-conscious society. People are exercising more and eating healthier than they used to. Smoking rates are at an all-time low, and continue to drop.
Note: At no extra cost to you, we may earn a commission for purchases using our links. Learn more.
At the same time, we've also introduced new problems for ourselves. Weatherproofing improvements go a long way towards making our homes more energy efficient.
But they also trap contaminated air inside the home. If you have pets, for instance, the dander doesn't get blown out through drafty windows. It just continues to build up.
Today, we'll be reviewing the Okaysou Apollo 818 Air Purifier. This is a beefy purifier that's designed to remove virtually all the contaminants from your air.
While it can cover a huge area, we still have many questions about it. To find out how well it performs, we'll need to put it under the microscope and learn everything we can. Let's begin!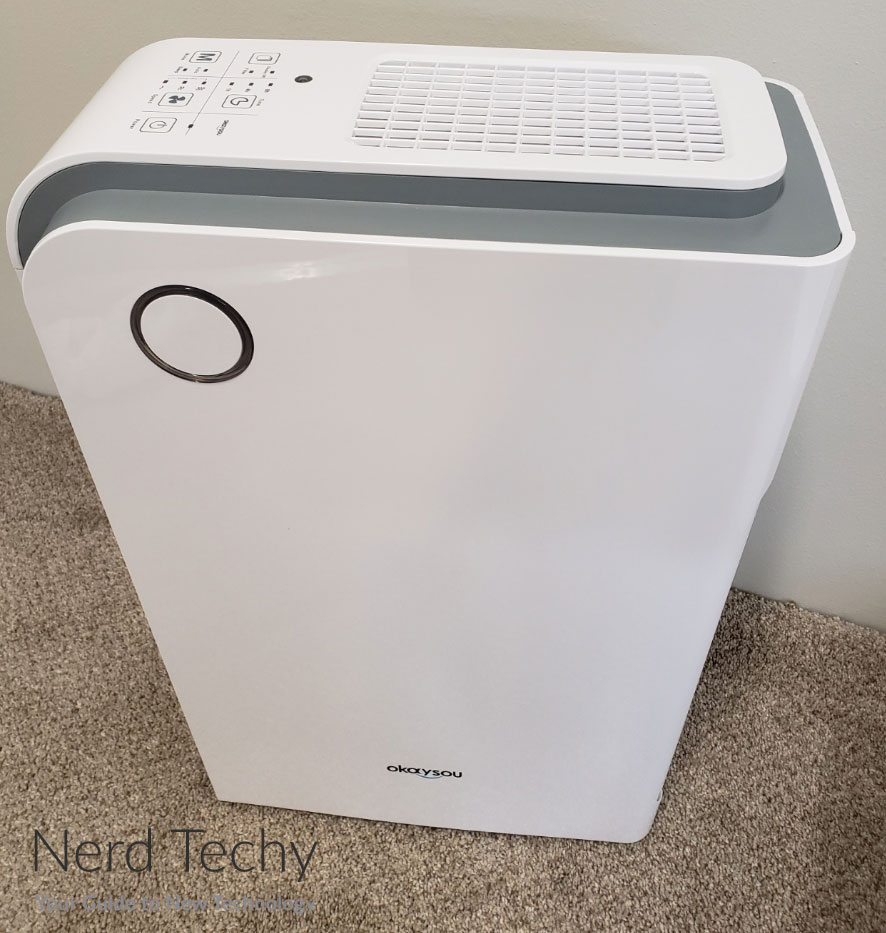 Overall Design
The Okaysou Apollo 818 Apir Purifier has a white rectangular housing. The corners are mostly sharp, but the top left corner is rounded off, creating a neat visual touch.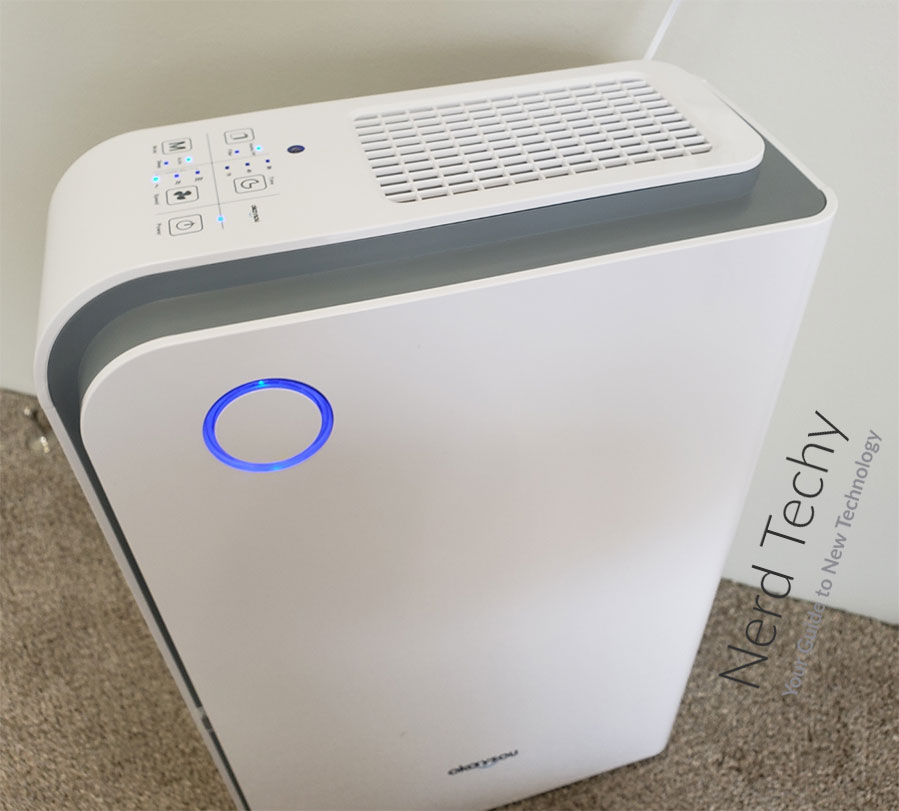 The plastic is glossy, and while it collects fingerprints easy, it's also easy to wipe down. The footprint is 15.83 inches wide by 7.37 inches deep, and it stands 24.57 inches tall. That's fairly big for a modern purifier, but necessary to move a lot of air.
At 19 pounds, the 818 is fairly heavy. But it's not likely you'll be carrying it around a lot, so weight is less of a concern than for a more portable purifier.
A set of small feet on the bottom provide stability, and keep it from scratching hardwood or tiles. And on carpets, they provide a bit of clearance on the bottom.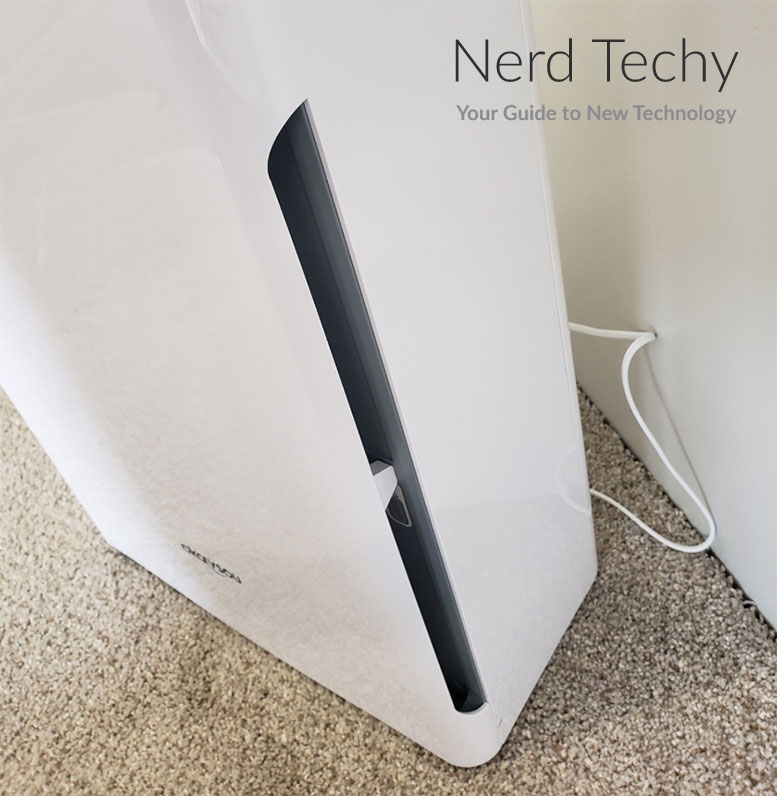 The front and back panels on the housing appear to be "floating" in place. They're separated from the main body by a set of matte grey bands, which are slightly recessed. This hides a gap in the front left side of the purifier, where air gets sucked into the filter.
The air is then expelled through a vent in the white top panel. This placement makes it easy to position the 818. Just don't block the top or the left side, and you'll have plenty of air flow. That said, as with any air purifier, you'll get the best performance in a central location.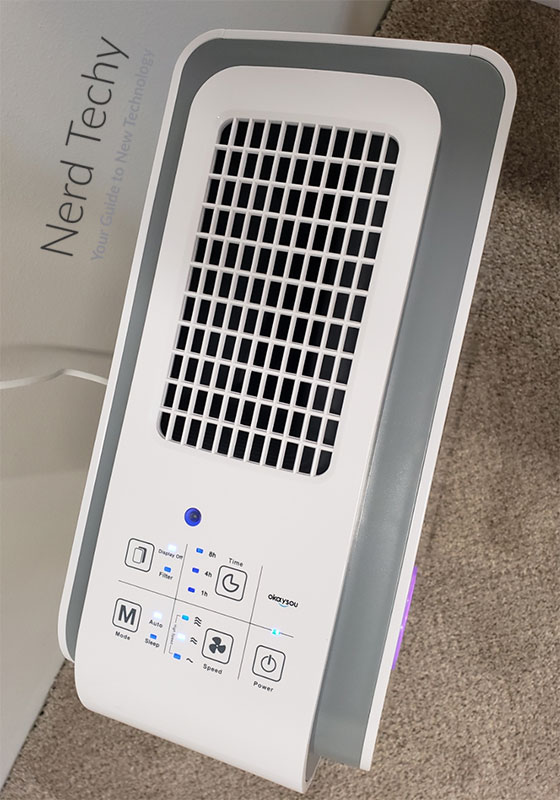 On the top left side of the front panel, you'll notice an LED light ring. This shows how clean your air is. A red ring indicates bad air, and a purple ring means normal air. Green and blue mean good and perfect respectively. Unfortunately, the light can get stuck on blue sometimes and the unit will need to be power cycled.
Okaysou provides a two-year manufacturer's warranty on their air purifiers. If yours fails due to a defect in labor or materials, you'll get a refund or replacement.
If you were looking for a smaller filter, there are many choices. The Okaysou Apollo 630 is one of the best. It's about half the size, and offers similar features at a more affordable price. Then again, it also has only about half the power.
Controls
The Okaysou Apollo 818 is controlled by a set of soft touch buttons. They're located on the top of the housing, to the left of the exhaust vent. They're also oriented towards the left, which is a bit of an odd choice. If you're looking at the controls head on, you're actually looking at the side of the unit, not the front.
The top left button serves a dual purpose. The first is the "Night" function, which activates the built-in light sensor. In night mode, the lights and LED ring will automatically shut off when your room gets dark. We'd recommend using night mode, since the ring can otherwise be bright enough to keep you awake. The second function is to serve as a filter reset. There's a pair of green LEDs next to the button for both functions.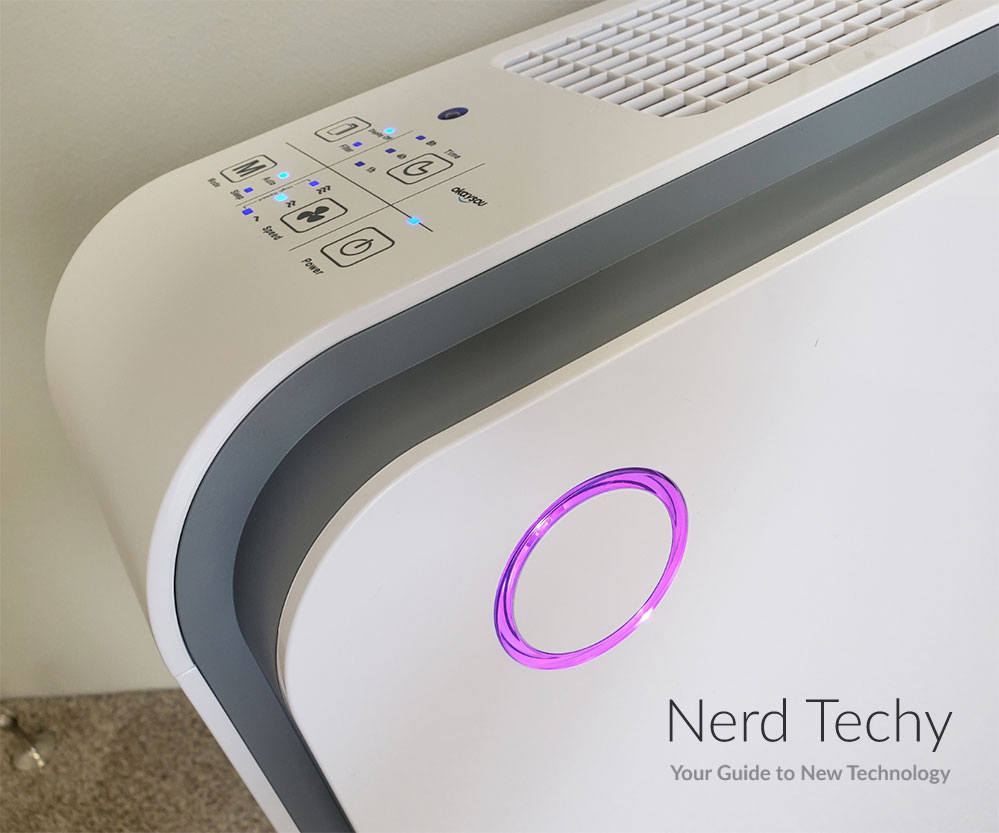 At the top center is a timer button. Press it once, and it will activate a one-hour timer. Press it again, and that will go up to four hours. A third press activates an eight-hour timer, and another press turns the timer off. As with the last button, there are LED lights to the side. From bottom to top, they're labeled for one, four, and eight hours respectively.
The bottom left button is used to activate two special modes. Press it to activate auto mode, and the fan speed will automatically adjust based on how dirty your air is. Press it to activate silent mode, and the fan will switch to the lowest possible setting. There are lights next to the button to let you know which mode is active. Pressing the button again will return you to manual control, and both lights will shut off.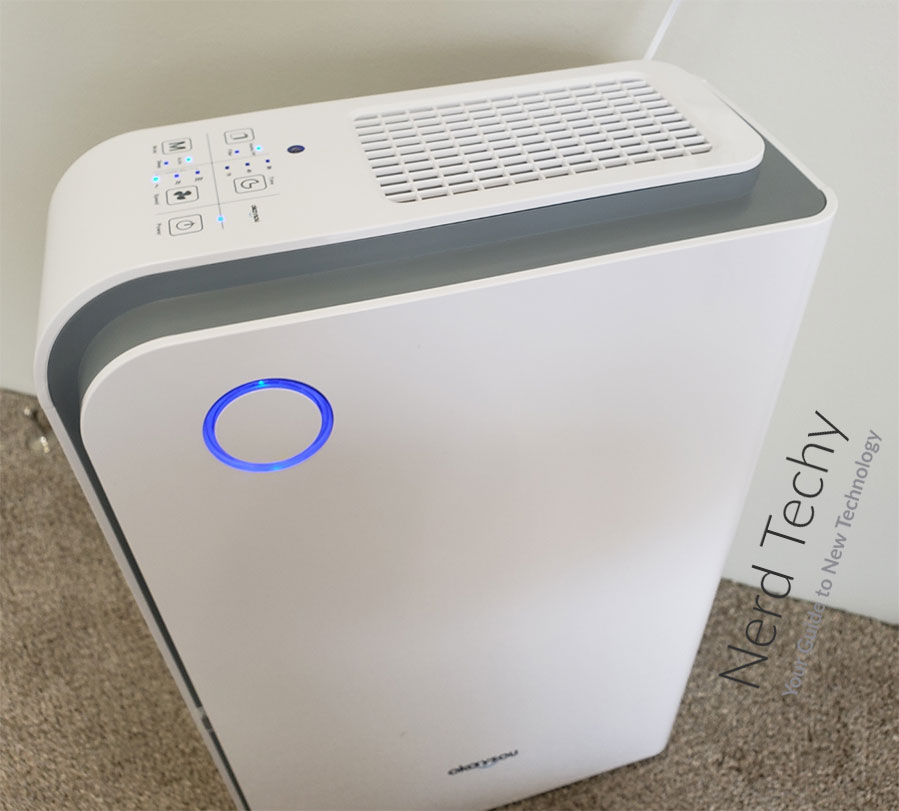 The bottom center button is the speed control button. Press it to cycle through the three different fan speeds. Three green LEDs let you know which setting is currently active.
The bottom right button turns the purifier on and off, and has one indicator light directly above it. Above that, where the top right button would be, there's just an "Okaysou" logo.
Filtration System
So far we've talked about the Apollo 818's physical traits and controls. But what does it have under the hood?
The four-stage filtration system is directly behind the front panel, and starts with a pre-filter. This is a simple plastic filter, similar to the one in a window air conditioner. It's not made to filter ultra-fine particles. Instead, it's designed to eliminate larger debris like dust and pet fur that could quickly clog the main filter.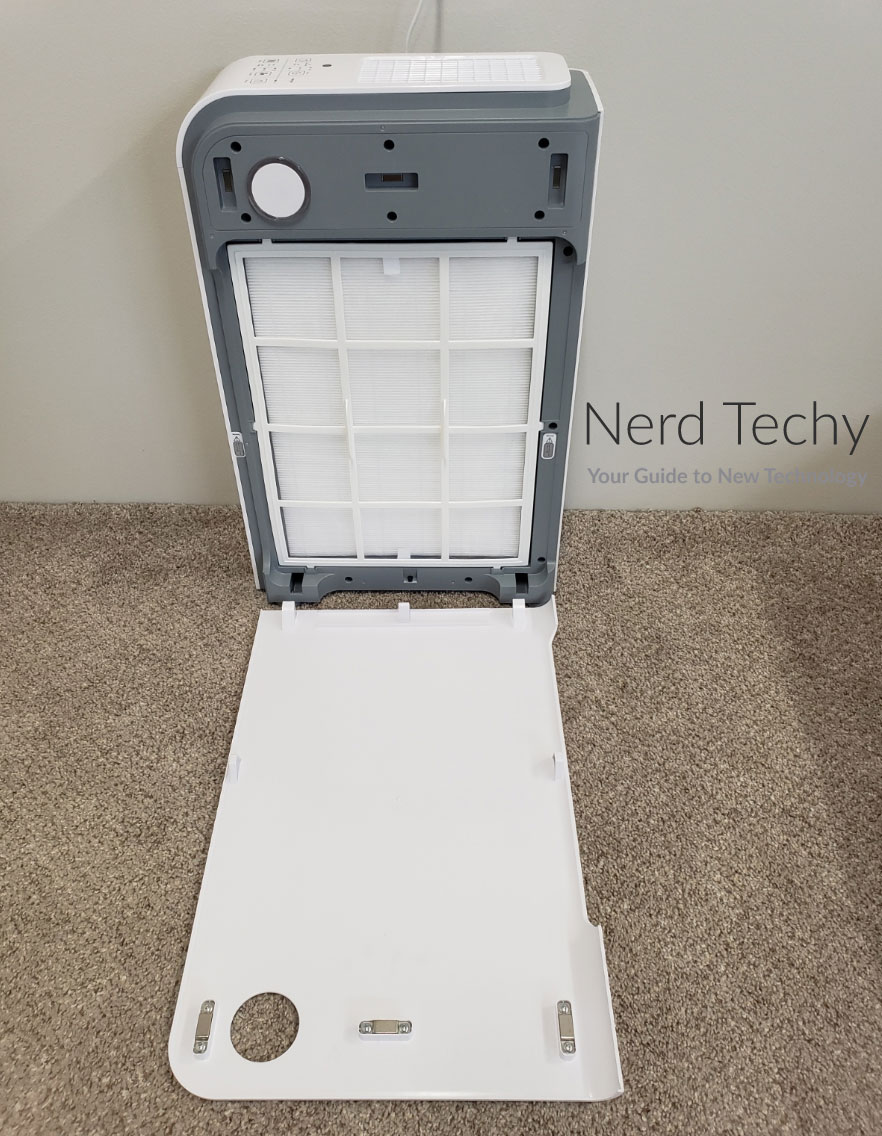 Behind the pre-filter is an H13 True HEPA filter. This filter is an accordion-style rectangle, and looks kind of like a furnace filter. As we'll see, though, it's far more capable. Next comes an activated charcoal filter, which looks like a coarse wire mesh. Last comes the cold catalyst filter, which seems almost like a big dry sponge.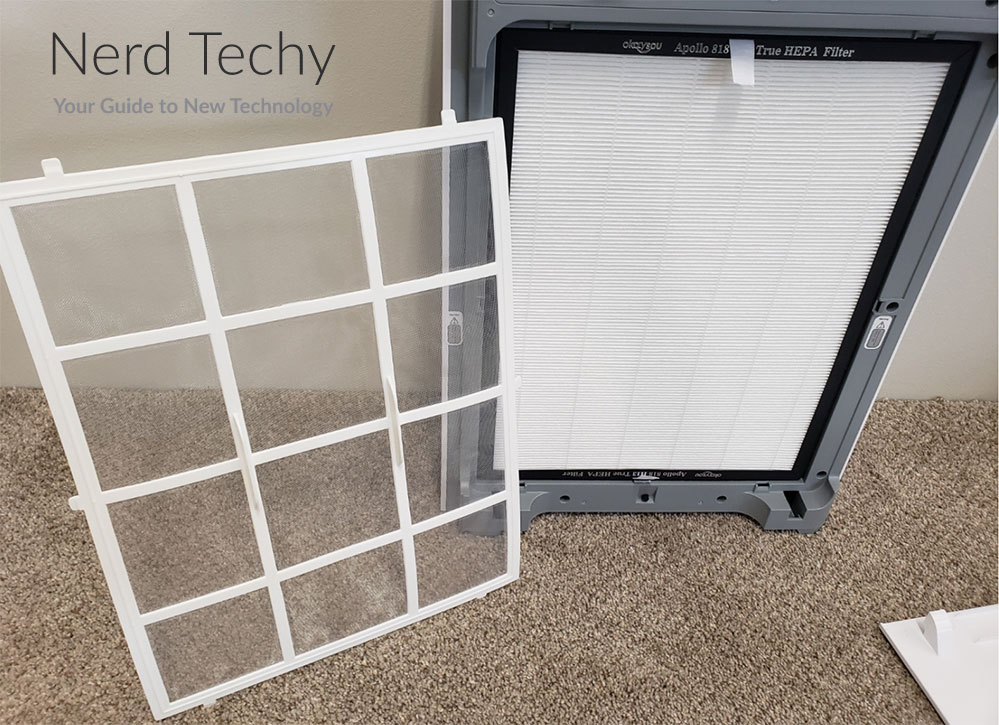 The motor is powerful enough to clean a 1,500 square foot space in a single hour. That's the size of a small single-family home. In a single-bedroom apartment, it will clean the air in half an hour or less. Of course, much depends on your settings. The filter will work faster on higher settings than it will on lower ones. For most purposes, you'll probably use the automatic mode 90% of the time. It works well, and there's no need to mess around with it.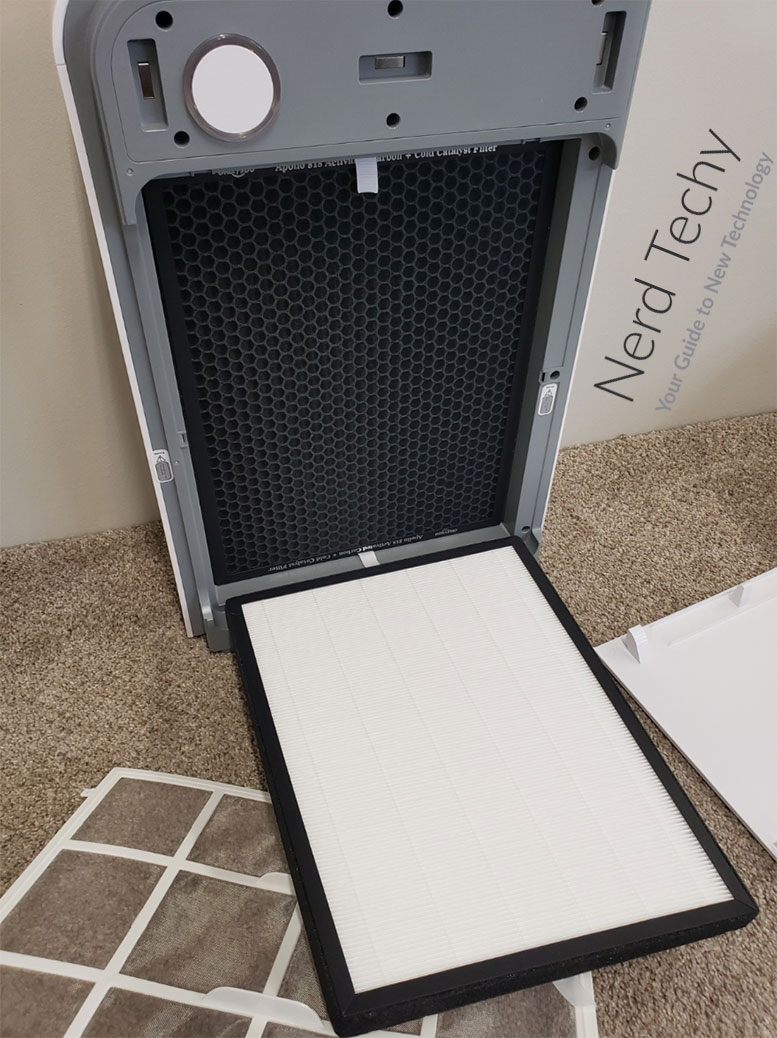 That said, sleep mode can also be useful. While the Apollo 818 isn't at its strongest in sleep mode, it produces only 20dB of noise. That's so quiet that you'd have to put your ear next to the housing to hear the motor.
What Does it Remove?
So, what is the Apollo 818 capable of removing? As you might imagine, the H13 HEPA filter does the bulk of the work. This is far more powerful than the typical HEPA filter, which meets H12 standards.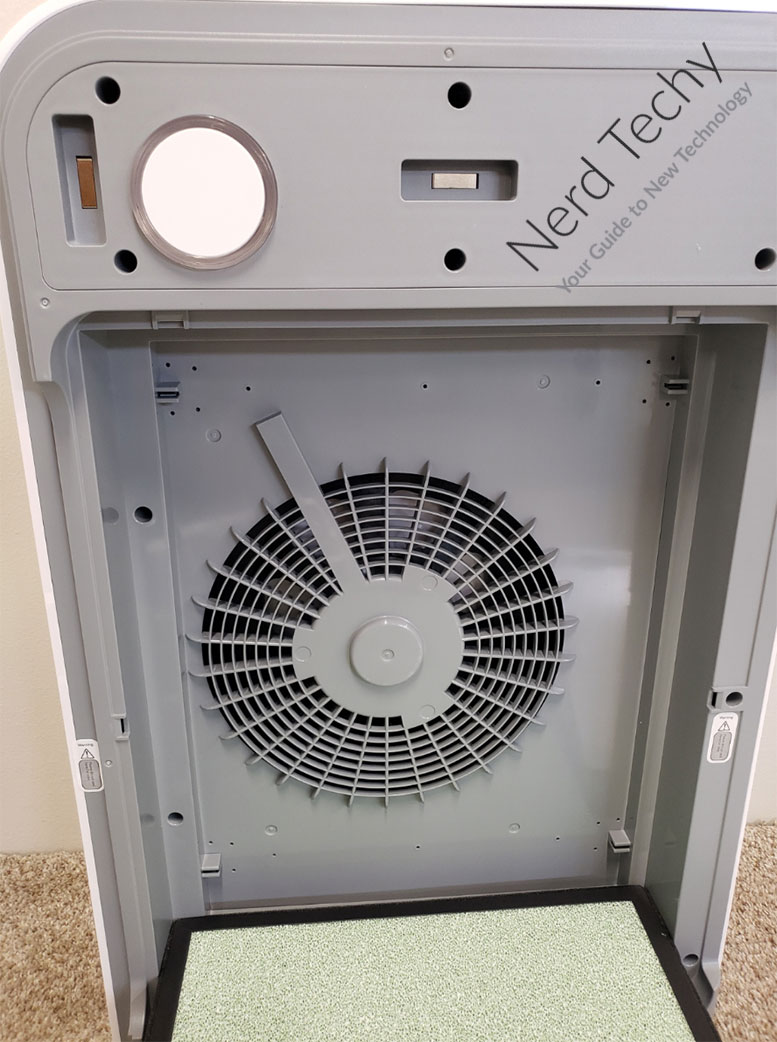 An H13 filter removes 99.97% of particles down to a size of 0.3 microns. That's incredibly tiny. Dust, pollen, and mold spores are no obstacle. Animal dander and mites won't stand a chance. At this size, the filter can even capture most bacteria. Only the smallest of objects – like most viruses – will be able to make it through the filter.
The activated carbon layer removes unwanted smells and some volatile organic compounds (VOCs). Pet odors will be neutralized, as will odors from smoke, cooking, and most household chemicals.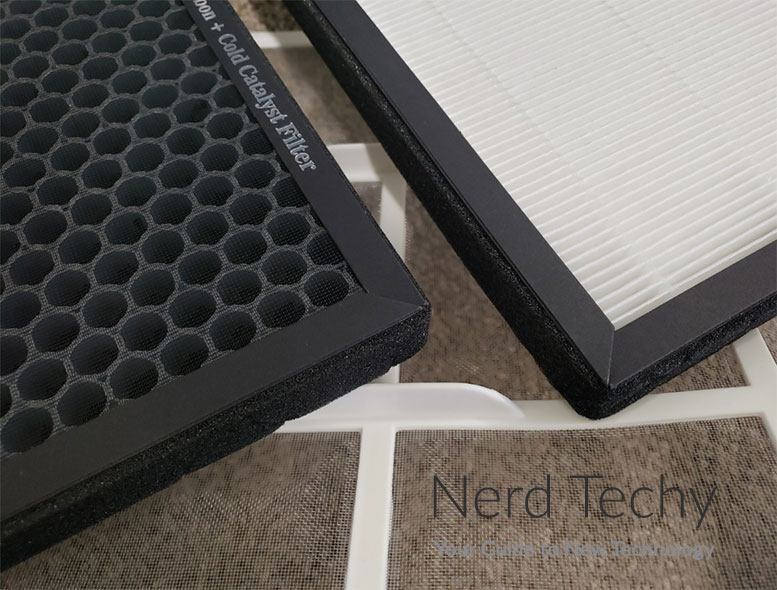 The cold catalyst layer takes this a step further. It's coated with a special compound that reacts with VOCs like formaldehyde and releases water and CO2 instead. The nice thing about this system is that there's no ozone released, so it's safe for your health.
If you want even more robust purification, check out the Okaysou AirMax 10L Pro. It has a medical-grade filter, and has most of the same operating modes. Then again, the filter cartridge is pretty expensive.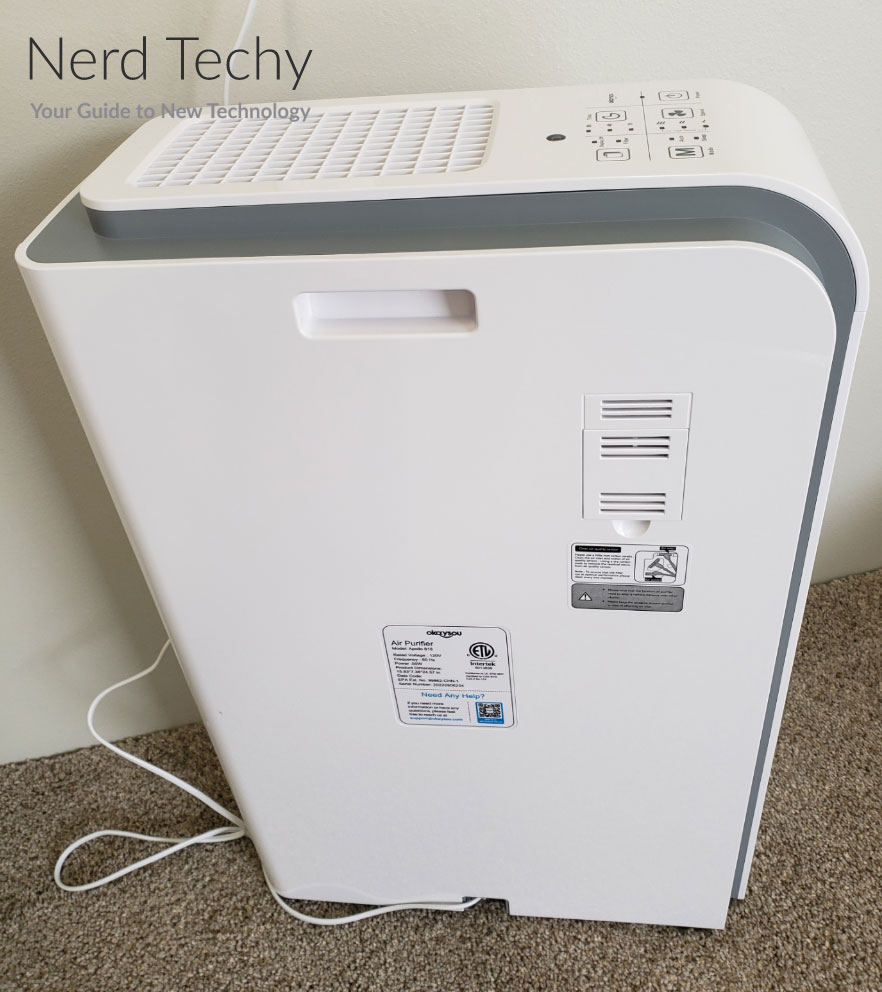 Maintenance and Extras
Maintaining the Apollo 818 Air Purifier is easy. Just replace the filter as needed. The light will come on by the filter button to let you know it's dirty. When you're done replacing it, press and hold the night button to reset the indicator.
The pre-filter is washable. Just pop off the front panel, pull it out, and run water through it in a reverse direction. Make sure to let it dry before putting it back in the housing. If it's damp, it could damage the motor (or the other filter layers).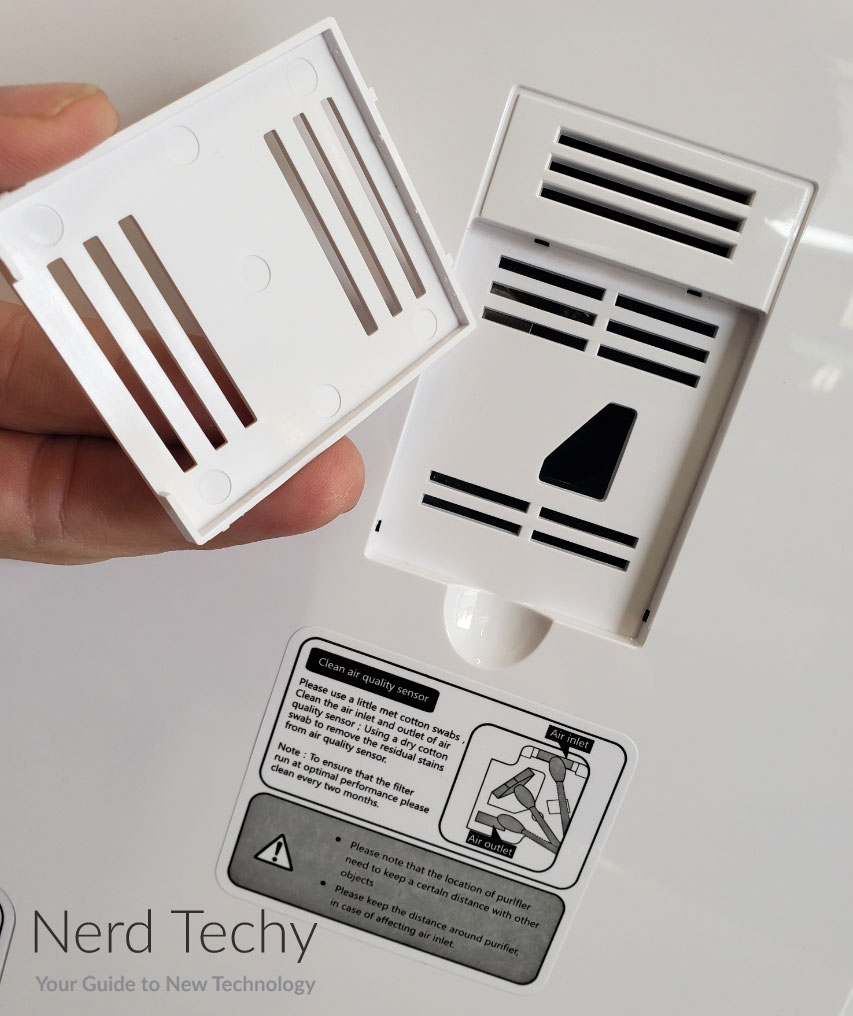 One thing we appreciated about the filter is that each layer is packaged separately. This means you don't have to replace them all three at once. Let's say you just painted your house and the VOCs have depleted the catalyst. You can replace the catalyst layer and leave your H13 HEPA layer in place until a change is truly necessary. Over the long term, you can save a chunk of money on replacement filters.
If you're looking for a filter with more extras, consider the AROEVE Air Purifier. It's ultra compact and affordable, and it features a built-in essential oil diffuser. Then again, it doesn't work as well as a real, dedicated diffuser.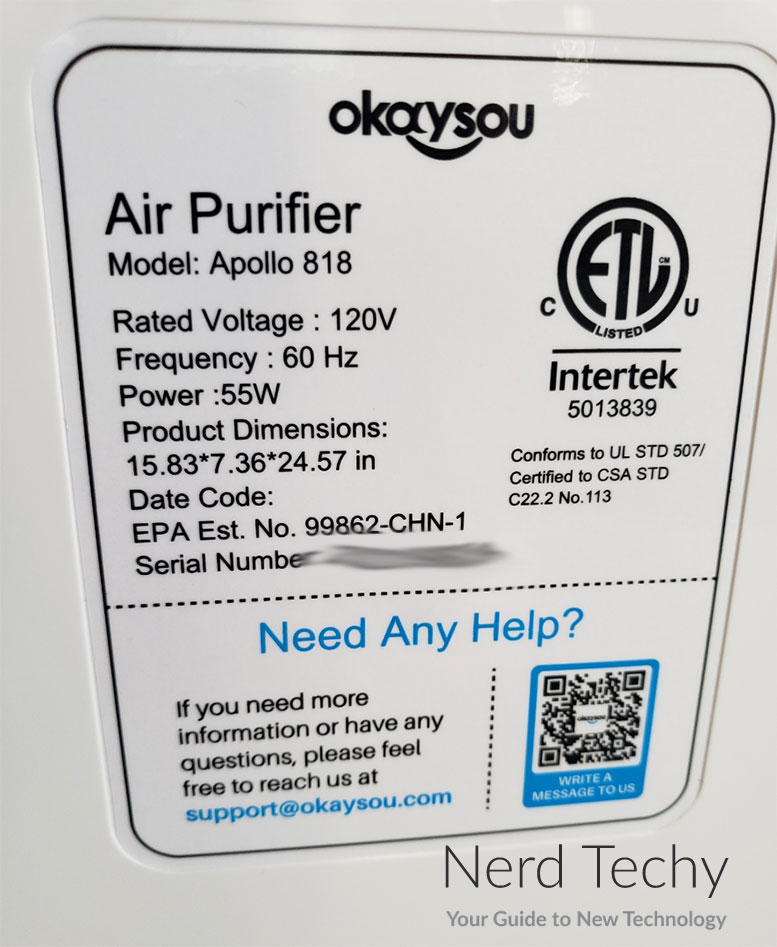 Final Verdict
As you can see, the Okaysou Apollo 818 Air Purifier is impressively powerful. With 1,500 square feet of coverage, it's the most robust filter you'll see outside of a whole house filter. The control system is simple and straightforward, and has all the settings you could desire.
Meanwhile, the filtration system removes just about any kind of contaminant. Everyday particulates are no match for the H13 HEPA filter. And for everything else, there are the activated charcoal and cold catalyst layers. There's a lot to like here.
Please consider sharing:
Note: At no extra cost to you, we may earn a commission for purchases using our links. Learn more.