Multo by CookingPal
Pros
Modular cooking system can complete many kitchen tasks.
Can cook 3 dishes simultaneously.
Built-in mixer, blender, steamer, and slow cooker.
Can control with a touchscreen or via a smartphone app.
Cons
Smart controls could stand to be more flexible.
Fairly expensive.
Cooking can be a rewarding experience. You start out with a collection of simple ingredients, and end up with a delicious meal.
It's a great way to treat yourself at the end of a grueling day. And like anything you do for yourself, it's even better because you put the work into it. Besides which, who doesn't love a home-cooked meal?
At the same time, cooking isn't always convenient. Maybe you're exhausted. Maybe it's late. For whatever reason, sometimes you just want to come home and pop in a microwave dinner.
But why sell yourself short? With the right tools, you can whip up a surprisingly good recipe with a minimum of effort.
We're about to review the Multo by CookingPal. The Multo is a modular cooking system that's designed for almost any type of food.
It also cooks up to three dishes simultaneously. But is it the tool you need to fix your kitchen problems? To find out, we're going to have to dig a little bit deeper. We'll talk about the Multo's features, benefits, and where it comes up short. Let's begin!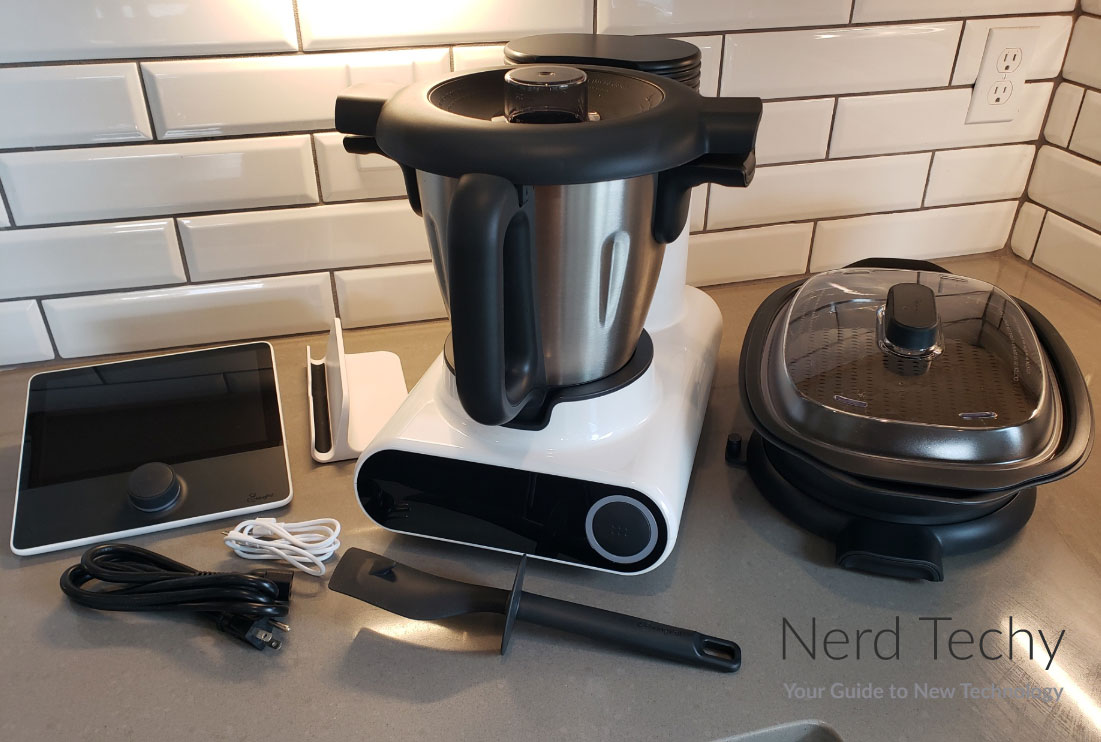 Overall Design
As we mentioned, the Multo is a modular cooking system. It consists of a base, a mixing bowl, a separate control hub, and several accessories. Depending on how you configure it, it's capable of completing just about any kitchen task.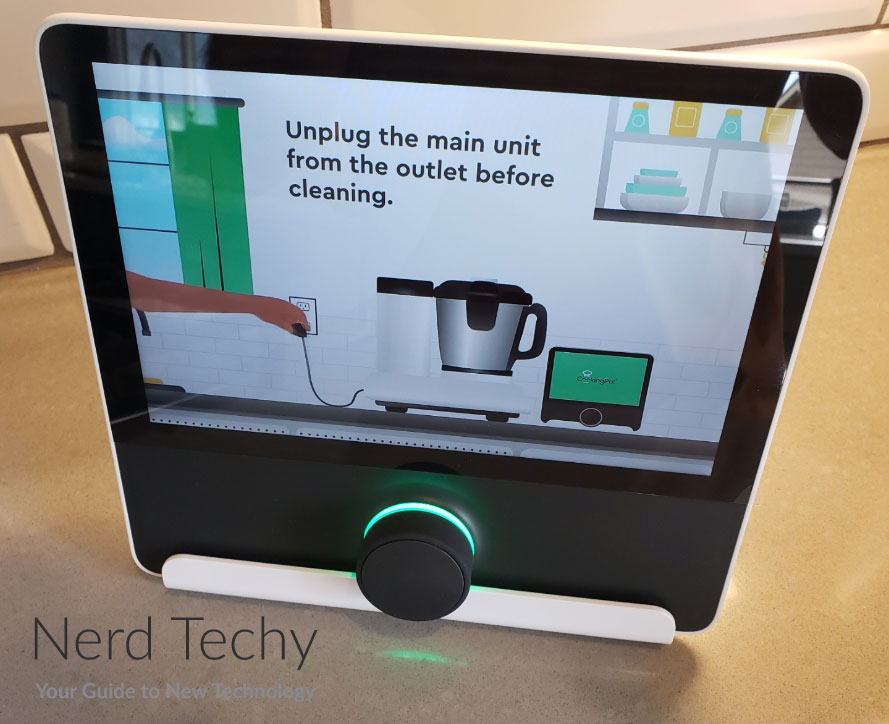 The base station is white and rectangular, with a broad, flat profile and curved edges. The front panel is black, and is slightly angled towards the back. There's a large grey power button at the right, with an LED ring around it.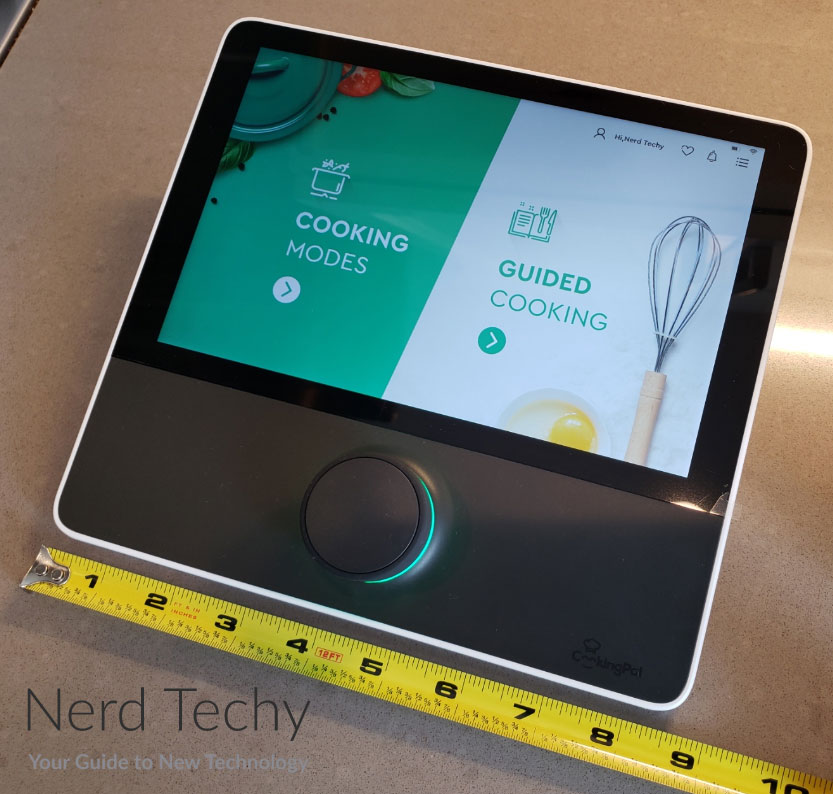 This ring changes color from green, orange to red which indicates a few different things. For the hub, red means low battery. For Multo, the red light means that an error has occured (eg. overheating), whereas green indicates the progress of cooking as it completes a full circle. When you see an orange LED, it indicates that the lid is open or the bowl is not properly secured.
The rest of the controls are located on the hub, which we'll talk about in a minute. On the bottom of the base is a set of rubber suction cups, which keep it firmly in place on your countertop.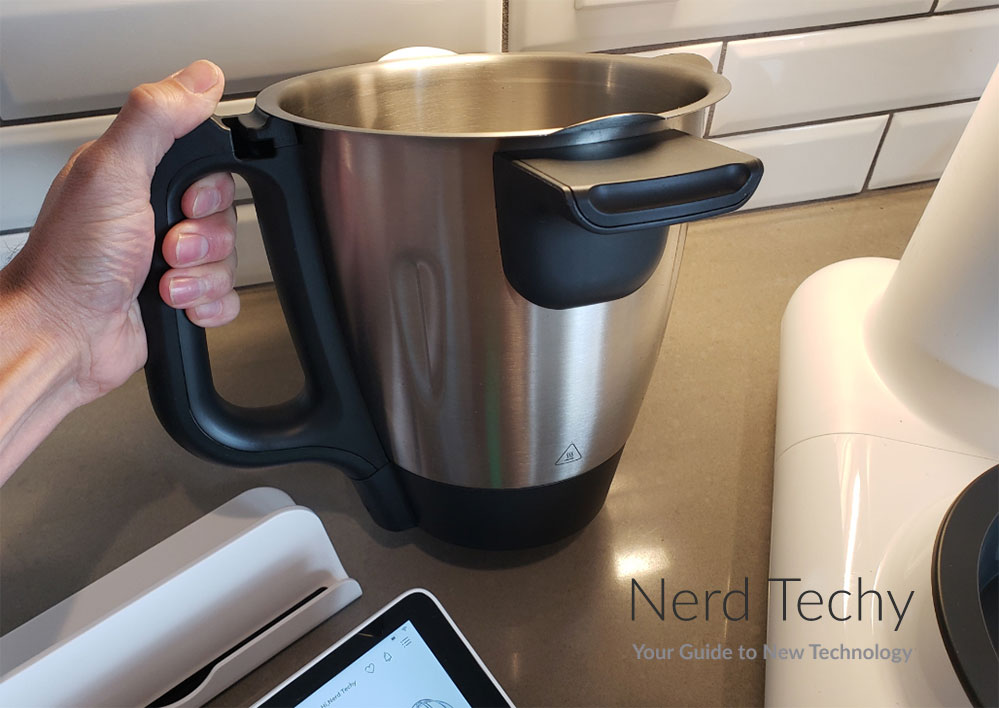 The main mixing bowl is shaped more like a broad blender pitcher. It's pretty spacious, with a capacity of 3.1 quarts. And it's constructed from stainless steel, which makes it both durable and easy to keep clean. There's a pair of plastic handles at the top sides, so it can easily be lifted on and off the base. On the front is a pitcher handle, which can be used to pour out any liquid creations.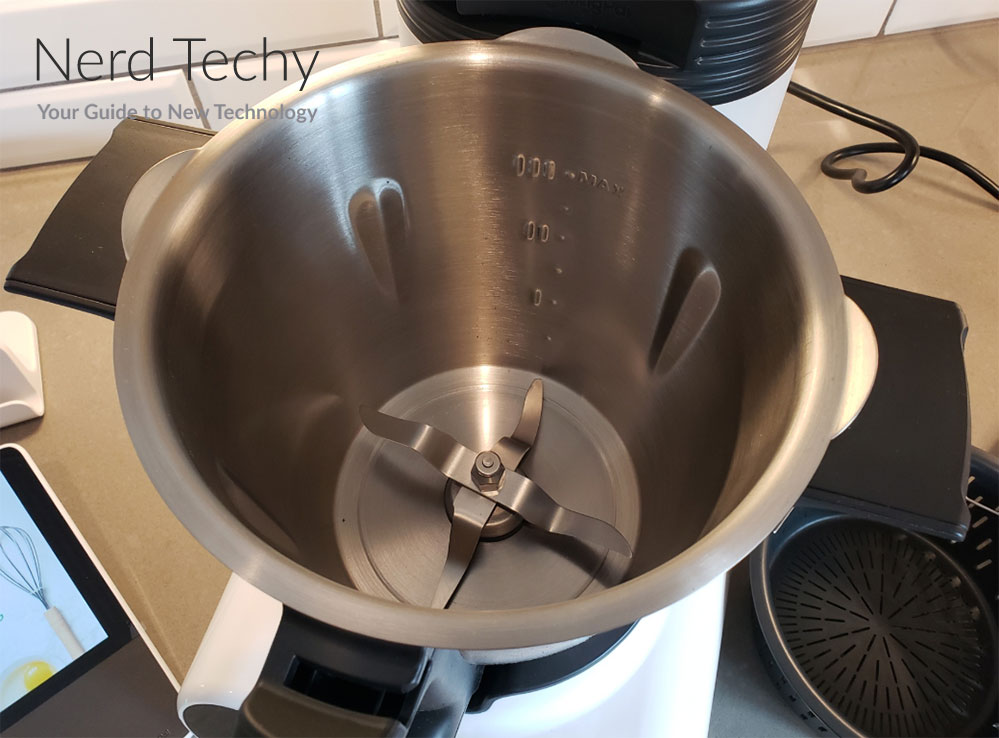 There's a removable plastic lid which fits snugly over the top, and it has a hole in the center. The hole has a clear plastic cap in the center, which can be removed to add ingredients or let steam boil off. The cap also doubles as a measuring cup, which is convenient in a pinch.
This is a fairly beefy appliance. It measures 16.5 inches deep, with a width of 17.3 inches. It's squarer than the average toaster oven, but the size of the footprint is roughly the same. And at 19.3 inches high, with the simmer basket attached, it's too tall to fit under low, 18-inch cabinets.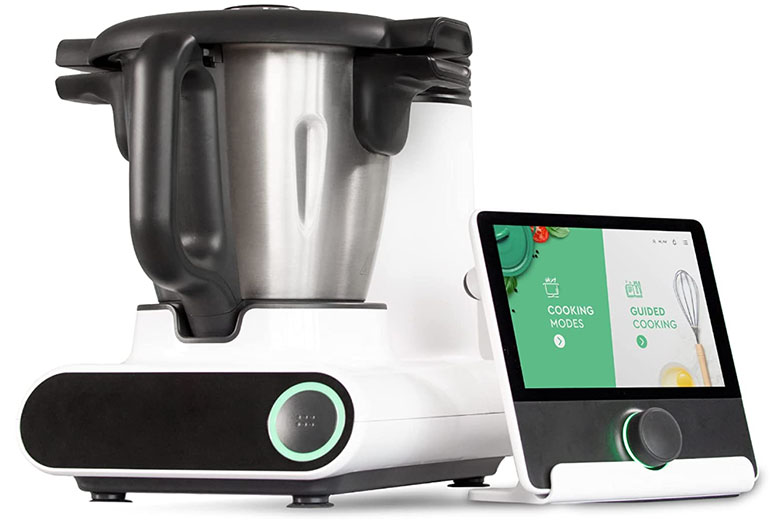 Without the basket it's just under 15 inches tall with the bowl attached. At 22 pounds, it's pretty heavy, but let's be honest; you probably won't be moving it around all that much. There's actually a set of heavy-duty suction cups that keep it secured to any countertop.
If you want even more capacity for a dedicated mixer, check out the Acekool Stand Mixer. It has a massive 7-quart capacity, and it's ideal for any mixing use. Then again, it's a bit cheap and it's just a mixer; there are no cooking functions.
Cooking Accessories
By themselves, the base and the mixing bowl can only carry out a wide range of functions which includes stirring, chopping, mixing, blending and sautéing. But with its various accessories, the Multo is far more versatile.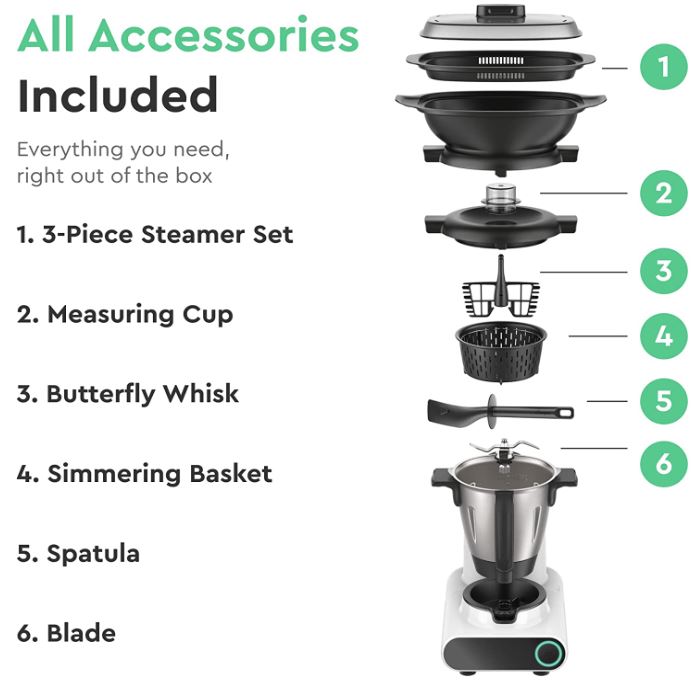 To begin with, there's a blender blade, which you'll have in place all of the time. This blade can be left off, or set to operate at various speeds. At low speeds, it won't cut anything but the softest foods. Instead, it will stir the contents of the bowl. Turn the speed up, and it will function as a food processor or blender.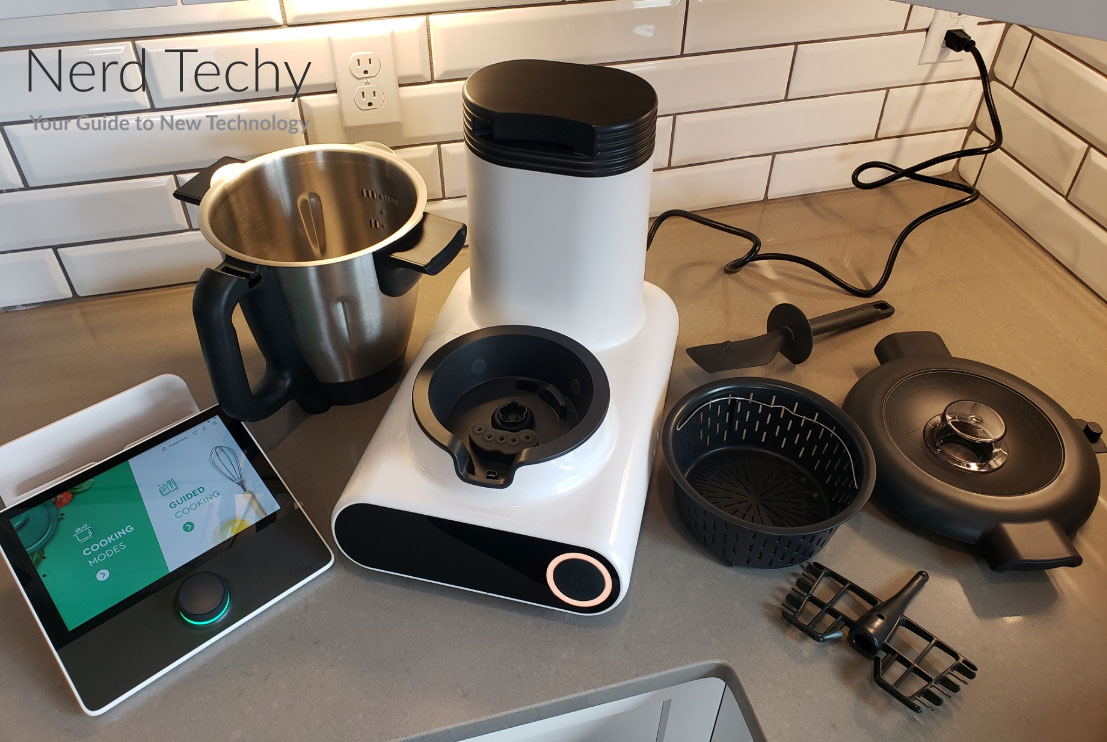 The blade can be replaced with a butterfly whisk for alternate uses. There's also an included black plastic spatula, which will scrape the sides of the bowl. It's useful for doughs and foods with a similar consistency. For more extreme whipping action, the butterfly whisk is superb. It's optimal for eggs, meringues, or even homemade whipped cream. Meanwhile, the included simmering basket can be used for boiling or braising vegetables.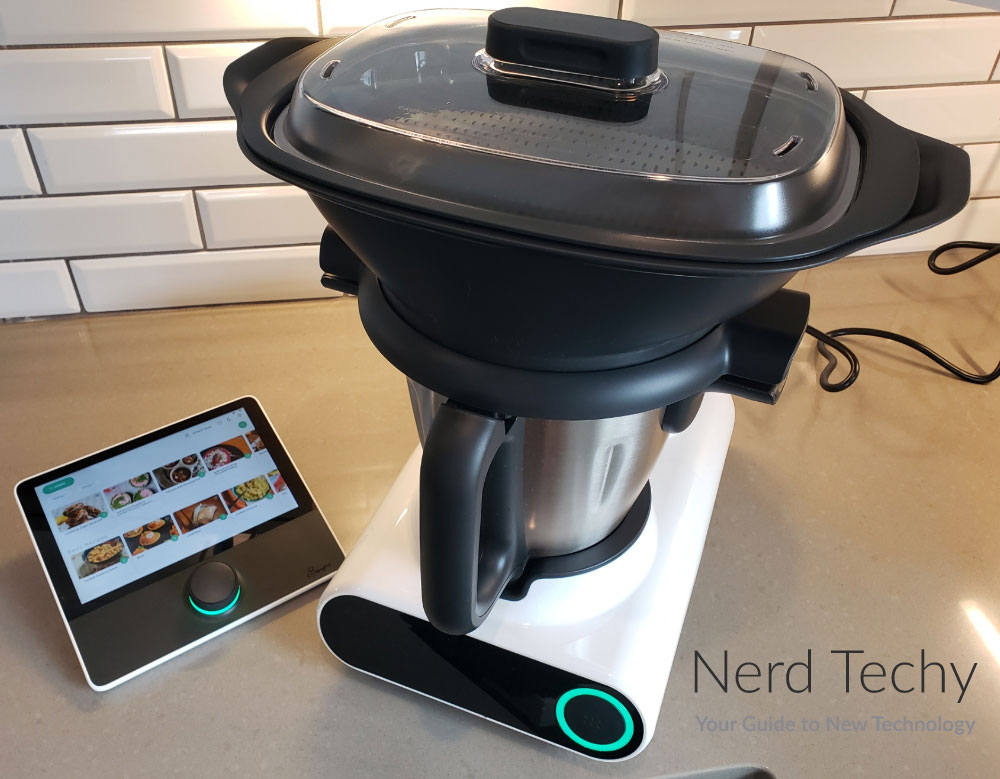 Along with all that, the kit includes a large simmer basket that mounts on top of the mixing bowl. The basket is dual-layered, so you can steam two dishes at once and boil another. For example, you could boil – and mash – some potatoes in the bowl, and steam chicken and broccoli on top.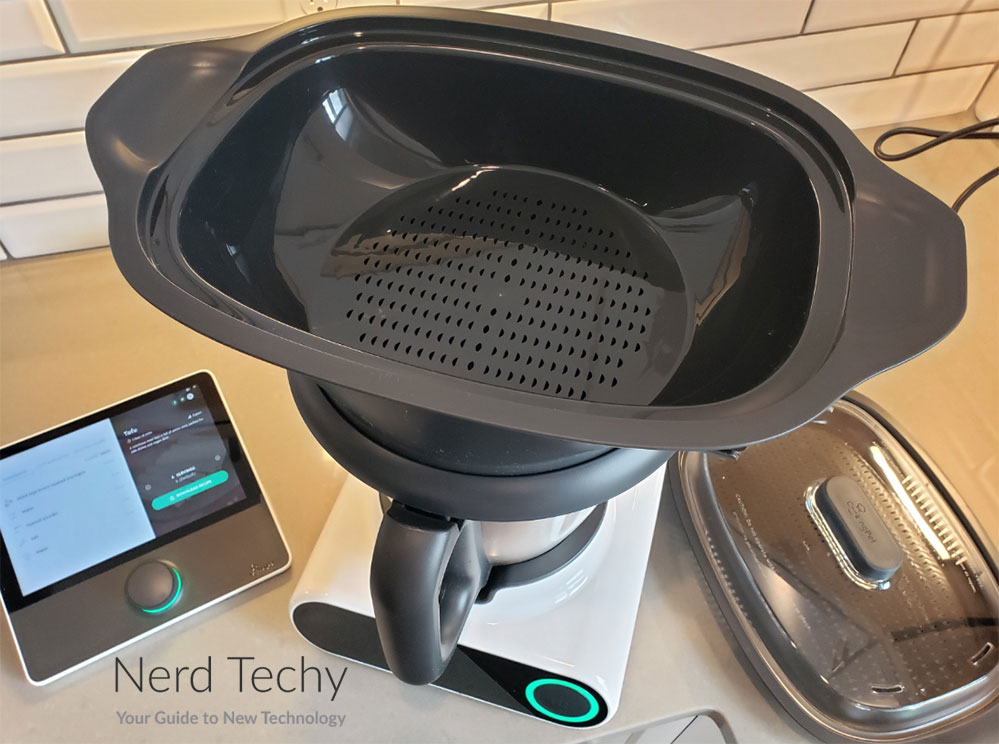 One of the few things the Multo won't do is fry your food. If that's what you want, consider the Uber Appliance Air Fryer XL Deluxe. It's a high-capacity air fryer that's great for fast, crispy recipes. It's also dishwasher-safe, although the only thing it's capable of is air frying.
Cooking Functions
The main advantage of the Multo is in the broad number of features. It can replace a slow cooker, steamer, bread machine, blender, food processor, and more. You can use it to make rice, or even to create homemade yogurt.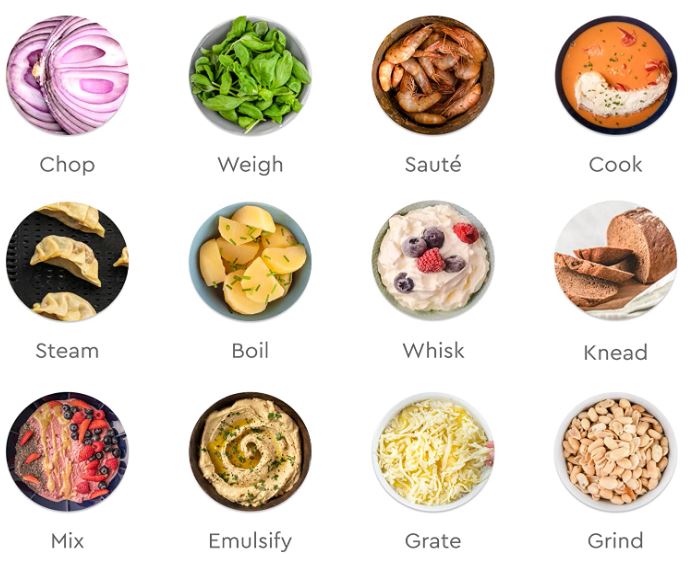 It can keep your food warm, boil it, or create a sous vide. It also replaces your trivet, since you don't need anywhere to set a dirty mixing spoon. There's even a built-in scale so you can weigh your ingredients! We can honestly say we've never seen a kitchen appliance with this much versatility.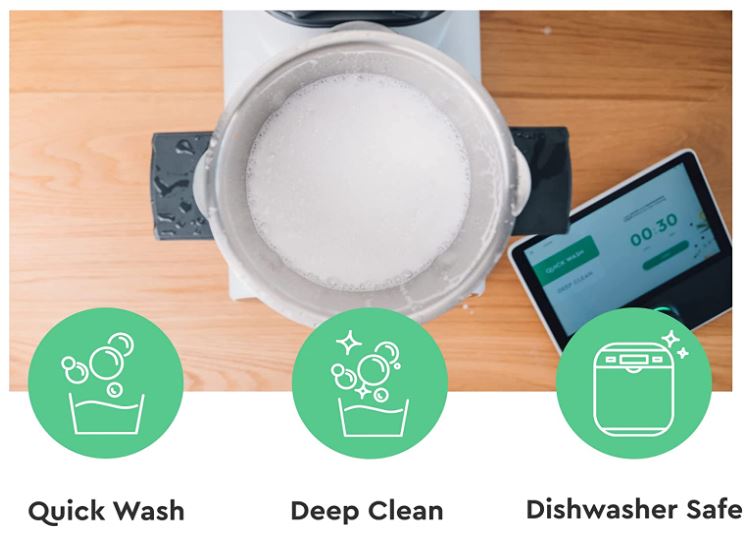 Cleaning is also easy, with two built-in self-cleaning modes. The first, quick wash mode provides a lighter cleaning. You pour some water in, and the blade swishes it around vigorously. This is for rinsing out any food remnants when you're between steps in a recipe.
The deep clean mode is more thorough. It heats up the water, and swirls it more violently and for a longer period. Add a dollop of dish soap, and you'll have a clean machine after each cooking.
If you'd rather just use your dishwasher, you can. The bowl itself is dishwasher-safe, and so are all the accessories. They're also BPA-free, so you don't have to worry about chemicals leeching into your food.
Smart Kitchen Hub
The Multo is controlled by the Smart Kitchen Hub, a companion device that ships along side it.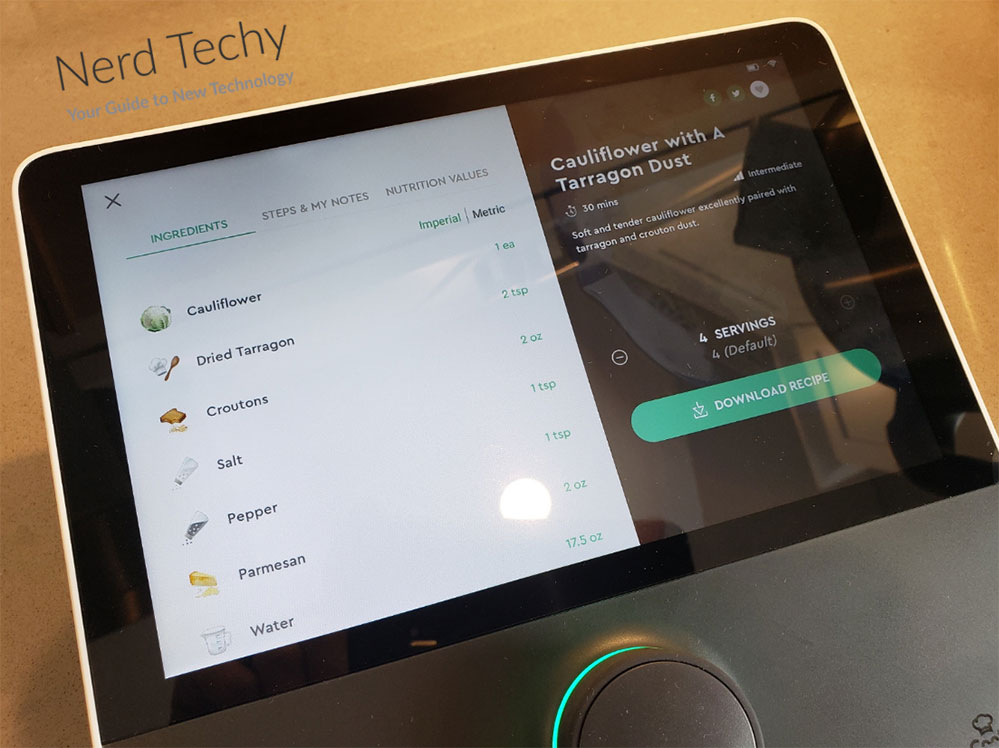 The Smart Kitchen Hub consists of a fat, tablet-style device with an 8.9-inch touchscreen display. The main housing is a high-gloss white plastic that's easy to keep clean in the kitchen. It's IPX4-rated for water-resistance, so you can wash it with a damp cloth.
On the back, there's a camera, along with a speaker. Although the feature isn't yet functional, future updates may make audio instructions available. On the front of the housing, around the screen, is a wide black bezel. Underneath it is a control dial, with a similar LED ring to the one on the main power button. The hub sits in a fat rubber stand, which is difficult to knock over, and stays put even on a slippery surface.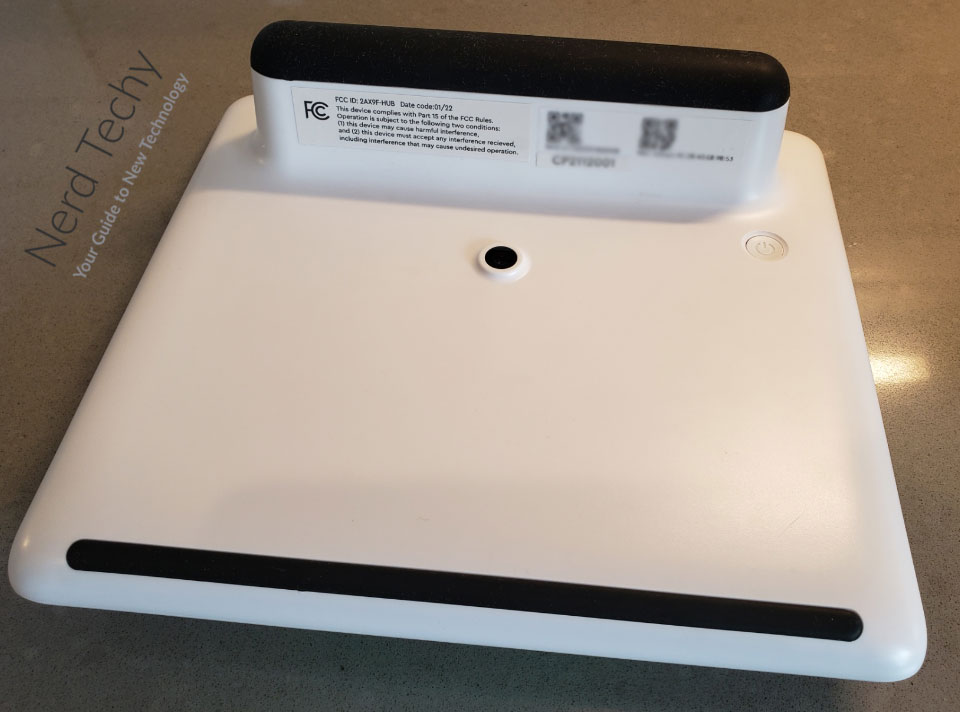 The rechargeable battery is fully enclosed inside the hub, and it can last all day on a single charge. There's a USB charging cable included in the kit, so it's easy to top off any time you need to.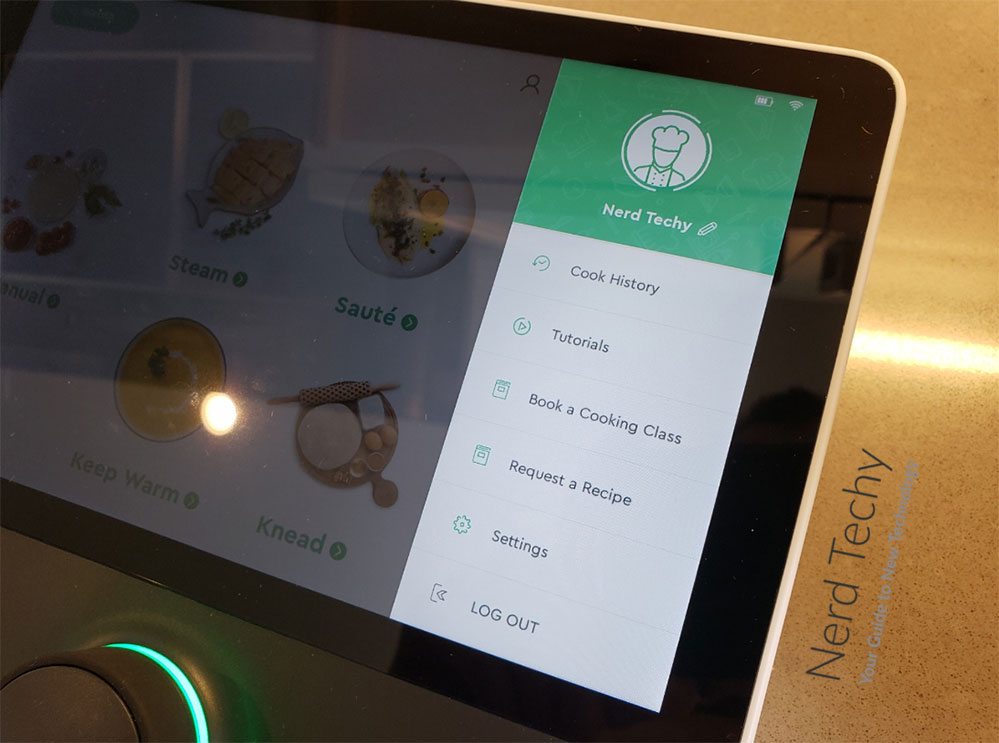 Using the display, you can take full manual control over the Multo. You can set the temperature and cook time, and adjust the blender to different speeds. Alternatively, you can put it into automatic mode. In automatic mode, it will walk you through the cooking process based on the recipe you select.
Smart Features
Besides the Smart Kitchen Hub, the Multo also has WiFi and Bluetooth 4.2 capabilities. You can download and install the app on your smartphone or tablet, and pair it with your machine. After that, you'll be able to control the Multo directly from the app.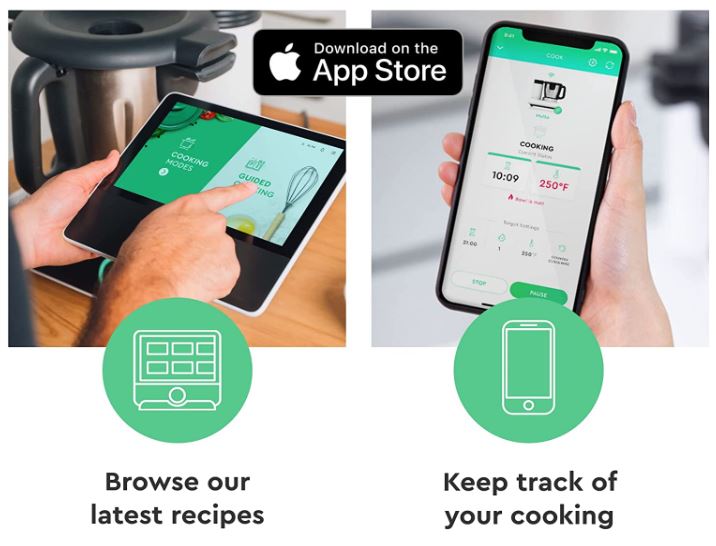 This can be convenient in many scenarios. For example, let's say you'd scheduled a meal to be ready at six, but you won't be home until seven? You can simply reset the timer remotely. You can also control your cooking as you're moving around the house.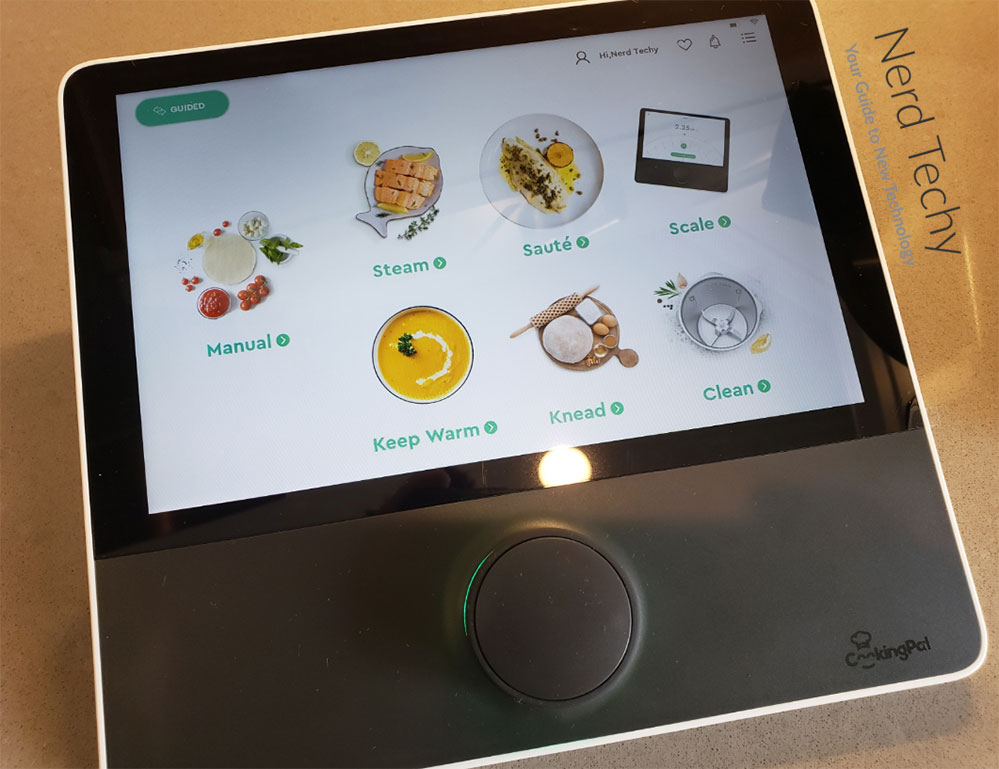 The Multo has an online library with hundreds of recipes. Choose a recipe, and the system will walk you through the process. Each recipe includes photos and videos, so you can follow along as you cook.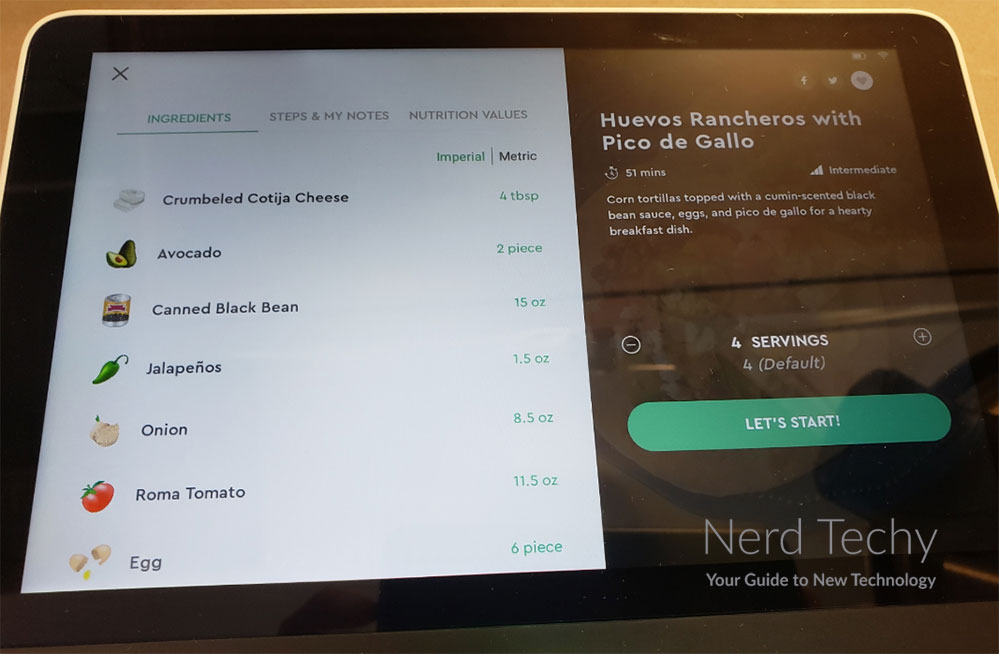 Just tap the screen to confirm when you've completed a step, and the Multo will do the rest. You can even search recipes for different lifestyles. There are special menus for vegan, vegetarian, gluten-free, egg-free, keto, and paleo recipes. And CookingPal adds new extras every month, which automatically download when you reset your hub.
When you follow the built-in recipes, the Multo works flawlessly. However, there are a few hitches for some foods, or when you're using manual mode.
To begin with, the bread recipes aren't very well thought-out. For some reason, you have to manually move the bowl to a warm location when it's rising. This is an odd choice, since the bowl already has a built-in heating element.
Why not just have the bowl warm up automatically? For another thing, the highest you can set the timer in manual mode is 99 minutes. If you're trying to cook pulled pork for six or eight hours, that's not going to cut it. In fact, 99 minutes is insufficient for the majority of slow-cooker recipes.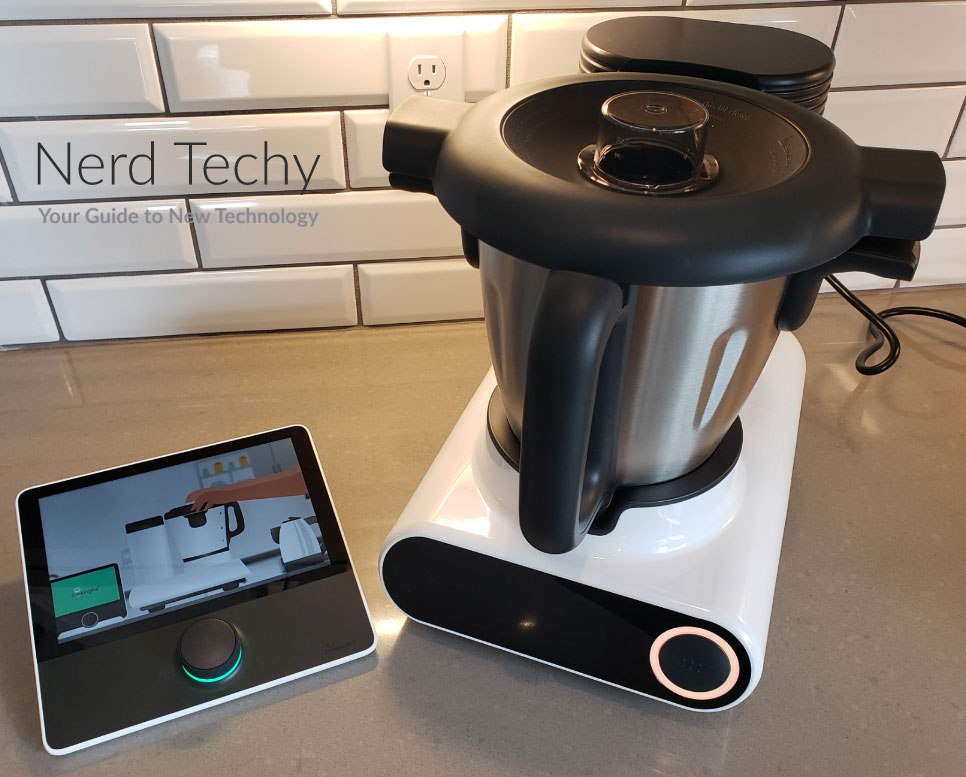 Final Verdict
The Multo by CookingPal is a powerful all-in-one cooking machine. It can boil, steam, sauté, and simmer. It can chop, blend, mix, and knead.
The Smart Kitchen Hub has a powerful set of controls, which makes it very easy to operate. The online recipe book has plenty of options for anybody. And with a fully automated cooking process, even a complete kitchen novice can create gourmet recipes.