When people hear the word "technology," they typically picture flashy, exciting things like smartphones. This is only natural. Our minds jump to things that excite us, and a new smartphone is definitely exciting.
Who doesn't want a better camera, longer-lasting battery, or more powerful processor? The same goes for other bit name releases like game consoles and laptops.
Note: At no extra cost to you, we may earn a commission for purchases using our links. Learn more.
But what is technology for, if not quality of life? We use all kinds of devices for applications that are decidedly un-sexy. A WiFi coffee maker, for example, isn't going to make any big headlines.
But if you have trouble getting up in the morning, a ready-made cup of joe is most welcome. A battery pack isn't all that exciting, but it can keep your new iPhone going when the power is out.
When it comes to mundane jobs, it doesn't get much more mundane than cleaning your floor. It's just something you have to do once in a while. But a good wet/dry cleaner can make the job a lot easier.
Instead of scrubbing on your hands and knees, you can stand upright while you clean. And unlike an old-school mop, a motor is doing most of the work. It's not flashy. It's not exciting. But it makes your life much, much easier. That's what technology is all about.
UWANT X100
Today, we're going to review the UWANT X100. This is a big, powerful wet/dry cleaner that's perfect for any kind of solid flooring. It has a unique two-roller design, so you get twice the cleaning power of a standard wet/dry cleaner. And with the 600ml water tanks, you'll spend less time messing with water and more time cleaning.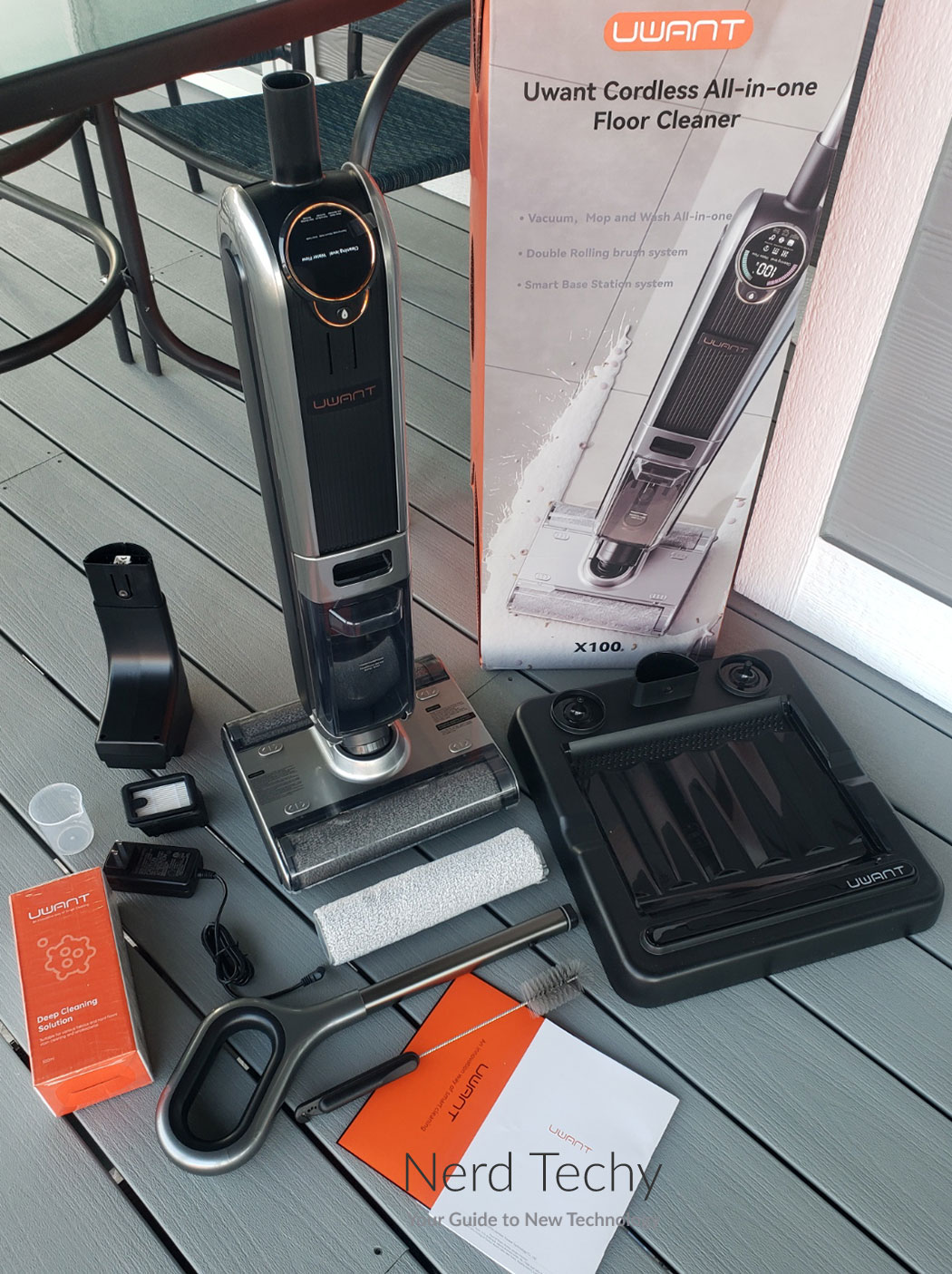 Of course, there are many more features that go into making a good wet/dry cleaner. If we want to deliver a fair verdict, we'll have to dig much deeper. We'll have to examine the grip and the ergonomics, and talk about the controls.
We'll need to discuss the motor and the cleaning power, and how the cleaning process works. We'll also have to consider the battery life, and any extra features. After that, we'll finally have a complete picture. Let's get started, and see what we find!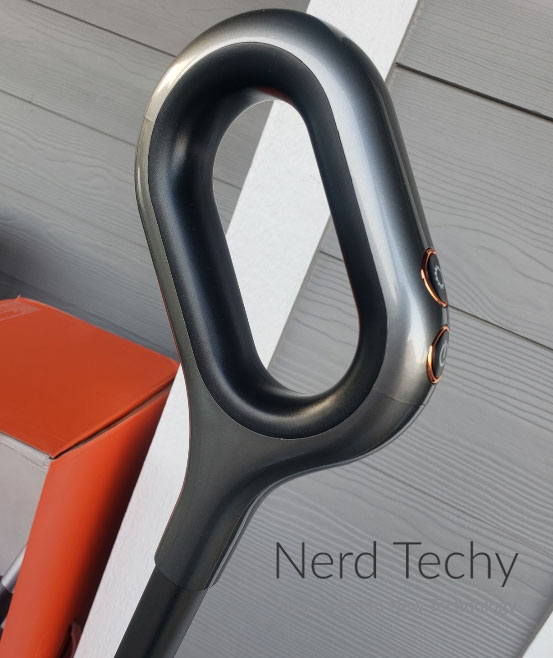 Controls and Grip
The UWANT X100 has an ergonomic, backward-swept handle. The shape is comfortable and easy to hold, and we appreciated the open cutout design. It keeps you from banging your knuckles on anything while you're cleaning. The power button is right by your thumb, so it's easy to control.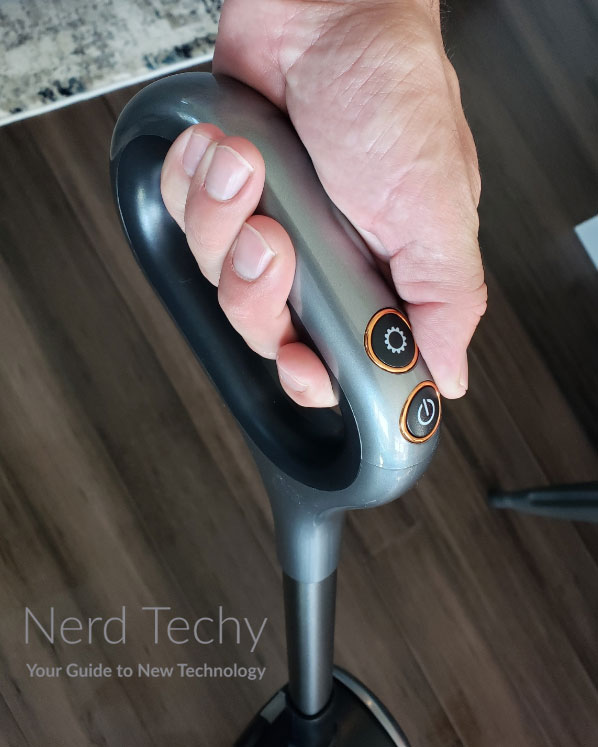 The grip attaches to a straight metal handle, which sticks out of the top of the main housing. This gives you plenty of reach, while making the center of gravity nice and low. It's also fairly sturdy. You can tell right away that you've spent your money on a well-engineered machine.
At the top of the housing, you'll see an LCD display. This display is bright and colorful, and it's angled slightly forward. This puts it at a perfect angle to view while you're cleaning.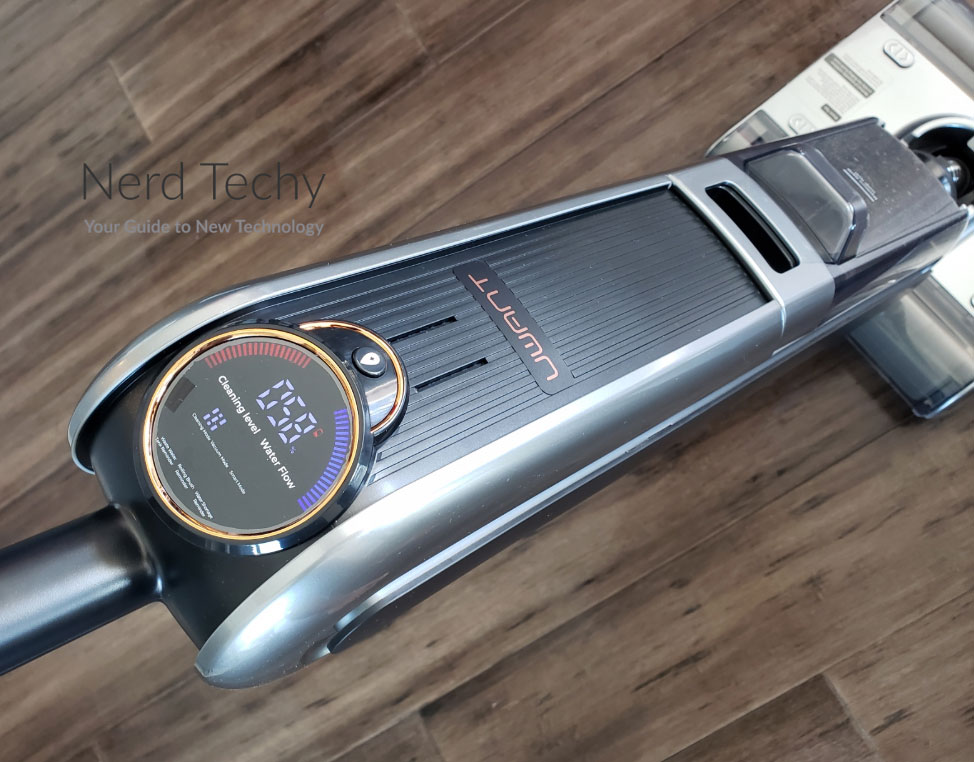 On the display, you'll see a variety of data about the cleaner's status. Smack in the center is your battery charge level, displayed as a percentage. To the top left and top right, there's a pair of curved red and green graphs. These display the current water level in your clean and dirty water tanks. At the bottom, there's a set of lights that show your suction level, as well as any warning messages.
Beneath the LCD display is a physical raindrop symbol button. This activates the cleaning function, which we'll discuss more in a little bit.
Use code "X100LAUNCH" for a 5% discount when you order on the X100 Global Launch page
Motor and Housing
The housing itself is constructed from a durable black plastic, with grey banding at the edges. The overall form factor is rectangular, but there are no hard angles. The corners are beveled rather than sharp. The top and bottom ends are curved like the ends of a Swiss Army Knife, making it appear futuristic.
The motor is housed in the upper part of the housing, with the dirty water tank behind it. The tank is transparent, so you can easily see how close you are to getting fill. Across the front of the housing is a smooth black band, with the word "UWANT" printed in copper lettering.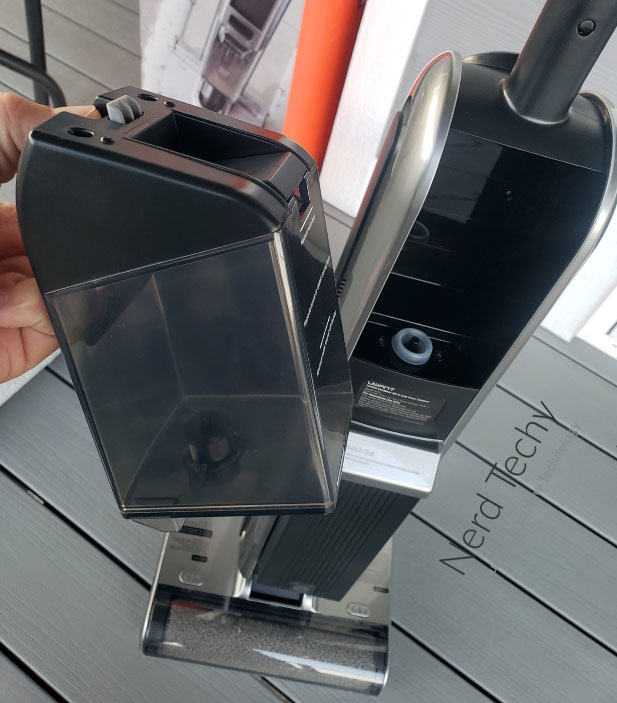 Moving to the lower portion of the housing, you'll see the clean water tank at the front. Once again, the design is transparent, so you'll know when you're about to run dry. The battery pack sits to the back, and protrudes slightly from the housing. This keeps it nice and bottom heavy.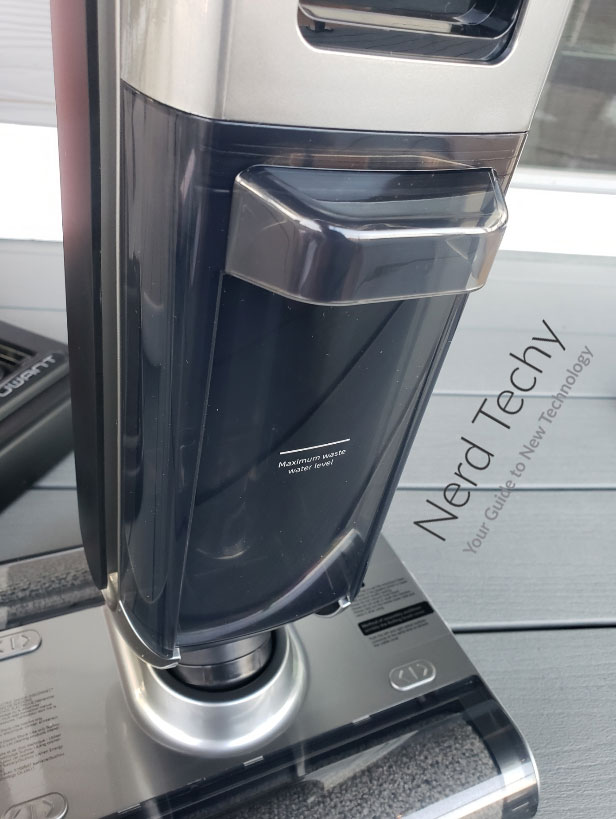 The roller housing at the bottom is the same grey color as the edges of the housing. At the front and the back, though, a set of transparent covers color the two rollers. This lets you see if there are any jams, and make sure the water is flowing properly. The roller housing is also wide in both directions, and provides a stable base. As a result, the X100 is free-standing.
Cleaning Power and Main Rollers
The standout feature of this wet/dry cleaner is the set of dual rollers. On its face, this would provide twice as much cleaning power as a single roller, but it's actually better than that. That's because the two rollers work differently.
The front roller applies water to the floor, while the rear roller sucks it up. You don't have the same roller doing the application and removal. As a result, there's far less residue than you'd expect from an ordinary floor cleaner.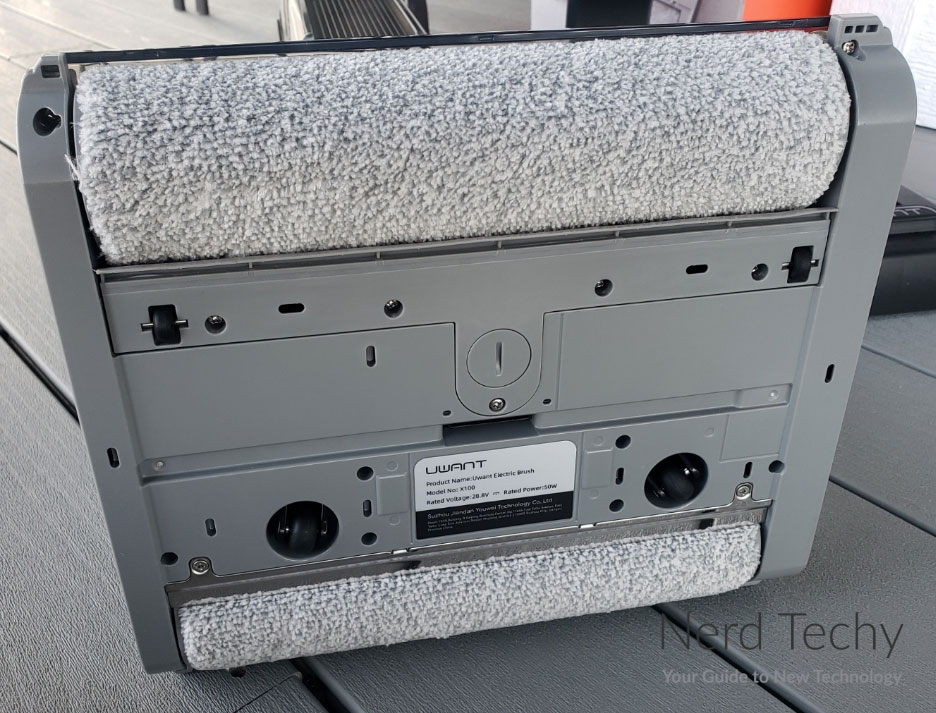 Both the clean and dirty water tanks have a capacity of 600ml. That's reasonably large, and enough to clean several hundred square feet. That said, a lot depends on your usage. There's enough suction to clean any kind of wet or dry mess you'd find around your house. If you suck up a spilled can of soup, there won't be much room left for dirty water.
The X100 performs admirably on any kind of solid floor. The rollers are soft and won't scratch delicate surfaces. On the downside, you can't use it for cleaning carpets. Even with the spray off, the rollers aren't designed to dig down into carpets.
Cleaning Experience
The main housing joins with the roller housing with a 360-degree joint. It's easy to maneuver the head of the cleaner in any direction and at any angles. You can maneuver around corners and change directions with just a twist of your wrist.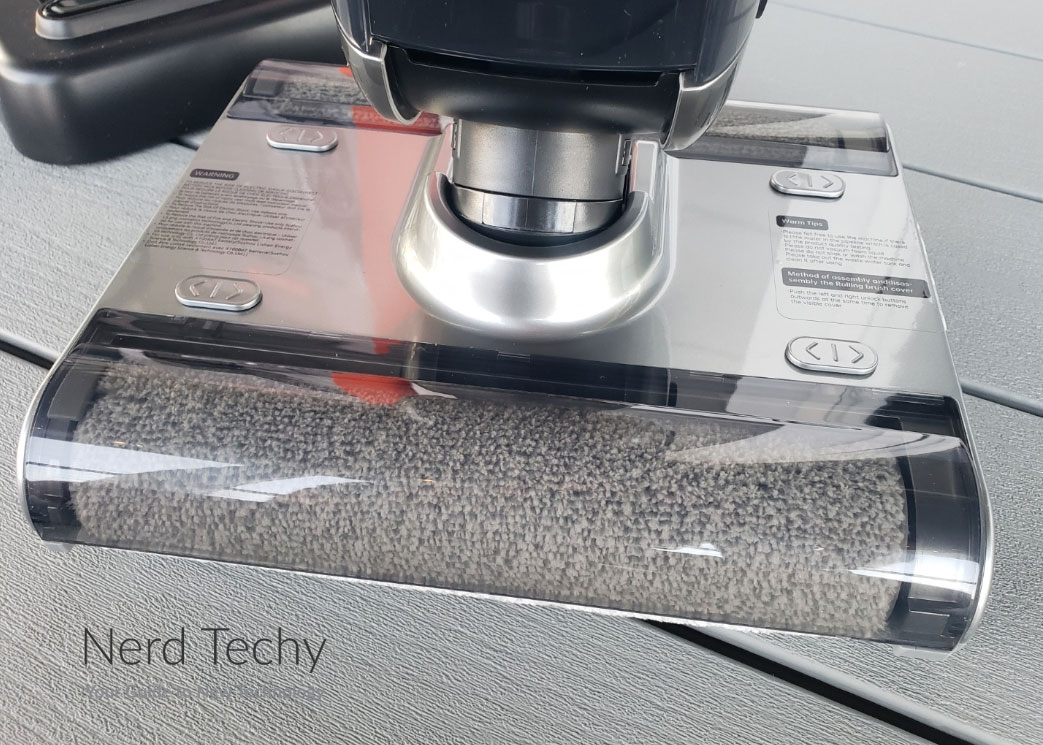 We also liked the clever power-assist design. When you push the X100 forward, the motors will assist you. However, if you need to back up, the motors will sense that and go into reverse. It's a neat feature, and it makes the cleaner much easier to control.
A set of built-in infrared sensors analyze the water as it comes into the cleaner. They detect how dirty it is and adjust the suction level as needed. You'll even get audible alerts like "Turbo Mode" or "Eco Mode" when this happens.
You'll also get voice alerts for other important information. For example, the X100 will tell you when it need water or needs to be emptied. It also tells you when the roller is jammed or the battery is low.
Battery and Charging
The UWANT X100 is powered by a set of eight 4,000mAh batteries, with a total storage capacity of 115.2kW/h. That's enough to last for up to 44 minutes, which is pretty impressive. According to UWANT's own analysis, that's enough to clean a little more than 3,200 square feet.
Keep in mind that this depends on how dirty your floors are. If you're making multiple passes, you'll obviously get less coverage. You'll also get less coverage if you're constantly running on turbo mode. Regardless, you're looking at some pretty powerful batteries.
When your battery does die, it's easy to charge. The kit includes a charging base, which sits up against your wall. Set the vacuum into the base, and it will charge. Even if the battery is totally dead, it will fully charge in around three hours.
All of this performance comes at a price. If you're looking for something more affordable, check out the ILIFE W100. It's a wet/dry vacuum that's suitable for most surfaces. However, it doesn't have the suction power or battery life of the X100.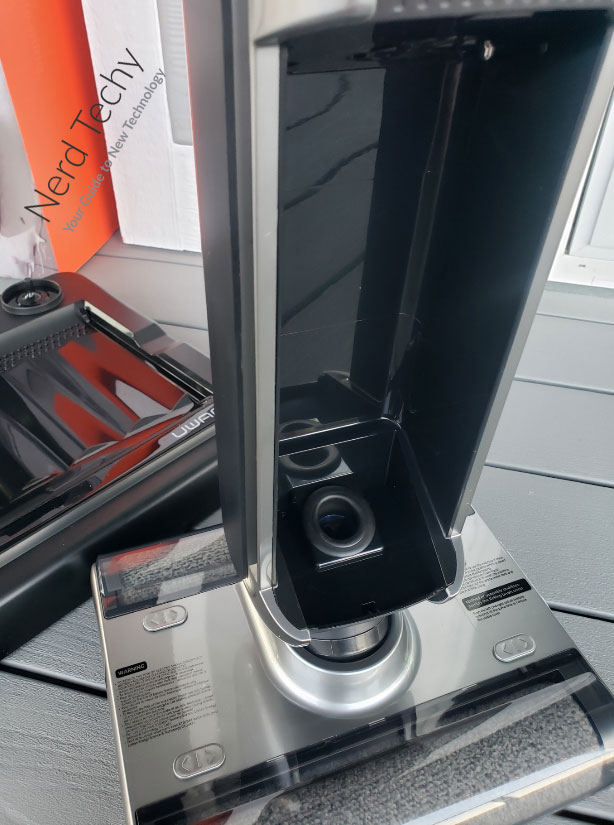 Extras and Accessories
Remember that cleaning button we mentioned earlier? When you put the X100 in the base, you can press the button to start an automatic self-cleaning cycle.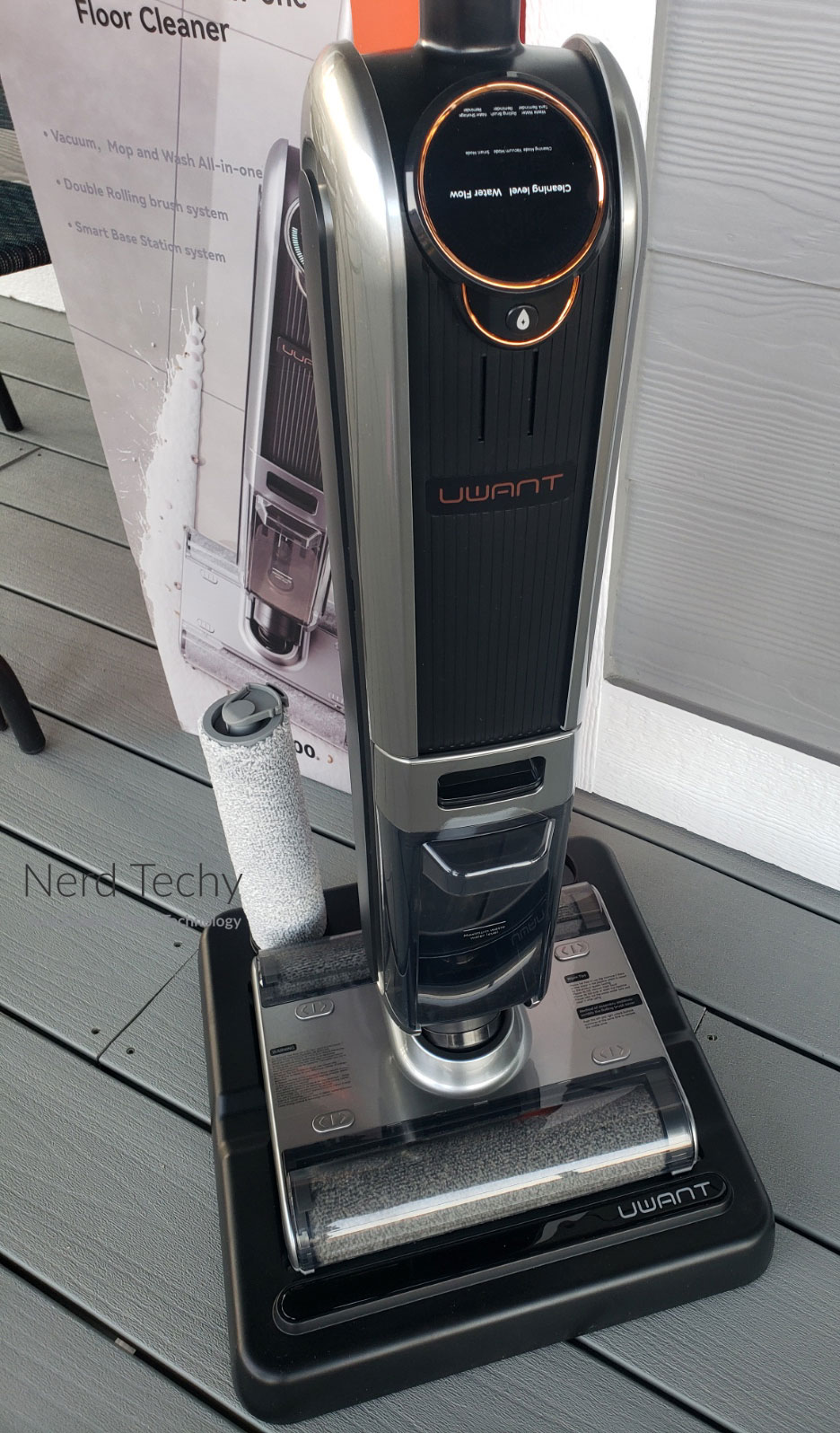 The rollers will both scrub themselves with clean water, and an integrated cutter will remove any pet hair. This cuts maintenance almost to a minimum. All you have to do is remove the rollers once in a while and scrub out behind them. UWANT includes a little cleaning brush in the package.
Also in the package is an extra HEPA filter, so you can wait longer before ordering a replacement. There's also a little bottle of cleaning fluid and a measuring cup. It's not much, but it will get you through your first few cleanings.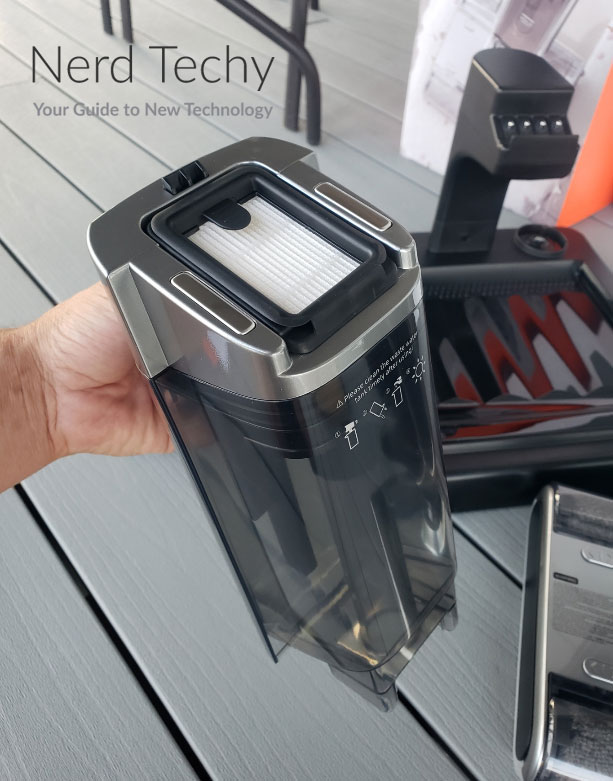 Final Verdict
The UWANT X100 is a powerful floor cleaning machine. It's not suitable for carpets, but it can clean any kind of mess on a solid floor. It cleans wet or dry, and it's easy to operate despite the size of the roller housing. It also boasts a long-lasting battery so you can clean your entire house. And with full TUV certification, you can rest assured knowing that it's been rigorously tested and backed by strict safety standards.
Right now, the X100 is on sale for $349 until November 6th.
Best of all, when you order the X100, it will ship from a local, USA-based warehouse. Additionally, UWANT has an after-sales department that you can reach by phone if you ever have any trouble with the vacuum. Don't forget to use discount code "X100LAUNCH" for a 5% discount when you order!
If you follow this special link to the Global Launch Page, you will get a free special package of accessories worth $55.97. In addition, the more you buy, the more you save with additional discounts for each bottle of cleaning solution that you purchase.
UWANT is also running a special event. To participate, simply "like" their Facebook page and share the giveaway post and tag @UWANTTECH. One lucky winner who wins first prize will be sent a free X100 worth $499. Second place will receive a UWANT B100 worth $299. Lastly, third place will receive a UWANT cleaning kit with extra cleaning solution, and an extra roller brush and filter. All other participants will get a 5% discount code to use.
Please consider sharing:
Note: At no extra cost to you, we may earn a commission for purchases using our links. Learn more.