When you're on the road, you can't be too careful; and we're not just talking about driving safely. Even the best drivers sometimes get in an accident through no fault of their own. When that happens, you might find yourself in court. And you never know what the other driver might say to try and put the blame on you.
In this kind of he-said, she-said situation, it can be outright impossible to get justice. You may end up paying for somebody's injuries that you didn't cause. Worse, you might be the injured party, and the other driver got off the hook. But this doesn't have to happen. A dash cam recording can provide valuable proof of what happened before and during a crash.
We're about to review the Thinkware X800. This is a dual front and rear dash camera package that also includes a GPS antenna. That's all well and good, but we'll need to dig a bit deeper to see how well it performs. Let's take a closer look!
Overall Design
The Thinkware X800 front camera is compact and rectangular. It measures just 4 inches wide, 2 inches tall, and an inch thick, and tips the scales at only 0.235 pound. The small size makes it easy to position, and the light weight puts less stress on the mount than a clunkier camera.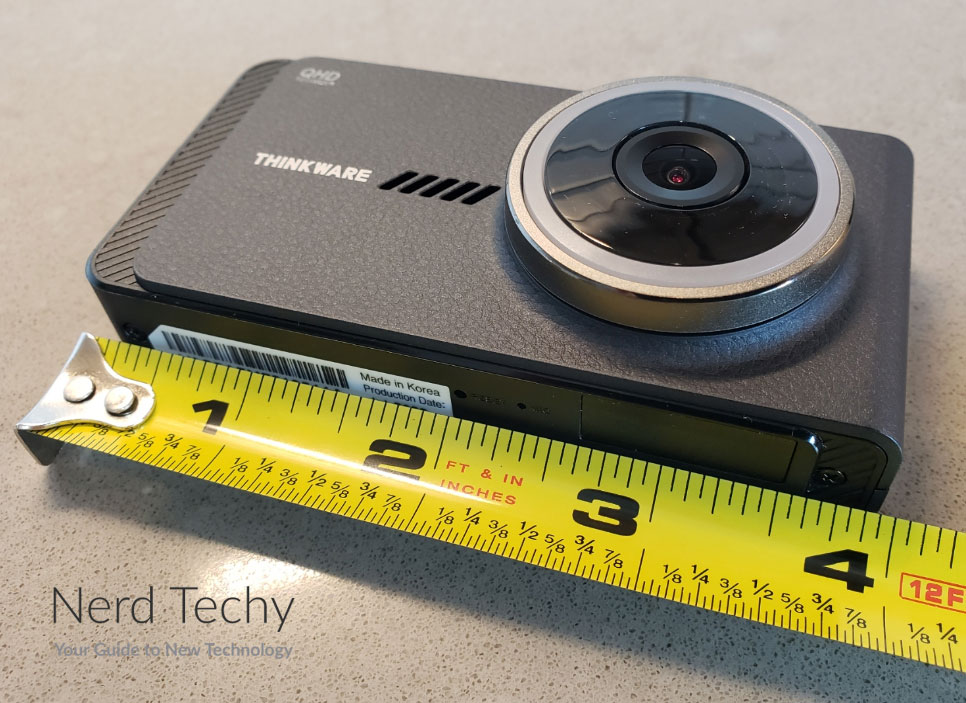 The lens housing is located towards the right when viewed from the front. It protrudes ever so slightly from the main housing, with a silver band around the circumference. The rest of the housing is mostly blue plastic. It has a matte, textured finish that's easy to grip when you're adjusting the camera. The top, bottom, and sides are ordinary black ABS plastic.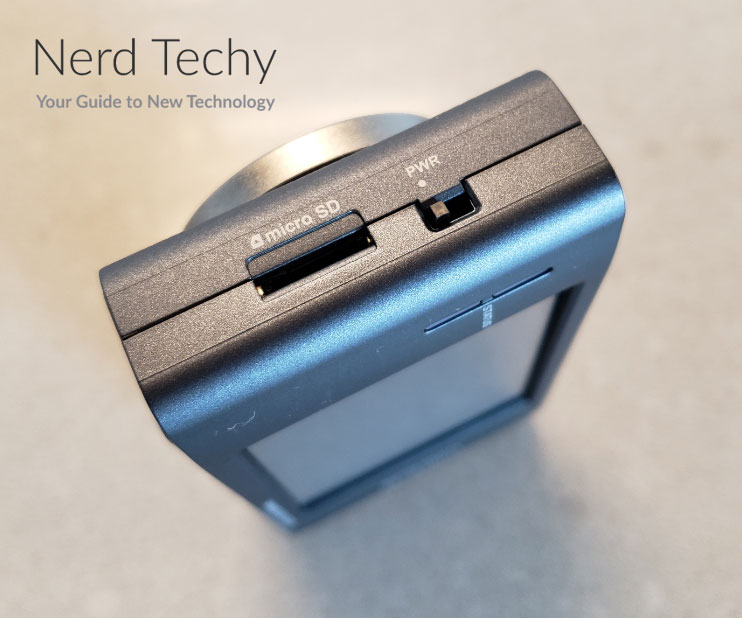 On the side of the housing near the lens, there's a small black power switch. Underneath is a Micro SD slot underneath it for your storage card. On top of the camera, you'll find the barrel-style BC power port at the right (from the driver's perspective). In the middle-top is a clip that snaps into the mounting bracket. On the other side of the clip are the ports for the GPS antenna and rear camera.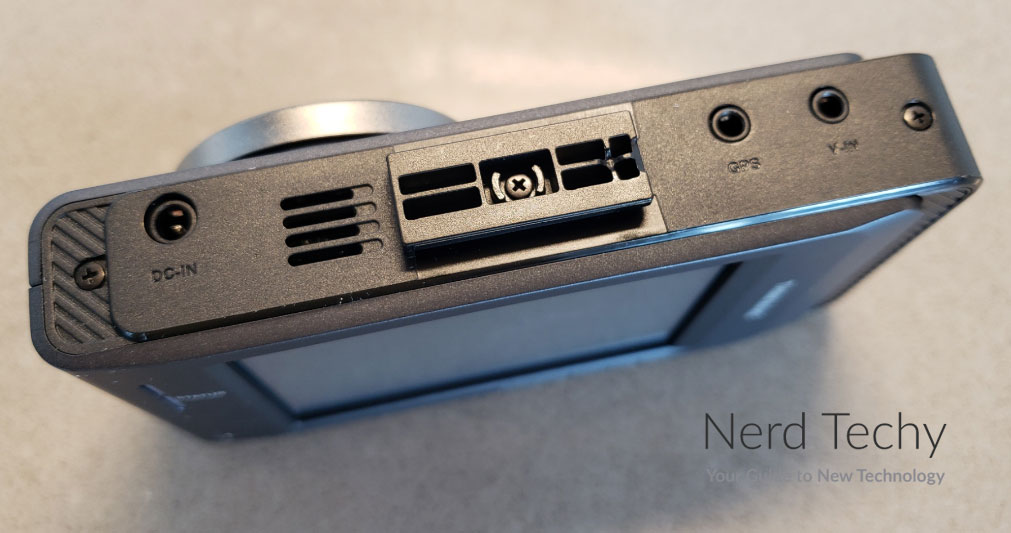 The surface facing the driver is mostly covered by a crisp LCD display. This shows the current feed from your camera, and can switch between the front and rear camera feeds. So while the X800 isn't primarily meant to be a backup camera, you can use it as one in a pinch.
Inside the housing, there's no battery. Instead, the camera uses a supercapacitor, which can maintain performance under harsher conditions. You can operate it at temperatures as low as -50°F, or as high as 140°F. Even if you live in a hot area, summer temperatures are not a concern.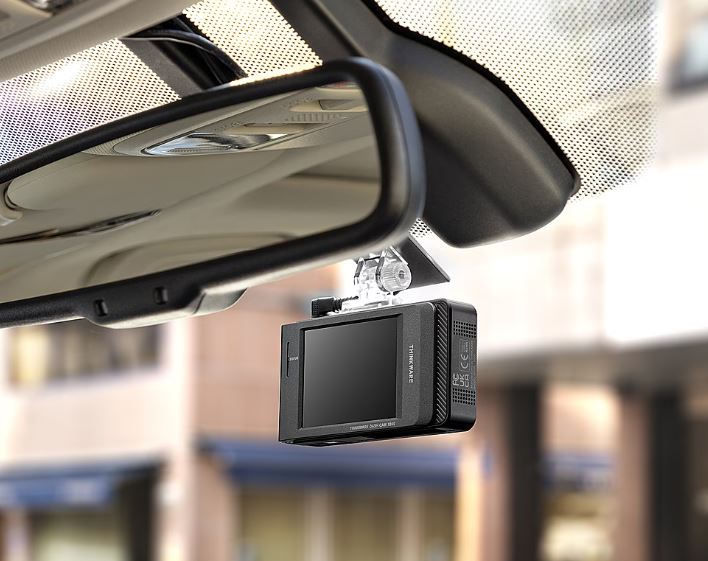 Control Functions
The X800's on-board controls are fairly minimalist. To the left of the display is a pair of small black buttons. These allow you to switch between the camera feeds and control some basic functions. At the bottom of the housing is a reset button, which is recessed in a little pinhole. You need a paperclip or other small object to press it.
That said, you can still make more complex changes to your dash cam settings. There's a companion app that you install on your PC or Mac. Then you connect the camera via a special data cable. When it's connected, you can change the GPS settings, activation settings, and parking settings. This isn't a huge inconvenience, since you probably won't change those settings very often, if at all.
If you want all of your controls to be on-board, check out the Thinkware F790. It has a large on-board display panel with multiple functions. The design is flat, and it sits snug against your windshield, so it doesn't block your view. Then again, it doesn't have a built-in display.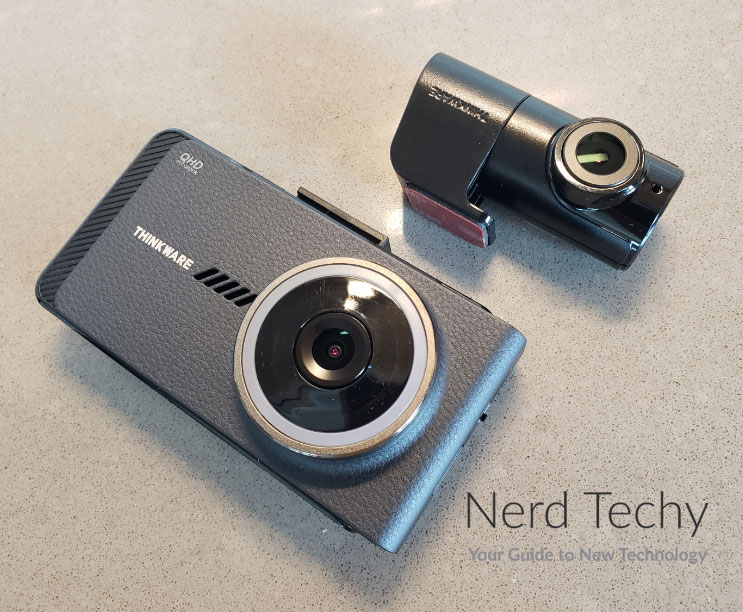 Installation
When the Thinkware X800 arrives, you'll have to assemble it and install it in your car. Start by deciding where on your windshield you want to mount the front camera. Since the wires come out of the top, it works best when it's near the top of your windshield. Wipe the area, and apply the double-sided mounting tape to the area. Attach the camera to the bracket, then secure it to the back of the tape. There's a spare tape in the package if you decide you want to move it later on.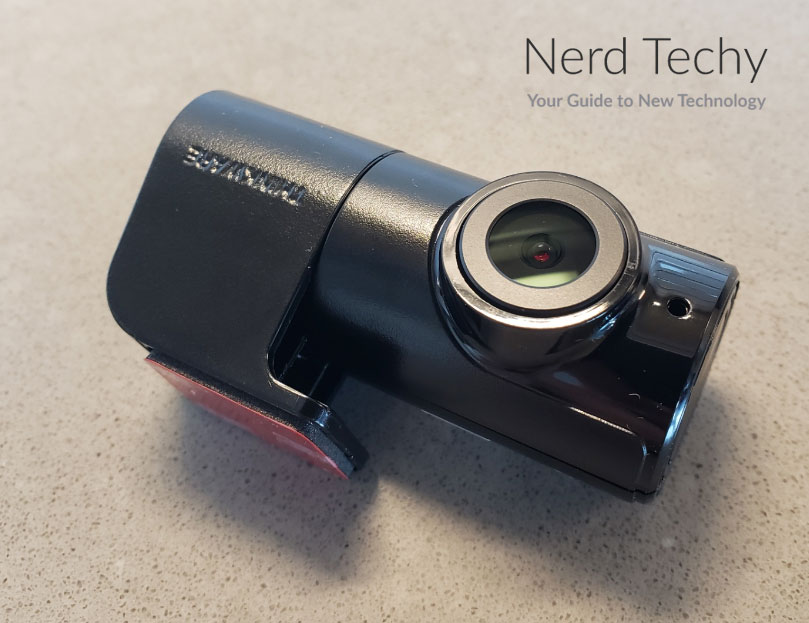 The rear view camera is more modest than the front cam. With no display or controls, it's just a barrel-shaped camera with its lens on the side. The bracket is also on the side, and attaches easily to your rear window. You can tilt the lens as needed to get a good view through your rear window. The cable for the rear camera is just under 20 feet long, more than enough for anything smaller than an RV. And there's a set of adhesive cable clips for running the wire.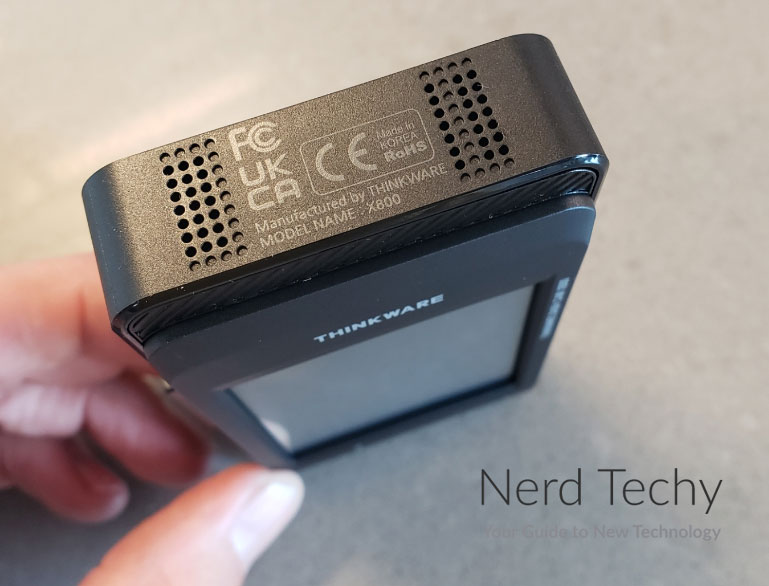 With the rear cable installed, you're ready to plug everything in. Plug the 12-volt power cable into your car's cigarette lighter and you'll be ready to go. Alternatively, you can add the optional OBD II power cable to your order. You'll also want to attach the GPS antenna, at least if you want to take advantage of the GPS features.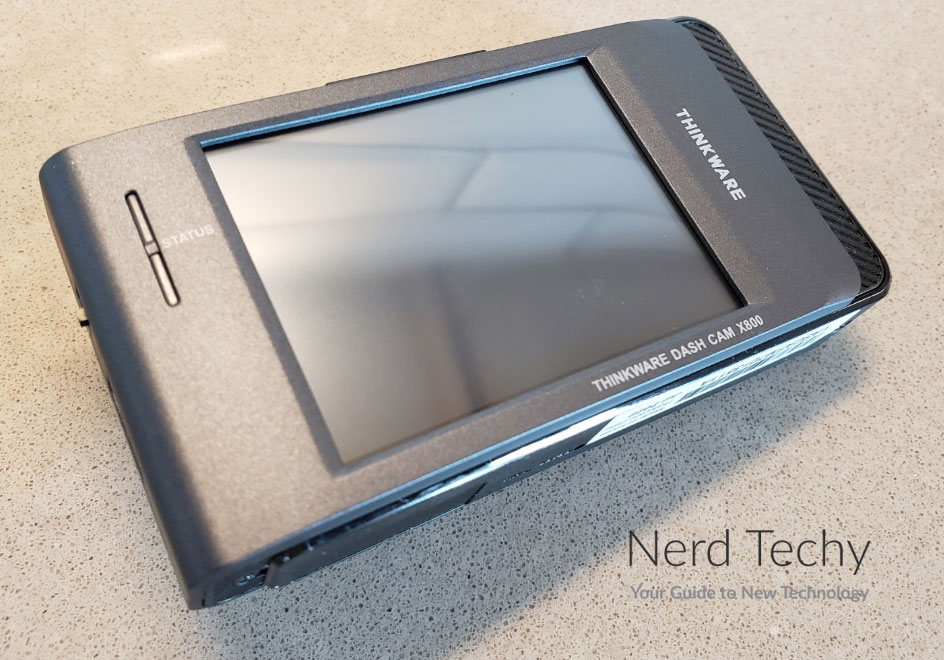 Also included in the package is a hardwiring cable. If you don't want to use the parking camera features, you don't need to worry about this. But if you want to use the X800 as a parking camera, you'll need to wire it into your car's electrical system. Unless you're very comfortable with vehicle electronics, this is a job best left to professionals.
If you want even simpler installation, take a look at the Vantrue E2. It's an ultra-compact camera that attaches with simple electrostatic tape. It also has a 2.5K resolution and connects to your smartphone. But it doesn't work well in hot locations.
Video and Recording
The X800's front camera captures video in 2K resolution, or 2,560 x 1,440 pixels. The rear camera records in 1080p. The framerate of 30FPS is about average compared to other modern dash cams. Video quality is crisp and clean, and color clarity is above average. This remains true even at night, where the Super Night Vision captures full color in low lighting conditions. Meanwhile, the 150-degree field of view provides a good balance between coverage and detail.
Glare is generally low, and shouldn't be a concern. But if your windshield is creating some, you can add the optional polarized lens cover to your order. This will also reduce the glare from oncoming vehicle windshields.
If the GPS antenna is plugged in, you won't just capture video. The camera will also keep track of your speed, direction, and location. The speed function is particularly useful. If you're in a crash, you'll be able to prove whether or not you were speeding at the time.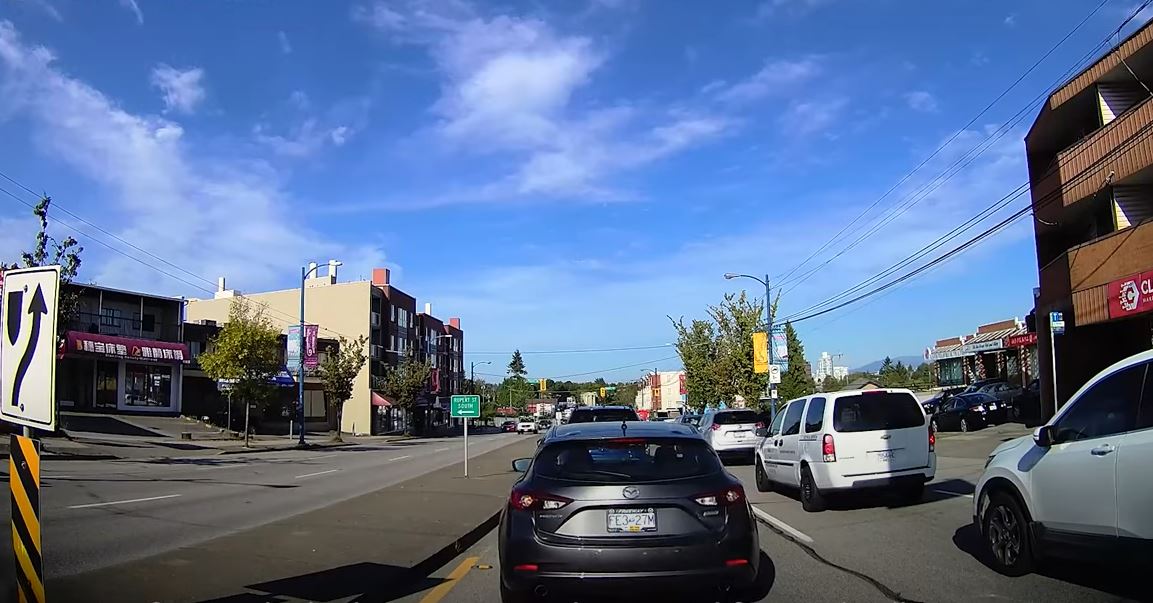 With the hardwiring kit, you can activate the parking mode. In parking mode, the camera will continue to monitor for an impact, even when it's turned off. It will start recording if somebody hits your car, and you may be able to capture their license plate number. You can also set the parking camera to work in time lapse mode. And since it has a supercapacitor, not a battery, it will work more reliably overnight.
Storage and Monitoring
The Thinkware X800 ships with a 32GB MicroSD card. This is enough to record several days' worth of video. And when the card fills up, the camera will automatically overwrite the oldest recordings first. If you need more storage, you can upgrade to a 64GB card for an extra charge. Or you can buy your own card, with a capacity of up to 128GB.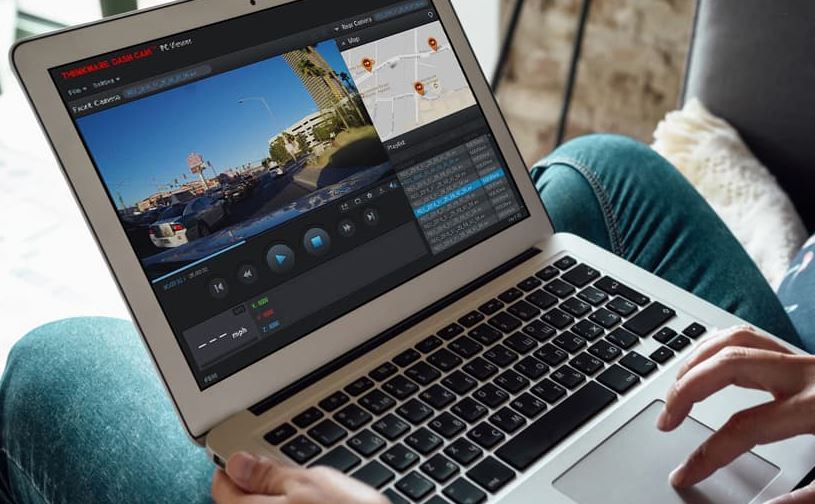 To review your files, you can use any video playing software. You can also view and save clips using the companion app on Windows or Mac.
As an optional add-on, you can order the Thinkware Multiplexer Box. This is a small box that installs in your car and accepts a video feed from both cameras. It can also accept feeds from side-view cameras, and bundle all the video into a single feed. This effectively gives you a 360-degree view around your vehicle.
In addition to all that, the X800 has a handful of built-in safety features. A forward collision warning system scans ahead of your car and warns of upcoming obstacles. A front vehicle departure warning system helps you out in heavy traffic. It warns you when the car in front of you is starting to move. Both of these features are a bit twitchy, and could use some refinement.
That said, the lane departure warning system works very well. If you start to drift out of your lane, it will let you know. And if your GPS antenna is installed, the camera will warn you of red light and speeding cameras.
If you like these features but want something a bit different, consider the Thinkware F200 Pro. It has similar safety features, as long as a slimmer profile. It's also more affordable, but it's a front camera only, and there's no built-in display.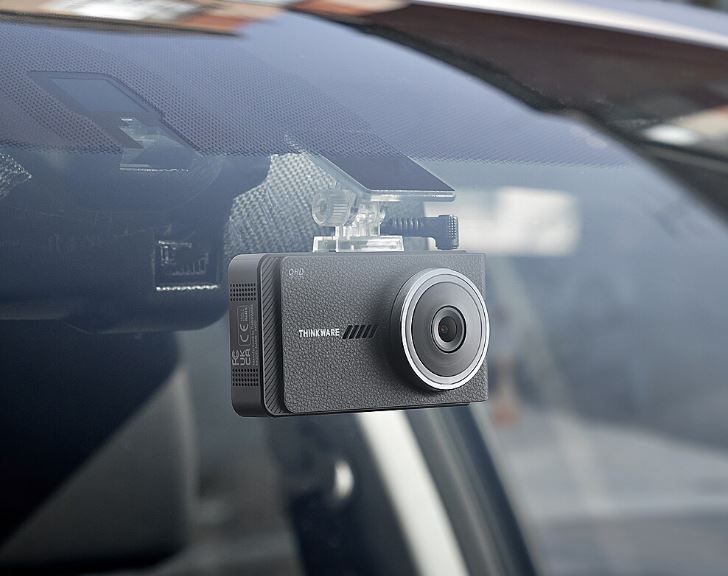 Final Verdict
The Thinkware X800 Front + Rear Dash Cam Bundle is a complete dash cam kit. With front and rear cameras, you'll get plenty of coverage. The video resolution is good, and it looks clear and colorful even at night. You also get a GPS antenna and a hardwiring kit, which many manufacturers charge extra for.
The system is easy to install, albeit a bit more complex if you're using the hardwiring kit. Given the dearth of physical controls, it would have been nice to get a smartphone app. Even so, the PC software works very well, and it's easy to pop out the MicroSD card and review your videos.