Vantrue (Element) E2
Pros
Crisp, 2.5K resolution on front and rear cameras.
Easy installation with electrostatic tape.
Powered by a supercapacitor instead of a battery.
Easy to connect with your phone via WiFi.
Cons
Parking mode not suitable for hot locations.
Tiny display.
You can't be too careful when you're on the road. We don't just mean that you should drive safely and wear your seatbelt. Those things are important, but even the safest drivers sometimes end up in a crash. And aside from the risk of injury, you'll also have to deal with the financial fallout. For one thing, you'll have to pay a deductible – that much is unavoidable.
But if you're found at fault or even if it's a no-fault accident, your insurance premiums will go up. In the long run, that's far more expensive than paying a deductible. Worse, there's always the risk of fraud, or a hit-and-run driver.
Scams and hit-and-runs don't always have to be dramatic, life-threatening events. For example, not all scammers are professional criminals. Maybe someone has a legitimate injury, but is also suffering financial distress. This otherwise-honest person might exaggerate their injury to increase their payout. The same goes for hit-and-runs. If someone backs into your car in a parking lot and doesn't leave a note, that's a hit-and-run.
Regardless of the situation, a dash cam can provide crucial evidence. Show your insurer a video of someone backing into you, and they'll have to approve your claim. If the other driver tries to lie to the police when they take their report, it won't be a he-said/she-said situation. You'll have the video on your side. But video evidence is only as good as the camera. That's why it's important to do your research before you invest in a dash cam.
Vantrue E2
Today, we're going to review the Vantrue (Element) E2. This is a dual front and rear dash cam with a 2.5K resolution. It's designed to be easy to install, and its supercapacitor is more reliable than a traditional battery. You can also download your videos to your smartphone via WiFi, which makes them easy to transfer.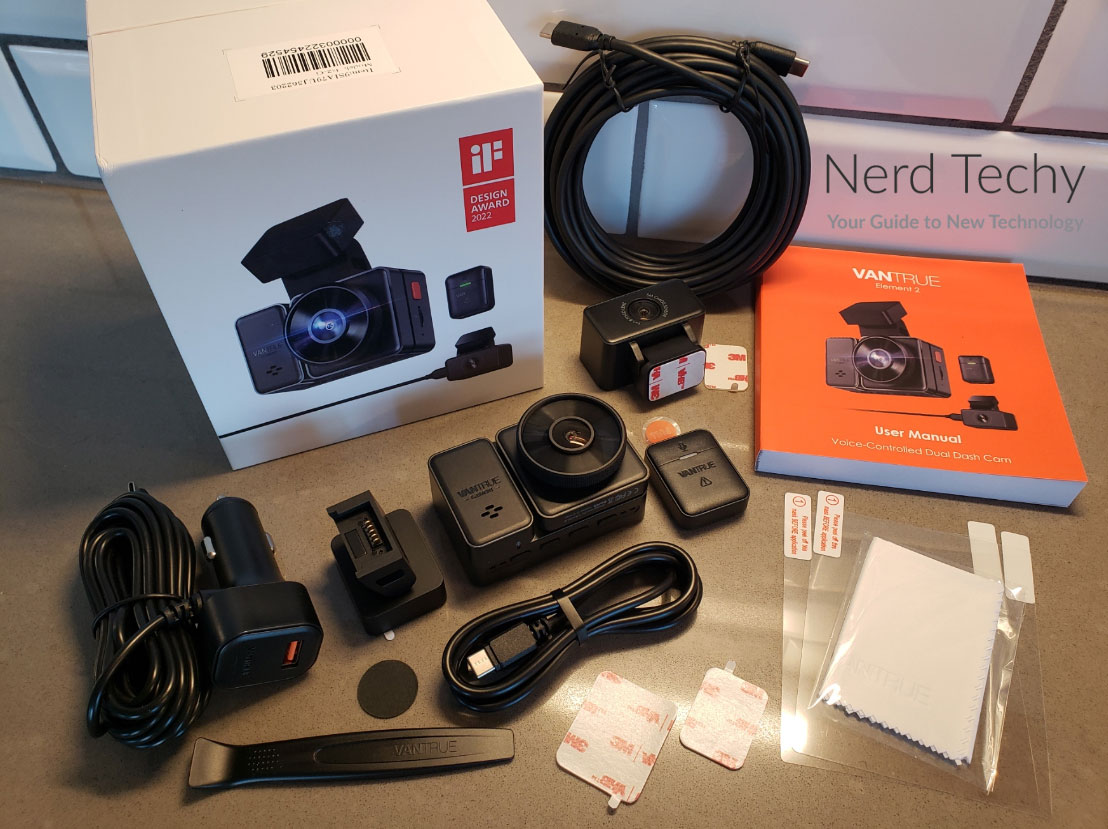 But to truly understand how well this camera works, we'll have to take a much deeper dive. We'll need to look at the design, and how you install it in your car. We'll have to go over the controls, and how you can monitor your videos. And of course, we'll talk about video storage and how the camera is activated. Let's begin!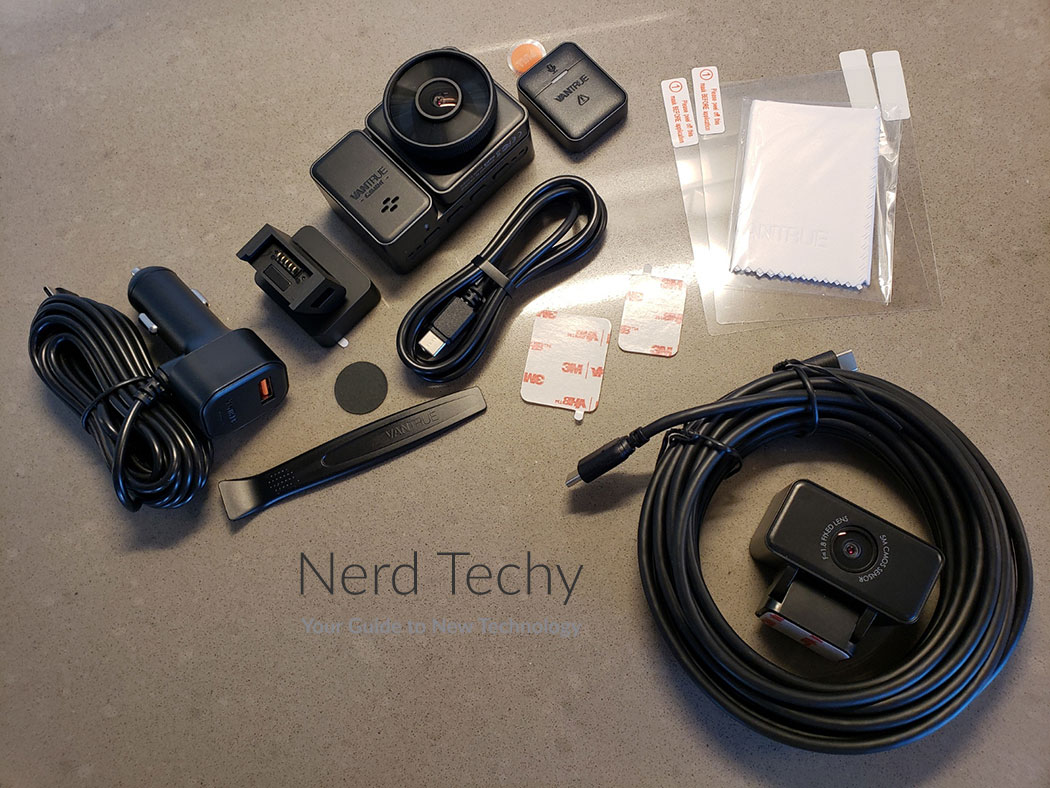 Overall Design
The Vantrue E2 has separate front and rear cameras. The front camera is the larger of the two, although it's still very compact. It measures 3.54 inches wide, 1.18 inches thick, and 3.15 inches tall including the bracket attachment. It's made from black plastic, with a smooth matte finish that doesn't catch any glare. That way, it won't distract you while you're driving.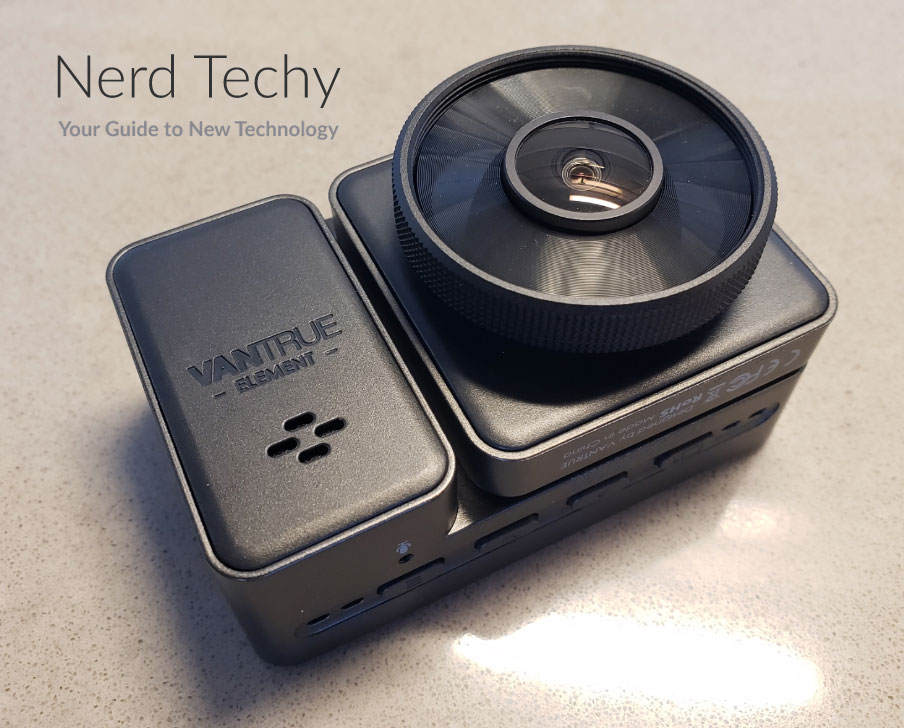 At first glance, it looks like a tiny handheld digital camera. On the front, there's a large lens to the right, with a wide, thin housing. To the left of the lens is a mostly bare panel with four holes for the microphone. Above the mic are the words "Vantrue element," embossed in glossy lettering.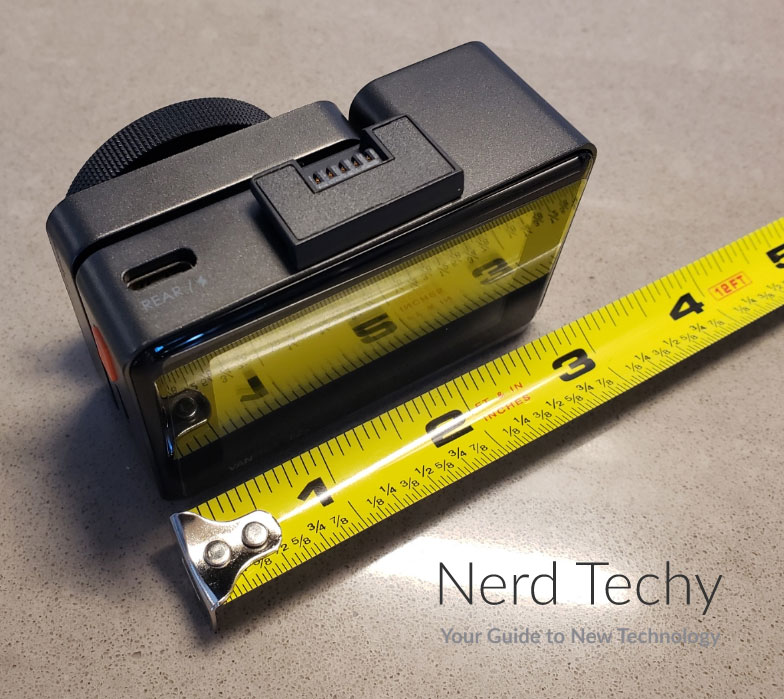 You'll see a prominent bracket attachment at the top of the housing. This clips into the bracket, and the camera hangs down underneath.
On the back, facing the inside of your car, is a display. The color quality and resolution look good, but it's very small. Aside from the tiny size of the camera, there's also a wide bezel. This was somewhat disappointing, although you shouldn't be watching the screen while you're driving.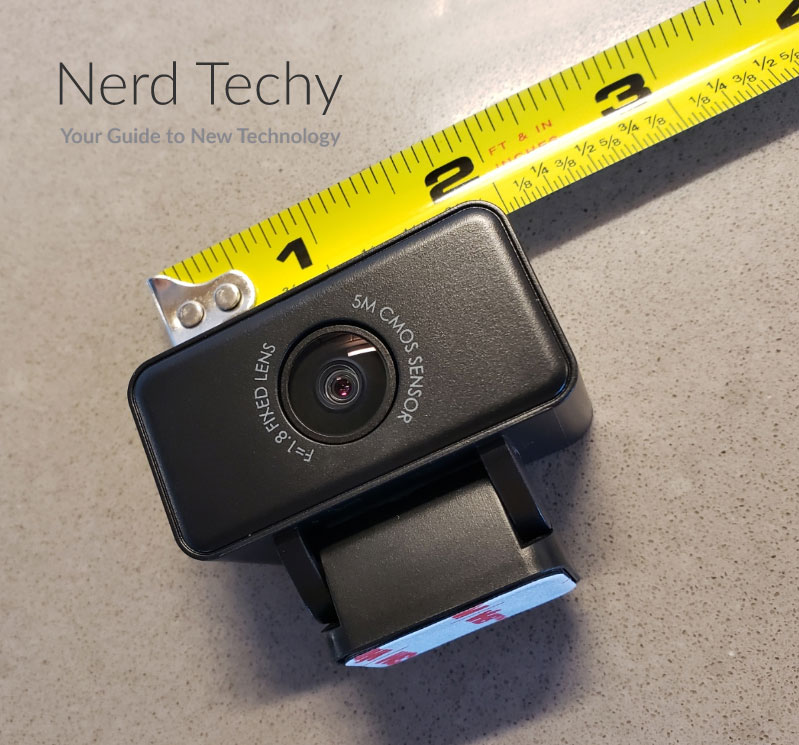 The rear camera is also rectangular, but it's considerably smaller. It's just a camera, with no display and no need for any additional electronics. The housing is very compact, with a tiny bracket at the top to attach to your rear window.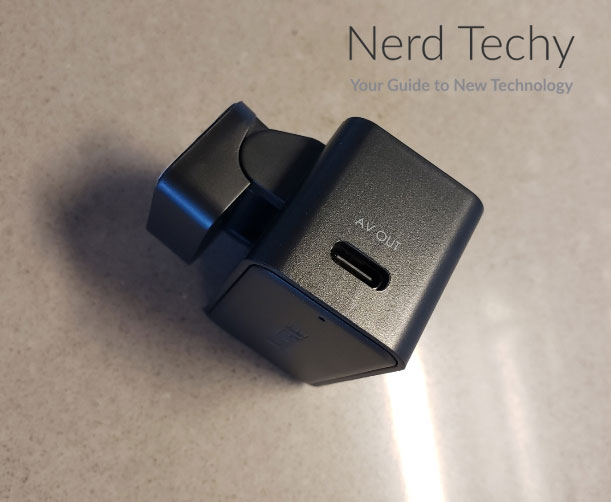 One thing we liked about the E2 is that it uses a supercapacitor, not a battery. This gives it a much longer lifespan, and it can withstand a wider temperature range without getting damaged. You won't get much benefit from a capacitor when your car is running. But it's a very helpful feature if you're using the parking camera feature.
Vantrue backs their dashcam with a lifetime repair warranty. Within the first 18 months, they'll even send a free replacement.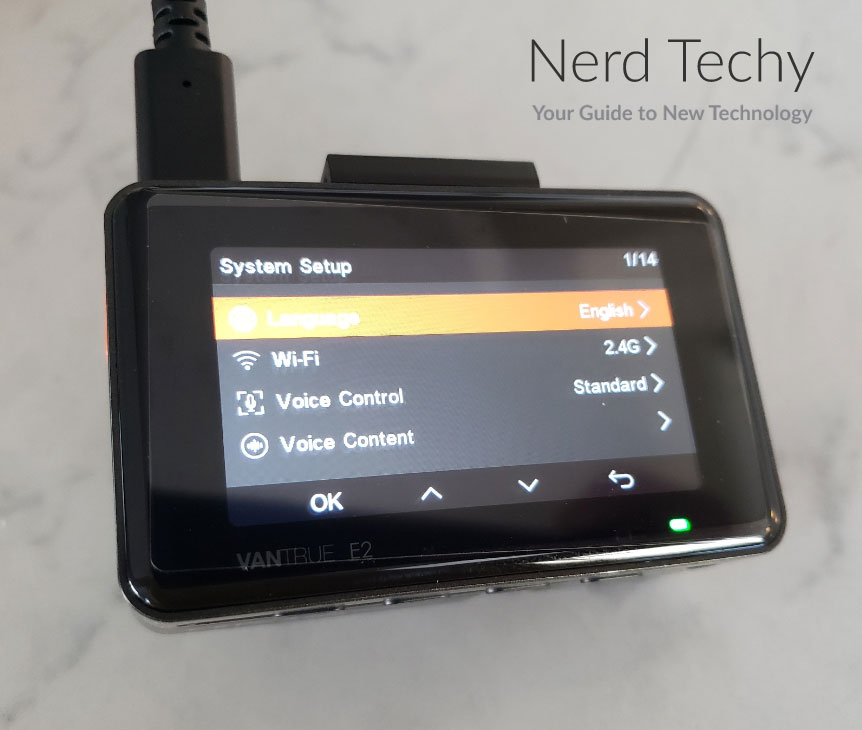 Control functions
The controls on the Vantrue E2 are pretty straightforward. On the side of the housing, you'll find an orange power button that turns the camera on and off. Across the bottom are four additional buttons. With these, you can review your footage or adjust your camera settings.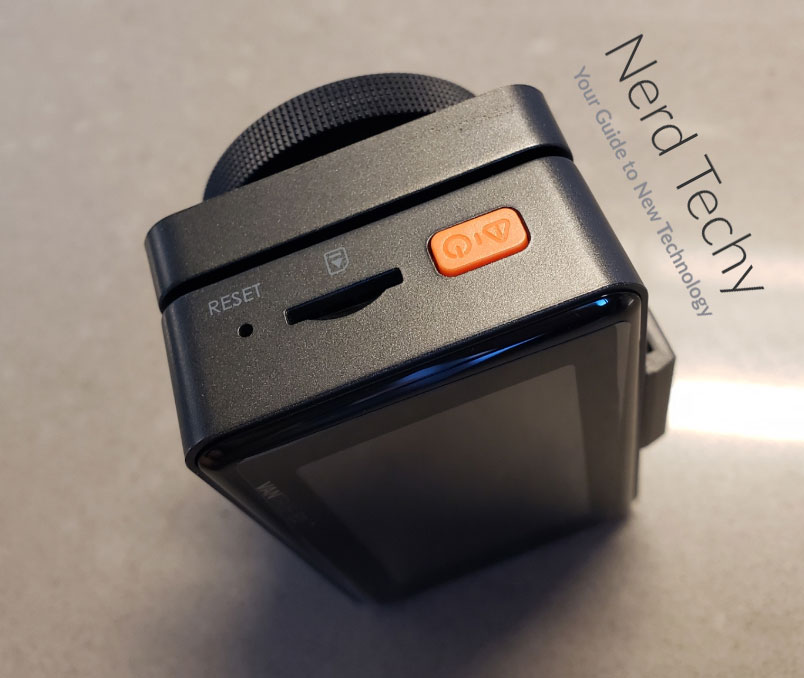 If you want to control your camera on the fly, you don't have to take your hands off the wheel. Instead, you can take advantage of voice commands in four languages: English, Japanese, Chinese, and Russian. With these commands, you can do everything you'd do with the physical buttons. You can turn the WiFi or screen on and off, and activate or deactivate audio recording. You can also change the display between the front camera, rear camera, or both.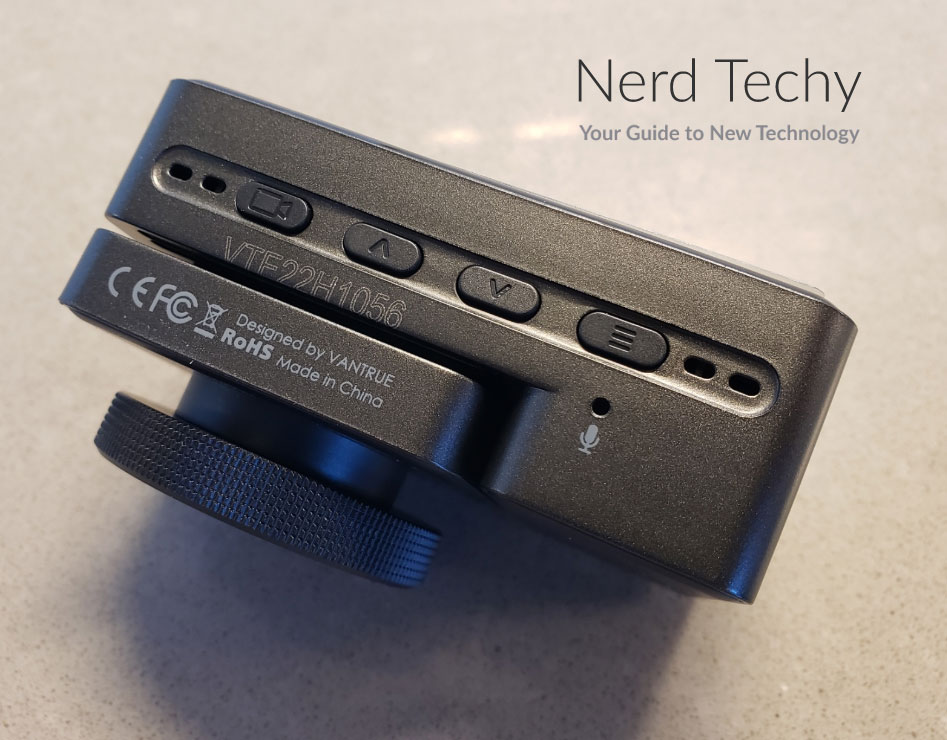 Another useful feature is the wireless remote. This is a little black fob with a single large button to trigger recording. Press it, and the camera will save the current video, starting from five seconds before you pressed it. Mount the fob near your steering wheel, and you can trigger a recording without getting distracted. It's much easier to press a button on the dash than to fumble around on the camera.
Installation
Installing the Vantrue E2 is almost absurdly easy. It comes with a set of electrostatic stickers. These cling to your windshield and back window, and your cameras will adhere to the opposite sides of the tape. This is similar to how many adhesive-mounted cameras work, but the adhesive itself is different. Because it's electrostatic, it's easy to remove the tape without leaving gunk on your windshield.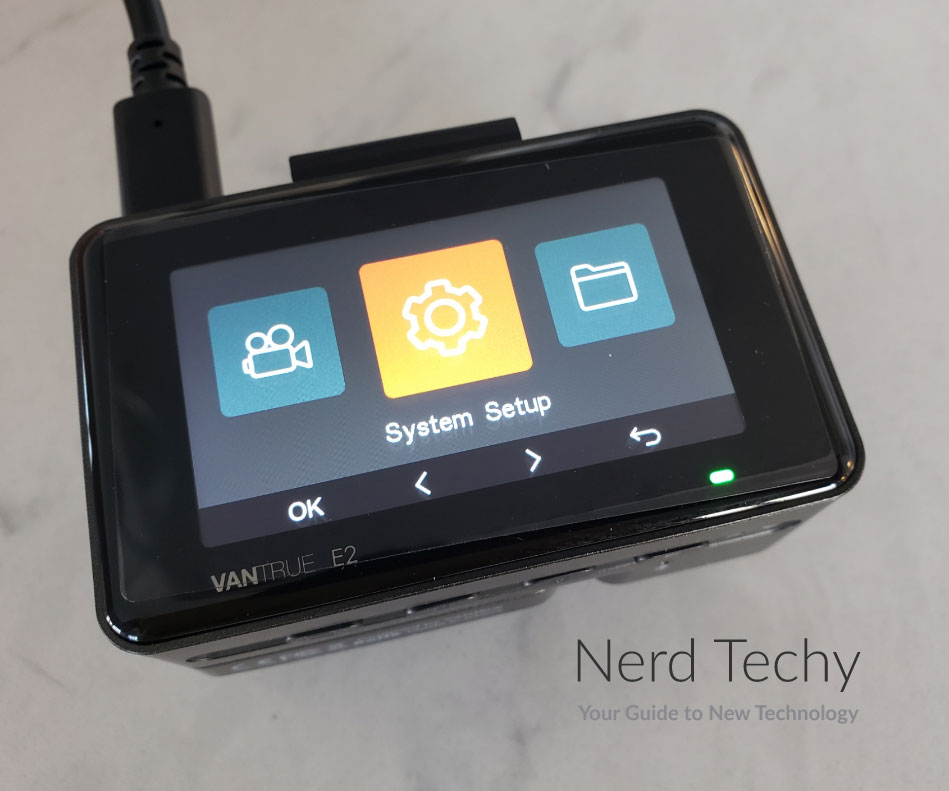 To mount the front camera, you first attach the bracket to your windshield. Then the camera clips right into it. That way, you can remove the camera if you don't want to leave it in your car. You can also tilt the mount 75 degrees to get the perfect angle. The power supply plugs into your car's DC power port, but you don't have to ditch your phone charger. The DC plug has a USB port on the back, which allows for pass-through charging.
The rear camera mounts directly on your rear window, and has an integrated bracket. It can also tilt, so it will work well with almost any window. Because it mounts inside your car, you don't have to drill a hole in your trunk or do anything else drastic. Once it's in place, it will connect to the front camera with a USB Type-C cable. There's a 20-foot cable included in the package, which is long enough for any vehicle short of an RV.
If you're looking for something slightly different, consider the Viofo A229 Duo. It has a similar design with adhesive mounting, although it uses a traditional double-sided tape. It also has dual 2K cameras, with a number of advanced capabilities. On the downside, many of the parts are sold separately.
Video and Recording
The Vantrue E2's cameras both record in 2.5K, or 1944p, at a framerate of 30FPS. That's about standard for modern dash cams. These days, a budget-priced camera will record in 1080p and a high-end camera will capture 4K video. So 2.5K sits comfortably in the middle, and will work well for most purposes. You'll be able to read license plates without any issues, which is the main thing to look for.
The lens has a wide angle of 160 degrees, which captures the entire road. If you're on a multi-lane highway, you'll be able to se traffic in the adjacent lanes. There will still be a 20-degree blind spot on either side, but all in all you're looking at amazing coverage.
Both cameras provide good color clarity, and perform very well under most conditions. There's no true night vision, so you won't be able to see in pitch blackness. But even in very low lighting, you'll get full color video. Even your backup lights will be enough to provide a clear video.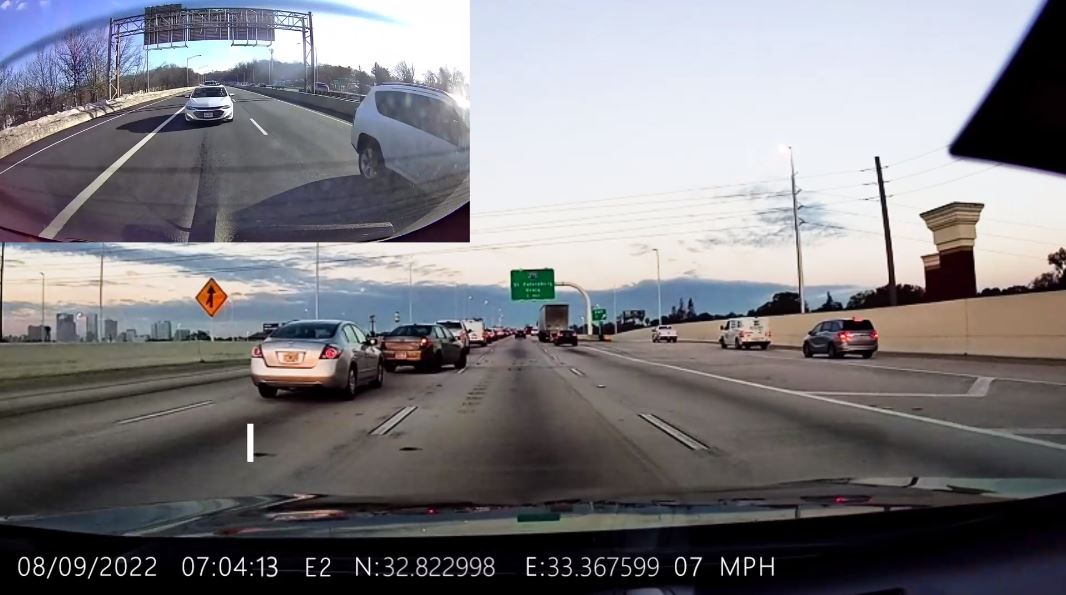 If you need a higher-resolution camera, take a look at the Vantrue X4S Duo. It's another dual camera with a convenient suction cup mount. But the front camera records video in full 4K. On the downside, the rear camera is only 1080p.
The camera has a built-in impact sensor that detects sudden changes in momentum. When it picks up an impact, it will automatically trigger a recording. Much like when you manually trigger a recording, this will start five seconds prior to impact. It will then continue to record for an additional 30 seconds.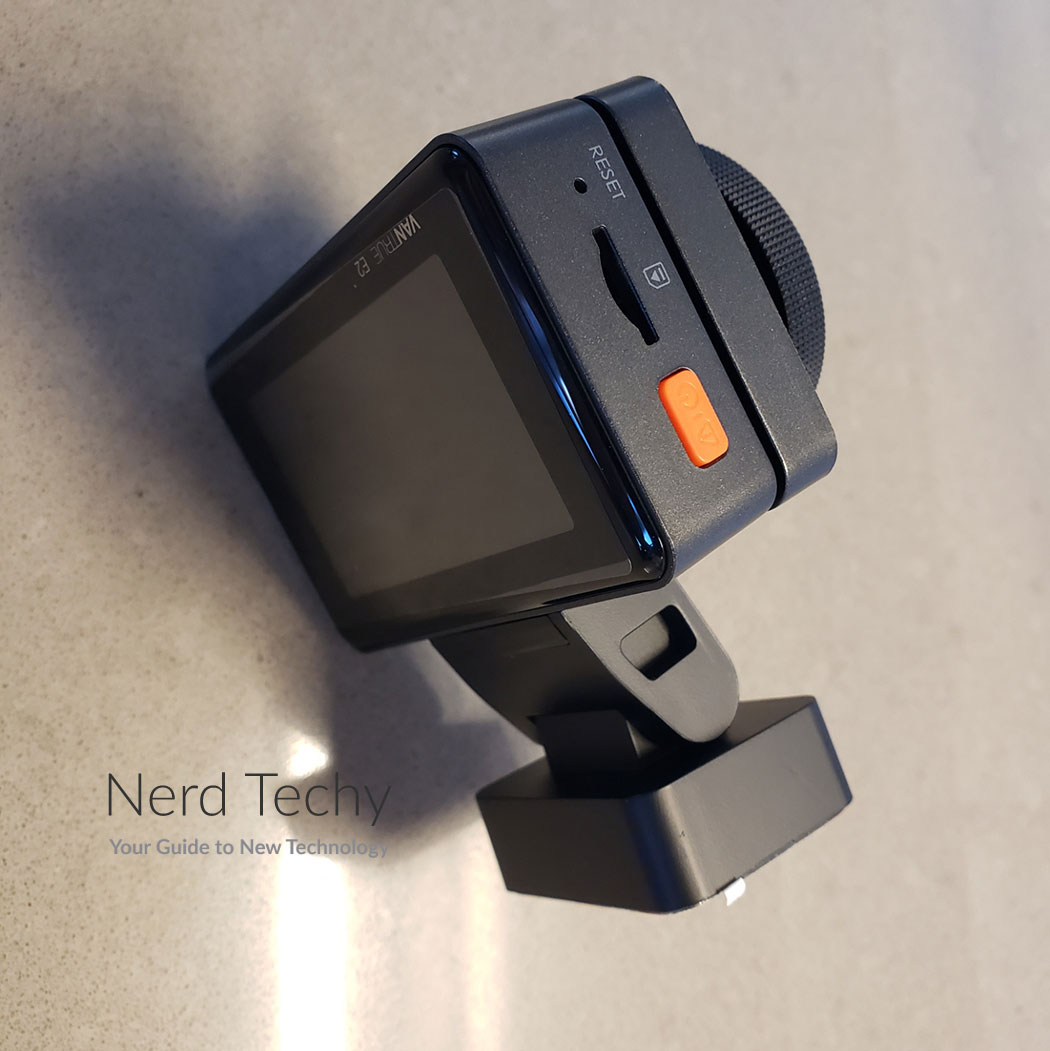 Storage and Monitoring
To use the Vantrue E2, you'll have to install an SD card, which is not included in the kit. You can use up to a 512GB card, which is enough to record literally weeks' worth of video.
The camera acts as a 5GHz WiFi hotspot. You can connect to it from your phone's WiFi menu and download videos. That way you can transfer them to another storage medium. Or you can share them on social media to have a laugh with your friends.
It's also worth noting that the E2 has a parking mode that can trigger on motion or impact. This requires an optional hardwiring kit, which is sold separately. Unfortunately, the parking mode shuts off automatically when the temperature gets too hot. And it doesn't reactivate when the temperature drops. This is problematic if you park your car in an open lot during the day.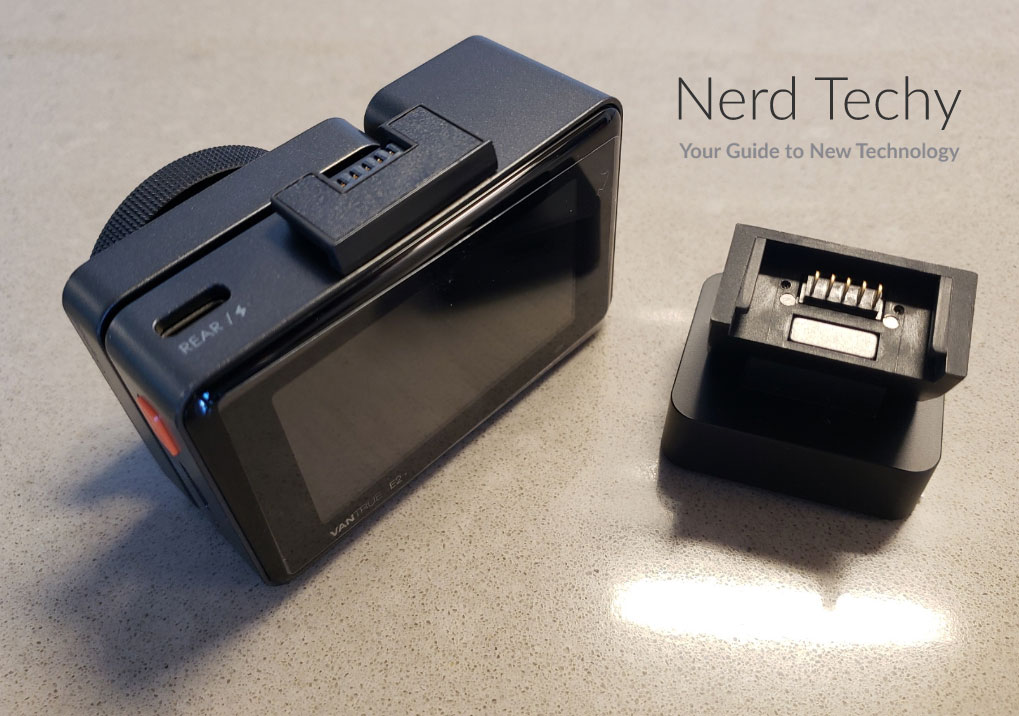 Final Verdict
The Vantrue (Element) E2 is a great mid-range dash cam that will meet most people's needs. The 2.5K video is nice and crisp, and the color quality is good. It's easy to install and operate, and reviewing your footage is simple. It's not a great parking camera, but that's its only major weakness. For on-road use, it's an excellent choice.
Meet Derek, "TechGuru," a 34-year-old technology enthusiast with a deep passion for tech innovations. With extensive experience, he specializes in gaming hardware and software, and has expertise in gadgets, custom PCs, and audio.
Besides writing about tech and reviewing new products, Derek enjoys traveling, hiking, and photography. Committed to keeping up with the latest industry trends, he aims to guide readers in making informed tech decisions.