A good dash cam can save you a lot of trouble. For example, take one of the most common insurance scams. Someone cuts in front of you in heavy traffic and slams on their brakes. Unless you have superhuman reflexes, you rear-end them.
And since you're a good citizen, you pull over to exchange information and file a police report. Then someone else shows up. Unbeknownst to you, this person is the scammer's accomplice. When the police arrive, they say that you were driving erratically. They'll say you slammed into the back of a stopped car.
Now it's the other driver's word against yours, and they have a witness. You're on the hook for the crash, and they milk your insurance company dry with phony damages. Then your insurance rates go up because there's an at-fault accident on your record. And you still have to fix your car!
With a dash cam, you can avoid this situation. Instead of it being your word against a scammer, you'll have real visual evidence to back up your case. They'll be responsible for the damages, and they may face criminal charges for filing a false police report. Best of all, your driving record will remain squeaky clean.
Traffic cams can also be useful for other reasons. They can help provide evidence if you're the target of road rage. Many can be used as parking cameras in case someone dings you in the parking lot. They can even serve as a deterrent. Smart scammers and thieves are on the lookout for dash cams. If they see one, they'll probably avoid targeting your car.
VIOFO A229 DUO Front and Rear Dash Cam
Today, we'll be reviewing the VIOFO A229 DUO. This camera system records both front and rear video in crisp 2K, by day or night. It has multiple parking camera functions, along with a built-in WiFi transmitter. It's also easy to install, since you don't have to drill through the back of your car.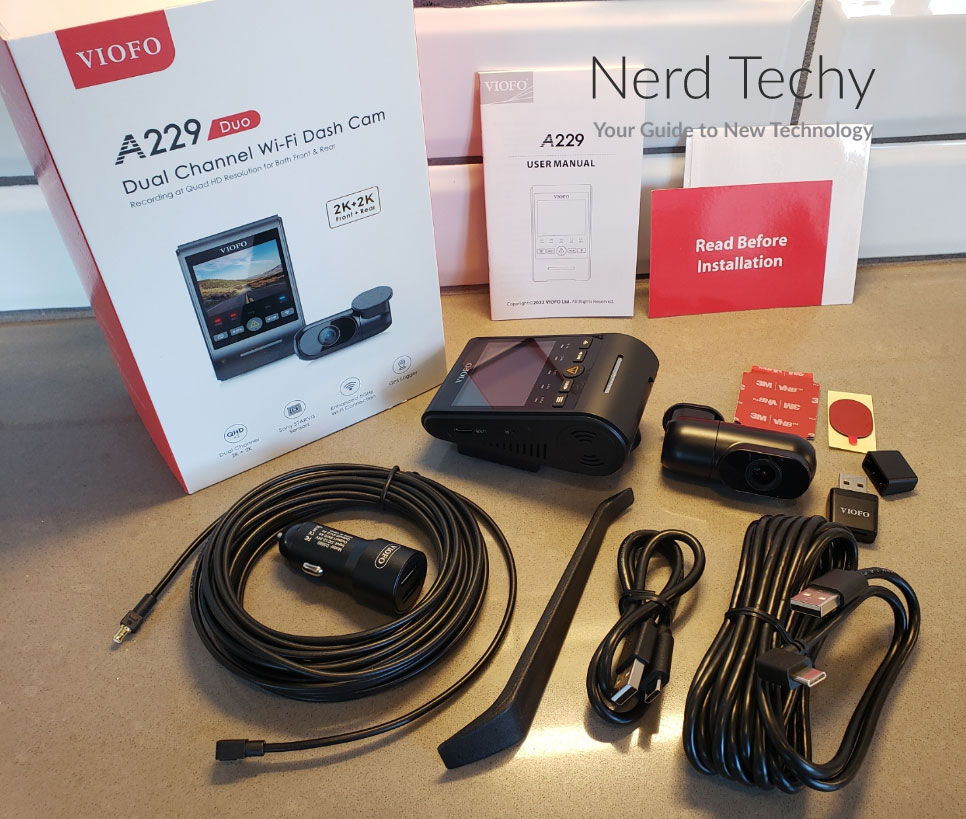 To find out if this camera is really worth owning, we'll have to look a bit closer. We'll need to talk about how it's designed, and how it mounts in your car. We've got to discuss the display, along with the installation process. And of course, we'll have to consider the video quality and monitoring functions. Let's get started, and see what we find!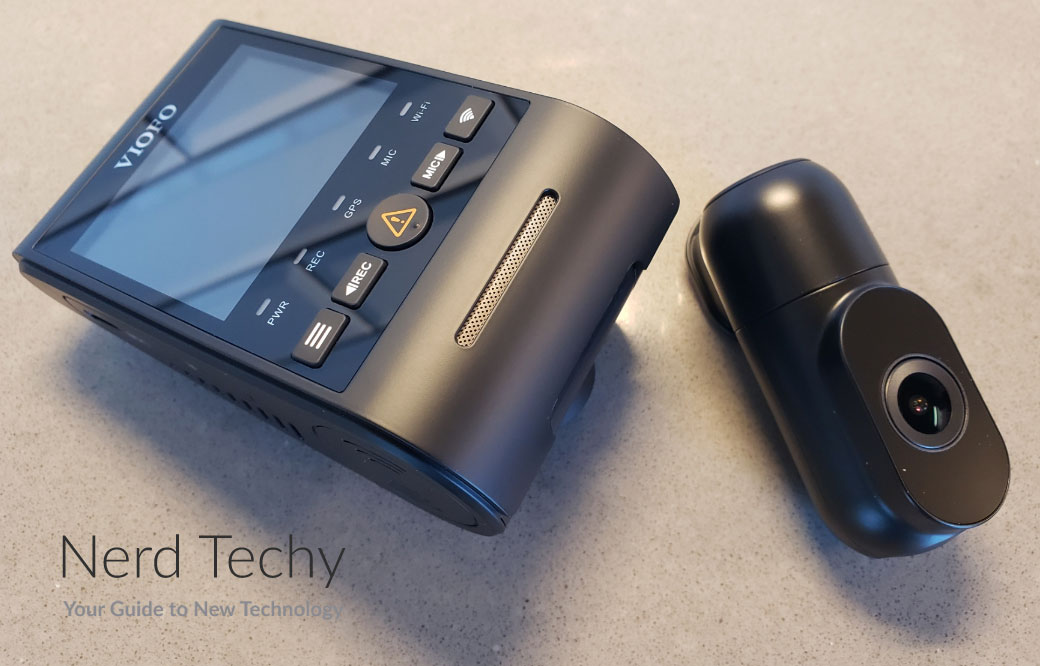 Overall Design
The VIOFO A229 DUO consists of two main components: the front and rear cameras. The rear camera is compact and pill-shaped. It's constructed from a matte black plastic, and it's designed to mount horizontally inside your rear window. The lens can be angled up or down, so you can point it directly backwards regardless of your window angle.
The front camera is constructed from the same black plastic as the rear camera. It's wedge-shaped, and mounts with the point of the wedge pointing up and back. The front end is rounded, with a camera lens at the center.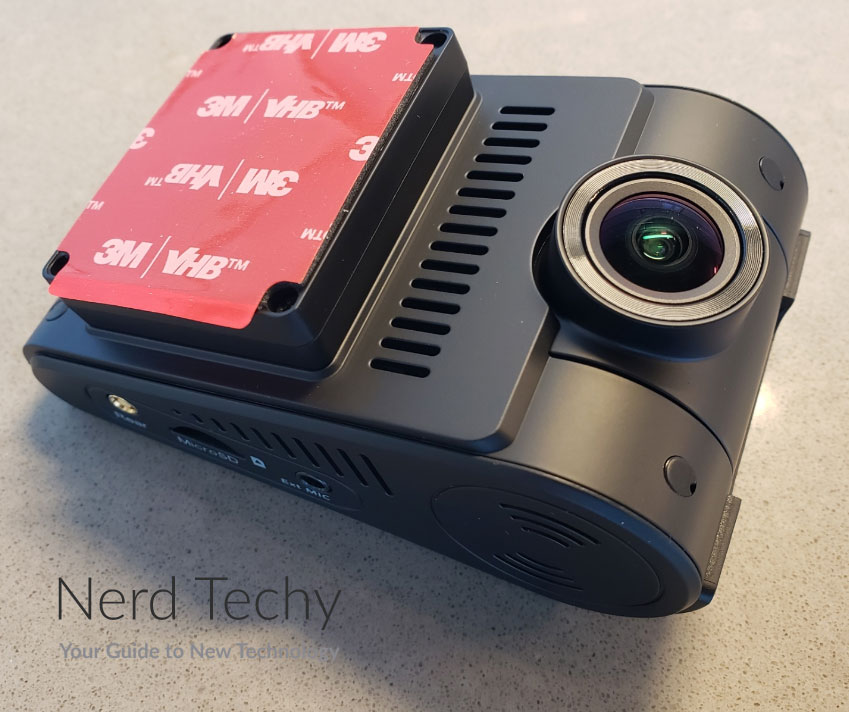 On the surface facing inside of your car, there's a 2.4-inch square HD display. This shows a live feed of the front camera, with the rear feed inset at the upper left corner. The display provides a great preview, unless you want to make out fine details like license plate numbers. In that case, you'll need to play back your videos on a bigger screen.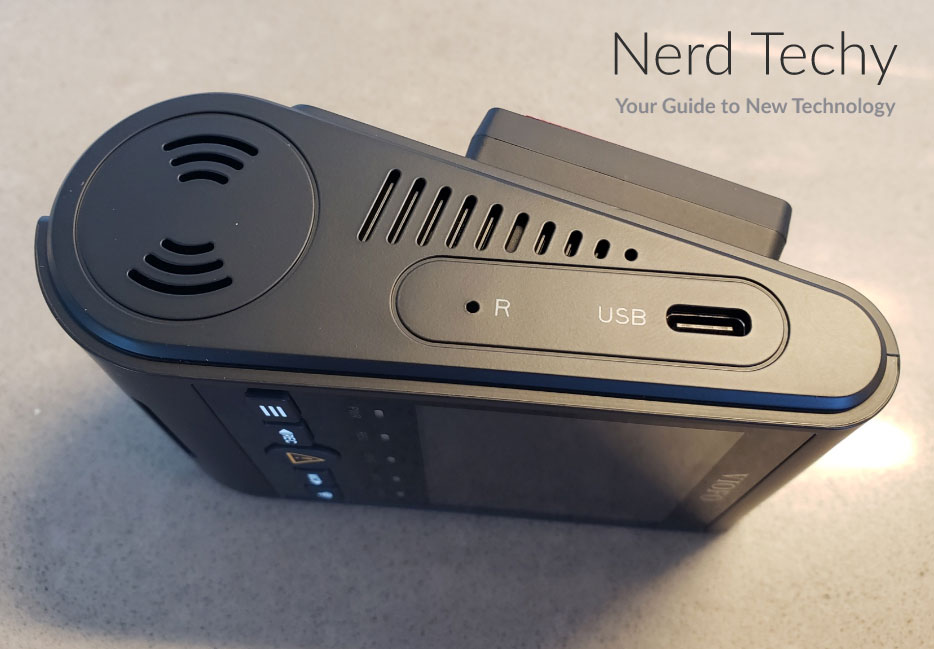 The A229 DUO is actually a modular system, with a handful of optional add-ons. One of these is a lapel mic, which connects to the 3.5mm aux jack on the right of the camera. This won't be useful for most people. But if your job requires frequent verbal interactions, it can provide a valuable record.
If you don't need a rear camera, consider the 70mai M500 2.7K Dash Cam. It's a front camera only, but the video quality is fantastic, far better than 2K. On the downside, it only has 32GB of internal storage, and you can't upgrade it.
Control Functions
Beneath the display is a row of clicky plastic buttons. These allow you to perform most of your basic functions. There's a menu button on the left, so you can adjust your camera's settings. Next is a manual record button, which turns the camera on and off.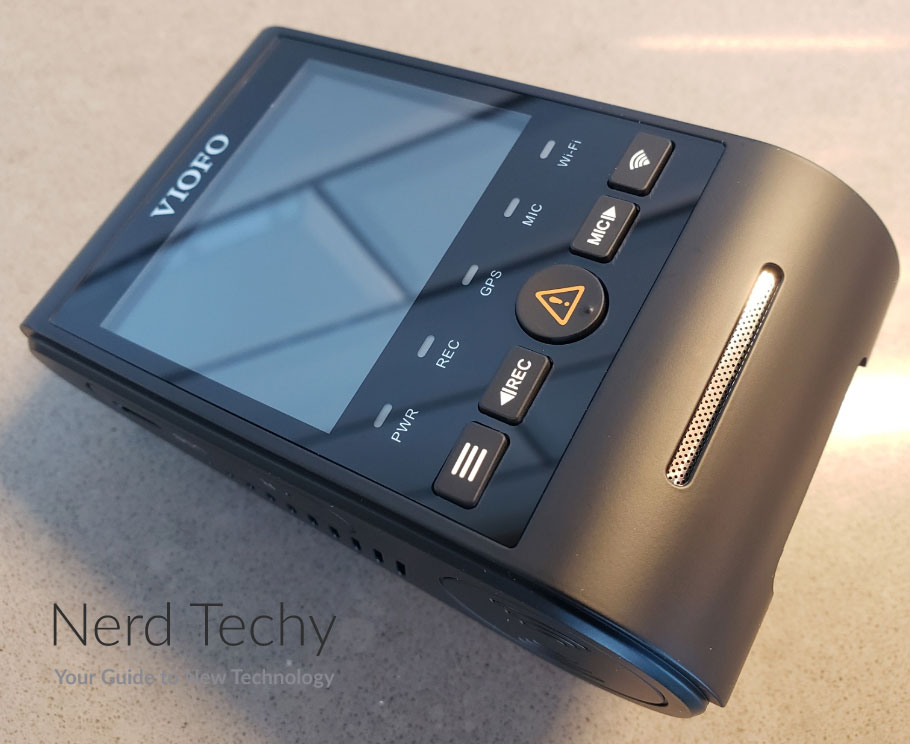 The next is an emergency record button, which saves the last 15 seconds and the next 30 seconds. The fourth button is the microphone button, which turns audio recording on and off. Last is the WiFi button, which is used to set up a connection for your phone.
Between the buttons and the screen is a row of indicator lights. The two red lights at the left are the most important. These tell you whether or not your camera is turned on and recording. The three blue lights are more situational. These let you know when the GPS, microphone, and WiFi are active, respectively.
In addition to that, you'll also get audio notifications and feedback. For example, if there's an error with your memory card, the camera will tell you.
If you want even more control, there's an optional Bluetooth remote. This is a small, battery-powered button with a discreet black housing. You can mount it under your dash, on the side of your seat, or anywhere else that's convenient. Press the button, and it will instantly trigger the video capture process.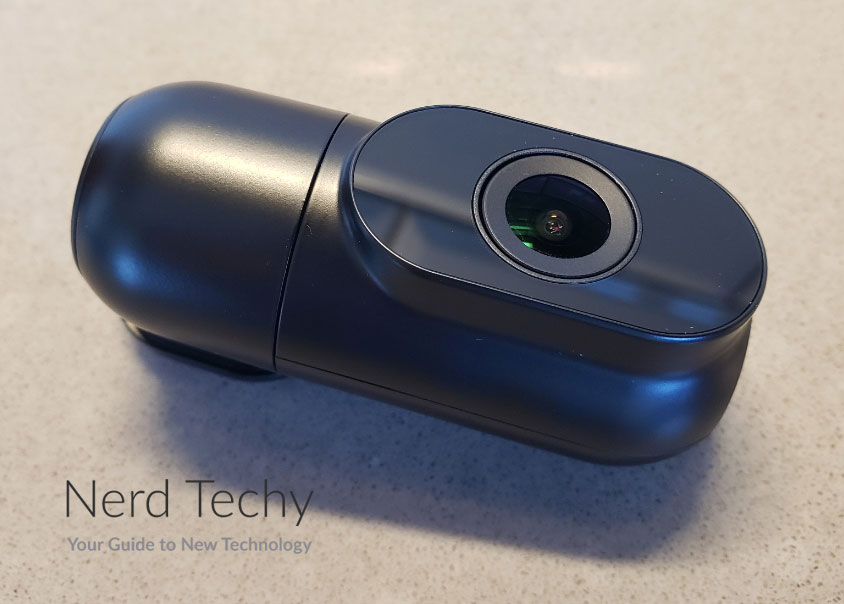 Installation
Mounting the A229 DUO is very easy. Both cameras have a flat mounting surface with a 3M adhesive pad on it. The adhesive has a peel-and stick backing, which you remove before pressing it into place.
It's also a tad thick, so it can conform to the slight curve of your windshield. The adhesive leaves no residue when removed correctly, but getting it off is still a pain. Test both of your cameras' position before you install them to make sure your framing is right.
The two cables connect with a slim coaxial cable. This cable has a maximum thickness of 2.8mm at the plug. This makes it easier to conceal when you run it from one camera to the other. It's also nice and long at 6 meters (19.7 feet). This gives you plenty of room to reach the back of all but the longest vehicles. Unless you're outfitting an RV, you'll be all set.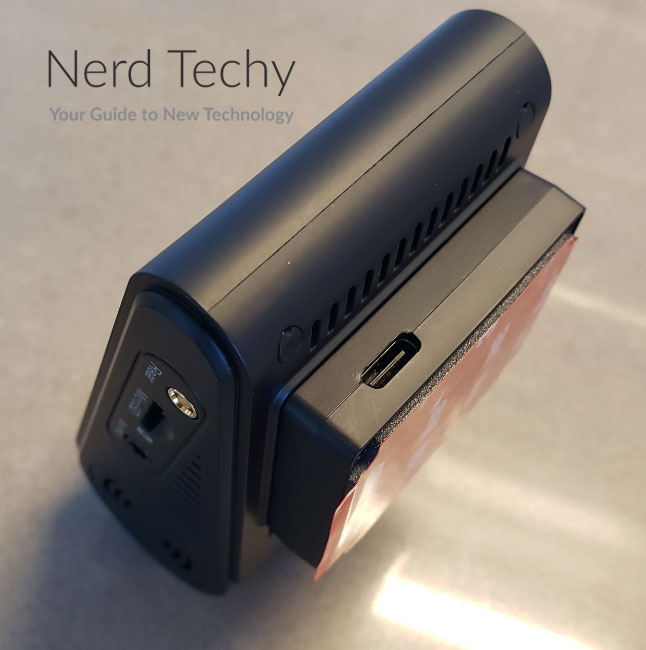 The kit also includes a USB Type-C cable with a 90-degree tip. You can plug this into one of two USB Type-C ports. One is at the top left side of the housing, and the other is on the front edge of the GPS mount. It makes no difference which one you use; it all depends on what's easiest in your car. The cord plugs into a car charger, which is also included in the package.
If you're looking for a different design altogether, the Auto-Vox V5 Pro might be ideal. It installs directly over the rearview mirror, where it seamlessly displays your rear camera feed. This cuts down on clutter, and there's also a 24/7 parking mode. On the downside, the video resolution is only 1080p.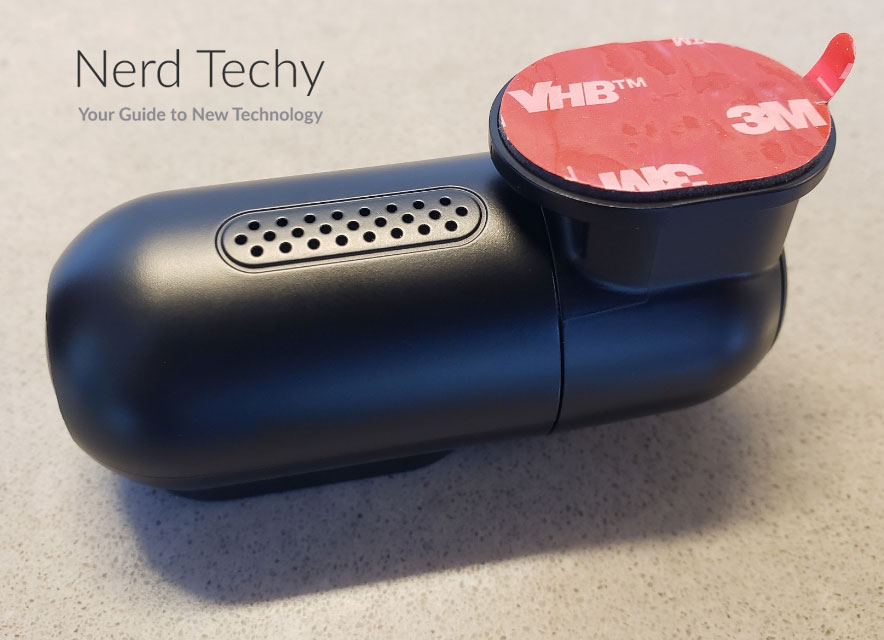 Video and Recording
The A229 DUO has a resolution of 2K, or 2,560 x 1,440 pixels. That's twice as many pixels as 1080p, so you can see all kinds of details. If you need to make out a license plate number at a distance, you'll be able to. The framerate of 30FPS isn't outstanding. But it's more than enough to let you know what's going on. It's not like you'll be watching your dash cam videos for entertainment, anyway.
The night vision is in color, and the lens automatically adjusts to the light level. When it's very dark, the colors will be muted, but they'll still be present. This type of night vision won't work in pitch blackness, but that's rarely, if ever a concern with dash cams. Street lights, headlights, and even reverse lights all provide more than enough illumination.
When you turn your car off, you can set the camera to one of three different parking modes. The first is automatic event detection. If it senses an impact, it will trigger a 45-second recording, starting 15 seconds before the impact. The second is time lapse recording. In this mode, you can record at frame rates as low as 1 FPS. You'll be able to record all night without creating an enormous file. Finally, you can record at ultra low bitrates. This reduces file size, but at the expense of poor resolution.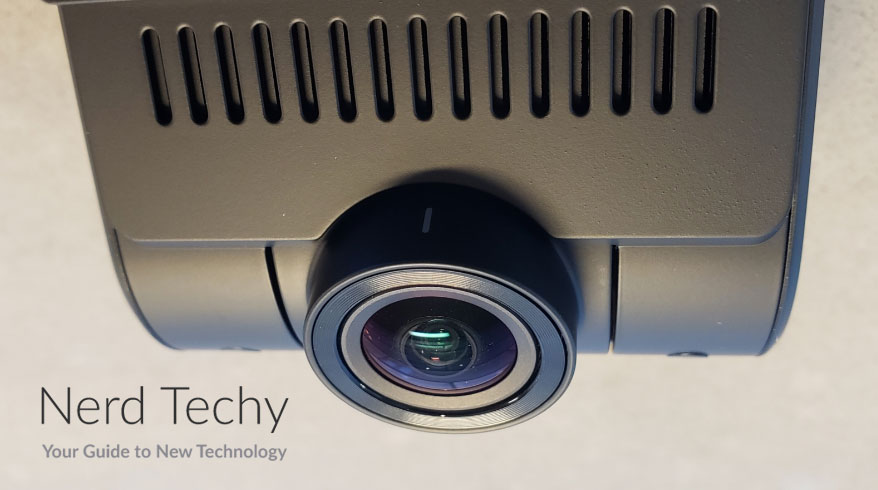 It's worth noting that all of these modes will draw power, and could drain your battery. VIOFO strongly recommends using the optional hardwiring kit if you're using the A229 DUO as a parking camera. They also offer an optional polarizing lens to reduce glare. This can improve video quality when the sun is shining on the lens.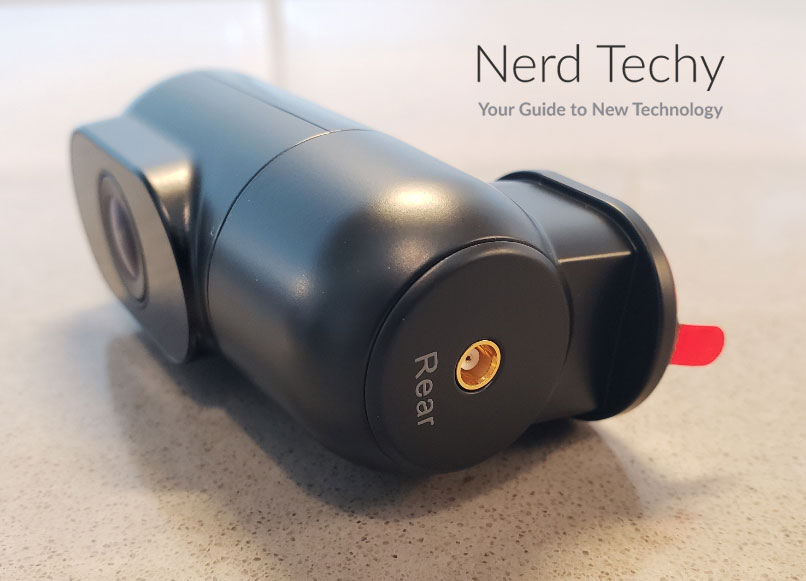 Storage and Monitoring
Your videos are stored on a Micro SD card, and you can review them on the camera or computer. There's no SD card in the kit, but they're affordable. Install one with a capacity of up to 128GB, and you'll be ready to go.
You can also view videos on your phone by connecting to the A229 DUO via WiFi. Turn on the WiFi on the camera, open your phone's WiFi menu, and connect. Not only will you be able to see your video, but each video is encoded with your current GPS data. The GPS mount will also keep track of the current time at your location and timestamp your videos.
If you need fewer advanced features but even more resolution, check out the VIOFO A129 Pro. It can be set to multiple resolutions and framerates, and even as high as 4K. Then again, it's an older model with a smaller display and a fat USB Type-C connecting cable.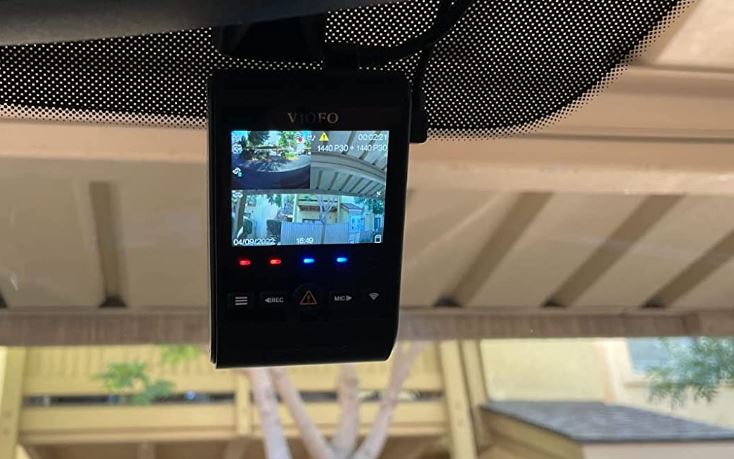 Final Verdict
The VIOFO A229 DUO is very well-designed. The video is very sharp, and looks good under any lighting conditions. It's easy to install, easy to mount, and easy to monitor. And with the optional attachments, you can expand its capabilities even further.
Best of all, the first 100 A229 DUO's that are sold will save $30 and receive a free Bluetooth remote control and a CPL Filter. It's an extra bonus that VIOFO is including to kick off their new release.