70mai M500
Pros
Excellent still photo and video quality with accurate colors.
Impressive wide angle field of view.
Easy to setup, use and configure through the app.
Detachable design makes it easy to remove from your car.
Built-in GPS and GLONASS with route-tracking.
Cons
24 hour parking feature requires hard-wire connection.
Built-in storage cannot be upgraded later.
Tire pressure monitor sensors are sold separately.
No rear camera.
In this day and age, a dash cam is an essential part of any vehicle. Having the ability to effortlessly record and save footage from your car is often taken for granted.
There's countless reasons why a dash cam is a smart investment. However, owning the right one is more trivial than you may expect. Simply put, not all are created equal. Ultimately, there are dash cams from all ends of the spectrum. Some are several hundred dollars while others are much more affordable.
Regardless of the brand, make or model you decide to own, you're going to want to make sure your dash cam is up to par. Most notably, excellent image quality is of utmost importance, followed by other features such as night vision, GPS and other "smart" features.
70mai M500 Dash Cam
Here at NerdTechy we've reviewed several up and coming dash cams that have recently hit the market. Because of this, we were asked by 70mai to take a look at their new M500 dash cam. On paper, it looks to boast an impressive set of features. Specifically, 2.7k image quality, HDR night vision and a 170-degree field of view are the benefits that immediately caught our eye.
Today, we're going to take a close look at the new M500 dash cam. We'll examine all of what it has to offer and try to cover each of its pros and cons from a critical point of view. We'll test it out in the field and ultimately decide if it's worthy of a purchase or a pass. Let's get right into it.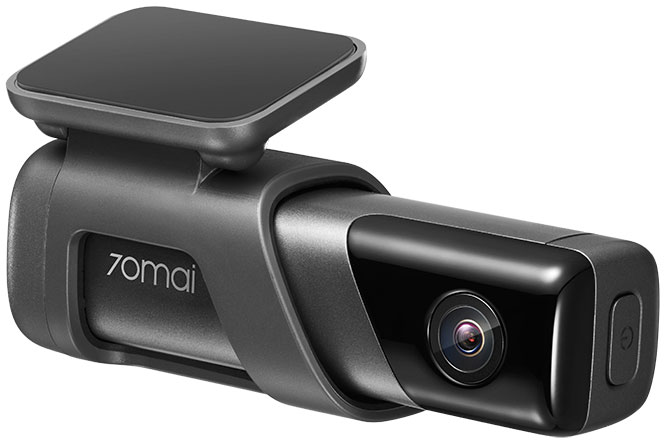 Build & Design
At first glance, the 70mai M500 Dash Cam has a very compact, simple design with a cylindrical shape measuring just over 5 inches in length and 1 inch in diameter. This keeps it small and somewhat "pocket-sized" which definitely comes in handy.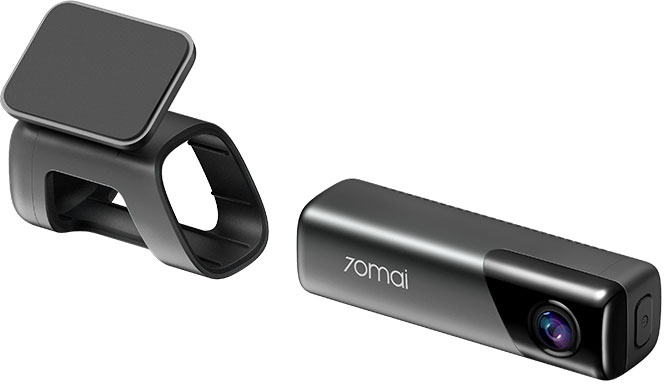 The kit includes a mounting bracket with a 3M sticky-back. We like to think of it as a dock. With it, you're supposed to mount it against the top of your windshield and insert the actual dash cam into it. This way, you can freely remove it and take it with you, without completely de-installing it from your car.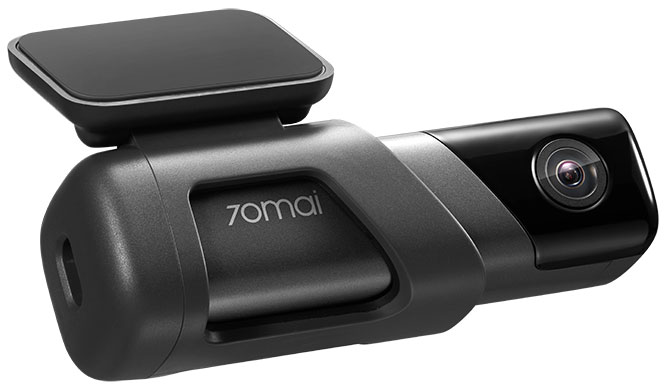 One end of the dash cam has a power button. This is used to perform only basic functions as most of the features are activated and configured through either the app or voice controls. More on this later.
The other end contains a USB-C port for powering the camera. By default, you can plug it into your vehicles 12V "cigarette lighter" port for power. Alternatively, you can purchase a separate wiring harness if you'd like to hard-wire the dash cam to the car's battery. Keep in mind, if you'd like to use the dash cam's 24 hour parking feature, this is a requirement.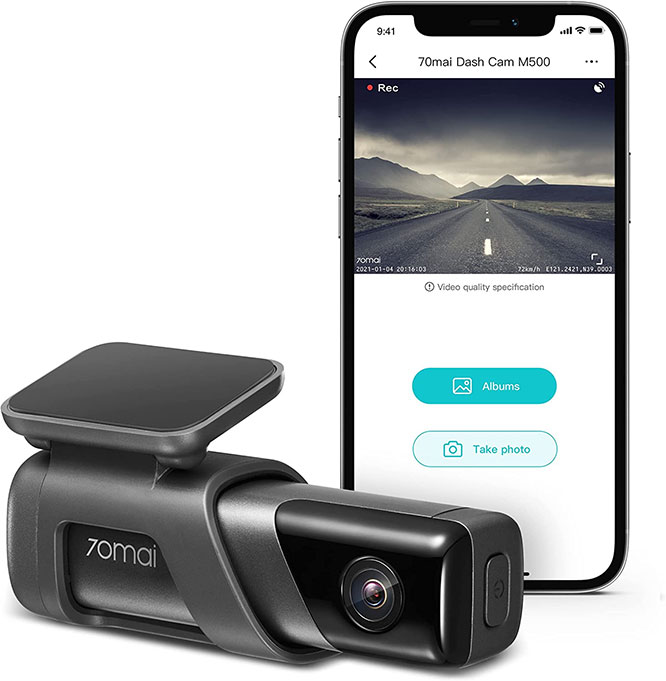 The App
Through 70mai's app, users are able to freely adjust a wide range of settings and configurations. It's really the best way to control any of the dash cam's functionality.
Simply download it for free via the Google Play or Apple store. Once installed, it uses a combination of Bluetooth and WiFi from your smartphone to communicate with the M500 dash cam. The app will quickly guide you through the setup process in an easy to follow manner. Within a matter of minutes, it's fairly simple to install and access the wide range of features.
We found the app to work well, for the most part. The access between the camera and the smartphone was quick, without any sort of lag or frustration. In fact, we recommend taking some time to familiarize yourself with the app. This way, if you're on the road and need quick access, you're already semi-experienced with all of the features it offers.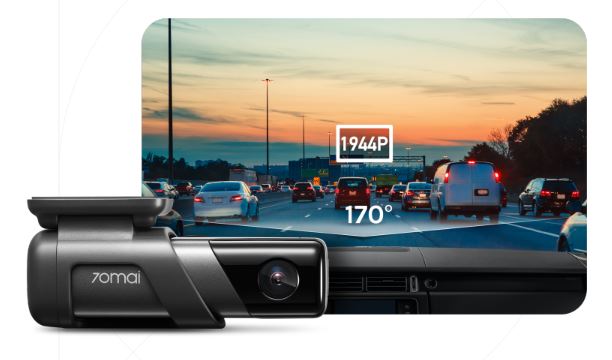 Image & Video Quality
The M500 dash cam boasts an impressive 170 degree field of view. This is nearly a full view of the entire front of your vehicle with only slight blind spots near the edges. This wide angle is much better than what most dash cams offer.
However, there seems to be a slight amount of fish-eye effect because of this curved angle. While it is immediately noticeable, it actually does a great job at capturing images without too much warping.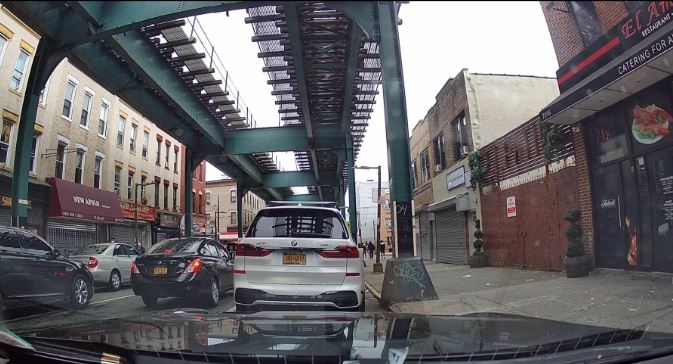 The M500 records footage in a resolution of 2592 x 1944 pixels. Also referred to as 1944p or 2.7K, this is an impressive amount of image quality that is said to be 2.5 times clearer than 1080p. While it does seem to be apparent that the resolution is much higher than most dash cams, keep in mind that the higher the resolution, the more data it will use. In reality, the clarity it provides in the daytime is superb. Even without ideal lighting or the proper angles, the video and still image quality is perfectly acceptable for most situations.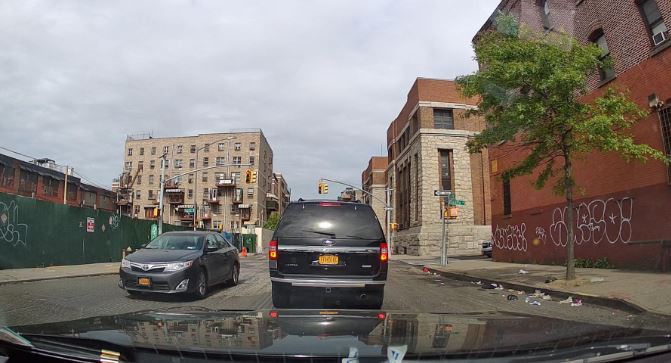 Night time video footage is surprisingly good. Rather than using black and white infrared, the M500 uses HDR to capture night vision in full color. While it surely isn't as crystal clear as daytime footage, it's better than fuzzy black and white night vision that most drivers are accustomed to. Simply put, the HDR seems to work well. However, it likely won't ever provide the same kind of quality as it would during the day. As expected, but worth pointing out.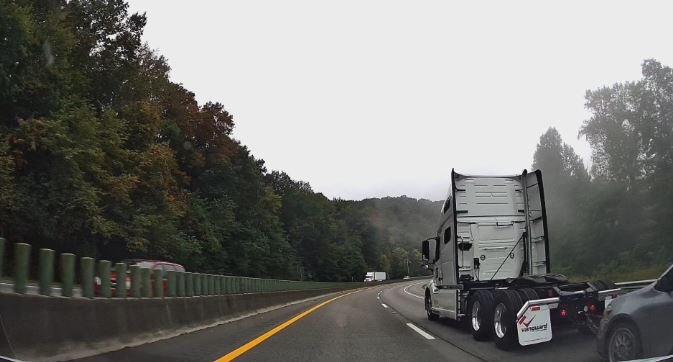 Still images are equally good quality. While still photos may not be needed as crucially as video clips, it's nice to know that the image sensor is fully capable of providing well balanced still photos directly from the drivers seat or if you happen to be taking still frames from any of the recorded video clips.
Parking Surveillance
As we mentioned earlier, the only good way to take advantage of the 24 hour parking surveillance feature is to use the optional wiring harness.
It connects directly to your vehicle's 12V power and keeps the dash cam running at an extremely low power draw. When the dash cam detects impact, movement or motion, the built-in G-sensor automatically triggers a recording. This is perfect for those who park on the street or in a public parking garage. Even those who use their own driveway can benefit from this added bit of security.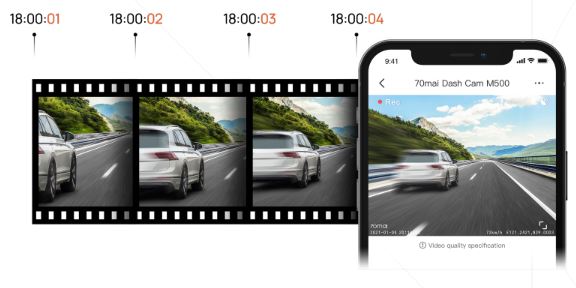 The dash cam intelligently captures time-lapses as well. At selected intervals, the M500 can capture footage so you can view it later. Hours of surveillance footage is uniquely compressed into minute-long time lapses that allow users to quickly scan and monitor any crucial events that may need your attention.
GPS & GLONASS
One of the coolest features of the 70mai M500 dash cam is the GPS and GLONASS feature. Inside the dash cam is a chip that communicates with both GPS and GLONASS satellites. With this, you're given access to specific parameters that report in real-time. These include real-time trip data such as speed, time and coordinates. With this info, pinpointing a precise location of an accident or event is easy to do.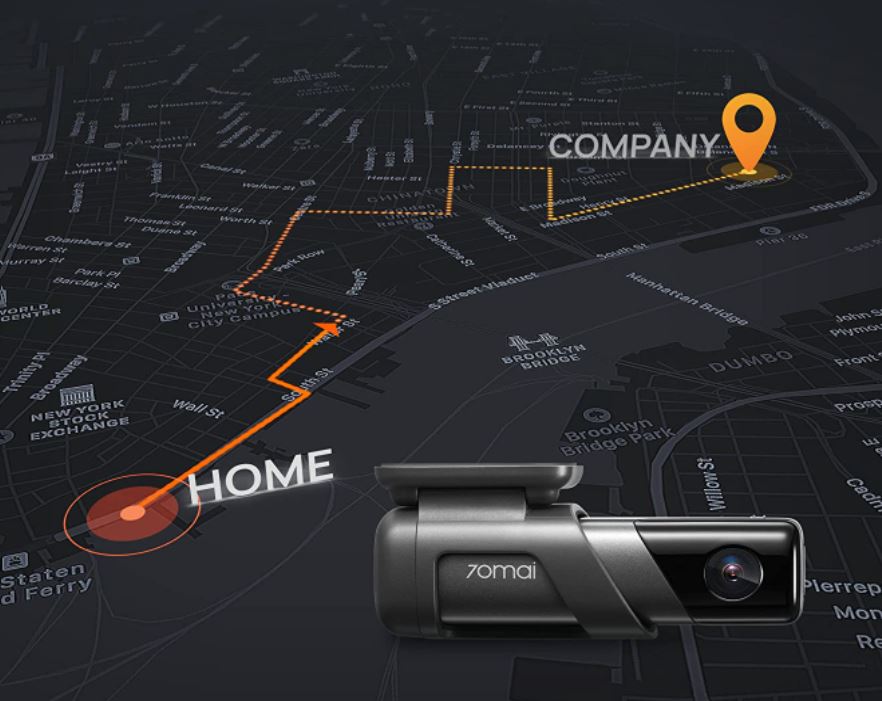 Best of all, this data is stored locally, inside the dash cam. This information is never shared on the cloud or through private servers. This way, your privacy isn't affected in any way.
Voice Control
If you take a close look at the exterior of the M500 dash cam, you'll see a tiny pinhole. This is actually the built-in microphone that opens up a whole new realm of possibilities for users. Notably, you can control a wide range of functionality by using just your voice.
Audible commands such as "start recording" or "take a photo" are easy to execute. The camera will listen for your voice and act accordingly based on your commands. There's a whole list of commands that can be learned. We found them to be clearly listed in the user manual.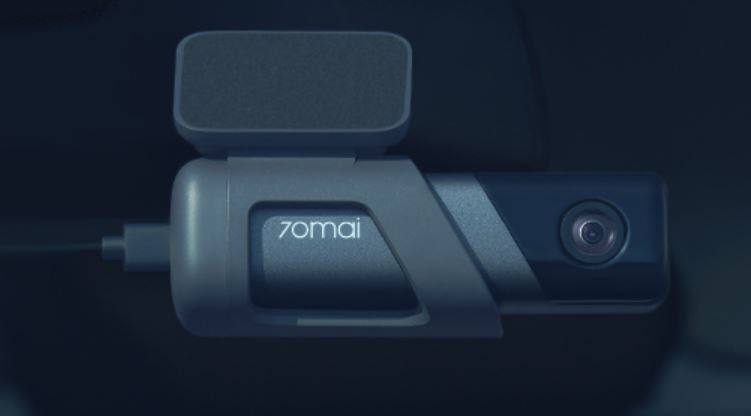 In addition to a microphone, there's also a built-in speaker. With it, ADAS alerts can be given. This is also known as an Advanced Driver Assistance System. Specifically, the dash cam will intelligently watch the road in front of you and immediately alert you if needed. These alerts include lane departure, forward collision and moving traffic/pedestrian collision avoidance.
In fact, the M500 is said to use a complex algorithm to smartly determine which objects are cyclists, cars or people. If it sees any obstacles, it's designed to audibly alert you at a moments notice. This feature didn't seem to properly work all the time, but more often than not, it did.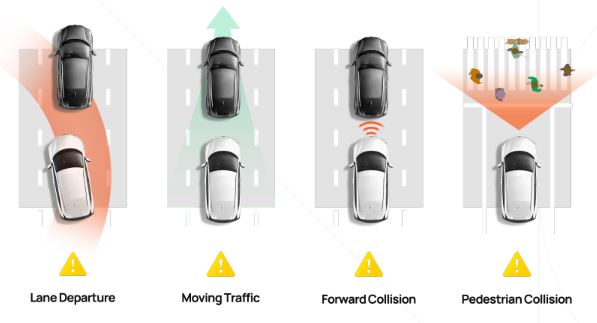 However, the voice that you hear is a bit annoying and loud. Although we guess this is better than an alert that's quiet or with a voice that blends in. Regardless, this is the kind of feature that you may want to turn off if your vehicle is already equipped with something similar.
TPMS Compatible
Although they're not included, you can use 70mai's tire valve caps in conjunction with the M500 dash cam. With them, you can simply replace the valve caps on each of your tires with ones that communicate with the dash cam.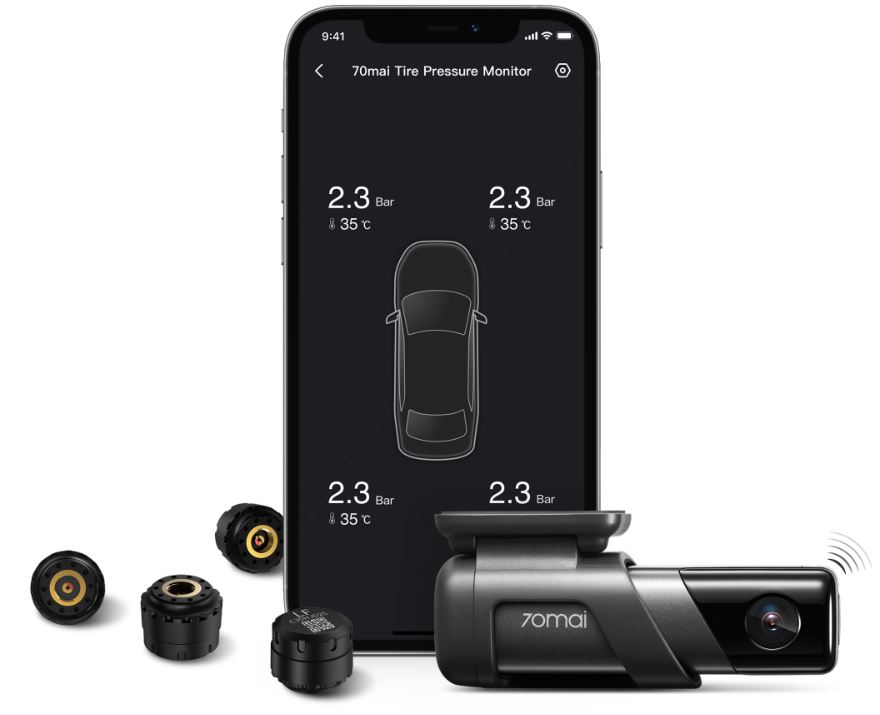 This way, if you ever have a flat tire or a slow leak, the dash cam will audibly alert you. It works by wirelessly sending a signal to each tire and continuously transmitting tire pressure readings to the dash cam. If the pressure ever falls beneath a set level, you'll know right away.
Storage
By default, the M500 comes standard with 128GB of built-in storage. Rather than relying on a third-party microSD card, 70mai decided to build the solid state memory directly into the internal circuit board. On paper, this is said to provide better transfer rates of up to 150 MB/s write and 230 MB/s read. Although this is similar to the speed a microSD card would provide, there's no need to provide your own memory card.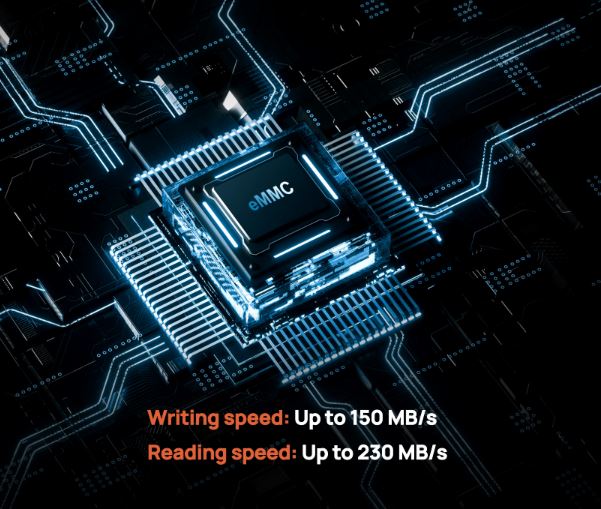 Having the storage built into the unit is nice to have. However, it also means that you can't quickly swap-out storage or upgrade to a larger capacity at a later date. Honestly though, it makes for an easy solution for access through the app or when/if you plug it directly into your computer's USB port. In addition, you'll never need to worry about losing a tiny little memory card if you ever had a desire to remove it.
Best of all, the M500 utilizes a "loop recording" feature. In short, once the dash cam's internal memory is full, it'll automatically record over the oldest files first. Virtually, you'll never really need to worry about full video/photo storage.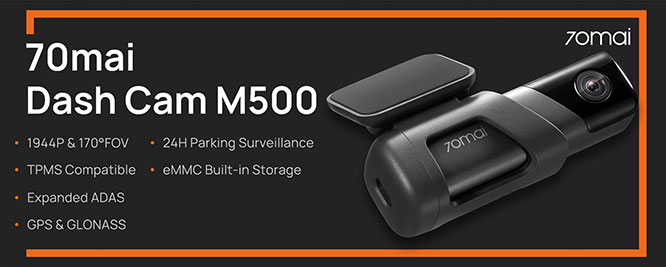 Final Thoughts
As you can see, the 70mai M500 Dash Cam has a lot going for it. The image quality it provides is completely sufficient for any roads or parking lots where you decide to take your vehicle. In addition, the HDR night vision is a step-up from the grainy black and white or tinted green footage you may be used to.
We really like the app interface as it seems to work quite well. It runs smoothly and we never experienced any crashes or problems in regards to it. Voice communication through the built-in microphone is nice to have. While it may not be something you always find yourself using, it's an added bonus no matter how you look at it.
The inclusion of built-in storage is a great feature. To be honest, the 128GB capacity it comes standard with is plenty for multiple weeks or continuous use. While you may not be able to add your own MicroSD card, it offers a quick and seamless way to integrate your recordings straight from your smartphone.
Meet Derek, "TechGuru," a 34-year-old technology enthusiast with a deep passion for tech innovations. With extensive experience, he specializes in gaming hardware and software, and has expertise in gadgets, custom PCs, and audio.
Besides writing about tech and reviewing new products, Derek enjoys traveling, hiking, and photography. Committed to keeping up with the latest industry trends, he aims to guide readers in making informed tech decisions.