Sometimes, you need to de-stress and take the edge off. One of the healthiest ways to do this is to enjoy a relaxing massage. But unless you live right near a massage parlor, this isn't going to be practical on a daily basis. Not only that, but a professional masseuse can be expensive.
A lot of people use their local gym as an alternative. For an affordable monthly membership, you can use a massage table after every workout. Even so, this isn't always convenient. You have to get in your car and drive to the gym, just to get your massage. And if you're traveling, you can find ourself with no way to loosen up those muscles.
For those and other reasons, a lot of people like to use a home massager. These come in all shapes and sizes, and they're designed for many purposes. Some are designed to provide a vibrating massage for surface relaxation.
Others, like percussion massagers, are meant specifically for reaching deep muscle and other soft tissues. Depending on what you need, you'll want to look at different types of design. But for general relaxation, it's tough to go wrong with a good old fashioned back rub. There's nothing quite like loosening the muscles in your back or across your shoulders. Get rid of that tension, and you'll literally feel the stress leaving your body.
AllJoy U Neck G1 Neck Shoulder Massager
Today, we're going to review the AllJoy U Neck G1 Neck and Shoulder Massager. This massager is designed to provide a deep, shiatsu-style massage across your shoulders, neck, or back. It's ergonomic and easy to use, and the controls are very straightforward.
But to understand how well it works, we'll have to look at more than just those things. For one thing, we'll have to talk about the various settings, and how you can adjust the motors. We'll have to talk about portability, as well as the power supply. These and several other factors will ultimately determine how well the massager performs. Let's dig deeper, and see what we uncover!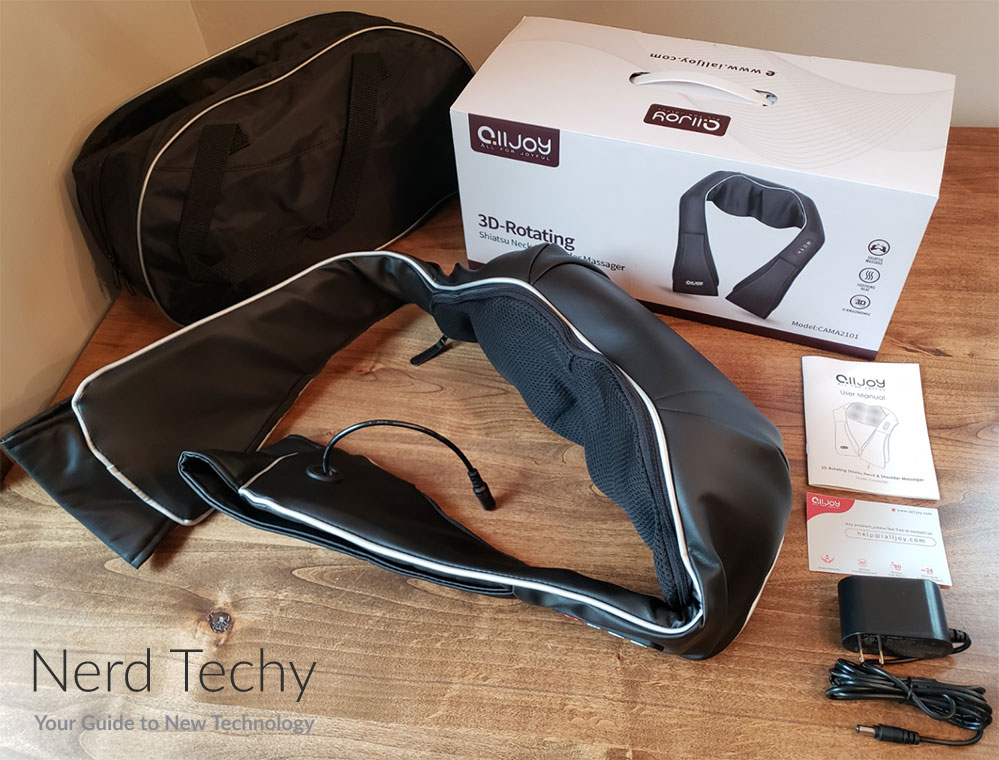 Overall Design
The AllJoy U Neck G1 Neck and Shoulder Massager looks like a harness at first glance. There's a bulky portion which sits across the back of your shoulders, with two extensions hanging down.
The outer shell is stitched from faux leather, and is available in black or blue. The hanging extensions actually function as loops for you to put your wrists into. This isn't strictly necessary, but it can help you to fully relax while experiencing a massage. The loops also make it easy to adjust the massager to various locations, without reaching behind your back.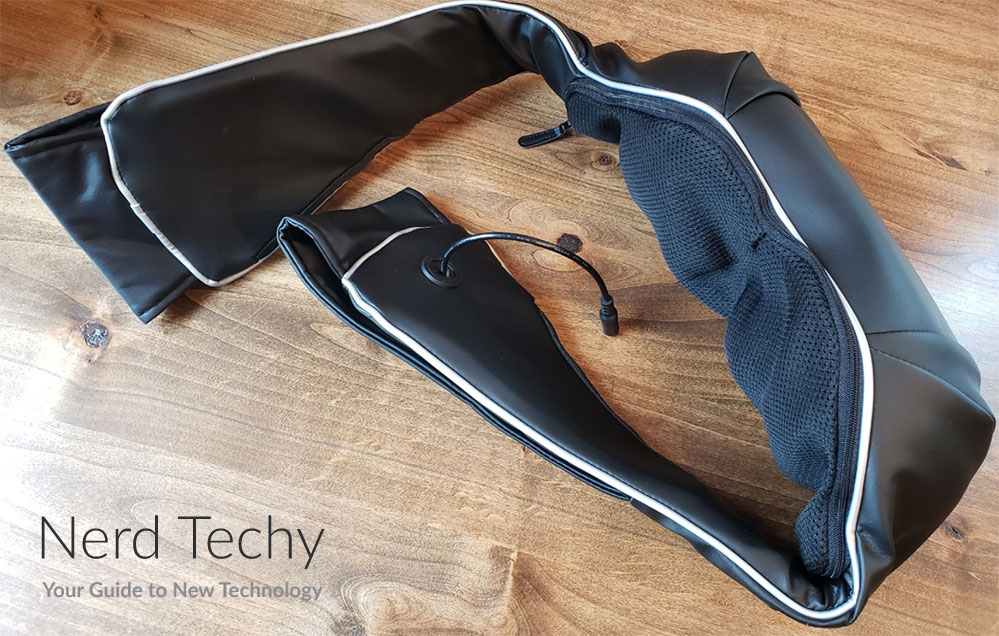 The overall size of this massager is difficult to define, because it's mostly flexible. From your shoulder to the end of each arm loop, it measures 20.5 inches. Each loop has a width of 5.5 inches, more than enough for comfort. Meanwhile, at 4.49 pounds, it's not heavy enough to cause discomfort. Then again, it's definitely a bit heavy and bulky for travel.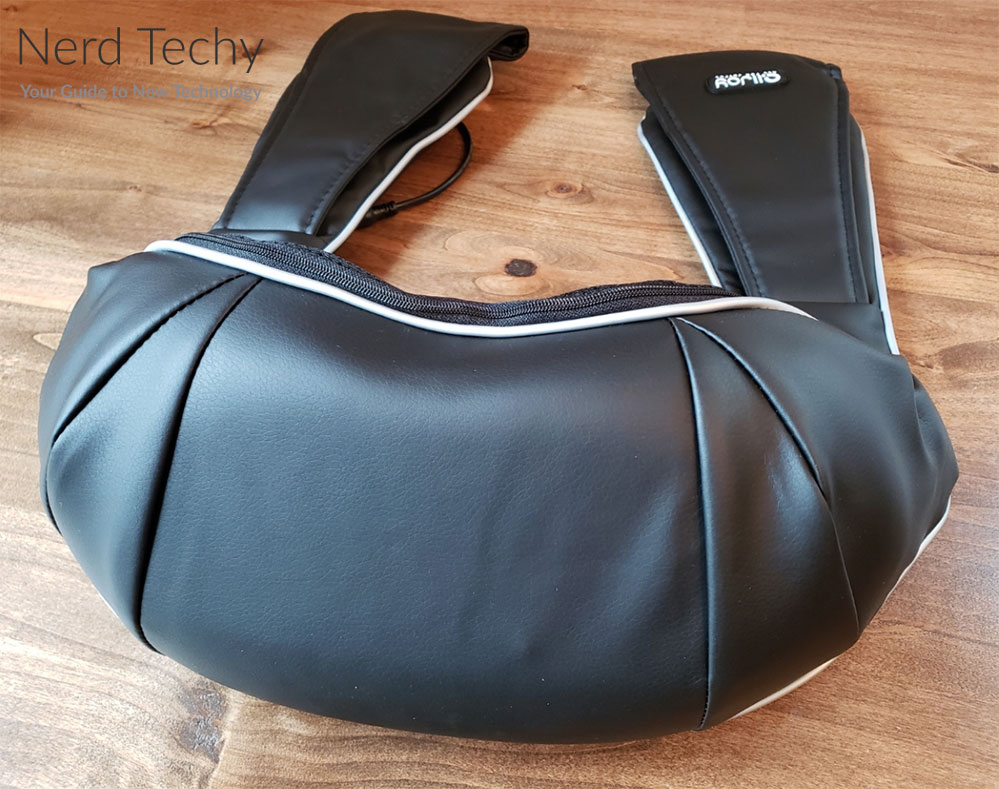 To help mitigate this problem, AllJoy sends the G1 with a convenient carrying case. The case is made from a similar faux leather to the massager's outer shell. It's semi-rigid, with a rounded-off trapezoidal form factor. The handles are made from black nylon, and are large and easy to grab onto.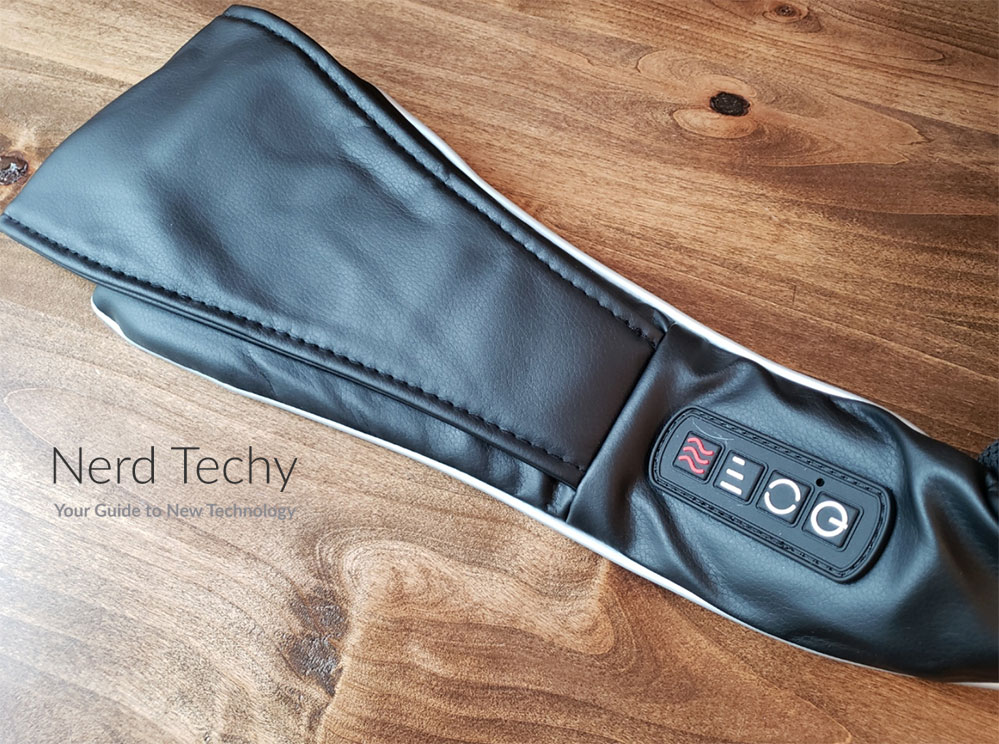 The inner portion of the massager is covered with a breathable material. This is very comfortable and soft, even on bare skin. And it allows for plenty of air flow, so you don't have to worry about getting sticky and sweaty.
The top portion is well-padded, and is contoured to wrap around your shoulders. However, the shape is suited for anywhere else on your back, as well as your neck. You can even move it along the back of your legs.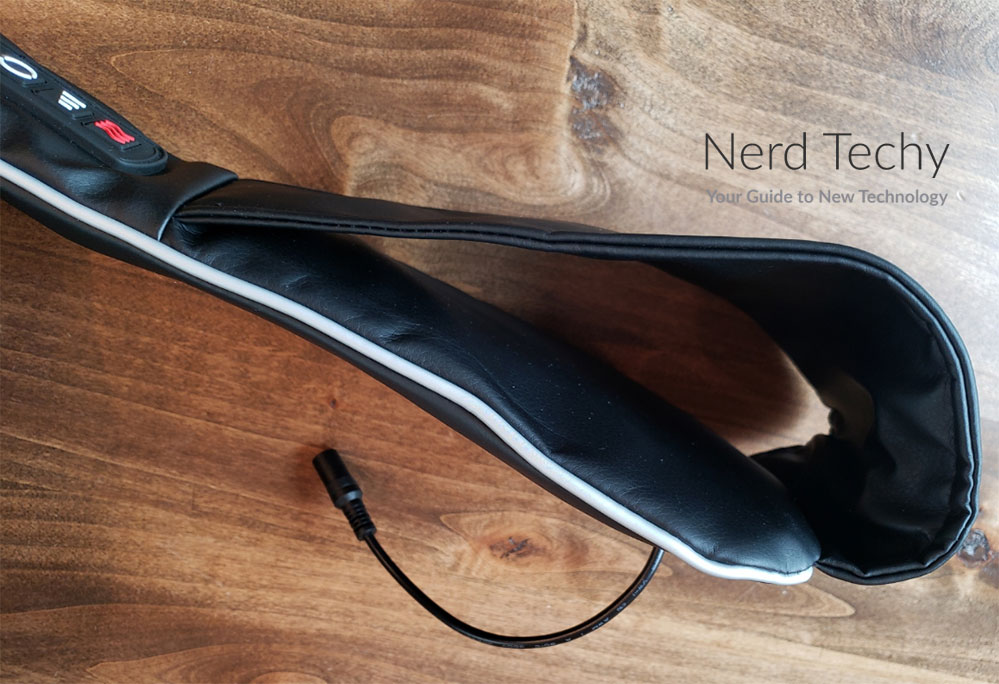 On the left hand side of the unit, along the vertical strap, you'll find a row of control buttons. These buttons are soft, and are built into a rubber strip that's stitched into the leather shell.
The top button is the power button, and turns the massager on and off. The second button is used to change the direction of the massage heads. The third adjusts the motor intensity through three different settings. The final button has a red icon, and is used to activate and deactivate the heating function.
AllJoy backs the G1 with a 24-month manufacturer's warranty. If there are any manufacturer's defects, you'll receive a refund or a free replacement. This is a fairly robust warranty period, considering the low price point. However, AllJoy further sweetens the pot with a 30-day, no-questions-asked return window. If you decide the massager isn't all that you'd hoped for, you can send it back for a refund.
There are some parts of your body where you need to be more gentle; around your eyes, for example. The AllJoy Eye Massager G1 is a great way to relieve stress around your eyes and forehead. It's a little mask that you put on, and it even has built-in speakers. Then again, it's only good for your eyes, not for any other areas.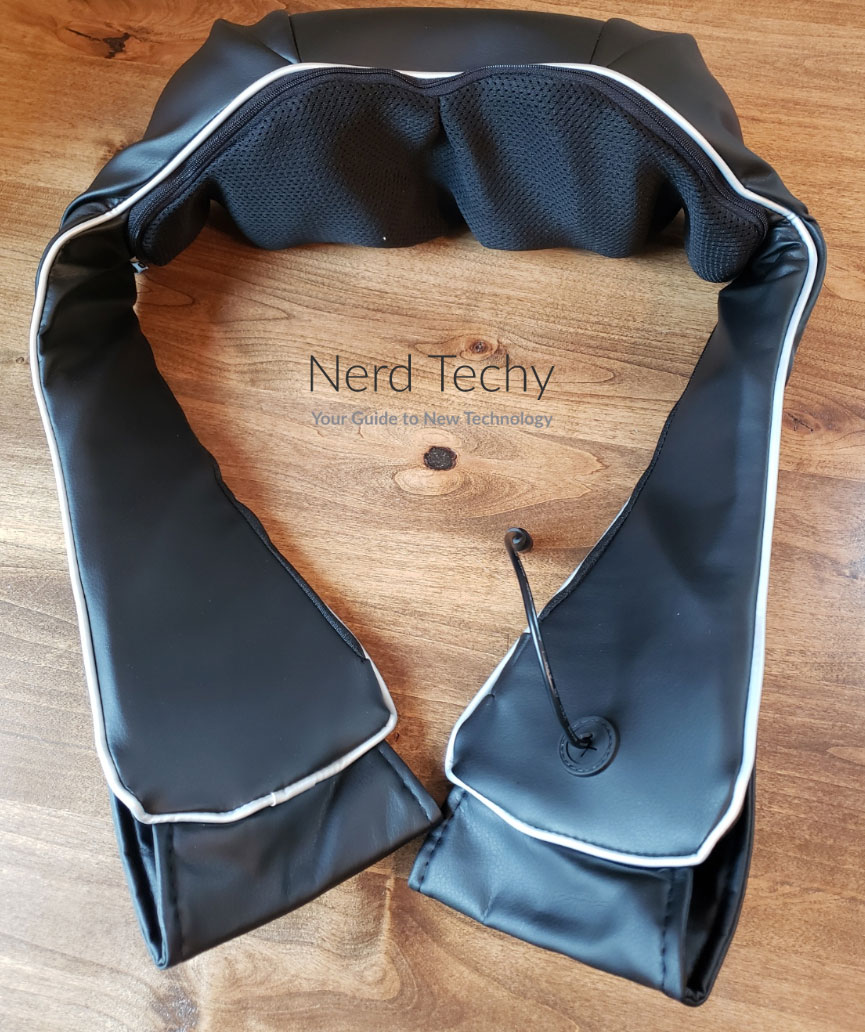 Control and Use
Using the AllJoy U Neck G1 is pretty straightforward. The motors rotate a set of eight individual massage heads, each of which has knobs at different heights. As the heads rotate, they deliver a deep muscle massage that feels a lot like shiatsu. By pressing the directional button, you can set the heads to rotate clockwise or counterclockwise. This is just a matter of preference.
However, it can sometimes be helpful to change direction in the middle of a massage. You can work out more knots that way, and eliminate stubborn tightness that otherwise won't go away.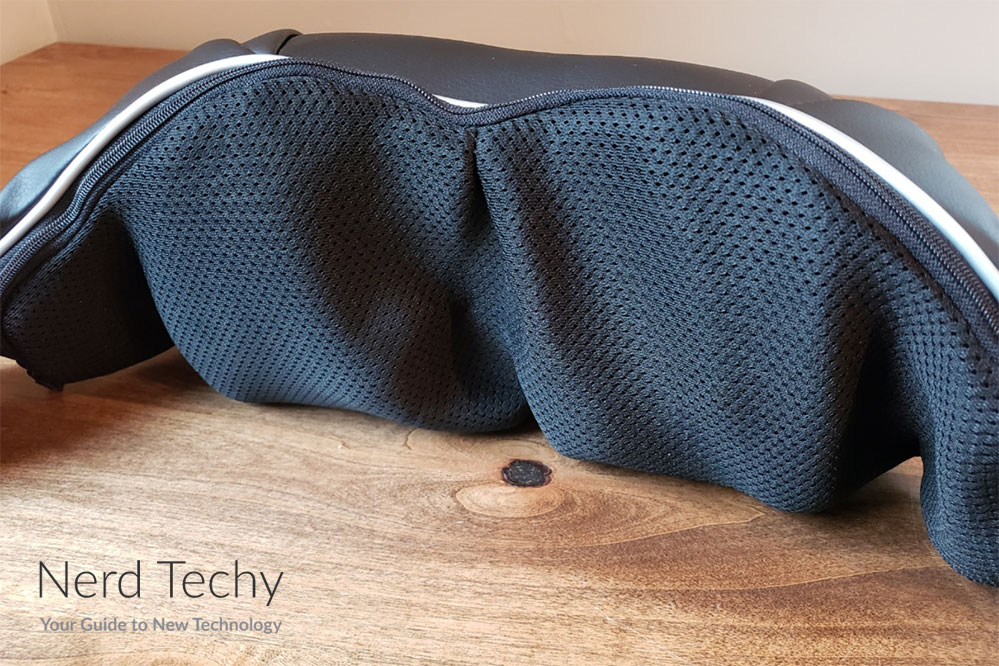 The three speed settings let you choose the intensity of the massage. On the lowest setting, you're getting a fairly gentle massage that's good for soothing relaxation. On the highest setting, the sensation is more aggressive, to work out serious tightness and kinks. The heat setting has a simple on/off function. It's warm and pleasant, without being too overpowering.
If you spend a lot of time on your feet, you may want more than just a shoulder massager. The Etekcity Smart Foot Massager is an excellent way to sooth sore, tired feet. It's not very portable, but it's a great companion for any back and shoulder massager.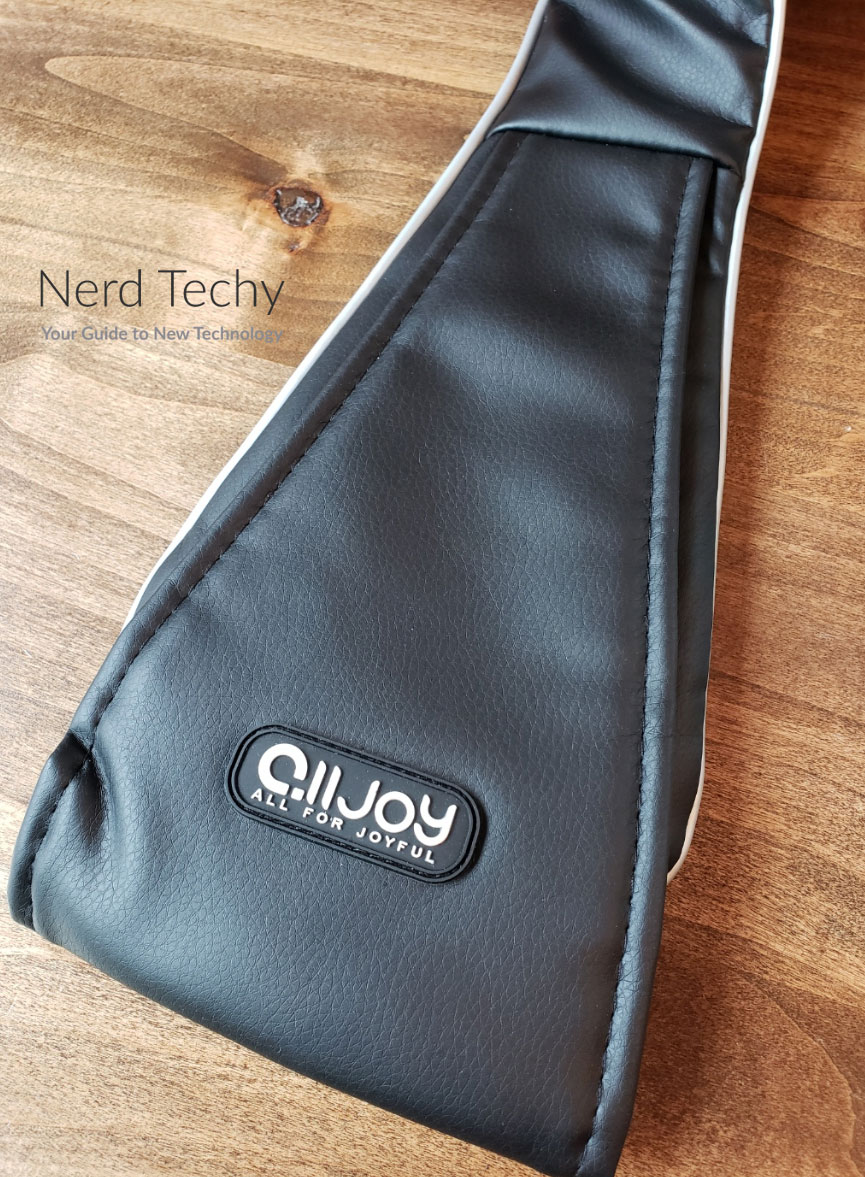 Power Supply and Extras
The AllJoy U Neck G1 gets its power directly from a wall outlet. There's no internal battery, which keeps the weight down to a manageable level. However, you have to be near a wall outlet in order to use the massager. Then again, you're probably relaxing at home, so power access shouldn't be a concern.
There's a little pigtail that extends from the side of the left strap, next to the controls. This has a proprietary tip, and connects to the back end of a power cord. The cord has a standard 2-prong North American tip, so it will work with any North American AC outlet.
The outer shell has a zipper inside, which can be used to remove it. This makes it easy to keep clean, although it's hand-wash only. Even so, you don't have to worry about sharing the massager with multiple users. Even if you're only using it on your own, it's nice that it's easy to keep clean of sweat and other grime.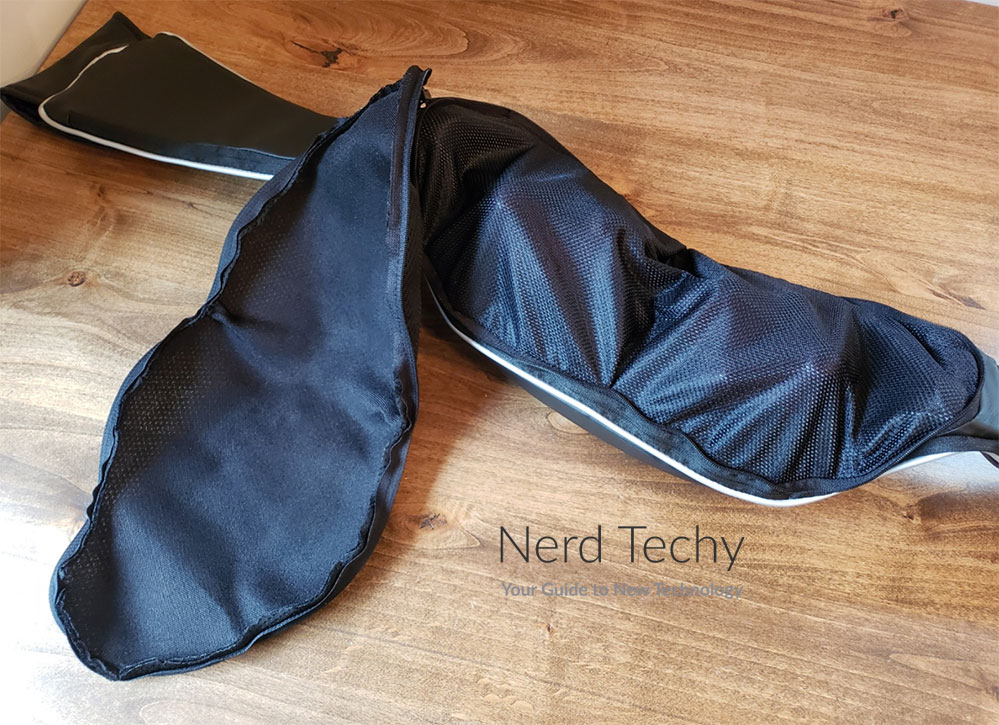 There are also a couple of safety features to be aware of. To begin with, there's an internal temperature sensor. If the temperature of the massager becomes dangerously hot, the heat function will automatically deactivate. There's also a 20-minute auto-shutoff timer. This ensures that the G1 won't keep running for hours if you've fallen asleep while using it.
This is a great massager for general back and shoulder relief. But what if you want a more targeted massage? In that case, you should consider the Bob and Brad X6 Pro. This is a percussion massager, designed to stimulate deep muscle and other tissues. It's great for rehab and scar tissue, but not so much for general everyday relaxation.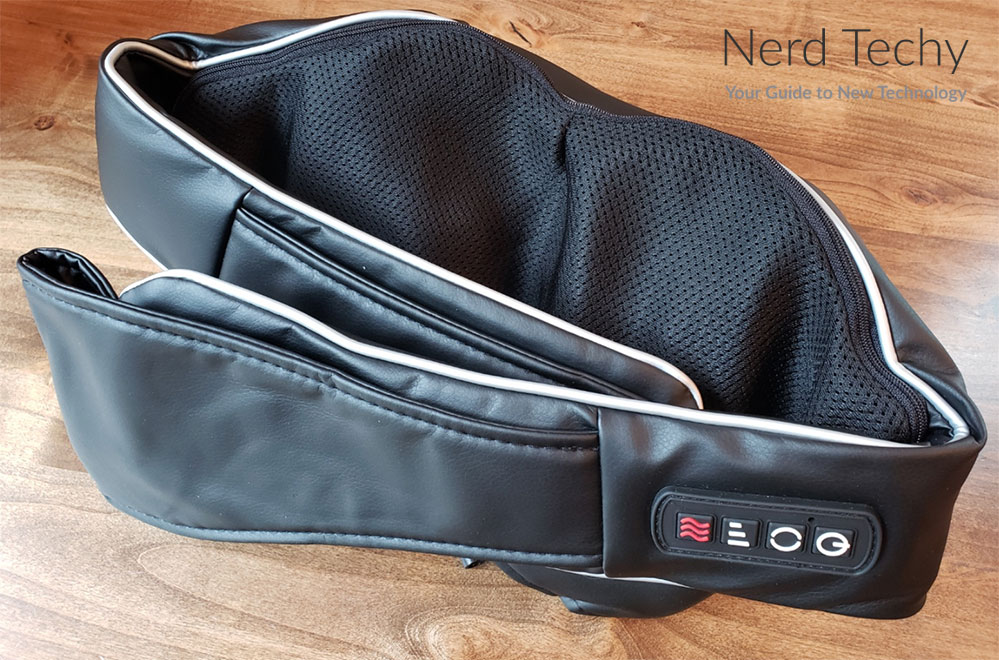 Why Use a Massager?
Before we wrap up, let's talk about the benefits of massage in general. Simply put, why would you want a massager to begin with? Pain relief is one major reason. A massager isn't a magic wand that will eliminate all of your pain.
But if you have muscle inflammation, this can exacerbate pain across your back and neck. Massage agitates your muscles and eliminates this inflammation at the local level. Tight muscles can also put stress on your spine, shoulders, and other nearby tissues. Loosening those muscles will relieve the associated pain.
Another major benefit of massage is improved blood flow. This is why massage is so good at getting rid of inflammation. With more blood flow, excess blood and other fluids are better able to escape from the area. This includes toxins like lactic acid, which causes cramping. And with fresh blood comes fresh oxygen and nutrients. These can facilitate healing at the cellular level. Combining massage with heat further improves circulation, enhancing these positive effects.
Finally, there's the benefit we mentioned at the outset: general rest and relaxation. Everyone needs a way to de-stress, and a good massage is a healthy, effective way of doing it. It's great for use after work, before bed, or even first thing in the morning. It's also a great way to follow up after a workout, to help improve your recovery times.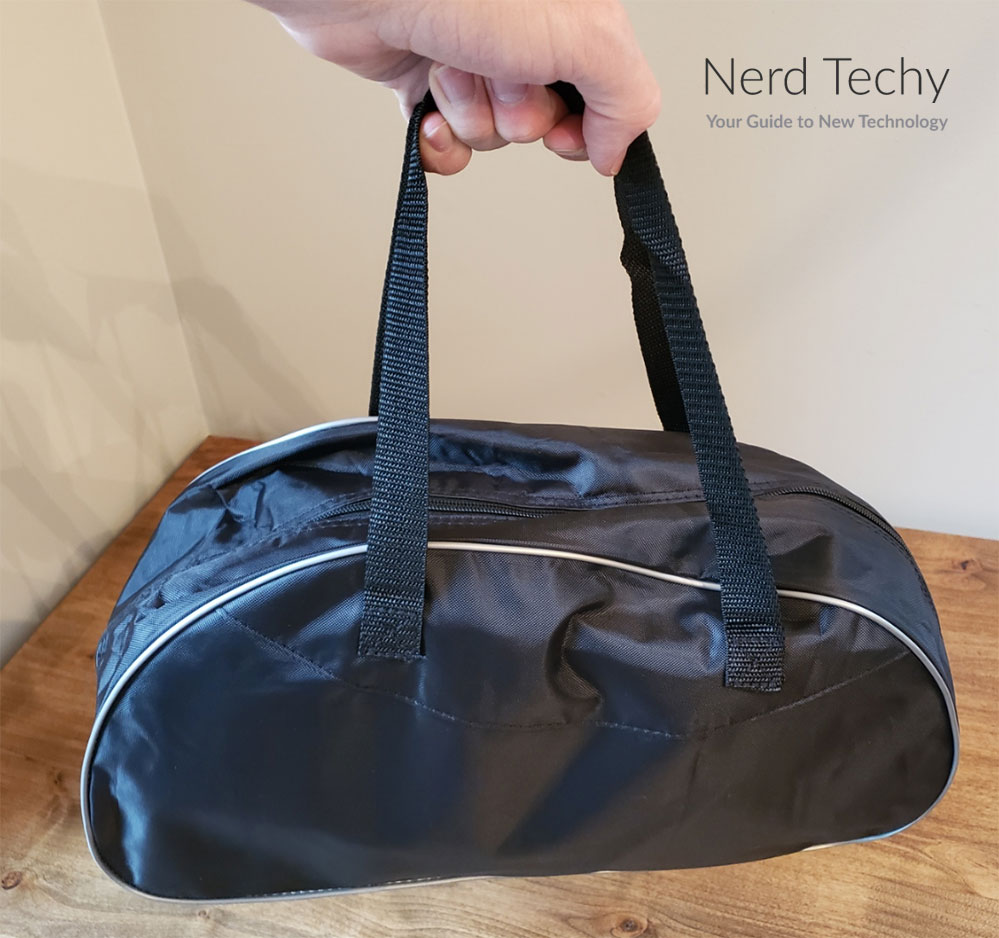 Final Verdict
The AllJoy U Neck G1 Neck and Shoulder Massager is a top performer in many respects. For one thing, you get a deep, soothing shiatsu massage that loosens even the tightest of muscles. For another thing, you get a heating element for further relaxation. The removable shell makes it easy to keep clean, and the controls are very straightforward. All in all, this is a great choice for anyone who needs a home back massager.
Meet Derek, "TechGuru," a 34-year-old technology enthusiast with a deep passion for tech innovations. With extensive experience, he specializes in gaming hardware and software, and has expertise in gadgets, custom PCs, and audio.
Besides writing about tech and reviewing new products, Derek enjoys traveling, hiking, and photography. Committed to keeping up with the latest industry trends, he aims to guide readers in making informed tech decisions.