First released in 2006, the PlayStation 3 sold fewer units than any other PlayStation console. At the same time, it remains the 8th highest-selling game console of all time.
This is a testament to the quality of Sony's hardware and their dedication to providing great AAA exclusives. PlayStation consoles are famous for their processing power, and the PS3 was the most powerful of its generation. Along with the Xbox 360, it paved the way for truly modern-looking titles.
Note: At no extra cost to you, we may earn a commission for purchases using our links. Learn more.
We're not saying the PS3 is as impressive as a current-gen console. But starting with that generation, you started to see games that hold up even today.
The PlayStation 3 saw the release of games like Skyrim and the original Assassin's Creed. There have been obvious improvements in graphics since then. But Skyrim, Devil May Cry 4 and Grand Theft Auto V still hold up, even today. They might not be cutting-edge, but they're far from the blocky, pixelated games of earlier console generations.
This can cause problems for PlayStation 3 owners. While the games still hold up, the old hardware is starting to show its age. Your console has mechanical parts, and they'll inevitably wear out over time. One of the highest-wear parts is the Blu-Ray disc drive, because it has a mechanical motor.
And if you're like most people, the bulk of your PS3 games are probably on disc. If your drive fails, you won't be able to play your games! Thankfully, the drive isn't too hard to replace, and there are plenty of aftermarket options available.
Choosing the Best PS3 Disc Drive Replacement Parts
We're about to review three of the best PS3 disc drives we could find. Because there are different types of PlayStation 3, we weren't able to choose just one. Instead, we needed different options to work with different PS3 consoles. That way, you'll have something you can use with your particular console.
Of course, we still want to take a closer look at each one. What do they have to bring to the table, and what makes them unique? To find out, we're going to have to dig a little bit deeper. We'll evaluate each option, and see how they stack up. After that, we'll have the information we need to deliver our verdict. Let's get started!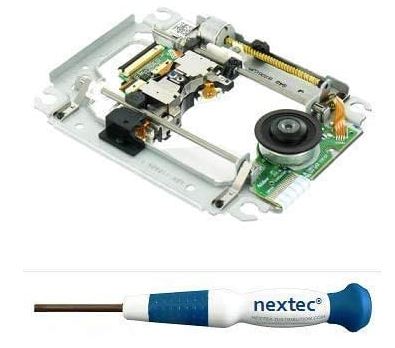 nexttech PS3 Disc Drive Replacement Laser Lens and Deck
First up on our list is the nexttech PS3 Disc Drive Replacement Laser Lens and Deck. This isn't a full disc drive, but it doesn't have to be. It's the laser lens and deck, which is the part that breaks more than 90% of the time. You'll have to open your original drive to install it, but it's plug and play.
The bottom metal plate is 3.94 inches long and 1.97 inches wide. At only 0.2-inch thick, it's the same size as the original. On top of the plate is the laser lens itself, which rides back and forth on a track. The four screw holes at the corner make installation a breeze, and you can reuse your original screws.
This lens and deck is designed for the drives in the original "fat" version of the PS3. However, there were a couple of drives used on that version of the console. This will work on models KES-410A, KES-410ACA, KEM-410A, and KEM-410ACA. This includes almost all 160GB versions of the PS3, along with a few 40GB and 80GB versions.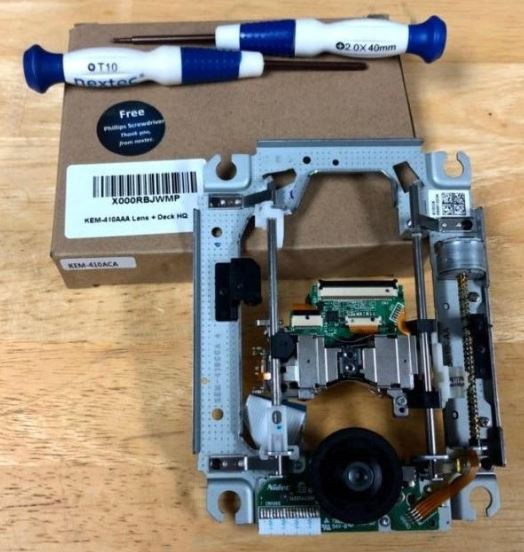 Along with the nexttech lens and deck, you also get a T10 Torx screwdriver. This will be necessary to complete the installation, and it's a nice touch. The blue and white rubbery handle is ergonomic, and it's surprisingly good quality for a one-off install tool.
Nexttech provides a 1-year manufacturer's warranty to back their products. If their replacement laser fails within that period, you'll be fully covered.
Of course, you'll probably want to drop-proof your repaired PlayStation 3. To make sure your console is safe, take a look at our list of the best PS3 and PS4 carrying cases. At least one of them should be up your alley.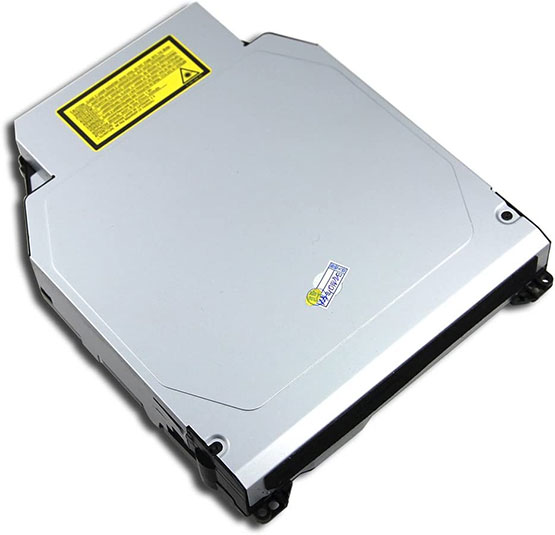 Sony Replacement BluRay Drive for PS3 Slim
Sony is one of those rare brands that requires zero introduction. They produce all kinds of cutting-edge electronics, such as the Sony WH-CH510 Wireless Headphones. And since they manufactured the PlayStation 3, they're an obvious go-to for replacement parts. And for the PS3 Slim at least, Sony is still selling original drives.
This is a complete Blu-Ray drive with an aluminum housing. It's a drop-in replacement, with a square main portion and a tapered area at the back for the connecting cables. The total size is 7.4 inches long, 5.79 inches wide, and 1.65 inches thick. Installation is straightforward, with a set of screw holes at the corner. You don't get any installation tools, but that's a minor complaint.
This drive is built for the PS3 Slim, which has the same general shape as the original, but is narrower. If you're not sure, the top of the original is vented, while the Slim is not. If you're still not sure, look at your PS3's model number. If it's CECH-25XX or CECH-30XX, you're good to go.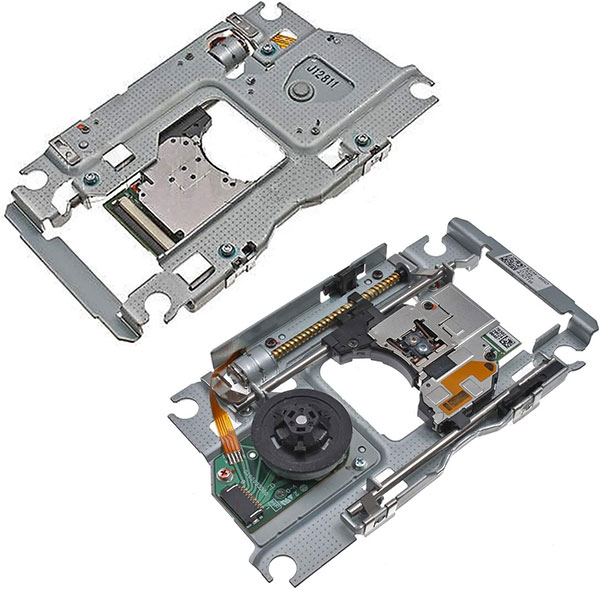 LeHang PS3 Super Slim Laser Lens Disk Drive
The LeHang PS3 Super Slim Laser Lens Disk Drive is actually a replacement module. In that sense, it's similar to the nexttech replacement, albeit without the benefit of a screwdriver. Beyond that, it's remarkably similar, with a metal plate underneath and a laser lens on a track. It's plug-and-play, so you don't have to do any messing around other than screwing it in and connecting the cables.
The main thing you'll notice about this module is how small it is. It's just 3.94 inches long, 2.36 inches wide, and 1.18 inches thick. It's made for the PlayStation 3 Super Slim, which is the smallest PS3 variant. You can tell because it has a built-in circular base, which makes it easy to identify.
If you want to be extra sure, the model number will be either KES-850A or KEM-850A.
If your PS3's disc drive is starting to go, your controllers won't be far behind. Why wait until they fail completely? Instead, check out our list of the best wireless PS3 controllers. At least one of them should be up your alley.
PS3 vs. PS3 Slim vs. PS3 Super Slim – What's the Difference?
The PlayStation 3 came in three different variants. The original PlayStation 3 "fat" came with five hard drive options, ranging from 20GB to 160GB. It was the largest of the bunch, and backwards-compatible with PlayStation 2 games.
The PS3 Slim is a smaller option with a larger hard drive, ranging from 120GB to 320GB. It came with Dolby TrueHD support, and added PlayStation 1 compatibility. The smallest of the bunch, the PS3 Super Slim, is mostly the same as the PS3 Slim specs-wise. The only difference is the hard drive, which can be 12GB, 250GB, or 500Gb.
How to Replace Your PS3 Drive
To replace your PlayStation 3 Blu-Ray drive, you'll need a few tools. Make sure you have a T10 Torx driver and a Philips screwdriver at a bare minimum. A plastic spudger is also a big help.
Start by removing the black rubber screw cover on the side of your console.
You can use a spudger to do it, or your thumbnail. There might be a warranty sticker here. When you remove it, it will read "VOID"; don't worry about that. By now, your PlayStation 3 console's warranty has long since expired.
Next, look at the top edge of the large faceplate. There will be a T10 Torx screw right at the center. Remove this, then slide the faceplate towards the side and lift it off. Be careful. Some variants have a small metal flex bracket in the cover. This is easy to lose, and you'll want to hold onto it.
Underneath, there will be another plastic plate that's held in place with seven Philips screws. Remove all of these, then lift the rear edge and flip it towards the front. You'll have to release a hook at the top back right to do this. Push it through the back of the housing, and you can lift the plate right off. This will give you access to all the PS3's internal components.
Inside the Console Housing
Locate the Blu-Ray drive, and find the cable that connects it to the motherboard. Carefully grab the plastic connector right where it plugs in, and pull it straight up. Now you can lift up the Blu-Ray drive, but do it carefully; it's still connected to the motherboard by a second, larger ribbon cable. Rotate it upwards until you can reach this cable.
Look at the ribbon cable socket, right where it meets the bottom of the Blu-Ray drive. You'll see a flat black retaining flap; it's tiny. Using your spudger or your fingernail, pry this flap up carefully. Now remove the ribbon cable, and you can replace the drive.
If your drive doesn't have a full replacement, you'll need to do a bit of surgery. Remove the screws at the corners, and carefully open it up. The laser lens and deck will be easy to remove with a set of four screws. Disconnect the connecting cables, and install your new part. Reconnect the cables, put everything back together, and your console is ready to go.
Final Verdict
As you can see, which one of these replacement parts is best will depend on which PS3 version you own. Let's quickly recap what we've discussed.
We started out by looking at the nexttech PS3 Disc Drive Replacement Laser Lens and Deck. This is the optimal choice if you own an early model "fat" PlayStation 3. You'll have to open your drive to install it, but it's easy enough to do. You also get a well-designed little Torx driver for installation.
Next, we reviewed the Sony Replacement BluRay Drive for PS3 Slim. This is perfect for the PS3 Slim, and it's an all-in-one Blu-Ray disc drive. This simplifies installation, since you don't have to crack open the drive.
Finally, we evaluated the LeHang PS3 Super Slim Laser Lens Disk Drive. As you might expect, this was our top choice for the PlayStation 3 Super Slim. It's easy enough to install, although you'll need to supply your own Torx driver.
Note: At no extra cost to you, we may earn a commission for purchases using our links. Learn more.