Electronic toothbrushes have been around for many years. As a result, it's easy to take them for granted. This is a mature technology, and you'd think that one toothbrush would be much the same as another. But if you haven't shopped for a toothbrush in a while, you might be surprised at how much has changed.
Old-school electric toothbrushes were more effective and efficient than manual brushing. Because they were motorized, you got a consistent scrubbing every time. This is what made them so powerful. However, that's about as far as they went. Manufacturers would talk about different rotating patterns and other minor features. But for the most part, a toothbrush is a toothbrush.
Note: At no extra cost to you, we may earn a commission for purchases using our links. Learn more.
These days, electric toothbrushes are a lot more refined. To begin with, they can be programmed with different operating modes. Instead of a one-size-fits-all brushing experience, the motors can run faster or slower. Modern toothbrushes also have more efficient motors and higher-capacity batteries. As a result, they can last far longer than your daddy's electric toothbrush.
That said, not all of today's toothbrushes are equally well-designed. Some are difficult to operate, have short battery life, or suffer from other deficiencies. It's still important to do your research before you buy. Remember, a good electric toothbrush should last for several years. If you choose one that's less than optimal for your needs, you're going to be disappointed.
Soocas X3U Sonic Electric Toothbrush
Today, we're going to review the Soocas X3U. This sonic electric toothbrush has four different brushing attachments, along with multiple operating modes. It's completely water-resistant, and it has a powerful battery. It's also simple and straightforward to operate.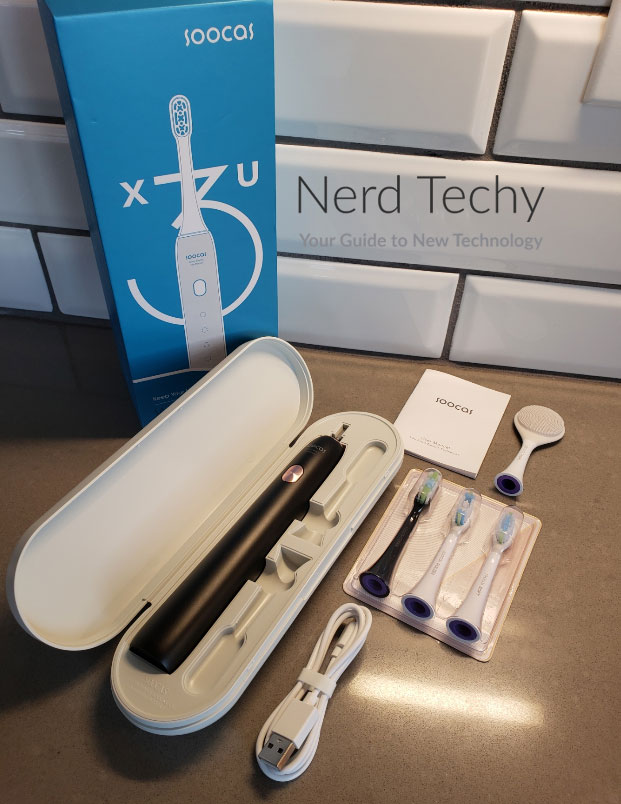 But those features alone don't make a well-designed electric toothbrush. To truly get a handle on the X3U, we need to look much closer at its capabilities. We'll need to look at the physical design and see how durable it is.
We have to dig into the different cleaning functions and see how they operate. We'll go over each brush and see how it's designed and what it's used for. We'll also have to discuss the battery, charging, and other aspects of the design. At that point, we'll be able to deliver our verdict. Let's get started!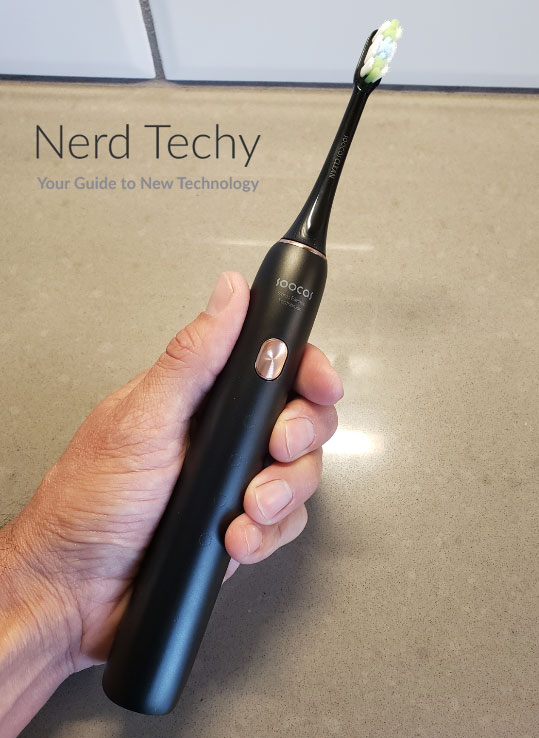 Overall Design
The Soocas X3U Sonic Electric Toothbrush is shaped about the way you'd expect. It's cylindrical, and ever so slightly wider at the base than it is at the top. It's constructed from a matte white or black plastic that's easy to keep clean. The matte finish also provides a good grip, and it looks attractive on your countertop. We also appreciated the fact that the branding is minimal. The brand name doesn't jump out at you from across the room.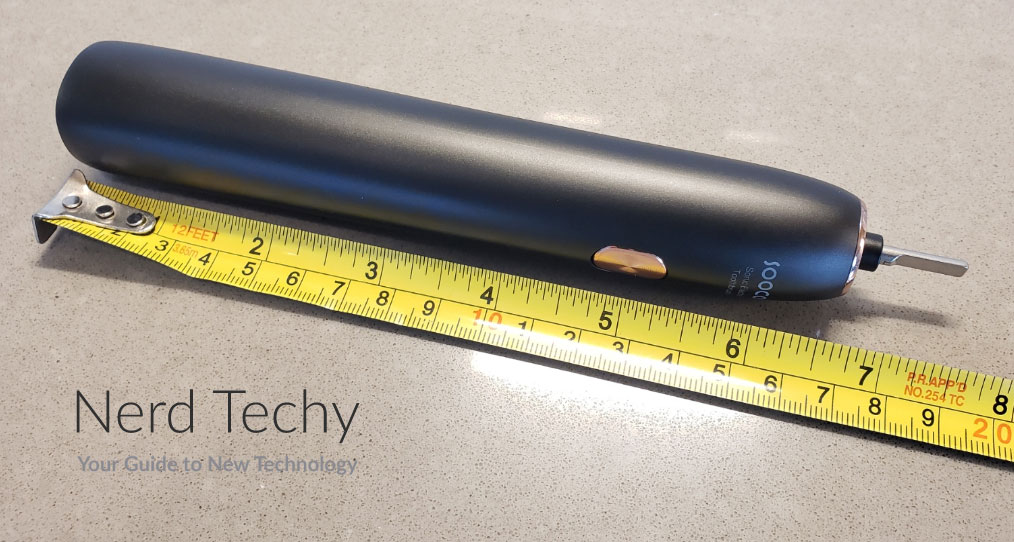 As far as durability goes, we were reasonably impressed. Look, this is a toothbrush, not a piece of construction equipment. If you smash it with a hammer, it's going to break. But if you drop it every now and then, it's not the end of the world. It's also IPX7-rated for water-resistance. This means it can withstand submersion at 1 meter of depth for at least 30 minutes. Accidentally drop it in a sink full of water, and it won't be any worse for the wear.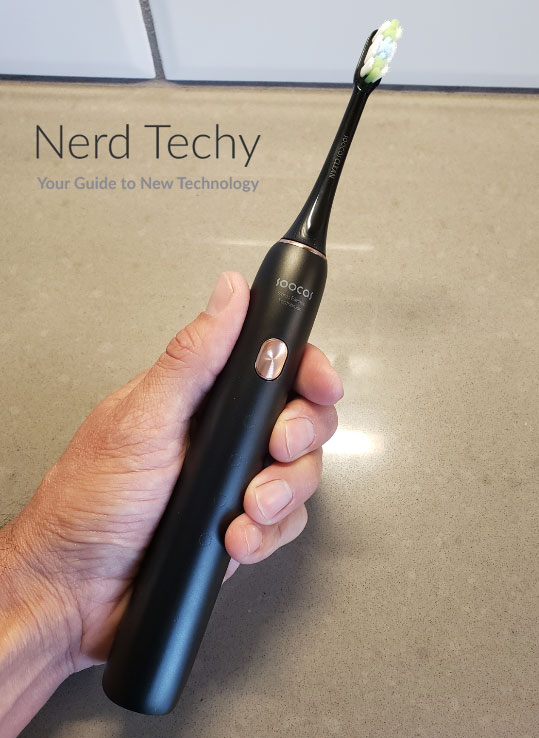 There's an attachment at the top of the cylinder, with a little drive shaft that sticks out. This is where you mount the actual brush. The kit includes four brush heads, all of which are unique. They snap easily into place and are also easy to remove. They also have an identical black matte finish to the main housing. We'll talk more about all the individual brushes in a later section.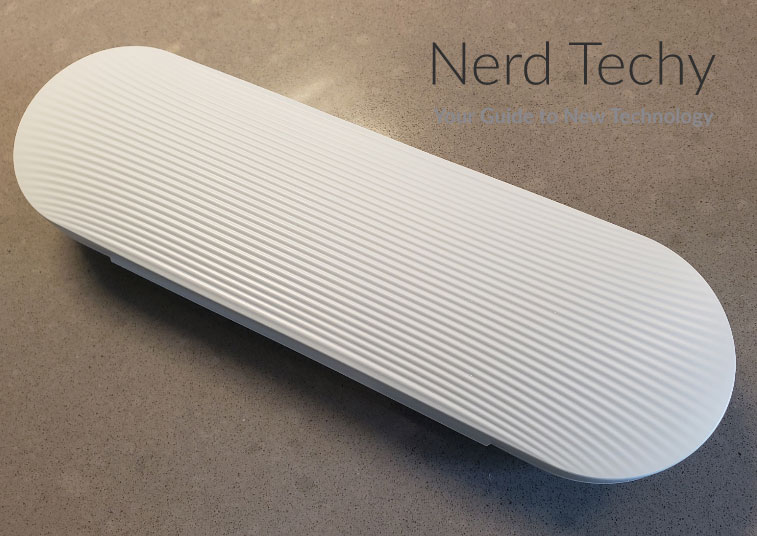 Along with everything else, you get a white plastic storage case. This was one of our only disappointments, because the case is not very well designed. Instead of the quality plastic the toothbrush is made out of, it's just a cheap molded plastic. You can even see artefacts from the molding process, and the latch is very flimsy. Even so, it's fine for slipping into a carry-on bag and taking it on the road.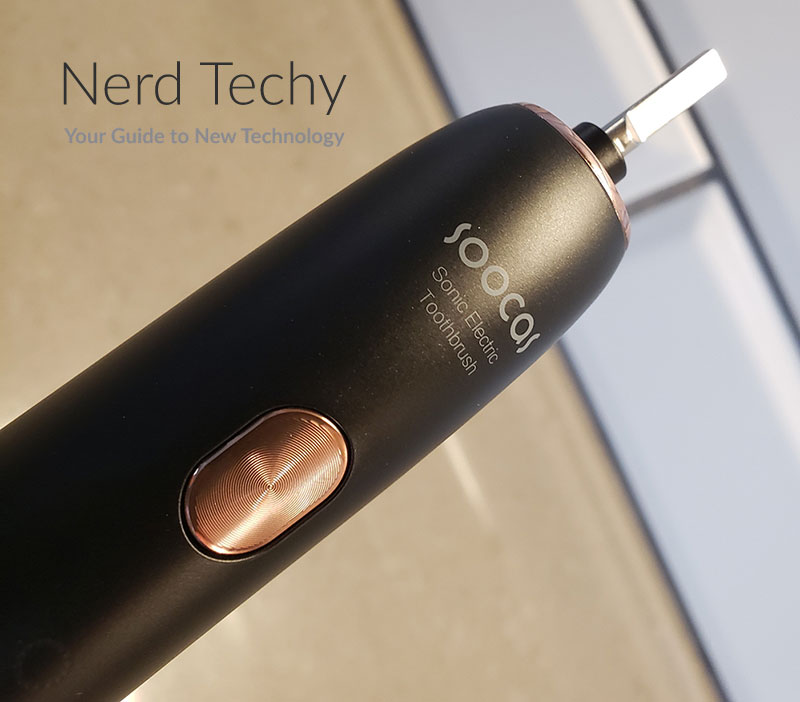 Controls
Controlling the Soocas X3U is pretty straightforward. There's a single button on the front, in the form of an attractive copper-colored oval. It provides good tactile response, and is easy to operate with your thumb.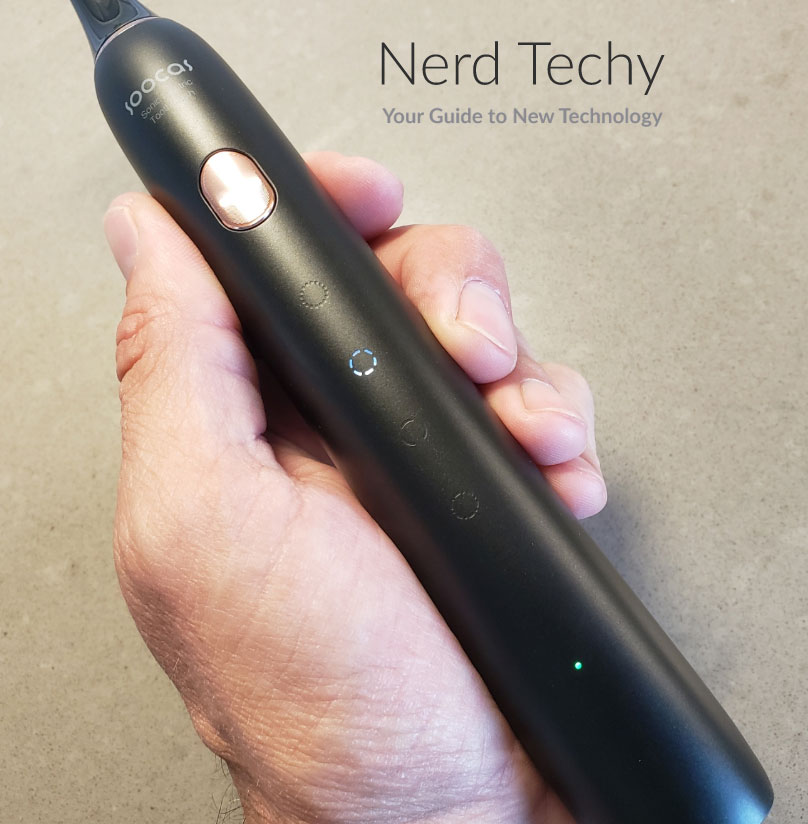 Beneath the button is a column of four LED lights, each of which indicates a different operating mode. Instead of just being pips, each light has its own unique shape that makes them easy to distinguish. The top light represents the fastest cleaning mode, and is a circle made up of small dots.
The next light is the medium setting, and is made up of short dashes. The light for the slowest setting is made up of three long, curved dashes. The last light is a bit of an oddball, but we'll get to that in a minute.
Operation is straightforward. You press and hold the button to cycle through cleaning modes. Press and release the button, and you'll begin a cleaning cycle. That's as straightforward as it gets.
Unfortunately, this toothbrush doesn't have any companion app. And while an app isn't strictly necessary, it can be useful, especially for tracking and monitoring. If you want a toothbrush that's truly "smart," check out the evowera Planck O1. It's an advanced smart toothbrush with a companion app. Within the app, you can keep track of your brushing habits and get feedback on your technique. On the downside, the Planck O1 requires a proprietary charging base.
Brushes
As we mentioned, you get a set of four different brushes, each with its own purpose. All of them are made with soft bristles with blunted tips. However, the bristles are extremely dense, far more so than on most toothbrushes. The result is a gentle brushing experience that's nonetheless surprisingly effective.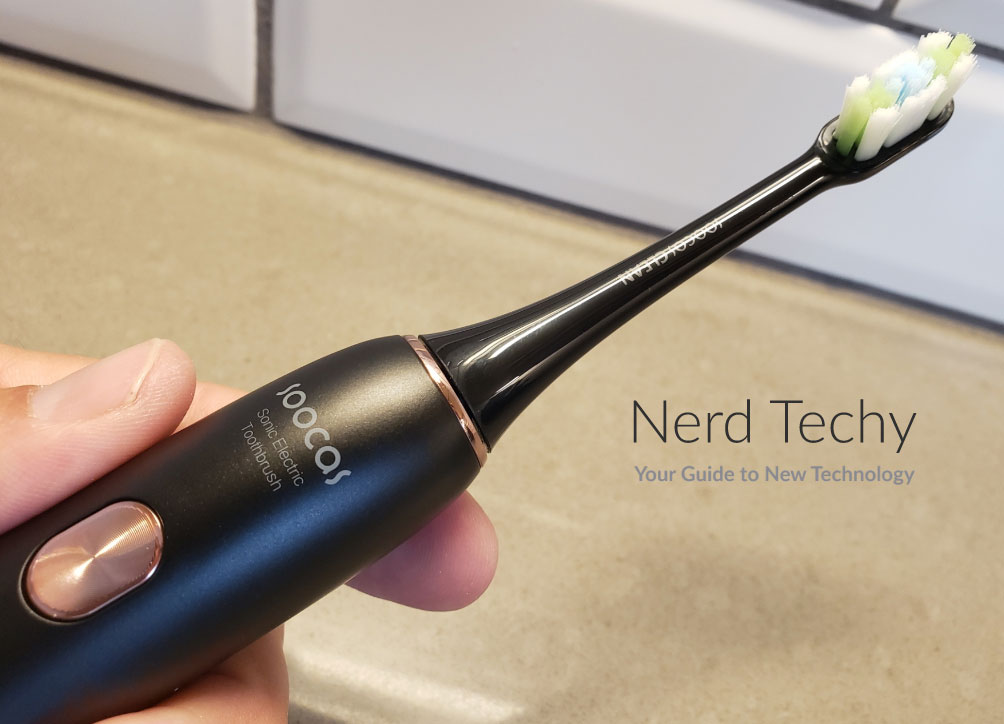 The three smaller brushes are designed for brushing your teeth. For what it's worth, Soocas advertises that there are no metal bristles. This is true, and it's a good thing. But it's not something we'd ever been concerned about.
The standard cleaning brush is elongated, with white bristles near the edges. The center bristles are blue, and the bristles at the top and bottom are green. This is the brush most people will use for most cleanings.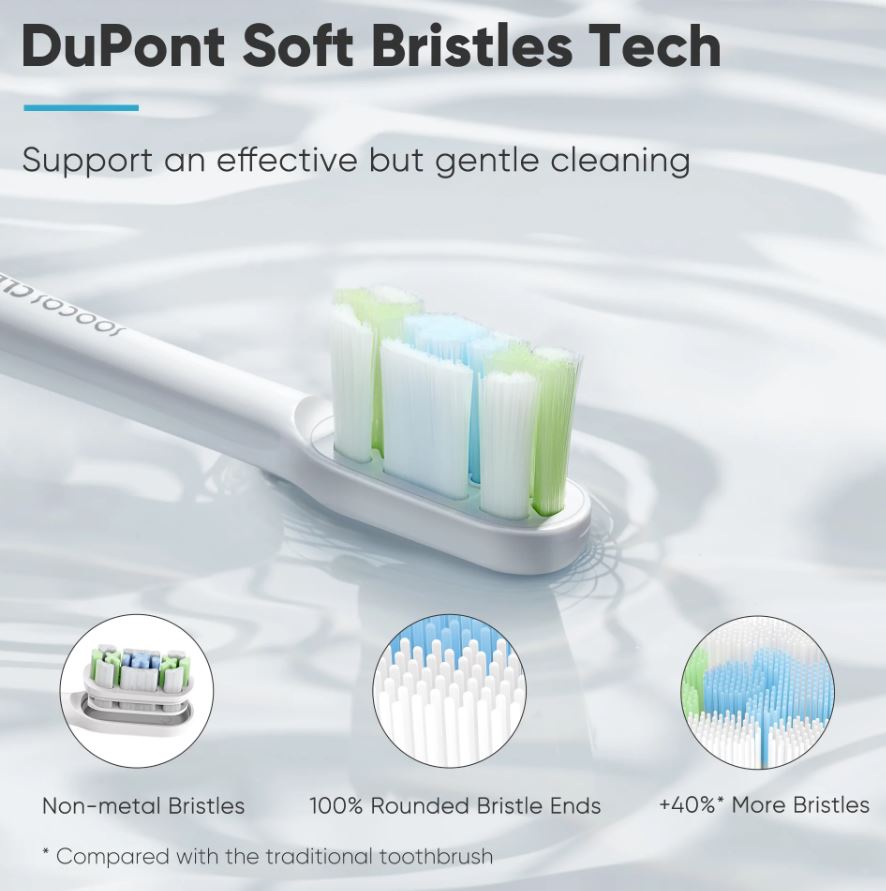 The other two brushes are designed for whitening and sensitive teeth respectively. They're easy to distinguish because they have different shapes and bristle patterns. The sensitive teeth brush is shorter and oval-shaped, while the whitening brush is somewhere between the other two. If you still have trouble telling them apart, don't worry. Each one is clearly labeled on its plastic stem.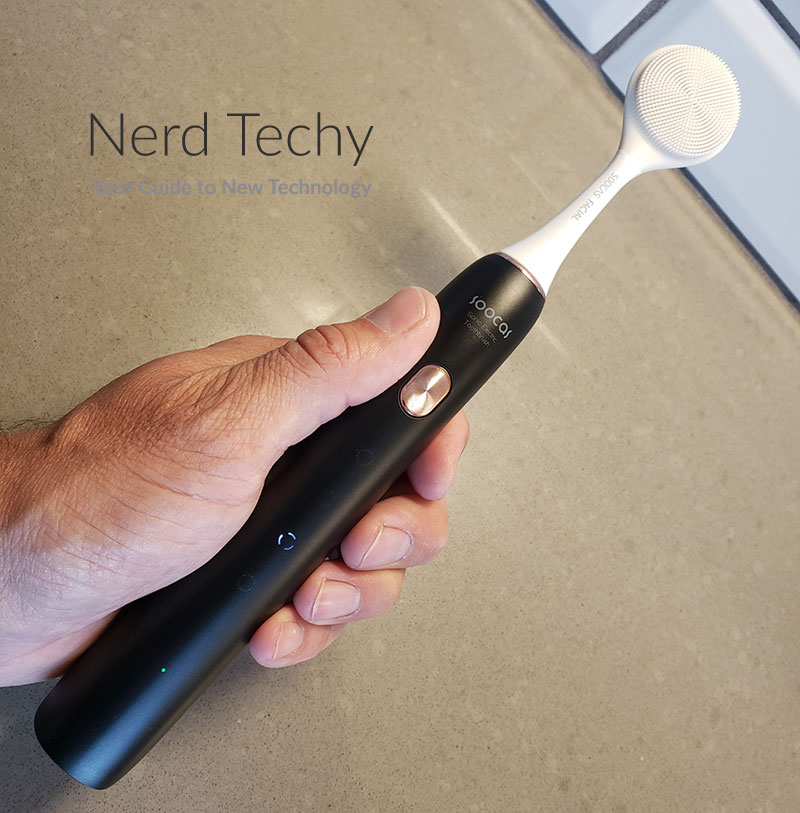 The big, circular brush isn't designed for your teeth. Instead, it's meant for washing your face. It has fatter, silicone bristles that will clean your skin without irritating it. It's great for using with your ordinary facial wash. And since it's part of your toothbrush, it's easy to integrate a cleaning into your morning routine.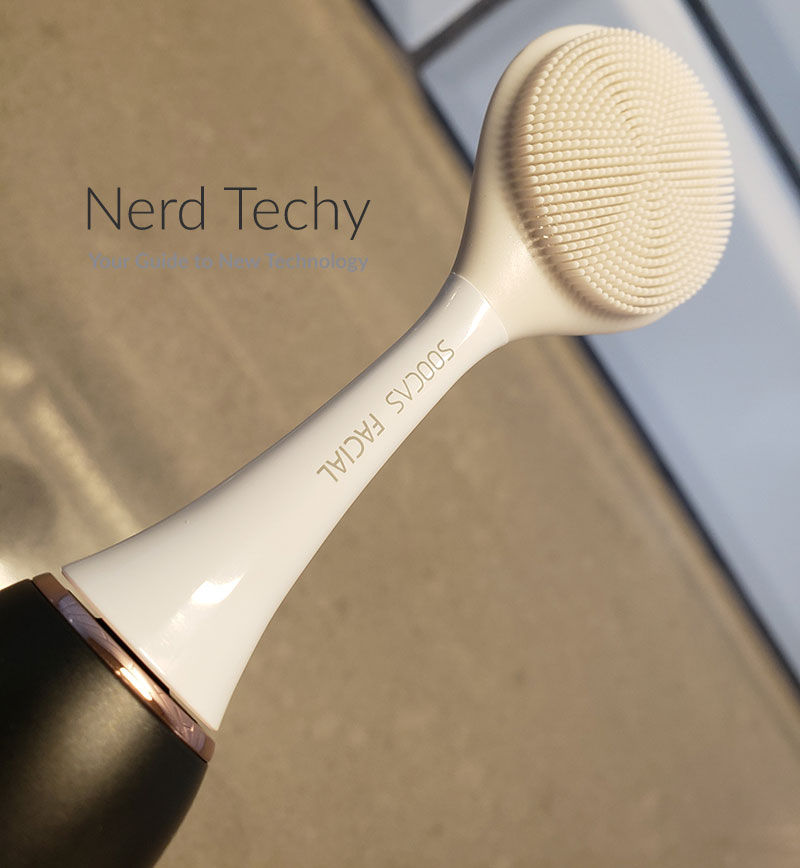 Cleaning Effectiveness
When you start a cleaning cycle, the X3U's motor will run continuously for 2 minutes. Every 30 seconds, the handle will vibrate to prompt you to move to a new area. The idea is to scrub each quadrant of your mouth for 30 seconds apiece. That way, you don't end up overbrushing some areas and missing others.
The motor is capable of providing 39,600 vibrations per minute. That's insanely fast – more than fast enough to count as ultrasonic. At this speed, the bristles easily knock loose plaque and other debris, without damaging your teeth. The sound is high-pitched, but it's barely audible, and the sensation tickles a little bit.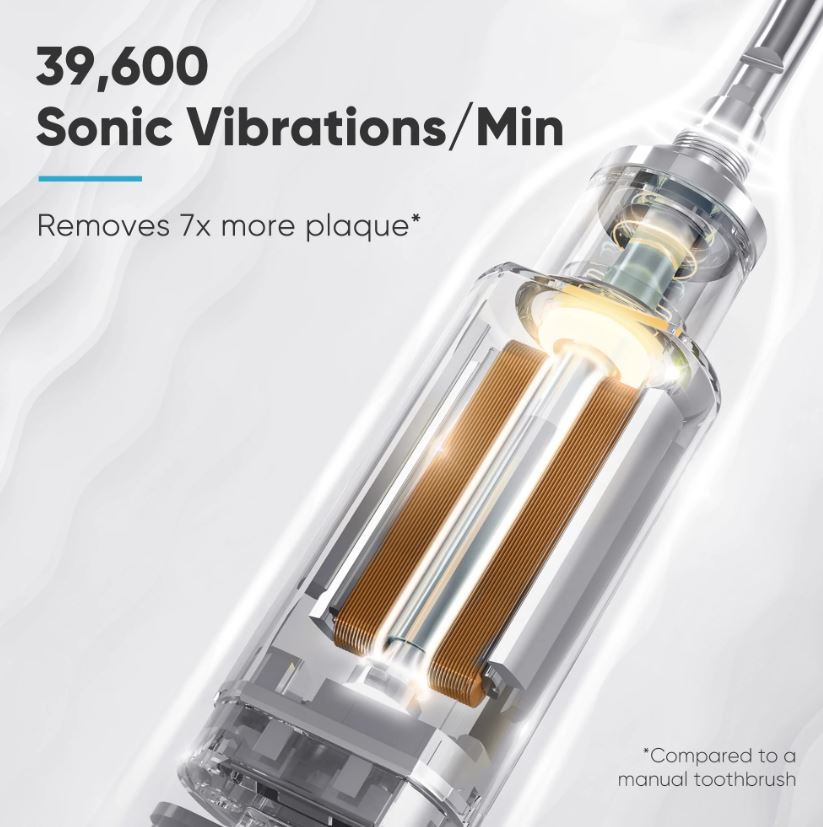 Soocas recommends starting out with the gentlest cleaning setting, which is probably a wise choice. It lets you get used to the brush without the sensation being too intense. If you have sensitive gums, you may want to stick at this level. Most people will tend to use the middle setting, although the top setting is the most effective.
The fourth setting activates a special whitening mode. This setting is made to be used with the whitening brush. It's not that anything bad will happen if you use it with a different brush. But whitening mode is still more effective when you're using the right attachment.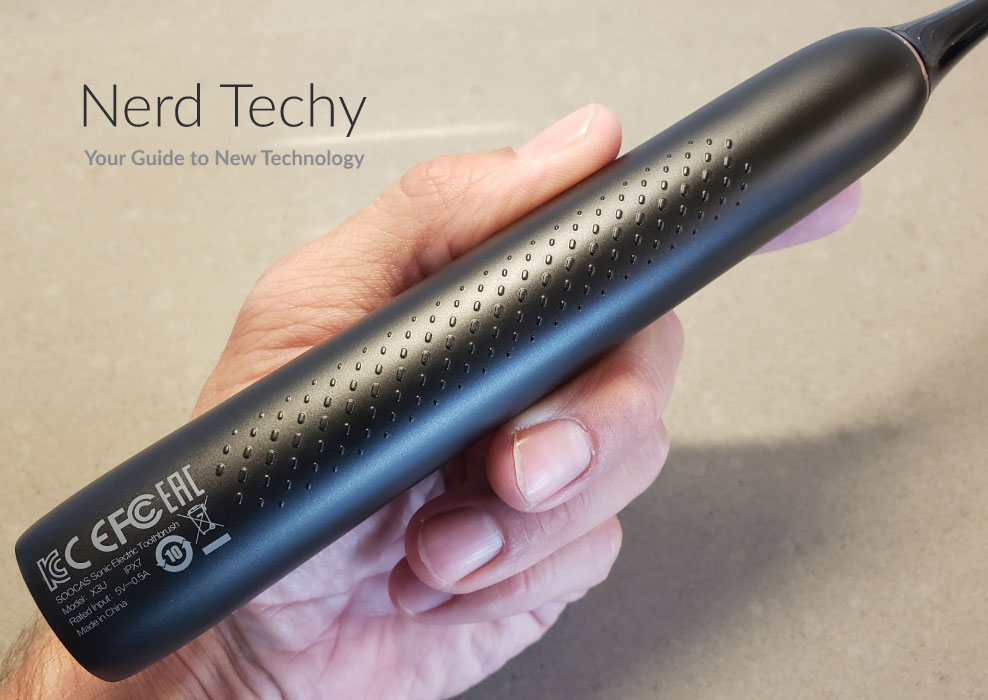 Battery and Charging
The battery is designed to last for 30 days, assuming you run two cleaning cycles per day. That's excellent performance, and probably way more than you'll ever need. But it's great news if you need to take your toothbrush on the road. That's one less device you need to worry about keeping charged. Just top it off before you leave, and you'll be good to go.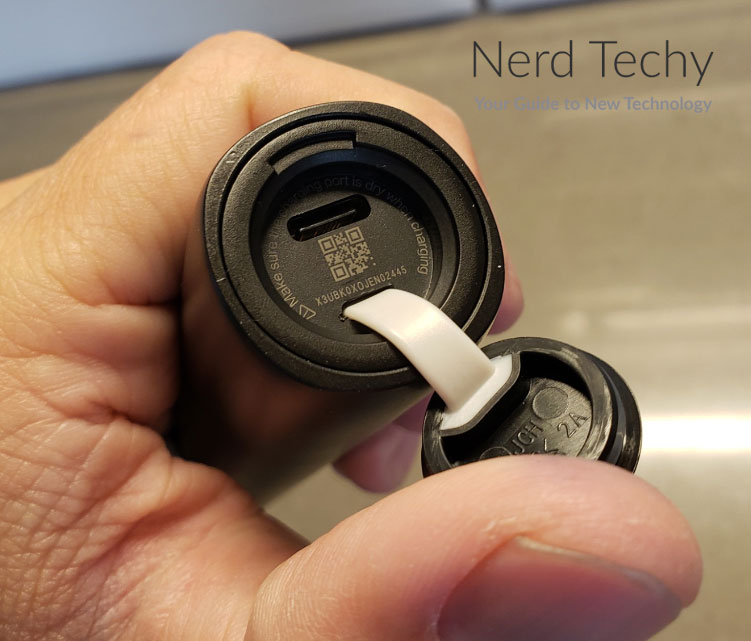 Charging is easy. Instead of a charging base like an old-school electric toothbrush, there's a USB Type-C port in the bottom. This allows you to use the included charging cable, as well as any other USB Type-C cable. It takes about four hours to get a full charge. Even if your battery is dead, it will fully charge overnight.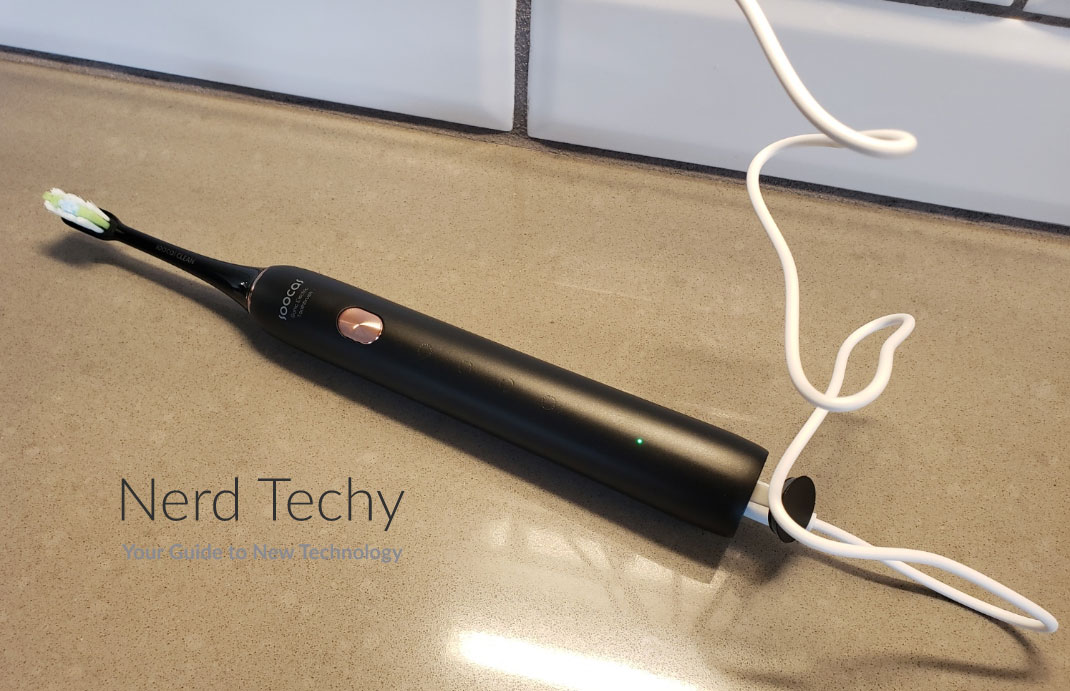 As we said, 30 days of battery life is very good. But if you want even longer battery life, take a look at the Oclean X Pro Smart Electric Toothbrush. It boasts an impressive 40-day battery life, as well as a suite of app controls. That said, there's only one brush option, and it doesn't have soft bristles.
Final Verdict
The Soocas X3U Sonic Electric Toothbrush is an effective dental tool. It does a great job of cleaning your teeth, and you get multiple brushes and settings. And with its 30-day battery, you can brush your teeth without having to worry about charging.
Note: At no extra cost to you, we may earn a commission for purchases using our links. Learn more.