Oclean X Pro
Pros
Very powerful, yet quite operation.
Automatic frequency reduction if brushing too hard.
Smart, intelligent design with easy to use app.
Battery lasts a very long time and charges quickly.
Available in a variety of color options.
Cons
Handle can become a bit slick when wet.
Only one kind of brush available, no options for softer bristles.
It goes without saying, dental health is a very important part of your daily life. The core of it involves consistently keeping your teeth clean from plaque, food and other debris that can cause more complex issues. For centuries, humans have used a variety of tools, brushes and picks to keep teeth clean and ward off diseases and infections. It was only until the last several decades that we've seen a myriad of inventions take over. One such is the electric toothbrush – a very popular choice in today's world.
An electric toothbrush is said to be over twice as effective in fighting cavities. This is in part due to its consistent movement but also simply for the fact that using one is more fun! In fact, you're more likely to remember to brush if you have a device doing the hard work for you. Ultimately, the importance of a quality electric toothbrush is bar none.
If you've been searching for a high quality toothbrush, you've probably come across many options. Popular brand names tend to price their electric toothbrushes at a price point that puts them out of reach for many individuals. Paying hundreds of dollars for a toothbrush simply isn't necessary. Why? Because there are many at an affordable price that still boast high-end features but don't cost an arm and a leg.
Take the Oclean X Pro, for example. It's a powerful "smart" electric toothbrush that comes with some of the most innovative, technology-rich features we've ever seen. A powerful motor with an app-enabled artificial intelligence, multiple cleaning modes, blind zone detection and more! Let's dive-in and see exactly what it has to offer.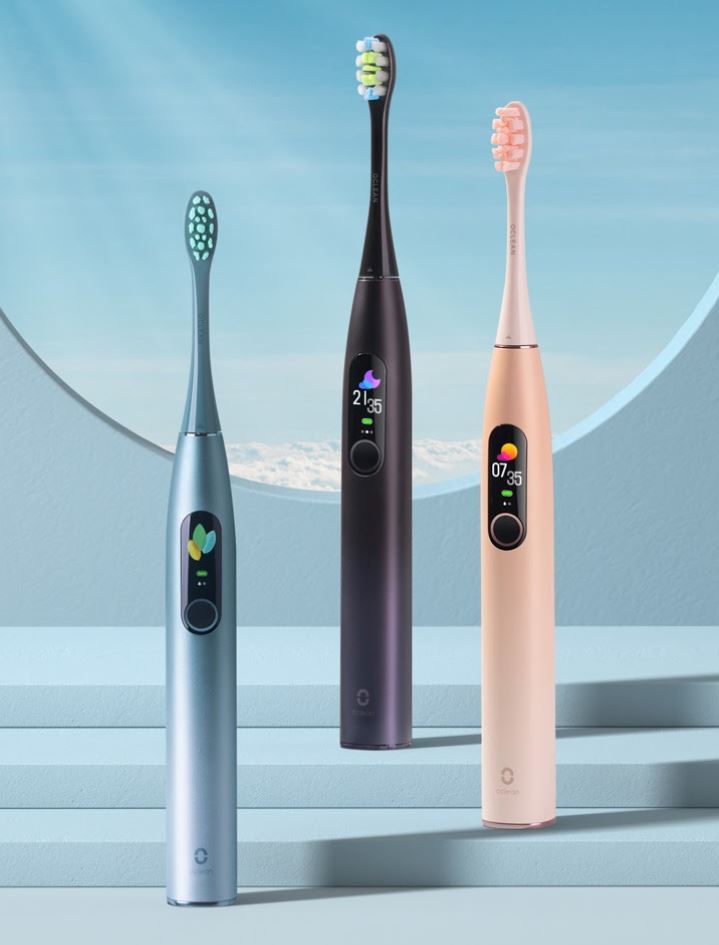 First Look
At first glance, the Oclean X Pro Smart Electric Tooothbrush looks quite similar to a standard electric toothbrush you'd purchase at the supermarket. Available in either navy blue, aurora purple, sakura pink or mist green with a standard cylindrical shape, paired with detachable brush heads.
Holding it in your hand, your thumb is naturally aligned with a small, single button that has a small LCD touch screen display right above it. This small screen offers an intuitive interface that displays a wide range of settings and infographics about your brushing.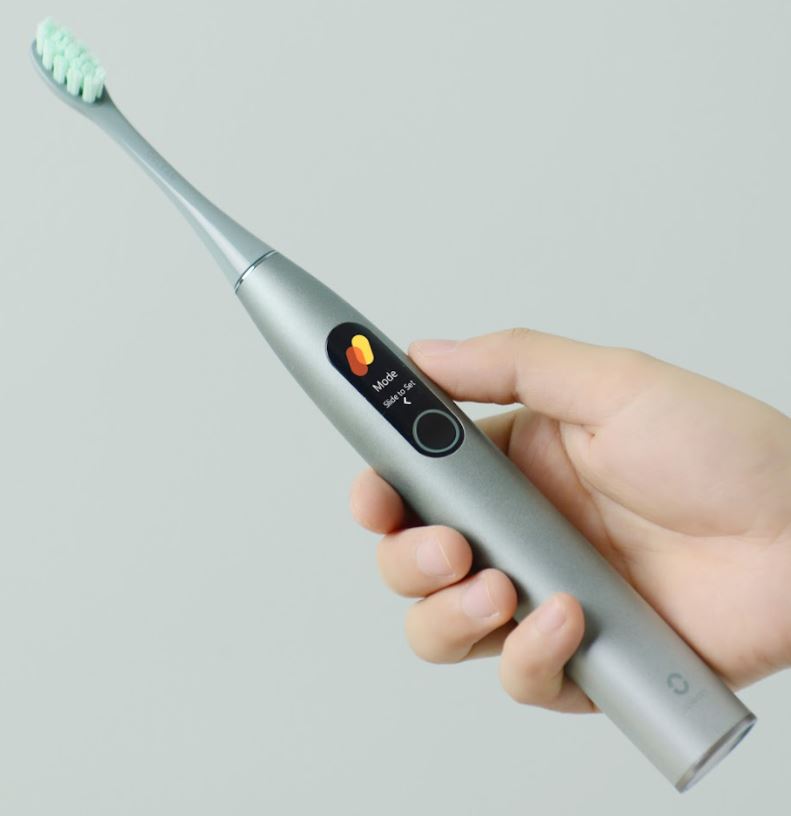 What's more; inside the toothbrush is a 6-axis gyroscope that detects brushing motion and generates infographics. It displays an outline of your teeth with a "white zone" that indicates areas that are fully cleaned. Additionally, any "blue zone" that's displayed indicates areas that need more attention, ie. more brushing. Centered within the display, you'll see the duration of the current brush session. On top of that, a "brushing score" will be displayed. Based on multiple data points, it gives you a number between 1 and 100 that clearly indicates the effectiveness of your brushing. In fact, this will give you better insight on areas you need to improve.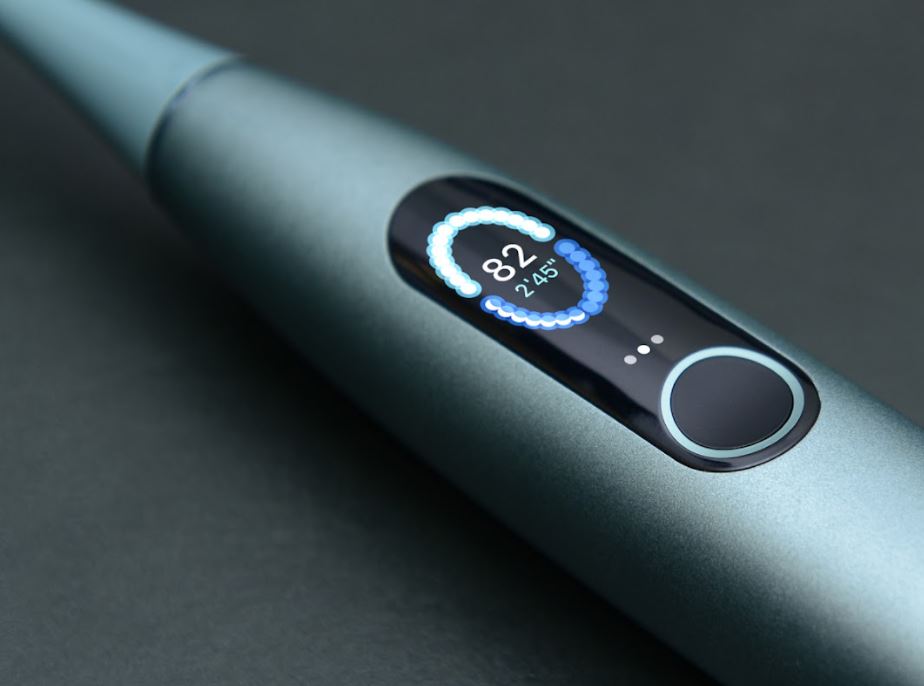 Oclean App for iOS & Android
The Oclean X Pro pairs well with the Oclean App which opens up all of the features and detailed analysis on your smartphone or tablet. Compatibly with bot iOS and Android devices, it pairs with the toothbrush and lets you record the date, time and duration of your brushing sessions. In addition, the app detects your "clean output" as well as the lifespan of the brush heads. These "reports" are readily displayed and indicate several factors including blind zone overview and other customizations.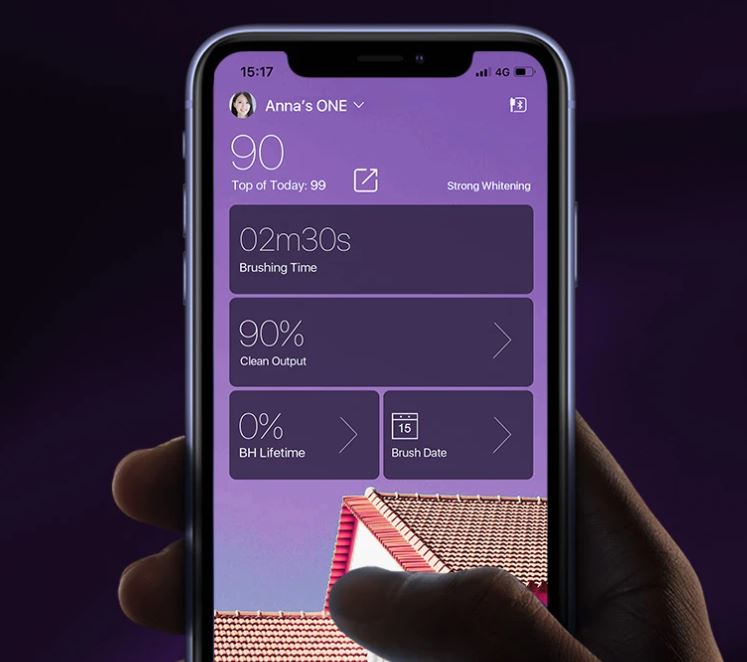 The app is laid out in a way that's easy to use and simple to understand. Although the toothbrush's LCD touch screen gives you live feedback on your current brushing session, the app lets you dive-in with a wider range of analytics.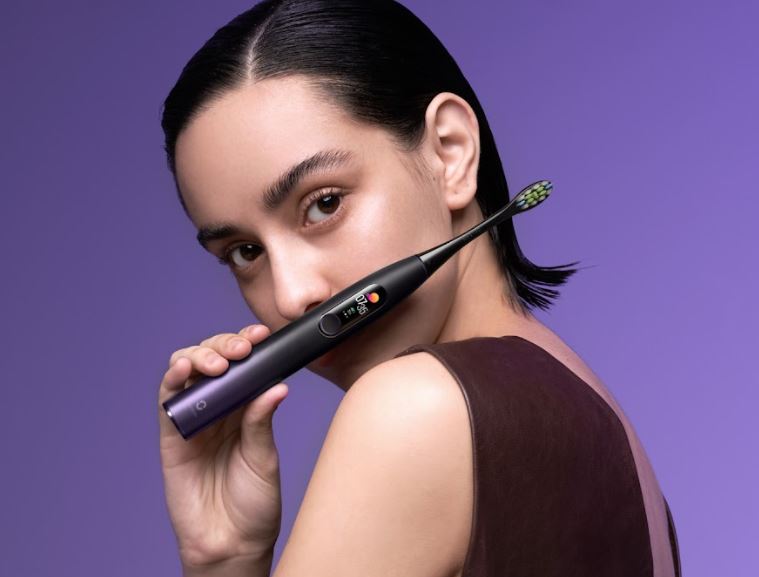 Cleaning with the Oclean X Pro
Internally, the Oclean X Pro is equipped with a brushless motor that's capable of up to 42,000 RPM. However, it's impressively low in noise and is entirely adequate for a wide range of users.
Initially, 42K RPM may sound like overkill, but it offers a wide range of cleaning modes with 32 different, fully-adjustable intensities. For sensitive individuals, keeping the brushing strength at a lower number is a good idea, whereas those that can handle it may want to increase the brushing intensity based on their personal preference.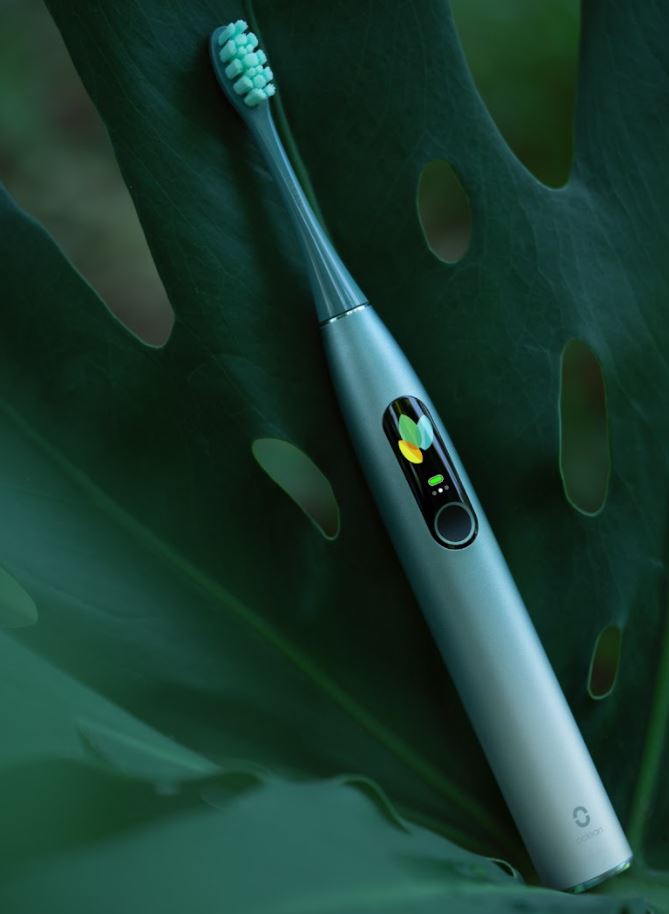 Using the touchscreen, you're able to manually select a number between 1 and 32. 1 being the weakest and 32 being the most intensive. However, many users tend to use one of the three presets; clean, white or massage. Each one will have a different feeling and offer an experience that's more custom-tailored to your personal preference.
Brushes
The detachable brushes that come along with the Oclean X Pro look like a standard design, but are well-engineered and 3D-designed with utmost precision. In fact, the bristles are made from a blend of three different varieties. You'll notice three colors in the bristles. Blue indicates Pedex reminder filament which offers a stiff yet durable feeling. In the middle is the neon-green Pedex diamont filament that's gentle yet rigid. Around the edge is the DuPont Tynex brilliance diamont filament that enables soft-polishing when moving at high speeds.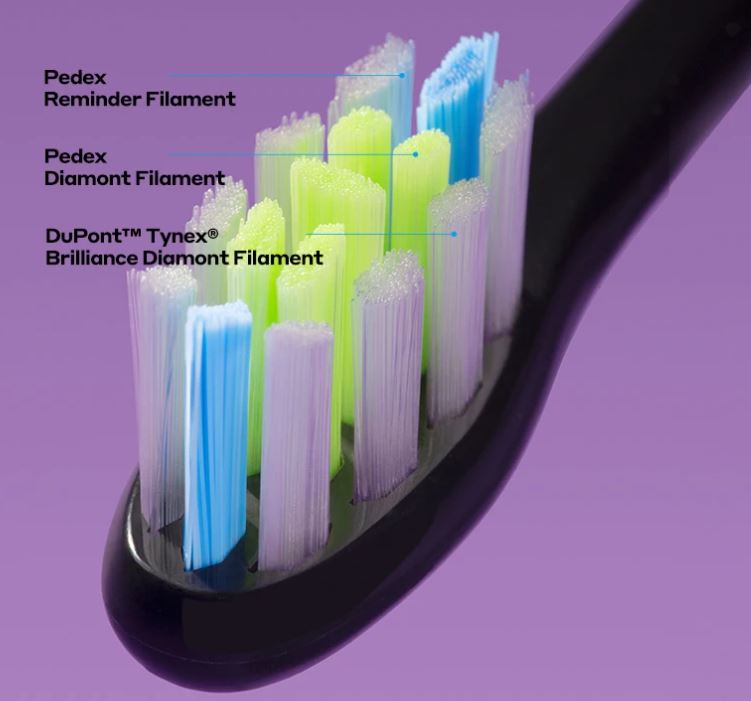 The brushes are easily detachable to connect to the metal shaft on the toothbrush's main body. They're said to last much longer than your standard bristles, espcially thanks to the AI-controller pressure sensitive technology. What's exactly is this? Unlike most electric toothbrushes, the Oclean X Pro will automatically detect when over-brushing occurs and immediately reduce the frequency. In turn, the motor will output less power in hopes that you will apply less pressure to your teeth and gums. Ultimately, this makes for a healthier brush-session with less abrasion, bleeding and irritation. It's the perfect feature for those who tend to brush with too much force.
Durability and Waterproof Rating
The X Pro is designed with durability in mind. That said, Oclean made sure the toothbrush was IPX7 rated for water resistance while the charger is rated as IPX5. What does this mean, exactly? IPX7 basically means that the toothbrush can be fully submerged in water, without any harm done to the electric components. In fact, you can hold it underwater at depths of 3 feet for up to 30 minutes. Would you ever do this? Probably not, but it's good to know!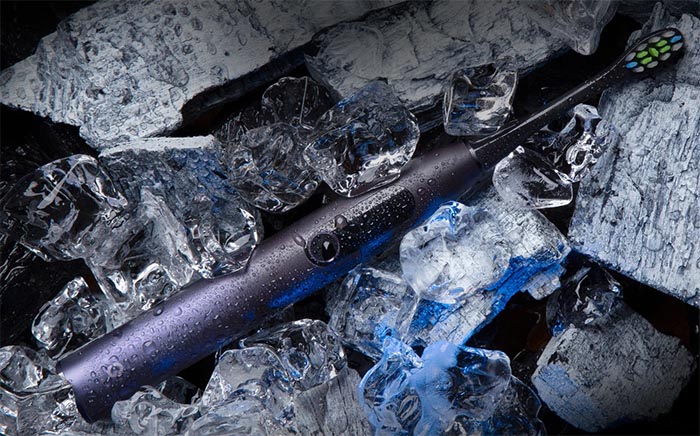 As we said, the charger is rated as IPX5 waterproof. Ultimately, this means that they charger can get wet with droplets and moisture, but you shouldn't fully submerge it into the water. Both the toothbrush itself and the charger are equipped with these ratings to assure users that they don't have to "baby" their toothbrush around the sink. The X Pro and charger can effectively withstand moisture in vitually any scenario that you throw at it.
Holding it in your hand, you can tell this toothbrush was made well. It's not rugged, necessarily, but it does give off a quality feel that almost anyone can appreciate. The choice of components they used is commendable – nothing feels cheap or inexpensive about it.
Battery and Recharging
Inside of the Oclean X Pro is a lithium-ion battery with an 800 mAh capacity. This tiny yet impressive battery typically powers the toothbrush for up to one month of brushing twice per day. However, the battery life is totally dependent on the intensity level you tend to use. For example, using it two times a day on level 1 (the weakest setting) will yield around 40 days of brushing. If you keep it set to 32 (the most intensive setting), you'll likely see around 20 days of brushing before you need to place it back on the charger.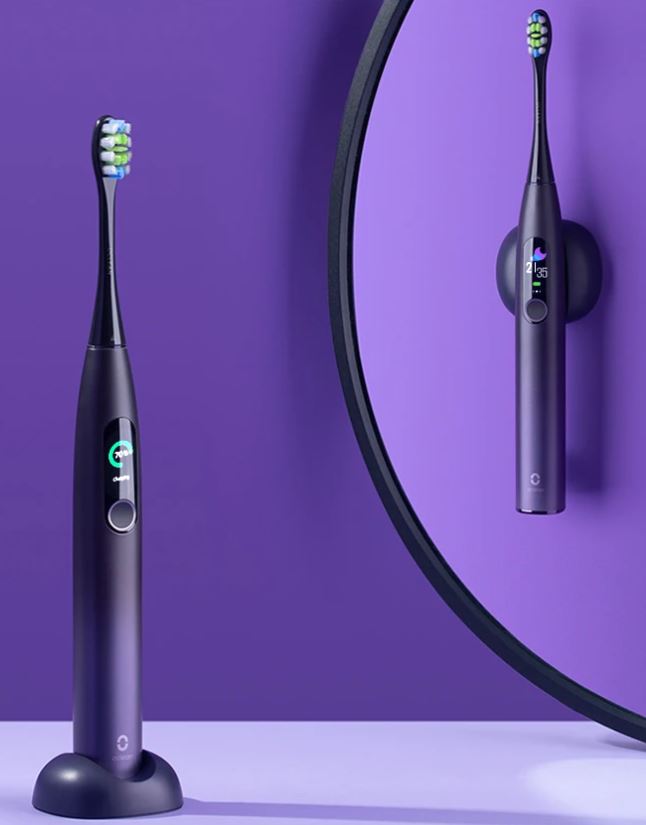 Best of all, it comes with a streamline 2-in-1 charging dock that you can magnetically mount onto the bathroom wall, mirror or simply place flat on the counter. The cylindrical base of the toothbrush is equipped with a small magnetic charging ring on the underside that lets you charge without the need to physically plug anything in. Additionally, the back-side near the LCD screen is also equipped with a magnetic charging ability.
Once the toothbrush needs to be charged, you'll see an indicator on the LCD screen. Thankfully, charging is incredibly quick. In fact, in just two hours the toothbrush can go from 0% battery capacity to 100% fully charged and ready to go for several weeks of daily use. The charge time is downright impressive, in our opinion. Most competitors' toothbrushes simply can't compete with a 2 hour charge time.
Other Recommended Accessories
In addition to the X Pro toothbrush, we highly recommend checking out two other offerings from Oclean; the W10 water flosser and the S1 UVC sterilizer.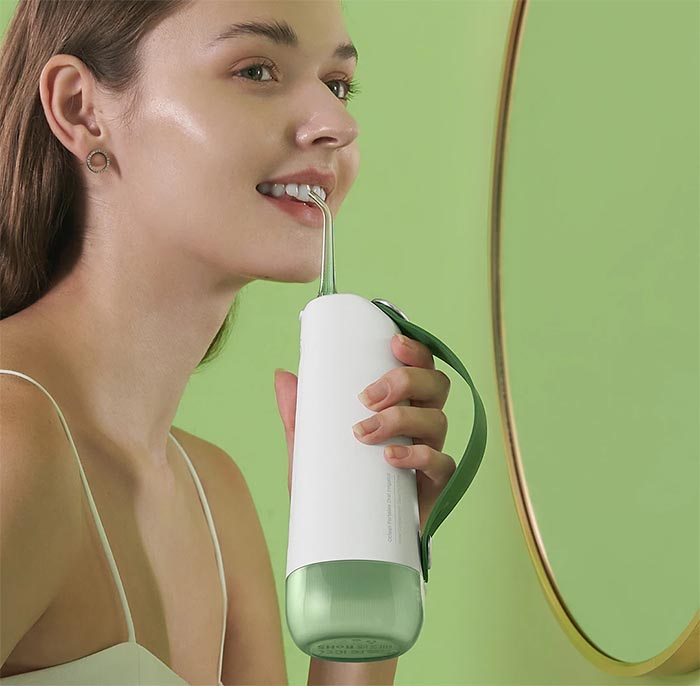 The W10 water flosser offers an effective way to floss between your teeth without the hassle of traditional string floss. It's a battery-operated device that boasts a 200ml detachable water tank reservoir. Fill up the tank, press a button and high-pressured water will shoot out of the tip, aimed right for plaque, tarter and food particles that may be lodged between you teeth and gums. Offering up to 1400 pulses per minute, you can select between 5 flossing modes. In addition, you can swap out nozzles (tips) for different cleaning effects.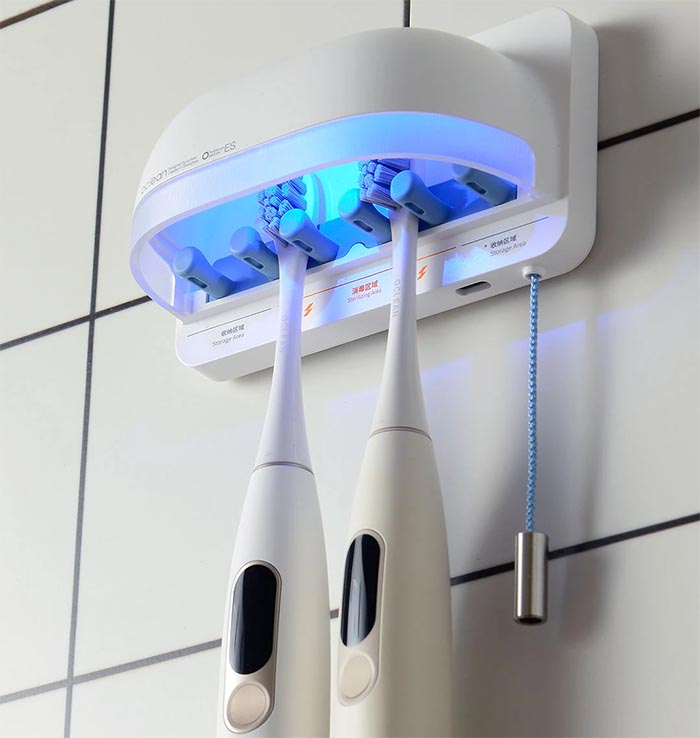 The S1 UVC sterilizer is another important accessory that we find quite necessary. It's a wall-mountable device that effectively simultaneously sterilizes up 5 toothbrushes. It works by emitting UVC rays toward the brush heads and bistles to disinfect at a microscopic level. To use, simply hang your toothbrushes in a vertical orientation and turn it on by pulling the string. When activated, it'll auto-sterilize every 6 hours for 2 minute intervals. It effectively rids of any viruses or bacteria so your toothbrush is always as clean as can be.
It goes without saying, it's best to begin each brush session with a sterilized toothbrush. Nobody should begin a cleaning session without a fully sterilized brush; it's much more effective to start with a clean brush rather that a dirty one. However, this is a detail that most users tend to overlook. You clean your teeth to reduce germs, not introduce more! With an effective UVC sterilier like the S1, you're already ahead of your oral health before you begin brushing.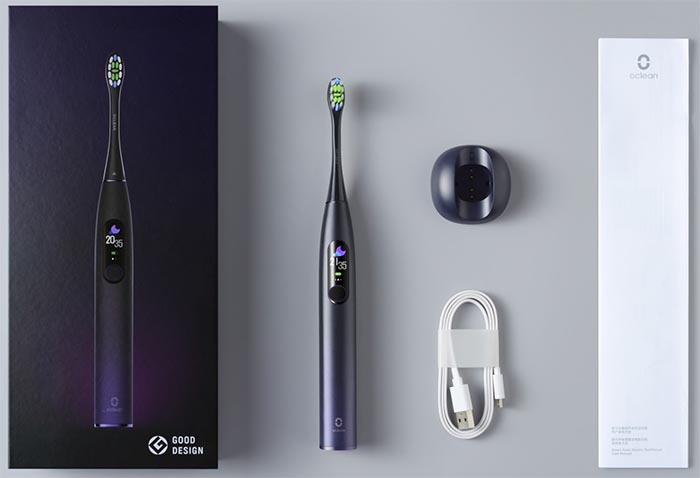 Final Thoughts
The Oclean X Pro Electric Toothbrush is one of the smartest and most intuitive advancements in personal dental health that we've seen. The ability to clean with AI-enabled features and a smart-connected app is above anything else in its price range.
Speaking of, now is the best time to purchase it. Oclean is offering it for an incredibly discounted price of $59.99 after you use the $5 off code "OC11". You can order it directly from their website, and even opt to become a member of Oclean. By doing this, you'll gain points for purchasing other related products and accessories that you can use with your new toothbrush. In fact, you'll acquire 100 points after joining the Oclean club that you can redeem for a $5 coupon off of all products they offer.
All in all, the X Pro offers plenty to love and not much to complain about. It does a great job at keeping your oral health a top-priority. Overall, we think that it makes brushing a bit more enjoyable. The ability to see your statistics within an app interface is quite useful and actually pretty fun. Pair it with the W10 water flosser and the S1 sterilizer and you've got a trio of products that do more for your oral health than anything other than brushing your teeth daily and seeing a dentist twice a year.