Qterra Craft
Pros
Thermos with built-in coffee and tea brewer.
Excellent temperature control.
High-quality leak-proof design.
No batteries, charging, or pods required.
Cons
Main housing is not dishwasher safe.
Kickstarter campaign is still ongoing.
Coffee is one of the most widely-consumed beverages in the US and the world over. It seems like there's a coffee shop in every third strip mall, and it's easy to understand why. Whether you need a boost of energy, or whether you just want a hot beverage, coffee is the ideal choice. And if you want something milder, or with a different flavor, tea is an excellent alternative. It's so good, the British Empire conquered half the world just so they could get more of it. But all joking aside, the defining feature of both these beverages is that they're best consumed hot and fresh. When coffee gets cold, or even just sits around for a while, it starts to develop off flavors.
This can put you in a pickle if you don't have easy access to fresh coffee. Sure, you could always bring a thermos. But even in the best thermos, your coffee can go stale before you've drank even half of it. Along the same lines, a mini coffee maker can get you a fresh pot. But that's not always practical. It's not like you can carry a coffee maker around with you in your purse or briefcase. And even if you could, you'd still need a source of hot water. But what if someone came up with a way to combine the benefits of a thermos and a coffee maker? What if they could do that, and even make it portable?
Someone on Kickstarter had the same idea, and ran with it. Now, we have the opportunity to review the Qterra Craft Travel Brewer. We should stress that this is an ongoing Kickstarter campaign. In other words, there's a possibility that we never see anything more than the prototype. Then again, Kickstarter is a safe platform, and this is a well-designed device. But what exactly does it do, and how does it work? We were able to put the Qterra brewer through its paces, and find out what it's capable of. We're about to tell you everything we learned about this innovative new gadget. Here's what we've learned, along with our overall judgement. Let's dig in!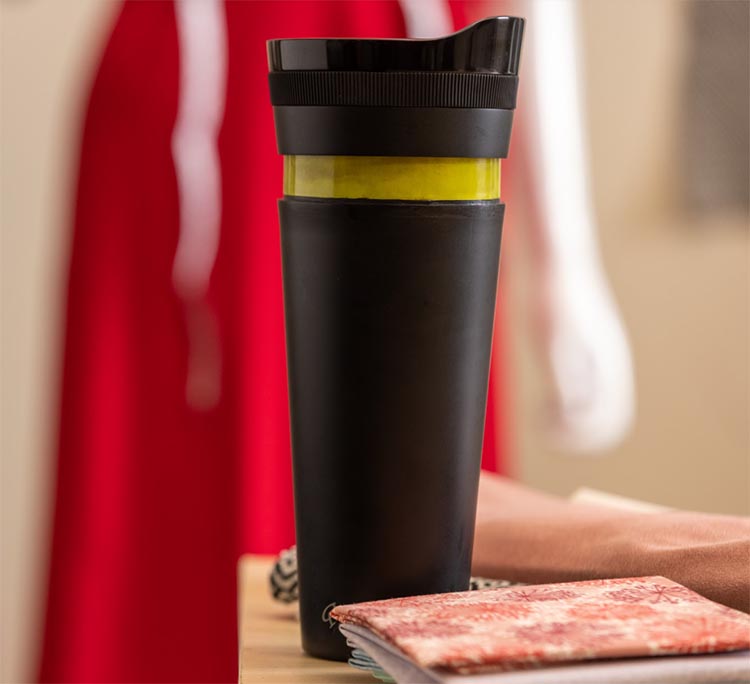 Overall Design
When viewed from the outside, the Qterra Craft Travel Brewer is very unassuming. If you don't look terribly closely, it looks just like hundreds of other travel mugs. It has a black plastic shell, and stands 9 inches high. It's 4 inches wide at the top, but tapers slightly towards the bottom. This makes it an ideal shape for most car cupholders. The top has a ridge around it, to contain any potential splashes. There's a large lip near the opening, which makes it easy to sip from. You can also close the drinking slot altogether, to prevent any splashing whatsoever. There's a little grey Qterra logo at the base, which is the only noticeable decoration.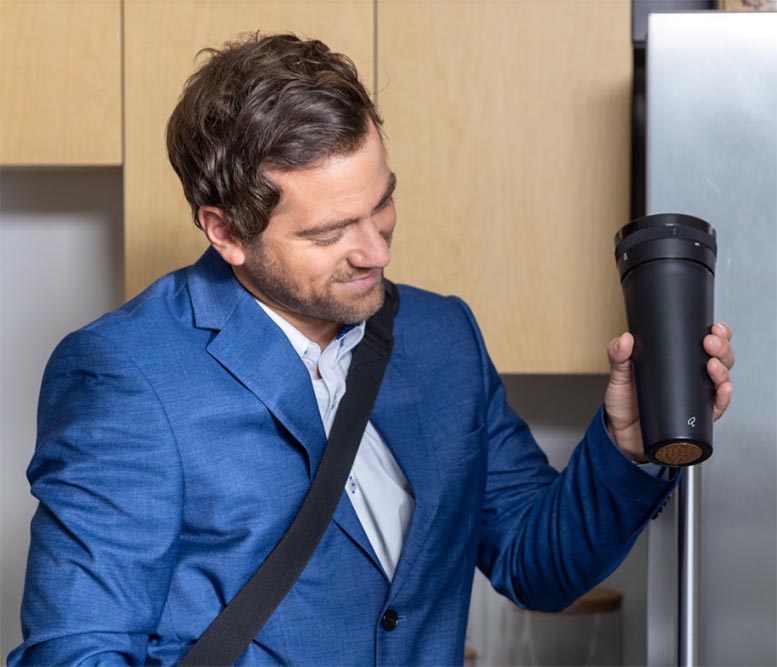 That said, as soon as you lay hands on the housing, you'll realize this is no ordinary travel mug. For one thing, it's too heavy for that. It weighs a little over a pound when it's empty. So not heavy in the grand scheme of things, but hefty for a mug. Looking at the top of the lid, there's also a screw cap in the middle. This can be removed to access the brewing mechanism. We'll discuss that more in a minute. For now, let's look at the rest of the lid.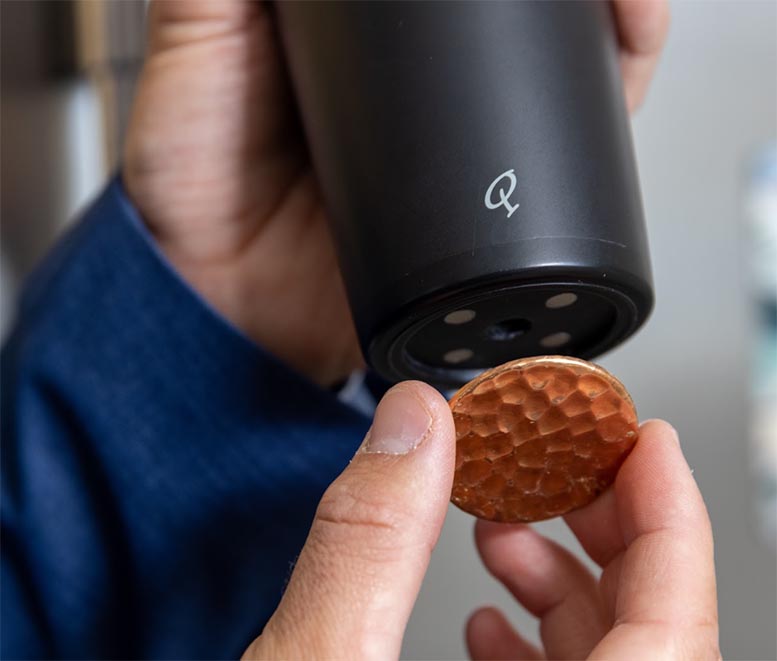 When you take the lid out, you'll find that it's fairly large. This is, once again, because it contains the brewing mechanism and other components. It has a screw-down design, with a fat rubber gasket around the bottom. This makes it exceptionally leak-proof. You can turn it upside-down, or even shake it, and nothing will escape. As a result, the Qterra brewer is easy to carry just about anywhere. It doesn't even have to occupy your hands. You can throw it in a purse, backpack, or briefcase. When you're ready for a warm drink, you'll be all ready to go.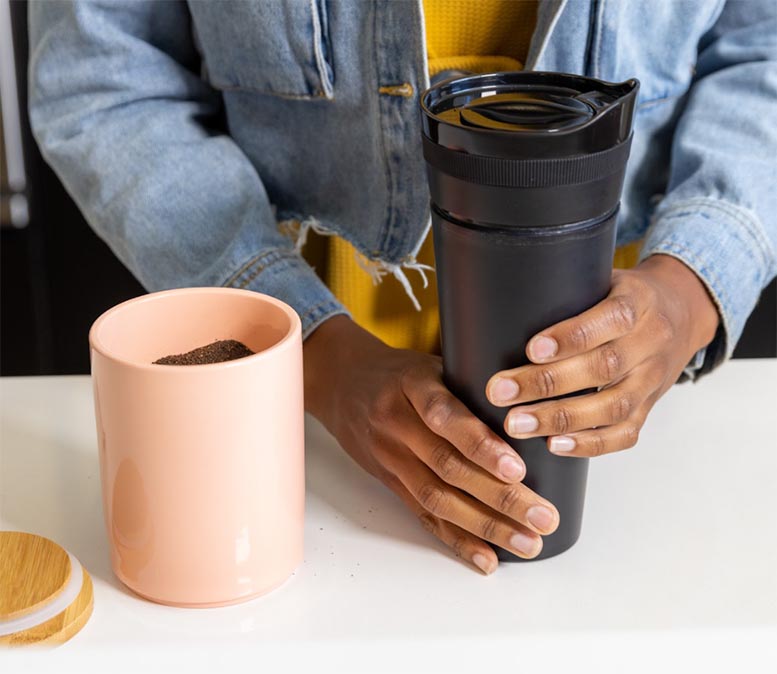 The interior is made entirely from stainless steel. This has a couple of advantages over plastic. For one thing, when combined with insulating material, it provides much better performance. In other words, your hot beverage will stay hot for longer. The other advantage of stainless steel is that it's easy to keep clean. It doesn't scratch or gouge easily like plastic does, which means there are fewer places for bacteria to grow. And because the surface is so smooth, it's very easy to wipe down.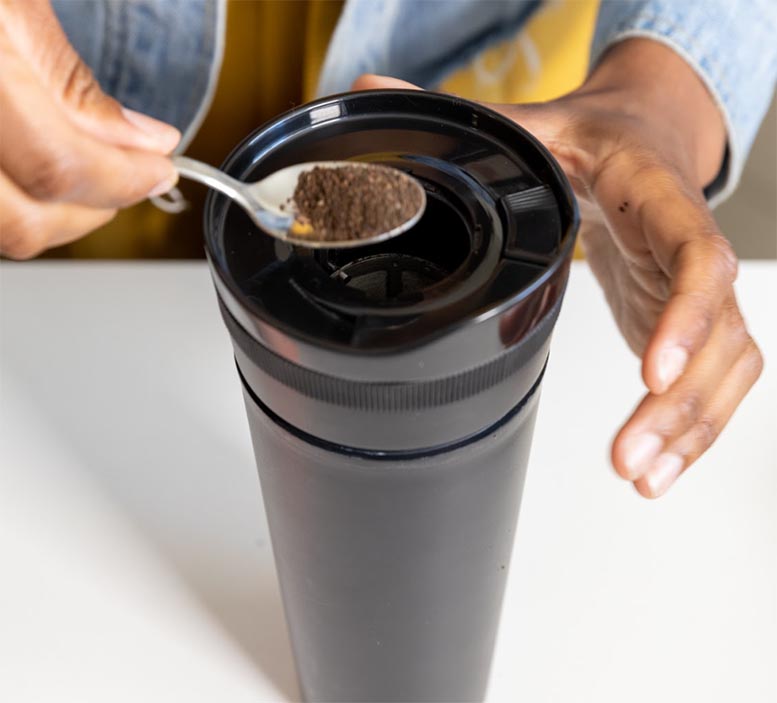 There's one other feature we should note, although it's purely cosmetic. The bottom of the housing is indented, and has a conductive surface. Qterra is also offering little medallions, which they call "Q Art", which can be attached in this area. They can also stick to your fridge, or anywhere else you can attach a magnet. That said, the Q Art medallions are an optional add-on, and they cost extra.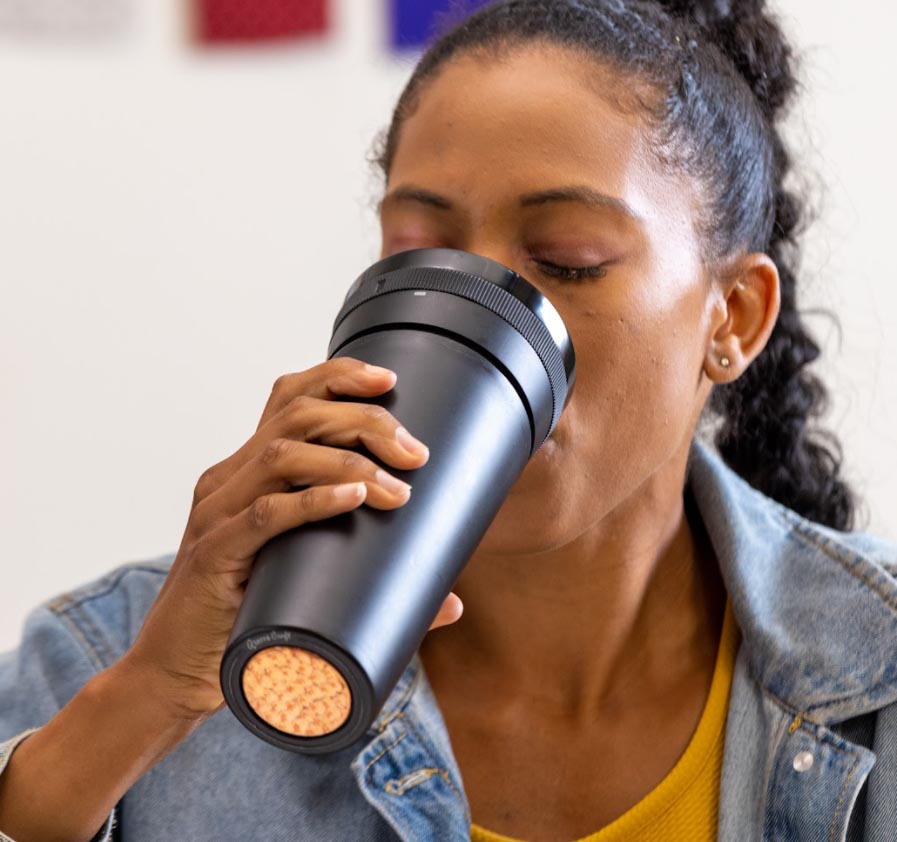 Built-in Brewing Capability
So, how exactly does the Qterra Craft Travel Brewer work? To begin with, you could use it like a regular thermos or travel mug. But that would be a depressing misuse of its capabilities. The idea behind this device is that you don't brew your beverage until it's ready to drink. What you want to do is fill it with very hot water. Next, you can put your coffee or tea into the lid. Open the chamber on the top, and drop the material inside. You can use any ground coffee, or your choice of loose tea. Teabags won't work, since you'd have to cram them into the opening, and it would be a mess. The space isn't that big, but it doesn't need to be. It's not like you're brewing a full pot.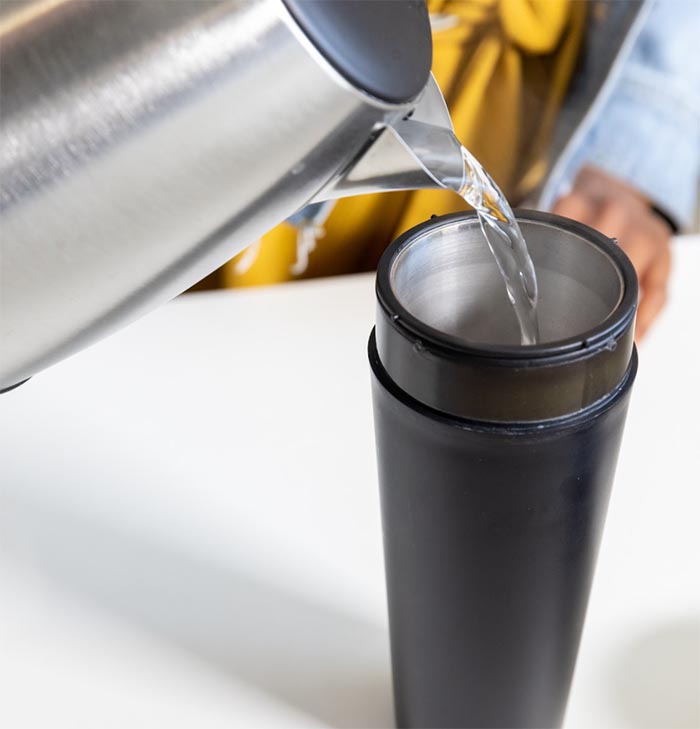 Once you've loaded your tea or coffee, screw down the top of the opening, and you're ready to go. Take your hot water with you, and you can brew your beverage whenever you're ready. To do this, twist the upper ring on the side of the lid. The brewing chamber will extend down into the water. It's a collapsible mesh basket, through which water can freely flow. Let your drink brew for a few minutes, and twist the ring back to collapse the brewing chamber. This method works pretty well, although it works faster if you swirl the brewer around a bit.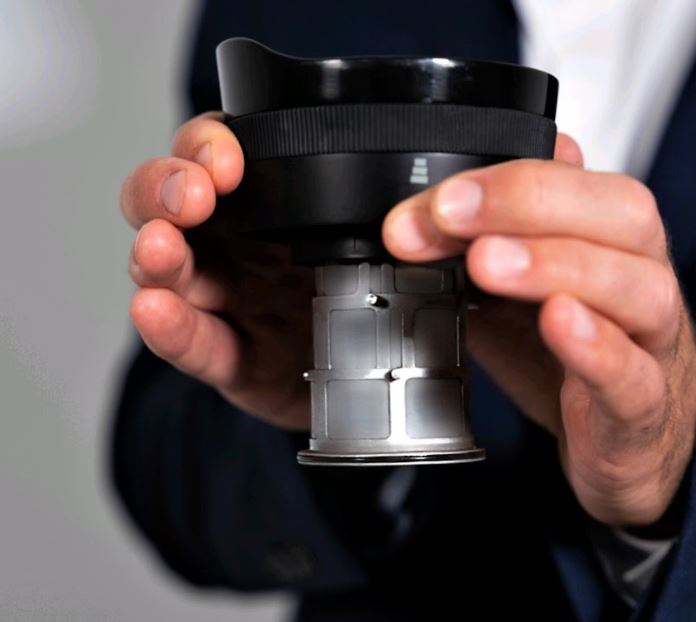 For this to work, Qterra first had to overcome a major problem. For coffee – or tea – to be properly brewed, the water needs to be as close as possible to boiling. This means it needs to be kept very hot until you're ready to brew. At the same time, these temperatures are way too hot to safely drink. So now that you've brewed your beverage, how are you going to drink it? The answer is what impressed us most about the Qterra brewer. See, the insulating material is a modern, bio-engineered compound that can change its insulating properties. In other words, it can be a very powerful insulator, or a relatively weak one.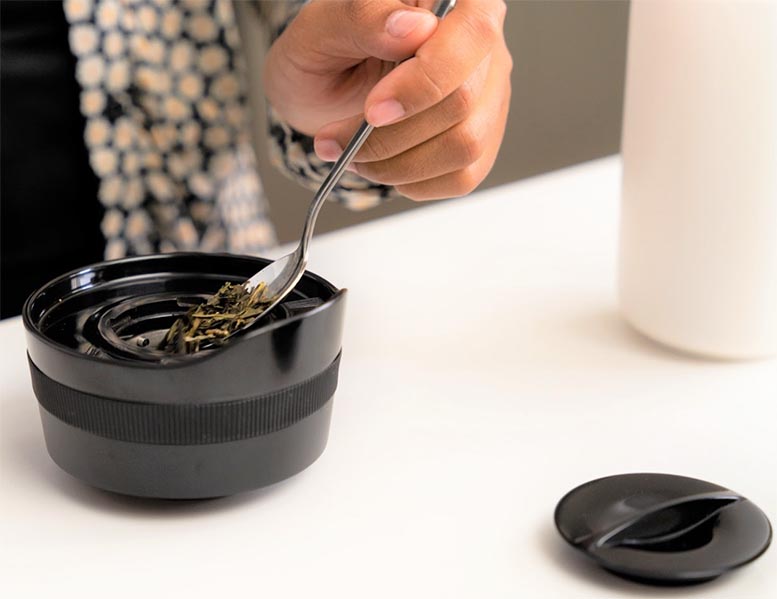 When you're done brewing you're drink, twist the larger ring on the side of the lid. This will cause the entire lid to expand, revealing a cooling chamber. This also changes the insulation properties, so your drink starts to rapidly cool. Once it's dropped to 140 degrees, the temperature will stabilize. You can tell when the drink is ready because the side of the cooling chamber will change color. When it's hot, it's yellow. As it cools to 140 degrees, it will fade to black. At that point, you know you're ready to drink. Twist the ring back into place, and the cooling chamber will close. The process is very easy, and takes only five minutes.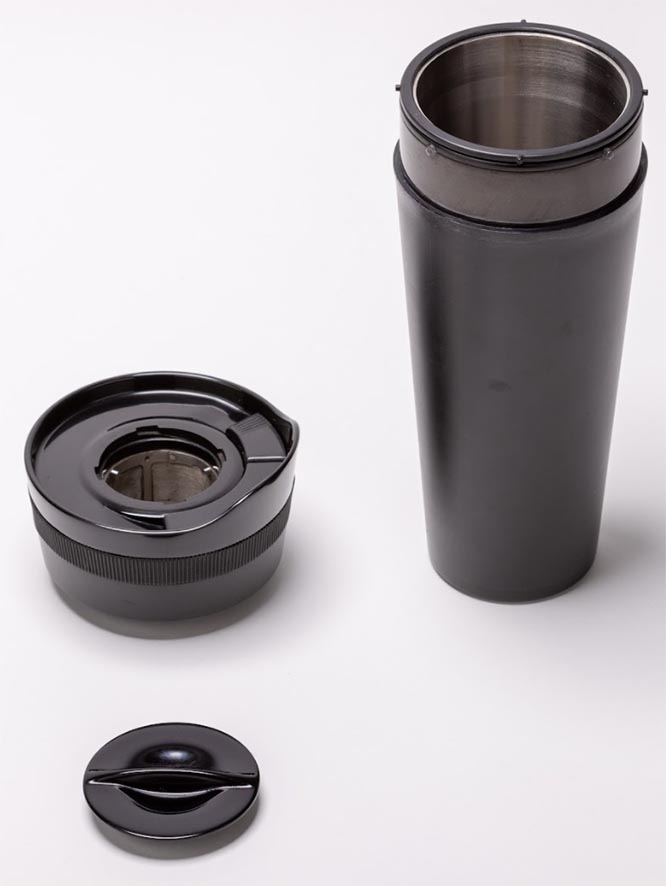 The neat thing about all this is that it doesn't require any batteries. Since everything is purely mechanical, you don't have to worry about running out of charge. This is a major advantage over smart water bottles, which also don't typically have a thermos function. Then again, they do have other neat features. Smart water bottles can keep track of how much you drink, send you app alerts, and other useful features. But one thing they won't do is brew your coffee.
Cleaning and Quality of Life
As you can see, this is a unique, and highly useful gadget. But as with anything else that touches your food and drink, you want to be able to keep it clean. Thankfully, that's pretty straightforward. To clean the lid and brewer housing, remove the lid, and take out the small screw cap. Then, twist the ring to extend the brewing basket. Rinse it under the faucet, making sure to get all tea or coffee grounds out of the basket. You can use a washcloth and soap if you want, which can clean up an left over gunk.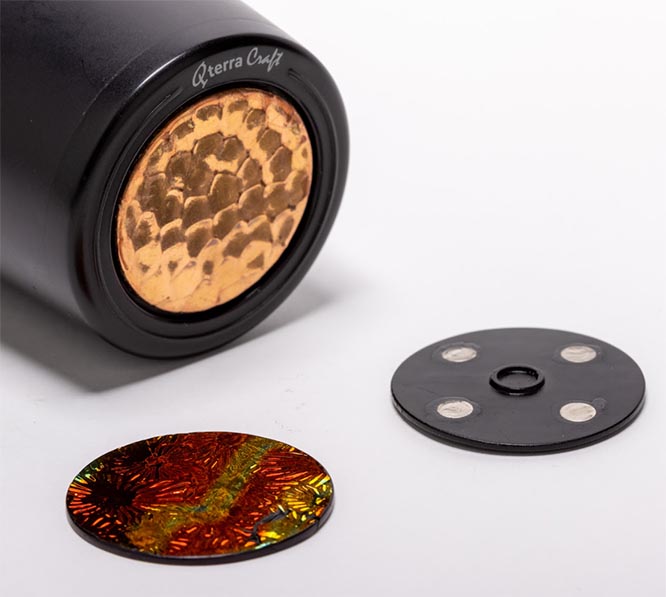 Alternatively, you can open the lid and brewing basket, and wash it on the top rack of your dishwasher. Make sure not to wash it on the bottom rack, or the drying element might melt it. Unfortunately, the main "cup" portion of the brewer is not dishwasher safe. Then again, it only takes about 30 seconds to wash by hand with soap and water. Set it in your drying rack overnight, and you'll be ready to go in the morning.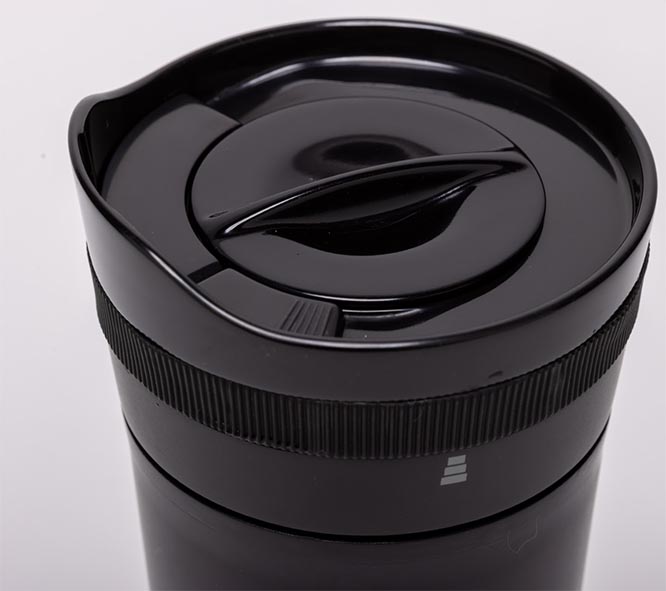 But what if you had a beverage container that could clean itself? That's the conceit behind the Larq Bottle, which has a built-in UV sterilizer. This will kill germs, even if the water wasn't originally safe to drink. Then again, it's just a water bottle, not a brewer.
Final Verdict
The Qterra Craft Trave Brewer is a one-of-a-kind device that's very well engineered. It lets you make fresh coffee or tea wherever you go. It's easy to use, it's easy to clean, and it's 100 percent leak proof. Provided the Kickstarter campaign meets its goal, we expect it to be a hit!