Whether you're shipping packages, printing UPC tags, or making address labels, a label printer can be very helpful. Yes, you can buy label packages that work with an ordinary office printer. But you have to use complicated templates, and they don't always line up properly. It's a fine solution if you only print labels occasionally, but it's not practical for constant use. If you're running a business, you want to use the right tools for the job. And the right tool for fast, efficient label printing is a dedicated label printer.
Another advantage of this kind of label printer is that it uses thermal printing. In thermal printing, there's no ink involved. Instead, the paper is treated with a chemical that turns black when heated. So instead of applying ink, the print head simply warms up the paper. Wherever it touches, the paper turns black, so it's easy to print text, bar codes, and other simple shapes. To be fair, thermal printing isn't right for everything. You wouldn't want to use one to print photos, for example. But for simple jobs like labels, it's the perfect solution. Not only is it fast, but you also don't have to mess with ink cartridges or clean up spills.
With that in mind, we're about to review the Phomemo PM246S thermal label printer. This is a mid-sized thermal printer that's designed for small to medium-sized labels. For most shipping, retail, and business applications, it's going to support the label sizes you need. It prints at six inches per second, and it's compatible with most computers and shipping platforms. Not only that, but it comes with a label hopper, which a lot of thermal printers don't provide. But what else does it have to bring to the table? How easy is it to set up, and what is the print quality? We're about to take a closer look at this label printer, and analyze all of its features. When we're done, we'll know what we need to know to render a fair verdict. Let's get started, and see what we discover!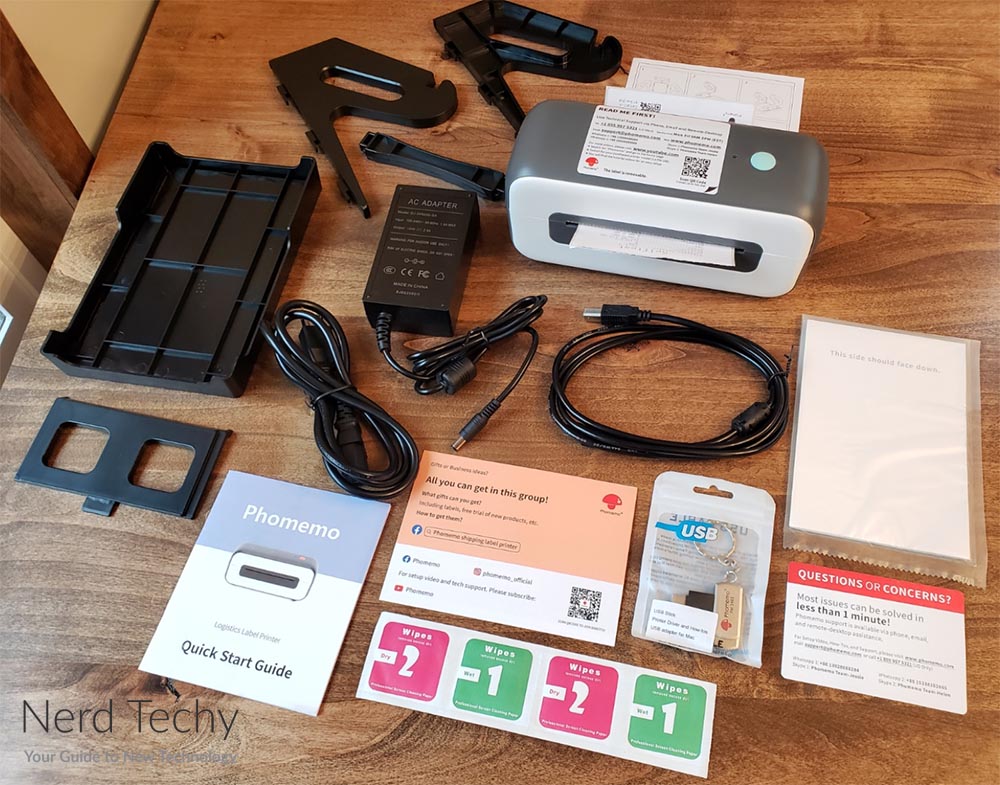 Overall Design
The Phomemo PM246S has a rectangular plastic housing, with rounded corners that eliminate any harsh edges. The overall size of the housing is 8.43 inches wide, 3.86 inches deep, and 1.34 inches thick. This gives it a small footprint, so you won't have to rearrange your entire desk to set it down. Not only that, but it's attractive to look at. The front panel is white, and the rest is available in two colors: grey or pink. The colored portion has a matte finish, which won't collect fingerprints. The white portion is glossy, which makes it pop. You'll see the occasional stray fingerprint, but the surface is easy enough to wipe clean.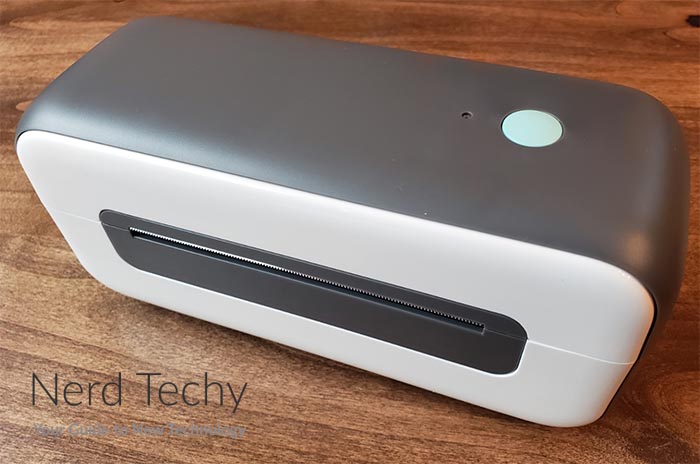 The housing is split down the middle horizontally, and is hinged at the right side. This allows you to easily open and close the printer, and feed paper through from the back. To open the housing, you first need to press the release button, which is on the lower back corner. It's a big black button, and you really can't miss it. Just above the release button, you'll find the power switch, which is a simple black on/off toggle switch. Also on the back of the printer are the two connection ports. To the right, there's a USB Type-B port. To the right, there's a round DC power input port. Both a USB cable and a power adapter are included in the package; you don't have to buy anything extra.
On the bottom side of the housing, there are four round rubber pads. These keep the printer from skidding around, and keep the plastic from scratching your wood surfaces. On top of the housing, towards the back, there's a button, as well as a power indicator light. This button serves as a feed button, for drawing labels through the printer. You'll use it when you set up a new roll of labels, or if you're trying to diagnose alignment issues.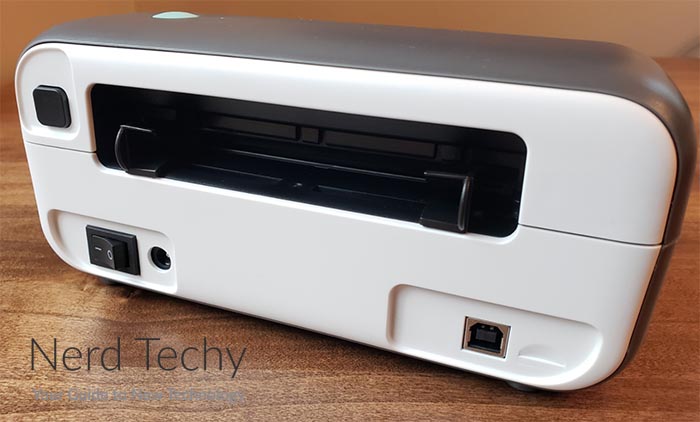 Along with the PM246S printer itself, you also get a plastic label holder. This is a 2-in-1 holder that supports both spools and fanfold paper. Regardless of the type of labels you're using, you'll be able to easily feed them through the machine. The label holder attaches to the back of the printer, which ensures that it stays nicely in place.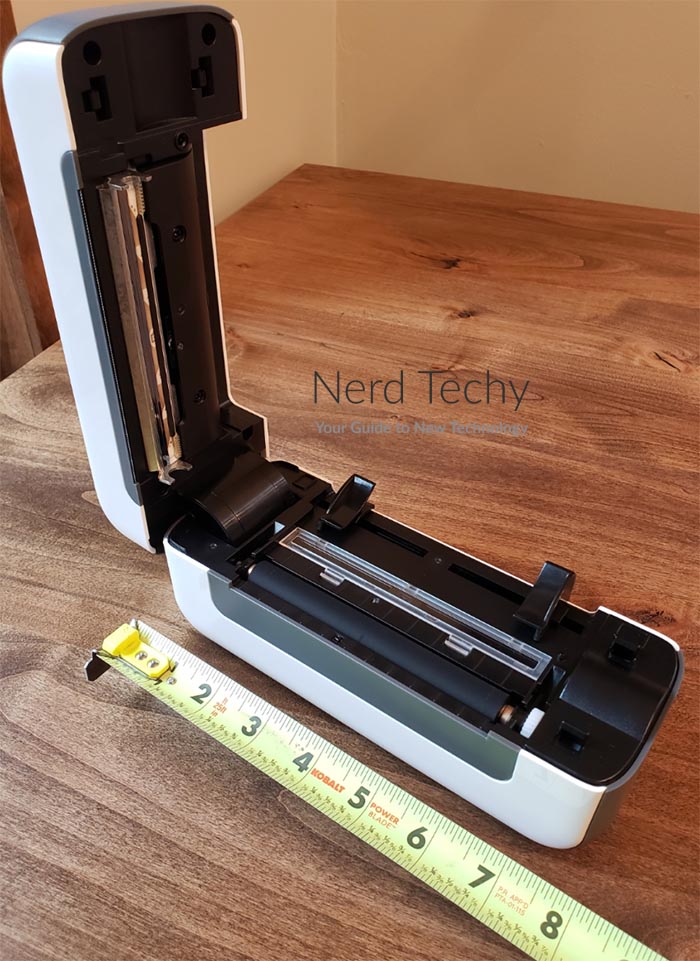 Phomemo offers a two-year manufacturer's warranty for their thermal printers. This covers you for any defects in materials or workmanship. If you do have trouble, you can take advantage of 24/7 tech support, and get a refund or replacement.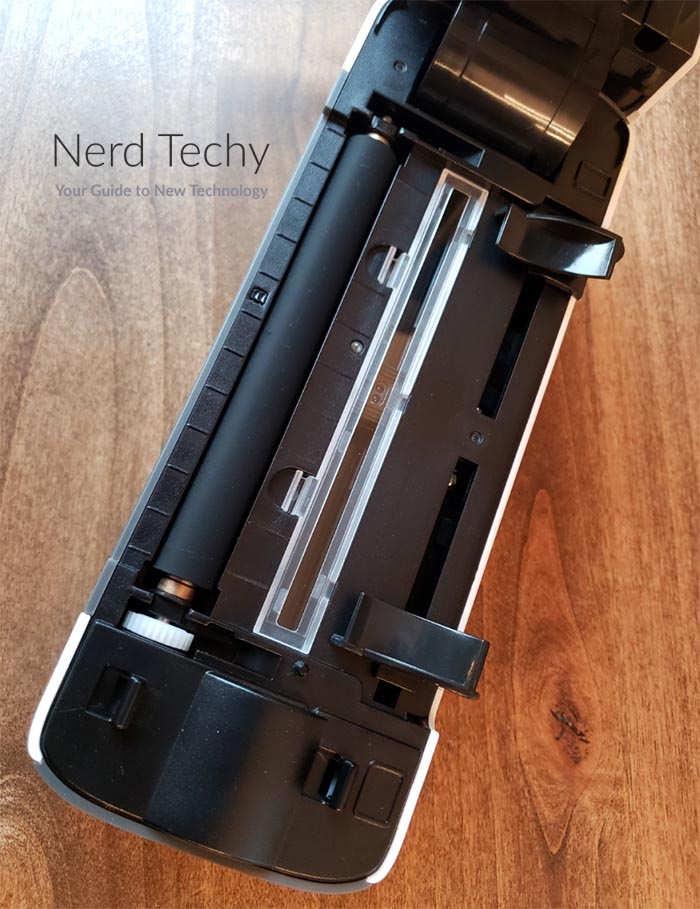 Connectivity & Setup
The Phomemo PM246S connects to your computer with a USB Type-B to Type-A cable. This allows you to connect to almost any laptop or desktop on the market. For Mac laptops with only USB Type-C connections, there's also a USB Type-C adapter. As a result, you won't have any issues making a wired connection to your system. That said, keep in mind that there's no Bluetooth capability. You won't be able to print from a smartphone or other wireless device.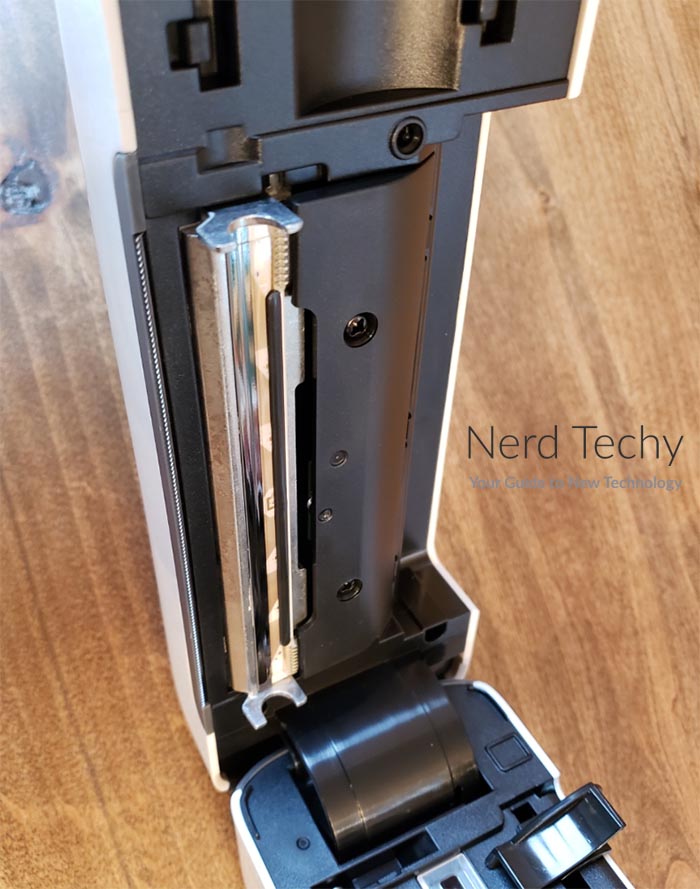 In total, this printer can fit any label size from 1" x 1" all the way up to 4" x 6". This covers virtually any small- to medium-sized label on today's market. You'll be able to print address labels, stickers, barcodes, shipping labels, receipts, and more. The only thing you won't be able to print are big, oversized labels or extremely tiny labels. These are both niche applications.
By contrast, the PM246S works with virtually any shipping an e-commerce platform. Among others, it works seamlessly with Shopify, Amazon, FedEx, UPS, Etsy, and Paypal. This makes it easy to keep on using the online tools you already use. But you're not limited just to using these tools. This printer works with Phomemo's Labelife software. It's free to download from Phomemo's website, and it can be installed in just a few minutes. Inside, you can import labels and PDFs to align them properly for your labels. You can also create barcodes, design custom labels, and more.
One thing that we really appreciate about the Labelife software is the shipping label and product label transformer function. By default, most shipping platforms such as eBay, Amazon and Shopify support both 8.5″ x 11″ and 4″ x 6″ label sizes, and are set to these sizes by default. However, Labelife lets you change this default size so the printable PDF files are generated in compatible size. Additionally, Amazon ASIN barcodes are presented in A4 format by default. With Labelife, you can crop this size in order to print on small sized labels.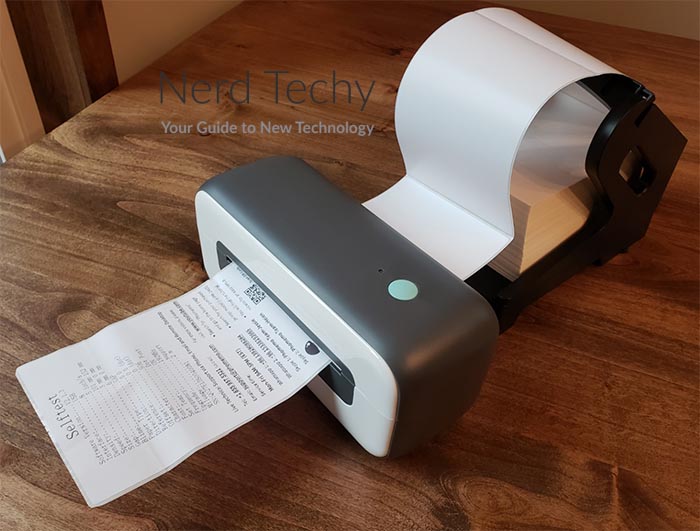 The Phomemo PM246S requires the correct drivers in order to work properly. Thankfully, you don't have to hunt for them on the web. The package includes a USB flash drive with all the drivers, along with some video tutorials. The drivers come with different installs for Windows, Mac, and Linux. Keep in mind that there's no Chromebook compatibility.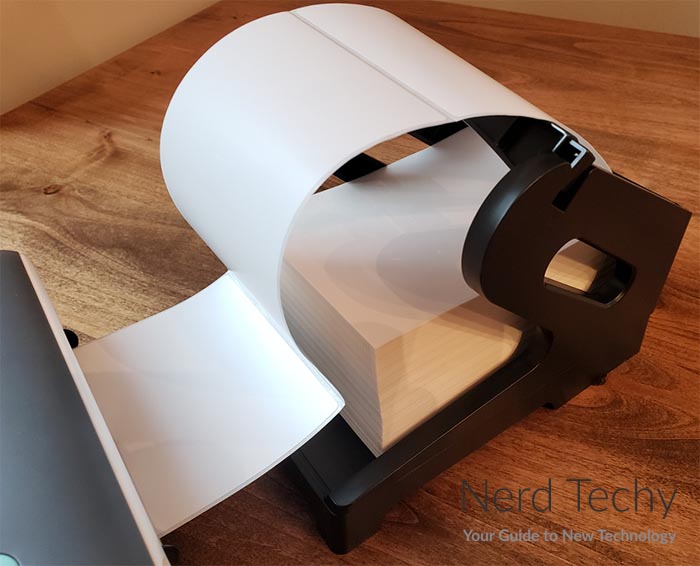 One thing to be aware of is that for some reason, Phomemo's drivers are unsigned. This can cause your computer to display a series of warnings, since it's not sure if the drivers are malware. They're perfectly safe, but it's a bizarre oversight. This can be particularly problematic on Mac, since your security settings may not allow installation at all. If you get an error message and can't proceed, open your Security & Privacy interface. There, you'll see the option to allow particular files and programs. Select LabelPrinter.pkg, and you'll be able to install the drivers.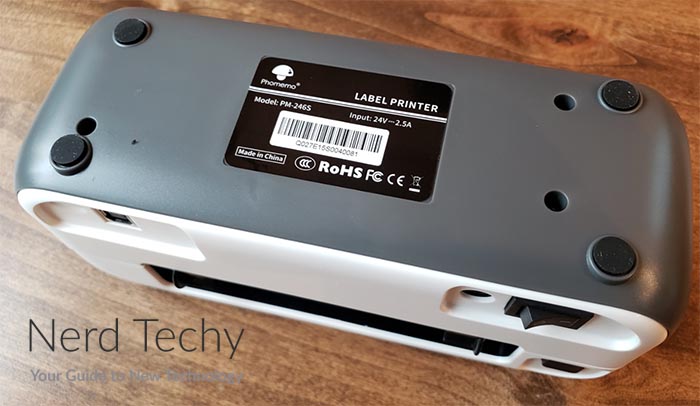 Printer Performance
So, what is the Phomemo PM246S printer capable of? Let's start with the image quality. The print head is capable of producing text and images at a resolution of 203 DPI. This is high for a label printer, and it's all you should ever need. Even QR codes and very small barcodes will be scannable. Text is legible even at a very small font size, and simple, black-and-white graphics look just fine. That said, keep in mind that 203 DPI is still pretty low-resolution as full-sized printers go. If you want to print photos or intricate, highly-detailed graphics, you'll want to use a normal office printer.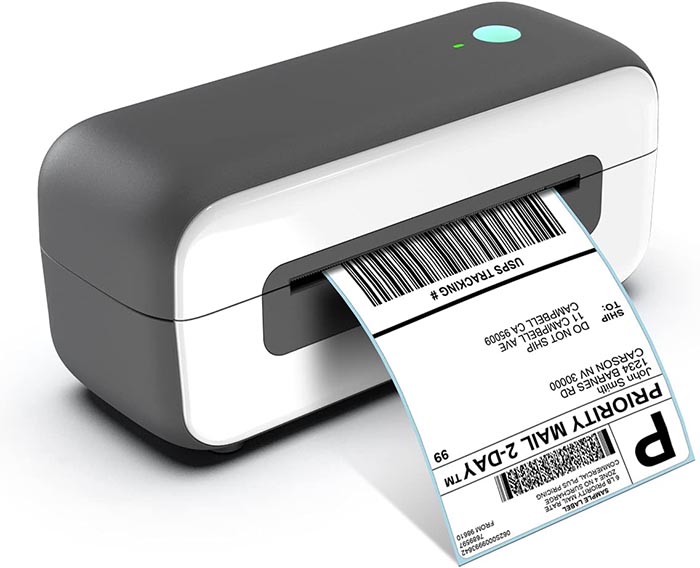 For all its accuracy, this printer is still capable of printing off a lot of labels in a short period of time. The speed rating is 150mm per second, or 5.9 inches per second. That's enough to print 59 six-inch labels in a single minute. Moreover, the thermal protection is very good. You can print for 12 hours without stopping, and the printer still won't overheat. This makes it ideal for printing large volumes of labels on an ongoing basis.
Final Verdict
So, is the Phomemo PM246S Thermal Label Printer the right fit for you? In most cases, the answer is going to be yes. This is a great printer for everyday labeling, shipping departments, mail rooms, and more. It's built for high volume, and the built-in paper caddy is a great touch. To be fair, it's not Bluetooth-equipped, which makes it less than ideal for mobile use. It also requires a computer to work – not a smartphone or tablet. But for what this printer is designed for, those aren't major concerns. As long as you want your printer hooked up to a computer, it will do a great job.