Inflatable kayaks, mattresses, rafts, and inner tubes are all easy to store. Maybe you don't have room in your house for a guest bed or a kayak. But with inflatables, space is a non-issue. Whenever you're not using your device, you can just deflate it and store it in your closet. When you want to use it again, you simply re-inflate it.
But with something big like an air mattress, inflation can be a challenge. Try to blow one up manually, and you'll soon be out of breath. It's not impossible, but it's a real headache. A manual pump can make things easier, but they tend to be bulky. And if you're pumping up several inflatables at a time, you'll need to take a break or two.
An electric pump is a far better option. And with modern technology, this doesn't have to mean a bulky, plug-in device. Today's battery-powered air pumps can put out a ton of air in no time flat. We're about to review four of the best options on the market, and evaluate their features, benefits, and drawbacks. Here's a quick overview:
[table id=1 /]
1. FLEXTAILGEAR Ultra-Mini Portable Air Pump
The FLEXTAILGEAR Ultra-Mini Portable Air Pump's name isn't an exaggeration. This petite little pump is a cylinder just 1.7 inches in diameter and 2 inches tall. It's small enough to carry in your pocket, and weighs just 2.82 ounces. As a result, it's viable to take with you anywhere. For example, you can keep it in your pocket while you're kayaking, just in case you start to lose pressure.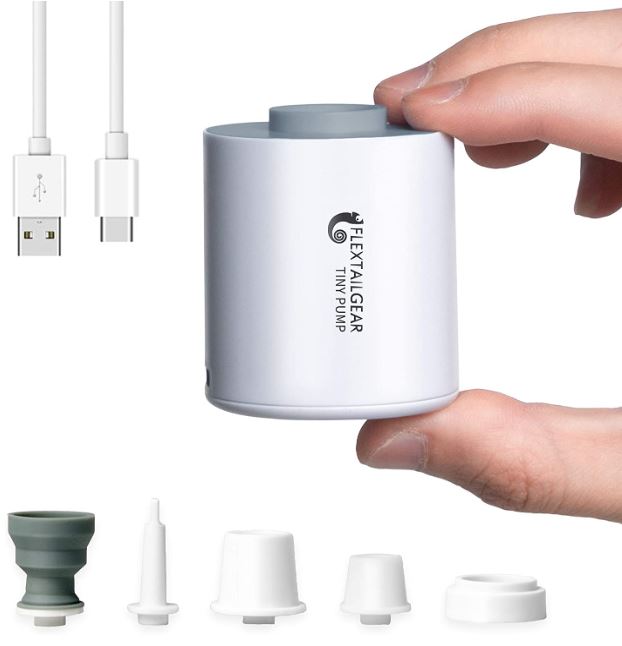 The housing is constructed from a durable matte plastic, and is available in four colors. You can buy it in grey, a darker "space grey," blue, or white. Of course color is irrelevant, but it's still nice to have options. There's a large intake opening on the top of the cylinder, with an outflow tube protruding from the side. You operate the pump with a single button, located on the bottom of the housing.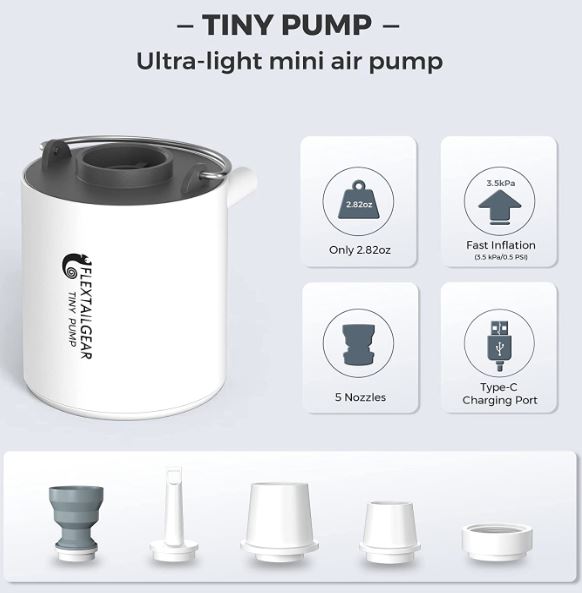 The kit includes five adapter tips for connecting to various devices. Three of these are tapered nozzles of varying diameters. Between them, you should be able to fill pretty much any inflatable you want to. You can inflate pool devices, along with inflatable beds, air mattresses, and other furniture. All of the tips are made from a durable ABS plastic and seal securely to the housing. Provided they're properly seated, you'll never have to worry about leakage.
In addition to the three inflation nozzles, you also get two deflation nozzles that attach to the large intake ring. The first has a wide, long, rubbery extension that can be used to deflate most devices. Put it over the inflation tube on your kayak, and it will be read for storage in no time. The second is a simple flat ring that's designed to attach to most standard vacuum bags. This allows you to use it as a vacuum sealer should you so desire.
Finally, you can order the pump with an optional camping light built into the bottom of the housing. Hang it from a lanyard, and you have a little lantern for your tent.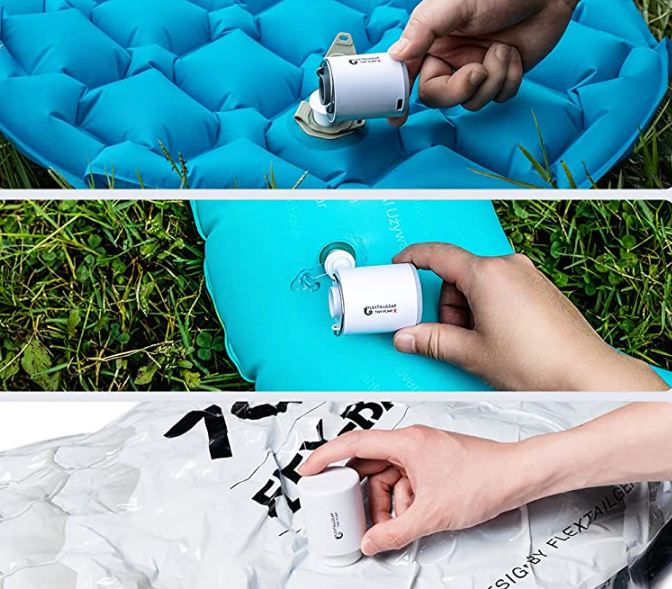 Pumping Capabilities
The FLEXTAILGEAR pump provides an impressive amount of pressure for the size. At 3.5kPa, it's enough to fill any mattress, raft, or kayak. Keep in mind, though, that it's designed for these kinds of low-pressure inflatables. It won't have enough pressure to fill your tires or sports balls. The wind speed of 180 liters per minute is somewhat more modest. That's a function of the pump's small size, which can only accommodate so much air at once.
The internal rechargeable battery has a capacity of 1,300mAh. That's enough for about 15 minutes of pumping operation. However, you shouldn't run it for more than 10 minutes continuously. It can overheat, and will eventually suffer permanent damage.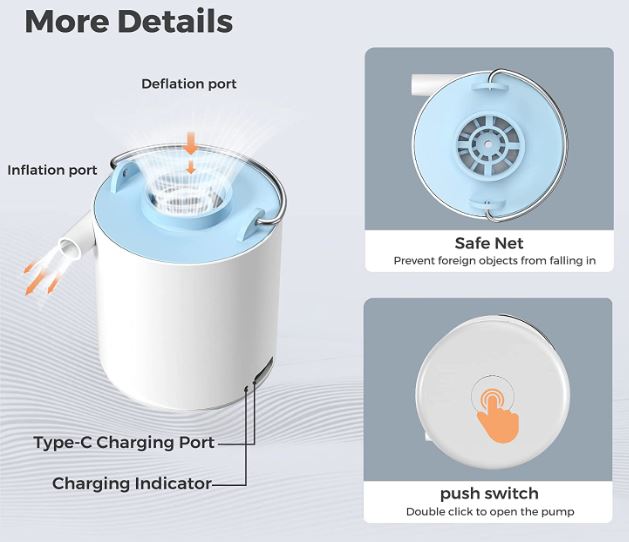 Not that you'd ever need to run it for that long. 15 minutes is enough time to fill around seven air mattresses. If you're only filling a single one, it will only take a hair over two minutes. In the grand scheme of things, that's not very long.
The battery charges via a USB Type-A to Type-C cable, which is included in the package. It will fully charge in around 2 ½ hours depending on your power supply.
If you need a more powerful battery-powered pump, there are options. Check out our list of the best cordless tire inflators. They're also meant to be portable, and can provide high enough pressure to fill your tires. On the downside, their batteries won't last nearly as long.
2. GIGA Pump Portable Air Pump
The GIGA Pump Portable Air Pump is almost as compact. It's a rectangular block, measuring 3 inches long, 2 inches wide, and 2 inches thick. At 5.9 ounces, it's a bit heavier than the last pump, but still not too heavy for your pocket. It's constructed from a matte plastic, so it's easy to keep clean and free of fingerprints. Not only that, but it's splash-proof, so it's safe to carry in your inflatable raft or kayak.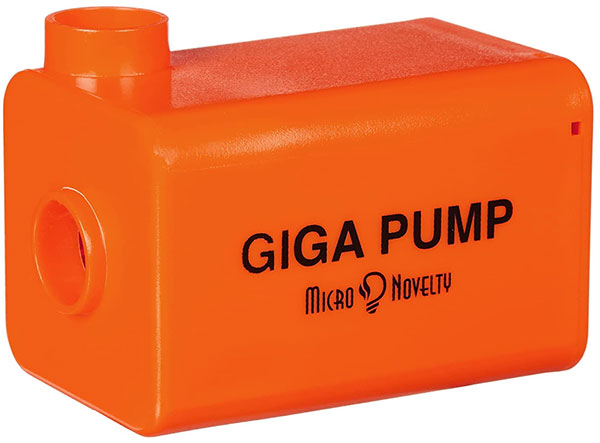 At the front end of the housing is a round intake valve where air gets sucked in. The outflow valve is located on the side, with a wide flange that protrudes from the body. An operating switch is located in the adjacent side, so you can toggle the pump on and off. Next to it is a USB Type-C charging port.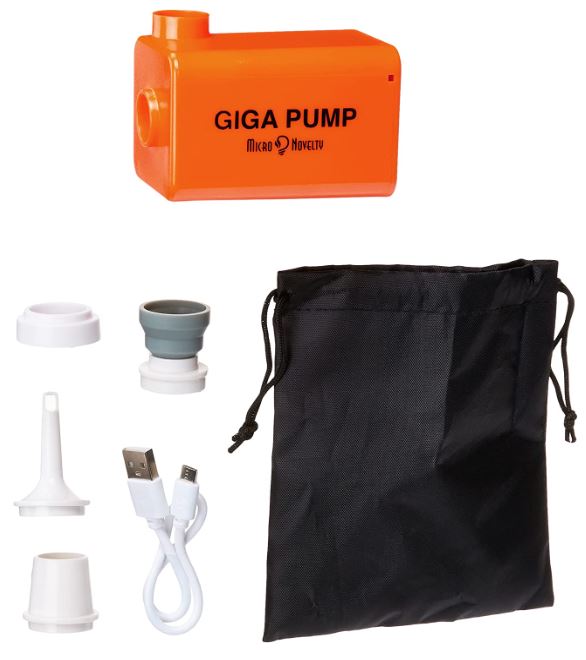 The GIGA Pump kit includes four different nozzles. Two of these are designed for inflation. One is narrow and slender, suitable for inner tubes and other smaller inflatables. One is significantly fatter, better suited for air mattresses. The other two nozzles are designed for deflation. One has a rubber tip for general-purpose deflation, and the other is designed for vacuum sealing bags.
Along with all that, you get a black drawstring pouch. It's nothing fancy, but it's a convenient way to keep all your bits and pieces together.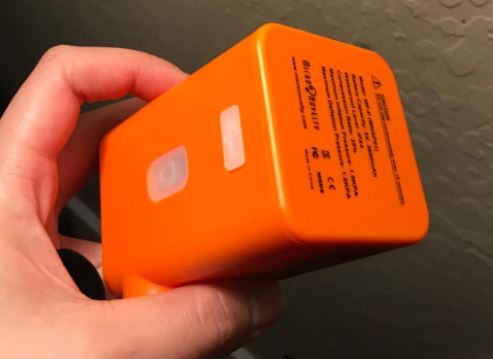 Pumping Capabilities
The GIGA Pump isn't quite as powerful as the last one. At 1.8kPa, it has about half the maximum pressure. This limits its usefulness as a vacuum sealer. However, you also get a much higher 265 liters per minute air flow. So for lower-pressure applications, you'll get significantly faster inflation.
The battery meanwhile, is pretty impressive. With 3,600mAh of capacity, it holds enough charge to run for a full hour. That's enough for it to fill 20 average-sized air mattresses. Keep in mind that it needs to rest after every 10 minutes of continuous use. Run it much longer than that, and you could damage the components. Charging via USB Type-C is easy, and takes approximately 5 hours.
3. Red Suricata Rechargeable Air Pump
The Red Suricata Rechargeable Air Pump is a little bit beefier, with a cylindrical housing constructed from red plastic. It measures 2.36 inches wide, 3.15 inches thick, and 4.72 inches long, with a weight of 7.4 ounces. While it's a bit big to carry in an ordinary pocket, it will still fit just fine in a cargo pocket.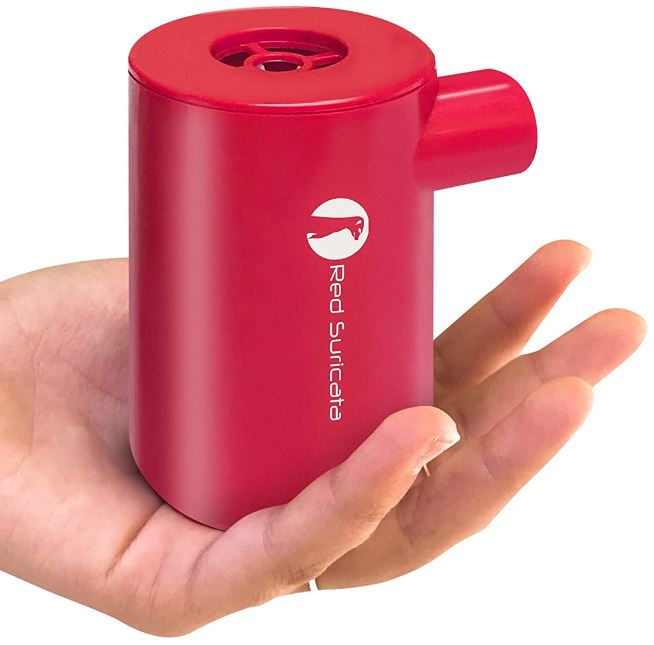 The intake valve is located at one end, with a long outflow valve protruding from one side. On the opposite side, you'll find a power switch and the Micro USB charging port.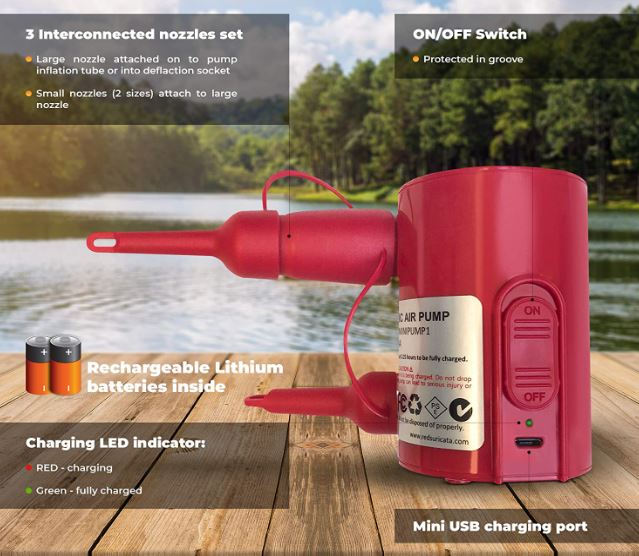 This pump is designed for inflation only, not deflation, and the nozzles reflect this. There are three smaller nozzles in various sizes, which are joined by a flexible plastic strip. There are also two larger nozzles which can be used to fill even the largest inflatables. You also get a red drawstring pouch to keep everything together.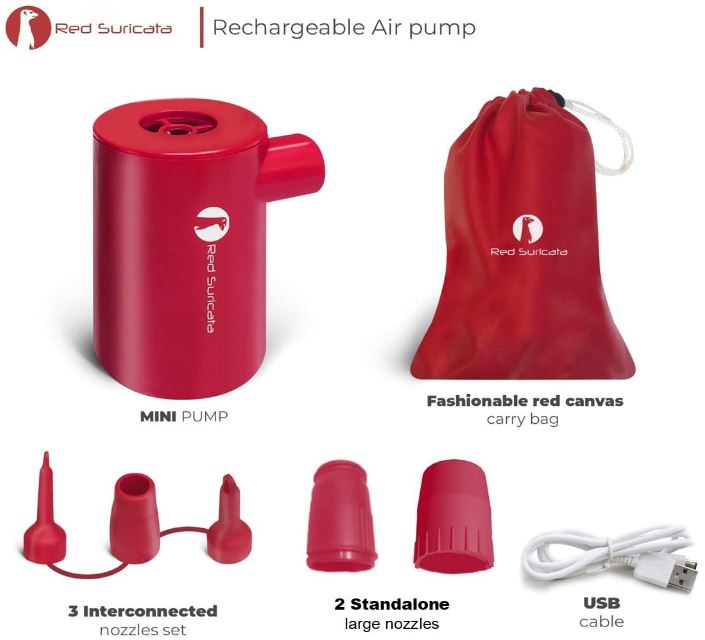 Pumping Capabilities
The Red Suricata pump has an impressive air flow rating of 549 liters per minute. That's enough to fill even a large raft or kayak in just a couple of minutes. On the downside, there's no pressure rating, but it seems to be a bit underpowered. When you fill most inflatables, you'll have to top them off with a manual pump to reach optimal pressure.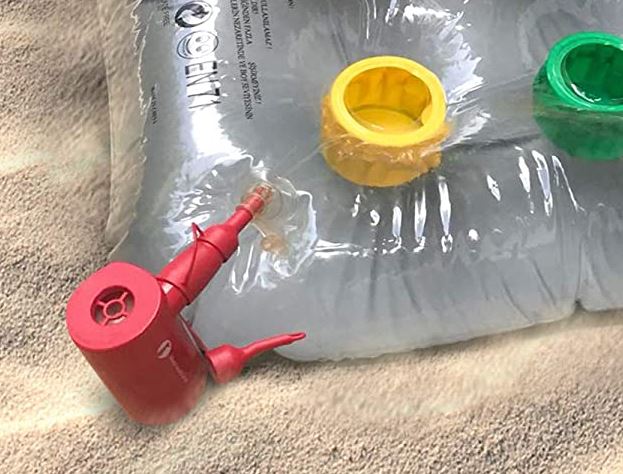 On the plus side, you get some impressive battery life. A single charge provides enough power for 40 minutes of use. That's enough time to inflate approximately 20 air mattresses. And with the Micro USB charging cable, you can get a full charge in just 3 hours and 15 minutes. A red indicator light will illuminate to show that you're charging. When the battery is done charging, the light will turn green.
4. WeeFeeStar Portable Rechargeable Air Pump
The WeeFeeStar Portable Rechargeable Air Pump has a different design altogether. Instead of being a small pod, it's shaped roughly like a pistol, measuring 3.7 inches high and 6.1 inches long. The pump housing itself is a vertically-oriented disc, located just in front of the hand grip.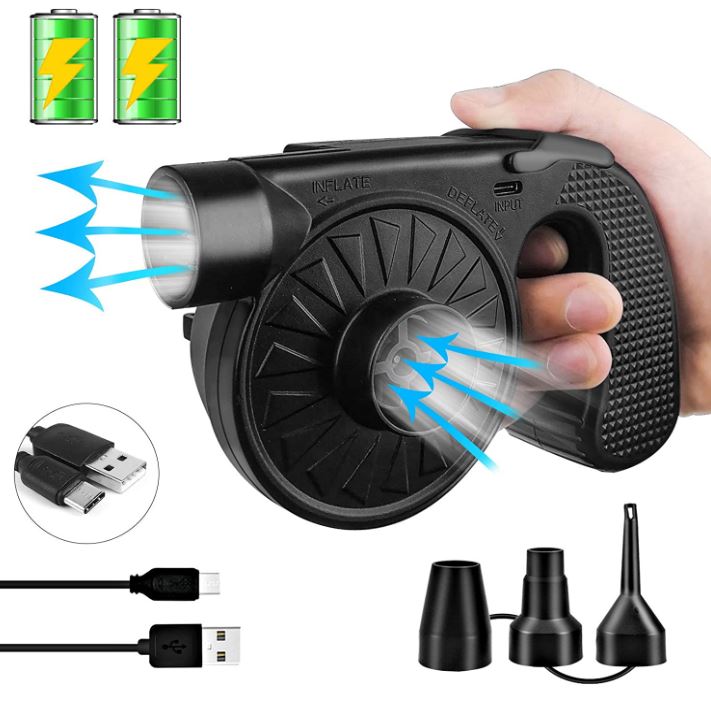 There's a hole on the side that acts as an intake vent. Outgoing air flows out the end of the "barrel." The control button is located near your thumb, with a flip-up cover to keep it from accidentally activating.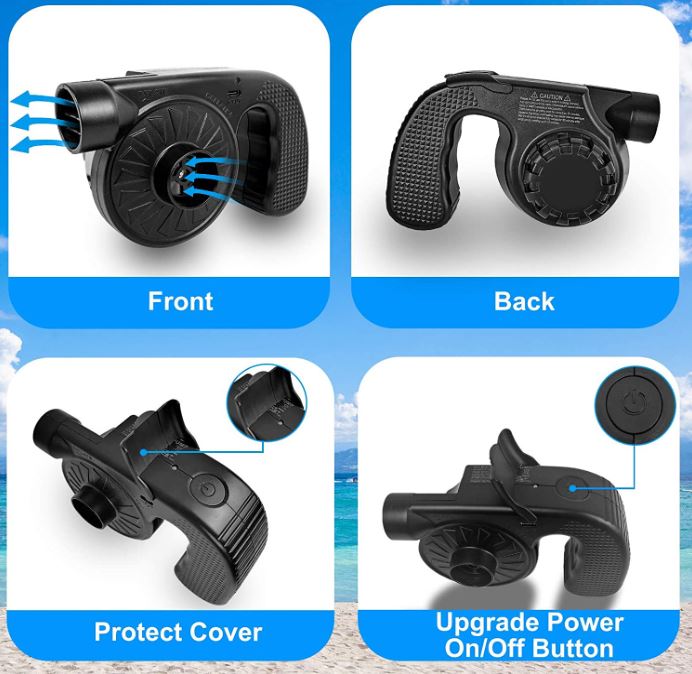 The kit includes three nozzles, which are capable of filling pretty much any inflatable device. You can put these same nozzles on the intake vent if you want to deflate your devices.
Pumping Capabilities
The WeeFeeStar pump has an impressive maximum pressure of 3.5kPa. That's enough to make an air mattress nice and firm, or fill out a kayak so it doesn't flex. There's no air flow rating, which is unfortunate. That said, air seems to move pretty quickly. You can fill a typical air mattress with about a minute of pumping.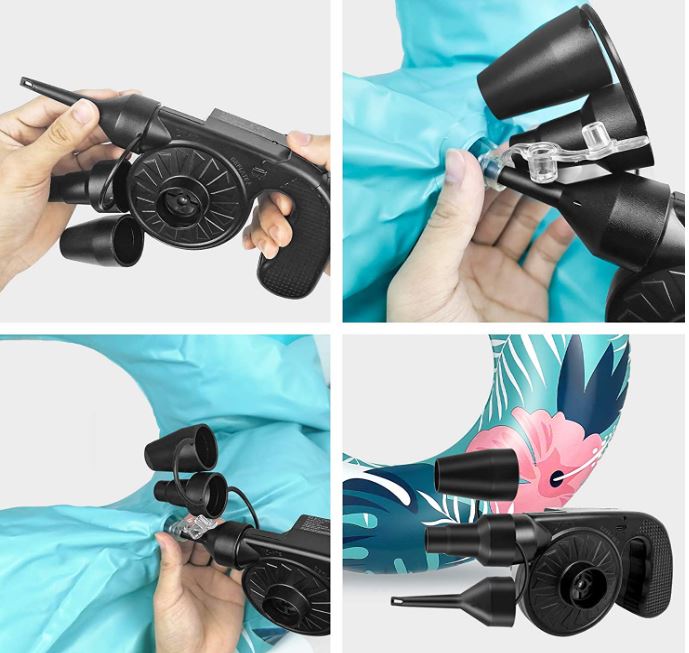 The 4,000mAh battery is fairly robust, and allows for about 20 minutes of use. That said, there's an auto-shutoff function that kicks in after 15 minutes. This is intended to prevent overheating so you don't accidentally ruin your pump. You can fully charge the battery in six hours via USB Type-C. The kit includes a short, 9-inch charging cable, so you have everything you need to get started.
Final Verdict
All four of these pumps can be an excellent choice in the right situation. But which one is the best choice for you? Let's go over what we've learned today.
We began by looking at the FLEXTAILGEAR Ultra-Mini Portable Air Pump. This is the smallest and lightest of the bunch, but it also has the lowest rate of air flow. That said, the suction level is surprisingly powerful, enough to use it as a vacuum sealer. And the battery, while small, puts out enough power for several inflation cycles.
Next up was the GIGA Pump Portable Air Pump. This is another ultra-small pump, albeit not quite as compact. It has a higher rate of air flow, so you can pump up your inflatables faster. On the other hand, it only has half the maximum pressure, so your applications are more limited.
The Red Suricata Rechargeable Air Pump was third on our list. This is a somewhat larger pump, and it can put out nearly 600 liters of air per hour. It doesn't provide as much pressure as the others, but it's still pretty versatile. With five inflation nozzles, you can fill almost any device.
Finally, we reviewed the WeeFeeStar Portable Rechargeable Air Pump. This is the largest and most powerful of the bunch, which makes it ideal for heavy-duty use. We also liked the design of the nozzles, which you can use on both the intake and outflow valves.