If you want the most powerful, full-featured phone on the market, it's tough to beat the iPhone 14 Pro. With even more capability than the base model iPhone 14, these are truly elite smartphones. And with its enormous screen and 1,290p resolution, the Pro Max is ideal for gaming and videos.
But no matter which one you choose, you're talking about an investment. Break your screen or camera lens, and it could get expensive. Even when you're still under warranty, it's inconvenient. You have to take your phone to the Apple Store and wait for them to fix it. If possible, it's best to avoid damaging the phone to begin with. A tempered glass camera lens protector can go a long way to preserving your investment.
We're about to review four of the best tempered glass camera lens protectors for the iPhone 14 Pro and Pro Max. If you don't have time for the full review, here's a quick preview: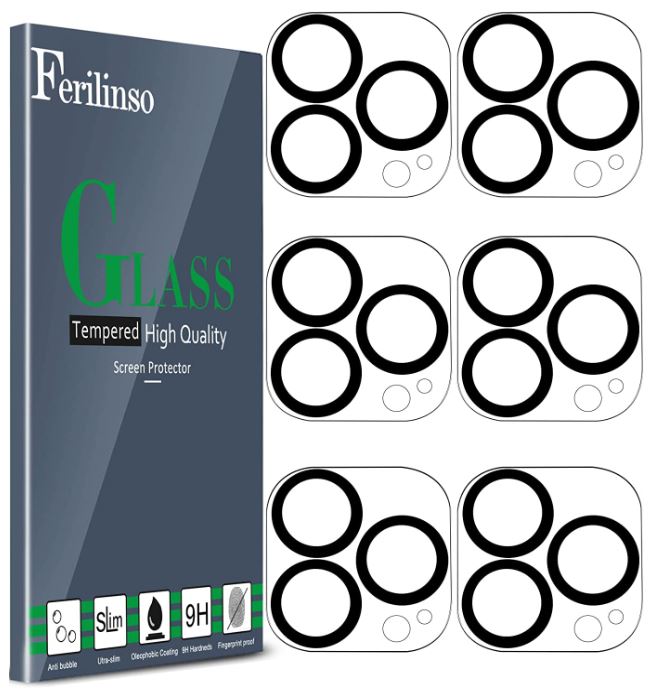 Ferilinso Camera Lens Protector for iPhone 14 Pro
The Ferilinso Camera Lens Protector for iPhone 14 Pro comes in two variants. The first is a 6-pack of single-piece lens protectors. This is a simple tempered glass cover with black rings around each lens.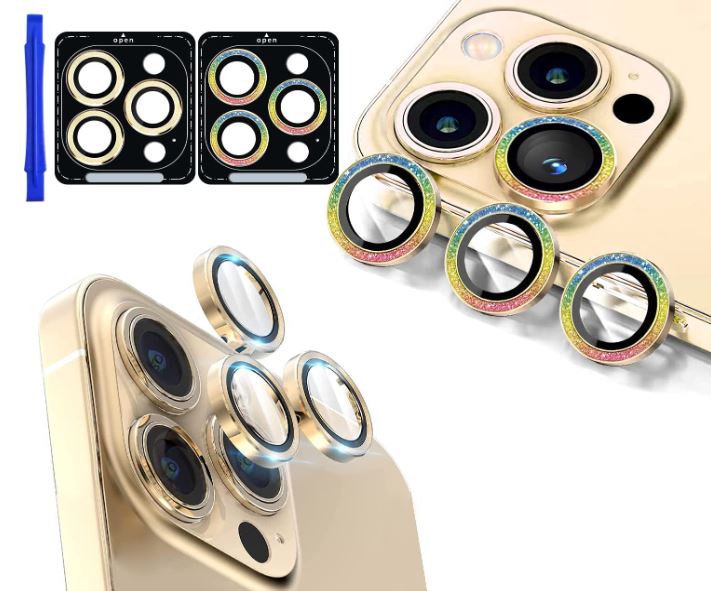 Alternatively, you can order sets of individual covers for each lens. These come in two sets of three, with different color combinations. There's a gold set that comes with a rainbow-covered, glittery gold set. There's a set of graphite and "colorful," which is rainbow chrome. There's also a silver set with a faux diamond-embedded alternate version. As you can see, you'll have plenty of cosmetic options.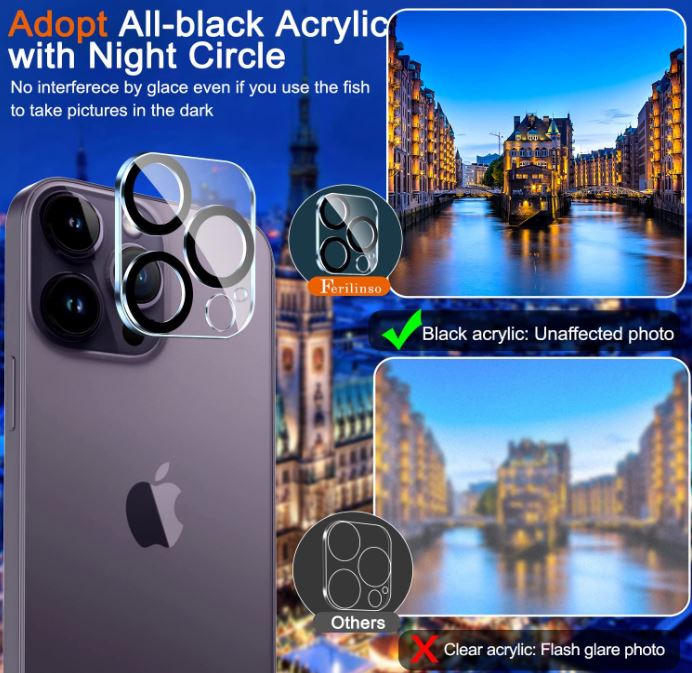 The black circles on the standard version is designed to prevent flash bleed-through. Light from the flash can sometimes obscure photos as it diffracts through a glass cover. The black portion absorbs this diffracted light so you can get pristine photos. This isn't necessary for the three-part version, since the glass is not continuous. Both versions incorporate ultra-clear glass that transmits 99.99% of light. Your pictures will look as if there's no cover at all.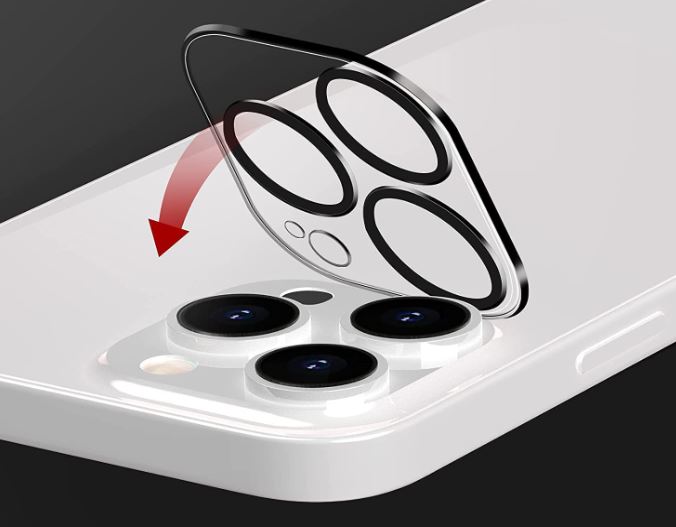 The glass has a hardness of 9H, which is the highest rating available. This doesn't mean it's 100% shatter-proof. But it's significantly tougher than your iPhone's camera lenses. Furthermore, the glass is coated with an oleophobic finish. If you accidentally touch it with your finger, it's not going to capture a print and cloud your images.
In the package, you'll find a small cleaning kit. As a result, you won't need any extra equipment to install the lens protector. Just wipe down the lens area on your phone, press down the protector, and you'll be all set. Even with no previous experience, installation should take just a few minutes.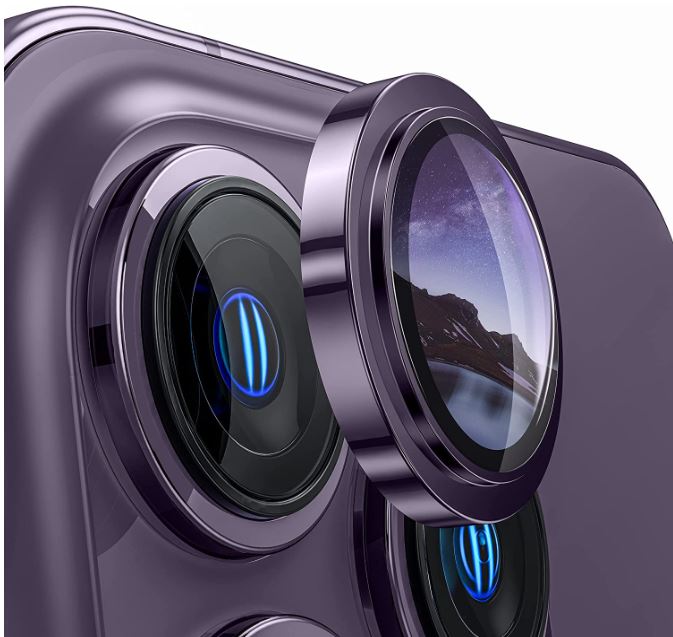 Hoerrye iPhone 14 Pro/Pro Max Camera Lens Protector
Hoerrye is a manufacturer we've dealt with in the past. Not long ago, we reviewed their Galaxy S22 Ultra Camera Lens Protector. It performed very well, and we kept Hoerrye in the back of our minds for future lens protectors.
The Hoerrye iPhone 14 Pro/Pro Max Camera Lens Protector has a simple, three-piece design. Each lens gets its own protector, with a little ring around it to provide some support. You can order it in different colors to match different iPhone housings. It's available in black, graphite black, silver, deep purple, gold, and "colorful," which is rainbow chrome.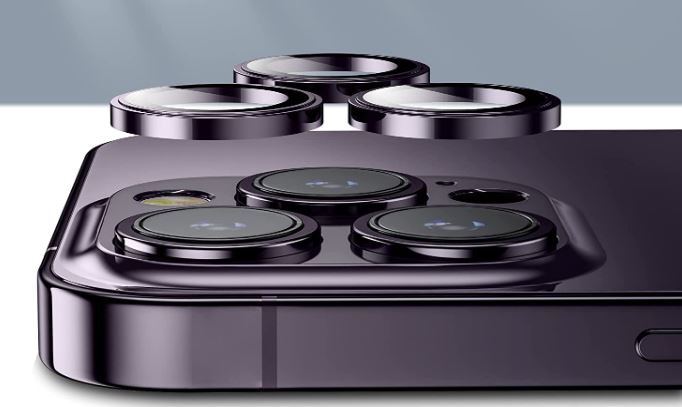 The 9H tempered glass is very hard and can handle a lot of abuse. It's engineered according to Apple's own lens specifications to produce minimal distortion. You'll see the same colors you would through the original lens without any cover. You'll also get great low-light performance, with 99.99% transmission of light in the optical wavelengths.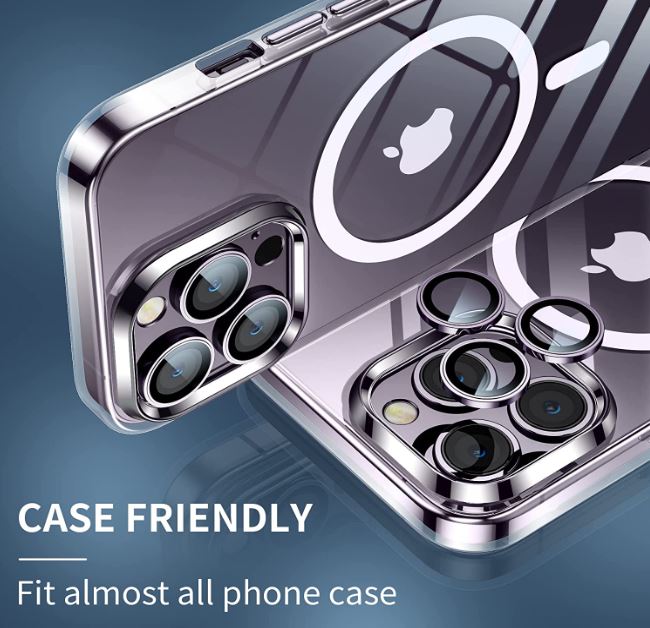 Along with the lens protectors, you get a little installation tool. This is a plastic frame that sits over the protectors. You can use it to press them all down at the same time, and it ensures that you get excellent adhesion.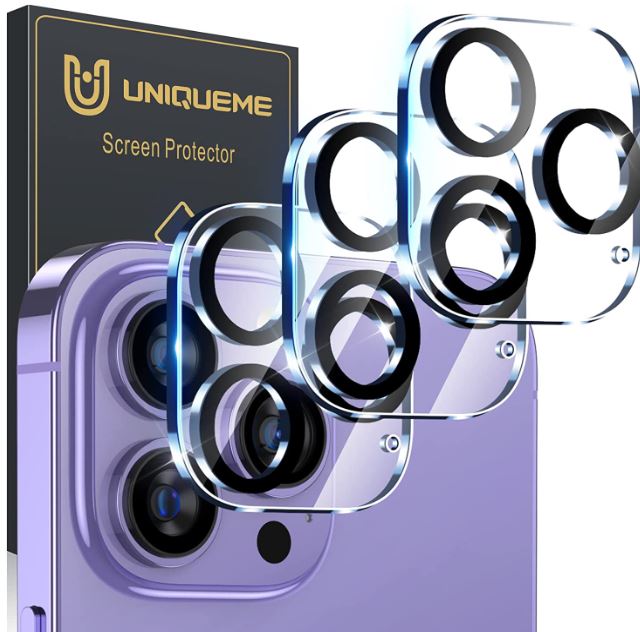 UniqueMe iPhone 14 Pro/Pro Max Camera Lens Protector
UniqueMe is well-known for their smartphone screen and camera protectors. In fact, we recently reviewed their iPhone 13 Pro Max screen protector. It worked well enough that we were excited to try more of their offerings.
The UniqueMe iPhone 14 Pro/Pro Max Camera Lens Protector is a straightforward single-piece protector. One piece of glass covers all of your lenses, with a small hole for the flash. This reduces light diffusion, but so do the black rings around your lenses. Between the two, you get astounding low light performance.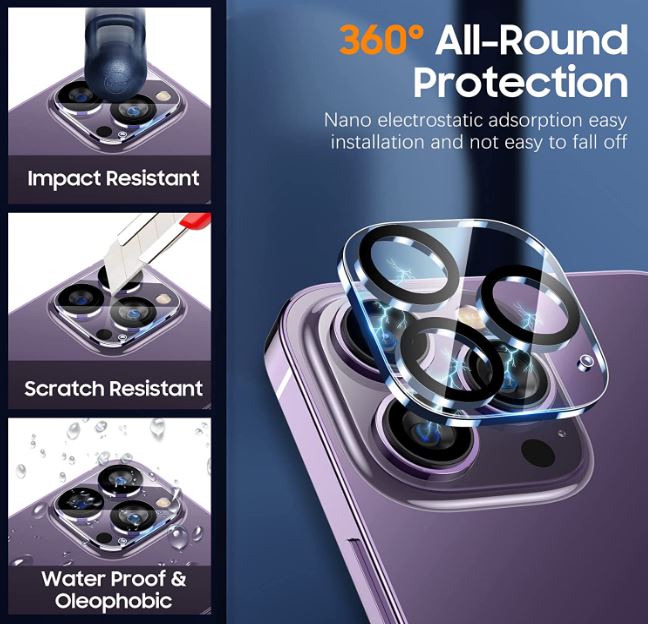 The glass has a hardness of 9H, like the rest of our choices. But it has a unique construction that makes it even more durable. The inner layer is glass to provide ideal light transmission. This inner layer is vacuum coated and bonded to a sapphire outer layer. Sapphire is more scratch-resistant than glass, which is why it's used on most quality watch crystals.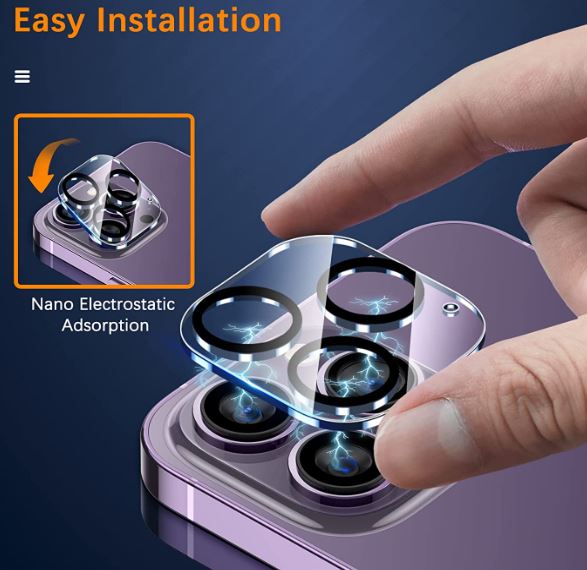 As an added benefit, you can order the UniqueMe protector for the base model iPhone and iPhone 14 Plus. No matter which Apple phone you're using, you'll be able to cover your lenses.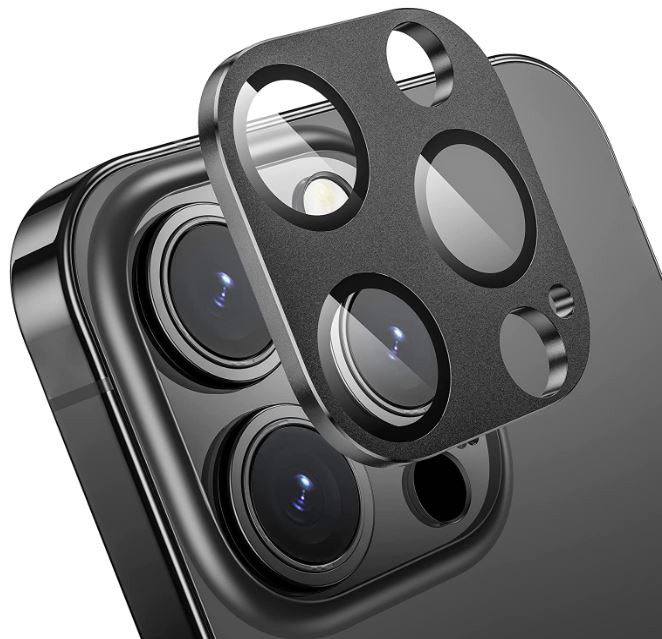 WSKEN iPhone 14 Pro/Pro Max Camera Lens Protector
The WSKEN iPhone 14 Pro/Pro Max Camera Lens Protector is the most robust of the bunch. It's a matte metal plate that covers your entire camera surface. There are cutouts for the flash and sensors, with tempered glass circles over your lenses. You can order it in five colors: black, silver, black and silver, gold, and purple.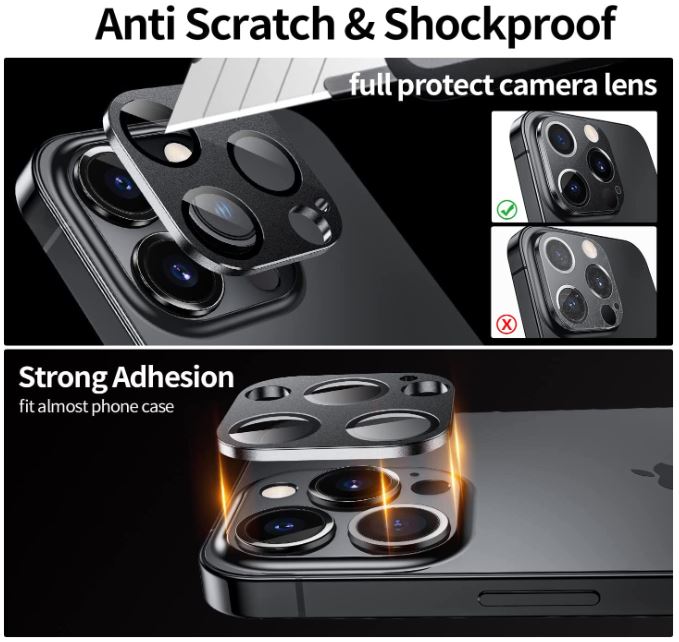 We had zero complaints about the glass quality. It has a 9H hardness rating, as well as an oleophobic coating to resist dust and fingerprints. The metal frame prevents any flash diffusion, and eliminates the blue tint that some covers can give your flash.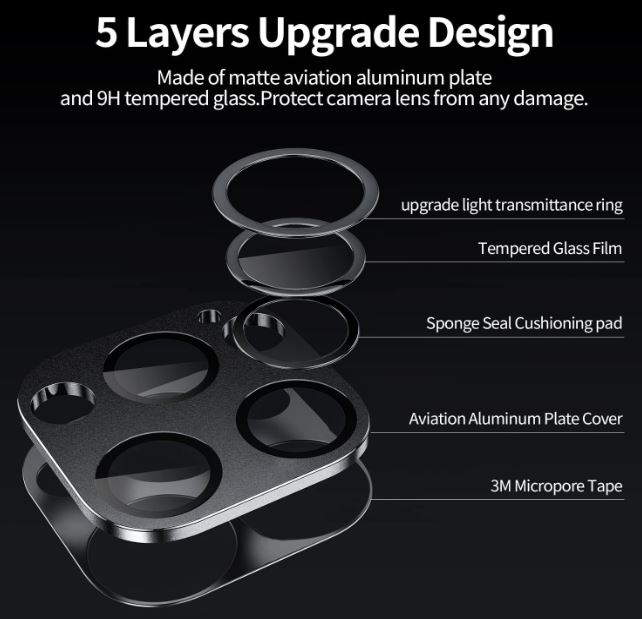 That said, the main attraction of the WSKEN protector is the metal frame. This makes it tougher than any cover that's made from glass alone. The metal even provides some protection for the glass in the cover. Unfortunately, it adds a bit of thickness. This will be a problem for many phone cases.
Choosing the Best iPhone Camera Lens Protector
Now that we've looked at our lens protectors, you may have some questions. Most importantly, what makes one camera lens protector better than another? First and foremost, you need the right fit.
If your protector isn't designed for your phone, it's not going to fit. Try to use a base model iPhone 14 protector, for example, and it won't work with your iPhone 14 Pro. Here are some other things you should keep in mind.
Glass Clarity
You rely on your camera lens to accurately transmit light from the outside world. If your glass has a tint to it, however slight, that's going to impact the quality of your images. At the same time, good camera glass needs to transmit as much light as possible.
This is less of a concern in broad daylight, since there's plenty of light coming in. But a cloudy or dull lens will absorb light and wreck your camera performance in low lighting. The best lens covers will be made from similar glass to the lens itself. That way, there's minimal change to the light going into your camera.
Glass Hardness
Glass hardness can be a bit confusing. Scientists use a measure called the Mohs Scale to measure the hardness of a material. The scale runs from 1 to 10, with 1 being extremely brittle, 5 being normal glass, and 10 being a diamond. However, tempered glass manufacturers use the H scale used for pencil hardness, not the Mohs Scale.
On the face of it, you'd think that a 9H tempered glass is harder than anything but diamond, but that's not true. It's just tougher than your typical glass. But how much tougher?
Perhaps the most famous tempered glass is Owens Corning's Gorilla Glass. It's famous for its durability and can withstand a 1.6-meter drop onto a solid surface. It's rated at 7 on the Mohs Scale, and you can expect comparable performance from most 9H tempered glass.
Installation Process
Most smartphone camera lens protectors will install pretty much the same way. There's a peel-and-stick backing covering an electrostatic adhesive, which sticks to your lens. Press down, and your cover is in place.
That said, installing your lens protector requires a steady hand, and you have to line it up properly. Mess up, and you'll weaken the adhesive and potentially create bubbles. Some lens protectors come with a frame or other tool to make the installation process simpler.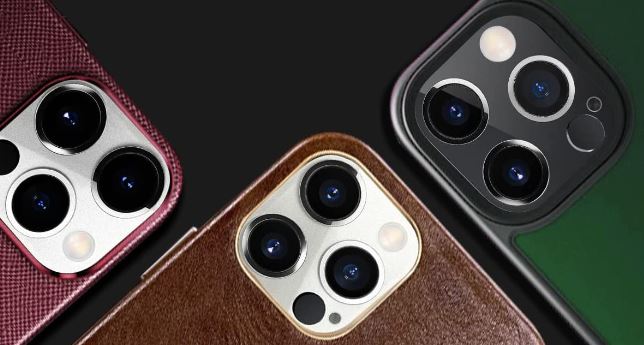 Installing Your iPhone 14 Pro or Pro Max Camera Lens Protector
So, how do you install your camera lens protector? The short answer is that you should check the manufacturer's instructions. Different protectors have their own quirks that you'll need to take into account. That said, here's a broad overview:
Clean your camera lenses – Use an alcohol wipe or alcohol-soaked Q-tip to clean your lenses. If your lens protector will cover the surrounding area, clean that area as well. Follow up with a dry microfiber cloth to remove any remaining dust.
Remove the protective film on your lens protector – Be careful when you do this. If you touch the sticky surface – or touch it to anything – it could lose effectiveness.
Apply the protector – Some camera lens protector have an installation tool to make this easy. If yours doesn't, press down on the protector, working from one end to the other. This way, you'll be less likely to create any bubbles. If you do end up with bubbles, take a microfiber cloth and apply more force to smooth them out.
That's all there is to it! But like we said, always read the instructions first.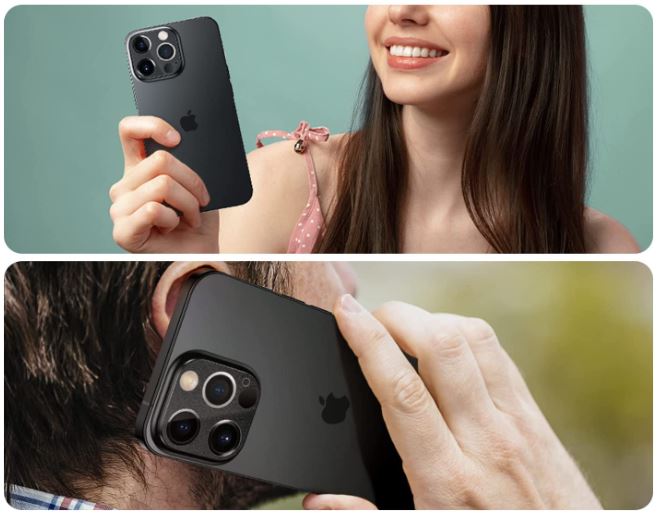 Final Verdict
Depending on your needs, any one of these iPhone 14 Pro and Pro Max camera lens protectors could be ideal. But which one is the right choice for you and your lifestyle? Here's what we've learned.
We began by reviewing the Ferilinso Camera Lens Protector for iPhone 14 Pro. This protector can be ordered in a one-piece or three-piece version, but that's just a cosmetic decision. More to the point, it's oleophobic and allows for clear light transfer. It's also very easy to install.
The Hoerrye iPhone 14 Pro/Pro Max Camera Lens Protector came next on our list. It has a straightforward three-piece design and can be ordered to match most iPhone cases. It uses glass that's near-identical to Apple's lenses to provide maximum color clarity. And the installation tool makes it very easy to set up.
After that, we looked at the UniqueMe iPhone 14 Pro/Pro Max Camera Lens Protector. This is a minimalist protector with a one-piece design. But just because it looks simple doesn't mean it's not worth buying. The glass does a great job of transmitting light, and the sapphire outer layer is exceptionally scratch-resistant.
We finished by evaluating the WSKEN iPhone 14 Pro/Pro Max Camera Lens Protector. This is the most effective protector of the bunch, with a fat metal frame. It also does a respectable job at light transmittance. On the downside, the frame might be too thick to fit under your phone case.