VANKYO Performance V700W
Pros
Very bright LED bulb.
Compatible with almost any video source.
Bi-directional Bluetooth connection.
5-watt Dolby stereo speakers.
Lens cuts down on blue light.
Cons
Maximum 1080p input resolution.
No USB Type-C input.
There's something nostalgic about watching a movie with a projector. Even if you're just in your living room, it feels more authentic than using a television. It can bring back fond memories of trips to the movie theater, so you can almost smell the popcorn.
Projectors are also more versatile. They're great for watching movies in the backyard, or even in a tent. Not only that, but you can create a much larger display. Maximum sizes of 15 feet or more are run of the mill for projectors. A TV that big would cost more than most people earn in a year.
Today, we're going to review the VANKYO Performance V700W. This is a bright projector that's suitable for use in pretty much any location. It also boasts a set of 5-watt Dolby speakers, and several other nifty features. But is it going to meet your needs? That will depend on many factors. Let's take a closer look, and find out.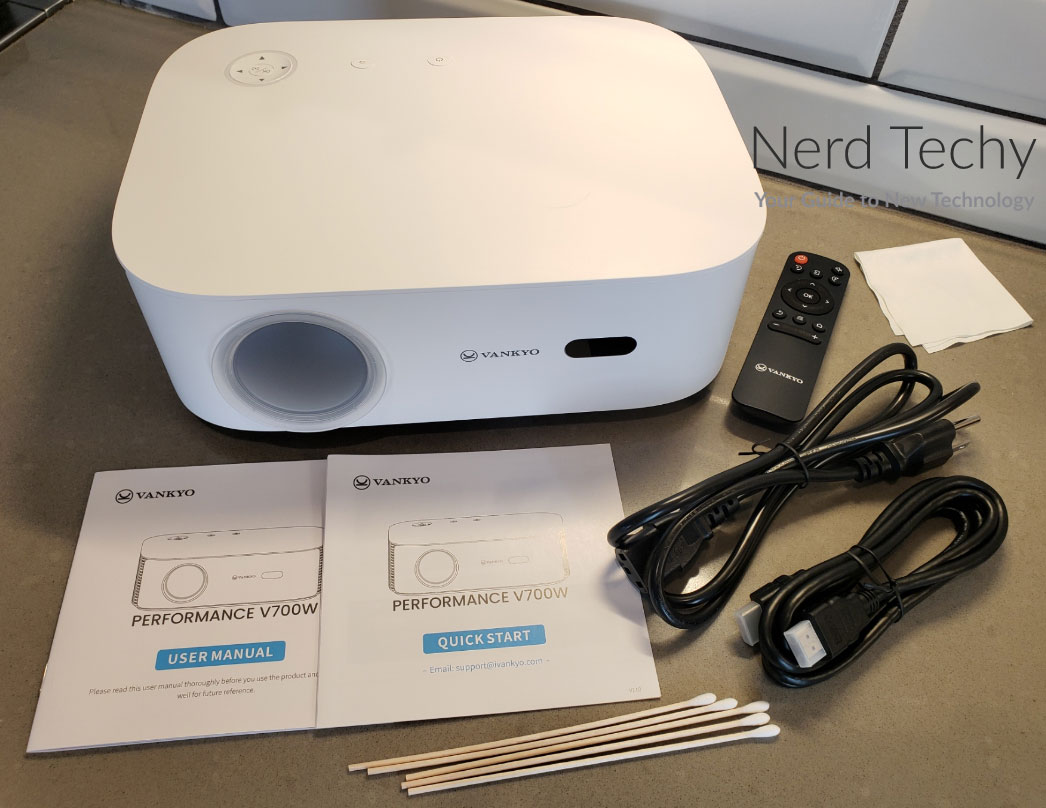 Overall Design
The VANKYO Performance V700W is roughly rectangular in shape, but it's slightly rounded off at the corners. The housing is mostly white, with an easy-to-clean matte finish. It's easy on the eyes, and will match well with most other electronics.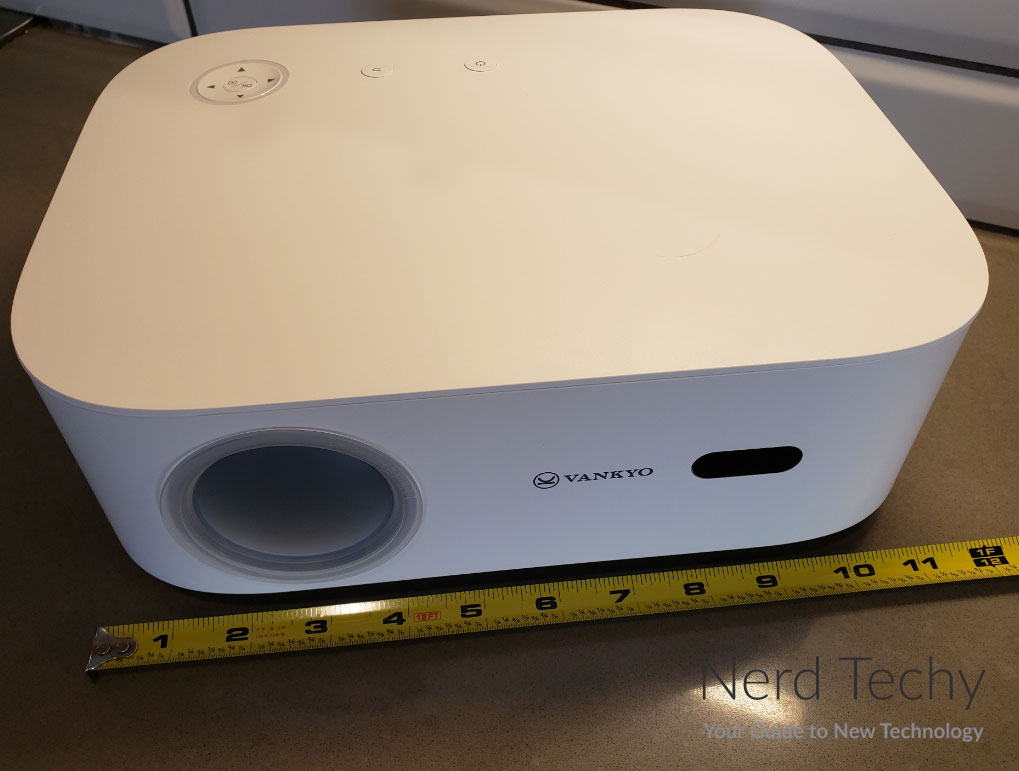 The side panels, on the other hand, are black, with horizontal louvers through them. These louvers allow for a generous amount of air flow. A set of fans pulls air through the housing when the projector is in operation, keeping it cool. The fans are relatively quiet. When your movie's audio is playing, you won't even hear them whirring.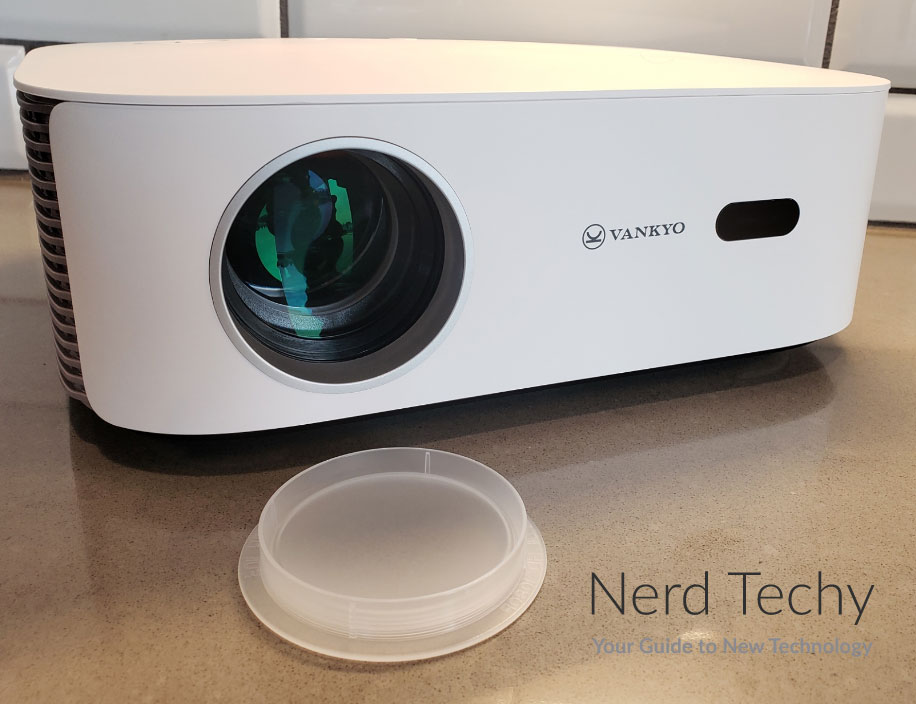 On the front of the housing, to the left, you'll see the lens. Unlike a lot of projectors, the lens is recessed into the housing, a feature we very much appreciate. It's harder to accidentally burn yourself than it is with a lens that protrudes from the housing. To the right of the lens is a sensor for the handheld remote. Next to the sensor is a small Vankyo logo and imprint.
The power input is located on the back of the housing. It accepts a three-prong AC cord, which is included in the package. Next to the power plug is an on/off switch that controls power to the LED bulb. Shutting it off will prevent the projector from drawing a trickle of current when you're not using it.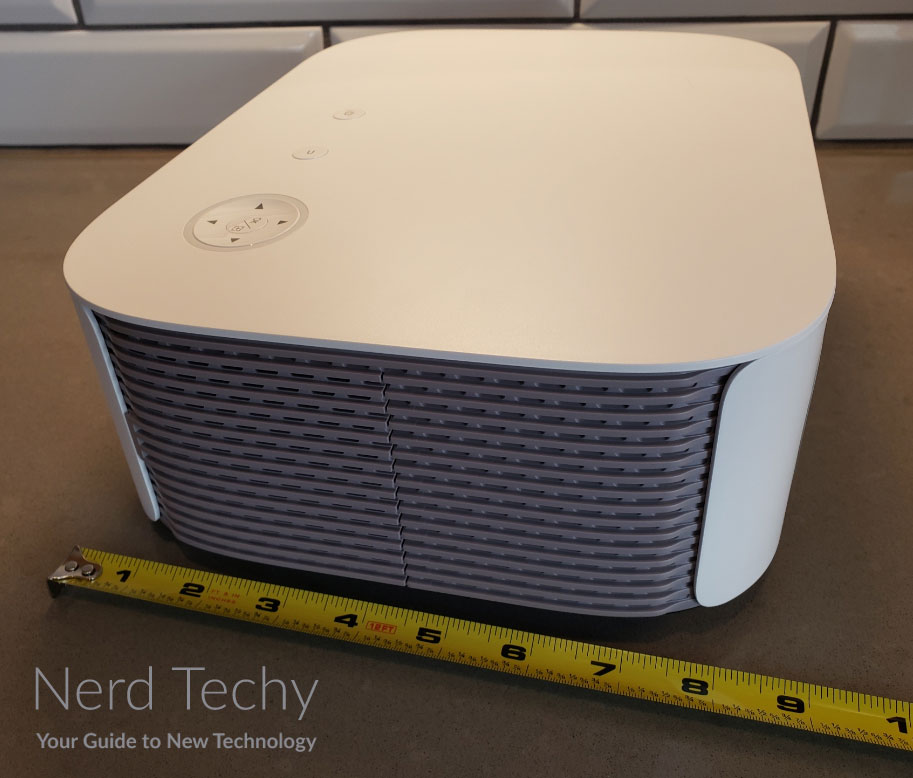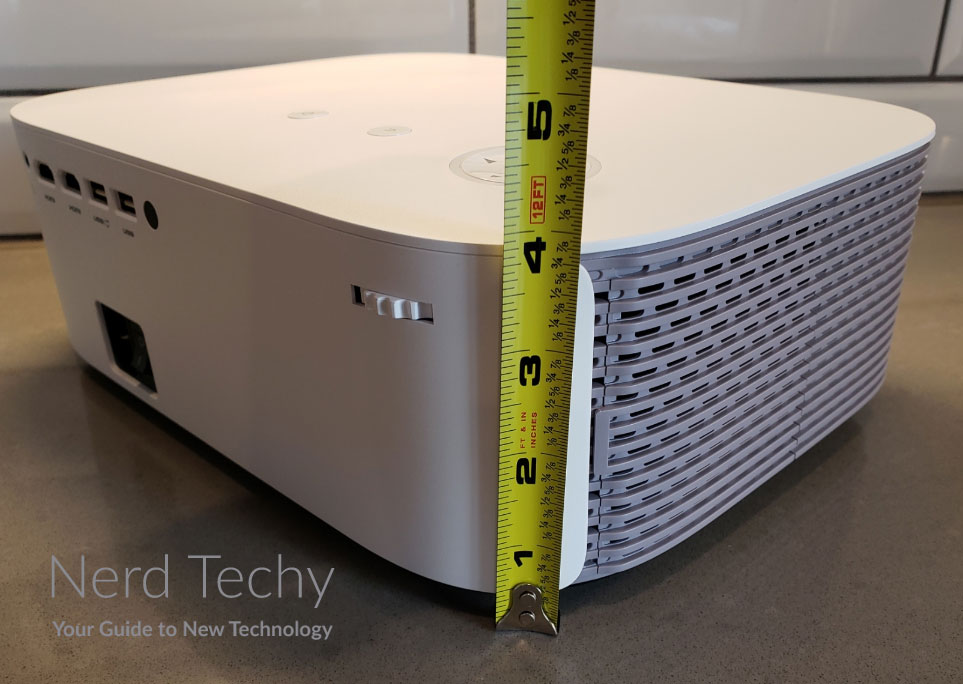 VANKYO offers an impressive three-year manufacturer's warranty. That's longer than you'll get for most home projectors, and it adds a lot of value. If anything fails prematurely, you'll be fully protected.
If you want a smaller projector for use on the road, look no further than the VANKYO Leisure 470 Pro. It's more compact and portable, and is designed for travelers. Even so, it offers similar color quality and sharpness to the Performance V700W.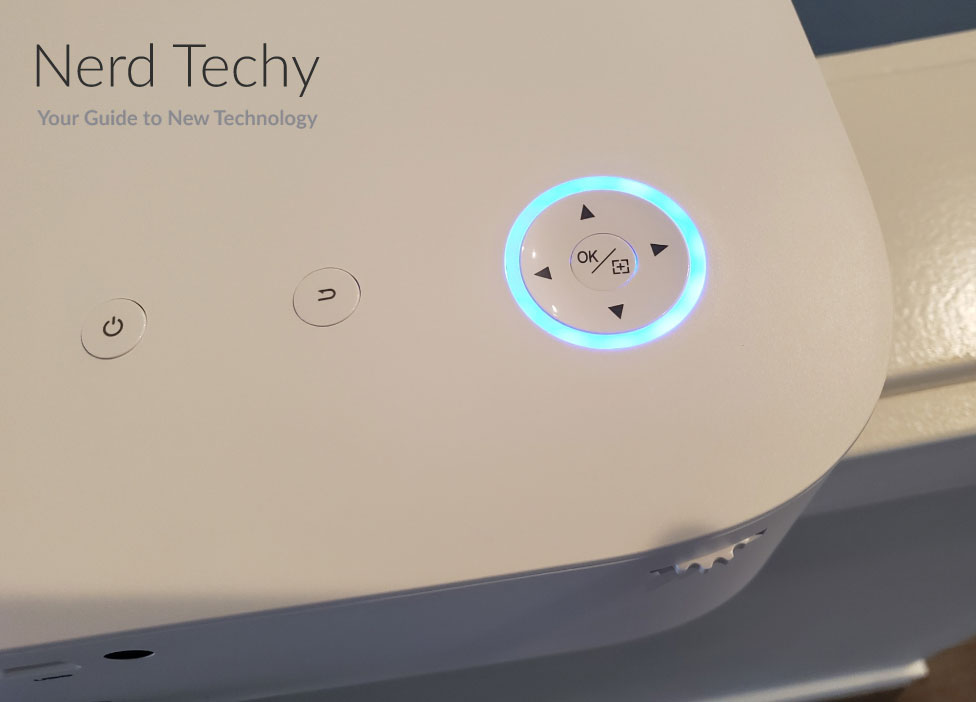 Built-in Sound
The Performance V700W offers superior sound to most home projectors. The dual 5-watt speakers provide plenty of volume for watching a movie in your living room. The speakers use Dolby Digital Plus technology for crystal clear audio.
And since there are two speakers, you're getting true stereo sound. You may not get rich bass like you would with an external speaker, but they're surprisingly powerful, considering their size.
Controls
The control buttons are located on top of the projector. They're white like the rest of the housing, and they're physical buttons that click, not soft touch buttons. That's a good thing, since it's harder to accidentally press one in the middle of your movie. The power button is located at the rear center of the unit. With a back button located to its right. Further to the right is a set of four buttons arranged in a circle around a central selection button. These are used to navigate the menu and change your projector's settings.
For most people, it will be easier to use the handheld remote. This allows you to adjust the volume, control the focus, change the color balance, and make other adjustments. You can also use the remote to select your input source and switch between different devices. The remote is pretty intuitive, and looks like any TV remote.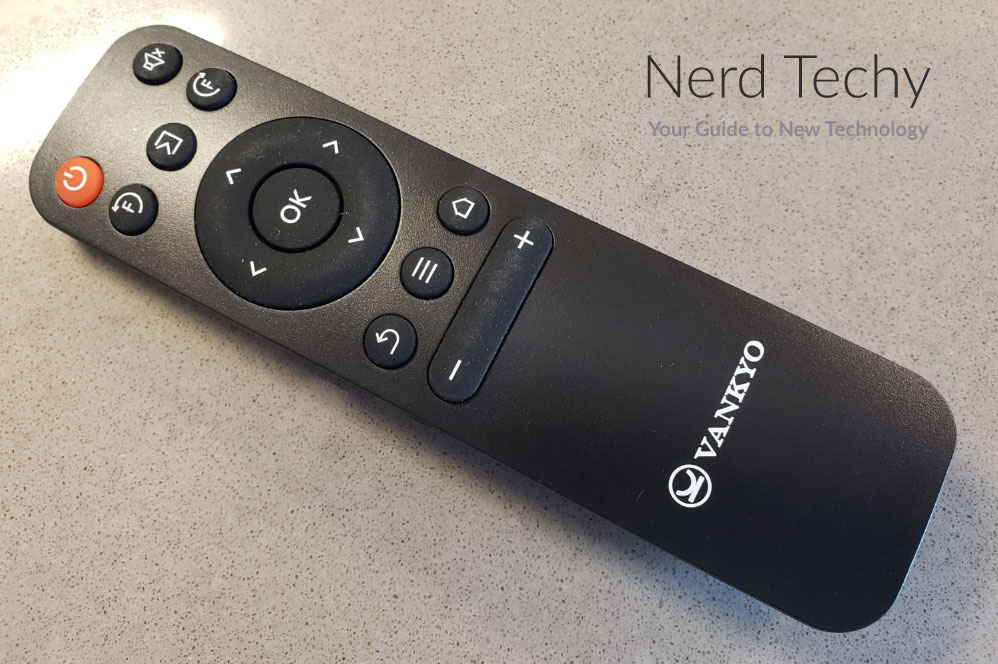 In most cases, your projector won't be pointed at the screen at a perfect 90-degree angle. That's not a problem. At the back right of the housing is a keystone adjustment wheel. Roll the wheel, and it can adjust the keystone by up to 15 degrees in either direction. That way, you'll have a clean, rectangular image.
In addition to all this, there's a manual zoom function on the remote. With most projectors, you control the image size by moving it further from or closer to the screen. With the V700W, all you have to do is press a button and you'll get the size you want.
If you want a slightly different control scheme, look no further than the VANKYO Leisure 495w. It has a manual focus dial instead of a remote function, which feels a bit more organic. You'll get similar resolution and color clarity, but less brightness and less powerful speakers.
Connectivity
All the V700W's video inputs are located on the back of the projector. At the left, you'll find a pair of HDMI ports. These can be used to connect to a Blu-Ray player, laptop, or game console. Next to these are a pair of USB ports where you can connect a thumb drive or external hard drive. The projector supports most video formats, including MP4, AVI, XVID, MKV, MOV, and H.264. You don't need any special decoder.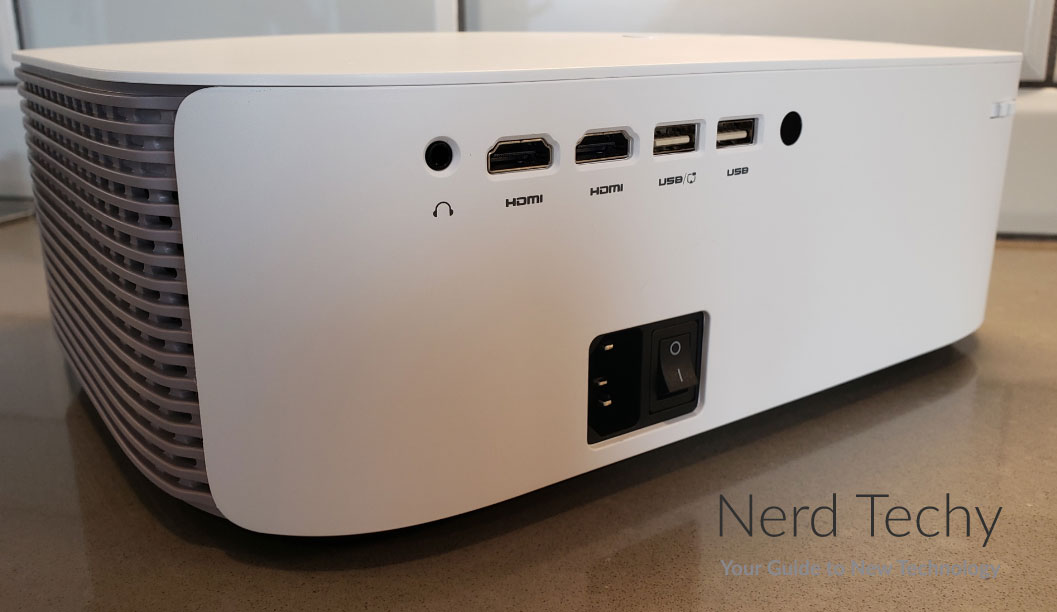 Unfortunately, there's no USB Type-C input, so you can't plug in your tablet or smartphone. On the plus side, there's no real need for a USB Type-C port. Instead, you can connect your phone or tablet via WiFi. Connect the projector to your home's WiFi network, then use Apple AirPlay or Google Chromecast. When you press the cast button, it will show up in your device's menu as if it were a TV.
Best of all, the V700W supports dual band WiFi. It utilizes both 5G and 2.4 GHz to assure that there is no transmission delay. With high-demand media such as mirroring your smartphone's screen, watching a movie or playing a game, you can always expect no lag.
This projector also supports bi-directional Bluetooth 5.1. You can connect a set of wireless earbuds or speakers to listen to your movie's audio. Or you can use the projector itself as a Bluetooth speaker for your smartphone. Because Bluetooth 5.1 has less latency than earlier versions of Bluetooth, it's even suitable for gaming. There won't be any latency between what you see on-screen and what you hear.
Alternatively, you can use a set of wired headphones or speakers. There's a 3.5mm aux port next to the HDMI ports that will accept a standard audio plug.
Video Quality
There are two measurements for projector resolutions: supported and native. Supported resolution is the maximum resolution of the video source. Native resolution, on the other hand, is what the projector is capable of.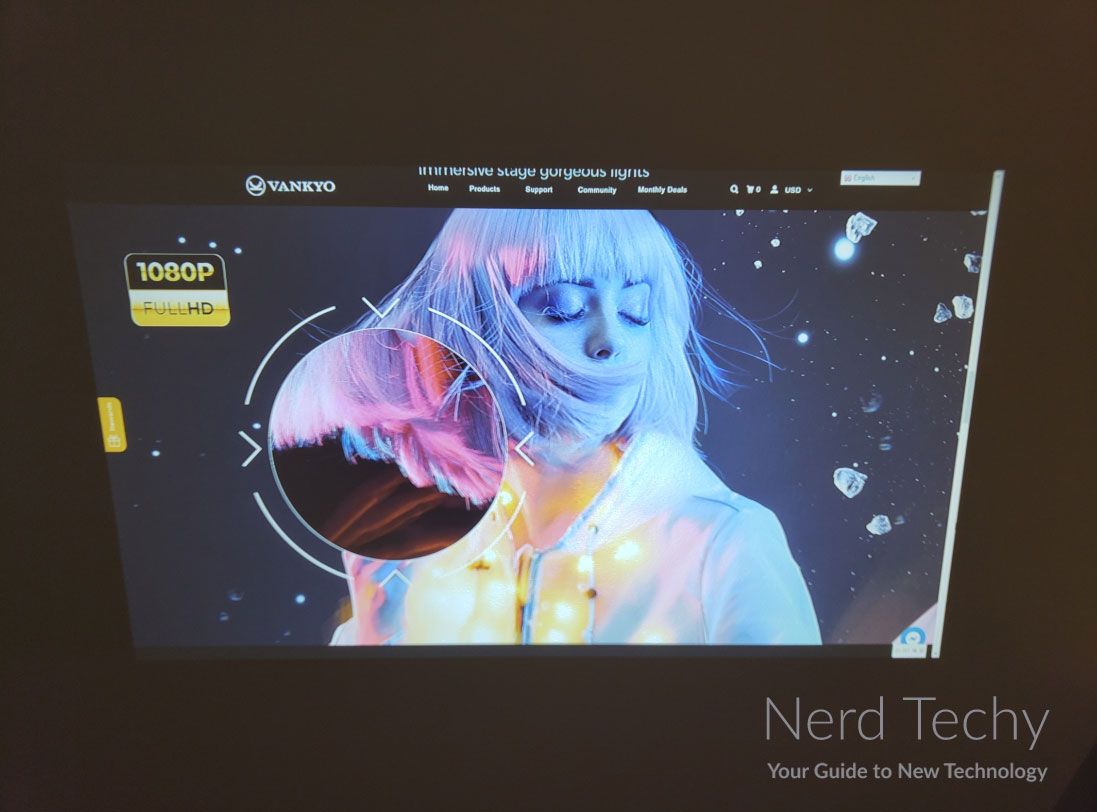 In the case of the Performance V700W, both numbers are the same. It has a native and supported resolution of 1080p. That's par for the course with today's projectors, and 4K is still unusual. Unfortunately, without 4K support, you may have trouble playing Blu-Ray discs. If your player can't output a 1080p signal, you'll be out of luck.
If you need 4K support, check out the VANKYO Leisure E30. It also has a native resolution of 1080p, but supports 4K inputs. It also has a ±50% keystone adjustment, which allows for all kinds of unusual placement options. On the other hand, the speakers are underwhelming by comparison.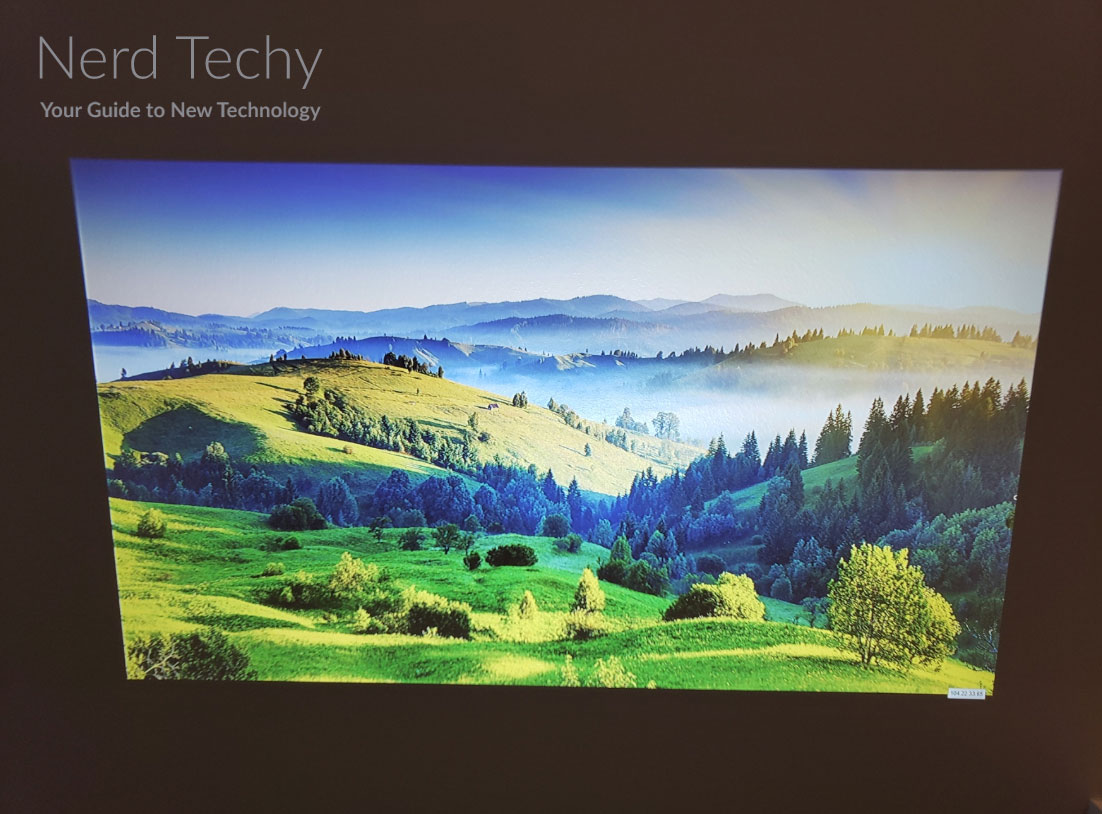 We were very pleased with the brightness of the V700W. It outputs 420 lumens, which is on the brighter end of the spectrum. This allows you to create an enormous image by moving the projector far back from the screen. At maximum, the screen can expand to 224 inches, or more than 18 feet.
The contrast ratio of the video is 1,000:1. This is the ratio between the brightest and darkest tones on the display. The higher the contrast ratio, the better you'll be able to make out dark scenes and images. When we look at any display or projector, we look for a ratio of at least 1,000:1. If we find it, we're very happy.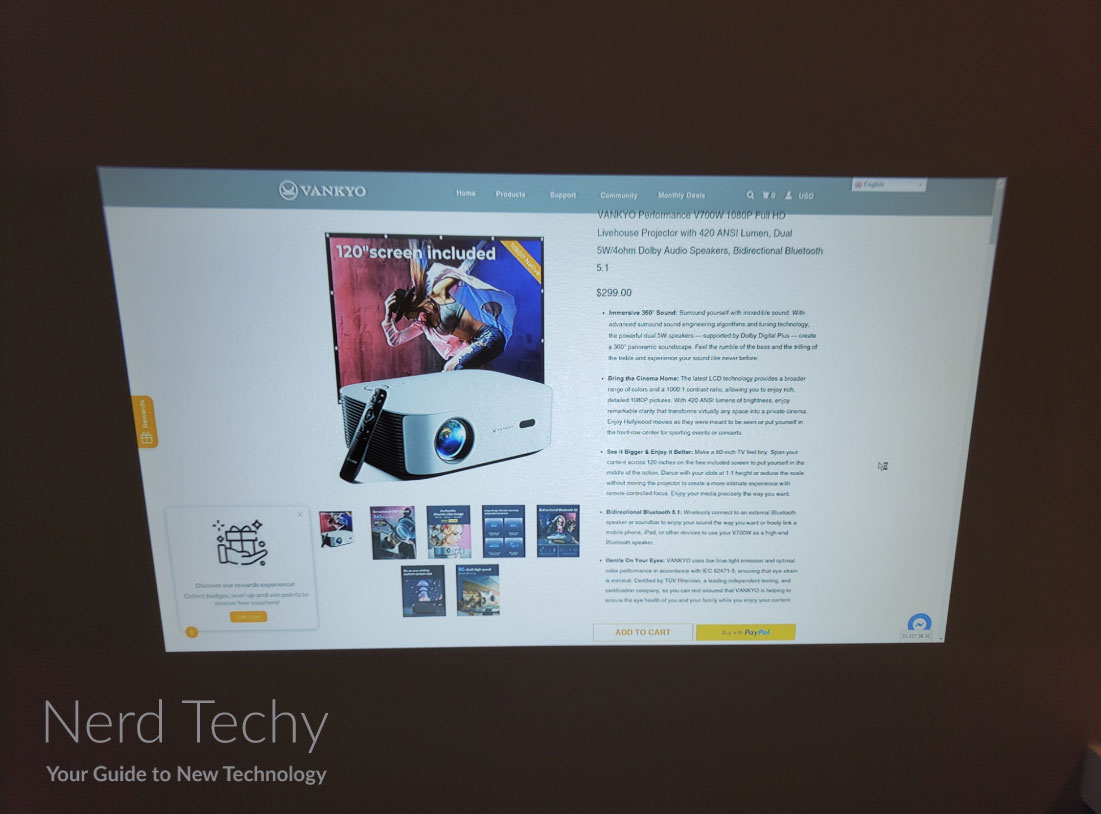 The V700W doesn't have to be used as a head-on projector. Using the menu, you can invert the image and use it as a rear projector. You can also flip the image vertically and attach the projector to a ceiling mount.
Extra Features
The lens offers blue light eye protection. It's a great feature if you're using the projector before bed. Since there's less blue light, you aren't signaling your brain that it's time to be awake. This isn't a feature we normally see with projectors, so it's definitely a nice bonus.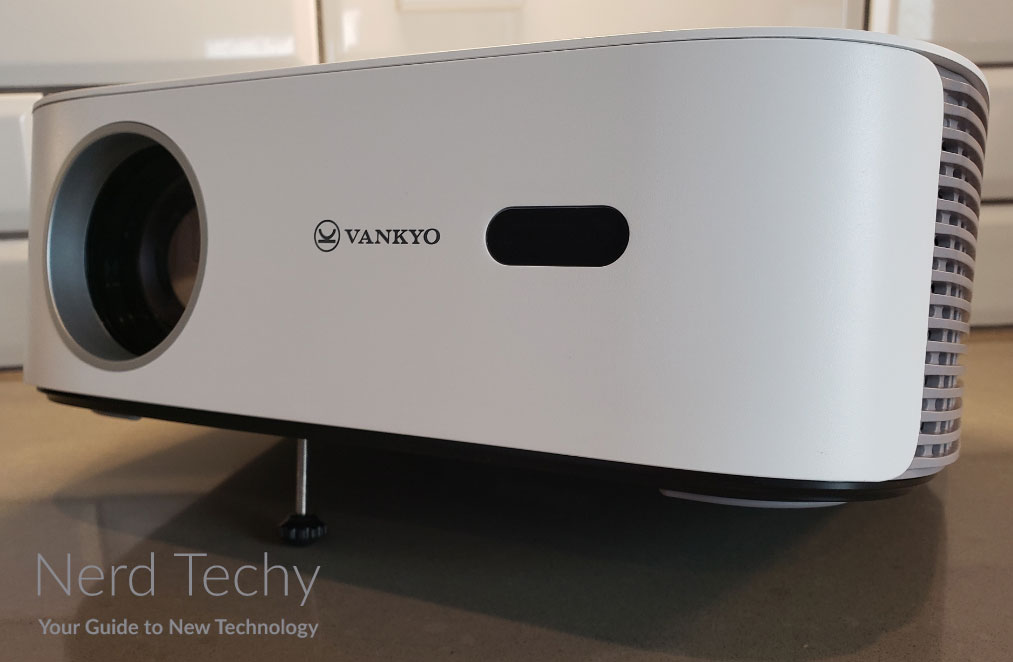 Along with the V700W itself, the package includes a 120-inch projector screen. As screens go, it's reasonably good quality, with a bright white finish that reflects accurate colors. The edges are reinforced with sturdy black nylon that won't tear easily. And there are grommets sewn into this nylon band that make it easy to mount. If you don't already own a projector screen, you won't have to buy one.
Finally, we should take a minute to acknowledge the packaging. VANKYO uses a special cardboard that's designed to minimize paper use, and a bare minimum of plastic. The ink on the packaging is even biodegradable and soybean-based.
Final Verdict
The VANKYO Performance V700W is a well-designed projector in most respects. Beginning with the physical build, we liked the recessed lens and sleek build. We also appreciated the quality of the air ventilation and the relatively quiet fans.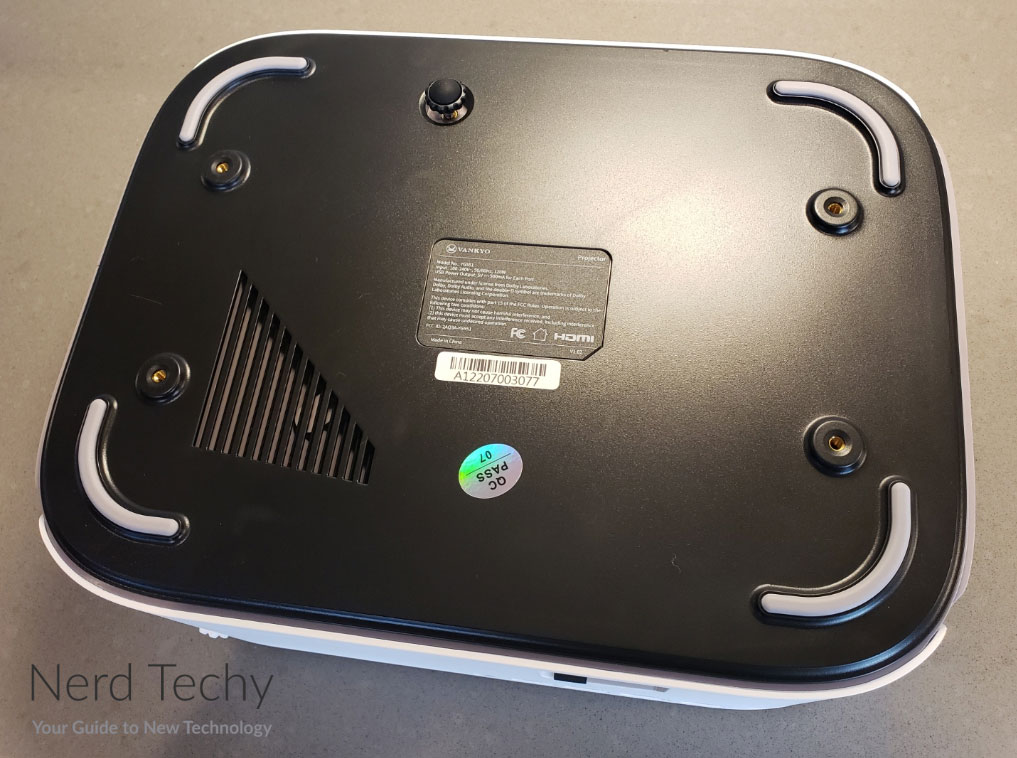 Controlling the projector is easy. In addition to the on-board buttons, the remote offers all the functionality you could desire. There's even a manual zoom function, which you don't find on many home projectors. Meanwhile, it's simple to connect just about any device. With HDMI, USB, WiFi, and bi-directional Bluetooth, the Performance V700W has you covered.
As for video quality, we had no complaints. Images are crisp, colors are vibrant, and the lens is incredibly bright. You can use this device as a rear projector if you want to, or ceiling-mount it for office use. And with the included projector screen, you'll have everything you need to get started.