Uber Appliance Air Fryer XL Deluxe
Pros
Relatively large capacity for the size.
Easy to operate.
Auto-shutoff when cooking basket is removed.
Dishwasher-safe for easy cleaning.
Produces crispy, perfectly cooked food.
Cons
Basket insert falls out when you dump out food.
Glossy finish attracts fingerprints and grease.
Draws a lot of power.
Everyone loves the taste of fried, crispy foods. But we also know that deep frying is incredibly unhealthy. If you're at all health-conscious, you most likely view deep fried foods as a treat. They're something you eat once in a while when you're craving the perfect fries or chicken wings. But what if you could get the same crisp, delicious results with a small fraction of the oil?
An air fryer is the solution to your problems. With just a splash of oil, the air fryer uses convection to cook your foods more quickly than an oven. When your food is finished, it's virtually indistinguishable from the deep fried equivalent. And when you clean up, you don't have to dispose of a bunch of frying oil.
Note: At no extra cost to you, we may earn a commission for purchases using our links. Learn more.
Today, we're going to review the Uber Appliance Air Fryer XL Deluxe. This is a large air fryer with an impressive 5-quart cooking capacity. But what else does it have to offer, and is it going to be a good fit for your kitchen? To answer those questions, we'll need to give it a thorough evaluation. Let's begin!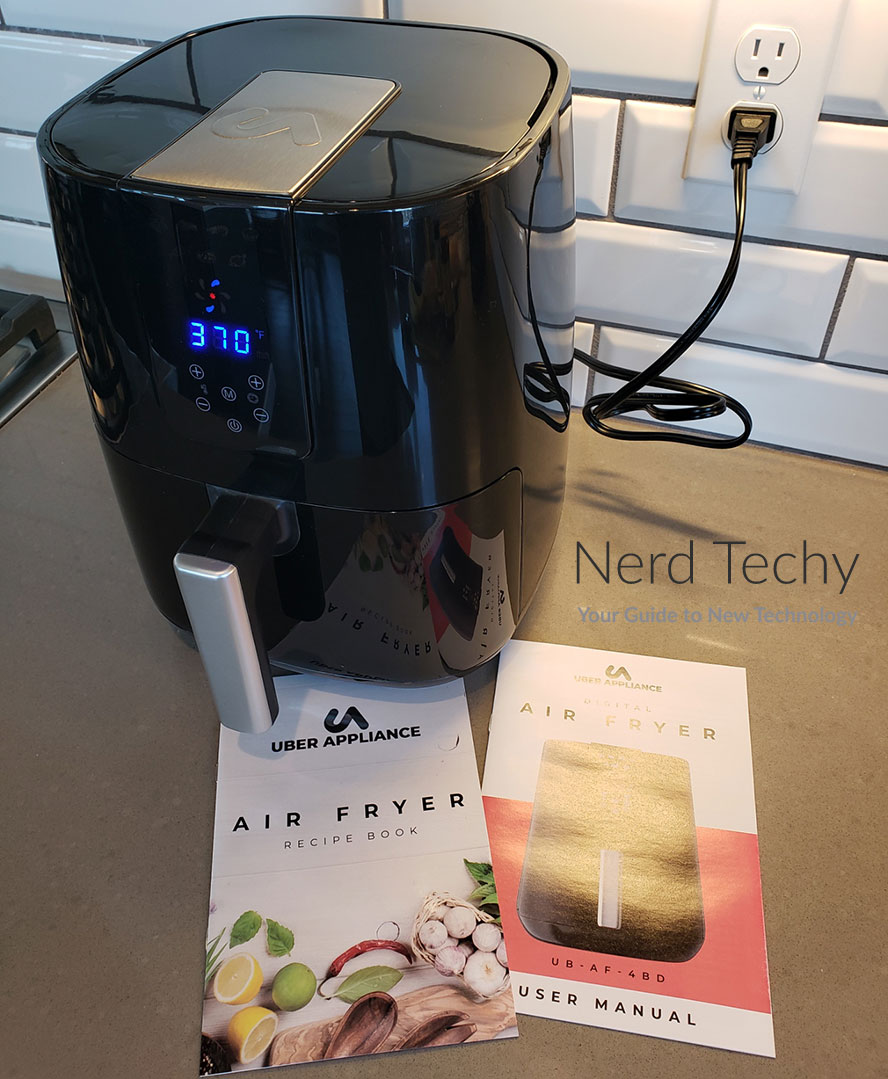 Overall Design
The Uber Appliance Air Fryer XL Deluxe has a black housing with a smooth, glossy finish. The surface is very easy to clean, which is essential on a fryer. No matter how careful you are, you're bound to get it dirty from time to time!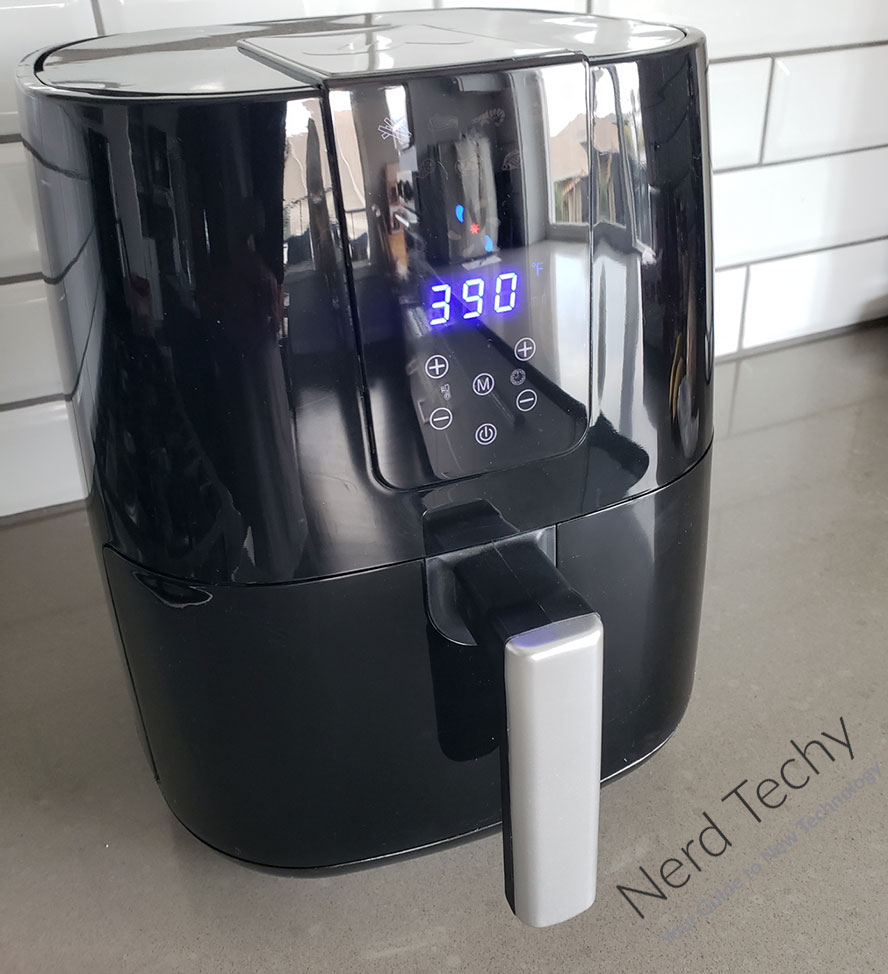 The base is square, with a footprint of 10 inches square. The housing is tapered, though, so it's somewhat narrower at the top. At only 12 inches high, it isn't excessively tall. You'll have plenty of clearance, even under low cabinets with 18 inches of clearance. It weighs 10 pounds, which is a bit more than it looks like. Then again, you probably won't move it around very often. And a set of non-skid rubber feet protect your counter and keep it from sliding around.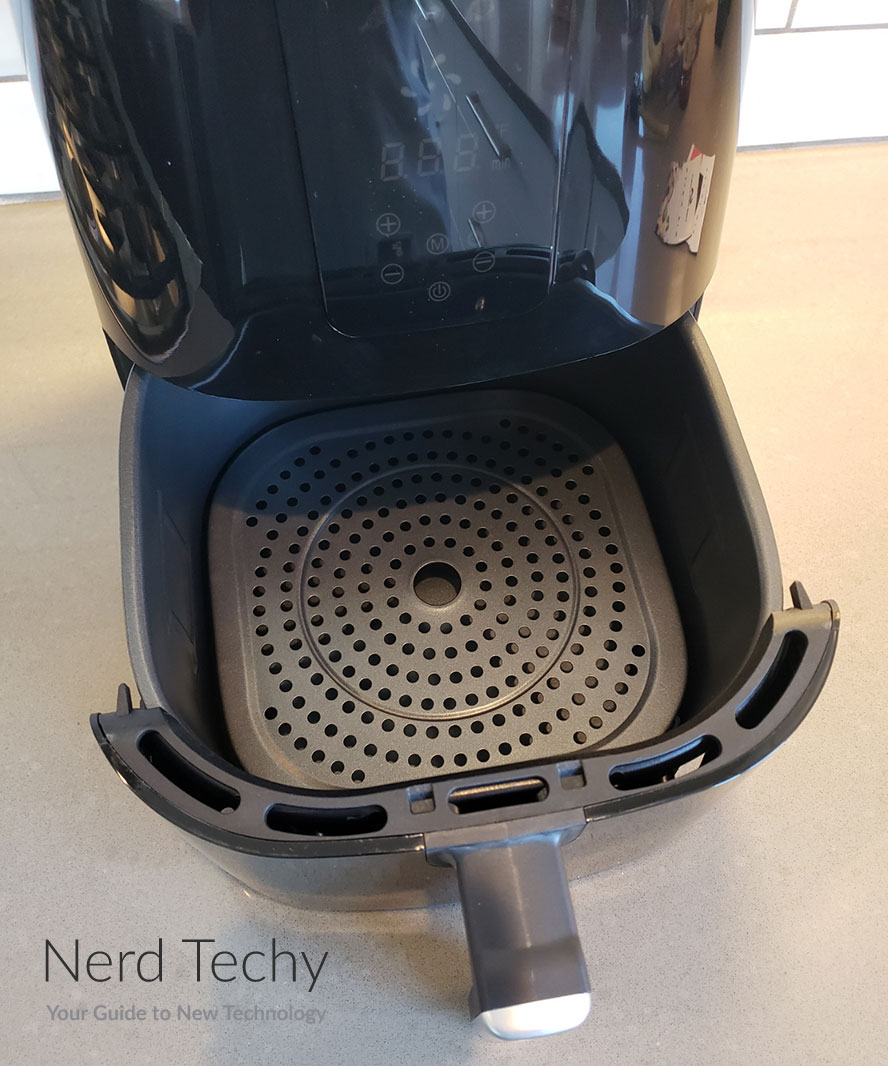 The food basket is located in the bottom half of the housing. The term "basket" is somewhat of a misnomer. It's more of a small drawer, with a vertical silver handle on the front. It's easy to slide in and out, and it's light enough to easily hold in one hand. The total capacity is five quarts or three pounds, whichever limit you hit first. That's enough to cook a substantial dish. Cooking a small roaster chicken is not out of the question.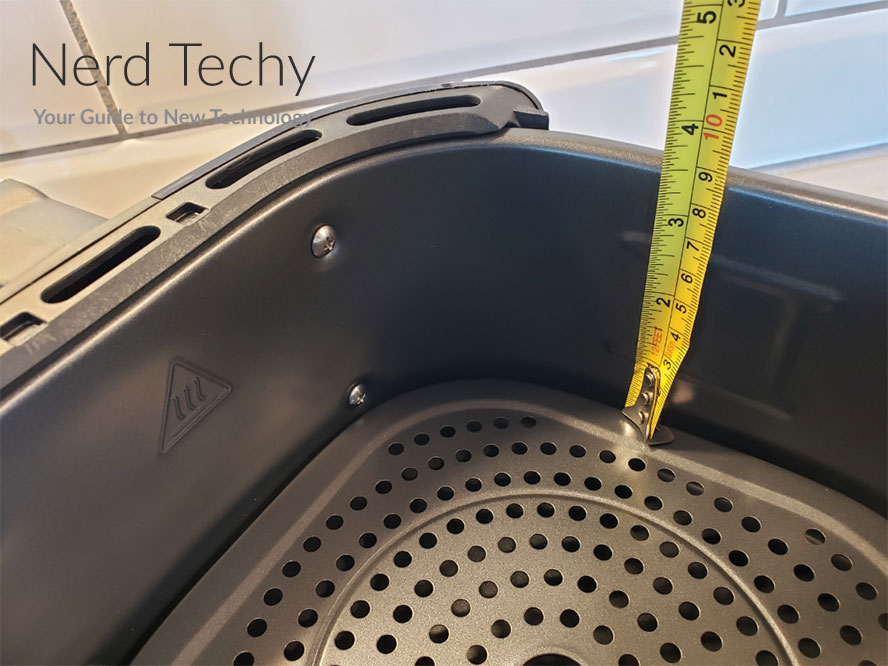 In the bottom of the basket is a non-stick tray. The tray is perforated to allow air to pass through the holes. This ensures that your food cooks evenly on all sides. When you're done cooking, you can take the tray out and wash it in your dishwasher. Our only quibble with the design is that the tray falls out when you shake out the basket. But once you're used to it, that's a trivial complaint.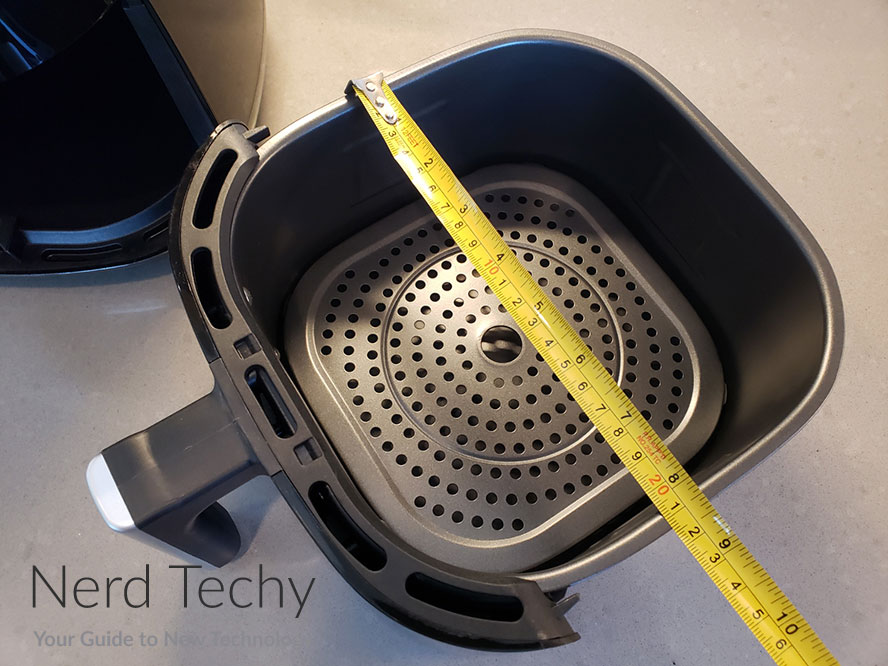 Be aware that this air fryer draws a lot of power – up to 1,300 watts. That comes close to drawing all the available power on a standard residential 15-amp circuit. Plug in a slow cooker or fire up a blender, and you're liable to trip your breaker. If you want to minimize your power usage, consider a low-wattage air fryer instead. You won't get the same capacity or power, but you'll draw less power, around 1,000 watts.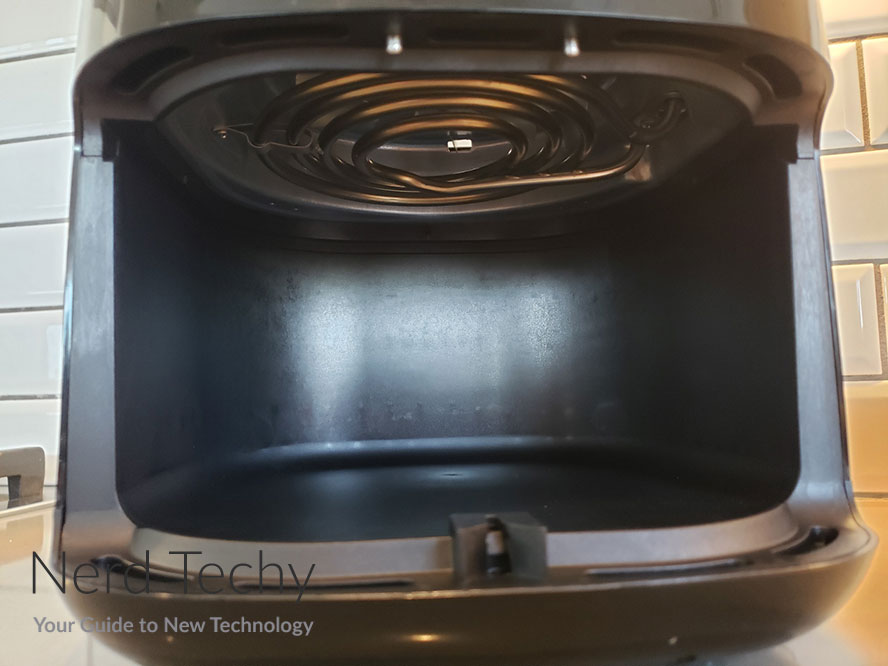 Controls and Extras
Above the frying basket is a bright LED display, along with a set of controls. The controls have a soft touch operation, similar to a microwave. You can press them with your knuckles if your hands are dirty, which is often the case around the kitchen.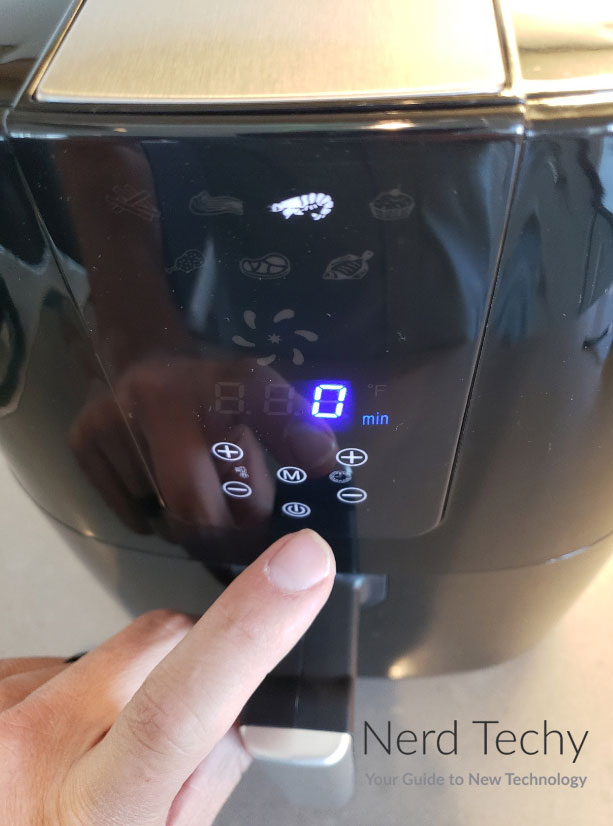 At the bottom of the display, in the center, is a button marked with an "M." This activates manual mode, unlocking the temperature and time controls. Those controls are located to the left and right respectively. Below the "M" button is the power button, which is self-explanatory. Above the display are seven additional buttons that activate special cooking modes. These will automatically cook French fries, shellfish, and various types of meat. They work surprisingly well, although for many recipes you'll want to set your own time and temperature.
If you want even more control options, check out our list of the best smart air fryers. You can operate them with your smartphone, as well as access other nifty app features.
The display itself has a colorful blue and red icon that shows when the air fryer is actively operating. Beneath that is a set of numerals that show the remaining time or current temperature. There's a set of indicator lights next to the numbers to let you know which number you're viewing.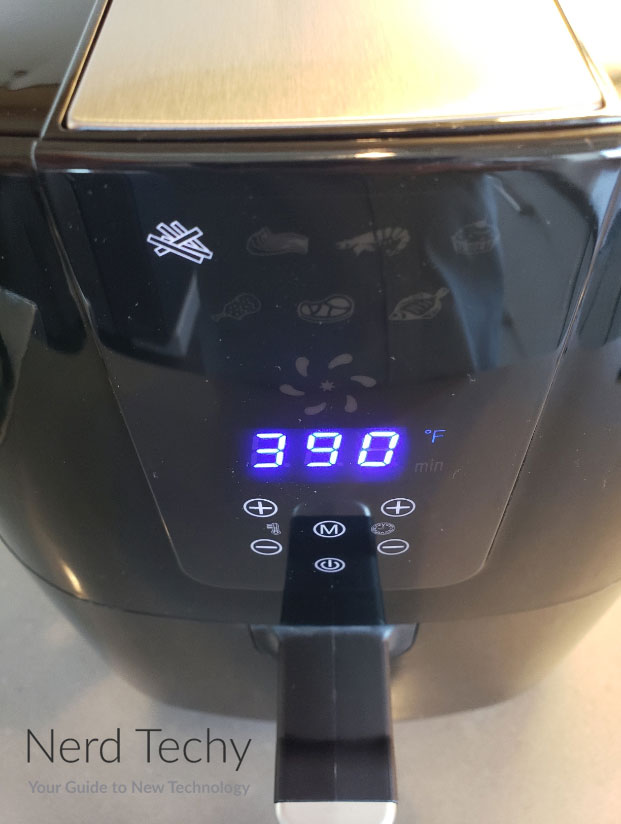 One thing we appreciated about the Uber Appliance fryer is the way it's manufactured. Many air fryers produce off flavors the first couple of times you use them. Uber pre-vents the plastic prior to shipping, so it won't release any odors or flavors.
Along with the air fryer itself, you get a small recipe book. The book isn't something we'd pay money for if it came on its own. But it has a few useful recipes that could be helpful for first-timers.
Uber Appliance provides a 12-month manufacturer's warranty for their fryer. Should anything go wrong in that period, you'll get a refund or a free replacement.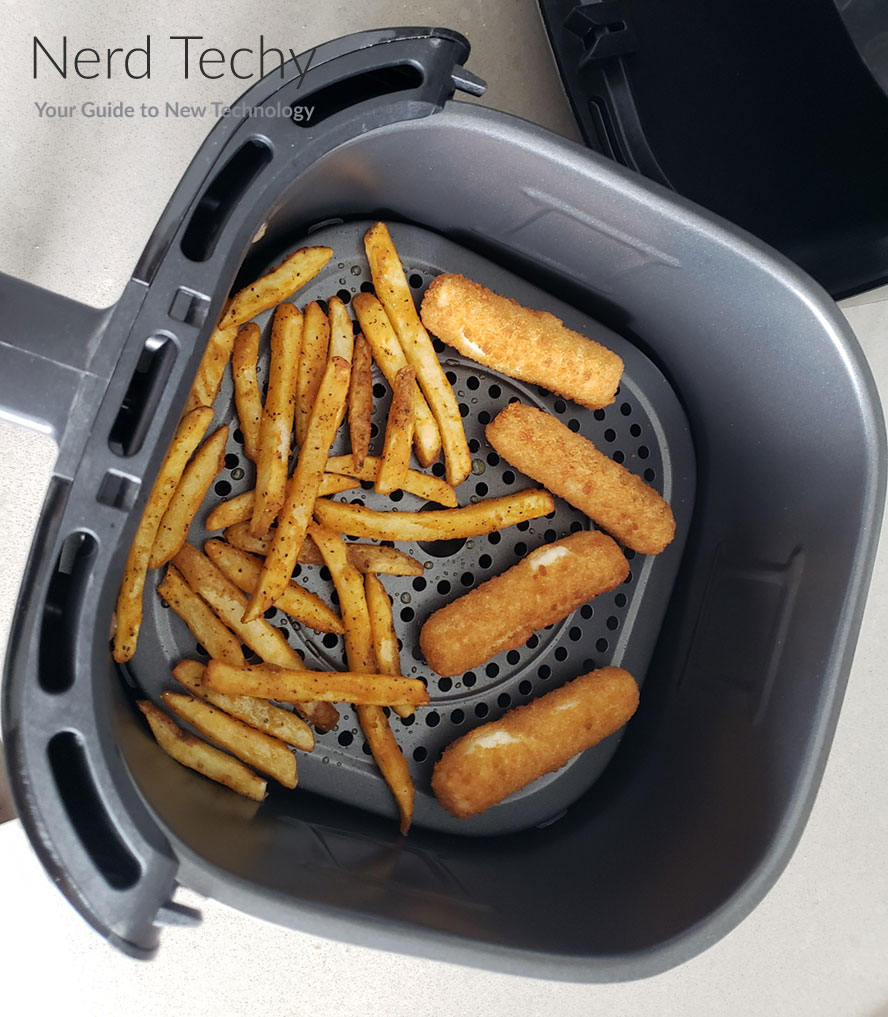 Cooking Basics
The XL Deluxe is capable of a wide range of cooking temperatures, from 150 to 400 degrees Fahrenheit. On the lowest setting, it's not even acting as a fryer – it's just a hot basket that keeps your food warm. That can come in handy when you're trying to serve multiple dishes all at once. On the highest setting, you can create crisp fries in just a few minutes. You'll also have a wide range of timer settings. You can run the fryer anywhere from 0 to 60 minutes.
An automatic switch will shut off the fryer when the timer runs down. If you leave the room for a minute, you won't inadvertently overcook your dinner. The same switch will also kick in when you remove the basket, and the timer will pause. Reinsert the basket, and your food will immediately resume cooking. This makes it easy to stir your food in the middle of a frying cycle.
But what if you want a more traditional countertop oven? In that case, you may want to opt for a smart WiFi toaster oven. They're more versatile than air fryers, although they won't give you the same crispy finish.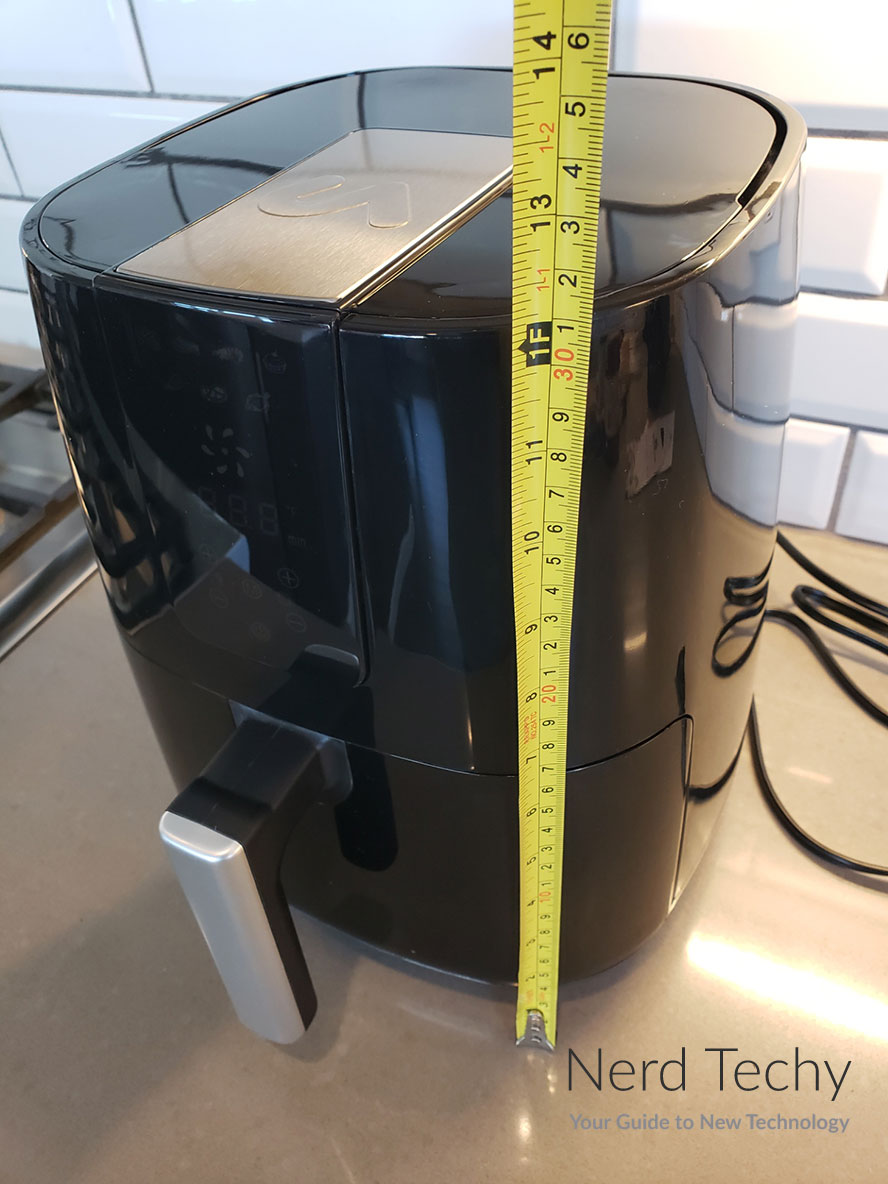 Air Frying vs. Deep Frying
The main difference between an air fryer and a deep fryer is in the name. While a deep fryer uses oil to heat your food, an air fryer blows air over it at high temperatures. This isn't just a matter of health – it's a matter of convenience. When you first start up a deep fryer, it can take 15 or 20 minutes for the oil to get hot. A good air fryer can preheat in as little as a minute.
That said, air frying isn't always oil-free. If you want a crispy finish, you'll need to lightly coat your food with vegetable oil. A lot of air fryer recipes also call for batters that include oil. If you don't want to use any oil, you may use other ingredients to finish your food. For example, you could put barbecue sauce on chicken wings five minutes before they finish cooking.
Choosing the Best Air Fryer
Before we wrap up, we should touch on what makes a good air fryer. Here are some features you should look for when you're shopping:
Capacity – There's no "right" or "wrong" air fryer size. If you live by yourself, a smaller fryer can make more sense. On the other hand, you'll need a larger capacity if you're cooking for a large family.
Maximum temperature – Different recipes will call for different temperatures. The hotter your fryer can get, the more versatile it will be. If it only goes up to 300 degrees, your recipe options will be severely limited!
Size – Size is different from capacity. We're talking about how much space the fryer takes up, not how much it can hold. If you have an enormous kitchen with a ton of counter space, size is a minor concern. But if space is at a premium in your kitchen, you'll want a more compact air fryer.
Ease of operation – Are the buttons easy to press? Or are you using complicated dials and other gimmicky controls? Are there any automated cooking modes? How about a smartphone app? Make sure you know these things before you buy.
Wattage – By their nature, air fryers draw a significant amount of power. Depending on your kitchen, a high-wattage fryer may actually be inconvenient. For example, you may have to unplug other appliances. At the same time, a higher wattage will produce more heat in a larger cooking basket.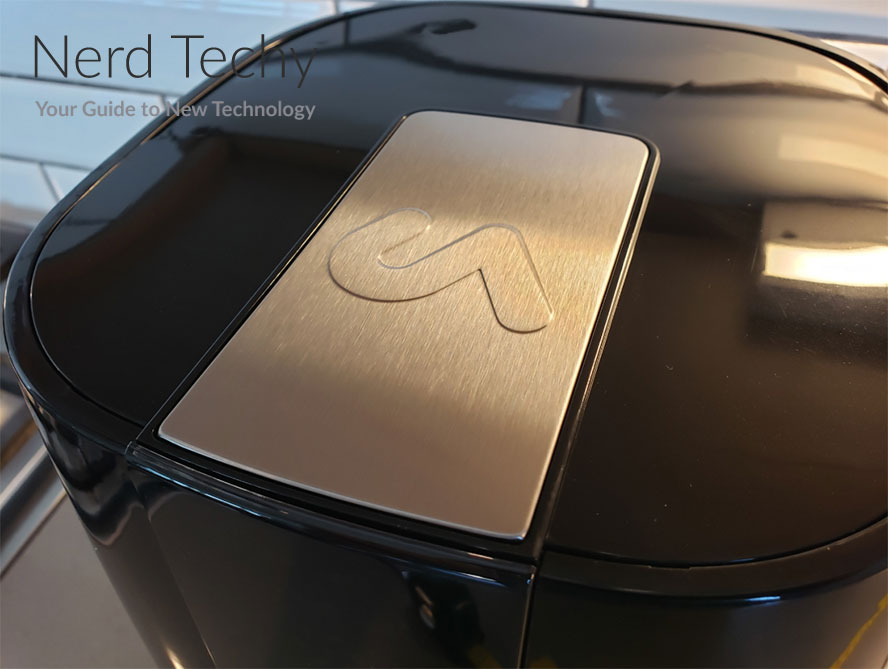 Final Verdict
The Uber Appliance Air Fryer XL Deluxe is a well-engineered cooking machine. Perhaps the most impressive feature is in the name. This air fryer is indeed extra large, with a beefy, five-quart cooking basket. You can cook enough food for the whole family without having to fry multiple batches.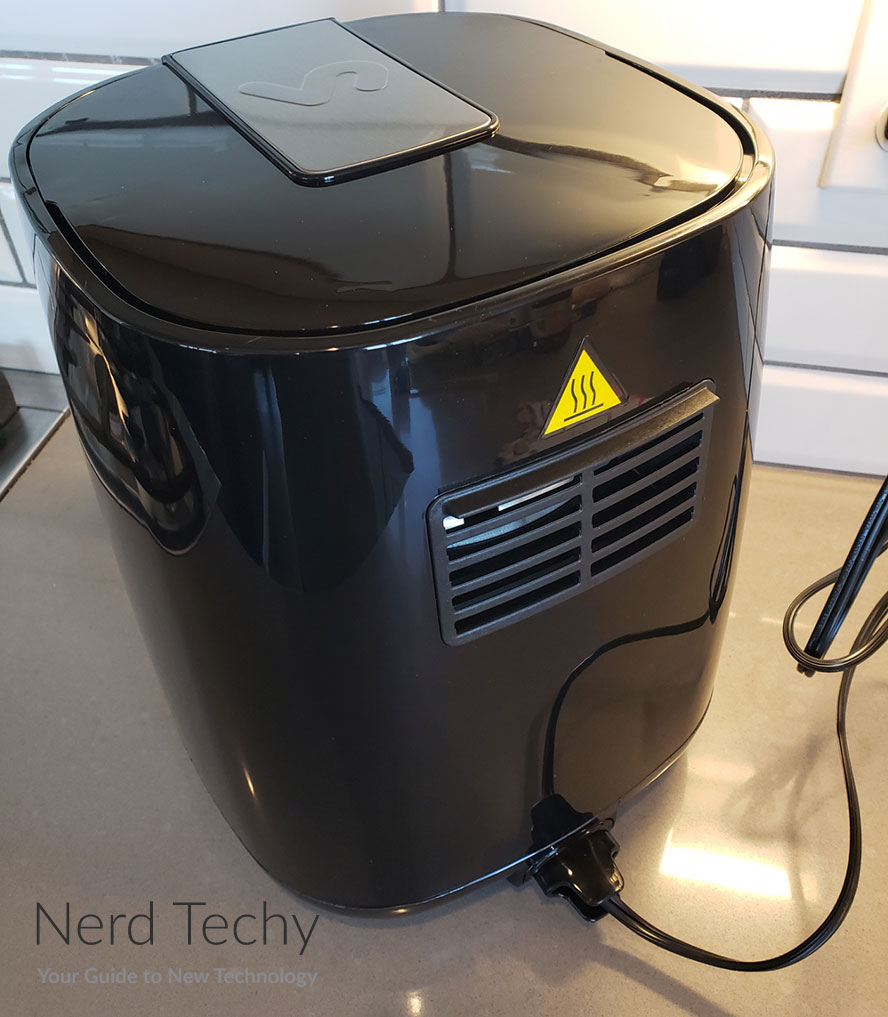 The controls are straightforward and easy to operate. With the automatic frying modes, you can prepare many foods with just a single button. And with the automatic controls, you can enter your own time and temperature. This allows you to follow just about any recipe and prepare just about any meal.
We appreciated the dishwasher-safe design. Cleaning any kind of fryer is never fun, so it's nice to just let the dishwasher handle things. We had some minor complaints about the basket design, but they're not a huge deal.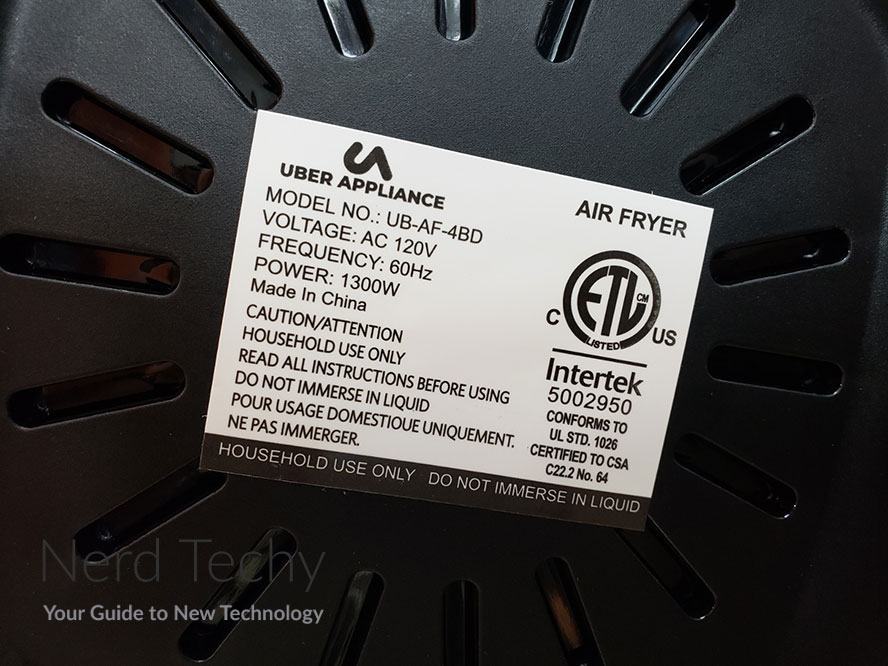 Despite the large capacity, the design is reasonably compact. The XL Deluxe won't take up a ton of counter space, and it will fit under even very low cabinets. As a result, it will be an excellent fit for most people's kitchens.
Please consider sharing:
Note: At no extra cost to you, we may earn a commission for purchases using our links. Learn more.