When you're enjoying a movie at home, it's tough to beat the retro feel of a projector. Sure, a big screen TV is cool. But there's something nostalgic about turning off the lights and firing up your projector. Get yourself a bag of microwave popcorn, and you're all ready to enjoy your movie.
It might come as a surprise that home projectors nearly went extinct in the 80s and 90s. Prior to that, bulky reel-to-reel projectors had been the only way to watch a movie at home.
Those machines are expensive and complicated to use, and reel-to-reel recordings are hard to come by. When VHS tapes were invented, it seemed that projectors had become obsolete. High-quality DVD videos seemed to drive the nail into the coffin. Projectors were relegated to offices and classrooms, where it seemed they would remain.
However, home projectors have made a resurgence in recent years. With digital video, you can connect your video source just like you'd connect to a TV. Meanwhile, advances in technology have brought the price down significantly. A projector used to be an expensive luxury. Now, you can get your hands on a decent projector for a fraction of the cost of a comparable TV.
Projectors are also versatile. If you've got a bare white wall, you've got somewhere to watch your movie. It's easier to move a small projector around your house than it is to move a bulky television set. That said, it's still important to do your research and find a projector that meets your unique needs.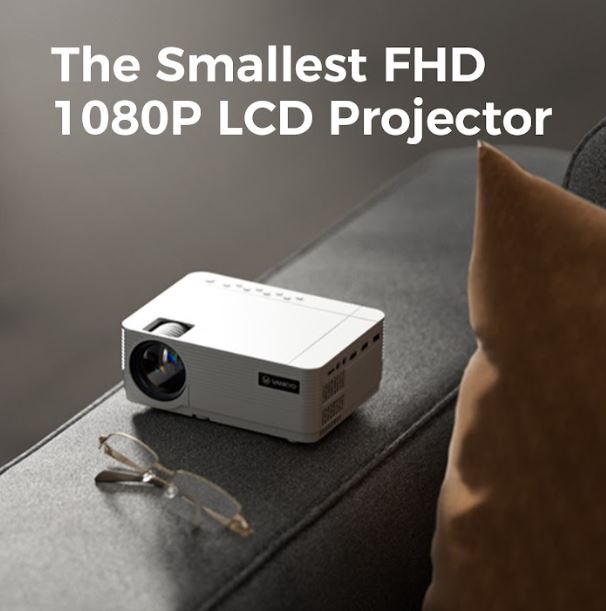 VANKYO Leisure 470 Pro
We're about to review the VANKYO Leisure 470 Pro. This is a compact, lightweight projector that's designed to be as portable as possible. It's easy to connect to almost any video source, including Android and iOS smartphones. In fact, it's credited as being the smallest native 1080P LCD projector in 2022.
Of course, we'll want to take a much closer look before we render our verdict. We'll need to discuss the physical construction, and the different connectivity options. We'll have to talk about how you control the projector, as well as any important extra features. And of course, we'll be examining the quality of the video. After that, we'll have a more complete picture. Let's get started!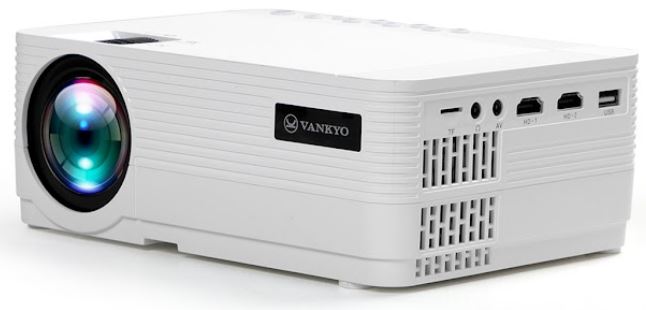 Overall Design
The VANKYO Leisure 470 Pro has a rectangular housing, constructed from a matte white plastic. It's ribbed around the edges and is mostly bare, except for a Vankyo logo on the front right. The overall size is 7.8 inches wide, 5.7 inches deep, and 3 inches thick. That's small enough to carry in a backpack or even a thicker laptop bag. And at only 2.2 pounds, you'll barely even notice the extra weight.
Use code "nerdtechy" for a discount when you order the Leisure 470 Pro from VANKYO's official website.
When you set the projector up, you'll notice a little black foot under the front center. This can be adjusted up or down to change the angle of the lens. If you're positioning the Leisure 470 Pro below the level of the screen, just tilt the lens up to compensate. There's also a ¼-inch threaded socket on the bottom, so you can mount it on a tripod or ceiling bracket.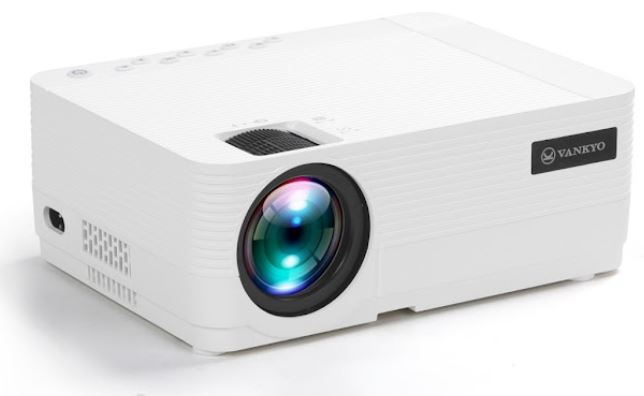 The black lens housing is located at the front right, and is recessed into the main housing. Because it's recessed, you're less likely to touch it by accident while it's hot. Just above the lens is a set of dials for making your keystone adjustment. Further back, there's a set of white rubbery buttons, while your input and output ports are located on the right. We'll talk about your controls and inputs in a minute.
The sides of the housing are vented for cooling. A pair of internal fans suck air through the inside of the projector, preventing it from overheating. The fans are surprisingly quiet, and don't interfere with your movie watching experience. They're also very effective, or at least VANKYO seems to think so. They back the Leisure 470 Pro with a 3-year manufacturer's warranty.
Video Quality
There are two ways of measuring projector video quality. The first is what's called native resolution, meaning the resolution the projector can reproduce. The Leisure 470 Pro has a native resolution of 1080p. It can still play lower-resolution videos if you want to. But you can play a 1080p video file and get full quality.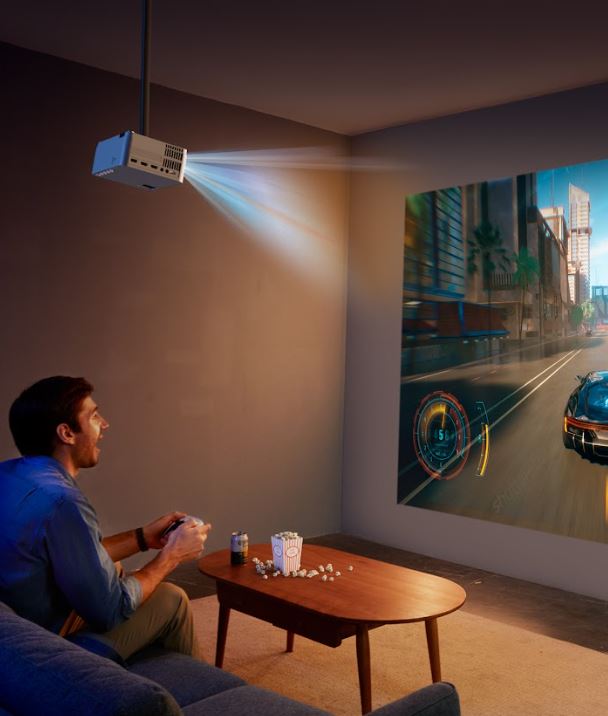 The second measure of projector video quality is supported resolution. A lot of projectors will let you play higher-resolution videos than they can reproduce. The video is simply downscaled to the projector's native resolution. So if your projector supports 4K video, that video could be played back in 1080p quality. Unfortunately, the Leisure 470 Pro's maximum supported resolution is also 1080p. You won't be able to play 4K videos, even in reduced quality.
As with any projector, the image size depends on how far the lens is from the screen. You'll be able to get a crisp, clear image between 39 and 250 inches in size. That's truly impressive, particularly if you want to use your projector outdoors.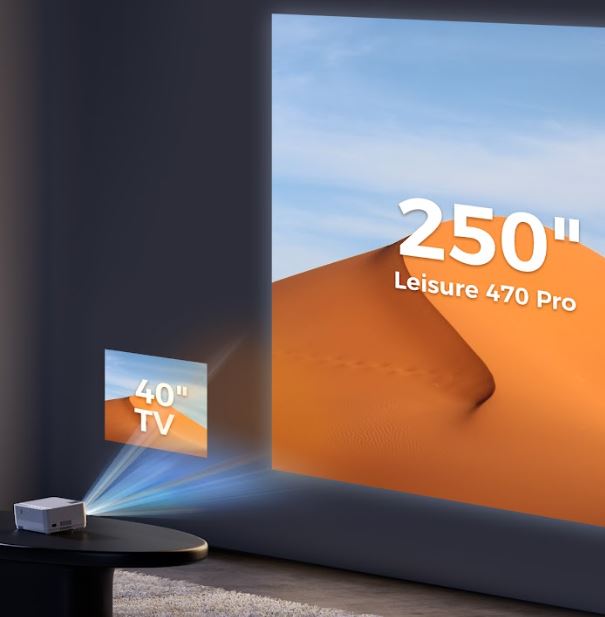 Connectivity
As we mentioned, you'll find your connection ports on the right side of the housing. Everything is arranged in a single row along the top edge. Starting at the back, you'll find a USB port. This can be used to connect Roku sticks and other streaming devices. You can also plug in a USB thumb drive or external hard drive to play your own recorded videos.
In front of the USB port is a pair of HDMI ports. These are probably the inputs you'll use most often, because they're the most universal. You can connect a Blu-Ray player, game console, or even a TV set top box. You can also use the projector as a display for your laptop or desktop. The existence of two ports makes it easier to do permanent installations. You can connect multiple devices without having to constantly swap cables.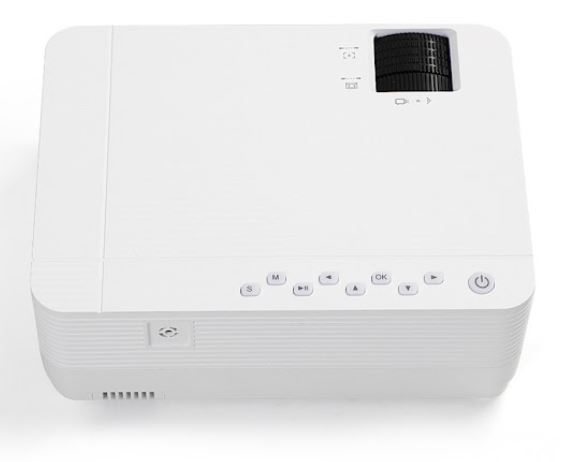 The two round ports in front of the HDMI ports look identical, but they're not. The back one is an A/V port, which is used by some older devices. You'll probably never use it, but it's very convenient if you need it. The front port is a standard 3.5mm aux port, so you can plug in an external speaker or headphones. There's also an SD card slot towards the very front.
Alternatively, you can cast videos directly from your iOS or android device. To do this, you'll first need to go into your projector's menu and connect it to your home's WiFi network. At that point, you can cast to it with any compatible phone or app. This is convenient if you want to watch Netflix or YouTube without any extraneous devices.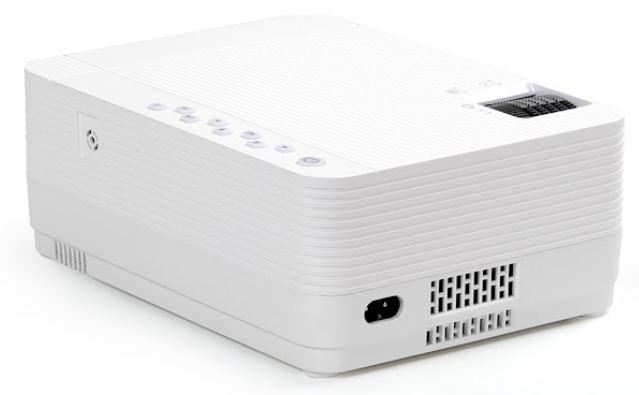 Controls
The VANKYO Leisure 470 Pro is controlled by a set of rubbery buttons. There's a large power button at the back left corner, followed by a set of menu navigation buttons. You'll also find a handy play/pause button. Meanwhile, you can adjust the horizontal or vertical keystone by 15 degrees, using the dials near the front. This is essential, since you'll probably never have the projector at a perfect 90-degree angle to the screen.
If you're like most people, you probably prefer the convenience of a remote control. To this end, VANKYO provides a black handheld remote that looks similar to a TV remote. It has all the same functions as the buttons on the unit itself. However, it also has a mute button, volume controls, and a zoom button.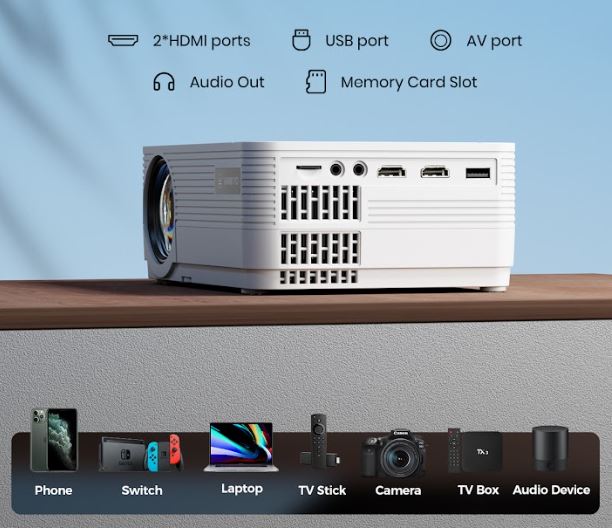 Extra Features
In addition to video, the Leisure 470 Pro boasts a pair of 3-watt internal speakers. On the one hand, these are pretty small, and won't put out a ton of volume. However, they're slightly bigger than the average projector's 2.5-watt speakers. The sound is also reasonably good quality. If you're just enjoying a movie by yourself, you'll be very pleased with the audio.
This projector also has a zoom function. Using the remote, you can increase the image size by up to 100%. This doesn't do much for you outdoors or in a larger room. But in a smaller room, it's an easy way to get a bigger image. Put the projector as far back as you can, then zoom in to make your video even bigger.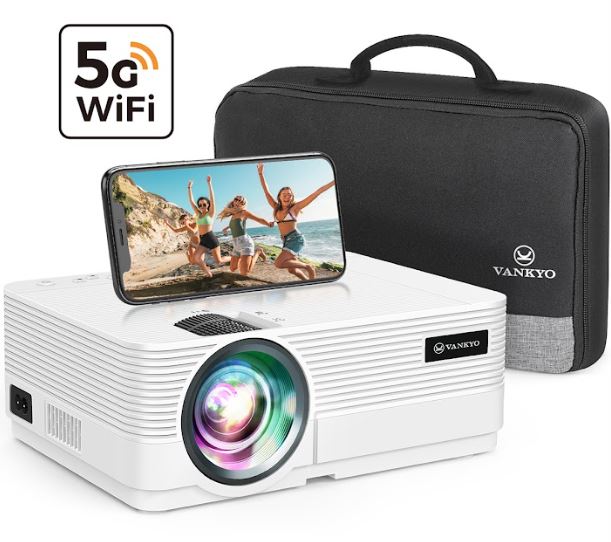 Final Verdict
The VANKYO Leisure 470 Pro is a reliable mini projector that comes at an affordable price. We would have liked to see some kind of 4K support, but that's our only significant concern.
Use code "nerdtechy" for a discount when you order the Leisure 470 Pro from VANKYO's official website.
Other than that, the projector works well, and we particularly liked the 2x zoom function for use in smaller rooms. There are plenty of inputs, so you can use any video source you want. And with WiFi connectivity, you can even stream from your smartphone. If that's what you're looking for, you're getting a solid projector.
Meet Derek, "TechGuru," a 34-year-old technology enthusiast with a deep passion for tech innovations. With extensive experience, he specializes in gaming hardware and software, and has expertise in gadgets, custom PCs, and audio.
Besides writing about tech and reviewing new products, Derek enjoys traveling, hiking, and photography. Committed to keeping up with the latest industry trends, he aims to guide readers in making informed tech decisions.