If you're a PC gamer, you probably spend a lot of time in marathon gaming sessions. This puts a lot of strain on your butt and your lower back. Spend hours of gaming in a stiff, uncomfortable chair, and you'll feel it the next morning. It should come as no surprise that gaming chairs have become their own cottage industry.
A good gaming chair should provide excellent support in your lumbar region. A good set of armrests makes it easier to work your mouse and keyboard. And a comfortable head cushion helps you keep your neck straight while you're gaming. At the same time, the best gaming chairs are versatile. You want to be able to change positions while you're playing. Stay in any position for too long, no matter how comfortable it is, and you'll get stiff.
At the same time, it can be tough to find the right chair. A lot of companies make their own models, and not all of them are well-designed. Before you use just any chair, it pays to do your research and make sure you're getting what you want. Thankfully, we're here to help you sort out what's what.
Shuanghu Gaming Chair
We're about to review the Shuanghu Gaming Chair. This is a PU leather gaming chair with plenty of padding and cushions. It's reclinable, and you can adjust the height through a wide range. It's also easy to assemble, and comes at an affordable price compared to many gaming chairs.
That said, there are many more factors that go into making a reliable gaming chair. We'll have to evaluate all of this one's features and functions. We'll talk about the physical construction and how you assemble it. We'll examine the different cushions and how you can adjust the chair. We'll also discuss what you should look for when you shop for a gaming chair. Let's get started!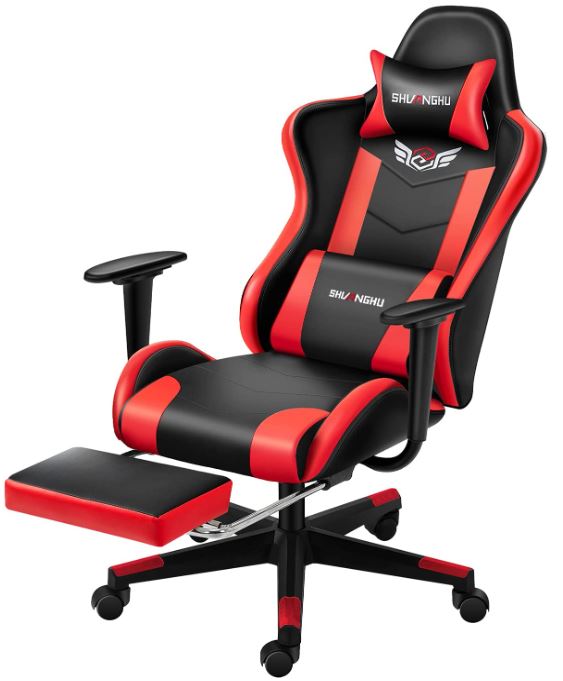 Design & Shell
The Shuanghu Gaming Chair is constructed from a PU leather shell, wrapped over a generous amount of padding. The leather isn't anything spectacular – it's what you'd find on a mid-priced office chair. But it's reasonably durable and fade-resistant. Perhaps most importantly, it's easy to keep clean. If you spill something on it, just wipe it down with a damp cloth.
In addition to a classic black, you can order the chair in four more colorful options. There's a sharp-looking, racer-style version with red striping on black. You can order green on black or white on black in a similar pattern. There's also a stylish white on pink if you favor a more pastel-flavored approach.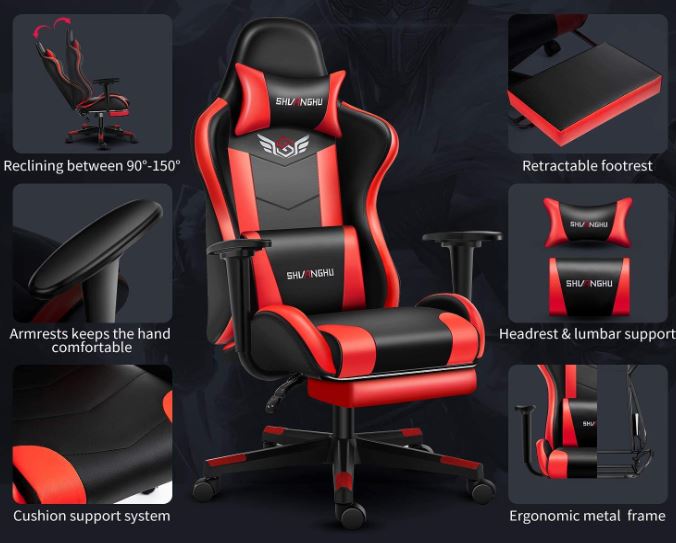 The chair measures 26.8 inches wide and the same distance deep. A lot of this width is a set of wings that extend to the sides. The wings give you the ability to lean to one side or another without losing the support of your chair. Meanwhile, the chair stands 48.4 inches high, although it's adjustable. As with many chairs, you can use a lever to move it up or down. The vertical support has a high-quality gas piston, which is durable enough to last for years.
Using a second lever, you can recline the chair almost all the way flat. At -150 degrees, you'll be in a better position for napping than you will be for gaming. At its highest point, the back sits at a steep 90 degrees. This might be too vertical for some, but it's great if you prefer a more forward-leaning gaming position.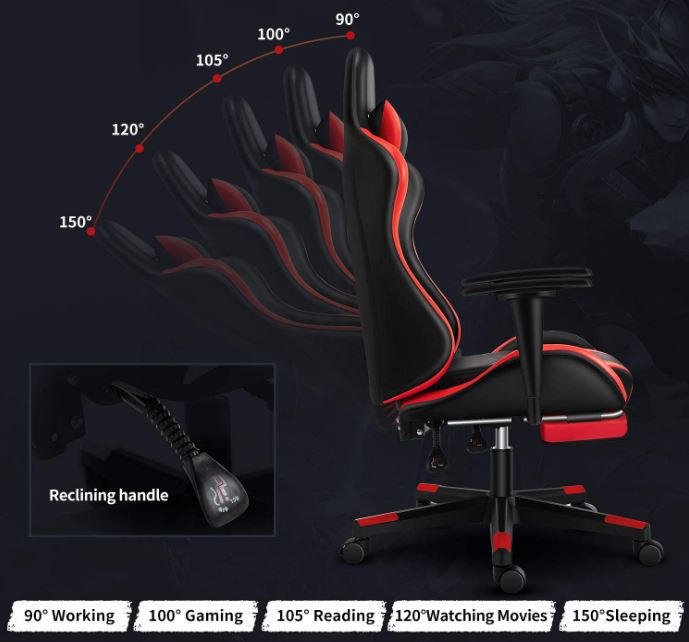 Legs & Assembly
The Shuanghu chair sits on top of a 5-pointed star-shaped plastic base that swivels 360 degrees. While the base is plastic, it's still more sturdy than you might expect. Turn it over, and you'll see that it's reinforced along its entire length by several cross-bars. This allows it to support a surprising amount of weight. In all, the chair can support up to 300 pounds, so it can accommodate almost anybody. The top support where the chair connects to the piston is all-metal and very strong.
At the bottom, there's a set of five caster wheels that all swivel freely. These allow you to roll around the floor and easily move the chair in any direction. The wheels themselves have a smooth finish, so they roll quietly over any surface. The plastic also won't mar most floors, although we'd still use a mat over hardwoods.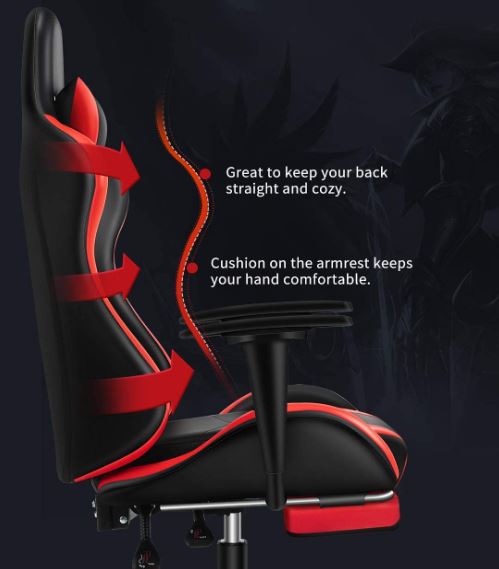 The legs, base, armrests, and footrests all come separately. Inside the box is a set of screws, along with instructions on how to put everything together. Assembly is easy, and the process only takes around 10-15 minutes. You'll also have to insert the casters into their sockets in the bottom of the base. This requires a bit of force, but don't worry. You won't break the base by pressing down on it.
Lumbar & Neck Support
Attached to the top of the chair is a neck cushion. This cushion sits at the base of the headrest, and has a flared design. The front sports a colorful Shuanghu imprint, with colored sides that match the accents on the chair. A second, larger cushion sits in your lumbar region. This one is rectangular in shape, not flared, and measures 2 inches thick. At 8 inches high and 12 inches wide, it's fairly large, and it's also nice and firm. We were pleased with the overall level of support.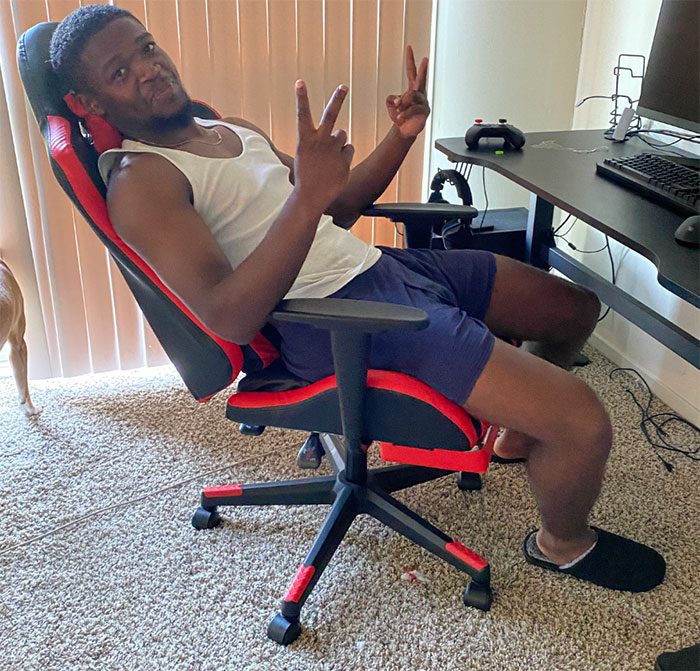 Both the neck and the lumbar cushions buckle into place, and you can remove them if you want to. Unfortunately, there's no way to adjust them up and down. This is a disappointing oversight, particularly if you're taller or shorter than the average person.
If adjustability is important to you, take a look at the KLIM Gaming Chair. It has adjustable lumbar and head rests, so it's suitable for people of most heights. It's also deep and wide, and allows for many seating positions. Then again, it has hard, uncomfortable armrests.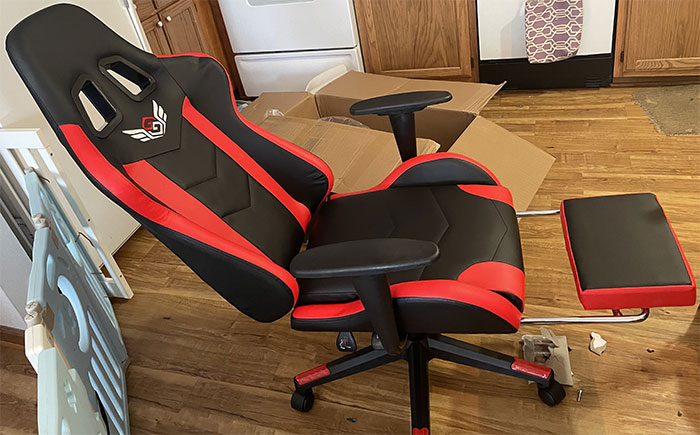 Armrests & Footrest
One thing we didn't like about the Shuanghu Gaming Chair was the armrests. They provide good support and they have a concave, ergonomic shape. That said, they can't be adjusted. If you have shorter or longer arms, you might have trouble finding an optimal seating position. They're also solid plastic, not padded. If you lean on one for a bit, it starts to get uncomfortable.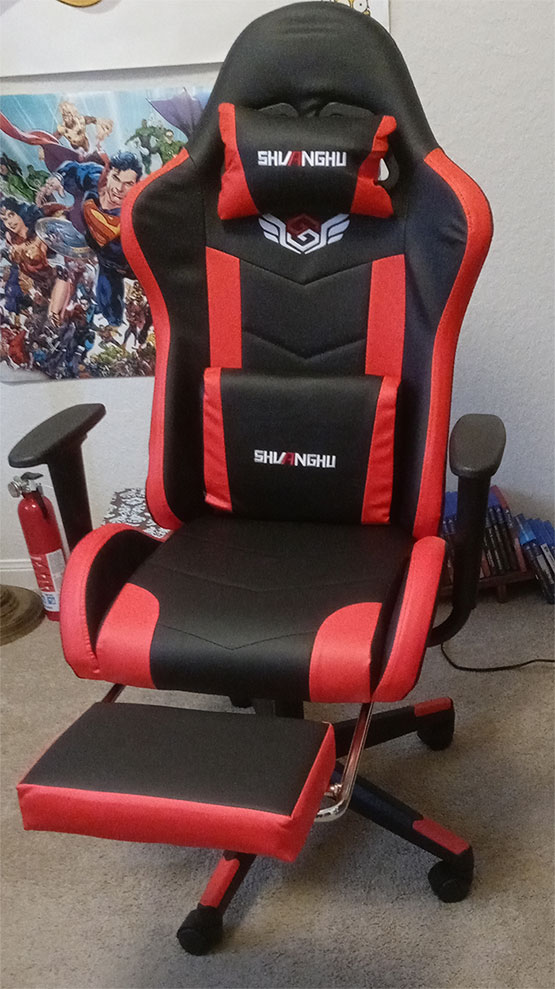 On the other hand, the footrest is very luxuriously padded. It's every bit as soft and firm as the rest of the chair, and provides a comfortable support for your legs. Not only that, but retracting and extending the footrest is as easy as working a lever. The one thing we didn't like about it was the length. Even for someone of average height, it's fairly short. If you're on the taller side, you probably won't want to use it.
What to Look For in a Gaming Chair
Before we finish, let's talk about what makes a good gaming chair. Why would you choose one option over another? Here are some things you should think about.
Adjustability
People come in all shapes and sizes. Some of us are taller; some of us are shorter. Some of us are slimmer; some are heavier. No single chair is going to be a perfect fit for all people. To compensate for this, most gaming chairs are adjustable. The more adjustment options you have, the easier it is to fit in the chair.
Look for height adjustment at a bare minimum. You want a chair that supports you at a comfortable height for your keyboard. This will be different depending on your desk height and the length of your arms. If your chair isn't height-adjustable, you're almost guaranteed to be stuck in an uncomfortable position.
Lumbar support and armrests can also be adjustable. Adjusting a lumbar pad's height is useful for people of different heights. If it's removable, so much the better.
Finally, a good gaming chair should be able to recline. Maybe you don't want to lean all the way back, but some range of movement is always a good thing.
Ergonomics and Support
Any good chair should be comfortable. For gaming, this means two things. First, you want a well-designed pair of armrests. You'll need them to support your arms while you're moving your mouse and hitting your keys. If you've ever tried PC gaming without any armrests, you know it's less than ideal.
A good gaming chair should also have lumbar support. It's easy to slouch, particularly when you're focused on an intense game. A fat lumbar cushion will help keep your back in proper alignment.
Material and Aesthetics
From a construction perspective, people debate whether fabric or leather is ideal. Leather has a luxury appeal and is easy to keep clean. On the other hand, fabric chairs tend to be more breathable and doesn't collect sweat. Which one is superior is a matter of personal taste.
Aesthetics are also a matter of personal taste. Do you want a bright, colorful chair? Do you want one with your favorite company's logo? Or do you prefer a more formal black chair? It all depends on your tastes in décor.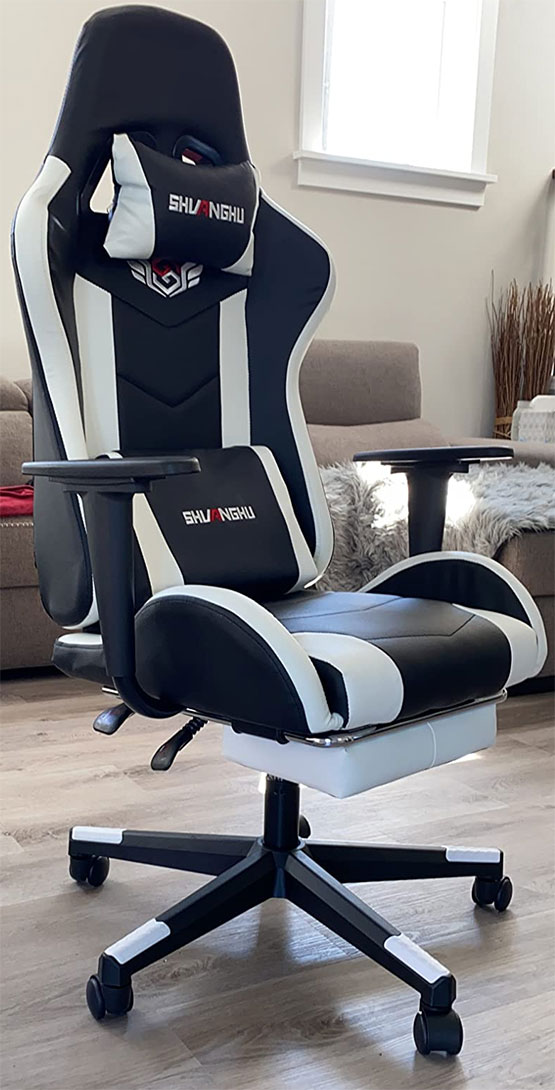 Final Verdict
As you can see, the Shuanghu Gaming Chair is a well-designed chair in most respects. It's wide and tall, so it can fit almost any individual. It also has neck and lumbar padding, as well as a footrest. While we would have liked more adjustment options, the height adjustment works very well. And as far as assembly goes, it was easy to put together. Considering the low price, we were impressed with what we saw.
Meet Derek, "TechGuru," a 34-year-old technology enthusiast with a deep passion for tech innovations. With extensive experience, he specializes in gaming hardware and software, and has expertise in gadgets, custom PCs, and audio.
Besides writing about tech and reviewing new products, Derek enjoys traveling, hiking, and photography. Committed to keeping up with the latest industry trends, he aims to guide readers in making informed tech decisions.