There's nothing quite like the retro feel of watching a movie on a projector. Like listening to music on a record player, it has a unique old-school appeal that never gets stale. Also like vinyl records, home projectors nearly became extinct. Earlier projectors weren't digital. They relied on reel-to-reel film, which was bulky and difficult to store.
But before the invention of VHS tapes, they were the only way to watch a movie at home. Because they were expensive and hard to operate, they were mostly only used by enthusiasts. When DVD came along and offered even better technology, projectors nearly died.
However, modern digital video technology has given projectors a new lease on life. With today's projectors, you don't need any kind of special storage medium. You just plug in an HDMI cable and use whatever video source you're already using. Most newer projectors also incorporate USB connectivity, and some even use Bluetooth or WiFi. No matter where you get your movies, chances are good that you can play it back on a projector.
When you think about it, a projector is also smart from a financial perspective. You can spend a small fortune on a big TV. Or, you can spend less money on a projector and still have a wall-sized image. Clearly, a projector is the winner. But that only makes sense if you're taking the time to choose the right projector. You want clear video and easy operation. And of course, you want one that's compatible with all your devices. Make sure to do your research before you buy, so you won't be disappointed.
VANKYO Leisure 495W
Today, we'll be reviewing the VANKYO Leisure 495W. This is a compact projector that's surprisingly capable for its size. It provides 1080p video, it's very quiet, and it's compatible with almost any device. It even lets you cast videos from your phone via WiFi. With full Dolby sound supported, an ergonomic button design and a simple rotary fast focus dial, it's equipped with many enticing features.
That said, there are many other factors that go into making a good projector. We need to talk about how you control the device, and how you connect to it. We'll have to look at what kind of resolutions it will support, and how it's physically constructed. We'll also want to discuss any relevant "extra" features. After that, we'll be prepared to deliver a fair verdict. Let's get started!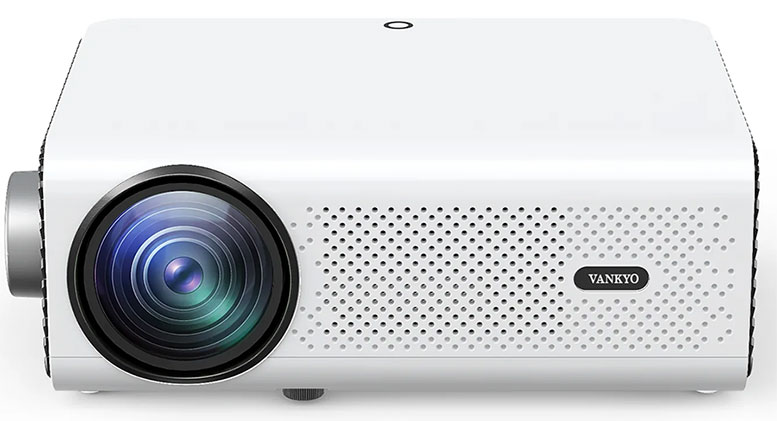 Overall Design
The VANKYO Leisure 495W is a rectangular projector with a mostly-white housing. The matte finish is easy to keep clean, and the rectangular shape is softened by rounded edges. It measures 7 inches wide, 4.84 inches deep, and 3.35 inches tall. That's small enough to drop into any backpack, so it's one of the more portable projectors you'll find. It's also lightweight, tipping the scales at only 3 pounds.
The lens is located at the front right, and sits flush with the rest of the housing. There's just a little black ridge around the circumference, to keep you from accidentally touching it. Behind it, on the right side of the housing, is a large silver knob. This is the focus dial with a rotary design, which can be used to fine-tune your image.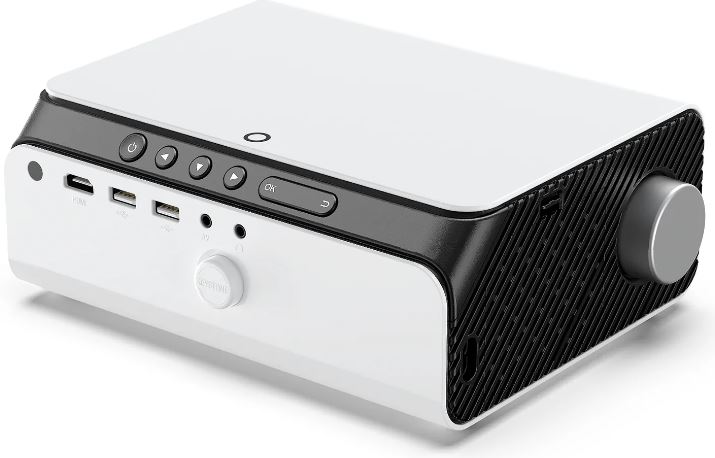 Underneath the front of the housing, you'll notice a little black foot. This foot can be screwed and unscrewed to adjust the height, so you can get the perfect angle. In addition, there's a standard ¼-inch threaded hole on the bottom. This can be used to mount the projector on a tripod or ceiling bracket.
The sides of the housing are vented, as is the majority of the front. This allows air to flow freely through the unit, keeping the electronics cool. The built-in cooling fan is very quiet, and won't ruin your movie experience. It's also surprisingly effective; the bulb is rated for a minimum of 30,000 hours of use.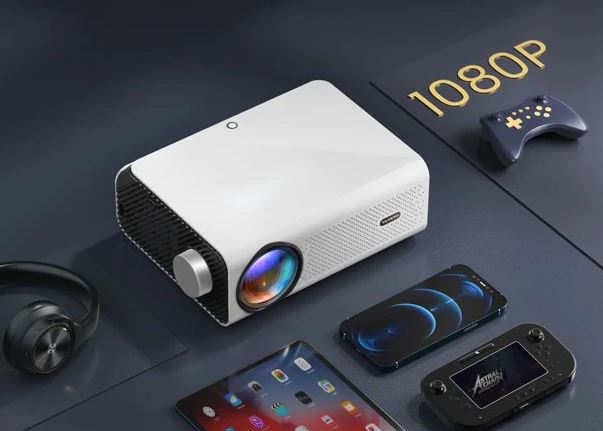 On the back of the housing, there's an angled black strip at the top edge. Here, you'll find all your control buttons, lined up in a neat row. Beneath the controls, all your input and output ports are located along the back. There's also a little white knob, which is used to adjust the vertical and horizontal keystone. The power cable connects to a socket in the back right side.
Video Quality
To understand any projector's video quality, you need to understand that there are two measurements. The first is the native resolution, which is the resolution that the projector is capable of reproducing. The Leisure 495W has a native resolution of 1080p, which is fairly normal these days. There are a handful of 4K projectors out there, but get ready to pay a steep premium when you buy one.
The second measure of projector video quality is the supported resolution. Many projectors have a higher supported resolution than native resolution. For example, you might be able to play a 4K Blu-Ray disc, but the projector would downscale it to 1080p. Unfortunately, the Leisure also has a maximum supported resolution of 1080p. You won't be able to play any video from a 4K source, unless the source can output at 1080p.
The Leisure 495W has a maximum display size of 220 inches. Exactly how big the image will be depends on how far the projector is from the screen. The further away, the larger the image. Beyond 220 inches, the 220-lumen bulb will struggle to create enough brightness. You'll also start to have issues with focus. Even so, 220 inches is a very large screen, more than 18 feet from corner to corner. You could cover the back of a garage with a video that size. Or just use one of the best inflatable projector screens.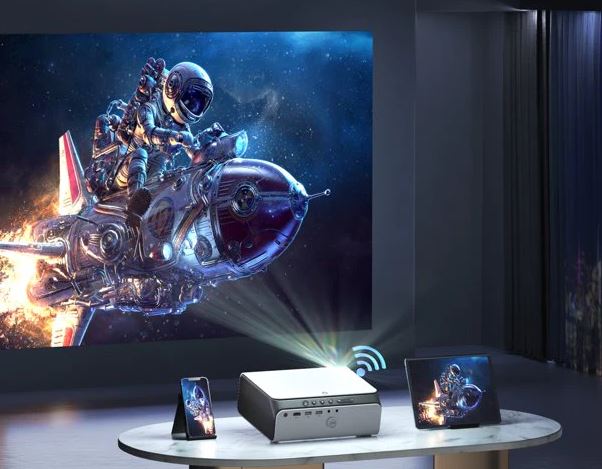 Connectivity
One of this projector's greatest strengths is the number of ways to connect it. To begin with, there's an HDMI port at the left of the back panel. This is probably what you'll use most, since it's a near-universal standard. You can connect Blu-Ray players, game consoles, laptops, and other devices just like you'd connect to a TV.
Next to the HDMI port, there's a pair of USB Type-A ports. These ports give you a lot more functionality. To begin with, you can connect a USB thumb drive or an external hard drive. More importantly, you can connect a Roku or other streaming stick. This unlocks the world of streaming apps, so you can watch Netflix or your other favorite service.
Next to this is an old-school single-pole A/V port. You won't see these in use much on modern devices. But if you're trying to connect an older device, the A/V port could come in handy.
One of the most noteworthy features is the WiFi card. Through the menu, you can connect the projector to your home's WiFi network. Then, you'll be able to cast videos directly from your smartphone. You can also cast from your PC, laptop, tablet, or other device. If your device's streaming app has a casting option, you can even do this directly from the app. As long as the projector is connected to WiFi, it will show up as a display option.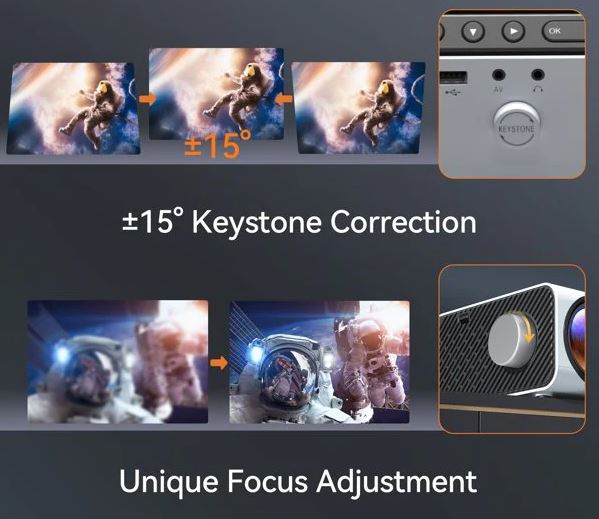 Controls
A lot of projectors have intricate functions that allow you to control your video source. Many have play/pause buttons, fast forward buttons, and other similar controls. The Leisure 495W doesn't have these features, which is unfortunate. On the other hand, if we're being honest, does everybody use those buttons? Probably not. Most people set up their projector, then use their phone or other device to control their video. So this is a minor complaint, but it could be important if you want those features.
That said, the control buttons on the back of the housing cover all of the essentials. There's a power button, to turn the projector on and off. A set of arrow keys allow you to navigate the menu and make adjustments. Meanwhile, an OK/back toggle key lets you make selections. You can adjust the brightness, contrast, and other similar video features. Meanwhile, the keystone adjustment knob lets you adjust the keystone by 15 degrees in either direction. You don't have to be too finicky about lining the projector up directly with the screen.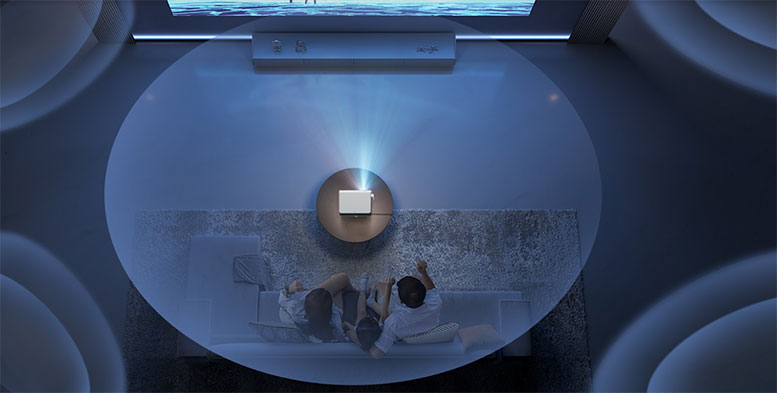 Extra Features
The Leisure 495W has a pair of built-in 3-watt speakers. These are slightly more powerful than most projector speakers, which average around 2.5 watts. Even so, you're not getting a ton of volume. On the plus side, you're getting high-quality Dolby audio, so the sound you do get is crisp and clear. In fact, the 495W is officially authorized for Dolby sound.
If you want to connect external speakers or headphones, there are two ways to do it. To begin with, there's a 3.5mm aux port, which works well for most audio devices. There's also a built-in Bluetooth 5.1 card, so you can use wireless headphones. The nice thing about Bluetooth 5.1 is that it's designed for ultra-low latency. This makes it ideal for gaming, where instant environmental feedback is essential.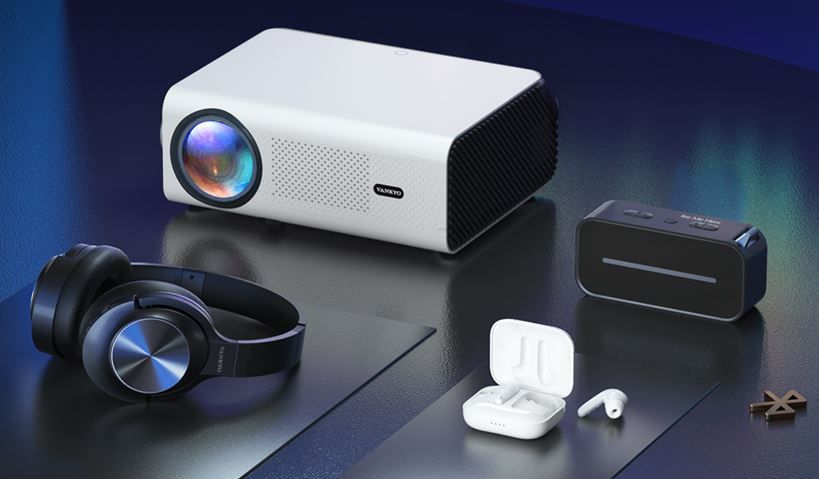 Final Verdict
The VANKYO Leisure 495W is a powerful little projector that supports almost any video input. It's easy to setup, and while the controls are minimalistic, you still get everything you need. It's easily mountable, and the video looks bright and vibrant. Combine that with quiet operation, and it's an ideal mini projector for many scenarios.
Meet Derek, "TechGuru," a 34-year-old technology enthusiast with a deep passion for tech innovations. With extensive experience, he specializes in gaming hardware and software, and has expertise in gadgets, custom PCs, and audio.
Besides writing about tech and reviewing new products, Derek enjoys traveling, hiking, and photography. Committed to keeping up with the latest industry trends, he aims to guide readers in making informed tech decisions.