Quntis 30W GaN Fast Charger
Pros
Ultra-compact design.
Efficient GaN chipset.
High-quality cable included.
Provides up to 30 watts of charging & 480 Mbps data transfer.
Cons
Only one charging port.
Prongs are not collapsible.
Only available in one color scheme.
These days, we rely heavily on our smartphones and tablets. You used to use your phone for calls and texts, and that was about it. Unless you were going on vacation, you didn't normally worry about maintaining a full charge. You'd plug your phone in overnight every couple of days and leave it at that.
But today's smartphones are far more integral to our lives than an old-school flip phone. Thanks to a proliferation of apps, we use them for way more than communication. We use banking apps to manage our finances and GPS apps to get directions.
A lot of us count our steps with fitness trackers, and almost everybody uses social media. When you're using one device for all of these functions, battery life becomes a bigger concern.
At the same time, phones and other devices have become more standardized. iPhones and iPads use the Lightning standard. Apple laptops and most Android phones utilize USB Type-C. Micro USB, once commonplace, has all but vanished from the marketplace. As a result, you can use the same charger to power many different devices.
This in turn has led to a proliferation of chargers. People will have a couple for around the house, one for the office, and another in the car. And of course, you'll still want a charger for travel. So there's a lot of demand, and companies are meeting that demand with more offerings. Before you buy, make sure you've done your research and found a charger that suits your needs.
Quntis 30W GaN Fast Charger
We're about to review the Quntis 30W GaN Fast Charger. This is a compact PD Charger that's designed to charge USB Type-C and Lightning-powered devices. It includes its own Type-C charging cable, with a small Lightning adapter for the kit. It also utilizes a more efficient chipset than most chargers.
That said, there are many considerations that go into choosing a good USB charger. We need to examine how the housing is designed, and what it's compatible with. We'll have to think about the maximum wattage, as well as any safety features. After we've taken all that into account, we'll have a full picture of what we're dealing with. Let's begin!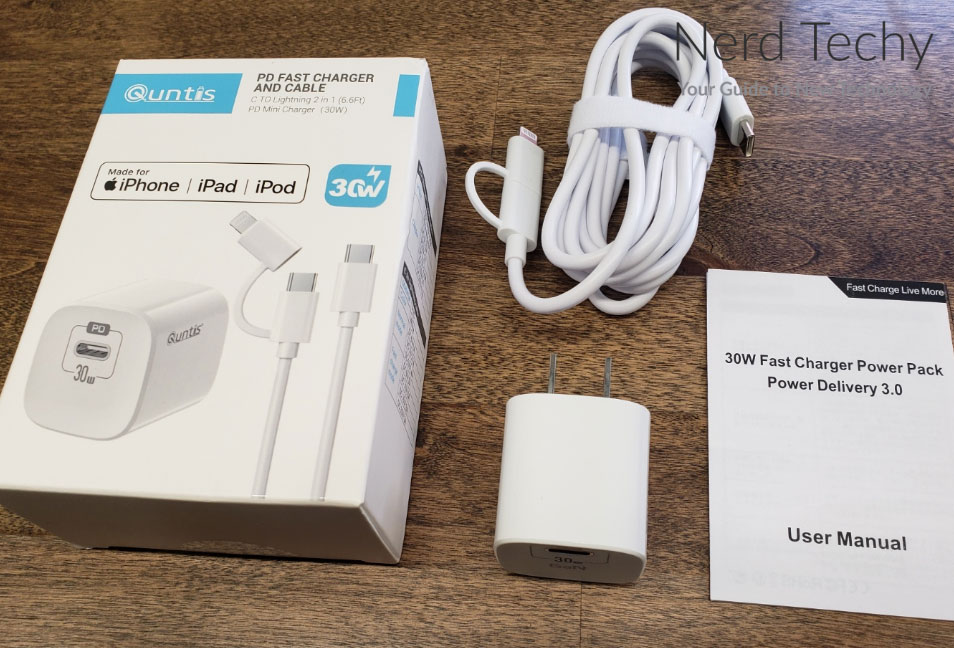 Overall Design
The Quntis 30W GaN Fast Charger has a square white housing that measures 1.3 inches to a side. The word "Quntis" is printed on the side in an understated grey. There's a single USB Type-C port on the front, with more writing and imprints around it. Other than that, the entire surface is smooth plastic, with curved and beveled corners.
At the back of the charger are a pair of prongs that plug into a standard household outlet. They're pretty unremarkable, but they also don't fold down. This isn't an issue around the house, but it can be problematic for travel. As it stands, the prongs are awfully exposed, and could get bent in your luggage.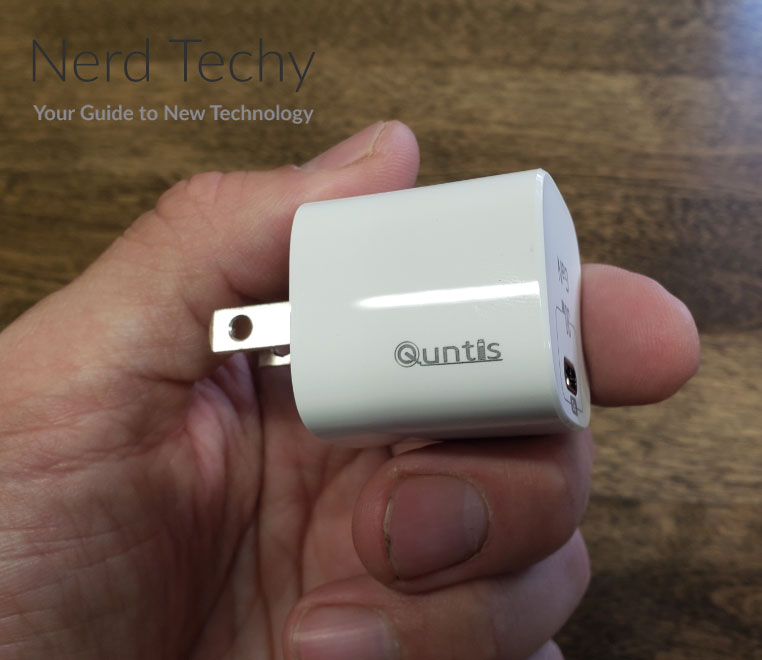 Along with the charging block itself, the package includes a USB Type-C to Type-C charging cable. The cable is 6.6 feet long, so it has plenty of reach for most applications. It's white to match the charging block, with a rubber finish that doesn't collect dust. At the far end, you'll notice a tiny USB Type-C to Lightning adapter. It's attached with a short rubber tether so you don't have to worry about it getting lost.
This is one of the most compact USB chargers we've ever seen. But if you want something even smaller, check out the Quntis Fast Charger. It has a slimmer design, and it's available in 15- and 30-watt versions. However, it only comes with a Lightning cable, not USB Type-C.
Use code I9Y68B3J for 10% off when you order the Quntis 30W Fast Charger on Amazon
Charging Capability
As its name implies, this charger can deliver up to 30 watts of charging power. That's sufficient to fully charge an iPhone 13 in only 90 minutes. By comparison, an ordinary USB port will deliver 12 watts of power. You'll get excellent performance on most Android phones as well. Most will charge at their maximum speed, although some Samsung phones can take even higher wattages.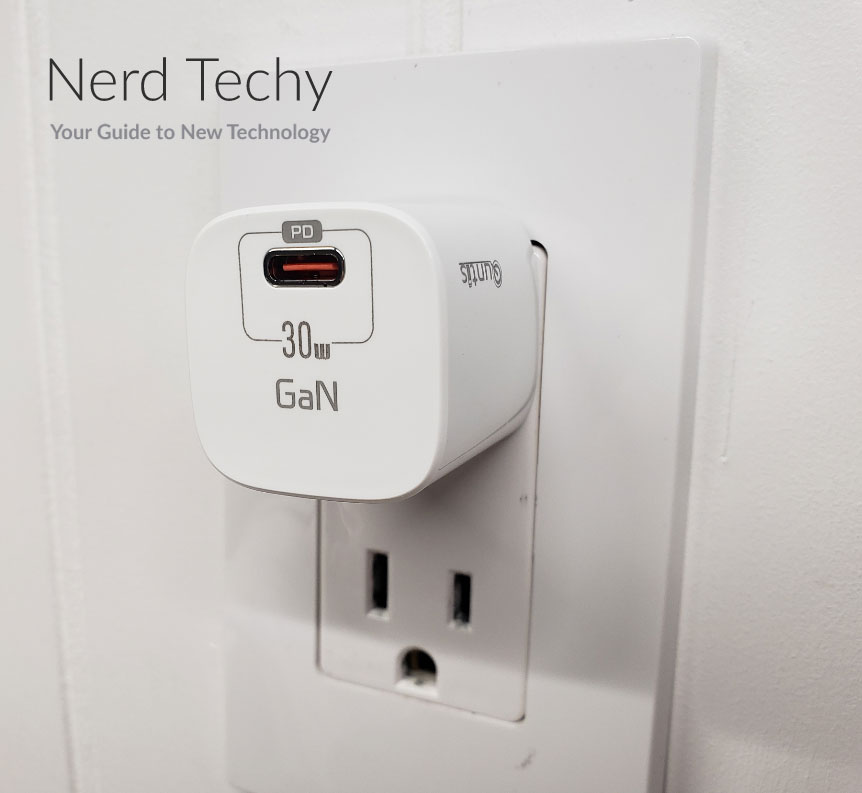 In addition, the Quntis charger utilizes a Gallium-Nitride (GaN) chipset. This material is significantly more efficient that traditional silicon circuitry. It won't directly impact your charging speed. However, it means you'll lose less wasted energy, which is easier on your power bill.
30 watts is plenty of power for charging any smartphone. It's also good enough to charge almost any tablet while it's in use. That said, while you can charge a laptop with 30 watts, it won't be enough for continuous operation. You'll have to shut down your machine for a while so the battery can charge.
If you need to charge a USB laptop while you use it, consider the VOLTME Revo 100. It delivers up to 100 watts of PD power, enough for even the beefiest laptops. It also has more ports, with two USB Type-C ports and a single USB Type-A port. On the downside, it's bigger and fatter than the Quntis charger.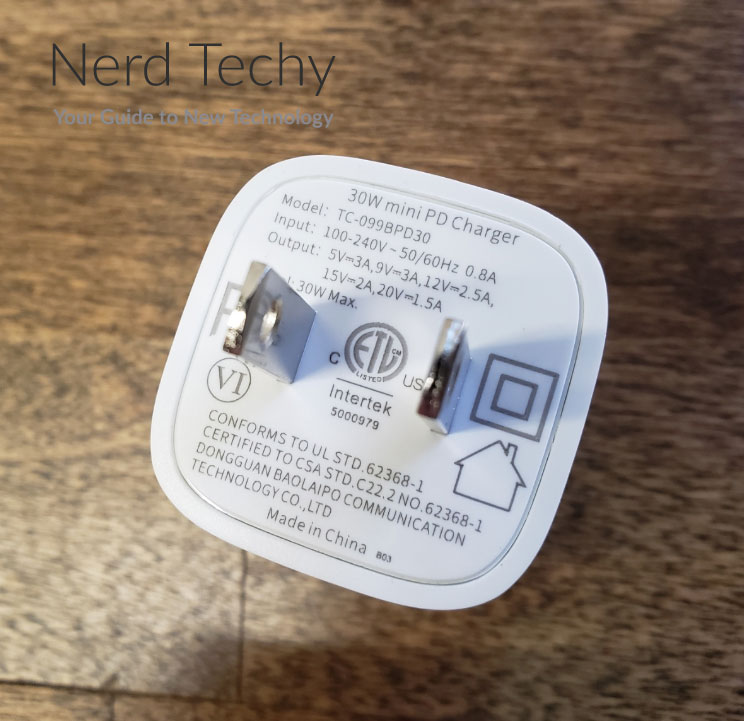 Compatibility
Compatibility with the Quntis 30W GaN charger is a bit of a mixed bag. On the one hand, it supplies power via USB Type-C and Lightning, which covers most smartphones. You'll also be able to charge the vast majority of modern tablets. In a pinch, you can charge your USB Type-C laptop.
That said, some devices still charge via USB Type-A to Micro USB cables. Since there's no USB Type-A port to plug into, you can't use this charger for those devices. The same issue comes into play with Apple devices if you lose the original cable. Instead of using an ordinary USB Type-A to Lightning cable, you'll need a Type-C cable and an adapter.
If you need a more versatile charger, take a look at the VOLTME Revo 30. It offers similar charging power, but it has a USB Type-A port as well as Type-C for better compatibility. Keep in mind, though, that the 30 watts is shared across both ports. If you're using them simultaneously, you'll get a slower charge.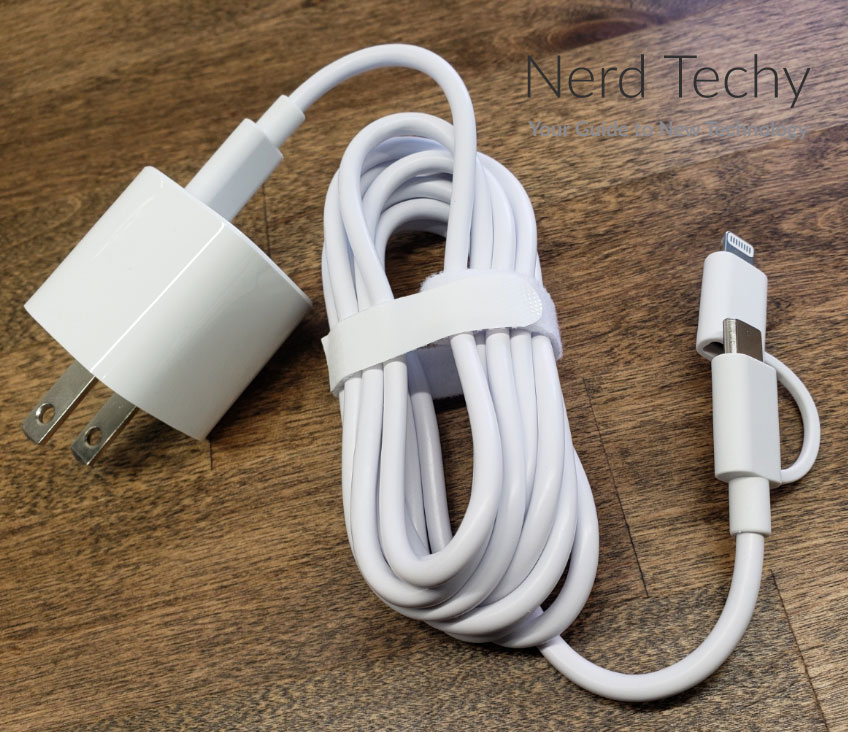 Safety & Extras
This charger has a number of built-in protections to keep you and your devices safe. Quntis doesn't say exactly what these protections are. However, if it's like most other modern chargers, there's thermal and short-circuit protection. The charger also adjusts the output wattage to match your device's requirements.
Besides the charger itself, the cable and adapter also have some noteworthy features. To begin with, the cable is exceptionally durable. It's rated for 25,000 bends and plug/unplug cycles, far more than your typical USB cable. If you don't lose it, you'll be able to use it for several years before it wears out.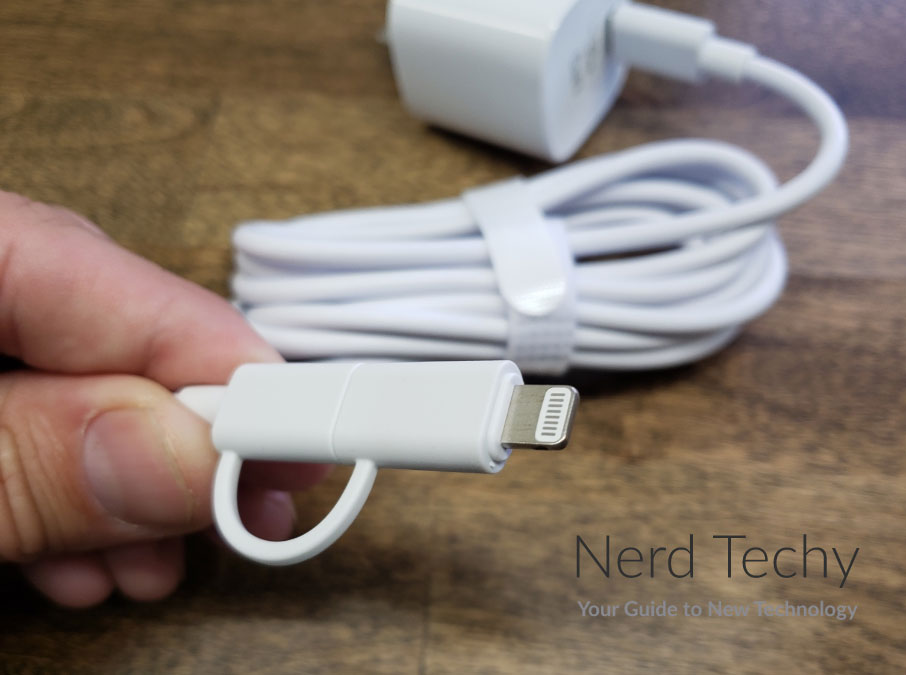 In addition to transferring power, this is also a suitable data cable. It's capable of data transfer rates as high as 480Mbps. That's the maximum transfer rate for a Lightning cable. However, it's nowhere near the maximum transfer rate of USB Type-C. If you're using an Android device, you might still want a different data cable.
Finally, a lot of USB Type-C to Lightning adapters trigger error messages and popups. This is because the iPhone recognizes the underlying USB Type-C format. This adapter, on the other hand, comes with an MFi-certified C94 chip. With the chip in place, your iPhone recognizes the cable as a Lightning cable, not USB. That's why it can be used for data transfer.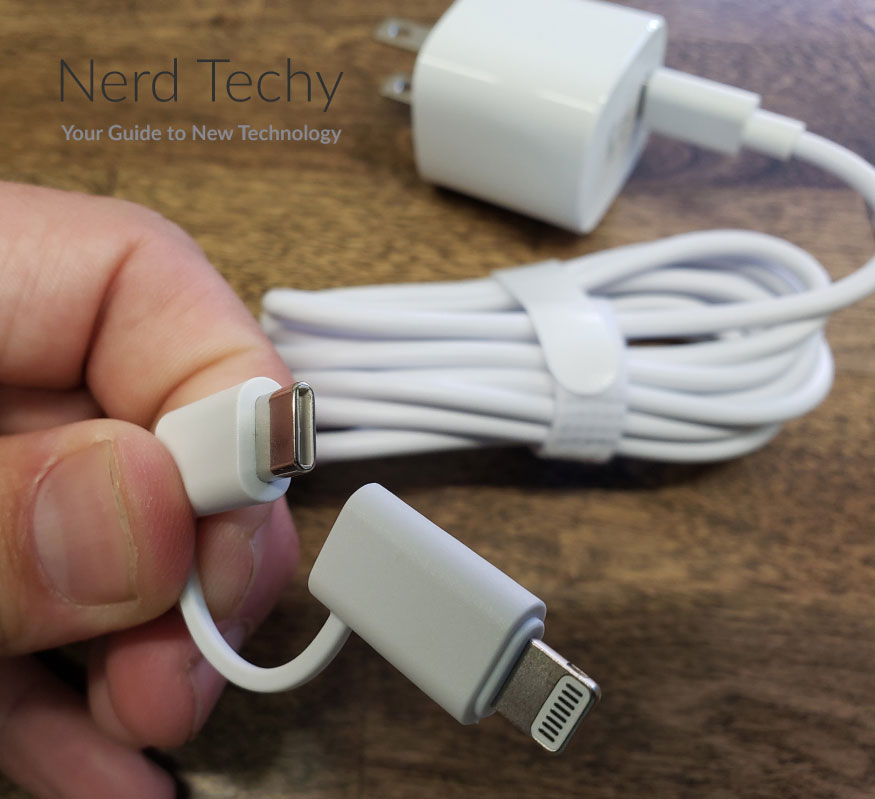 PD Power Basics
Now that we've talked about the charger, let's talk about PD charging technology. What is it, and why are so many manufacturers advertising this feature? To truly understand what's going on, we have to go back to the first USB ports.
Back in the 1990s, every company used their own data transfer cables. It became apparent that choosing a common standard, so seven big tech firms formed the USB Implementers Forum. USB is short for "Universal Serial Bus," which is what the companies were setting out to create.
They came up with a simple cable with a pair of copper wires. It could connect peripherals from any manufacturer with any computer, which was exactly what the implementers wanted. However, any pair of copper wires is capable of carrying an electrical current. While USB wasn't specifically designed for this, it was still able to carry a small trickle charge.
Manufacturers quickly started building USB peripherals that drew less than a watt of power. When this happened, the USB Implementers Forum saw the potential of a combined data and power cable. Newer USB standards have added more robust cables that can carry more current. Today's USB 3.0 and 3.1 ports deliver 12 watts.
So, What Is Power Delivery?
Power Delivery (PD) technology is a special type of USB Type-C that's designed to deliver enhanced power. Depending on the cable and the port, you can deliver as much as 100 watts. Keep in mind that that's the maximum possible for the standard. Many devices, like the one we just reviewed, deliver less. But no matter how you cut it, you're getting way more than 12 watts.
PD power has allowed manufacturers to engineer more powerful USB-powered devices. Nowadays, PD power is used for laptops and other devices that used to require proprietary cables.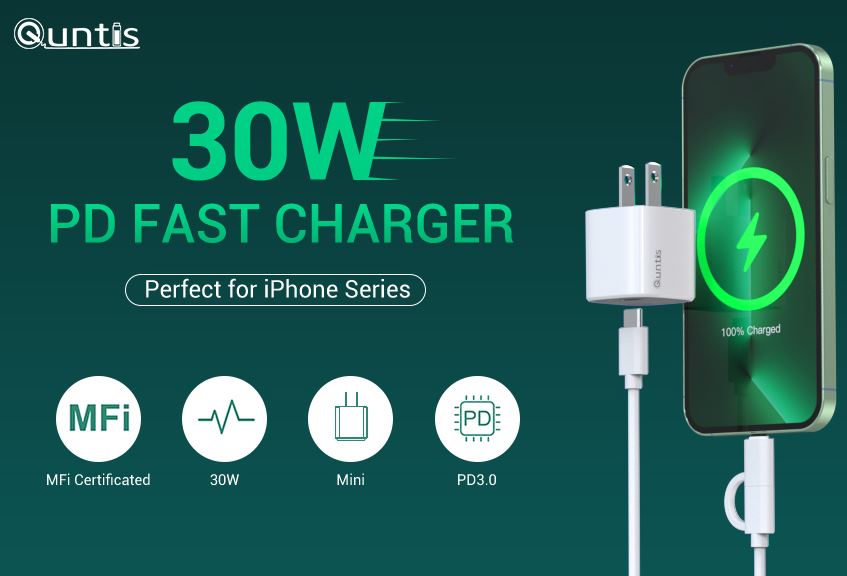 Final Verdict
The Quntis 30W GaN Fast Charger is a great little charger for iPhone users. With 30 watts of charging power, it's all you'll ever need. It's even a good choice for tablets, as well as most Android phones. You'll want something more powerful for laptops, but otherwise the Quntis charger has got you covered.
Use code I9Y68B3J for 10% off when you order the Quntis 30W Fast Charger on Amazon
To be fair, we were more impressed with the cable than we were with the charger. It's one of the most durable cables on the market, bar one, and it delivers data as well as power. We also loved the adapter, since it doesn't trigger any error messages. You might want a different charger if you travel a lot; the fixed prongs could get damaged. But for most other applications, this is an excellent charger.
Meet Derek, "TechGuru," a 34-year-old technology enthusiast with a deep passion for tech innovations. With extensive experience, he specializes in gaming hardware and software, and has expertise in gadgets, custom PCs, and audio.
Besides writing about tech and reviewing new products, Derek enjoys traveling, hiking, and photography. Committed to keeping up with the latest industry trends, he aims to guide readers in making informed tech decisions.