When you're looking for kitchen appliances, there are a few brands that stand out. For mixers in particular, the go-to option is KitchenAid. Their machines are used in professional kitchens, and will mix anything under the sun. Unfortunately, even a cheap KitchenAid is expensive. For all but the most dedicated bakers, it's simply not worth the investment. At the same time, many more affordable mixers can leave you in a bind. They're often not powerful enough for heavy-duty jobs like mixing pizza dough. Even a very low price is still too much to pay for a mixer that doesn't get the job done.
Does this mean you're forever doomed to mix your creations by hand? Of course not. There are plenty of affordable mixers that work quite well. You just need to sort through all the garbage and find one that's up to standard. We've touched on some kitchen appliances in the past, like slow cookers and pressure cookers. Today, we're going to try our hand at reviewing one of the world's most popular kitchen mixers.
We'll be reviewing the Acekool Stand Mixer. This is a KitchenAid clone that's designed for a variety of tasks, from mixing liquids to pounding dough. It's also made to be dishwasher safe. Much like an actual KitchenAid, the only thing you'll have to wipe down by hand is the housing itself. But does it actually perform as well as you need it to? And what extra features does it bring to the table? In order to find out, we needed to take a close look at how this mixer works. So put on your chef hat, because we're about to get down and dirty in the kitchen. Let's see how this mixer stacks up to the competition!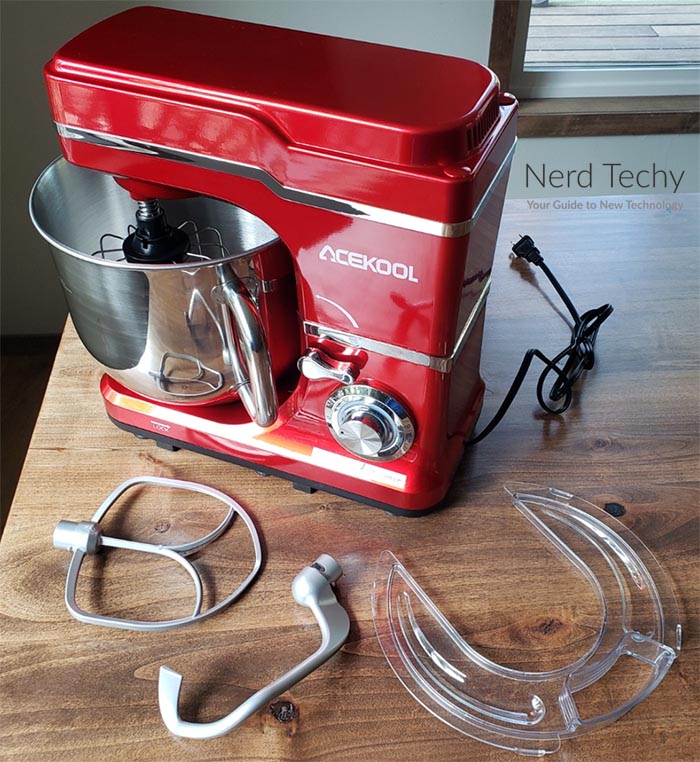 Overall Design
The Acekool Stand Mixer has the form factor you'd expect from a kitchen mixer. There's a wide base for stability, a vertical housing at the back, and an extension over the top for attachments. The housing is available in red or black, both of which have a shiny finish that's easy to clean. The internal frame is made of sturdy steel, and the base and many other components are made of plastic. It's not as tough as a certain name brand, but it's as sturdy as it really needs to be. The base measures 6.7 inches in width and 12.7 in depth, and the unit is 13.9 inches tall. It weighs 14.55 pounds, which is a bit heavy for the size. Much of that weight is in the motor.
As far as details go, there are a few things worth noting. To begin with, there's a speed dial and release switch to the right. We'll discuss these in detail in a second. There are also vents in the top and back of the housing. You'll want to make sure not to block these, since they're necessary to keep the motor cool. On the bottom of the base, you'll find a set of suction cups to keep the mixer from moving around. These stick great to granite countertops and other very smooth surfaces. On anything with more texture, your mileage may vary.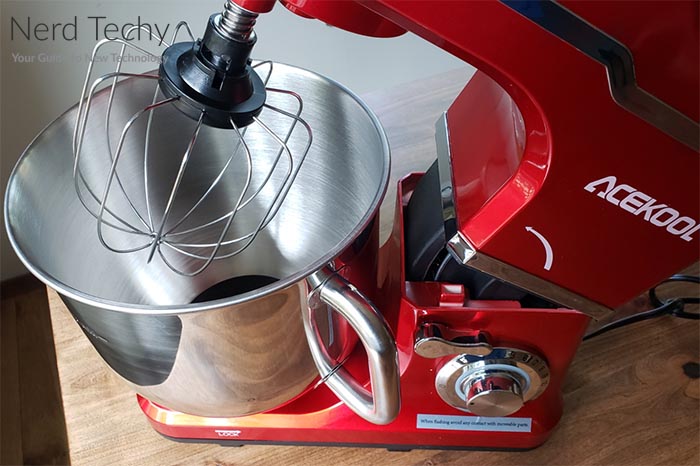 There are a handful of cosmetic accents. A pair of silver bands wrap around the housing, and there's also a silver Acekool logo. These match the steel accessories, as well as the silver color of the controls. The AC power cord extends from the back of the base. It's about three feet long, which is common for kitchen appliances. It's enough to reach an under-the-counter outlet, but not much more.
Along with the main mixer unit, you get a handful of accessories that are essential for its operation. First and foremost, you get a large, 7.5-quart stainless steel mixing bowl. This bowl is perfectly shaped and sized for the Acekool mixer. It sits perfectly in the base, and has the right curve for all the mixing attachments. There's even a helpful "Max" line to let you know the bowl is too full to mix. The mixing tools include a whisk, a mixing beater/paddle, and a dough hook. There's also a small cookbook with a handful of recipes. It's nothing groundbreaking, but it's useful if you just want to make a quick loaf of bread.
All of this is covered by a three-year manufacturer's warranty. That's pretty impressive coming from a little-known brand, but it tells us they're serious about quality. It's certainly better coverage than you'll get from most brands.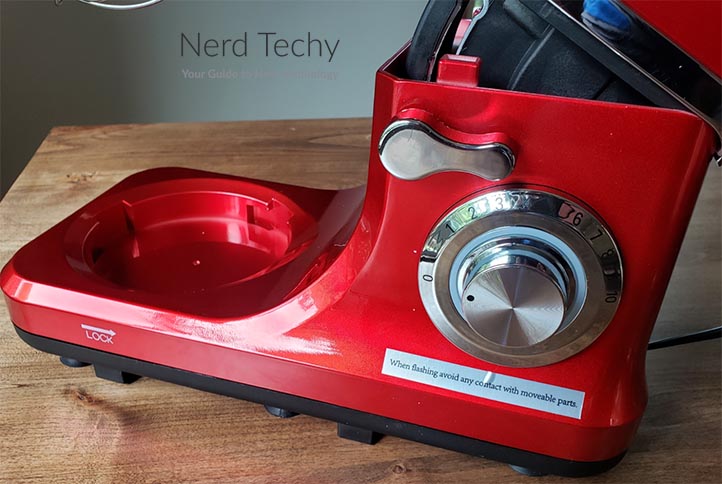 Controls and Operation
So, how do you actually use this thing? The first thing you need to do is choose your attachment. Thankfully, they're pretty self-explanatory. The whisk is for light materials like eggs, sauces, or whipped cream. The beater is for medium mixtures. It's good for pancake batter, salads, and small batches of cookies. The dough hook is the heavy-hitter. You use it for bread, pizza dough, or large cookie dough batches. No matter which one you need, they install the same way. You simply insert them in the opening and twist until they click into place.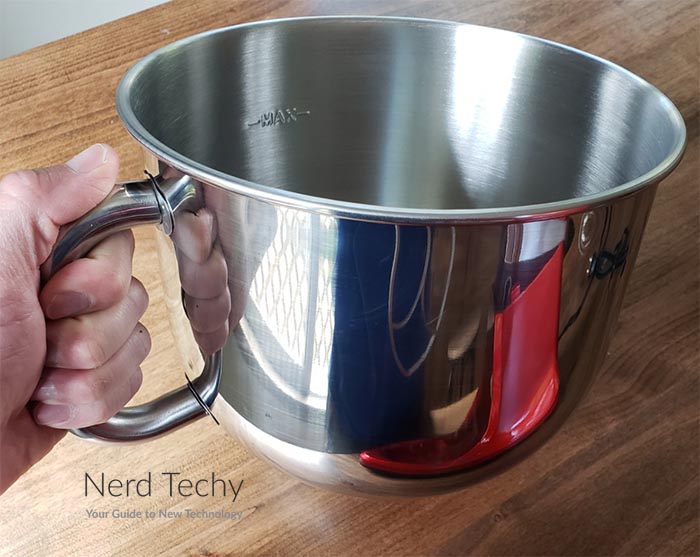 Before you install your attachment, you can install the black baffle around the top. In all honesty, it's not necessary for thicker materials that don't splash. But you'll want to for eggs, sauces, and anything that might splash back. Now, add all your ingredients to the bowl, and put the bowl in position. With the bowl and attachment in place, press down on the top of the mixer. Flip the switch forward to lock it; you'll need to flip the switch again to open the mixer. Once that's done, you can install the clear top cover over the mixing bowl. Again, this isn't necessary for thicker materials, but it's essential for preventing splashes.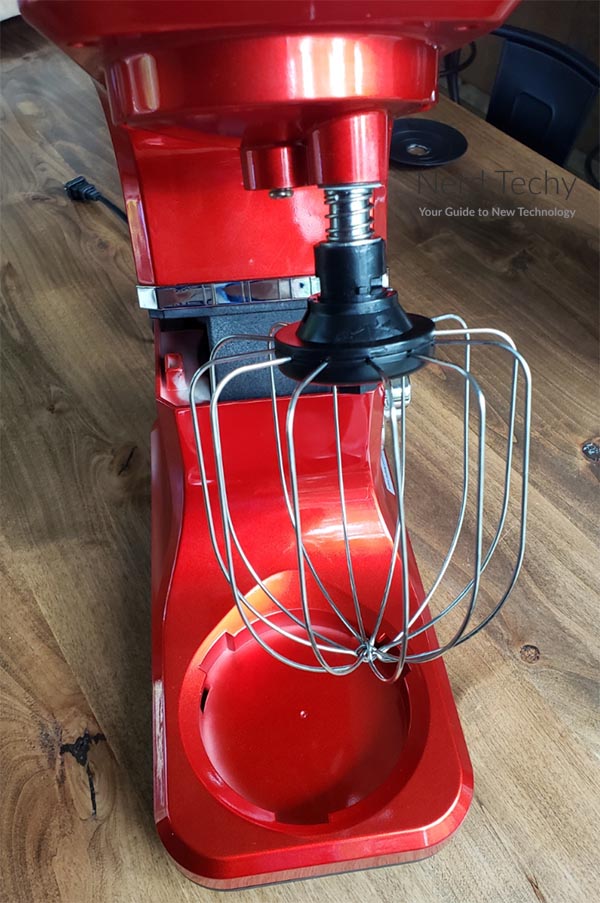 Now, you just set the dial to your preferred speed. It has stepless operation, so you're not locked into using any one exact number. There's no hard and fast rule for what exactly to use for what recipes. You'll need to experiment a little to figure out what works out best for you. That said, there are some rough guidelines to adhere to.
In general, the lowest speeds (1-3) are best for heavy materials. For any kind of dough, you're going to want to be in this range. Think of it as your "dough hook" setting, and you won't be far off. If you're using the beater, you can move up to speeds 4-7. For some things like cookie dough, you'll want to be in the slower part of this range. For a lighter material like pancake batter, you can go a bit faster. The highest part of the dial (speeds 8-10) are best reserved for the whisk. Be aware that there's a steep increase in speed at the top end. You don't want to use speed 10 unless you're trying to make whipped cream, whipped egg whites, and so on. For a more mellow whisking action, stick in the 8-9 range.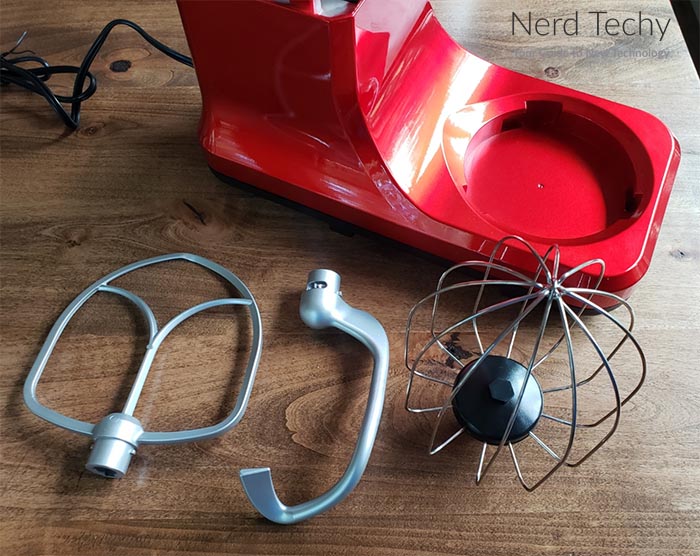 One last thing we should note is that the clear plastic splash guard has a slot for ingredients. If you need to add smaller items in the middle of the mixing process, you'll be able to. It's a nice added touch that many affordable mixers don't offer.
Mixer Performance
So far, we're looking at a well-engineered mixer. But how much power can you actually expect? The motor draws 660 watts, and is constructed from pure copper for maximum efficiency. This translates to a significant amount of mixing power. We're not saying it's as tough as a KithchenAid – nothing is. But for the price, you're getting very good performance. More to the point, the mixer is powerful enough for pizza dough. There aren't many foods that are tougher to handle than that. As far as we're concerned, if you can make some dough for your WiFi-enabled toaster oven, it's powerful enough.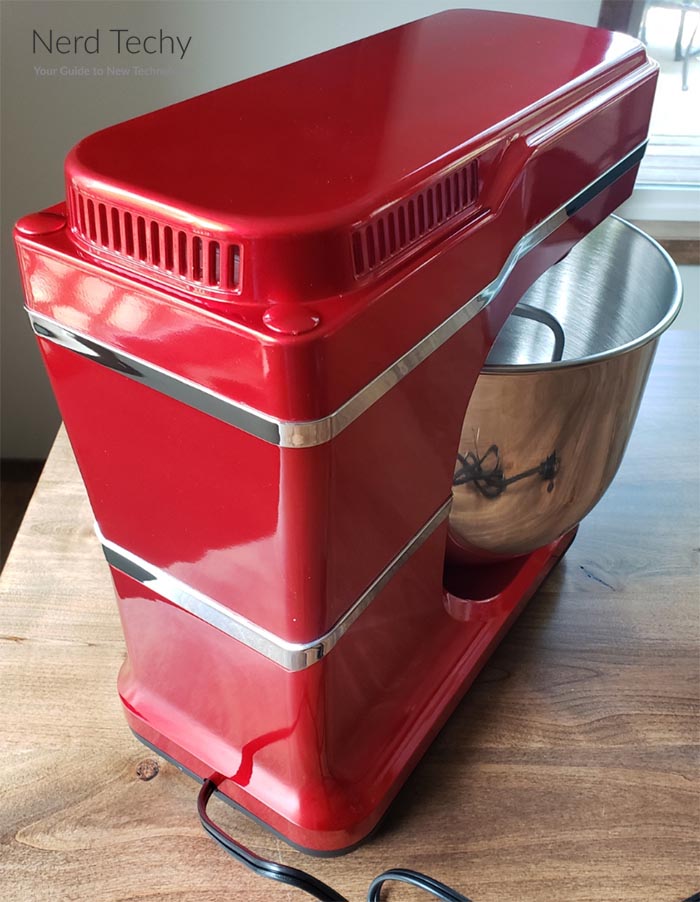 One common concern people have with mixers is the volume. Here, it really depends on your settings. If you're mixing dough on speed 1, you're only going to hear a low rumble. It sounds like a truck going uphill a couple of blocks away. As your speed gets faster, the sound gets louder and higher pitched. At the highest setting, it maxes out at 75 decibels. That's fairly loud – louder than normal conversation. But it's not so loud that you have to literally yell. You can carry on a conversation if you raise your voice a bit. The noise level is roughly equivalent to a loud set of electric egg beaters.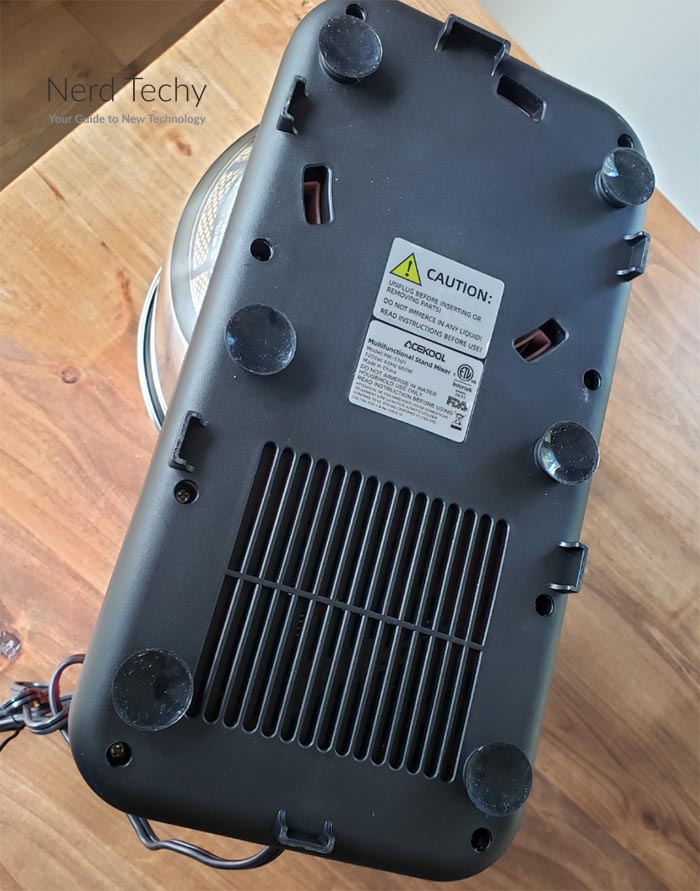 When you're done cooking, cleanup is relatively simple. All of the Acekool mixer's parts are dishwasher-safe, so you don't have to scrub them off by hand. As with anything else, make sure to wash plastic parts on the top rack. Otherwise, you're going to have a bad time. The main base/housing can be washed with gentle soap and water. If you've splashed or spilled on it, just wipe it down and wipe away the residue. Because of the smooth, glossy finish, cleanup is easy.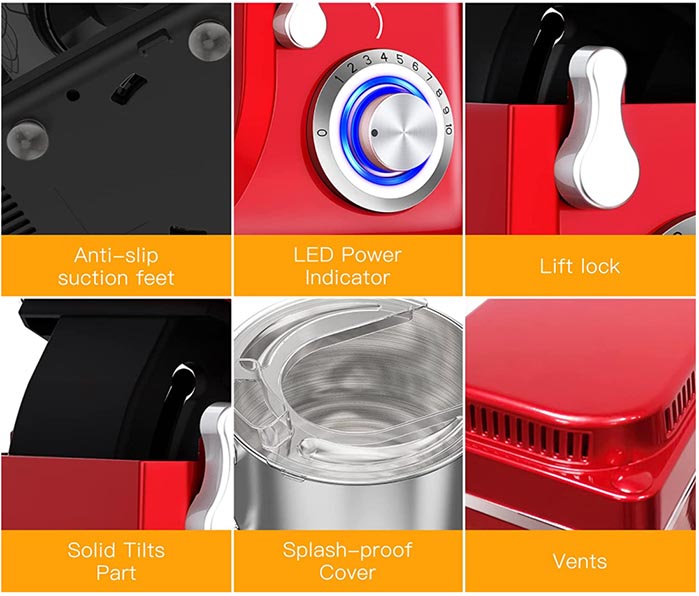 Final Verdict
The Acekool Stand Mixer is one of the better-engineered mixers on the market. For one thing, the motor is actually powerful enough for most kitchen tasks. It doesn't get bogged down in pizza dough and other dense materials. For another thing, the physical design is well thought-out. The controls are easy to use, and the housing is easy to keep clean.
We also liked all the attachments. The beater, whisk, and dough hook are all tough and sturdy, with an easy-to-use locking mechanism. The lid was also well conceived, and does a good job of preventing splashing. The ingredient slot was a nice extra touch, something you don't see on many affordable mixers. And all of this is protected by Acekool's impressive three-year warranty. In terms of both performance and value, this is an excellent mixer for most people.