Ebitcam 4G Camera
Pros
Supports all 4G networks; Verizon, T-Mobile, AT&T.
Includes a solar panel for off-grid use.
Built-in spotlight and two-way voice communication.
Sharp and vibrant 2k video quality.
Large capacity built-in battery.
Cons
Requires its own data plan.
Can only be mounted on a vertical surface.
Only available in white.
If you're like most people, your home is your most prized possession. And if it's not, your most prized possession is probably inside your house. It only makes sense that you'd want to take measures to keep your home safe.
Traditionally, this has meant installing a good deadbolt or maybe hiring an alarm service. But deadbolts are easy to circumvent – a determined thief will just break in through the window. And alarm services can be expensive. Besides which, they're often as ineffective as a deadbolt. Police are notoriously slow to respond to alarm calls, and burglaries aren't a top priority in many communities.
Note: At no extra cost to you, we may earn a commission for purchases using our links. Learn more.
But why not take advantage of technology and use a more modern solution? Security cameras used to be expensive and difficult to install. Unless you had a business with expensive merchandise to protect, they just weren't worth it. But today's security cameras are very affordable, and can be installed by just about anybody.
Not only that, but they're objectively better than old-school cameras. You used to be able to capture low-resolution, black-and-white footage and store it on a video tape. Today, you can capture high-definition, full-color video and save it on an SD card or in the cloud.
You can also view a camera's feed live via the web, which you couldn't do in the past. This makes modern security cameras far more robust than their older forbears. If you haven't thought about buying one yet, you definitely should!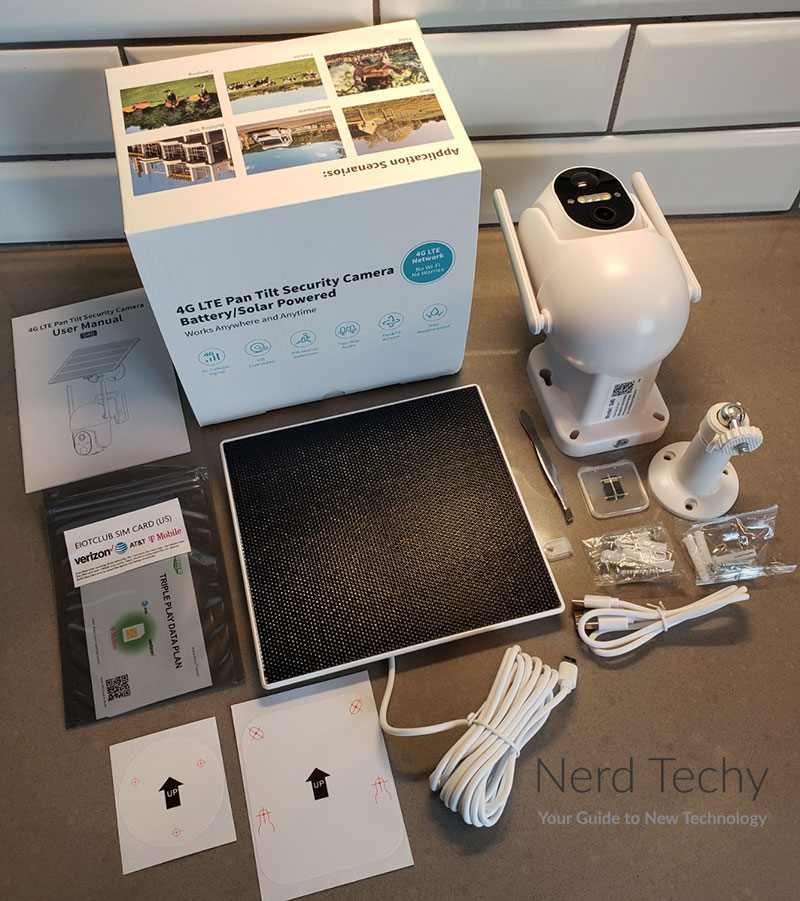 Ebitcam 4G Security Camera
Today, we're going to review the Ebitcam 4G Security Camera. This is a powerful 2K camera that can pan, tilt, and rotate. It comes with its own solar panel, so you never need to charge any batteries. And it has a number of smart features, including motion alerts, two-way voice communications, and a built-in spotlight.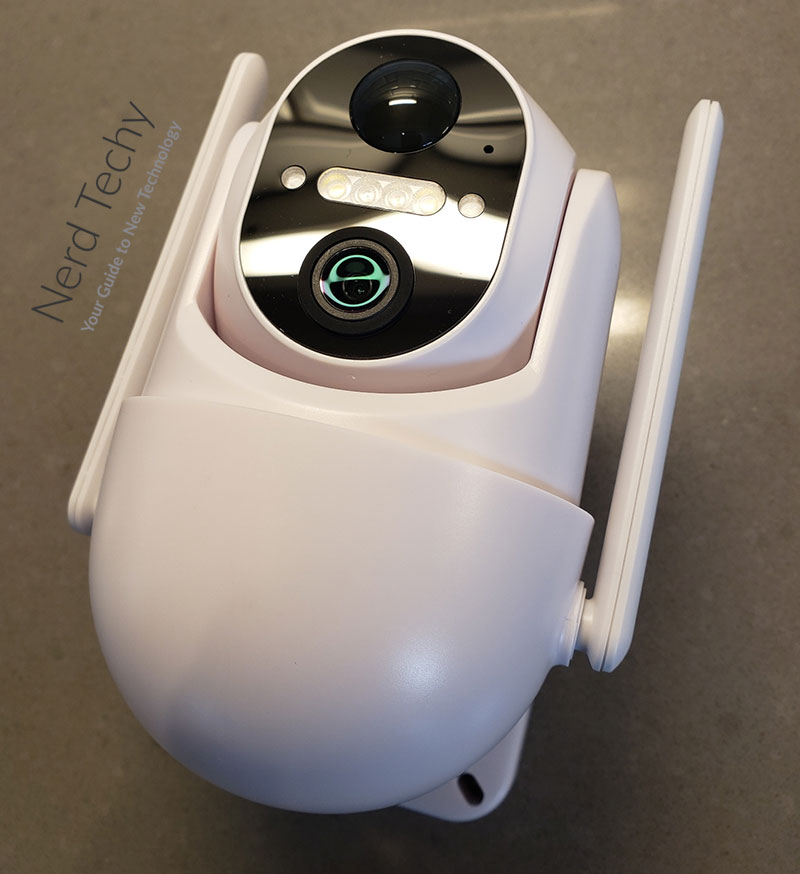 That said, we'll need to dig a lot deeper to have a full understanding of this camera. We'll need to talk about how it's designed, and how you install it. We'll have to investigate how it stores and transmits your video footage. And of course, we need to take a deeper dive into the smartphone app and what it's capable of. After that, we'll know enough to render our verdict. Let's take a closer look!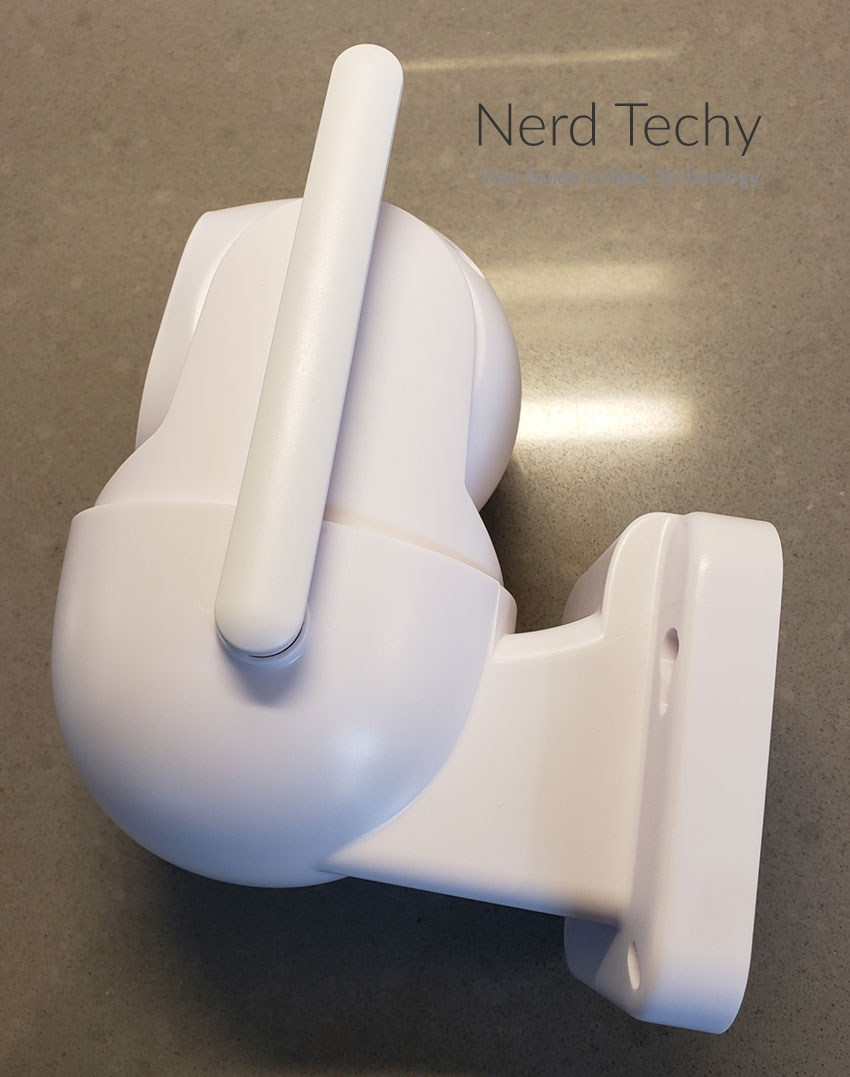 Overall Design
The Ebitcam 4G Security Camera has a vertically-oriented housing with an oval profile. It's manufactured out of matte white plastic that will not look out of place outside of most buildings. It's all one piece, including the wall bracket, which protrudes from the side. There's a set of antennas at the sides, which you can pivot to get a better signal.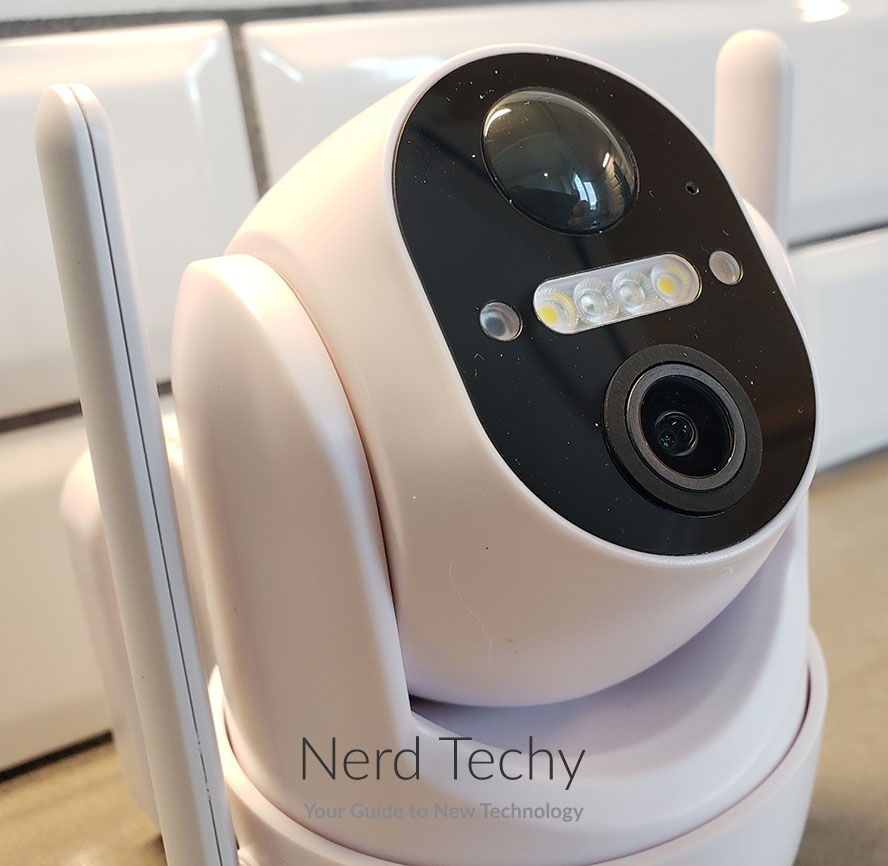 The bottom of the housing is a gimbal, which can rotate in any direction. Inside the gimbal is a spherical lens housing, where the lens is visible in the front. Below the lens is an set of LED lights, along with a large light sensor. The lens housing can tilt up or down as needed, independent of the gimbal rotation.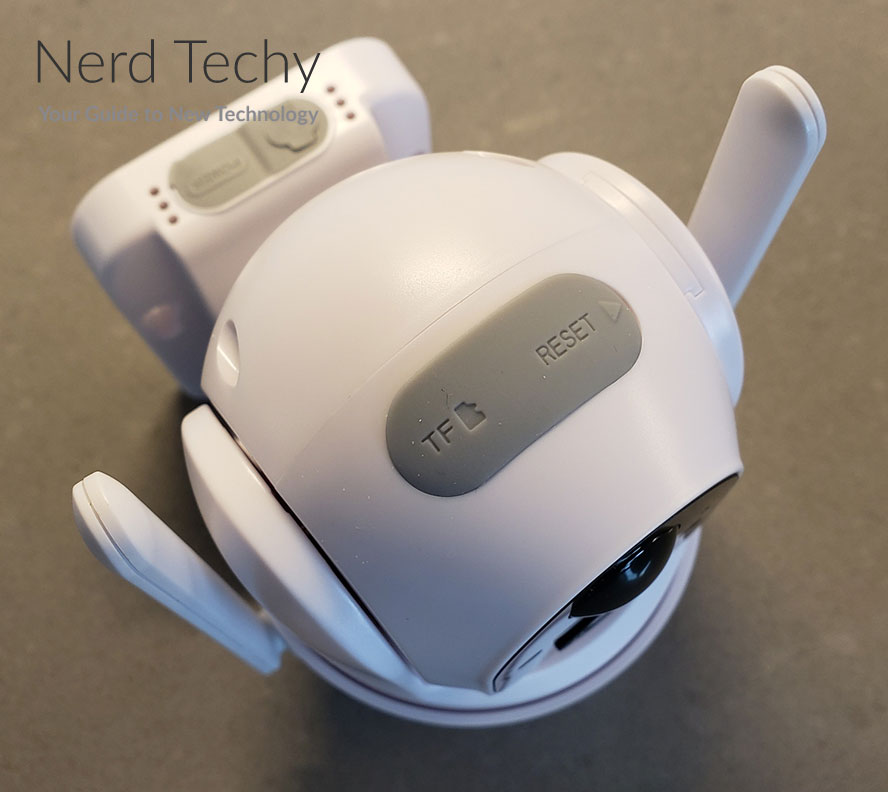 Turn the camera housing so the lens is facing into the main housing. Here, you'll notice a grey plug on the back. Remove the plug to reveal a Micro SD card slot and SIM card slot.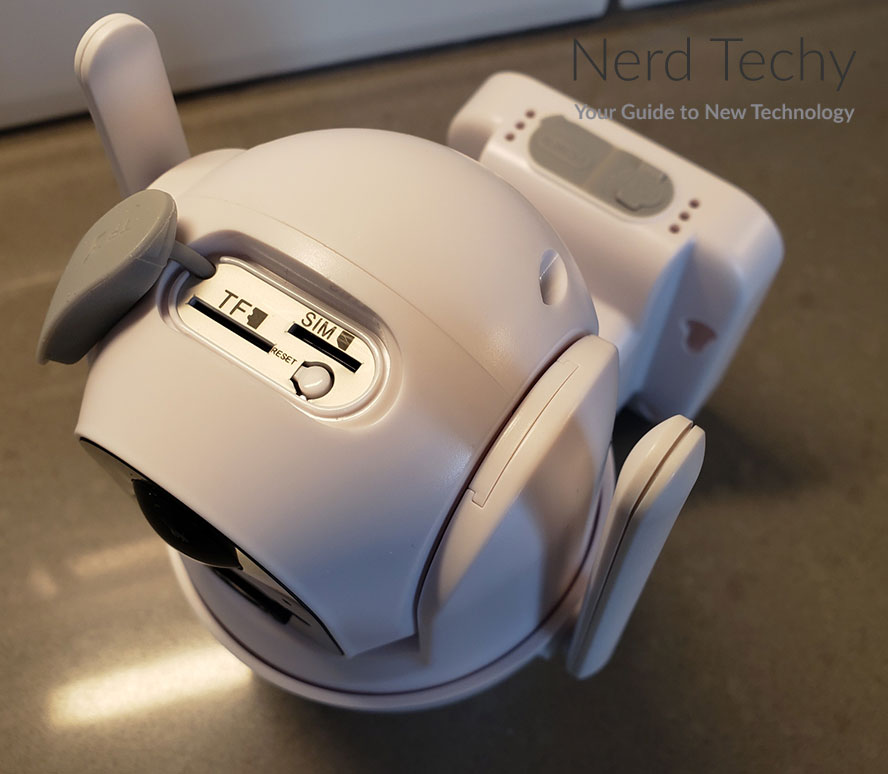 This camera has a weather-resistance rating of IP65. The "6" tells us that it's completely dust-proof. Even in a full-blown dust storm, it will be just fine. The "5" means that it can withstand hard, steady rain without failing. Under any ordinary circumstances, it's more than durable enough to last for years.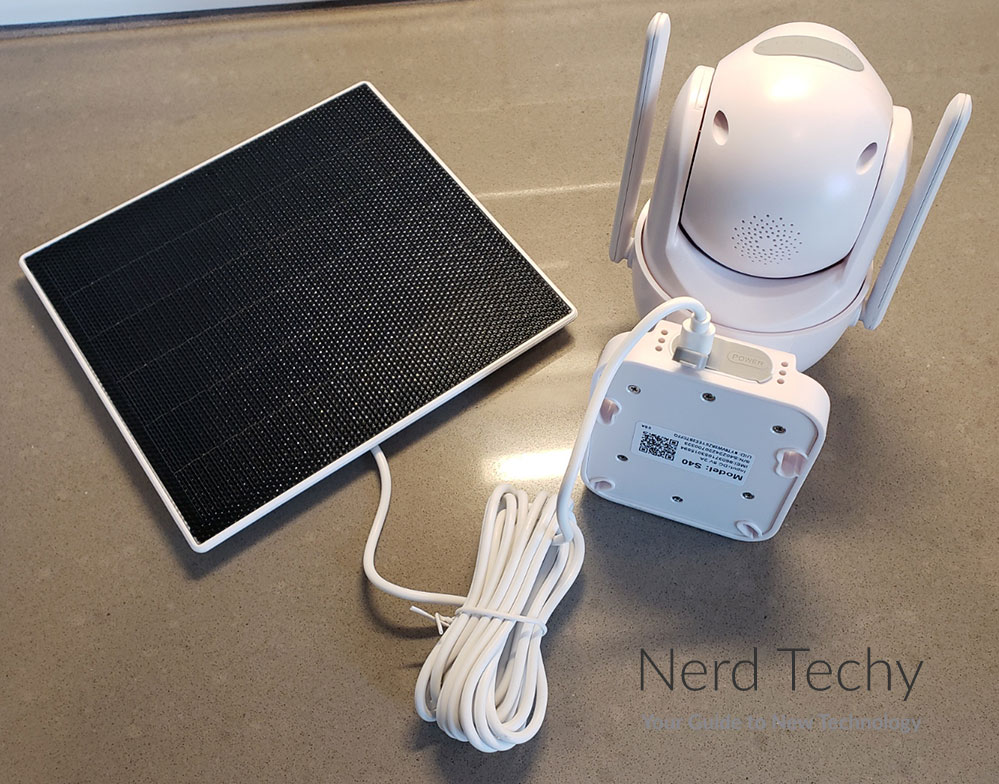 Along with the camera, you get a big square solar panel. The back, edges, and bracket are made from a matching white plastic to the camera. The bracket is several inches long, and has a ball bearing attachment at the end. This makes it easy to tilt the solar panel in any direction.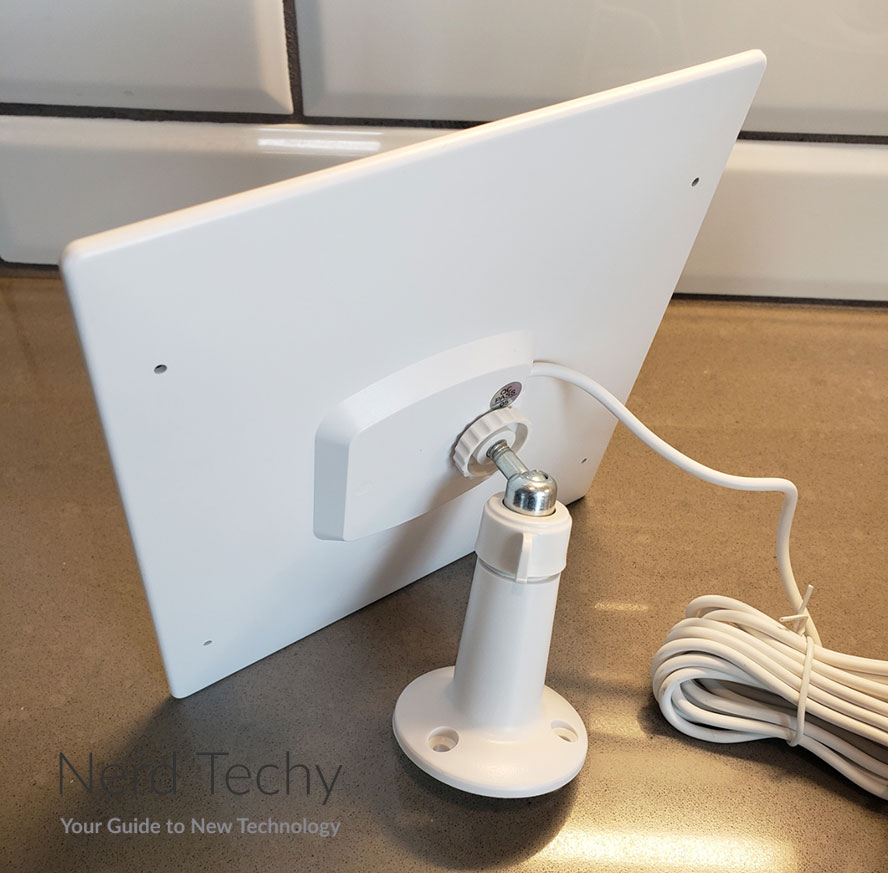 Installation
Installing the Ebitcam camera is very easy. The kit includes everything you need to get the job done. There's a set of screws, some anchors, and a pair of templates for pre-drilling. All you need is a drill and a drill bit. Keep in mind that the design of the bracket means you can only mount the camera on a vertical surface. If you need to mount under an eave, you need a different camera.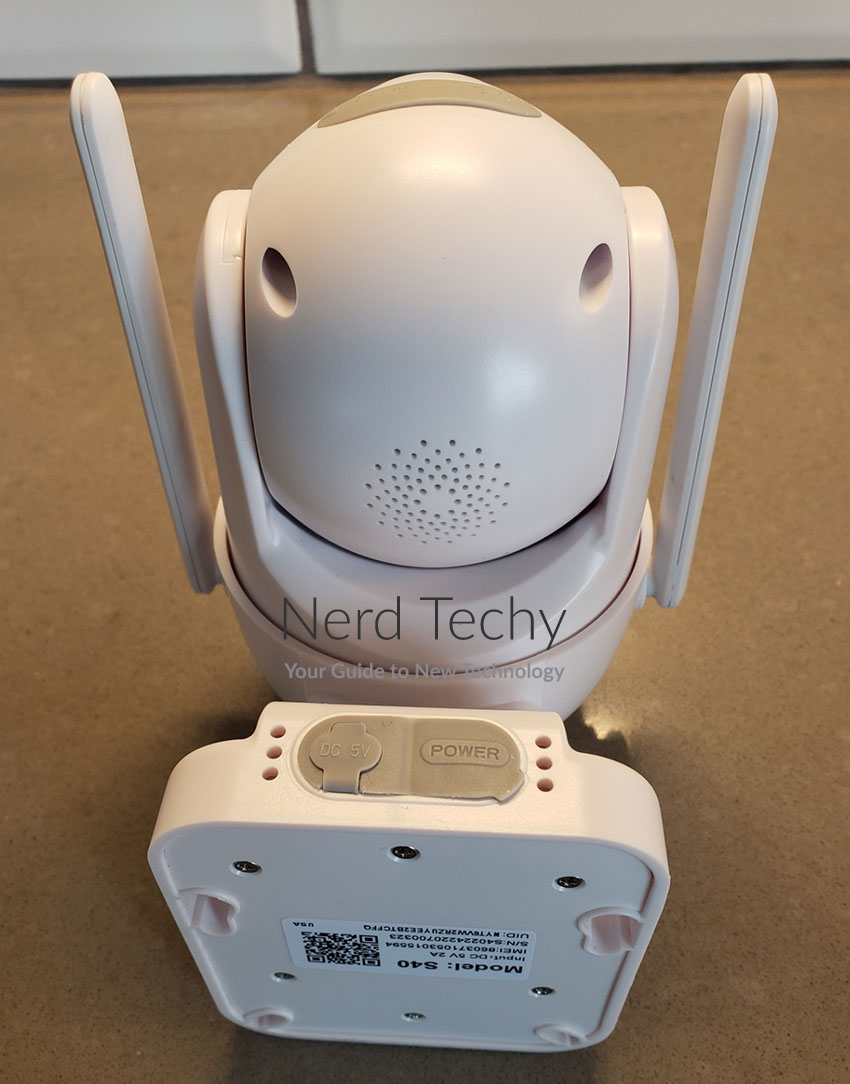 Using the templates, pre-drill your holes and install your anchors if you need them. Screw the camera into place, and do the same for the solar panel bracket. Then attach the solar panel. Make sure to position the panel where it will get plenty of sunlight. Then use the power cable to connect the camera and the solar panel together, and you're good to go.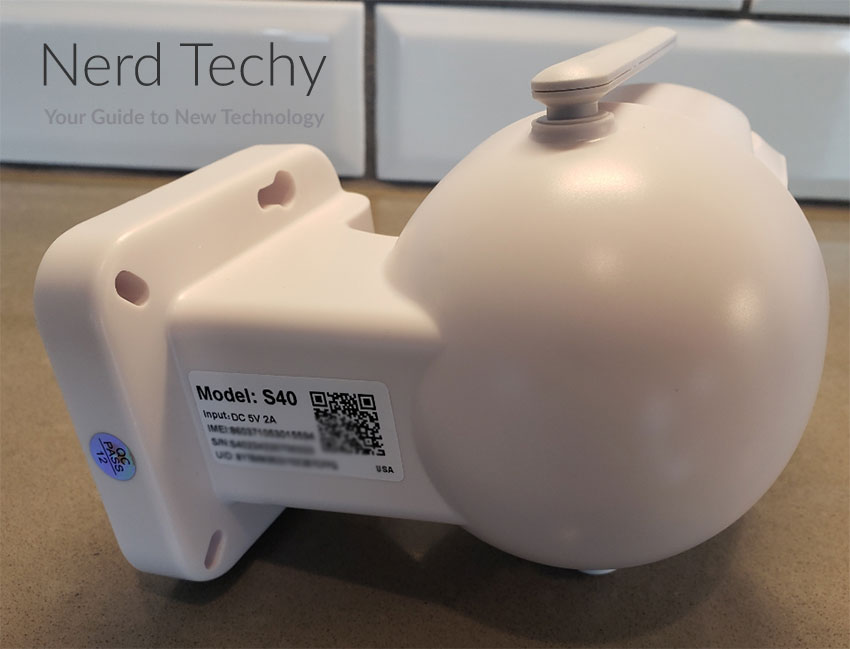 If you're looking for more flexibility, consider the Reolink RLC-1212A. It's a powerful 12-megapixel camera with incredibly-detailed video. It can mount on your wall or under an eave, and it even boasts a customizable motion-sensing zone. That said, it requires Power Over Ethernet, which can complicate the installation.
Connectivity and Storage
The Ebitcam 4G camera connects via a 4G data connection. Unlike any other 4G security camera, it supports all three top carriers; Verizon, T-Mobile and AT&T. It provides a simple solution where don't need to run any wires, and you don't need any WiFi access. In fact, it's impossible to use this camera without a SIM card and a data plan.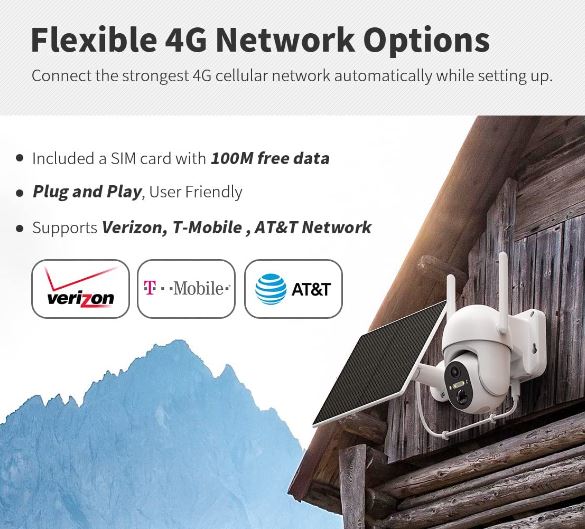 This is no big deal if you're looking for an off-grid camera. It also ensures that your camera will keep working during a power outage when your router is out. However, you're going to need to pay for your data plan. To make things easier, Ebitcam includes a prepaid SIM card that's good for 100 megabytes over seven days. This is more than enough to evaluate the camera and verify that it works for you.
Your video is stored on an SD card. The 32GB card included in the package is enough for recording a full week of video. This is thanks to the H.265 video encoding, which is twice as efficient as H.264 encoding. This is much more efficient for a better transmission rate and more fluent pictures with fewer data spent. Theoretically, this 32GB card will save as much video as a 64GB card in many other cameras. As an alternative to local storage, cloud storage is also available. However, it requires a subscription that some may not want to pay for.
Power
The camera's internal battery has a capacity of 10,400mAh. That's enough to run it for several days, depending on how often it's recording. With motion detection enabled, it'll operate for 10 seconds per trigger. With 100 triggers per day, the battery can support the power for up to 50 days. At 60 triggers per day, it could theoretically last for up to 3 months. However, there shouldn't be any power issues, as long as you use it properly, in conjunction with the solar panel.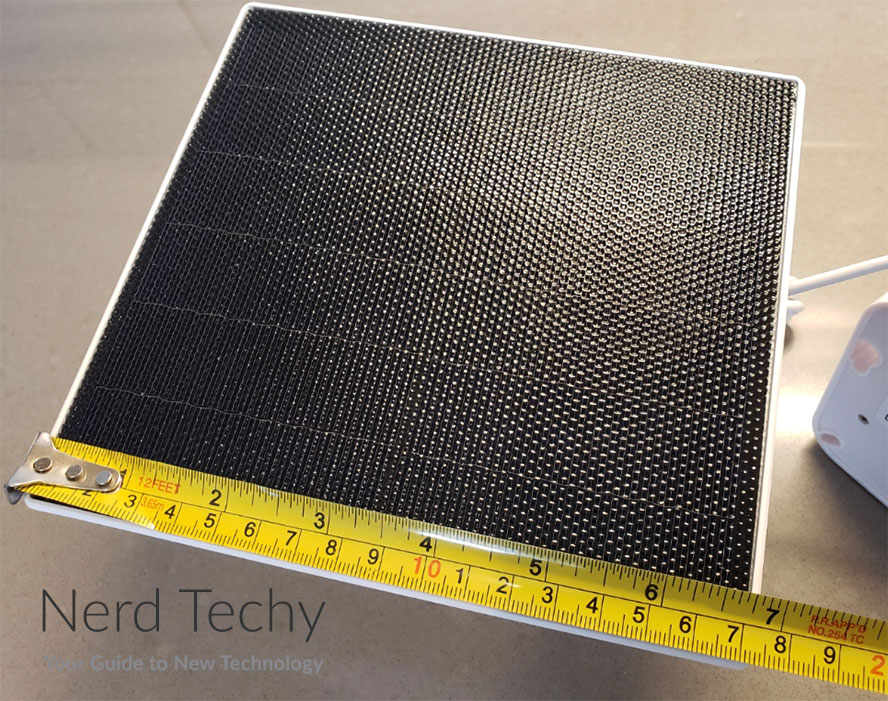 The included solar panel can provide enough charge for about a day's worth of use with only three hours. That's assuming it's in direct sun, so once again placement is very important. You may also have issues with the panel getting blocked by debris. For example, it may get covered by snow after a storm. In those situations, the battery might run dead. But under most normal circumstances, you should never have to worry about your power supply.
Video Quality
The Ebitcam camera captures video in 2K, or 1440p. This allows you to see more detail than you can on a normal 1080p camera. You can read name tags, labels, and other important information. Colors are bright and clear, not washed-out like you'll see on many security cameras. The focus is sharp and crisp, and automatically focuses on people's faces when possible.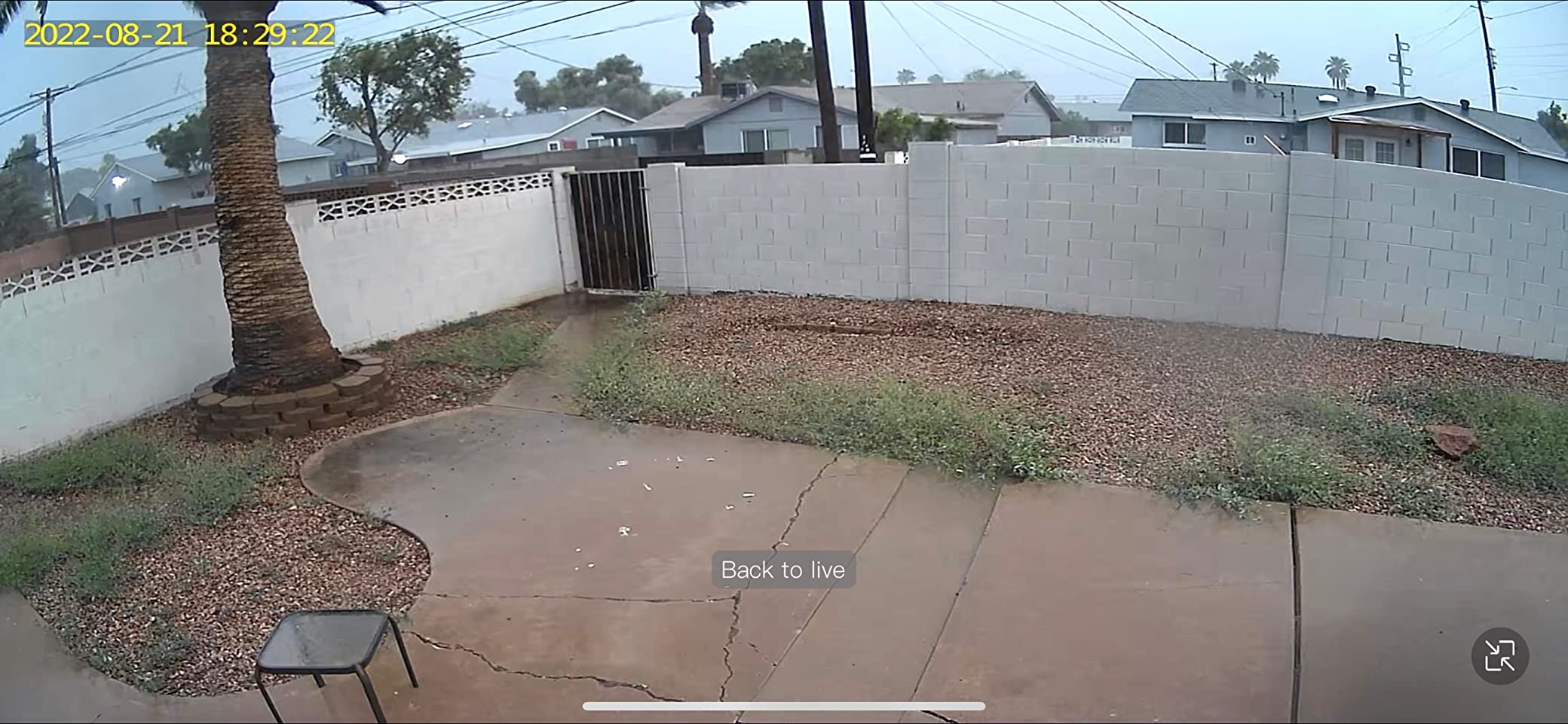 Night vision is equally good. While the footage is black and white, it's not grainy like you might expect. It looks like a high-quality black and white movie, so you don't lose any detail to the darkness. When you turn on the built-in spotlight, the IR sensors will stop emitting. As a result, the footage will turn to color and smooth, daytime quality video will be captured.
The Ebitcam camera can pan 355 degrees, so it can point in almost any direction. It also has a 100-degree vertical tilt, so it can point straight down or even slightly backwards. This gives you the flexibility to point the lens where it's needed. You can also take advantage of a 4x digital zoom. This isn't as good as an optical zoom, since you lose some detail. But it's still nice to be able to zoom in on your videos.
If you need a higher-resolution camera, check out the Annke AC800. It captures video in 4K UHD, and it has advanced person and vehicle detection capabilities. It also boasts color night vision with an impressive 100-foot range. Then again, it requires separate Ethernet and power connections.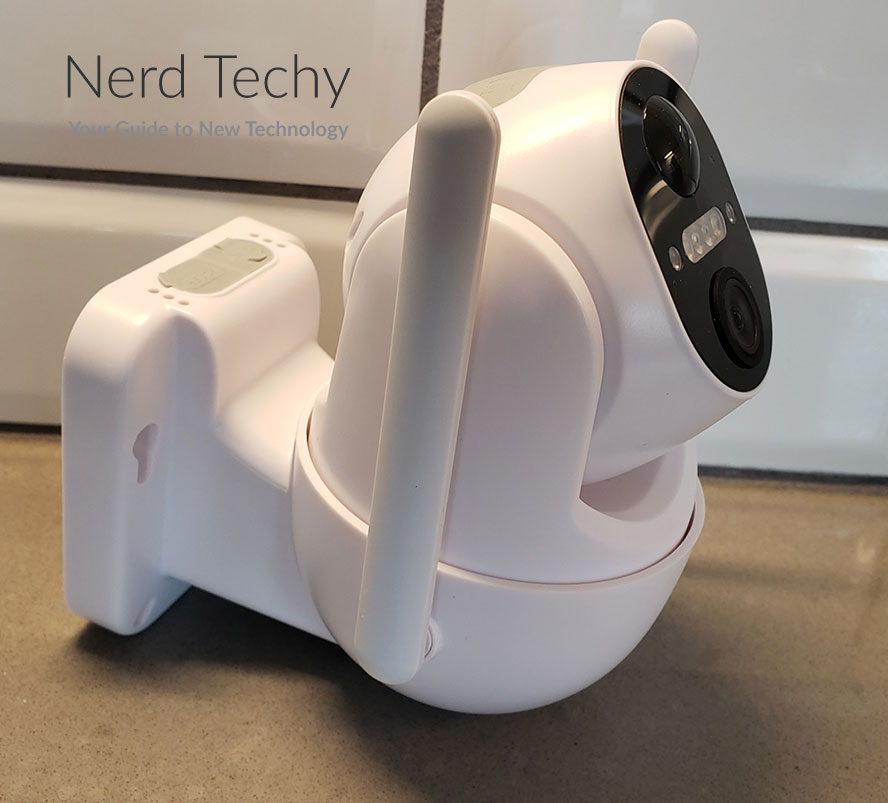 Monitoring and Extras
To use the Ebitcam camera, you'll need to pair the phone with your smartphone. The companion app is free and easy to use, and unlocks a number of functions. For one thing, you can monitor your camera feed from anywhere in the world. For another thing, you can activate push alerts for the motion detector. This will give you a heads-up when there's activity on your property.
Within the app, you can turn the built-in spotlight function on or off. When it's on, a bright light will turn on when motion is detected at night. This will not only scare any thieves, but it will also give you a full color video. Even if the automatic spotlight is turned off, you can manually activate the light at any time.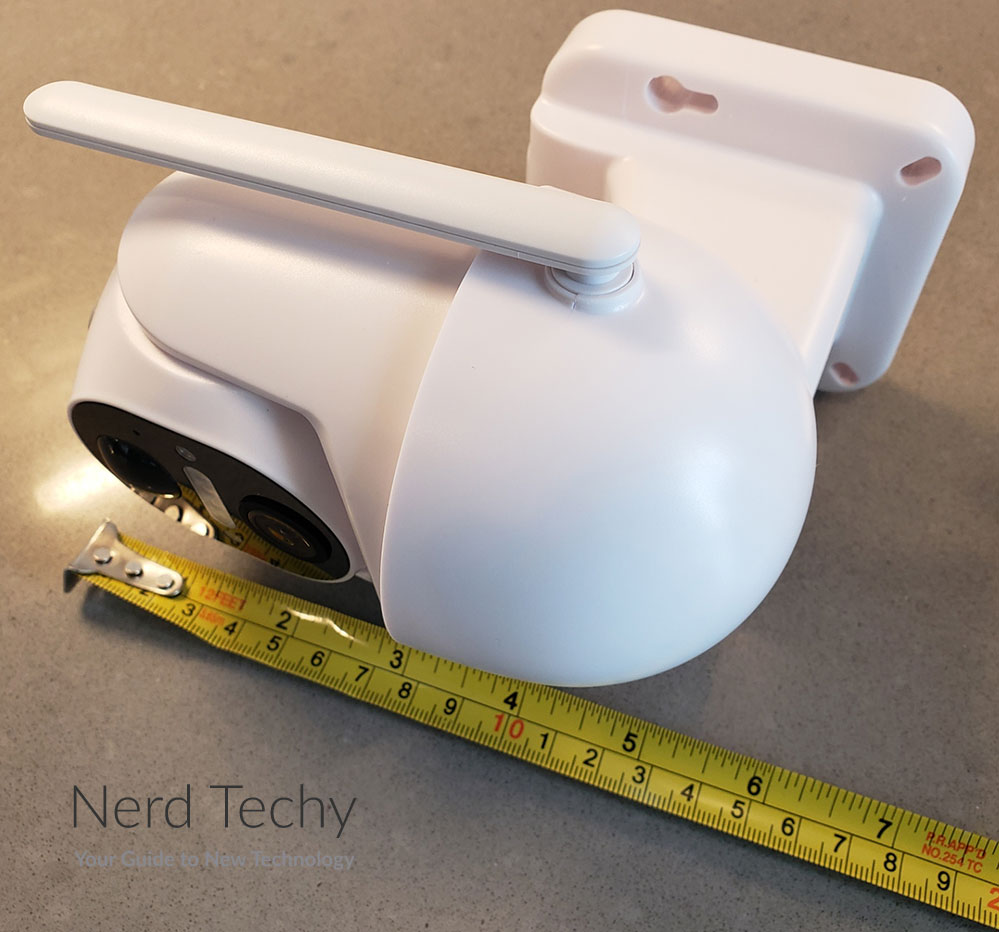 You can also take advantage of two-way voice communications. This is great if you have a package delivery that you want to be left in a certain place. You can say hi to friends, family, or kids. And if someone suspicious is on your property, you can tell them they're on camera. If they're smart, they're going to run away.
As you can see, most of these features are geared towards security. While you can definitely use the Ebitcam for watching wildlife, it's not truly specialized to do so. The Keen Ranger PT is built from the ground up as a trail cam. It's solar-powered, works over 4G, and has a slick camo pattern. Its motion detection software is also set to trigger for anything on two or four legs.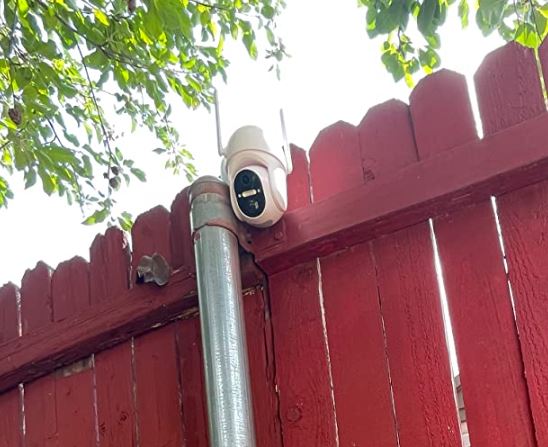 Final Verdict
The Ebitcam 4G Security Camera is a powerful tool for protecting your home. It records video in 2K, and provides clear images by day or night. It uses 4G data for connectivity and runs on solar power, so it's perfect for off-grid use. Additionally, it also comes with a versatile companion app that allows for easy monitoring.
Best of all, the Ebitcam utilizes the three major 4G carriers. Verizon, T-Mobile and AT&T. This makes it virtually unmatched in terms of connectivity when it comes to any comparable 4G security camera on the market. All in all, it's a solid choice with a lot to love!
Please consider sharing:
Note: At no extra cost to you, we may earn a commission for purchases using our links. Learn more.