ANNKE AC800
Pros
Vivid 4K video quality with accurate colors.
Advanced person and vehicle detection.
100-foot color night vision.
Comes in two durable variants.
Excellent build quality.
Cons
Requires an Ethernet connection.
Requires a wired source of power.
A bit expensive.
If you're like most people, you do what you can to make your home secure. Nobody likes to think that they could be vulnerable to a break-in. But the means you use to protect your home will change with technology.
Take the humble door lock, for example. People have been using them for millennia. Even the ancient Romans could make a lock more or less as good as the one on your front door. But before the advent of mass production, good locks were expensive.
Note: At no extra cost to you, we may earn a commission for purchases using our links. Learn more.
They had to be handmade by talented craftsmen, and could cost a small fortune. A king might have a lock on his treasury, but the average person had a simple door latch. Nowadays, locks are cheap. If you told someone you built a house with no locks, they'd tell you that you were crazy.
The same general principle applies to security cameras. Not that long ago, they were very expensive. You could spend thousands of dollars installing one, including its monitoring equipment. For most people, it wasn't worth the investment.
But today's home security cameras are small and affordable. They're easy enough for anybody to install, and you don't need special monitoring equipment. As a result, it makes more sense for the average person to install one. Of course, there are many potential options on the market. Rather than install just any old camera, it pays to do your research.
ANNKE AC800 4K Outdoor PoE Security Camera
Today, we'll be reviewing the ANNKE AC800 4K Outdoor PoE Security Camera. This is a powerful camera that provides vibrant 4K footage, with 100-foot color night vision. It has advanced software for person and vehicle detection, along with perimeter monitoring. And it comes in two different designs to meet different needs.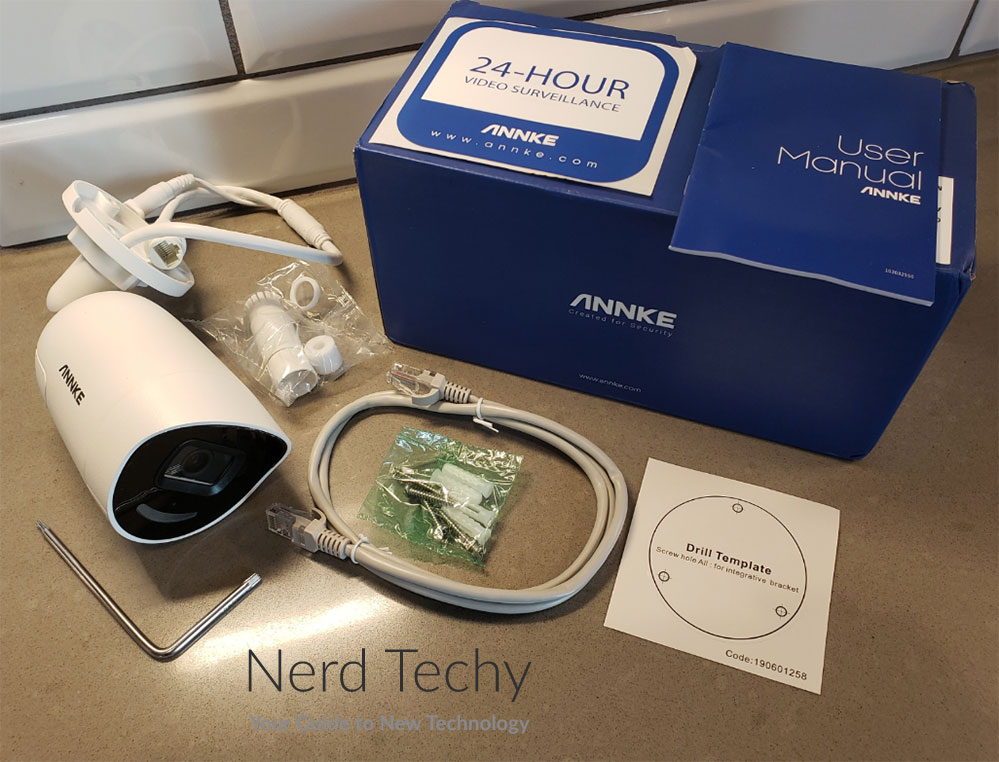 That said, there are a lot of things to think about before you choose a camera. To fully evaluate this one, we'll have to look at a number of factors. We'll need to discuss the physical build of the camera and how you install it. We'll also have to think about electrical power and how you store and monitor your videos. After that, we'll have a more complete picture. Let's get started!
Overall Design
The ANNKE AC800 4K Outdoor PoE Security Camera has a white anodized aluminum housing. The first thing we noticed when we took it out of the box is how durable and solid it feels. Not only is it tough, but the matte finish is easy to clean off. It won't easily collect a bunch of dust and dirt.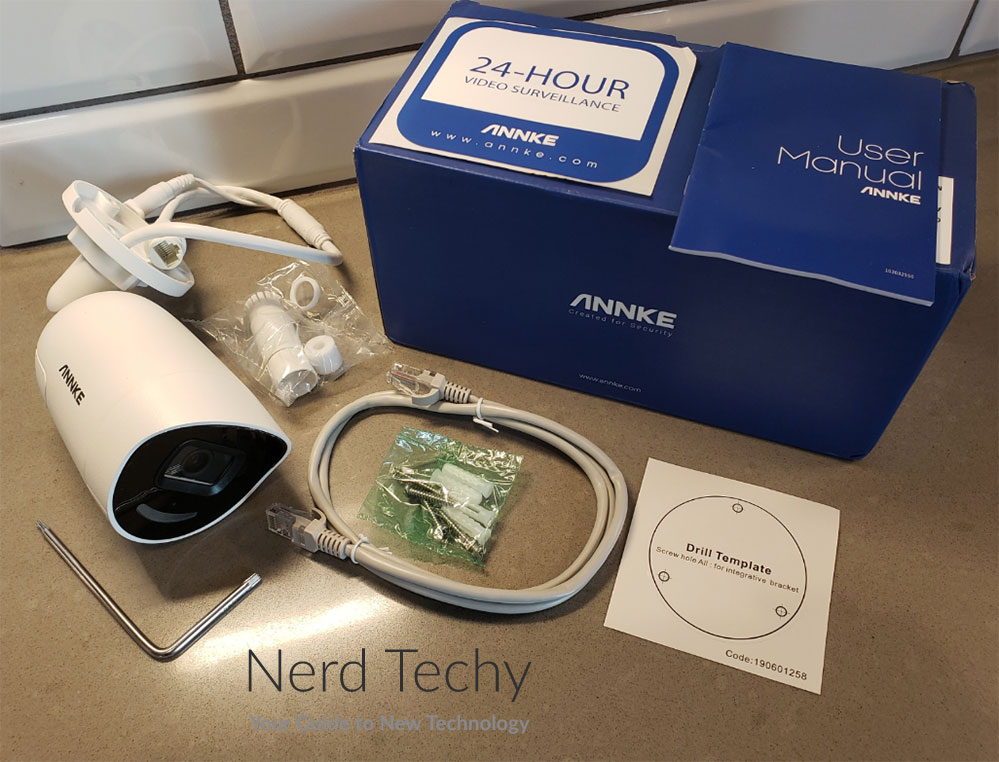 There are two different variants of the AC800, but the difference comes down to the form factor. They look different and install differently, but otherwise they're Identical. You get the same camera capabilities and the same powerful smartphone app.
The first variant is the "bullet." This is a curved cylindrical camera with the lens housing at the end. The lens housing itself is a black plastic, with a built-in motion sensor and IR light. The back of the camera cylinder attaches to a mounting bracket. The bracket has a ball joint, so you can pivot and tilt the lens in any direction.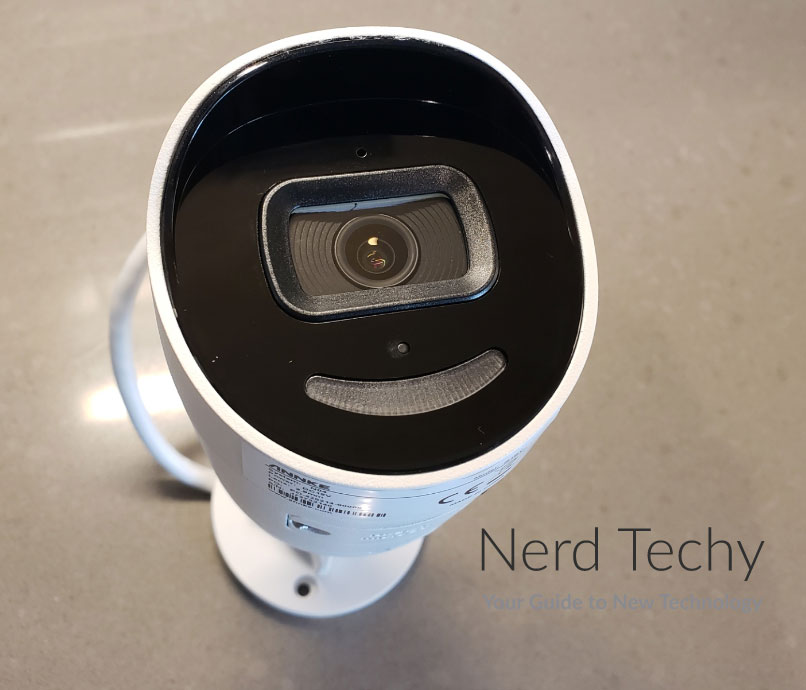 The second variant is the "turret." This camera is dome-shaped, and is designed to be as compact as possible. The lens housing is spherical, and sits in the center, while the sides of the dome act as a mounting bracket. You can twist the dome from side to side to pivot the camera angle. Meanwhile, you can also raise or lower the angle of the lens.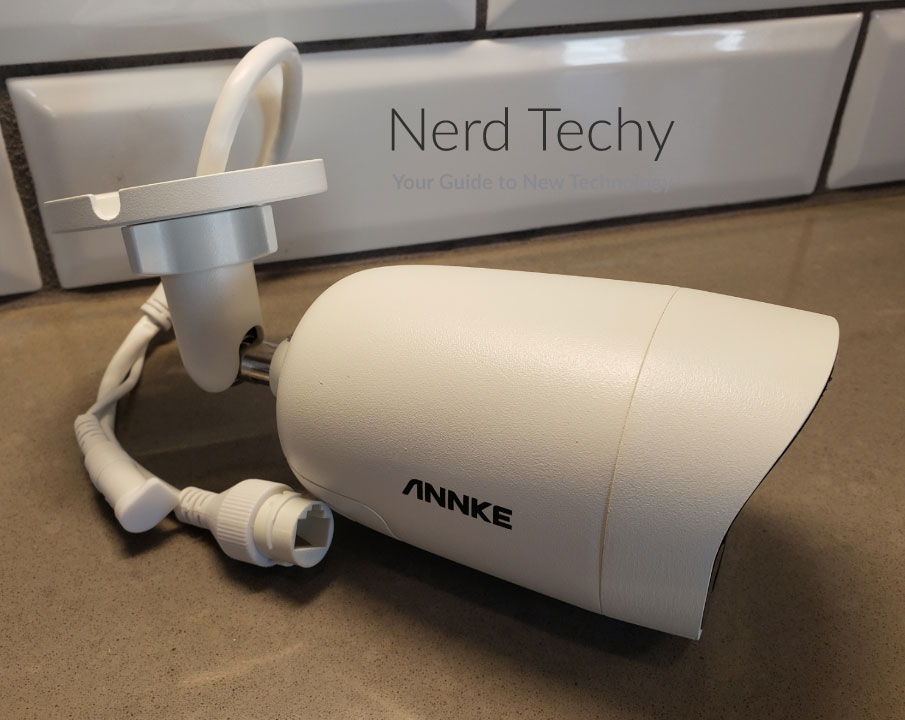 Both variants have a weather-resistance rating of IP67. This indicates an exceptional level of dust- and water-resistance. You don't have to worry about dusty weather, no matter how fine the particles are. As for rain, no storm is going to damage this camera. It can even withstand submersion in a meter of water for at least 30 minutes.
Installation
The AC800 mounts a bit differently depending on which variant you buy. The "bullet" can be mounted either under an eave or directly on a wall. That's thanks to the ball bearing mount, which allows for 360-degree flexibility. The "turret," on the other hand, can only mount under your eave. That's because of the all-in-one shape. If you mounted it on your wall, it would be pointed at the ground.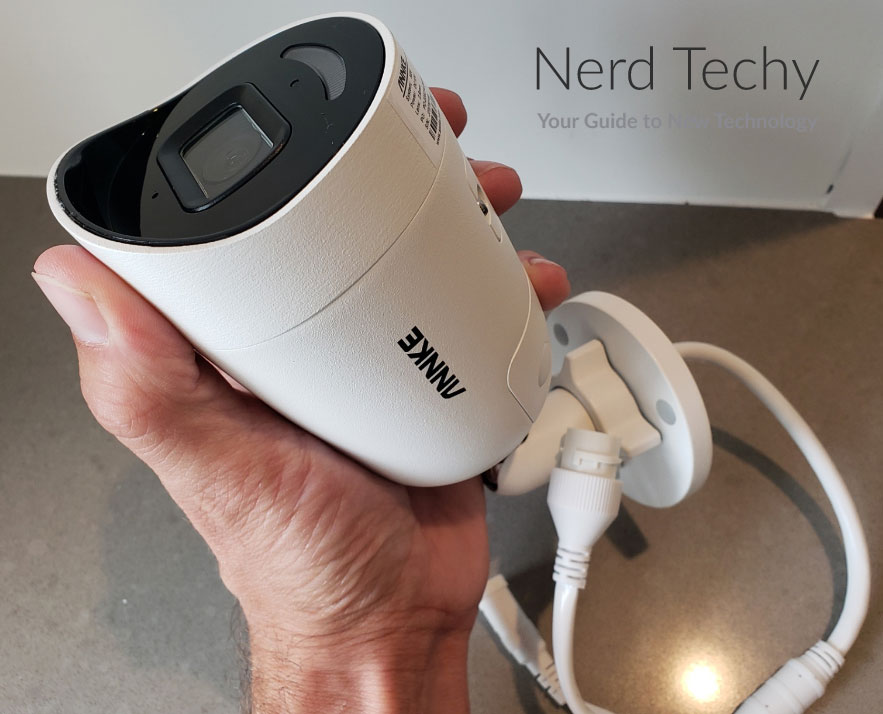 That said, both variants attach in a similar way. First, you have to pre-drill holes to attach the base. Next, you screw the base to the wall. Finally, you attach your camera. All you need is a drill and a little bit of patience. On the downside, this camera isn't wireless or battery-powered. You have to run an Ethernet cable, and possibly a power cable depending on your setup.
This is a premium camera for people who need ultra-high resolution. For a more affordable alternative, check out the Annke NC400. It has a similar design to the "bullet" camera, along with a similar installation method and app features. The only drawback is that it "only" has 2K resolution.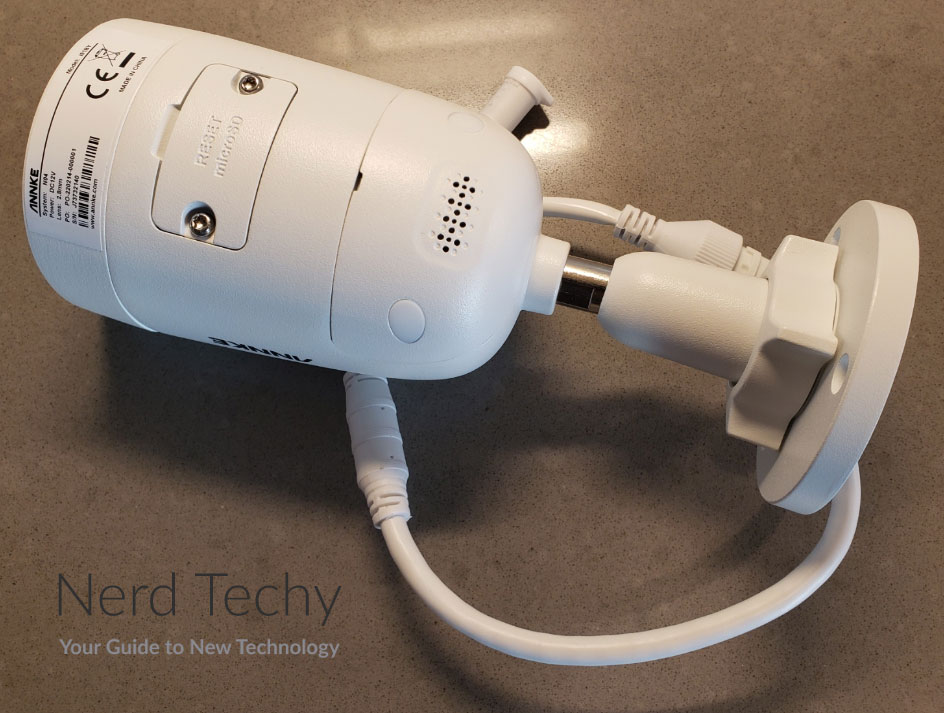 Connectivity & Storage
As we just mentioned, Ethernet is the only option for connectivity. This is both a good thing and a bad thing. On the one hand, Ethernet cables can be a pain to run, especially if you have to cover a long distance. On the other hand, Ethernet is more secure than WiFi. A hacker can't sit outside your house and snoop on your Ethernet connection.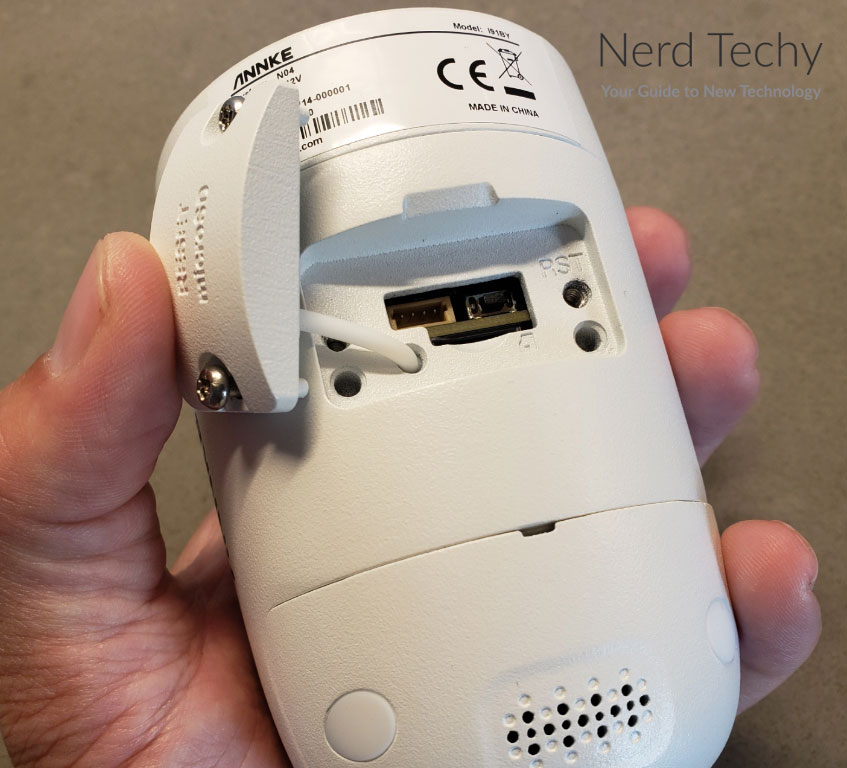 You control this camera via a smartphone app, and can access it from anywhere in the world. You can also set it up with Amazon Alexa, and use voice controls.
Your videos are saved on an SD card, which fits in a slot in the back of the camera. If you're going to use your own card, the AC800 will support a card with up to 256GB of capacity. Or, you can order it with a 128GB or 256GB card in the package. This is a better option, since it ensures that your card is properly formatted.
Power
There are two ways to power the ANNKE AC800. The first is to use PoE power. PoE is short for "Power over Ethernet," and uses a PoE injector or special router to supply electricity. The idea is to simplify wiring by combining power and data in a single cable. Alternatively, you can plug the camera directly into a wall outlet. This isn't always practical, depending on your location. But you don't need to buy any special equipment like you do with PoE power.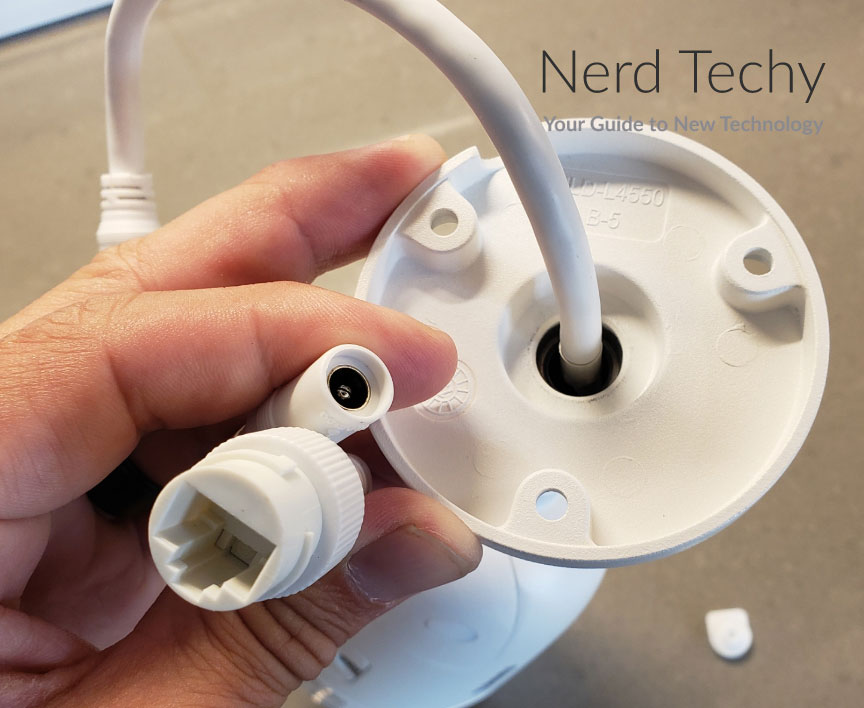 If you want a camera that can work without grid power, there are plenty of options. The Reolink Go PT Plus is a great example. It comes with a solar power supply and a built-in battery, so it can run indefinitely. It also connects via 5G data and provides 4K video, but you have to pay for a separate data plan.
Video Quality
This AC800 provides stellar video quality. It records in full 4K, with a resolution of 3,180 x 2,160 pixels. That's enough to see tiny details, even in a wide shot. And with a framerate of 25 frames per second, you won't miss a beat of the action. A 134-degree field of view provides a good balance between visibility and image size. Meanwhile, the color night vision shows vivid hues out to a distance of 100 feet.
At the same time, you can adjust the video settings freely to improve your image. In fact, the AC800 has separate WDR, DNR, BLC, and HLC toggles. Without going into the weeds, these are protocols that improve color clarity, low light performance, and other video features.
If that's not enough, you can also capture audio with your video. Keep in mind that audio surveillance is illegal in many locations. Check your local laws, and turn off audio recording if it's illegal in your area. You can also turn it off if you prefer not to have audio with your videos.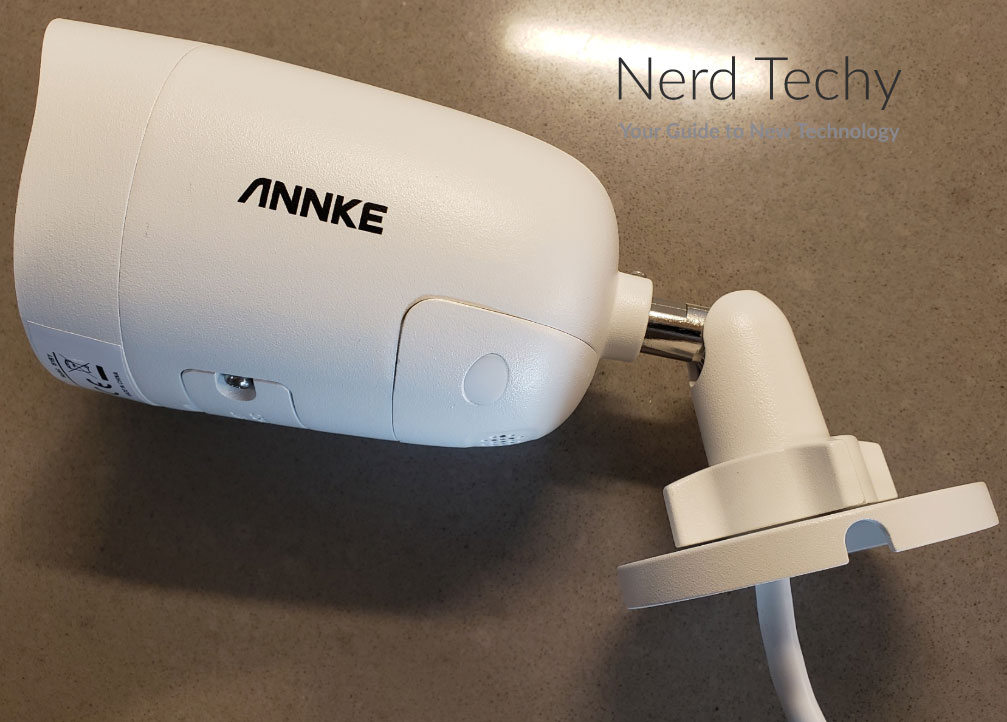 Sound Quality
Something that's built into the AC800 that we don't usually see is noise cancellation. The integrated noise cancelling microphone automatically filters ambient background noise. In fact, it effectively picks up any voice from up to 20 feet away, even whispering. It seems to work decently well and does a great job to avoid cancelling out the wrong noises. Wind noise doesn't seem to even occur, even with extremely blustery weather.
There's also a mute function, which is fairly standard. It's really nothing to write home about, but it seems to work perfectly well.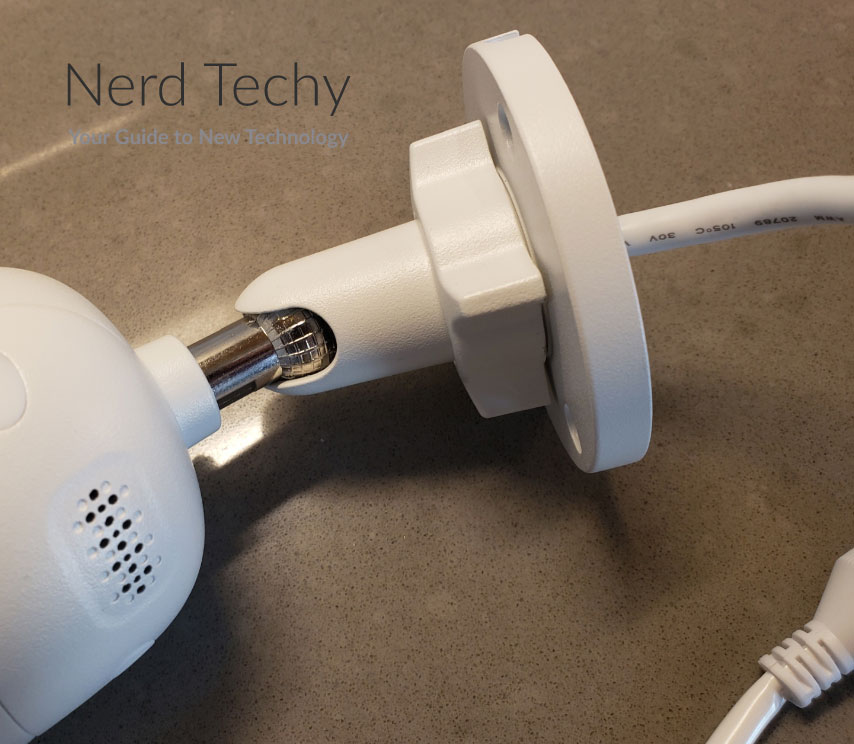 Monitoring & Extras
The AC800 utilizes advanced technology to detect humans and vehicles. When a human or vehicle is detected, it will automatically trigger a recording. It won't trigger for pets, wild animals, tree branches, or blowing debris. You can also customize the motion detection zone. Let's say part of your field of view covers a sidewalk. You wouldn't want your camera to trigger every time a pedestrian walks by. So you'd block that area off when setting your detection zone.
When recording is triggered, you'll receive an alert on your smartphone. You can configure email or push alerts via the app, or choose both. Alternatively, you can turn alerts off altogether. It all depends on how urgently you want to respond to your camera.
When you receive an alert, you can choose how to respond. You can take advantage of two-way audio to talk to the person. For example, you can tell a delivery driver where to leave a package. If the person is an intruder, you can activate a strobe light and a piercing 95dB siren. This all by itself will drive off many an intruder.
You can also set the camera to trigger an alarm automatically. It can be programmed to trigger when it detects a person, a vehicle, or both.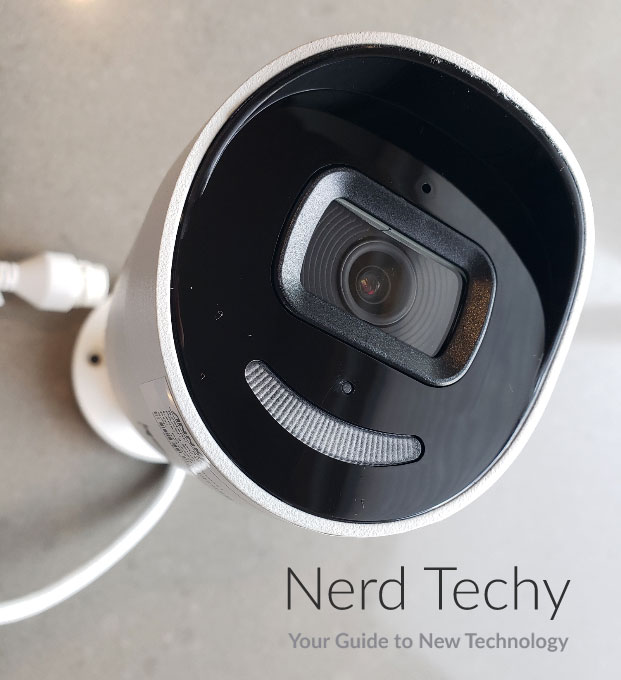 Final Verdict
The ANNKE AC800 4K Outdoor PoE Security Camera is a powerful piece of technology. With 4K video and vibrant colors, you get a detailed view of your property. Customizable motion alerts and perimeter protection help you keep your home safe. All of this comes with a tough, no-nonsense design that's built to stand up to abuse.
Please consider sharing:
Note: At no extra cost to you, we may earn a commission for purchases using our links. Learn more.