It's no exaggeration to say that Starlink has revolutionized the internet. Prior to Starlink, high speed internet relied on wires.
Yes, you might have a WiFi router in your house, but that router connects to the internet with a wire. You can access the web from your smartphone, but it's beaming off a tower a few miles away. From there, the signal travels via cable.
Note: At no extra cost to you, we may earn a commission for purchases using our links. Learn more.
This was problematic for a few reasons. To begin with, it limited internet access in rural areas. Even today, many rural communities don't have access to high-speed connections. It also limited access in countries with poor infrastructure.
Worse, wires make it easy for repressive regimes to control what information their populations can access. Incoming and outgoing connections can simply be routed through government-owned servers.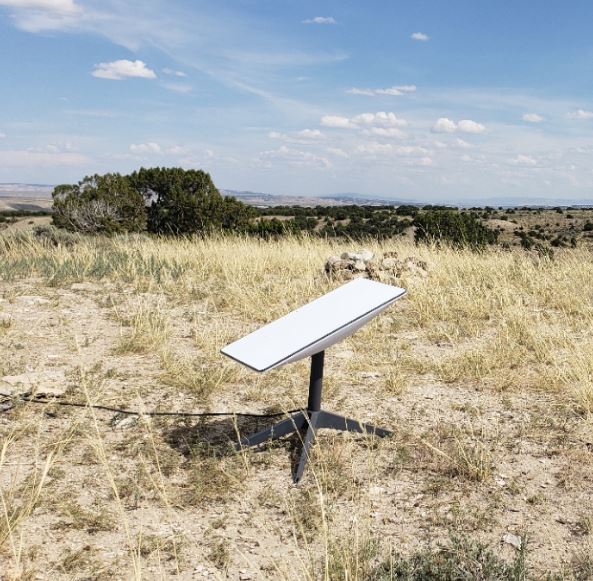 Starlink Has Changed All of That
You can use Starlink to get internet access almost anywhere on Earth (in the Northern Hemisphere.) Even if there's no traditional internet access in your area, you can still access the web. All you need is a Starlink modem, satellite dish and a subscription to the service. This could be an original dish, or the streamlined version known to fans as "Dishy McFlatface."
Starlink's modem and dish are both proprietary, and need to be used together. Try to connect a Starlink dish to a third-party modem, and it's simply not going to work. You'd think this would deter people from stealing the dish, but it might not.
Like anything else, Starlink dish theft can be a potential problem. Thieves may see it sitting outside your RV and wonder, "Wow – that looks worth stealing!"
If you're RVing around the country and using Starlink as your traveling solution to internet, you need a way to deter theft. Prevention is key, and using a device to deter theft is a great idea.
Choosing the Best Starlink Security Devices
Today, we'll be reviewing five of the best Starlink security devices and locks to deter theft. All of these methods can be effective, depending on your situation. Most of them can also be used in combination, so you don't have to choose just one. But which one is the right choice for you?
To find out, we'll have to take a much closer look at each of these devices. We'll talk about how they work, and why they could be effective. We'll also discuss why one or another device might be effective under different circumstances. After that, we'll sum up what we've learned and deliver our verdict. Let's begin!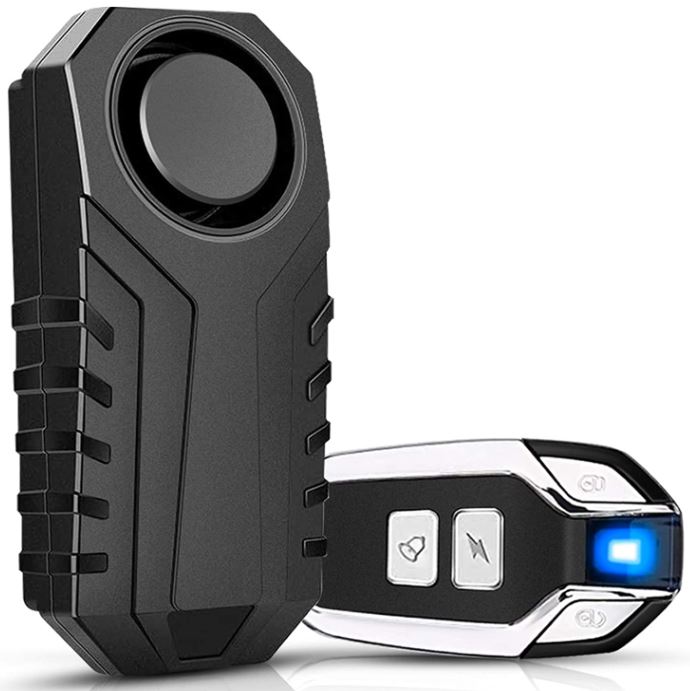 Onvian Wireless Bike Alarm
The Onvian Wireless Bike Alarm is designed for bicycles. You attach it to your bike, and it will go off if it senses vibration or movement. But it's perfectly-designed to attach to a Starlink dish, too.
This is a small black fob, measuring 3.7 inches in length, 1.6 inches wide, and 0.8-inch thick. It's made from black ABS plastic, and is meant to be as discreet as possible. It comes with a set of black straps which you can use to attach it to your dish's base.
The housing is weather-resistant, with a rating of IP55. The first "5" indicates a high-degree of dust-resistance. You don't have to worry about using this alarm in the desert. The second "5," meanwhile, means that it's totally resistant to rain. It can't be submerged, but even a bad thunderstorm is no threat.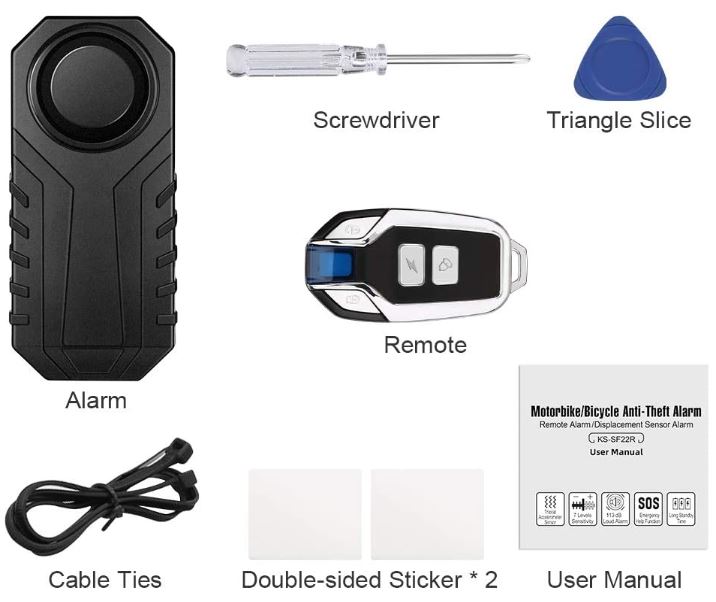 When the siren goes off, it's extremely loud. At 113dB, it's 3dB higher than the 110dB "discomfort threshold." You can hear it from hundreds of yards away. Anyone trying to steal your satellite dish will probably drop it and run.
You can also choose between different sensitivity levels, and you can turn it off with a handheld remote. This is useful for packing and unpacking. You don't need your alarm going off every time you want to move your own dish.
We should also point out that you can use the remote to manually trigger the alarm. This is designed to make it easy to find a bicycle. It's not very useful for a Starlink dish, but it's still worth mentioning.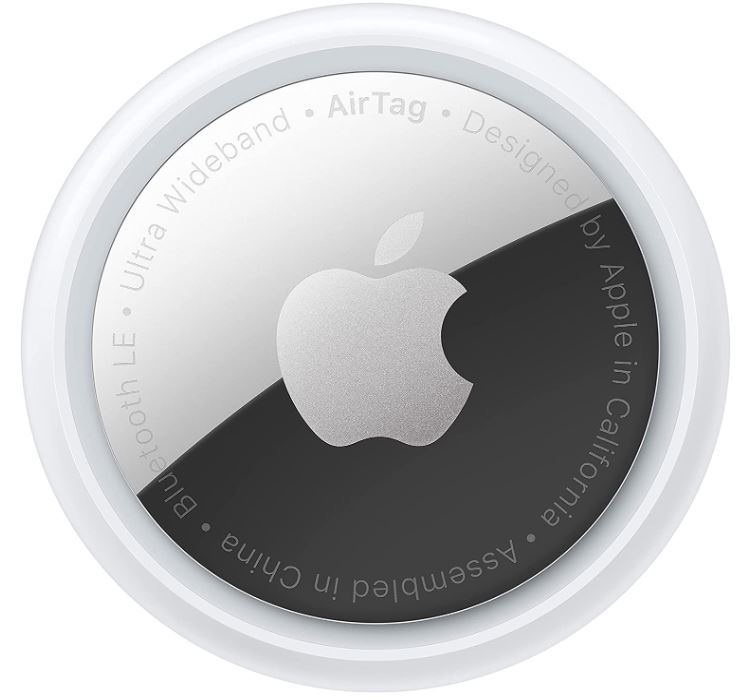 Apple AirTag
You may already be familiar with the Apple AirTag. It's a small, disc-shaped device that measures just under a half an inch in diameter. It's a simple tracking device that can be used to track just about anything. People attach them to keychains, smartphones, and other items that are easy to lose. On a Starlink dish, it's easy to hide on the back or inside of the mounting pipe.
The AirTag is fairly simple to use. If you have an iPhone or iPad, it activates with a single tap. You can then use your Find My app to give different names to different AirTags.
This device is typically used around the house. You can ask Siri to help you find your things, or go into the Find My app and search manually. If the AirTag is in Bluetooth range, your phone will start to beep. The beep intensifies as you get closer to the AirTag, so finding your device is like playing Marco Polo.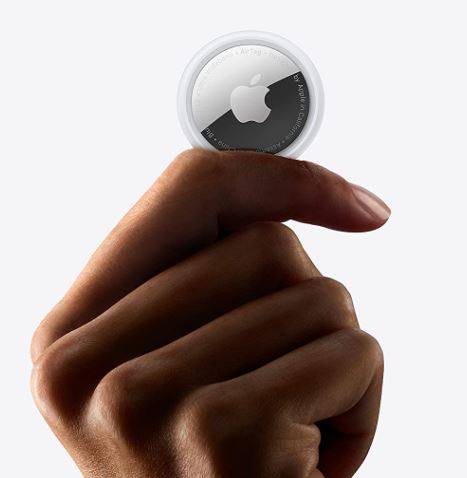 Now, you're probably wondering how this applies to your satellite dish. If someone steals your dish, you probably won't be within Bluetooth range. How is an AirTag supposed to do you any good?
That's where Apple's Find My network comes in. This network includes all Apple users who have enabled the Find My function. If your AirTag is marked "lost" and comes within range of a participating user, you'll get an alert with the location. Sooner or later, you're bound to get an alert.
There's one downside to this, though. Since people had been using AirTags to stalk other people, Apple implemented an anti-stalking feature. Apple users will now be notified if they're within range of an unknown AirTag for an extended period. This could be a problem if your thief is an iPhone user.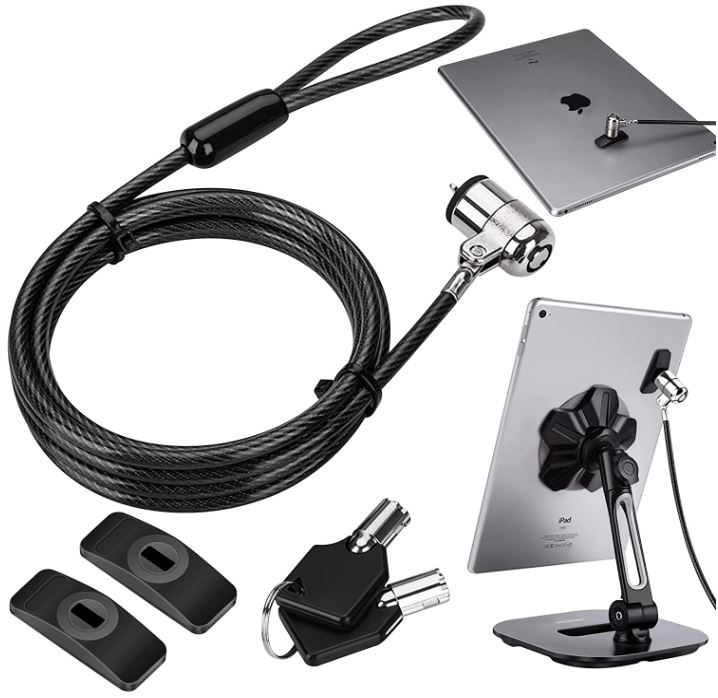 AboveTEK Locking Kit
The AboveTEK Locking Kit is a heavy-duty locking cable that's designed for expensive electronics. It consists of a 72-inch cable with a loop at one end, so you can attach it to a secure surface. For example, an RV ladder is an excellent place to attach it. Just wrap the cable around a rung, pass the front end through the loop, and pull it snug.
The six-foot cable gives you plenty of reach to access your satellite dish. At the tip, there's a keyed metal locking pin, which is designed to connect into mounting plate. It has a keyhole on the back, along with a pair of keys for quickly attaching and detaching the lock.
There are actually two mounting plates. Both are flat and made from a rock-solid black metal alloy. There's a slot in the back for the locking tip to insert into, and the front surface is smooth. The kit includes a pair of 3M adhesive pads for attaching your plates. Keep in mind that you only need one plate to lock down your satellite dish. The other plate can be used for a separate device.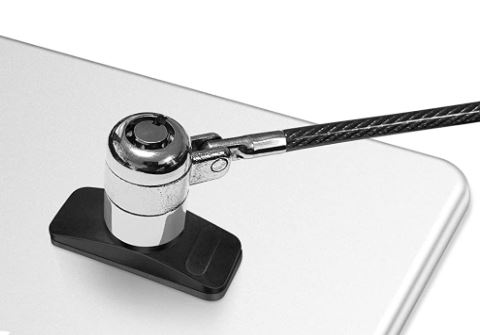 Once the adhesive is in place, it's virtually impossible to pull free. A thief would be better served using bolt cutters to try and cut the cable. For this reason, it's very important to get good placement when you first attach the mounting plate. On a Starlink dish, this is best done on the post just below the dish. In this position, it won't interfere with your signal, and you can freely angle and rotate the dish.
While you're out RVing, you might receive some packages at your home. If you want to keep them safe, a secure package delivery lock box is a great idea. Your deliveries will be safe and secure until you get back home.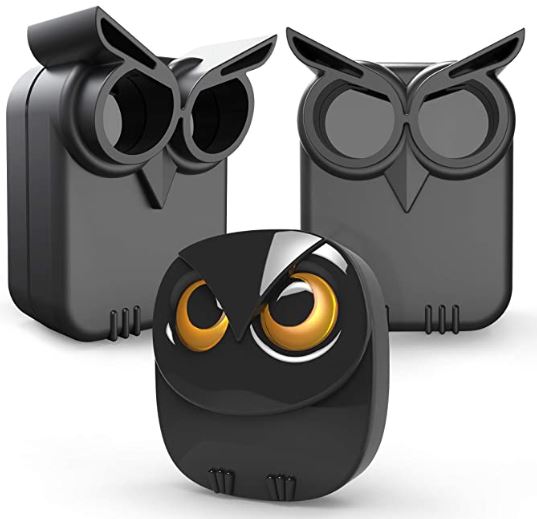 HTZSAFE Driveway Alarm
The HTZSAFE Driveway Alarm is a three-part kit. To begin with, you get a pair of motion sensors, although only one is required. Each one has a black plastic housing, and is shaped like a little owl. They measure 3.94 inches tall, 2.95 inches wide, and 2.56 inches thick. This doesn't include the mounting bracket, which has a 360-degree rotating ball joint. Each individual sensor takes three AA batteries.
The motion sensitivity is adjustable, and can be set to two levels. On the lower setting, it will detect a person or vehicle up to 35 feet away. On the higher setting, it has a longer, 50-foot range. The sensors are also very durable. They will continue to work in temperatures from -30 to 150 degrees Fahrenheit.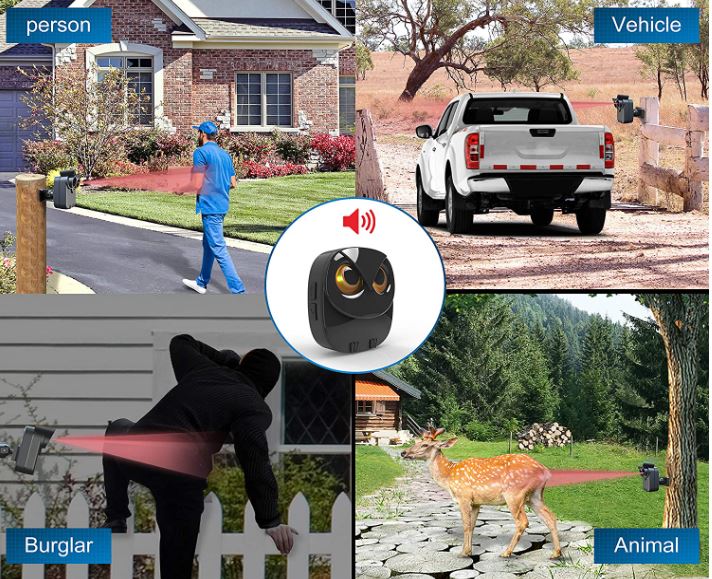 The sensors communicate with a single receiver with a built-in alarm speaker. The receiver is also made to look like an owl, but it's a bit more colorful, with big painted eyes. It's also a bit more square, at 3.43 inches high, 3.19 inches wide, and 2.4 thick.
It's designed to plug into a power outlet anywhere in your home or RV. It also has a ½-mile range, which is great if you're using it on a larger property. You can even expand the system with up to 32 sensors in total. This won't be necessary for your Starlink dish, but it could have other applications.
You can choose between four volume levels for the interior alarm. You can also choose from 35 different tones. If you have multiple sensors, you can assign a different tone to each one.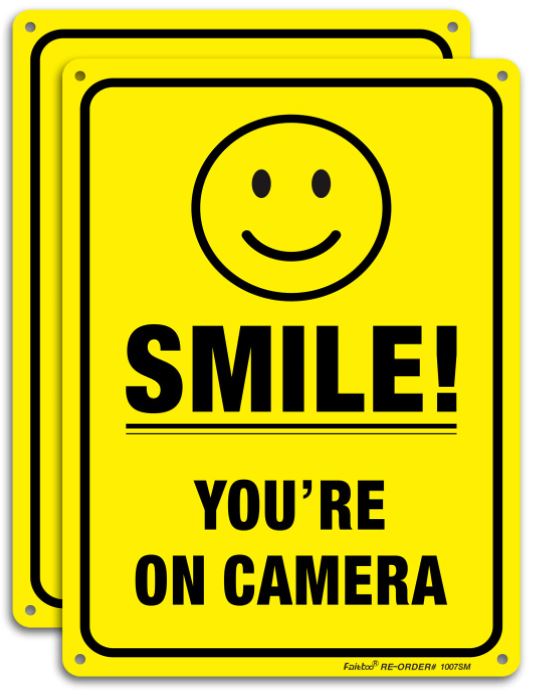 You're on Camera Signs
The You're on Camera Signs are exactly what they sound like. This is a pair of durable aluminum signs, which measure 10 inches tall and 7 inches wide. The material is tough and corrosion-resistant, similar to a road sign. The front is yellow with a black border. At the top is a smiley face, with the words "SMILE! You're on camera!" printed underneath it.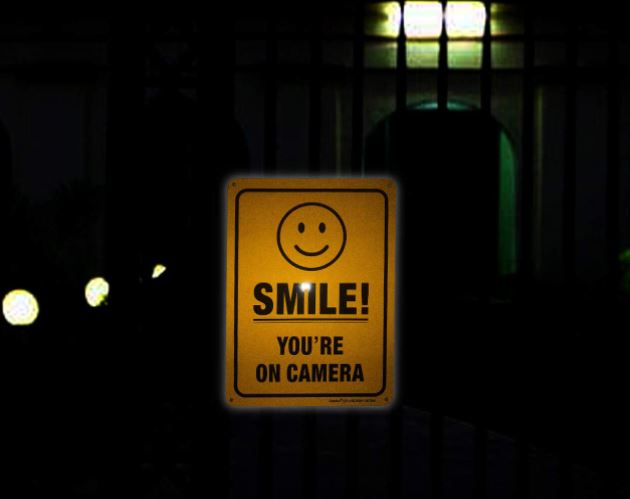 The nice thing about this sign is that you don't actually need a camera. The threat alone will be enough to deter most would-be thieves. That said, it wouldn't hurt to have a camera for real. If that's what you need, consider the ReoLink Go PT Plus. It's easy to setup and install, and you don't need to be on the grid to use it. It's compatible with the Reolink solar panel, and works anywhere there's a cell signal.
Which to Use to Secure Your Starlink Dish?
So, what have we learned today? Let's summarize what we've learned about each device.
Attach a Movement/Touch Activated Alarm
The Onvian Wireless Bike Alarm is a motion-activated alarm that you can mount on your Starlink satellite dish. If someone tries to remove it without your permission, you'll hear a loud siren. The person could still technically run away with your dish, but we're betting that they won't. Even if they do, someone carrying a satellite dish and emitting a loud alarm will be very conspicuous.
Track a Stolen Dish with Your iPhone
The Apple AirTag is a well-known tracking device that's designed for small personal devices. However, it's also suitable for many applications, including a Starlink dish. Using Apple's Find Me app, you can find a stolen satellite dish almost anywhere. At worst, you'll have to wait for a participating iPhone user to pass within Bluetooth range.
Physically Lock the Dish
The AboveTEK Locking Kit is a nifty locking kit that's very secure. The adhesive attachment is incredibly strong, and resists almost any effort to pry it loose. It's also easy to attach and detach, which is important for most Starlink users. You can set up your dish quickly and tear it down without a lot off fussing with a lock.
Setup a Motion-Activated Alarm
The HTZSAFE Driveway Alarm is an effective motion-sensing alarm with a 50-foot range. Set it up where it can "see" your satellite dish, and it will provide excellent protection. If a person or vehicle comes near your dish, a loud siren will sound. We loved the remote alarm with the powerful ½-mile range, and the owl-themed design is an enjoyable touch.
Add Visible Warning Signs to your Campsite
The You're on Camera Signs don't provide any real protection, but they don't have to. For most thieves, the mere prospect of appearing on camera is enough to deter them. They're also very durable, and can stand up to years of weathering and abuse.
As you can see, each of these tools might be useful, given the right circumstances. But why not combine two or even three of them. That's still much cheaper than having to replace your Starlink dish.
Note: At no extra cost to you, we may earn a commission for purchases using our links. Learn more.