With many people spending more time indoors than ever before, it's important that the inside environment is in an ideal condition to sustain optimal health.
One of the most important factors when it comes to the comfort and safety of your home is in the area of air quality. Specifically, ventilation.
We've all experienced walking into a space and smelling stale air. It's not just about comfort. Air that doesn't move around or have a place to go can result in bad odors, toxins and germs that can severely affect the health and well-being of people within.
This is especially true when it comes to bathrooms. They can become a breeding ground of mold and bacteria. Without proper airflow, things can get out of hand quickly. It's for this reason why bathroom exhaust fans are so important.
The Importance of Ventilation in Bathrooms
Without a properly working fan and/or ventilation system, your bathroom could put the rest of your home at risk for mildew and mold growth. Save yourself the expense by ensuring your bathroom can effectively control moisture.
But it doesn't have to be all serious. Bathroom exhaust fans can come with a host of convenient and entertaining features including integrated Bluetooth speakers. In fact, exhaust fans with Bluetooth speakers built-in provide a great way to enhance your space without taking up valuable real estate.
No more lugging around a Bluetooth speaker or trying to position your smartphone close enough to the bathtub to hear it.
There are actually a ton of options out there for bathroom exhaust fans with Bluetooth speakers built into them. Not all of these options are created equal. Additionally, it's hard to spend hours researching exhaust fans that have quality components and rock-solid technology.
To help you with navigating through your choices, our team of experts have compiled a comprehensive list of the top-rated exhaust fan Bluetooth speaker hybrids on the market.
How We Made Our Selection of the Best
Our panel of expert reviewers tested multiple units and stacked them against the real-world data of hundreds of users. The team then judged the results based on criteria which included:
Fan Power: The units featured in this article need to have adequate power to handle high humidity and provide effective ventilation. Fan performance is paramount.
Speaker Quality: From volume to EQ, the on-board speakers need to deliver high-quality sound at appropriate volumes.
Connectivity and Ease of Use: We selected exhaust fan speakers with solid connectivity that were easy to use.
Quietness: A loud fan defeats the entire purpose of an integrated Bluetooth speaker. We looked for exhaust fans that valued quietness and performance equally.
If you happen to still need help deciding, feel free to stick around towards the end for some additional insights in what to look for. Let's dive right in.
Best Overall: Broan NuTone SPK110 Bathroom Exhaust Fan with Bluetooth Speaker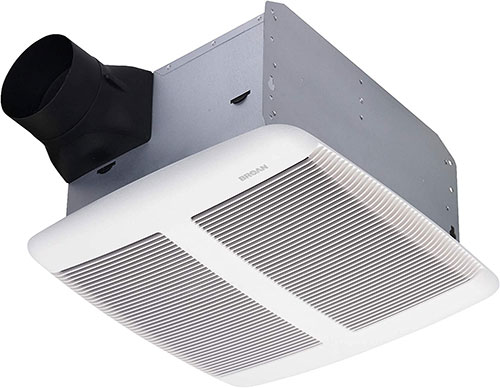 Key Features:
Dual High-Fidelity Speakers.
DIY Installation is Possible.
Energy Star Qualified Fan.
110 Cubic Feet per Minute.
The Broan NuTone SPK110 is our choice for best overall since it strikes the perfect balance between power, function and ease of use. It uses quiet ventilation exhaust technology that allows the onboard speakers to shine without interference from noisy fans. Users were impressed by how soft the fans sounded, especially when compared to some other models. Several reviews state they didn't even know the fan was running.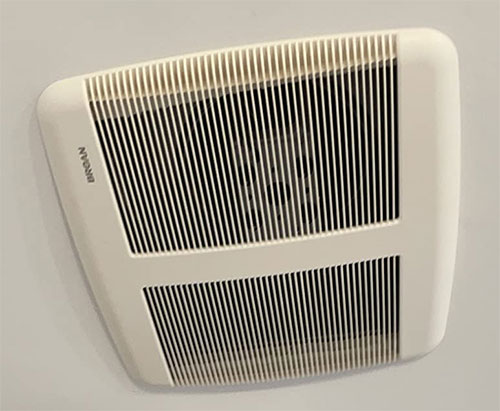 Dual Bluetooth speakers were the ideal combination of sound quality and loudness. The Broan NuTone takes the top spot due to the quality of its components, especially in the sound department. The clarity and fullness of the speakers in this exhaust fan would rival most consumer standalone wireless speakers on the market.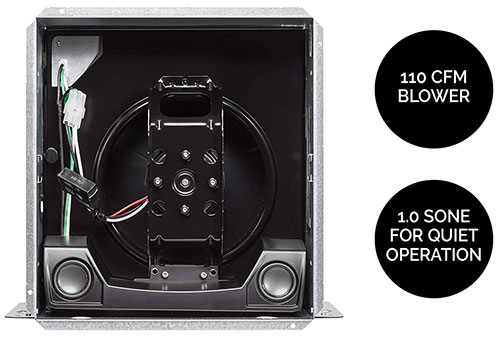 The SPK110 sports a low-profile, sleek form-factor that's easily mounted using the included hardware. It includes a 4" round duct to facilitate maximum airflow. Many users report that installation is easy and done within minutes.
What We Liked:
Quiet fan.
High quality Bluetooth speakers.
Easy installation.
Low-profile form factor.
What We Didn't Like:
Best Runner-Up: Broan NuTone SPK80L Bluetooth Speaker Bathroom Fan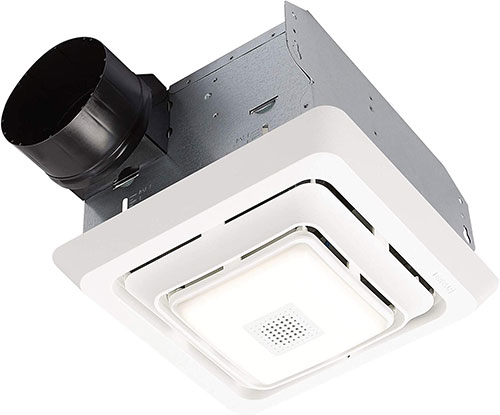 Key Features:
High Fidelity Bluetooth Speakers.
Exhaust Fan With a Sound Rating of 2.5.
Permanently Lubricated AC motor.
80 Cubic Feet per Minute.
Our best runner-up selection also comes from Broan. The NuTone SPK80L is a powerful exhaust fan that features a motor that's specifically engineered for prolonged operation with no issues. In terms of ventilation, it's able to move tremendous amounts of air in a short period of time, but slightly less than the first option.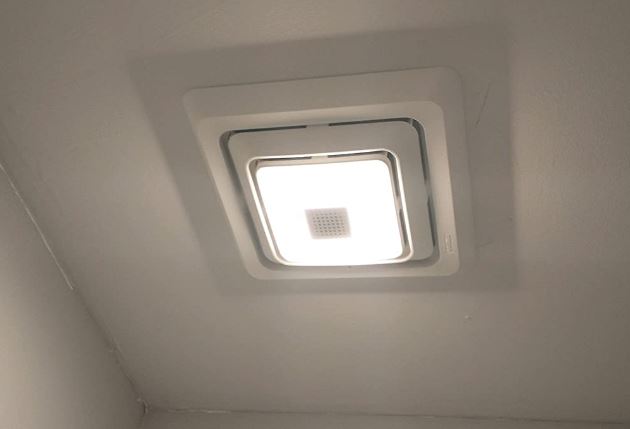 One of its best features is the ease of installation. Most users were able to get it up and running within thirty minutes of beginning the process. After testing the high fidelity Bluetooth speakers with various genres of music, our team appreciated that it was expertly EQ'd to accommodate a wide range of sounds. When testing for connectivity, the receiver module in the NuTone SPK80L was perky and popped up the moment we looked for it on our smartphones. Overall, we found that the range was very good.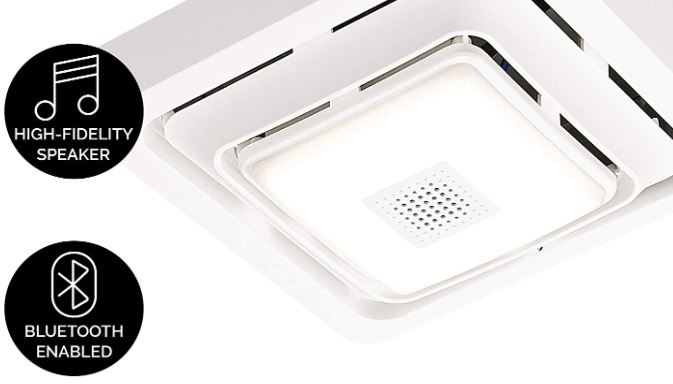 In many ways, this unit is very similar to the SPK110 with one major difference; the ventilation fans on this unit are slightly louder than the best overall model. Keep in mind that noise on the SPK110 was virtually undetectable to most people. Even so, this didn't seem to pose any serious issue.
Overall, the Broan-NuTone SPK80L is the best runner up since it offers nearly all the same features as the SPK110 but at a significant cost savings.
What We Liked:
Great connectivity.
High quality Bluetooth speakers.
Low-noise fan.
Easy installation.
What We Didn't Like:
Doesn't move quite as much air as other models.
Slightly more noise produced by fans.
Best Alternative: Delta BreezIntegrity ITG70BT Bath Fan with Bluetooth Speaker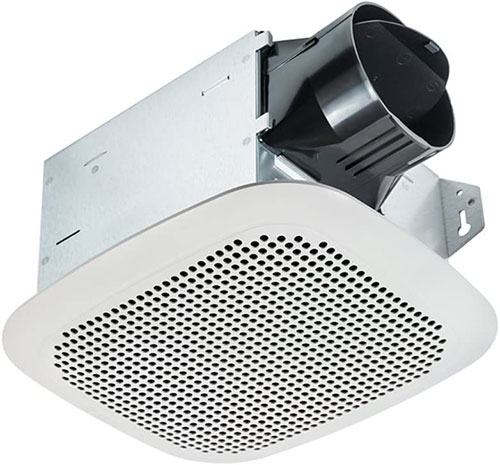 Key Features:
1.0 Sones (Noise from Fan).
Bluetooth 3.0.
Energy Star Qualified.
Power Consumption of 8.4 Watts.
70 Cubic Feet per Minute.
Our selection for the best alternative is the Delta BreezIntegrity ITG70BT. We selected it due to its powerful components housed in a unique form factor. While other exhaust fans on this list just look like fans, the Delta looks more like a ceiling speaker. It's a great option for people that want a sleeker alternative to traditional exhaust fans.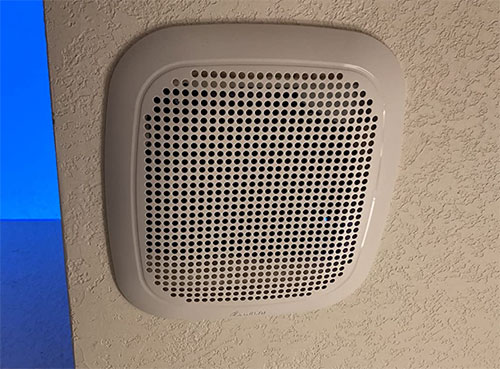 The internal components of the Delta BreezIntegrity are some of the most impressive we've seen. The speakers run off of Bluetooth 3.0 which is slightly outdated, but still provides low lag between your mobile device and the fan unit. That said, we didn't have any connectivity issues with the Delta. In fact, we enjoyed uninterrupted audio during the whole time we were running our tests.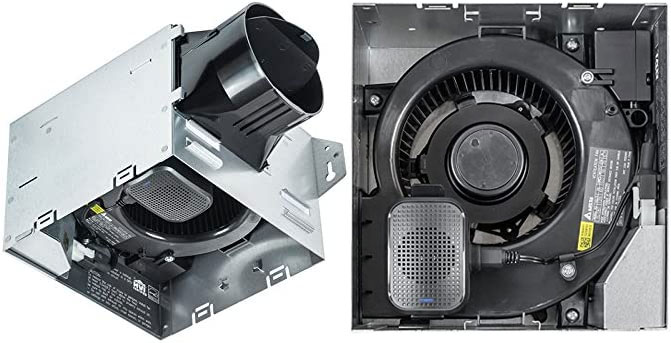 Next is the fan component. It's one of the quietest fans on the market at this price point. In fact, at 1.0 sones, it's the same noise level as our best overall choice. While in operation, there's virtually no noise created from the exhaust running at full boar.
If you're looking for an exhaust fan that hits a little different in both form and function, the Delta may fit the bill.
What We Liked:
Ultra quiet fan.
Virtually no audio lag.
Great form factor.
What We Didn't Like:
Customer service takes a while to respond.
Best with LED: Broan-NuTone SPK110RGBL ChromaComfort Bathroom Exhaust Fan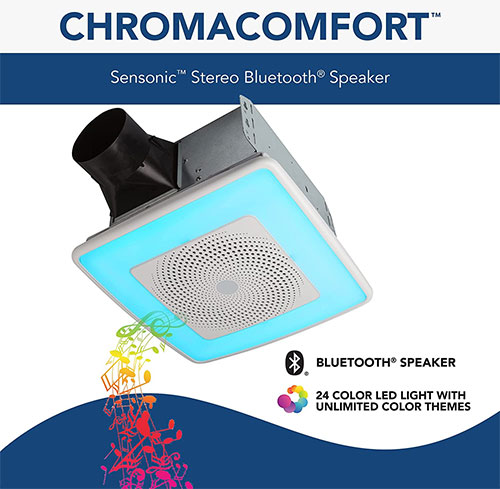 Key Features:
24-color LED light.
Quiet Fan at 1.5 Sones.
Includes EZDUCT Connector for Installation.
Connects via Mobile App.
110 Cubic Feet per Minute.
Having an extra light in the bathroom can be a good idea. Even better, getting a light fixture that can change to different colors is a great way to set the mood. The good news is that there are exhaust fans that are able to make it happen in a single, all-in-one package. Our selection for the best exhaust fan with an LED light and Bluetooth Speakers is the Broan-NuTone ChromaComfort.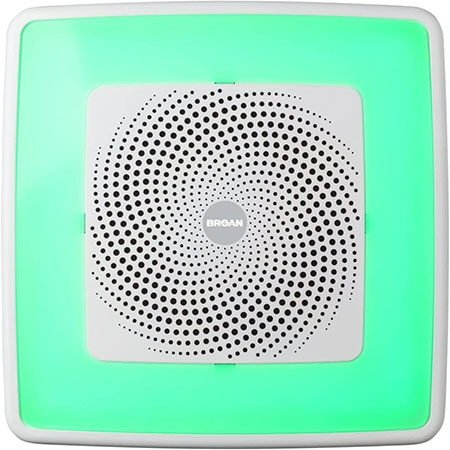 This unit comes fully loaded with a 24-color LED light that can change to any color you choose using a remote app on your smart device. The ChromaComfort app isn't just for controlling the light either. It provides remote control over the fan function as well. This is great if you need to turn off the fan but don't want to walk over to the switch to do it. Keep in mind, this light does not have a dimming feature so your control over the intensity of the brightness may be limited.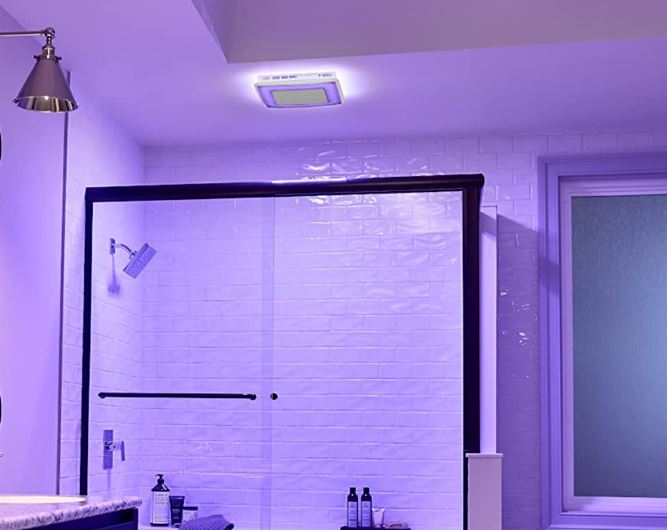 The onboard fan is extremely quiet, only slightly louder than our best overall pick and still drastically lower than the output of its built-in Bluetooth speaker. After using the ChromaComfort for a few days, we have to say that this 3-in-1 combo really enhanced the experience. Installation on this was easy but did take more time than some of the other products in this list.
If you need to add some dazzling light to your bathroom, the Broan-NuTone SPK110RGLBL ChromaComfort should be towards the top of your list.
What We Liked:
Color changing LED light.
Smartphone App remote control.
App Controls the fan as well.
Ultra quiet operation.
Loud, high quality Bluetooth speaker.
What We Didn't Like:
No dimming feature for the lights.
Best Budget: Homewerks Bathroom Fan Bluetooth Speaker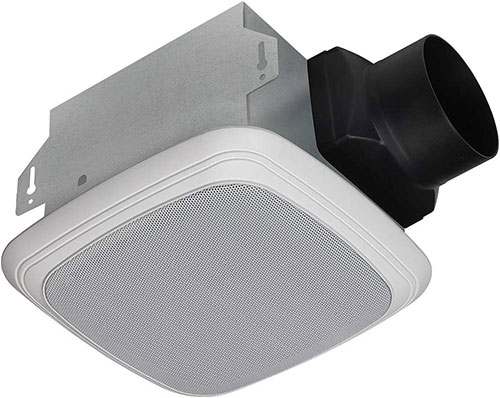 Key Features:
Very Affordable Price-point.
Corded electric power source.
Quiet Fan at 1.5 Sones.
Excellent Build Quality.
70 Cubic Feet per Minute.
Sometimes it's hard to justify breaking the bank for something like an exhaust fan for a bathroom. We get it. The good news is that there are solid options at every price point. However you need to be careful because this is the category that has the highest concentration of poor quality products.
Our team sifted through nearly two dozen budget exhaust fans with Bluetooth speakers before landing on our choice for the best budget category. The Homewerks Bathroom Fan is built with quality (most at this price point are not) metal and plastic components and formed into an impressive looking unit. Honestly, it looks more like a high end speaker than it does as a bathroom fan.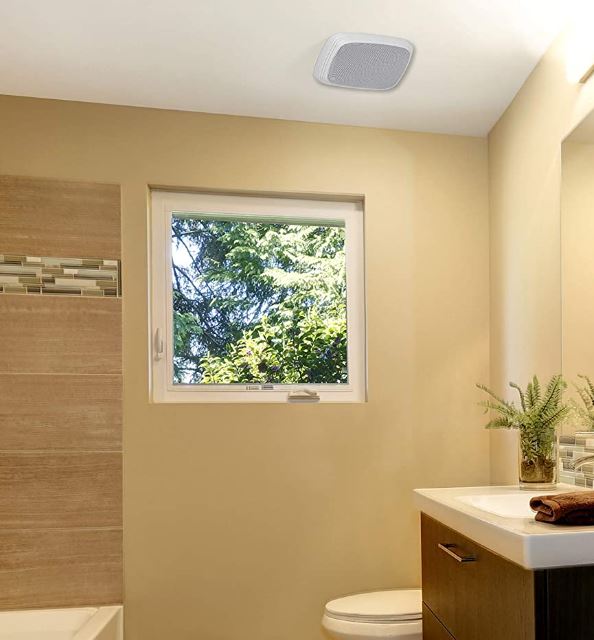 In order to keep costs down, Homewerks reduced the number of features on this product. Instead, they chose to focus on a few and executed them very well. Connectivity with the Homewerks is consistent and uninterrupted as long as you're within 30 feet. This shouldn't be a problem unless your bathroom is massive. The quality of the speakers is very good. They provide adequate volume even with the fan going at full blast.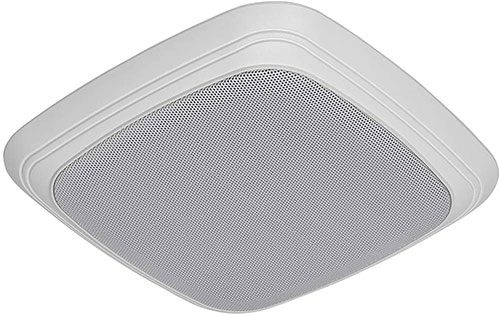 Our team was impressed to find so many high end features and components in this budget friendly model. For that reason, it wins the pick for the best budget option.
What We Liked:
Great form factor.
High quality speakers.
Solid connectivity.
Budget-friendly price.
What We Didn't Like:
Some report the installation process taking longer than average.
How to Choose the Best Bathroom Exhaust Fan with Built-in Bluetooth Speaker
It seems there's no limit to the options that are out there. Even in a niche as small as exhaust fans with Bluetooth speakers, deciding the best unit from the dozens of options can be difficult. It might help to keep the following in mind.
Define your space: Be sure to take a moment to think about your space and determine what's most important to you. For example, you may not need a fan with a light if there are already multiple light fixtures in your bathroom. As a result, you can go with an option that has superior speaker quality.
Budget: You don't need to spend the most money on an exhaust fan speaker combo to get high quality sound and adequate ventilation. By defining your budget, it'll allow you to only spend time considering the exhaust fans that fall within those parameters.