Delivery services like Amazon and Instacart have changed the way we go about our daily lives. Think about all the things you can order on the internet. Now, imagine you had to go to 10 or 12 different stores every month to buy those things. Not too long ago, that wasn't some awful idea; it was simple reality.
Thanks to the internet, things have changed. You can run a quick search, click your mouse a few times, and forget about it. A few days later, whatever you were ordering appears on your front porch. You come home from work, and there it sits, waiting for you to pick up.
At least, that's the idea. Unfortunately, porch pirates can sometimes come along and ruin your day. Instead of arriving home to your packages, you find nothing but an empty porch. Unless you're always home or you live in a building with 24/7 security, there seems to be no way around this.
At least, there wasn't, until secure package delivery lock boxes started to go mainstream. With one of these boxes, you can receive a delivery any time, and it will go into a secure compartment. Only you will be able to retrieve your packages, so you can order online with peace of mind.
Choosing the Best Secure Package Delivery Lock Boxes
Of course, you don't want to use just any old lock box. If you want to keep your packages safe and secure, you want to make sure you're getting the best one. Which box is the best choice will obviously depend on your needs. How many packages do you need it to hold? How many online features do you need? These kinds of questions will dictate which box you want to choose.
We're about to review three of the best smart and secure package delivery lock boxes available. Each of these boxes has its own strengths and weaknesses, and we needed to put them through their paces.
To find out which one is best, we'll need to look at a number of features. We'll look at their physical construction, and how tough they are. In addition, we'll talk about the locking mechanisms, and how they operate. We'll also discuss any online functions and extra bonus features. After that, we'll be ready to deliver our verdict. Let's begin!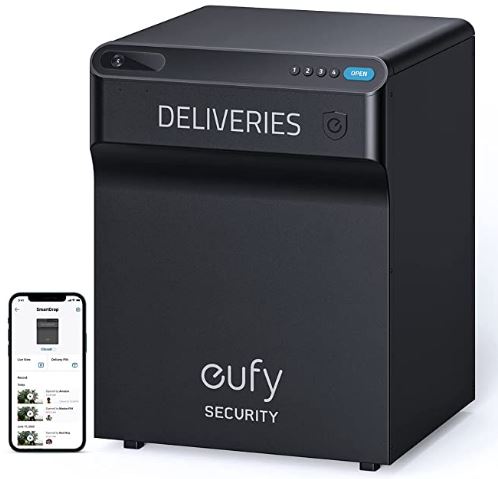 eufy Security SmartDrop
The eufy Security SmartDrop has a rectangular shape. It's constructed from cold-rolled steel, which seems extremely durable. On top of the bare steel, there are a pair of hydrophobic and anti-corrosion coatings. This keeps the material free of rusting, and also helps contribute to the water resistance.
The box actually has a water-resistance rating of IP65, which is pretty strong. The 6 means that it's virtually impervious to dust. The 5, meanwhile, lets you know that it's mostly water-resistant. It can't withstand a steady stream of water; if you spray it with a pressure washer, water will get inside. But it stands up to rain, even if there's a heavy downpour. That's all the weather-resistance you're really going to need from a package drop box.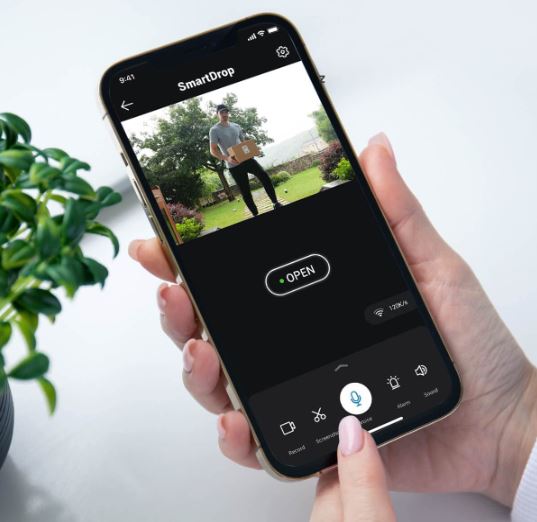 The housing is all black, with a slick finish that's easy to keep clean. The word "Deliveries" is printed across the top in bold, white letters. This makes it easier for delivery drivers to locate. The words "eufy security" are printed at the bottom.
The total weight of the SmartDrop is 56.3 pounds, so it's already pretty heavy. But if you want to bolt it down, it comes with pre-drilled holes to make the job easier. The total outside dimensions are 27.5 inches high, 21.6 inches deep, and 21.6 inches wide. The inside compartment is 4.7 cubic feet, and measures 25 x 18.3 x 17.7 inches.
At the front of the top of the housing, in front of the lid, there's an angled keypad. This consists of a set of four numbered buttons, along with a larger "Open" button. The buttons are rubbery and easy to press, and give reasonable tactile response. You'll also find a built-in camera, to the left of the controls.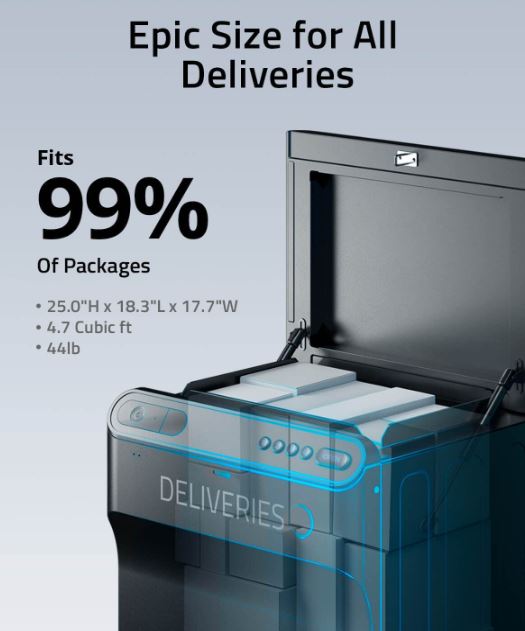 Locking and Connectivity
The eufy SmartDrop is controlled via a smartphone app, which is free to download. You'll need to pair with the box via Bluetooth first, then connect it to your WiFi network. At this point, you'll have access to all of the features. To begin with, you can program one or more PIN numbers, which can be used to unlock the box.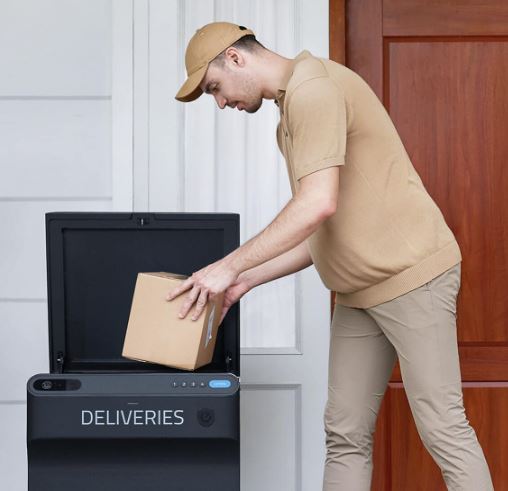 When a delivery driver comes to your house and the box is empty, they can open it with the Open button. If there's already a package in the box, they'll need to use a PIN number. That way, a porch pirate can't just go up to your box and use the Open button to steal your stuff.
Keep in mind that you'll need to register a PIN with each package carrier. For example, if you're getting packages via USPS, you'll need to contact them with your PIN number. Otherwise, your package delivery driver won't have any way to access the box! You can open the box with the PIN to retrieve your packages, or use the physical backup key.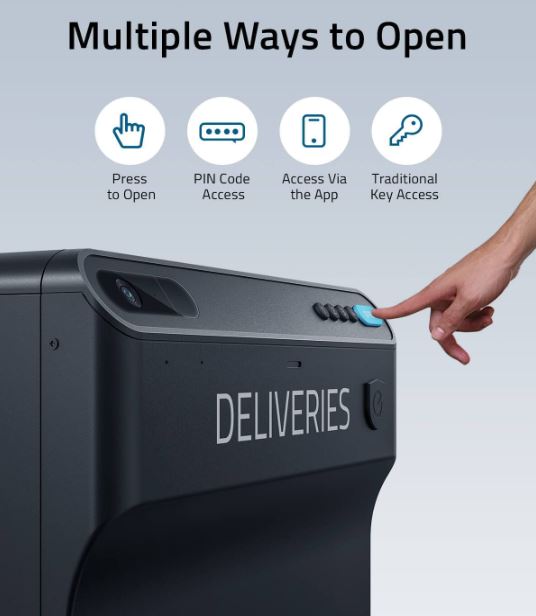 So much for the basic features. For a small monthly fee, you can also access some additional security features. For one thing, you'll get push alerts whenever motion is detected. This allows you to bring up a live, 1080p feed of your delivery driver. You can talk to them via 2-way audio, or even use the app to open the box remotely.
If you want to, you can review videos of your prior deliveries. You can also see a count of how many deliveries you've received since the box has been emptied.
The 10,000mAh battery will last for several months, and is removable for charging via USB. Alternatively, you can plug the box directly into a wall outlet, but this requires an aftermarket AC adapter.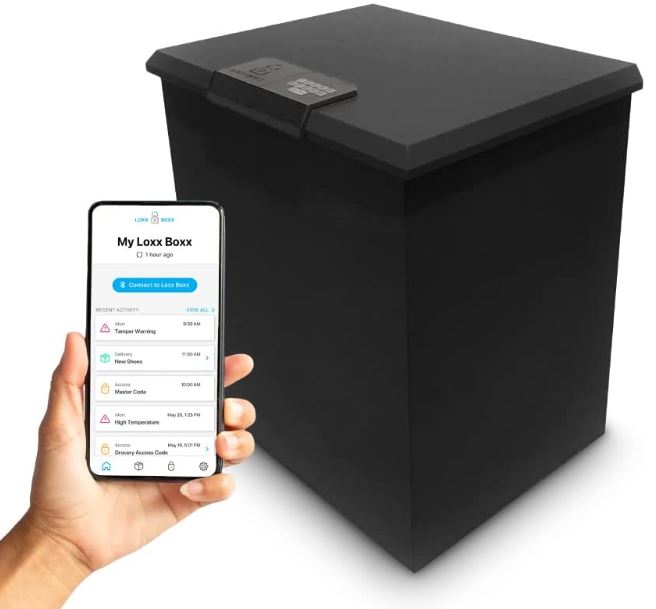 Loxx Boxx Household
The Loxx Boxx Household is another rugged lock box. It's constructed from a tough 16-gauge steel alloy, and it has a wide rectangular design. The top is hinged at the back, and flips right up to reveal a large inner compartment. The edges of the lid extend slightly over the top of the housing, and are sloped downwards. This helps to keep the interior dry when it's raining. There's a 10-digit keypad on the front lip, with white rubbery buttons.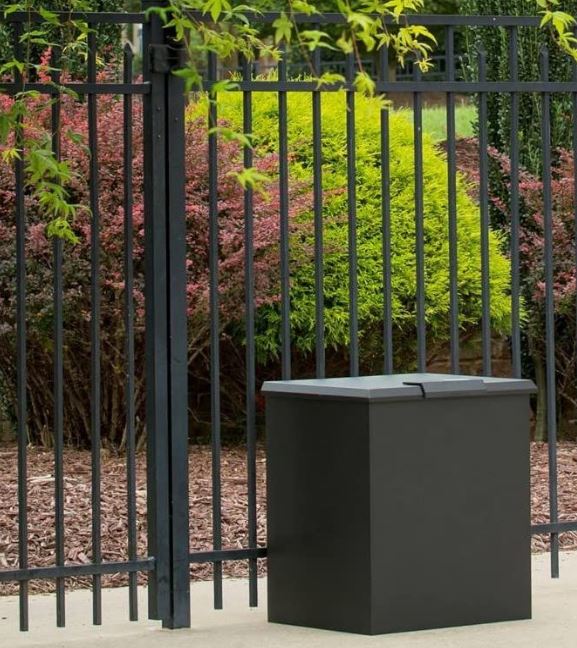 This lock box is available in matte black, beige, brown, grey, green, or a bright gloss red. It's also available in two different sizes. The standard size is 39 ½ inches wide, 21 ½ inches tall, and 16 ¾ inches deep. However, there's also a medium version that's 21 3/8 inches wide, 24 ½ inches tall, and 16 ¾ inches deep.
The larger version of the Loxx Boxx has a capacity of 8 cubic feet, which is fairly big. It also weighs in at a hefty 68 pounds, so it's hefty to move around, even when it's empty. The smaller version has a capacity of 4.5 cubic feet, and weighs in at 46 pounds. Both of them are pre-drilled to bolt to your porch. So if you want added security, you can easily lock this box down.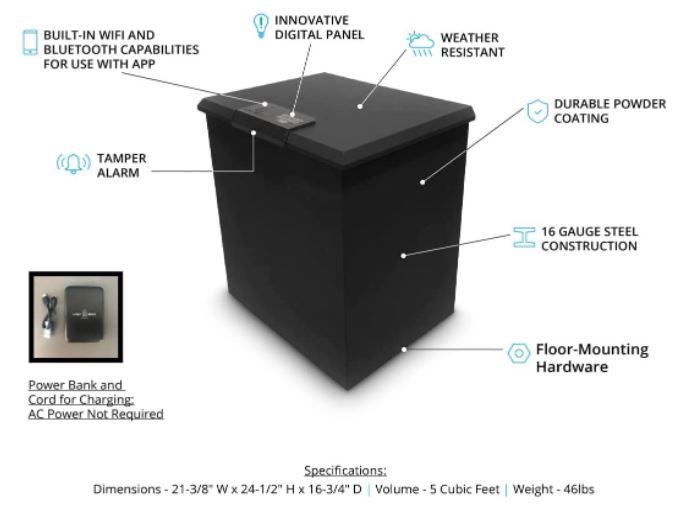 Locking and Connectivity
The Loxx Boxx Household has some of the most powerful security controls you'll find on today's market. Unfortunately, the app is only free for the first 90 days. After that, you'll have to subscribe for a relatively low monthly fee. This locks you out of a number of important features, including the ability to change your PIN. On the other hand, the fee is very reasonable, and it's well worth the cost if you order a lot of packages.
The app can be used to generate your own PIN number, but that's just scratching the surface. You can also pair it with your accounts at all the major delivery services. Every time you have a package shipped, the Loxx Boxx will automatically generate a unique code. This code will be tied to that single delivery, and will be deleted when the delivery is complete.
You can use the app to share codes with friends and family, to have someone else pick up your package. Not only that, but it has in-app package tracking. All of your tracking information is sent to the same central dashboard. That way, you don't have to check multiple delivery services to get your package statuses.
This box is powered by a removable rechargeable battery, which will last for several months. When the charge starts to get low, you'll get a push alert from the app to let you know.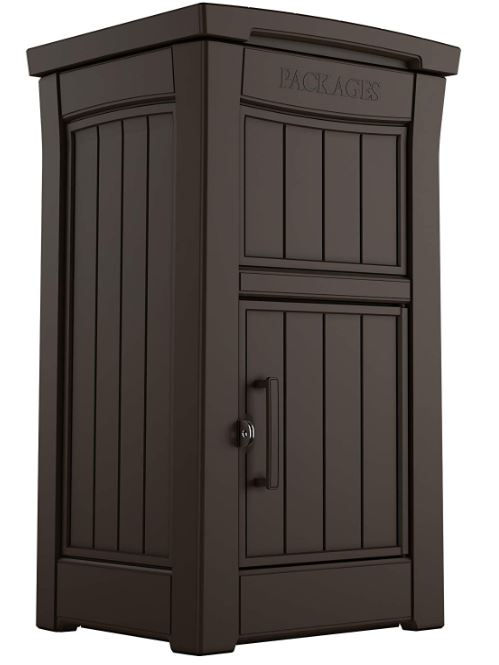 Keter Delivery Box
The Keter Delivery Box is a bit different from the others. It's made from resin, so it only weighs 32.84 pounds, and it's not quite as durable. Then again, it's not as if anyone will be sawing into your lock box, and it can still be bolted down. You even get a set of metal bolts in the kit.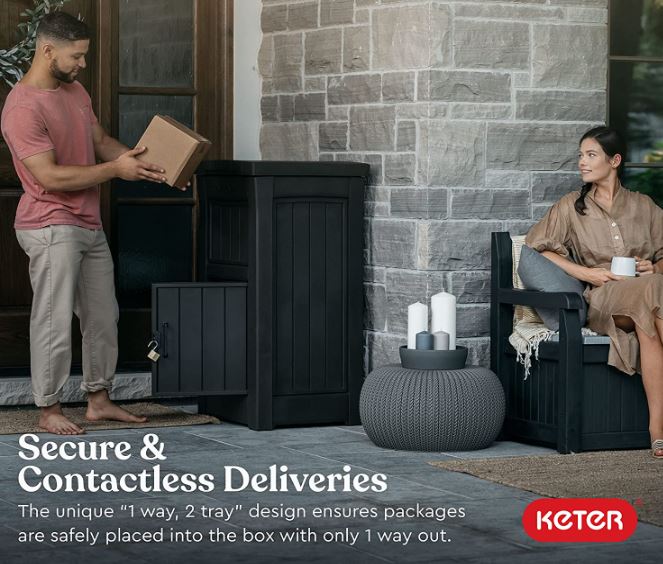 The brown housing is molded to look like an old-school metal postbox. It stands 44 inches high, with a width of 20.9 inches and a depth of 24.4. The word "PACKAGES" is embossed in the front top, so drivers know what they're dealing with. While there's no water-resistance rating, the box seems to stay reasonably dry. It's certainly drier than having your packages lay out on the porch.
The internal dimensions are 39.4 inches high, 15.7 inches wide, and 19.7 inches deep. That's a fair bit of space, a total of just over 7 cubic feet.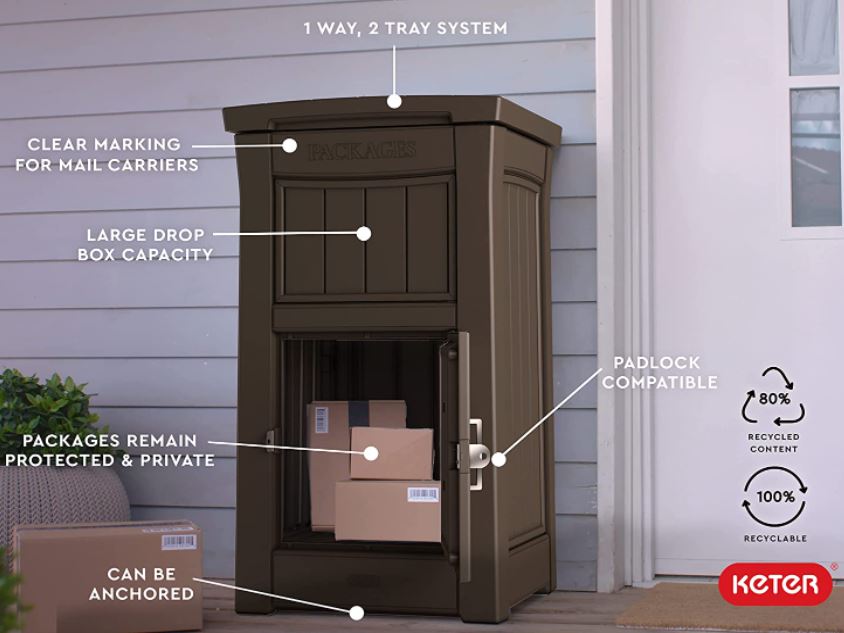 Locking and Connectivity
The neat thing about the Keter Delivery Box is that there's no app required. You don't need any internet, and you don't need to charge any batteries. Instead, there's an inner flap under the lid. When a package is inserted, it drops through the flap into a secure bottom chamber. Because of the flap's design, there's no way to retrieve a package from the top.
The bottom compartment opens via a door in the front of the housing. This door has a flange with a hole in it, which meets a matching flange on the housing. It's designed to be locked with a padlock, and you can even order the box with a combination lock.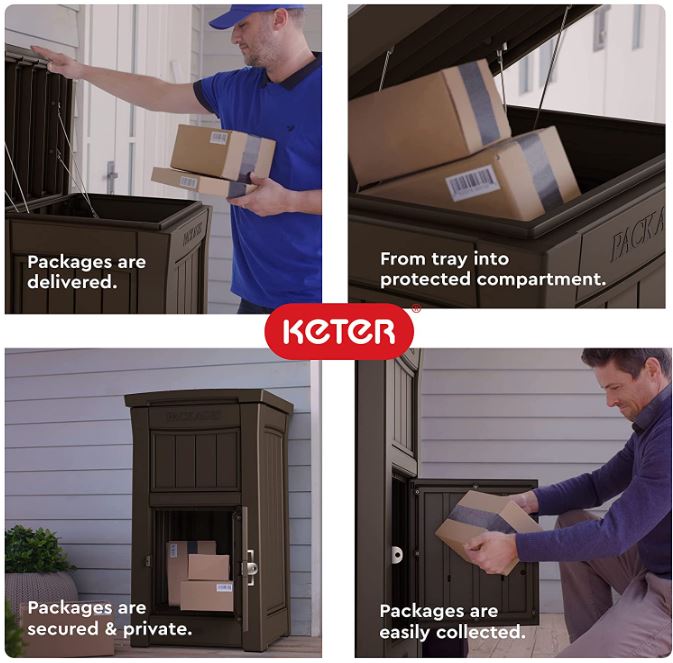 While you're thinking about your packages, you might want to think about upgrading your front door lock. The Elamor M15 is an excellent choice. It's a tough, rugged keyless-entry door lock that can store up to 50 different unlock codes. It also locks behind you automatically, in case you forget to re-lock it.
Final Verdict – Which is Best?
So, which of these smart and secure package delivery lock boxes is the best choice? Let's go over what we've learned about each one of them.
We started with the eufy Security SmartDrop. This box is the smallest of the bunch, at only 4.7 cubic feet. However, it has the most smart features, with most of them available without a subscription. If you want the most app controls right out of the box, this is a solid choice. It also doesn't help that it's very durably constructed.
The Loxx Boxx Household has a large, 8-cubic foot capacity and an incredible array of app features. Unfortunately, all the features require a subscription, so it's not ideal for all people. But if you get a ton of packages, the management features are well worth the investment.
The Keter Delivery Box is made from polymer, not metal, so it's not quite as tough as the others. However, it has a large capacity, and it doesn't rely on any apps. If the internet or power goes out, your drop box will still work.