ORFELD Cordless Vacuum
Battery & Charging
8.0/10
Pros
Powerful suction, especially in turbo mode.
Retractable extension for space-saving storage.
Decent battery life and relatively quick re-charging.
Illuminated LEDs light-up the path ahead.
Lightweight, balanced design.
Cons
Retractable extension shaft has a little wobble to it.
Swiveling head can get "squirrelly" when trying to reach far under furniture.
When it comes to cleaning your floors, having a reliable, easy to use vacuum is essential. Nowadays, rather than having to lug around a heavy corded vacuum, most people are opting for a lightweight alternative. To many, cordless vacuums are now the preferred choice. Not only do they allow an untethered cleaning experience throughout your home, they're often much more compact and lightweight than their behemoth counterpart. Overall, they're simply a better solution for sporadic cleaning.
However, it's common knowledge that most cordless vacuum cleaners are often much more expensive. Traditionally, you'd have to spend twice or three times as much as a typical upright corded vacuum to get anything worthwhile. Luckily, there are now countless budget-friendly options on the market.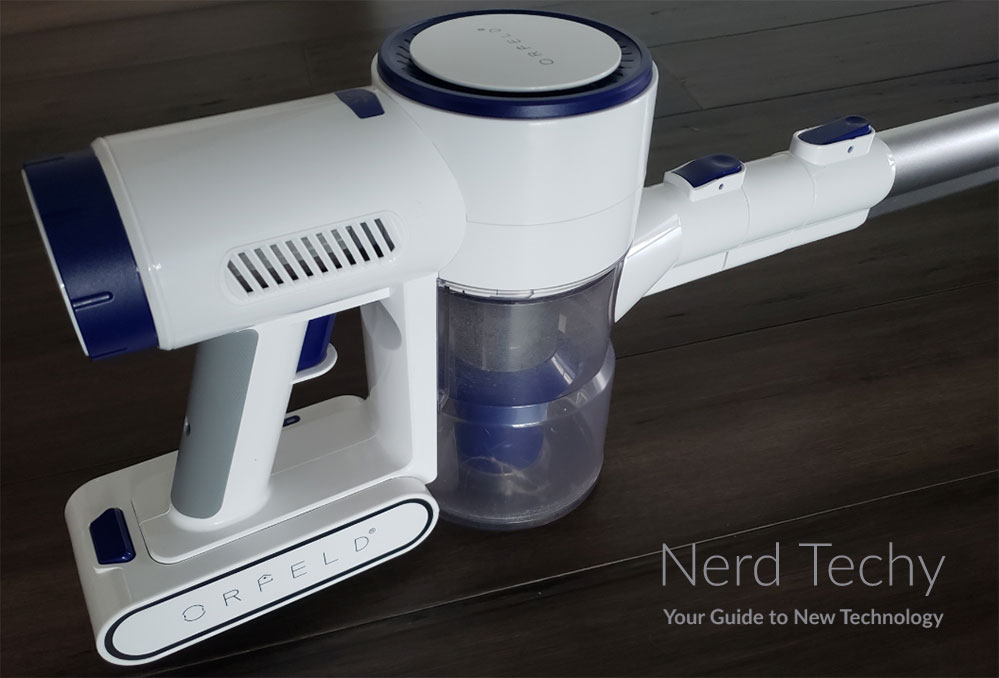 One such is the ORFELD Cordless Vacuum Cleaner. As a popular option on Amazon, this inexpensive cordless stick vacuum has been gaining popularity over the last few months. In fact, we've received several inquiries from our readers about it.
Most people are wondering if it's too good to be true. Could an affordable stick vacuum like this truly warrant the nearly 5-star rating it has on Amazon? Today we're going to find out. In this article, we'll be examining what exactly it has to offer and how it held up to our real-world tests. Let's get right into it.
First Look
The ORFELD Stick Vacuum has a standard cordless vacuum appearance with a few differences that really make it stand out. Weighing in at just under 5lbs with a retractable stick mechanism, it's one of the most compact vacuums we've had the opportunity of trying out.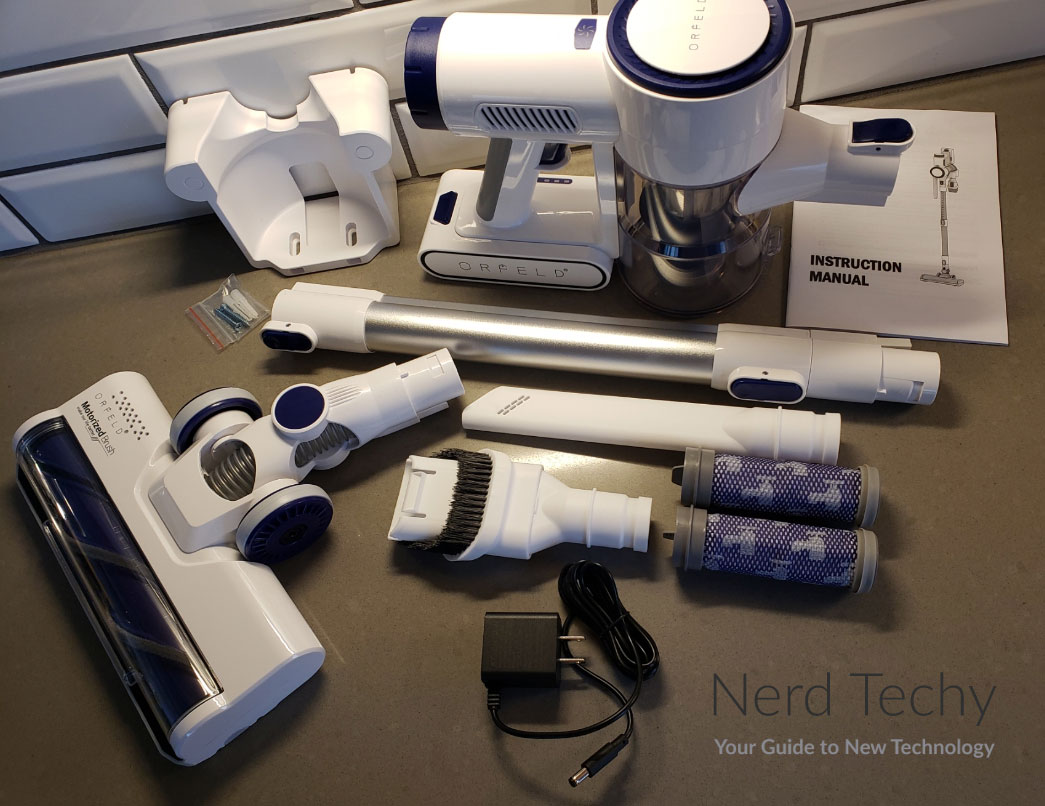 Inside the box, the vacuum ships with a multitude of accessories and a few different attachments. First, you get the main handheld vacuum with the handle, trigger, canister and motor. Next you get the detachable battery pack and AC adapter. In addition, you get the main motorized brush, a crevice tool, brush attachment and the main extendable shaft. They've even included two extra washable filters and a wall mount with hardware included. Last but not least, you get an instruction manual.
Everything is easy to snap together so you can start vacuuming within minutes of opening the box. Simply latch the shaft into the main unit and choose your attachment. It's advised that you give it a full charge before first-time use, but our unit came with 2/3 full battery.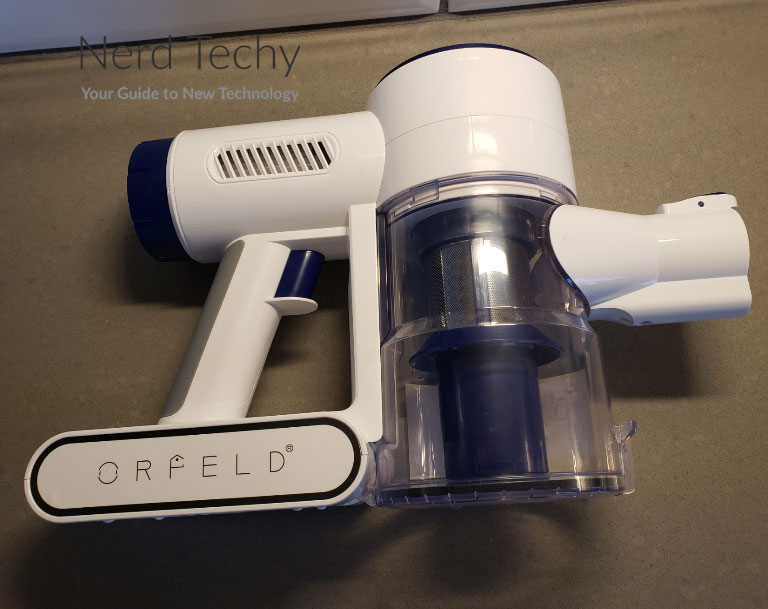 Weight and Size
With the motorized brush and extendable shaft attached, the vacuum feels well balanced. Overall, even with the battery pack connected, it weighs in at just under 5 lbs, which is very lightweight. The main grip and trigger mechanism feels high-quality while providing a sturdy grip. Most importantly, everything feels well-balanced. The main motorized attachment provides a nice balance with the weight of the canister portion.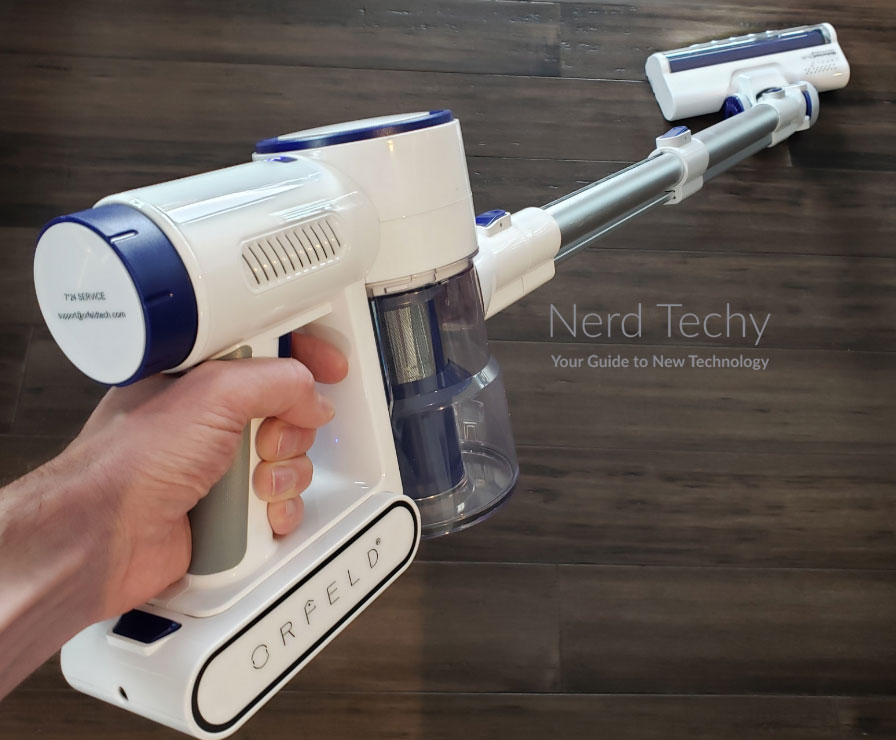 The shaft can easily extend with the press of the small blue button towards the top. It can be set to the ideal length you prefer, rather than going with a set-height that the manufacturer chooses. This is a real bonus for shorter folks who tend to find themselves overworked by a taller than average vacuum. At its fully extended length, it's the ideal size for anyone between 5.5 and 6 feet tall. Any shorter and you'll likely want to shorten it up a bit.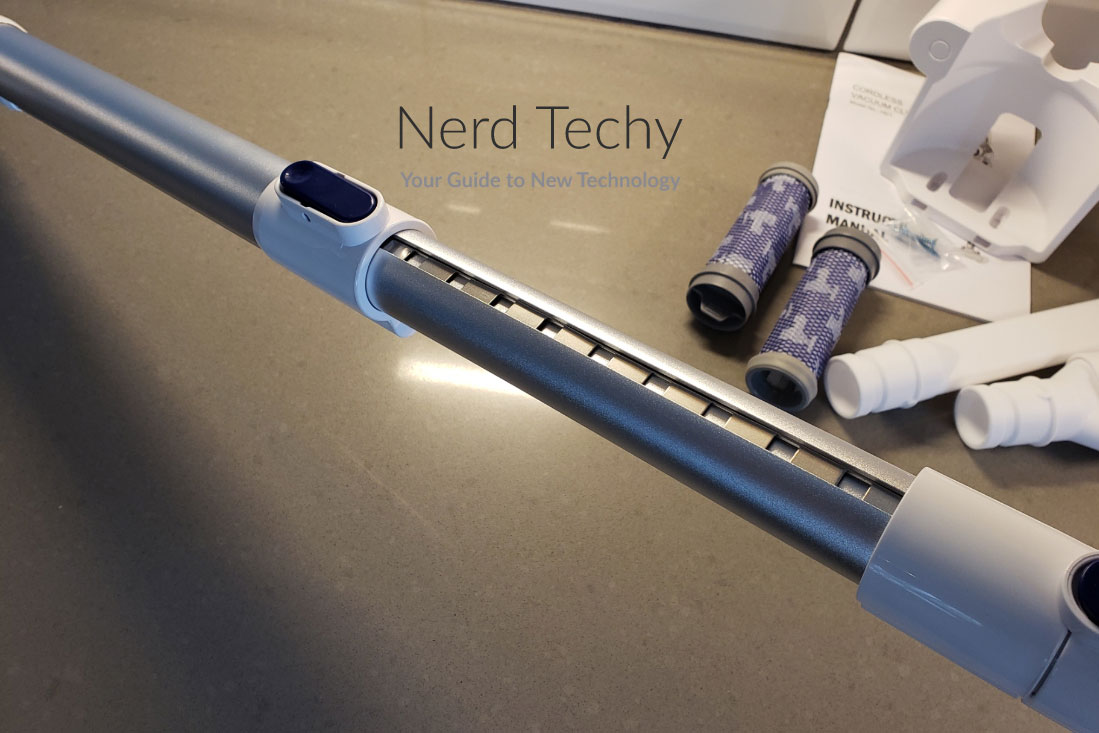 The extendable shaft is excellent for space-saving while not in use. However, once it is fully extended, it has a very slight wobble to it. It's really not that noticeable at first, but once you move the vacuum around in a variety of patterns, it's more apparent. Some users won't have any complaint with this, but it is something that's worth pointing out.
Main Motorized Brush
The main motorized brush carries a basic design that works well. Once powered-on, the brush spins extremely fast in order to kick-up debris into the air that's being sucked into the canister. The bristles are very stiff and short in order to provide an ample balance between effectiveness and overall longevity. They tangle a bit with hair and twine, but it's easy to clean it up with a pair of scissors, every so often.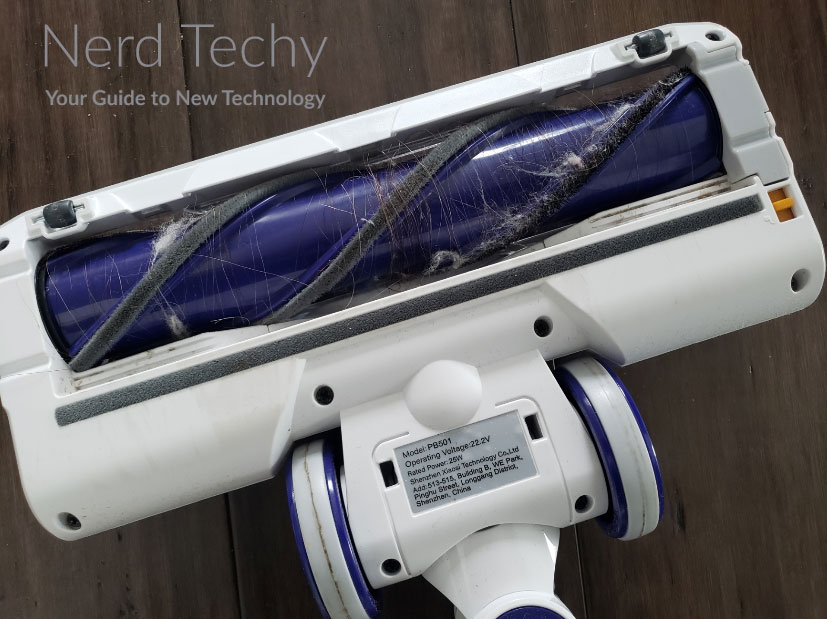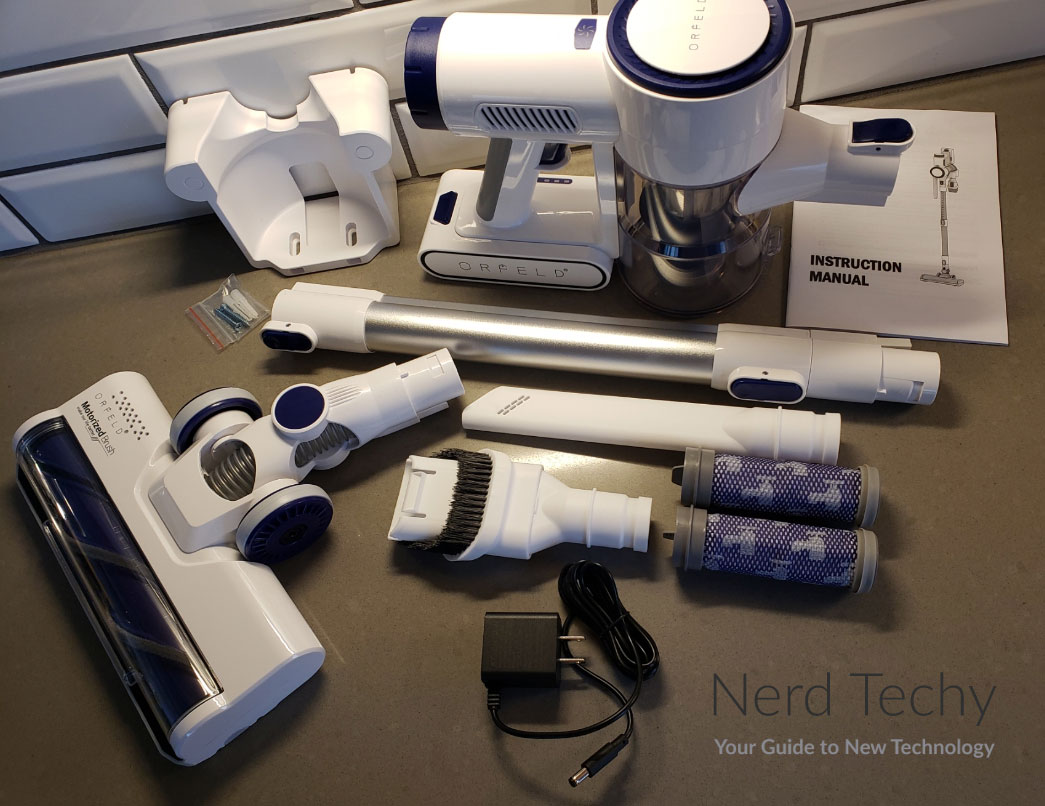 The front of it is equipped with five white LEDs that illuminate the path in front of you. While this looks nice, it also functions very well. In fact, when any bit of dust or debris is in front, these lights help to cast a shadow and ultimately brighten-up any objects in your way. That said, it excels in dimly lit areas where light typically cannot reach. It's also very satisfying to visually see dirt picked up instantaneously when you pass over it.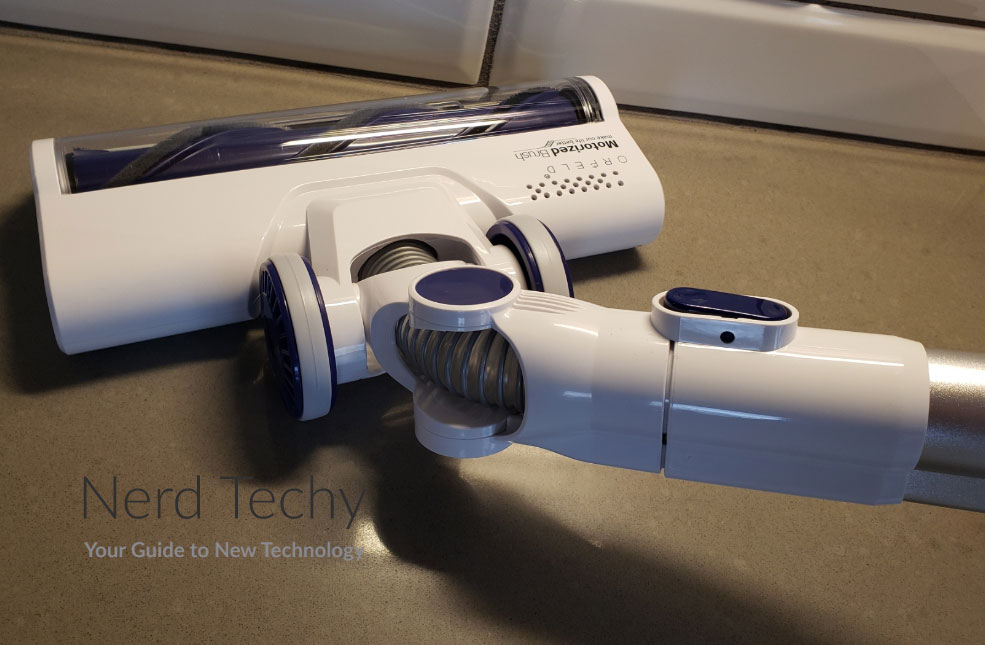 What sets the ORFELD vacuum apart from others is the unique swiveling joint on the motorized brush. Directly behind the set of wheels is a joint that moves side to side. Ultimately, it creates much more maneuverability than you would otherwise have. It means you can stand to the side of the vacuum path and bend it downward at a steep angle to get under tight furniture and small places. While it does work great, sometimes it can get a little squirrely; mostly when reaching very far under furniture. Regardless, the amount of movement it allows is fantastic for hard to reach areas where you would otherwise have to move furniture around.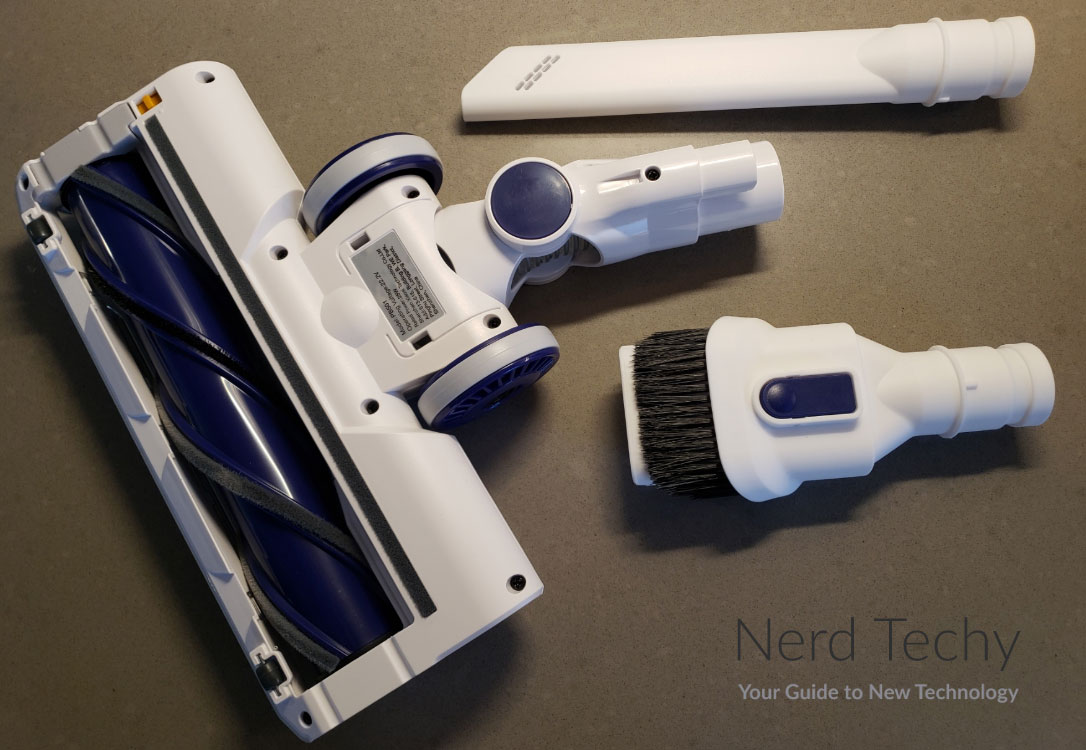 Other Attachments
ORFELD also includes a small crevice tool and a mini brush. These two attachments are excellent choices for nooks and cracks that are tight to get into. Areas such as between couch cushions, in corners or around your vehicle are where these two tools excel the most.
These are fairly straightforward and basic attachments. You can attach them directly to the main unit or in addition to the extendable shaft for extra reach. Regardless, both are very lightweight yet seem to be well-made.
Suction & Power
The actual vacuum has a very nice, well-made feel to it. The grip is adequate and the controls are all very basic. With one pull of the trigger, it operates at a normal suction level. Pull the trigger twice and the vacuum will enter its highest setting, what we will refer to as "turbo" mode.
In the lowest setting, the ORFELD stick vacuum does an adequate job. But once you get used to using it in "turbo" mode, you won't want to go back to the low setting. This isn't to say the low setting is inadequate, it does a good job on hard floors and light carpets. For denser carpet or medium-pile rugs, turbo is where it's at. It sucks with extra power and ramps up the power of the motorized brush.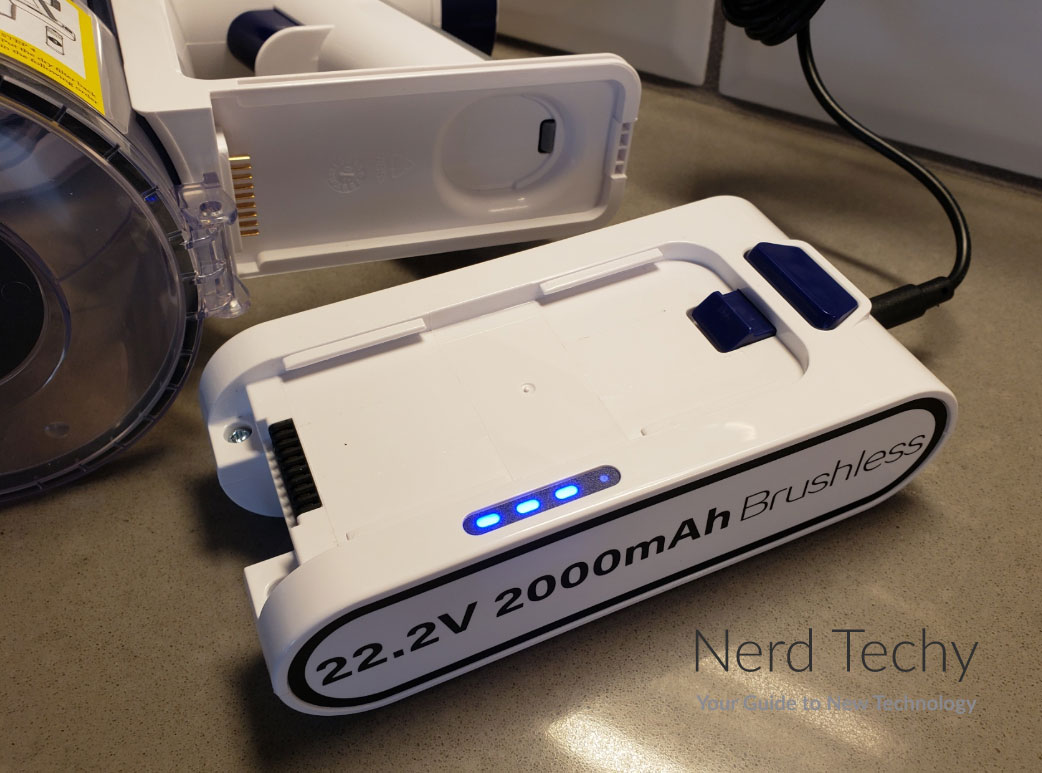 The main downside to turbo mode is the increased battery consumption. Since it uses a higher suction force and faster RPMS with the roller brush, it therefore consumes about twice the amount of battery life as the low setting. For smaller homes under ~1500 sq. ft. you can easily vacuum the floors in turbo mode with a single charge. However, for larger homes close to or larger than 2,000 sq. ft, you'll either want to move faster than average or have another battery on-hand.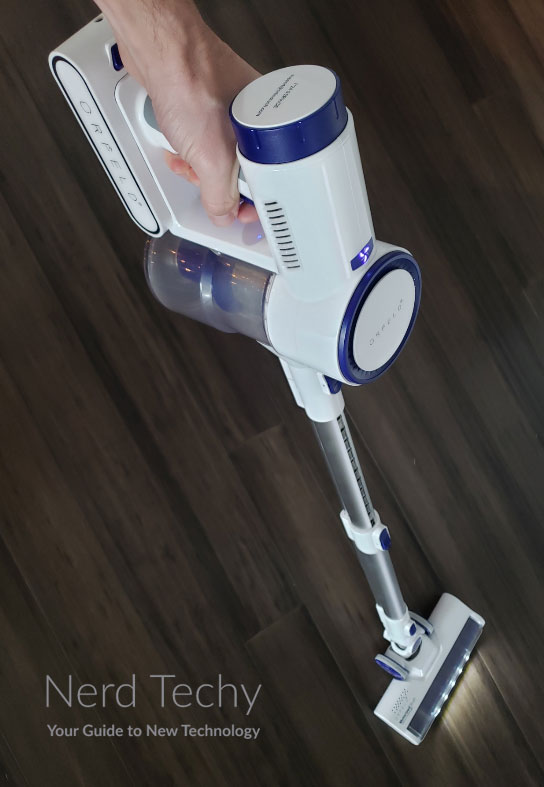 Best of all, the ORFELD vacuum utilizes a detachable battery. This way, you can swap out multiple batteries to cover more ground or keep a spare on-hand, just in case. The AC adapter plugs directly into the battery itself, so it can charge-up while you're using the vacuum with a second battery. Thankfully, each battery is equipped with three blue LEDs that illuminate to show the remaining battery life.
In terms of actual battery life, it can vary greatly. In general, however, we experienced around 30-40 minutes on low and 15 to 20 minutes on turbo mode. This is about average for a cordless vacuum of this size. As far as re-charge times go, we found that the battery re-charged from empty to full in around 3 hours. Pretty decent in our opinion!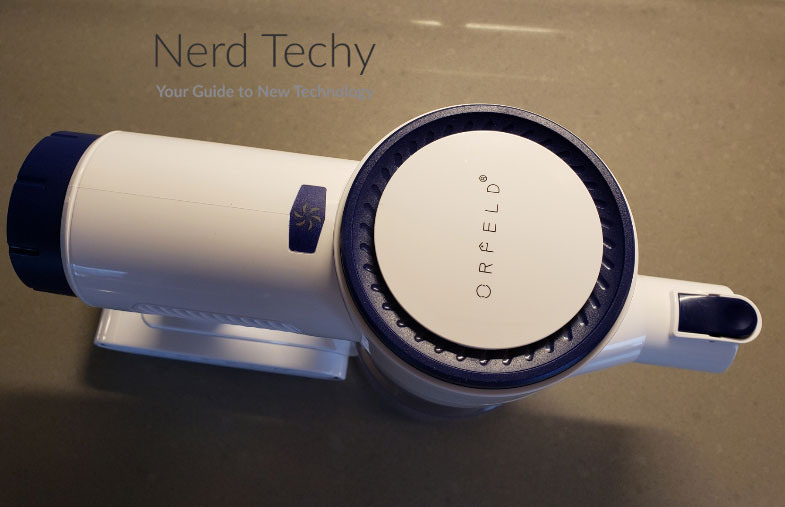 Filtration System & Dust Canister
Inside the ORFELD cordless vacuum is a 5-stage filtration system that uses a combination of filters to trap everything from large particles to super-fine dust particles as small as 0.2 microns. The main component inside the filtration system is the HEPA filter. It's comprised of a high-density mesh that traps allergens, hair and dust with ease.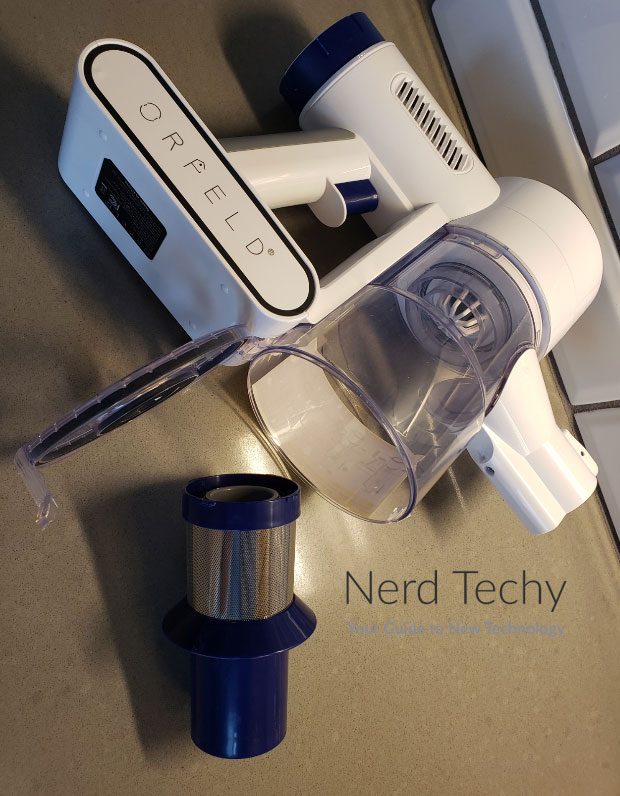 Emptying the canister is a simple process. Just hold it over a wastebasket and unclip the small mechanism on the exterior of the canister. The trapped dust and debris will then fall down below. You may need to remove the metal-screen filter with a counter-clockwise twist to get the last remaining bit of hair out. Regardless, it's easy to do and only takes a few seconds.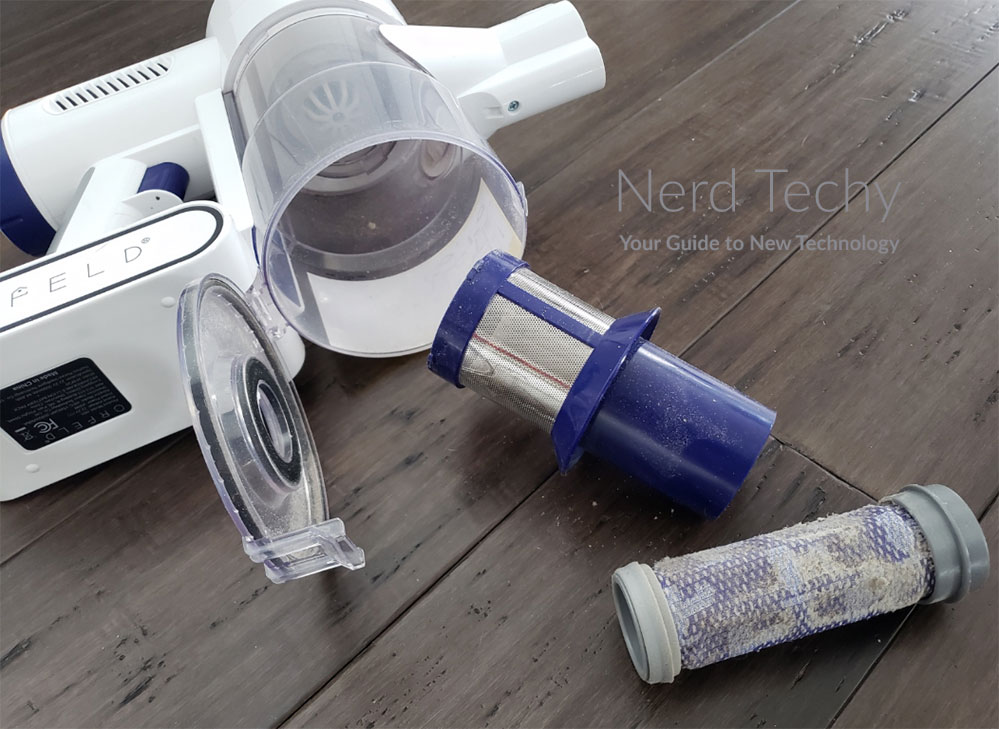 Best of all, the entire filtration system is easily disassembled and fully rinseable. Completely cleaning it out about once a month is recommended for optimum performance. It may tend to get clogged up more than normal if you have a lot of pets or if you vacuum multiple times per day. Just be sure to make sure it completely dries before you assemble it again, otherwise you may end up with a mildew-smelling vacuum next time you use it.
Noise Level
With two power levels, the ORFELD stick vacuum's noise level varies depending on which mode you're operating it in. While the low setting is in use, less noise will be emitted, for the fact that less power is needed. Conversely, the "turbo" mode that we refer to (highest setting) is a bit louder, but not by much. In fact, we were ultimately impressed with the amount of noise it creates while in use. Said to be a maximum of 63 decibels, this seems about right.
While any vacuum will have noise, the ORFELD produces much less noise than other stick vacuums we've tested out in the past. This doesn't mean it's underpowered. Ultimately, it means that they did a fantastic job at insulating the internal components against excessive noise.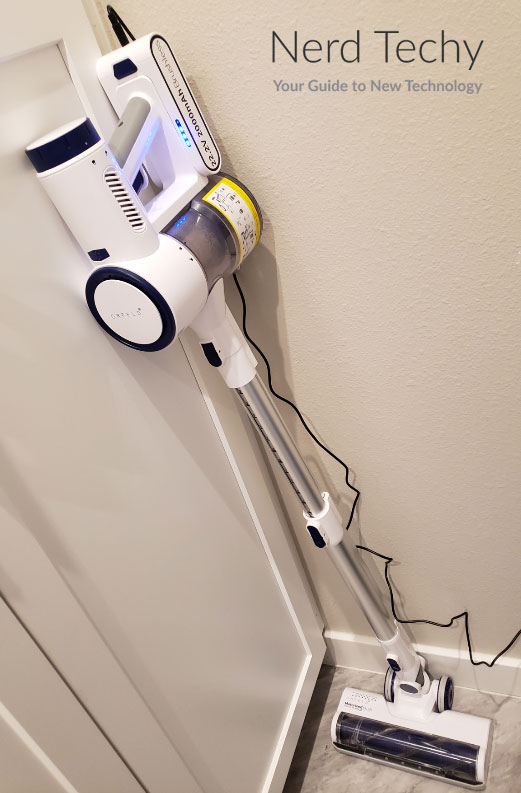 Final Thoughts
Overall, we really like the ORFELD Cordless Stick Vacuum. It's built with lightweight maneuverability and effective cleaning power in mind. Just because it's more of a budget-option, doesn't mean that it's underpowered. We were honestly quite shocked at how well it picked up debris and cleaned the floors – especially on the highest suction setting.
With the unique motorized brush that offers a massive range of movement from back and forth and side to side, getting into tight spaces is surprisingly easy. Although it can get a bit squirrely when bent down all the way, it does better than a standard one-way hinged design.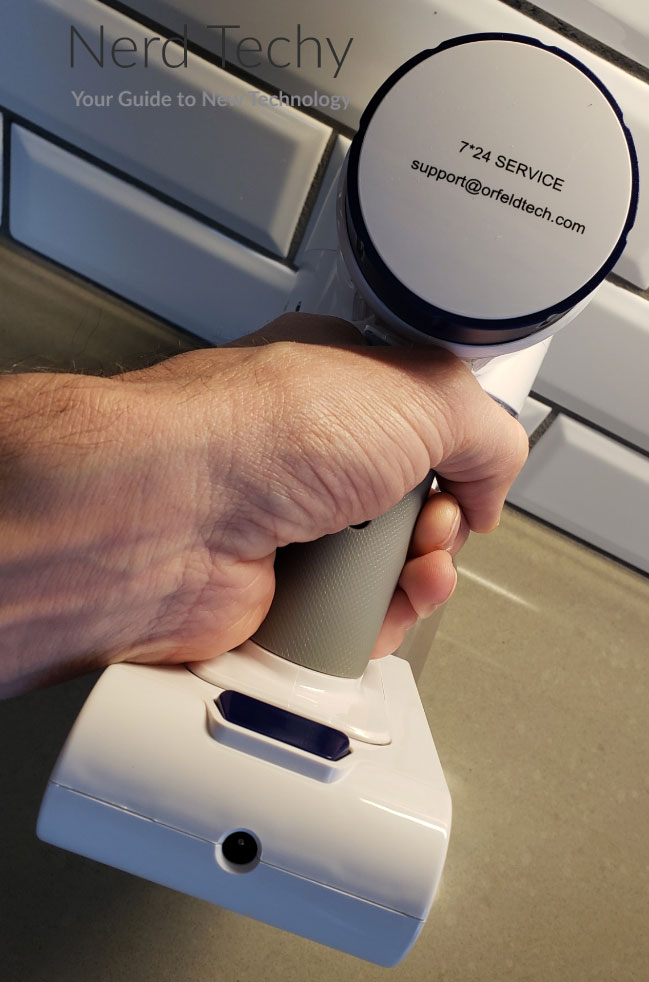 The lightweight design and proper balance between the canister, shaft and brush mean that you can clean without getting tired. And with a 30-40 minute runtime, it's ideal for small to medium-sized houses.
We really love the fact that you can swap out batteries and keep going, if needed. Additionally, the telescopic, extendable shaft keeps everything extremely compact while not in use. And while we didn't actually use it ourselves, the inclusion of a wall-mount is a nice touch.
All in all, if you're in search for an affordable stick vacuum that ticks most of the boxes, look no further than the ORFELD stick vacuum.
Meet Derek, "TechGuru," a 34-year-old technology enthusiast with a deep passion for tech innovations. With extensive experience, he specializes in gaming hardware and software, and has expertise in gadgets, custom PCs, and audio.
Besides writing about tech and reviewing new products, Derek enjoys traveling, hiking, and photography. Committed to keeping up with the latest industry trends, he aims to guide readers in making informed tech decisions.