When it comes to outdoor activities, it's tough to beat a game of driveway basketball. Whether you're shooting hoops by yourself, playing two-on-two, or engaging in a game of horse, it's just plain fun. Not only that, but it's a great way to get exercise if your day job involves a lot of sitting around.
Playing in your own driveway removes a lot of the inconveniences associated with playing basketball. You don't have to worry about a bunch of strangers who also want to use the court. You don't have to work around league games, or get stuck in traffic on the way to the gym. You just walk out your door and start shooting.
This does come with a downside. A lot of the times you want to use your basketball hoop, it's dark out. Even if your driveway is reasonably well-lit, it can still be tough to see the hoop. In partial lighting, distances will be hard to judge, and you'll end up missing easy shots.
There are plenty of ways to get around this. Perhaps the most straightforward method is to make sure you have good lighting to begin with. Even if you aren't shooting hoops outside, your driveway should have adequate lighting. But it's not always convenient to shine a lot of light at your backboard.
One alternative is to use a set of LED basketball hoop lights. These will illuminate your hoop, so it's easy to see under any lighting conditions. Not only that, but they add an element of fun. Who needs a practical reason to put LED lights on their basketball hoop?
Choosing the Best LED Basketball Hoop Lights
Today, we're going to review five of the best LED basketball hoop lights on today's market. These lights are all designed to be easy to install, and illuminate your hoop. But beyond that, there are significant differences in build and design. In order to find the best one, we'll need to look at all of their features.
We'll give all five of these light kits a thorough evaluation, starting with the strips themselves. We'll look into the design quality, and how they are installed. We'll discuss the power supply, and how long the batteries last. We'll also talk about any extra features, such as motion sensors or light sensors. After that, we'll be in a good position to deliver our final verdict. Let's get started!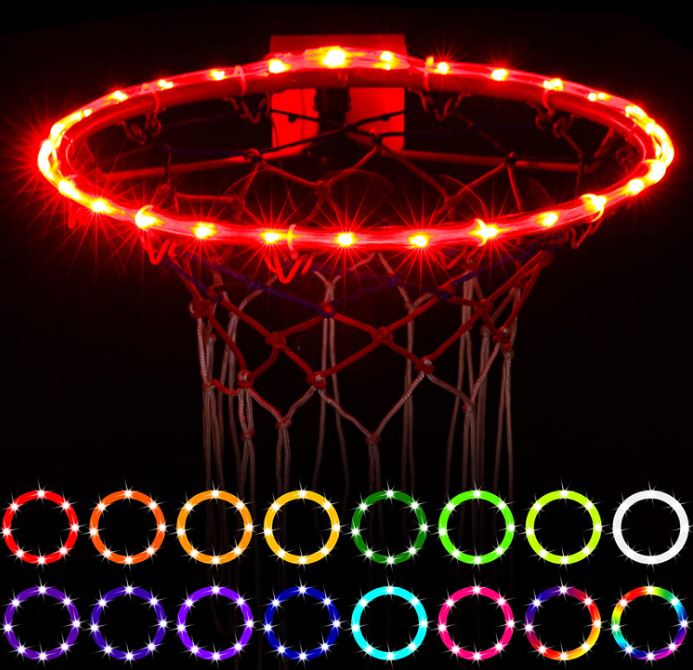 Waybelive LED Basketball Hoop Rim Lights
The Waybelive LED Basketball Hoop Rim Lights are a short strip that wraps around your rim. The LED strip is very flexible, but coated with a rubbery material. This makes it tough enough to use on a basketball rim.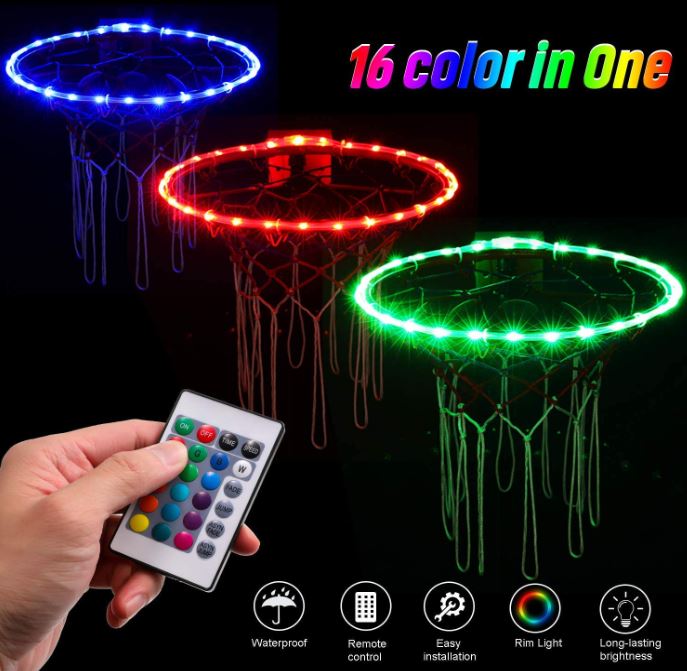 Installation is simple and straightforward. The kit includes a set of 10 small zip ties, which you use to secure the lights to the rim. If you order the kit with the pole lights, you'll also get five smaller zip ties for attaching it to the pole. It takes just a few minutes to get everything set up.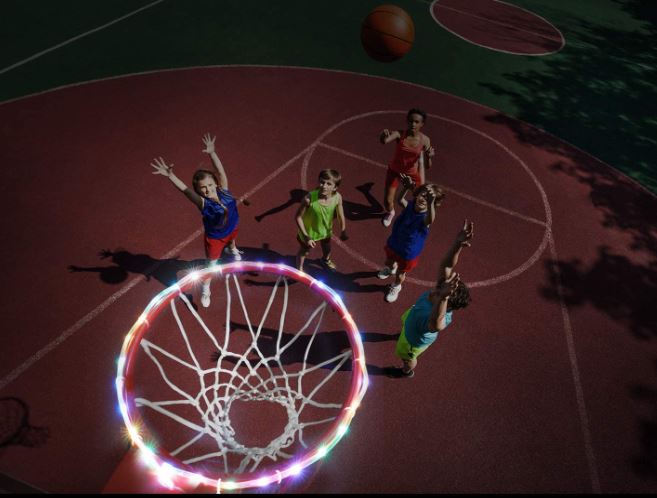 The LED strip requires a source of power, which is provided by a clear plastic battery box. It takes three AA batteries, which you'll have to supply for yourself. A fresh set of batteries will provide power for up to 75 hours. The package includes a 3M adhesive pad, which you can use to stick the battery box to your pole.
These lights are controlled by a small handheld remote. It has soft touch buttons for turning the lights on and off, or for adjusting the color. You can choose a solid, constant shine, or select from four patterns. There are two fading patterns, one fast and one slow. Similarly, there are fast and slow jumping patterns. In addition, you can select between 16 different colors of LED lighting. You can even choose plain white if you want pure illumination. Everything in the box is covered by WAYBELIVE's 1-year manufacturer's warranty.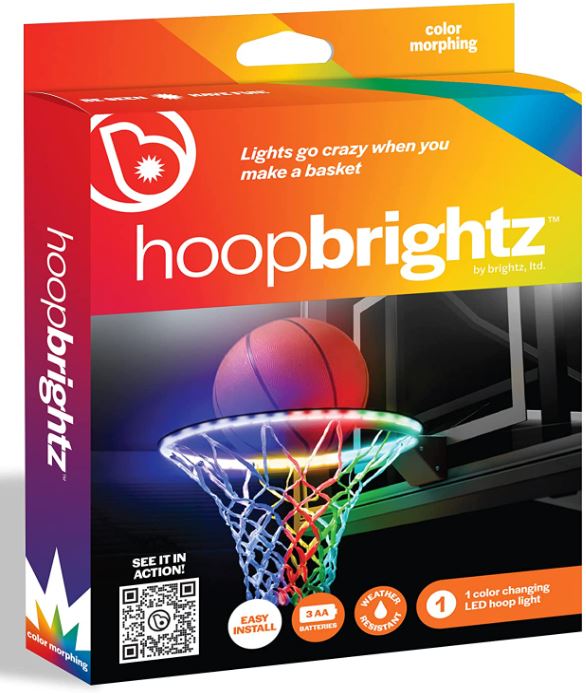 Brightz HoopBrightz LED Basketball Rim Light
The Brightz HoopBrightz LED Basketball Rim Light isn't designed for continuous illumination. It's a celebratory light that illuminates every time you score a basket. It's also a great way to keep score at night, when it's tough to see if a shot was made. Because of this design, there are no lights for your basketball pole, only for the hoop.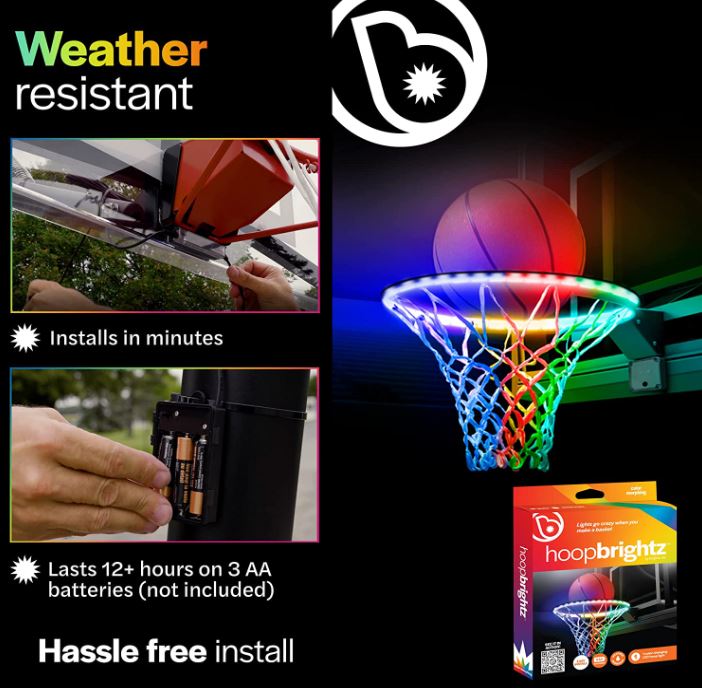 The light strip itself is nice and flexible, and is easy to wrap around your rim. It's surprisingly rugged, and we're not worried about it getting damaged. It sports an adhesive backing, so you can stick it to the rim during installation. This makes it simple to zip tie in place, without needing to hold it in place while you work.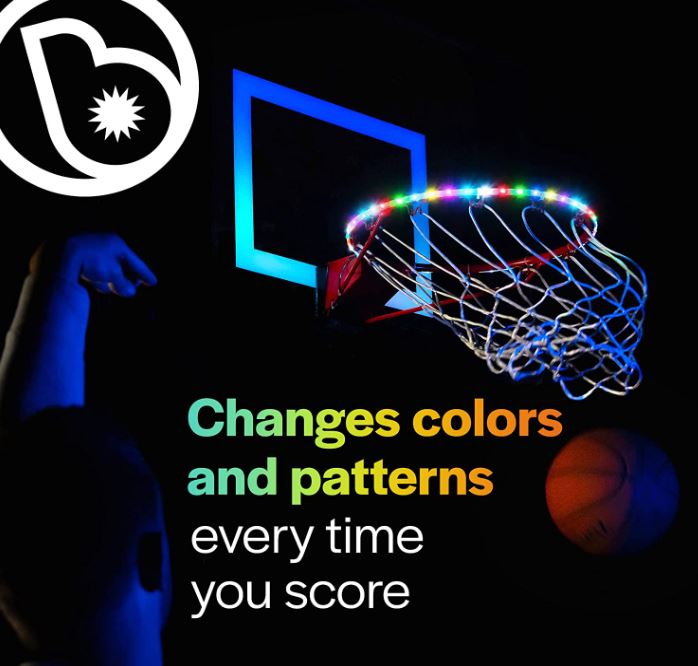 The light strip connects into one side of a motion sensor device. This is a little black box that mounts behind your basket, beneath the little bracket that supports the hoop. When a ball passes in front of it, it triggers the sensor, and the lights are activated. The lights themselves flash, cycle, or breathe, and change between multiple different colors. The exact pattern is different every time you make a basket. You never know what you're going to get.
A wire runs from the right side of the motion sensor to the bottom of your basketball pole. At this end, it connects to the battery box, which holds a set of three AA cells. These batteries aren't included, but they'll run for 12 hours before needing to be replaced.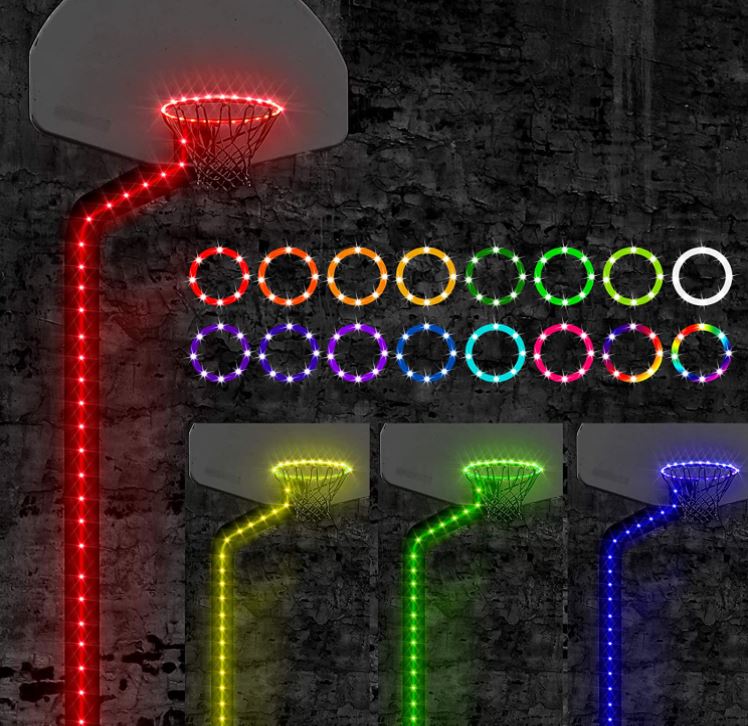 Waybelive LED Basketball Lights Set
The Waybelive LED Basketball Lights is a complete set that's similar to the previous kit from the same brand. It has the same high-quality LED strip, but it's much longer. It's long enough to run around the rim, then down the pole to the ground. Not only will it outline your hoop, but you'll see your entire basketball setup. This is a useful safety feature if you're worried about running into the pole in the dark.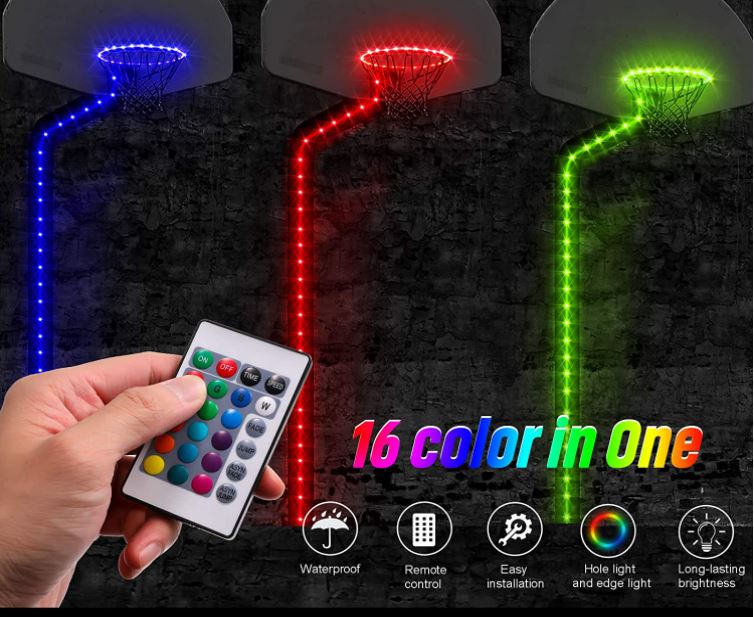 Installation is the same as the last Waybelive model, including the power supply. It utilizes the same battery box and AA batteries, although the battery life is a bit shorter. That's only to be expected, since you're powering a lot more individual LED diodes. You even get the same high-quality remote, and a 12-month warranty.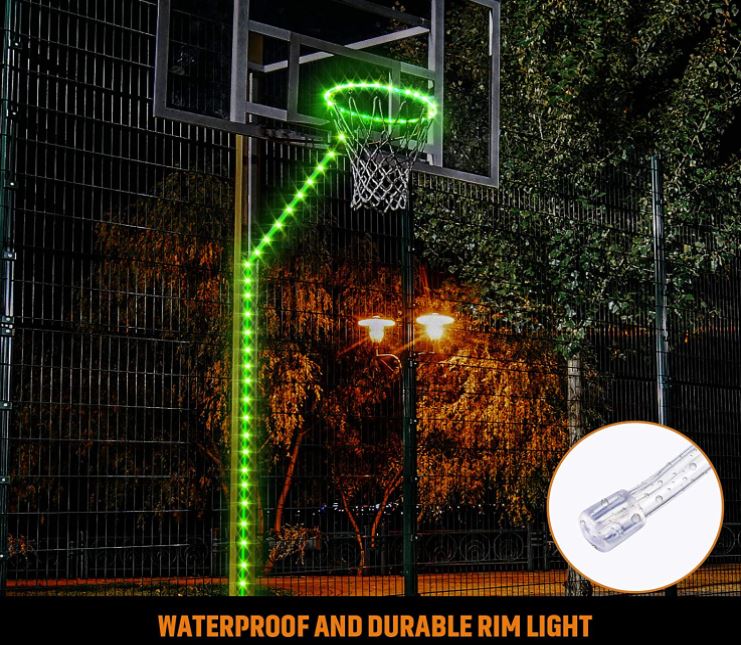 But what if you want to light up the whole area that you don't need any hoop lights? In that case, consider a set of high-quality LED outdoor floodlights. Mount them high enough, and they'll light up your whole driveway, including your hoop and backboard. It's almost as good as playing on an indoor court.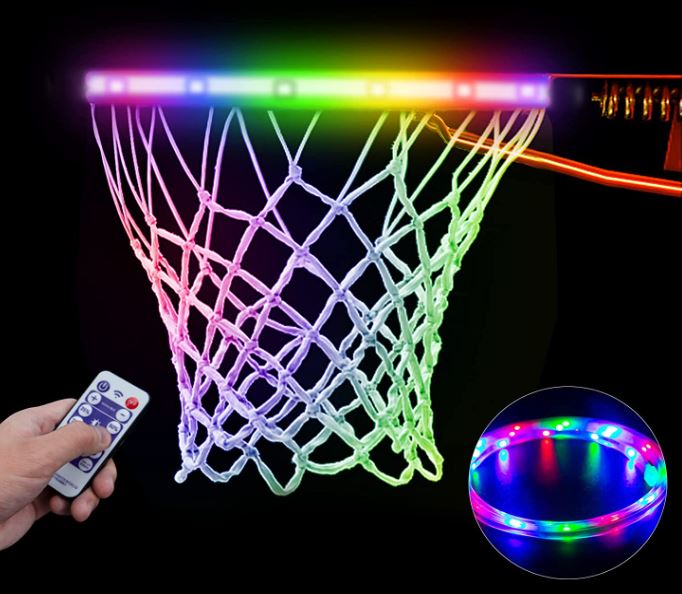 Gr8ware Solar Basketball Hoop Lights
The Gr8ware Solar Basketball Hoop Lights is a short LED strip that surrounds your basketball hoop. It has a solid protective shell, and it's designed to be zip tied into place. So far, it sounds a lot like the other lights we've looked at.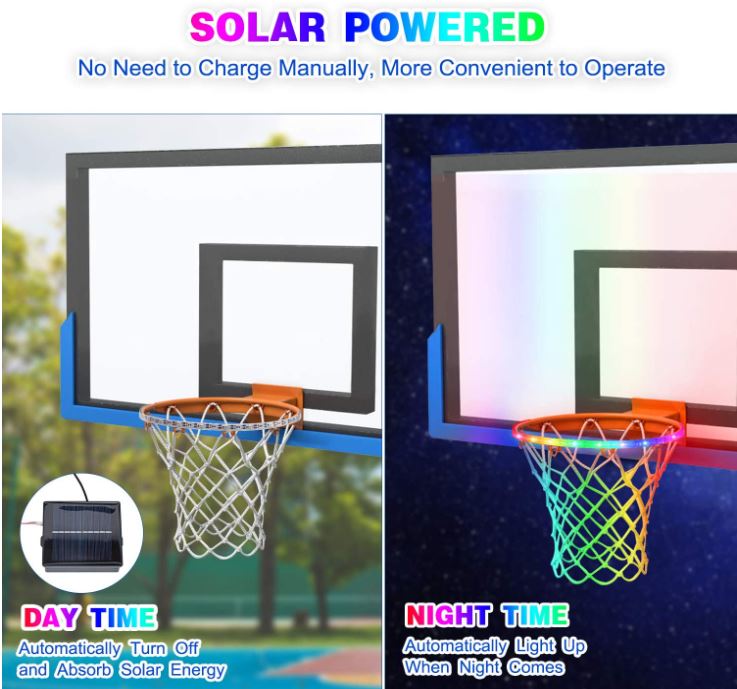 What makes these lights special isn't the LEDs themselves; it's the way they're powered. Instead of using AA batteries, Rukket's lights plug into a battery pack. This battery back is big, black, and blocky, and sticks onto the back of your basketball pole. A 3M adhesive pad is included in the package, so it's easy to set up. Plug the lights into the battery pack, and you're in business.
On the face of the battery pack, you'll notice a wide solar cell. This continuously recharges the battery during daylight hours. As long as it's positioned in sunlight, you'll never have to worry about running out of juice. Meanwhile, there's a built-in light sensor. It automatically turns the lights on when it gets dark, and shuts them down when it gets light out.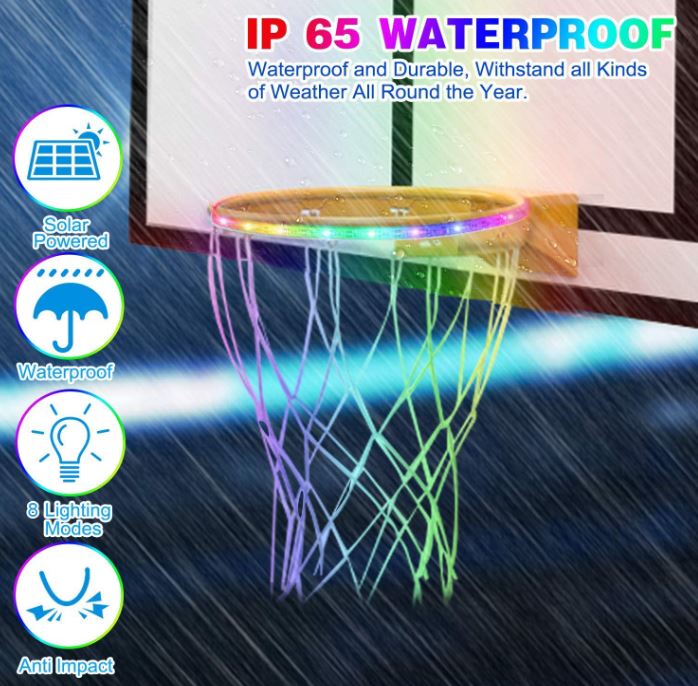 How long the battery lasts will depend on how much sunlight the solar panel is getting. In ideal conditions, it can last as long as 12 hours. Under ordinary conditions, it will last for around four to six hours. After a cloudy day, it will last for two hours or less.
Along with all this, the kit includes a small handheld remote. You can use this to manually turn the lights on and off. That way, you're only using them when you're actually shooting hoops. You can adjust the brightness in intervals of 25 percent. You can cycle between different lighting patterns, such as breathing or cycling. You can even adjust the speed at which the patterns move.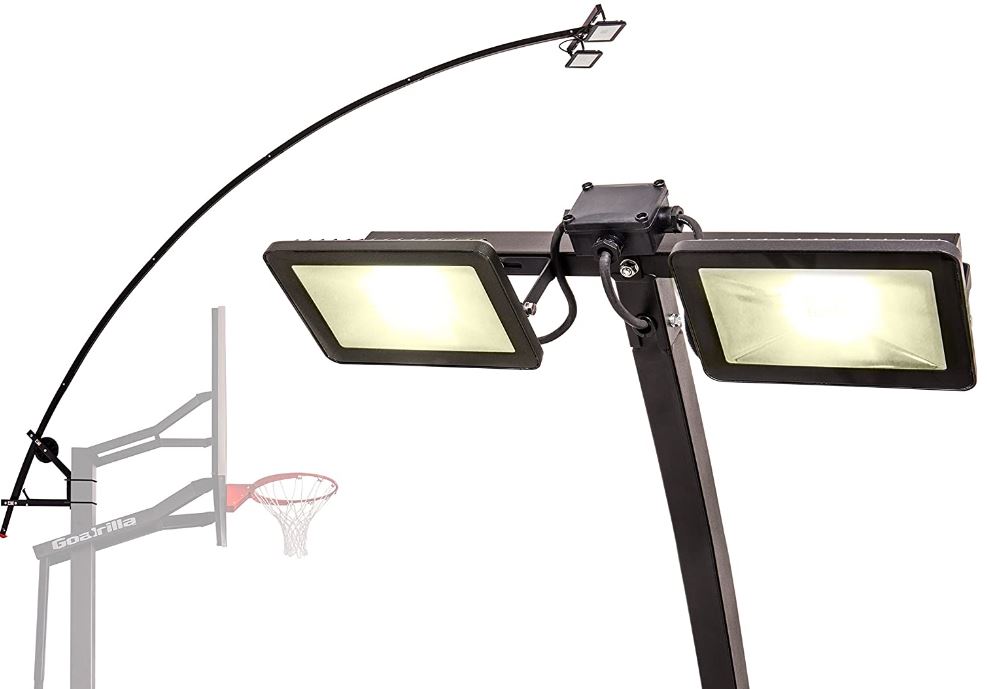 Goalrilla LED Basketball Hoop Light
The Goalrilla LED Basketball Hoop Light is different from our previous options. This is a full-sized LED lighting rig that sits on a boom above your light. It's a pair of bright LED floodlights that doesn't just illuminate your hoop; it lights up the whole court. At the same time, the lights point directly downwards. When you're taking a shot, they won't be shining in your eyes and blinding you.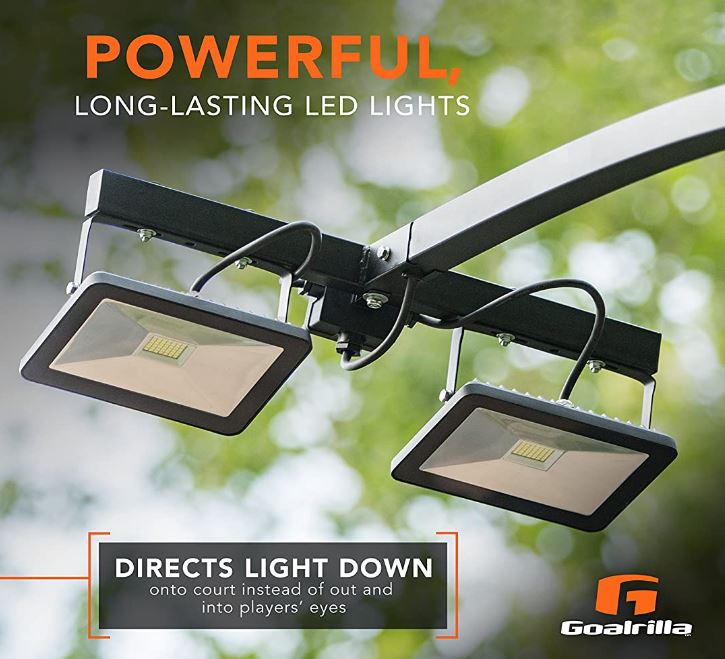 These lights are mounted at the end of a curved metal boom. This boom attaches at the top of your pole, and arches high up over the top of the net. This design keeps the lights and the boom well clear of any shot you might take. Unless your aim is absurdly high, you don't have to worry about hitting them, much less damaging them.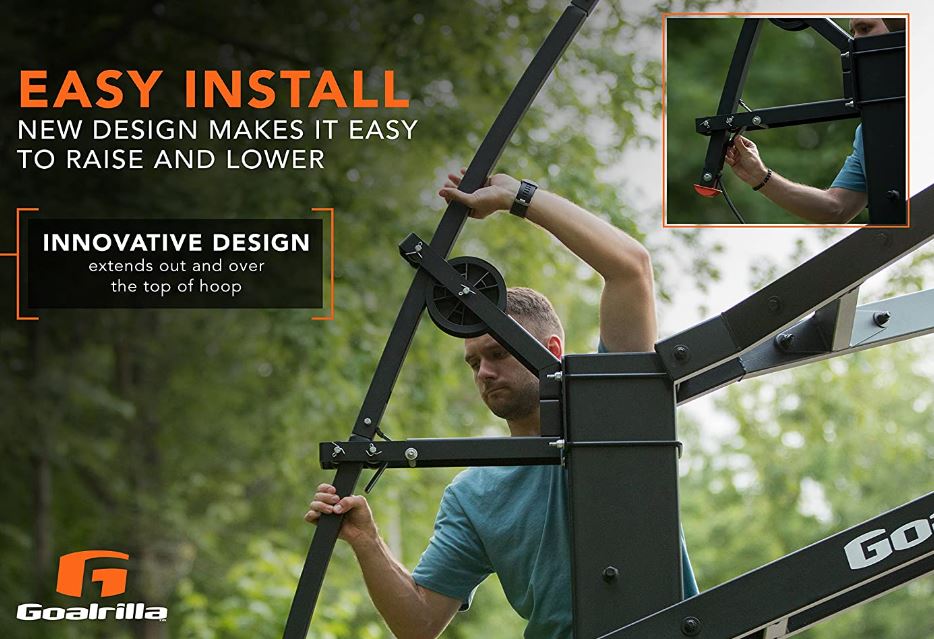 The bottom end of the boom attaches to a flat plate with a set of square brackets. It's specifically designed for Goalrilla's basketball hoops. However, it can also mount on other hoops with 5" x 5", 6" x 6", or 6" x 8" poles. With an aftermarket U-bolt, it can also be attached to 4" x 4" poles. However, it should only be mounted on an in-ground hoop. If you mount it on a portable hoop, the whole assembly could tip over.
The Goalrilla hoop light doesn't have any batteries. Instead, it's powered by a small AC cord that hangs down from the bottom of the bracket. Unless you're right next to a power outlet, you'll need to use an extension cord. Unfortunately, there's no on/off switch. You'll have to use a switched outlet or extension cord.
What are the Best LED Basketball Hoop Lights?
So, which one of these LED basketball hoop lights is the right choice for you? Let's go over what we've learned.
We started out by evaluating the Waybelive LED Basketball Hoop Rim Lights. These lights are straightforward, with a single strip that surrounds your hoop. The remote control is easy to use, and provides plenty of customization. And with 75 hours of battery power, you'll have more than enough time to work on your game.
Next, we looked at the Brightz HoopBrightz LED Basketball Rim Light. This light is great for scorekeeping, since it changes colors and patterns every time it lights up. The motion sensor can be a pain to install on certain models of basketball hoop. But once it's set up, it's easy to use and lots of fun.
After that, we checked out the Waybelive LED Basketball Lights Set. This is the same as Waybelive's rim lights in most respects, but with one important exception. The kit comes with a set of pole lights, so you won't run into your pole in the dark. Other than that, it's the exact same thing.
The Gr8ware Solar Basketball Hoop Lights is the most hands-off option of the bunch. Thanks to the light sensor, solar panel, and rechargeable battery, you can set it up and forget about it. You can also customize it to your heart's content, thanks to the handheld remote. It's up to you how much control you want to take.
Last, we looked at the Goalrilla LED Basketball Hoop Light. This is completely different from the other lights, since it doesn't sit around your hoop. But it provides excellent visibility, lighting up both your rim and your backboard. It also shines directly downwards, so it doesn't blind you while you're shooting.
Meet Derek, "TechGuru," a 34-year-old technology enthusiast with a deep passion for tech innovations. With extensive experience, he specializes in gaming hardware and software, and has expertise in gadgets, custom PCs, and audio.
Besides writing about tech and reviewing new products, Derek enjoys traveling, hiking, and photography. Committed to keeping up with the latest industry trends, he aims to guide readers in making informed tech decisions.