When the sun goes down, you need some way to light up your lawn. If you're out on the patio, the last thing you want is to sit around in the dark. If your guests are leaving, you want them to be able to see so they don't trip. And if you're trying to deter burglars, a well-lit lawn can be a highly effective measure.
For all of these things and more, you need a set of good floodlights. Floodlights are also important for business, for many of the same reasons. This is particularly true if your facility isn't staffed 24-7. In that case, the brighter-lit the property, the better off you'll be.
But traditional flood lights have drawn a significant amount of power. We're talking about many hundreds of watts, and sometimes over a thousand. These incandescent bulbs were certainly powerful, but they could easily run up your power bill. Most people limited their use to only the most essential functions.
More recently, LED floodlights have changed the nature of the game. These lights can put out a massive amount of illumination for a fraction of the wattage of a comparable incandescent bulb. They're also more durable, which is an important concern for any outdoor device.
Choosing the Best LED Outdoor Flood Lights
Today, we'll be reviewing three of the best LED outdoor floodlights we could find. These are all excellent lights, and any one of them will do a variety of jobs. That said, there are many different types of flood lights, and not all of them are suitable for all purposes. To find out which one is best for you, you'll have to look at all of their different features.
There are obviously some things we'll have to consider. We'll have to talk about the physical build and the weatherproofing. We'll need to talk about the power supply, and how the lights are set up. But beyond that, we'll also need to look at the power usage and the quality of the light it casts. Before we look at any specific flood lights, let's talk about how to evaluate them.
Wattage
Wattage is the most basic measure of any bulb's performance. This is the amount of raw power it draws, which translates directly into the power of the light. In other words, higher wattage means more brightness. This is one of the main advantages of LED bulbs; you can get more brightness for the same wattage.
LED flood lights have a wide range of potential wattages, for different applications. At the small end, you have very low wattage bulbs, less than 40 watts. At the higher end, you have huge industrial bulbs that draw 400 watts or more. Here's a more in-depth breakdown of different wattages, and what they mean:
Less than 40 watts (low-wattage)
Low-wattage bulbs are ideal for smaller areas where you don't need an absurd amount of illumination. These are designed for use around doorways, foot paths, and other "spotlight"-type applications. As long as you're only covering a small area, you'll be in the right range.
40 to 80 watts (mid-wattage)
These bulbs are better for covering medium areas. For example, a 75-watt LED flood light is perfect for illuminating your typical suburban driveway. As you might imagine, this is a very popular wattage range.
100 to 400 watts (high-wattage)
Anything over 100 watts is very bright. At the low end, bulbs in this range can light up an entire suburban backyard. On the high end, you're talking about lights that are bright enough for parking lots and highways. These lights are generally mounted very high up from the ground, so they can illuminate the widest possible area.
Over 400 watts (ultra-high-wattage)
You won't typically see these bulbs in residential applications. Unless you live on a farm, you won't even own enough property to need one. These bulbs are normally only used for large-scale applications like highways, airports, and industrial areas.
Lumens
Wattage is a measure of raw power, but lumens are a more precise measurement of brightness. Essentially, they're a way of measuring the amount of light that a bulb emits over a particular time period. Obviously, there's some correlation here, with higher-wattage bulbs tending to produce more lumens. But efficiency also has a role to play. Given the same wattage, a more efficient bulb will put out more lumens.
Much like wattage, you can divide bulbs into different categories, based on the lumen output. Here's a quick overview.
Less than 4,000 lumens (low-output)
These are generally low-wattage bulbs, suitable for similar purposes like doors and stairways.
4,000 to 10,000 lumens (medium-output)
These bulbs are normally mid-wattage bulbs, and are very popular for residential use.
10,000 to 50,000 lumens (high-output)
These are high-wattage bulbs, suitable for backyards, parking lots, and other larger areas.
Over 50,000 lumens (ultra-high-output)
These are the most powerful bulbs, and are only ever used for large infrastructure and industrial applications.
Color Temperature
Finally, we come to color temperature. By "temperature," we don't mean the literal heat of the bulb. We mean the exact tone of light that the light puts out. The temperature is measured in degrees Kelvin (K), and runs from reddish white to blueish white.
3,000K
3,000K is what's called a warm white. This white has a reddish cast, and is generally used indoors. It has a calming appeal, but it's not well-suited for most outdoor applications.
4,000K
4,000K is a medium white with a slight yellow cast. It's common in shops and offices, as well as in parts of the home like the kitchen.
5,000K
5,000K is a common color temperature for flood lights because it's close to true daylight. This is a cool, bright white that provides excellent visibility and color clarity.
6,000K
6,000K is an even brighter white with a blueish tint. It doesn't provide the same color clarity as 5,000K. But for sheer visibility, you'll get more apparent brightness for the same lumen output.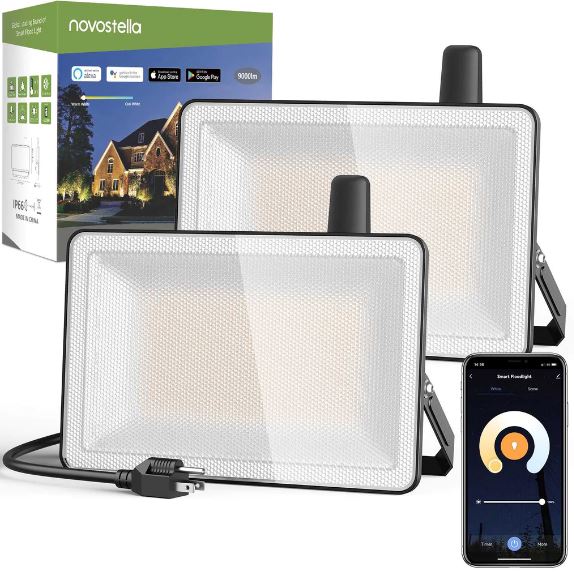 Novostella 100W Smart Tunable White LED Flood Light
Novostella is a well-known manufacturer of lighting technology. Not that long ago, we reviewed the Novostella Blink Smart Floodlight. It worked fairly well, so we were eager to check out one of their other offerings.
The Novostella 100W Smart Tunable White LED Flood Light has a rectangular housing. It measures 11 inches wide and 8.7 inches high, and it's constructed from black plastic. A short nub of an antenna protrudes from the top right, and there's a metal bracket on the back. This bracket swivels 150 degrees, so you can support the light at any angle. You can either prop the light up, or mount it to an exterior wall.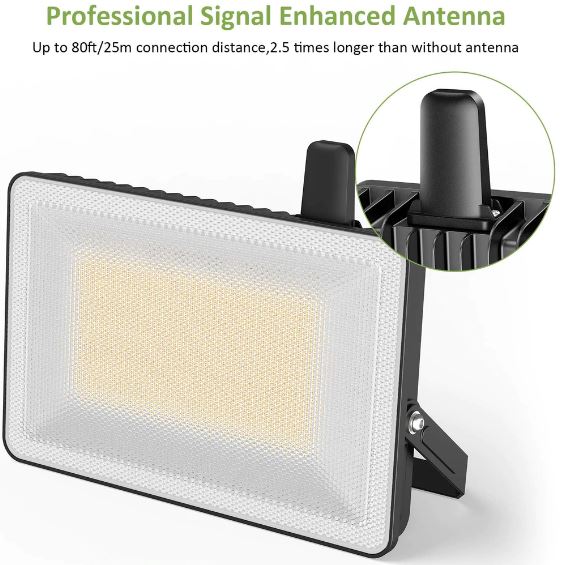 This light comes in either a 2-pack or a 4-pack, and the front cover is a translucent white. This conceals the individual LED diodes, and creates a more unified look. It connects to power via a 59-inch 3-prong AC cord. You can either plug it into an outlet or use an extension cord.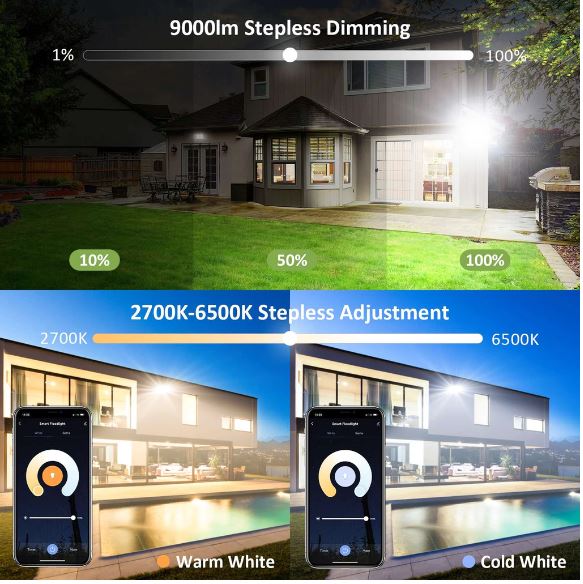 The weather-resistance rating of IP66 is very robust. The housing can withstand virtually any amount of dust, even in the driest conditions. It can also withstand a constant downpour, so leaving it exposed is no issue. And if something does go wrong, you're covered by a robust 2-year manufacturer's warranty.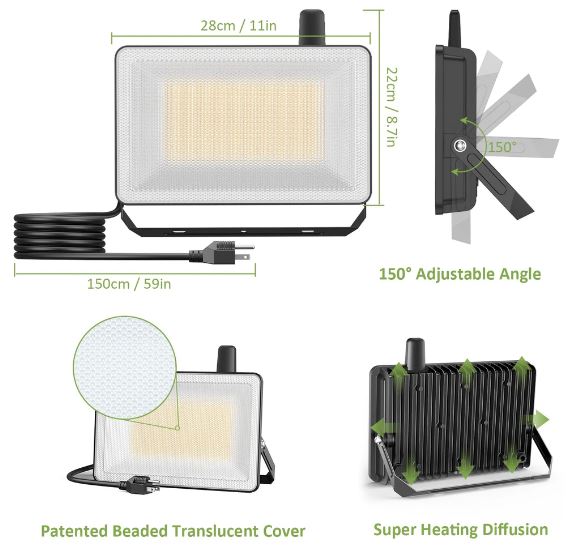 Light Quality & Extra Features
There are two versions of the Novostella light available. We reviewed the 100-watt variant, but it's also available in 60 watts. The physical design is the same, as are the app features. However, the brightness is a bit different. The 100-watt variant outputs 9,000 lumens, while the 60-watt variant provides 5,500 lumens.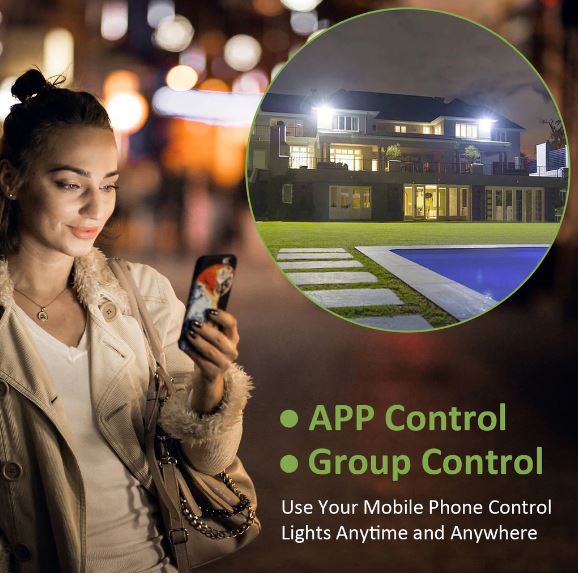 As we mentioned, this light comes with a companion app. Pair your phone with the light via Bluetooth, and you can connect it to your home's WiFi network. Once that's done, you can use your app to turn the light on and off remotely, and to adjust the color temperature. The total range is quite wide, at 2,700K to 6,500K. You can even create control groups of lights that act as one, or set up voice commands on Alexa and Google.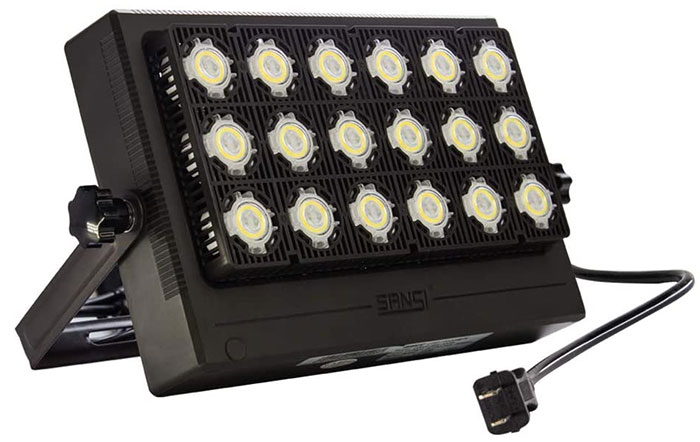 SANSI 100W LED Flood Light
The SANSI 100W LED Flood Light has a black rectangular housing, with a metal support bracket at the back. The bracket has adjustable screw knobs, and can swivel 360 degrees. The housing itself is plastic, and measures 13.1 inches wide, 8.8 inches tall, and 2.8 inches thick. At the back, there's a six-foot power cord with a two-prong AC plug at the end. This plug sports an in-line control switch, so the light is easy to turn on and off.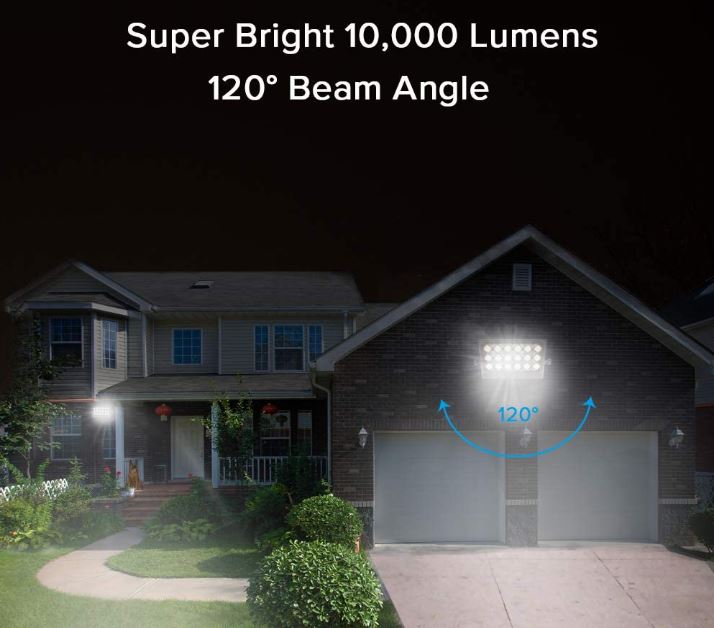 On the front, 18 diodes are clearly visible. These are laid out in a grid six diodes wide and three diodes high. Despite the high-visibility, you get plenty of weather-resistance. The light is rated IP66, so it stands up very well to both dust and rain.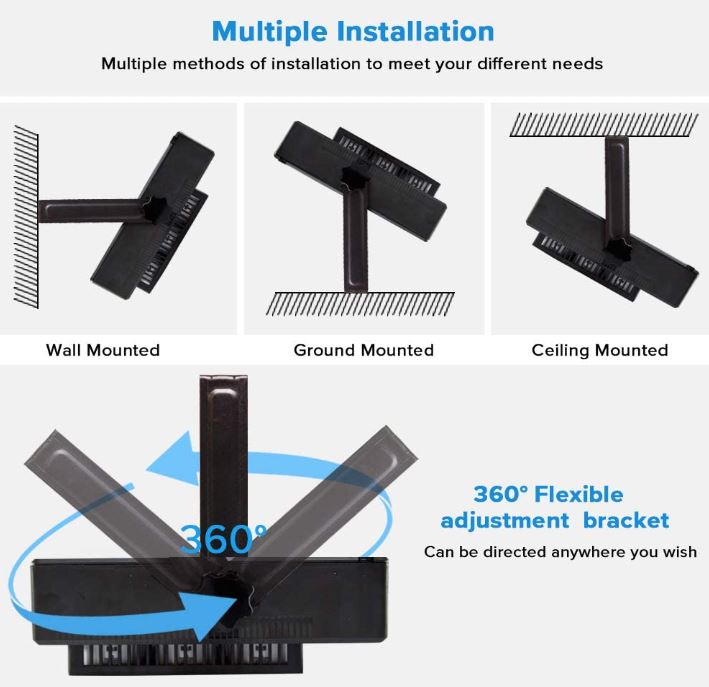 Not only that, but there's an internal set of ceramic heat sinks, inside a mostly-hollow body. The result is excellent heat dissipation, and a bulb rating of 50,000 hours. SANSI backs this with a five-year warrant, one of the best in the business.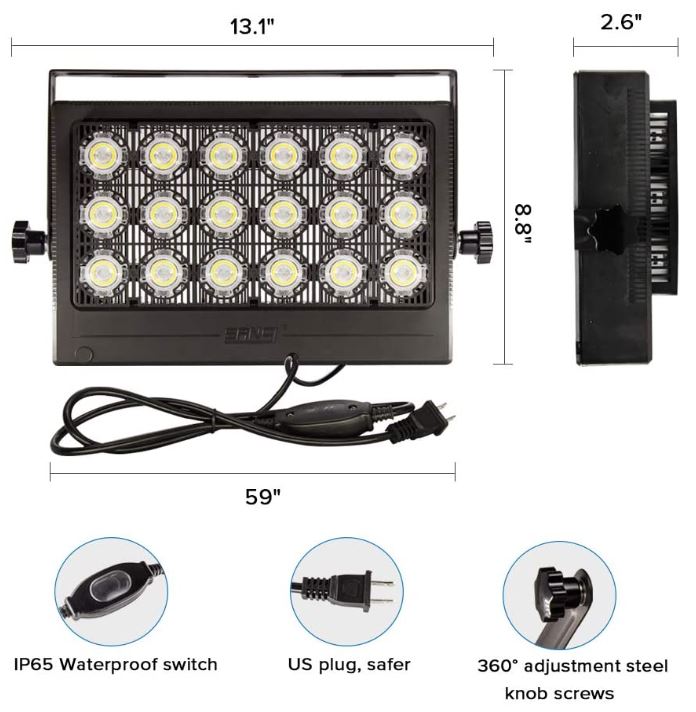 Light Quality & Extra Features
The SANSI 100W LED Flood Light doesn't just come in 100 watts. It's also available in a 70-watt version if you need a little bit less power. To put this in perspective, the two variants put out 10,000 lumens and 7,000 lumens respectively. In both cases, you're getting a 5,700K cool white, which provides excellent visibility.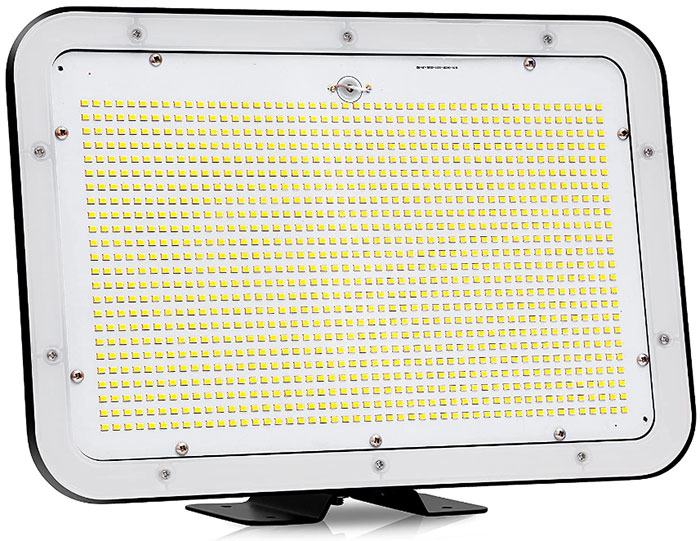 DragonLight Super Bright 200W LED Flood Light
The DragonLight Super Bright 200W LED Flood light is built to take a beating. Instead of plastic, its housing was constructed from a durable black die cast aluminum. It sports a set of fins on the back, which provide very good heat dissipation. And with IP65 weather-resistance, it's fairly impervious to water. It's not quite as impervious as the other two, but it's still tough enough for heavy storms. Not only that, but it has a five-year warranty, which is nothing to sneeze at.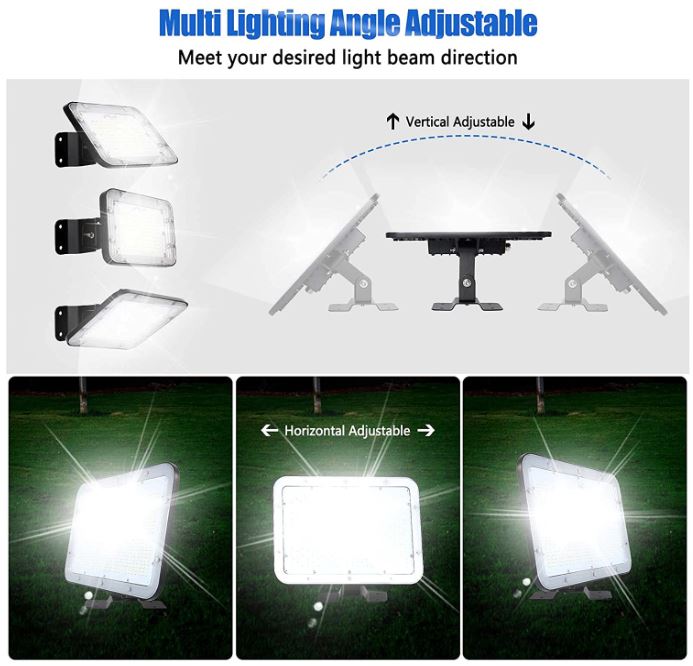 This light ships in a 1- or a 2-pack, so it's easy to order in quantity if need be. And like the last two options, it comes with a metal mounting bracket, so it can tilt and swivel.
Light Quality & Extra Features
The DragonLight flood light is available in five different wattage levels. These are 30, 150, 200, 240, and 340 watts. As you might expect, this corresponds to five different luminosities: 3,600, 18,000, 24,000, 36,000, and 45,000 lumens respectively. As a result, it can be used for pretty much any job. Order a lower-wattage version to cover a small area, or the 340-watt version for a football field. It all depends on what your project is.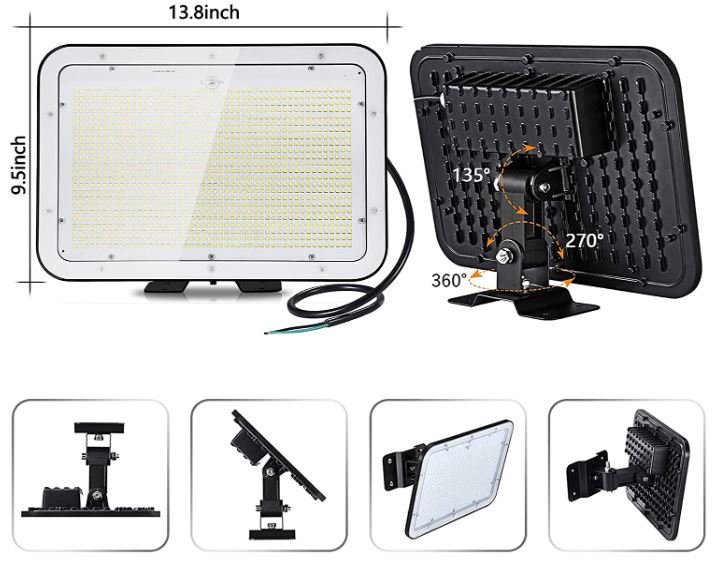 Across all wattages, the color temperature is 6,000K. This bluish-white light is perfect for getting the maximum possible visibility. For large areas in particular, this is by far the best temperature for your needs.
Final Verdict
All three of these LED flood lights are well-engineered. But which one is the best?
The Novostella 100W Smart Tunable White LED Flood Light has the most customization. Thanks to the app, you can adjust the color temperature exactly as needed. You can also use voice controls and create control groups. If you're looking for smart features, that's tough to beat.
The SANSI 100W LED Flood Light is a solid, affordable choice with two wattage options. The 360-degree bracket makes it fairly versatile, and it has excellent weather resistance. Unless you need smart controls, it's a great choice.
The DragonLight Super Bright 200W LED Flood Light is the most robust of the bunch, with its die-cast aluminum housing. It boasts the same five-year warranty as the SANSI, albeit with slightly less water resistance. Although it's expensive, it comes in plenty of brightness options, including some insanely powerful ones.