SoundPEATS Opera
Pros
Fantastic audio quality with Hi-Res audio and LDAC.
ANC function works very well.
Decent battery life.
Beautiful aesthetics with gold accents.
No distortion, even at high volumes.
Cons
Bulky design with a somewhat awkward fit.
Gold accents attract fingerprints.
App tends to crash often.
When it comes to wireless earbuds, SoundPEATS is well-known for their affordable but well designed products. For years now, they've been the at the top of the list for offering some of the best wireless earbuds in the sub-$100 price point.
Back in November, SoundPEATS released the Air3 Deluxe HS which proved to be a top choice for audio lovers. Equipped with near-lossless sound using Hi-Res audio, they quickly become a hit for an audiophile-grade listening experience without the hefty price tag. Since then, many of their fans have been waiting to see what they'll be doing with this new tech. Well, the wait is over.
Introducing, the SoundPEATS Opera Wireless Earbuds. Available for pre-order on Kickstarter, beginning on January 11th, the Opera aim to be SoundPEATS' flagship product for 2023 as they combine a wealth of high-end features in a beautifully crafted style.
We were lucky enough to get our hands on a pair to test them out for ourselves. Needless to say, we're quite excited to be one of the first to actually test them and see how they perform. Let's unbox them and get right into it!
Unboxing & First Look
The SoundPEATS Opera come in a small, holographic box with a user manual, app guide, charging cable, two extra pairs of tips and of course, they earbuds and charging case themselves. The first thing noticed is the unique design that SoundPEATS used.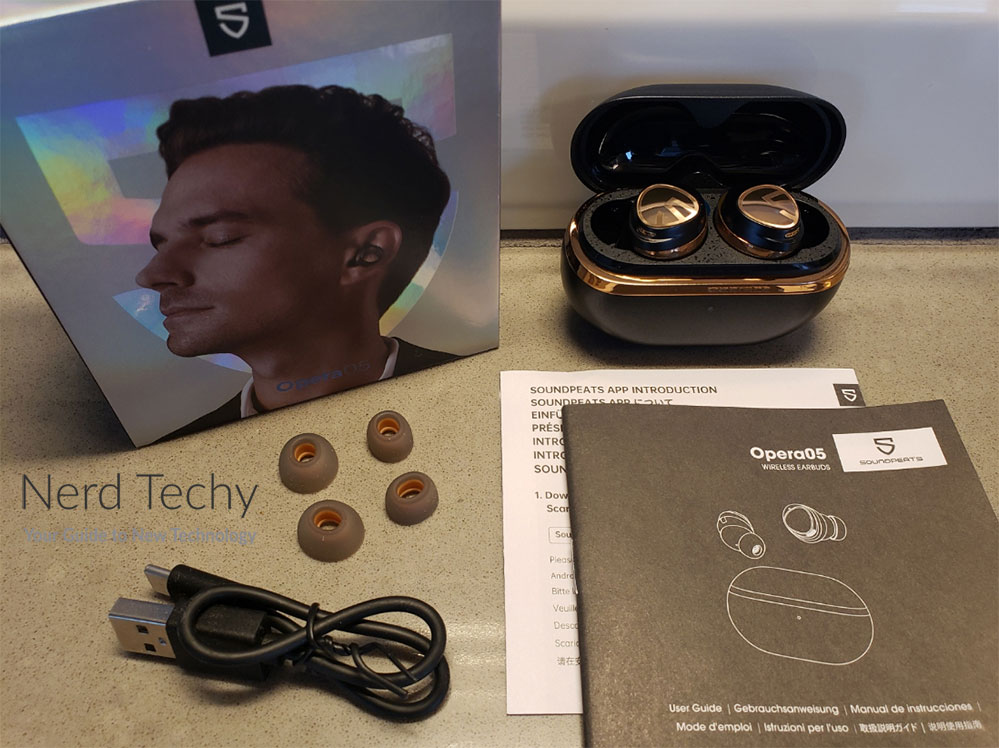 We received the 05 version that comes with a champagne gold color accented throughout. There's a gold rim around the circumference of the matte black charging case. In tiny cursive writing, it says, "Hear Your Imagination" on the front. Lift up the magnetically clasped lid and you'll expose the earbuds nestled in their charging ports. The top-side interior of the case is speckled with tiny darker-black splotches that give it a nice accent and unique flair.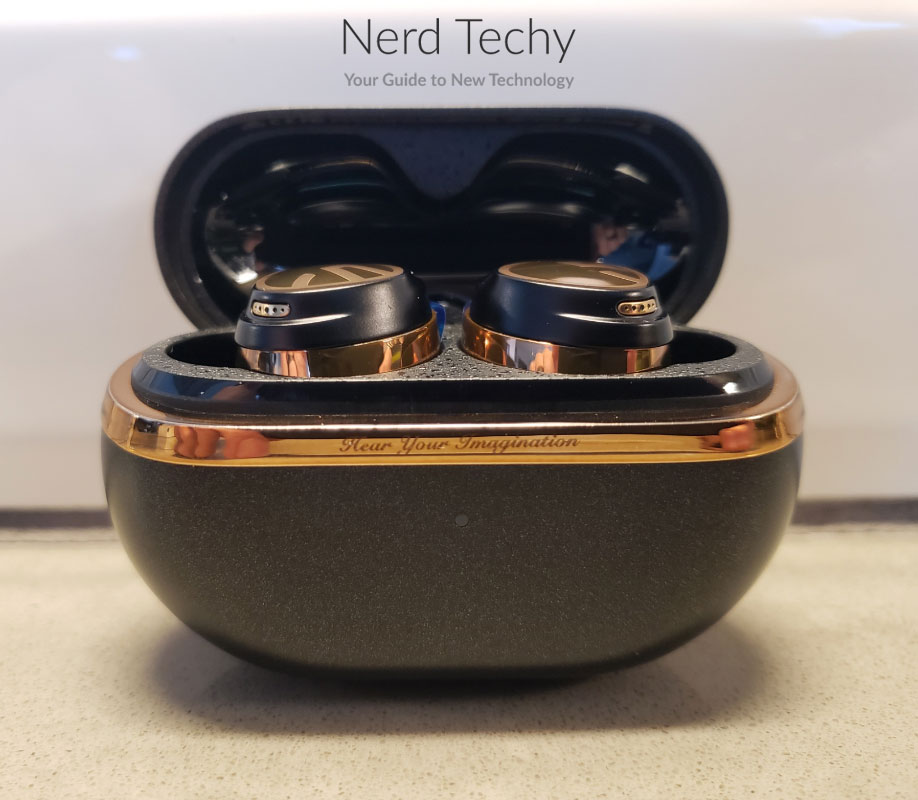 Pop out each earbud to closely examine each one. SoundPEATS used a combination of glossy gold and matte black to give an enticing, high-end appearance. Look closely and you'll notice another small bit of writing around the top-edge of each earbud that says, "design by SoundPEATS."
We really like the appearance, although the shiny gold tends to attract fingerprints. Other than that, we see no issues with the styling they chose.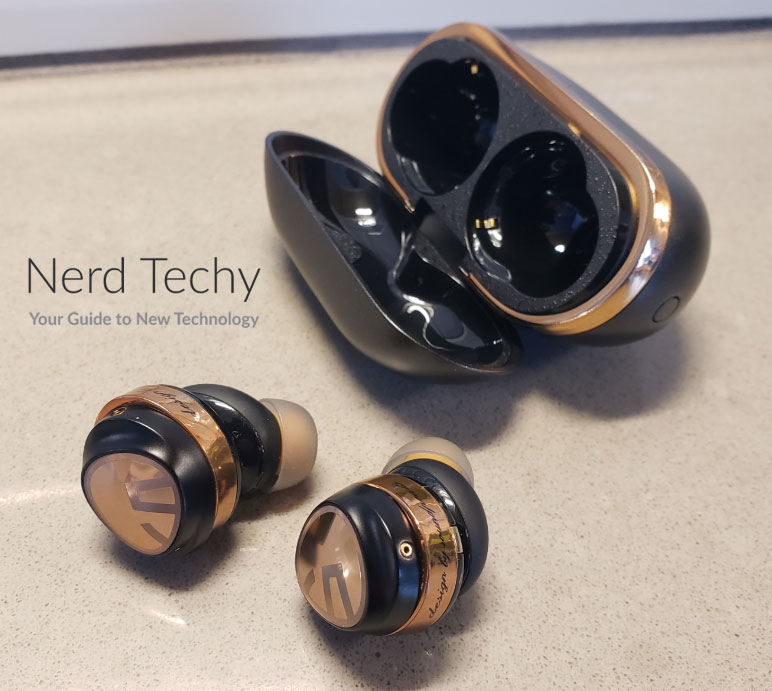 Difference Between the Opera 05 and 03
Before we go any further, let's take a moment to point out the three distinct differences between the Opera 05 and Opera 03 versions.
The Opera 05 have two balanced armature drivers while the Opera 03 only have one.
The Opera 05 comes in a champagne gold color while the Opera 03 come in rose gold.
The Opera 05 cost an extra $20 when compared to the Opera 03.
Pairing Process
Right when you remove the Opera earbuds from their charging case, they'll automatically look for a Bluetooth-enabled device to pair. From here, open up your smartphone or other device and look for nearby Bluetooth devices. You'll see "Opera" listed; give them a tap on your screen and within 1-2 seconds, they'll "beep," indicating that they're reading for listening.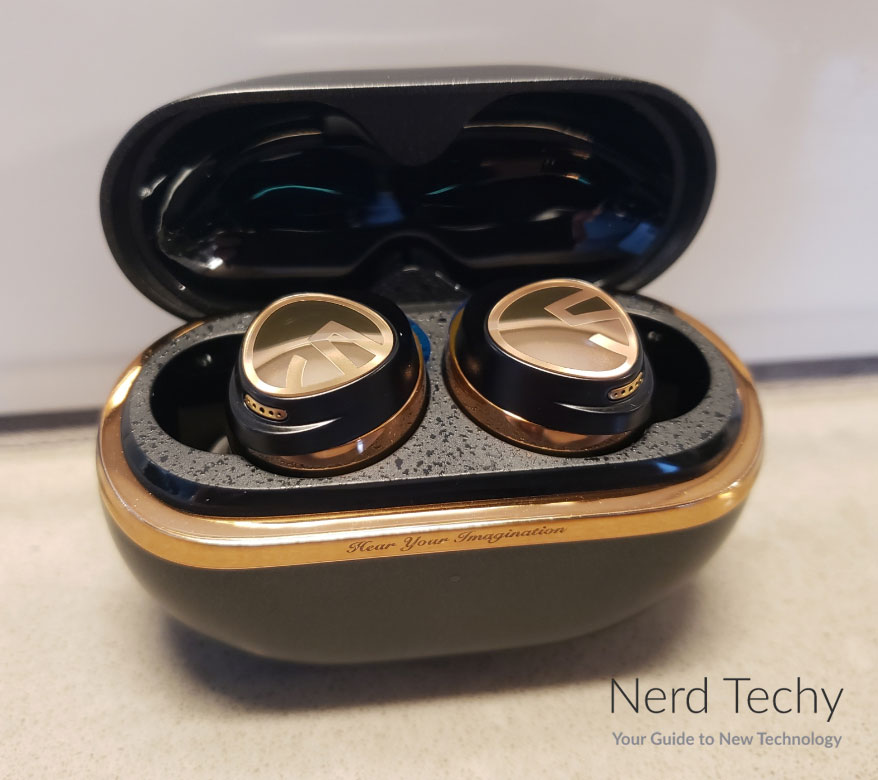 But before you get carried away, we highly recommend downloading the SoundPEATS app from the App Store or Google Play. It senses which pair of earbuds you're using and will offer important driver updates and sound-specific tweaks in a tidy user interface. While the app does tend to crash at times, it's mostly useful for those who want a visual analysis of their current settings. Regardless, it's worth checking out.
In regards to the case, it's smooth finish is nice for appearance, but the size and texture makes it a bit slick. It's a bit bulkier than what we would have liked to see, but this is a relatively small complaint.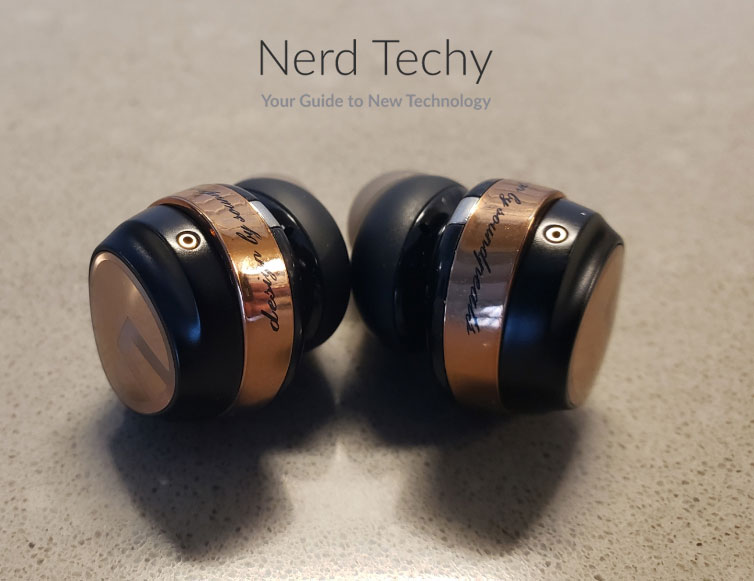 Listening Experience
Once paired, listening to our favorite playlists was a joy. We tested the Opera 05 with a multitude of genres including classic rock, hip hop, folk, bluegrass and even some electronica. The Hi-Res audio and LDAC codec seem to make the soundstage more vivid and highly realistic when compared to standard wireless earbuds. High notes and vocals shine through with the utmost amount of clarity while the low-end is treated with a hefty dose of bass. Thanks to the 12mm dynamic drivers, bass truly thumps and gives the listening experience a definite upper-hand.
While we didn't test the Opera 03, the inclusion of two armature drivers in each bud of the Opera 05 give listeners even extra icing on the cake. Deep, vivid bass is delivered in a powerful manner. In addition to this, with ANC activated, the soundstage is truly brilliant. While we don't want to oversell these as the absolute best earbuds on the market, they're definitely our favorite in terms of audio quality for the sub-$100 price range.
Speaking of active noise cancellation, it works extremely well. We tested out ANC on various occasions including a bus trip, driving as a passenger in a car and even in a busy mall. Once activated, virtually all background noise is effectively cancelled-out. We found that the ANC functionality works best for eliminating nearby conversations and grey noise. The only instance where it seemed to be lacking was when sudden, high-pitched, sharp noises occurred. Although it wasn't common, the ANC seemed to struggle slightly with a loud, sudden bang of dropping something loudly nearby. We're not sure if it's because the noise happened suddenly or if it's because the pitch was too high. Regardless, we'd say ANC works well in 98% of instances.
In terms of overall music quality, not once did we experience any distortion or unwanted effects that pulled away from the realism that they offered. Even when we cranked up the volume to its maximum, the Opera 05 shined through with perfect clarity and bass response that every audiophile enjoys. The combination of all these high-end specs transform the listening experience into something that is easy to enjoy for hours of continuous listening.
One feature we're glad to see included is transparency mode. When activated, this allows you to better-hear your surroundings while still being able to listen-in on your music. When conversing with others, you may not want to pause your tunes. Instead, simply activate transparency mode and you'll immediately notice a difference. Think of it as the exact opposite of ANC; it lets you hear the environment you're in while continuously playing music. In reality, it works incredibly well. Ideal for multi-taskers or busy-bodies who want to have it all, we found it to be very useful while offering a nice added bonus.
In terms of call quality, the Opera earbuds performed well, as expected. Since they're amazing at providing high-end audio for music, they seem to do just as well with phone calls. While we only tested them on three phone calls, we had no issues pertaining to the voice or how we sounded on the other end.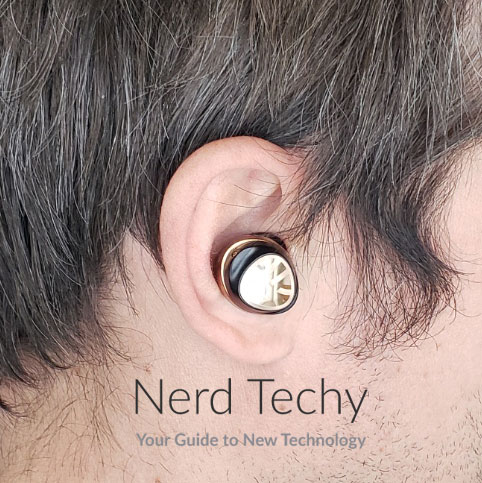 Comfort & Fit
Each Opera earbud has a tiny "L" or "R" printed on the outside of each. Indicating left or right, make sure you place them in the correct ear. If not, you'll be wondering why they won't fit right. Once placed in the proper ear, rotate each earbud so the tip points down into your ear canal while the rotating into a firm and cozy position. Everyone will have a slightly different fit. And if they don't feel right at first, try swapping out the silicone tips for a different size.
One thing we noticed is that the Opera 05 earbuds are a bit bulkier than other earbuds such as the Air3 Pro. While this may be understandable since internally there's quite a bit going on, we weren't big fans of how much bulkier they felt when worn.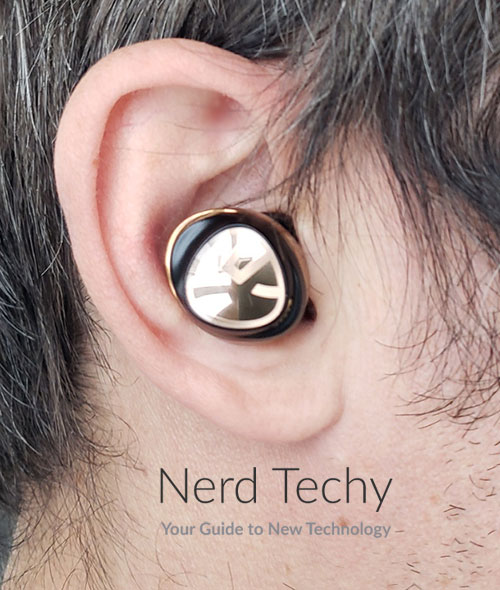 To be fair, they provide a firm, steady fit, but realistically, they feel slightly heftier than we would have liked them to. Even though they didn't budge when we used them to workout, the fit is a bit on the clunky side. Honestly, we would have liked them to carry a "slimmer" design more inline with the previous "stick" designs of last years' Air3 Deluxe HS or Life ANC earbuds.
Controls
The exterior of each earbud is equipped with a touch-sensitive area. By tapping on the SoundPEATS logo, users can control virtually any aspect of the buds or music that's currently playing. While the touch controls are nice to have, sometimes they can be activated by accident. If you find that this happens a lot, simply use the app and you can manually turn off any touch controls. However, most people will find them useful. And after a bit of practice and everyday use, you'll likely master each touch control. Here's a quick run-down of all of the available touch controls:
Power On – Either open the case or press and hold each earbud for 1.5 seconds.
Power Off – Put the earbuds back in the case and close the lid, or press and hold either earbud for 10 seconds.
Play/Pause – double tap either earbud.
Volume Down – single tap on the left earbud.
Volume Up – single tap on the right earbud.
Next Track – press and hold the right earbud for 1.5 seconds.
Swap Between ANC, Transparency and Normal Modes – press and hold the left earbud for 1.5 seconds.
Answer/Hang-up Phone Call – double tap either earbud.
Reject Phone Call – press and hold either earbud for 1.5 seconds.
Switch Between Two Active Calls – press and hold either earbud for 1.5 seconds.
Activate Voice Assistant – triple tap the right earbud.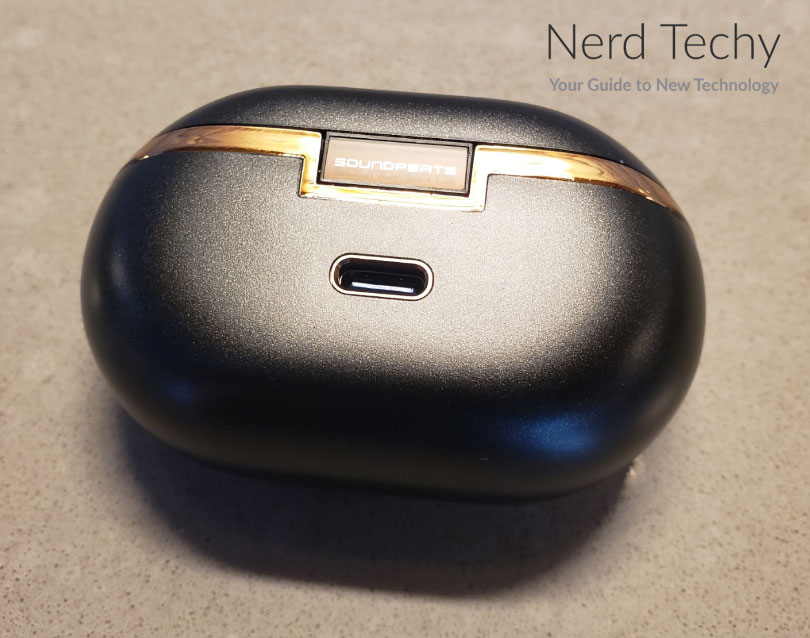 Battery & Charging
The great thing about having earbuds with a charging case included is the fact that the case automatically keeps both earbuds charged-up for each listening session. Not only does the case protect each bud while not in use, it means you won't have to manually charge them by cable after each use.
However, there comes a time when the case must be re-charged. As indicated by the small LED on the front of the case, there's a color for each status. If the LED is green, the remaining battery life is between 50 and 100%. Once it displays yellow, it indicates a remaining charge of 10-49%. If it emits a red glow, you can expect 10% or less battery life remaining.
On the backside of the case is a USB-C input. This is used to top-off the internal battery of the case. Impressively, it only takes 1.5 hours to fully charge the case from empty. And once the case and both earbuds are full, you can expect over 30 hours of remaining battery life.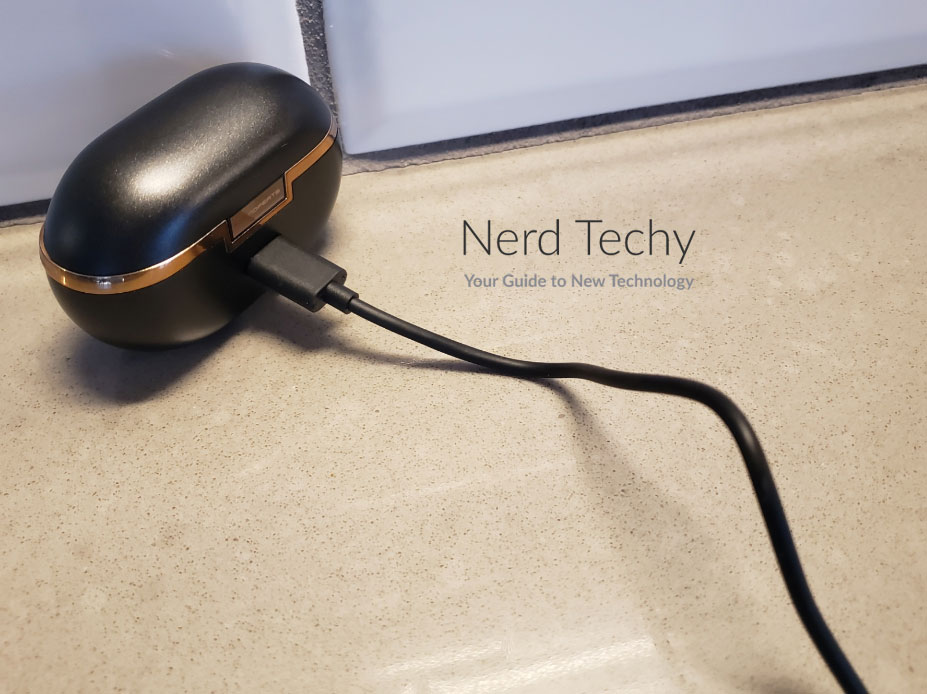 Realistically, battery life will vary greatly depending on the kind of music you're playing and the mode you're listening in. Here's a quick run-down of the advertised battery life:
Normal Mode: Up to 33 hours (ANC off), Up to 28 hours (ANC on)
SBC: Up to 27 hours (ANC off), Up to 25 hours (ANC on)
LDAC: Up to 21 hours (ANC off), Up to 17 hours (ANC on)
As you can see, the battery life is all over the place. On top of this, there are a variety of factors including ambient temperature and listening volume that all have an effect on the battery life.
It's important to know that the aforementioned battery life estimates are for the charging case themselves. In our testing, we found the earbuds to last around 3-5 hours between charges while resting in the case. Knowing this, the case itself offers around 3 to 6 full re-charges for the buds depending on how you use them. Realistically, however, SoundPEATS' estimates are very close to accurate.
Final Thoughts
As you can see, the SoundPEATS Opera mostly live up to all the hype. Being their first full-featured release of 2023, we knew they were going to be a favorite of ours. The audio quality is absolutely superb. In our week of testing them out, we didn't encounter any sounds or effects that left us disappointed. These truly are a perfect flagship model for SoundPEATS to hang their hat on.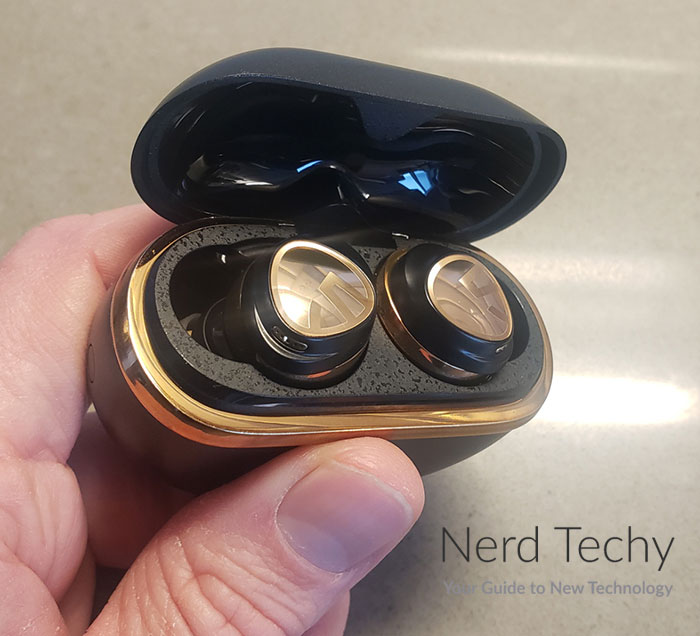 While we weren't big fans of the slick and slightly bulkier feel of the charging case, it provides an attractive and functional form for the earbuds. Although the earbuds themselves are a bit larger than we like, they still do a great job at providing a relatively comfortable fit for long listening sessions. We stress on achieving a proper fit from the start, so they don't come loose or move around on their own.
All in all, the Opera 05 are clearly the best wireless earbuds under $100 for the beginning of 2023. We really think SoundPEATS knocked it out of the park and have crafted an earbud model that they can be truly proud of.
If you're interested in trying out the Opera 03 or Opera 05 earbuds for yourself, be sure to get them at their early-bird price on Kickstarter. They will increase in price as the actual release date gets closer, so be sure to act now if you want to take advantage of tiered pricing.
Have you tested out the Opera earbuds for yourself? What did you think of them? Let us know by dropping a comment below. We'd love to hear your thoughts!
Meet Derek, "TechGuru," a 34-year-old technology enthusiast with a deep passion for tech innovations. With extensive experience, he specializes in gaming hardware and software, and has expertise in gadgets, custom PCs, and audio.
Besides writing about tech and reviewing new products, Derek enjoys traveling, hiking, and photography. Committed to keeping up with the latest industry trends, he aims to guide readers in making informed tech decisions.