RFID. The radio technology of the future. A security tool that would protect us, while making our lives easier. A technology that is used to prevent retail theft, conduct financial transactions, and authenticate documentation. Or so we thought.
RFID stands for Radio Frequency Identification. The concept is simple, and requires only three components. You've got the RFID chip itself, a reader, and an antenna. To understand how this works, let's think up a simple analogy.
Let's say that you take a piece of paper and write the number 1 on it, then place it into a hat. Next, you do the same, only write the number 2. Then you do it again for 3, 4, 5 and so on. You don't stop until you've got 28192 numbers written down. When RFID tags are made, it's very similar to drawing a number out of a hat. You don't really know what you're going to get. The tags are pre-made with this data on board, and agencies that use RFID tags keep a record where they know which piece of information is tied to what database entry.
The idea was that cloning the tags would be technically impossible. You'd need to create trillion of different tags before you found the one with the piece of data encoded on it that you wanted. RFID was considered secure.
That was then. This is now. RFID tags can be read, and they can be cloned. Somebody who walks by you could scan the RFID tag in your credit card, and then use your card to shop at merchants, billing their purchases to your account. While there is newer technology that fixes the loophole, it hasn't yet hit the market.
For now, there is one simple solution. Consumers need to make sure that their cards and passports are only readable when they want them to be. This is why RFID blocking sleeves work. When your card is inserted into the sleeve, no data can pass through. This keeps you safe from criminal activity. In today's climate, this is essential to have. The question is, do they work? And which one should you buy? Let's take a look at the three best RFID blocking sleeves on the market. We'll compare the differences between them, and help you find the one that will help keep your data safe.
Alpine Rivers Premium RFID Blocking Sleeves
Prior to trying out their RFID blocking sleeves, we had never heard of Alpine Rivers. After doing a little research, we found that this company has been involved with the security industry for many years. Starting out filling corporate contracts, they now make a number of standardized products such as TSA approved locks, carry-on travel pouches, and of course RFID blocking gear. These sleeves are the most minimalist of any RFID solution they offer, designed to fit within your existing wallet or purse.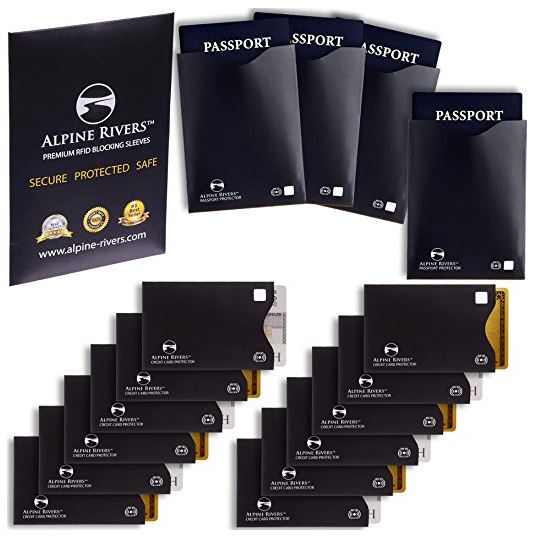 What You Get
The Alpine Rivers RFID Sleeves come in a large pack. You get a total of 16 sleeves in total. Four of them are designed to protect your passport, but can also be used for larger documentation that contains RFID chips. The other 12 sleeves are credit card holders, which slip over your existing cards and give you 80% coverage.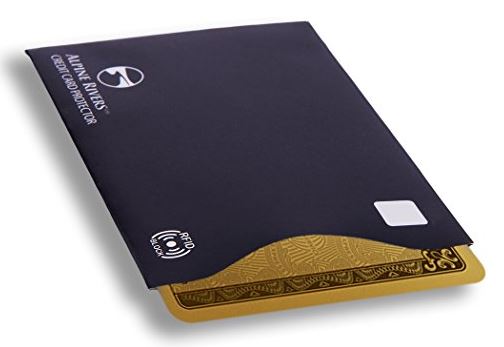 Design
Where looks are concerned, you have a few different options. The first is in terms of the structure of the cards. The standard model has an opening for the cards on the side. You slide them in lengthwise. The other version, called the "versatile" sleeves, slide in width-wise. To decide which one is for you, you should check and see how your wallet opens. The versatile kit includes both the width-wise and lengthwise options, so you're not stuck with just one.
Your next design choice is in the color you choose. The most commonly purchased one is the black style. With these sleeves, the look is very simple. You've got nothing more than the company logo, a few details, and a smooth black finish. The color options are a little more stylish. There are a few black sleeves included, but you also get a checkered brown set and a red set. This is handy if you need to easily visually identify certain cards, and separate them from the others.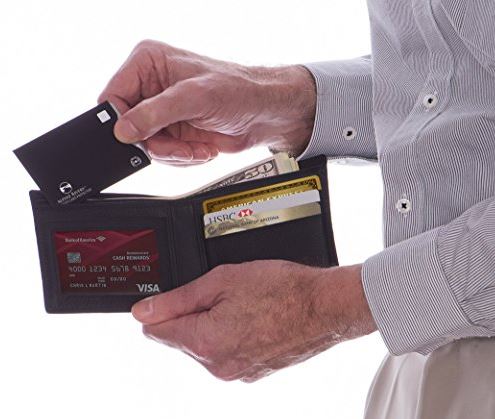 Functionality
The layout of these sleeves is very intelligently designed. They come up about 85% of the way up the card. This allows them to completely cover the RFID chip, blocking the entire signal. But because the card sticks out a little bit, it's still very easy to grab our card out of the sleeve. Despite their advanced technology, they are incredibly thin. This allows you to use your cards as you normally would. Even with the sleeve on, they'll easily slip into your wallet. This is not an all-in one solution. We wouldn't recommend that you just take a stack of these sleeves, shove your cards in them, and carry them around in your pocket. Instead, you should consider them an upgrade. They can be used with your existing wallet, adding a layer of protection.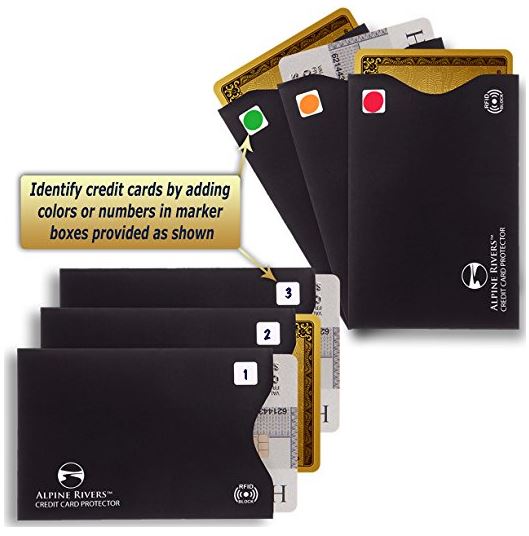 Security & Durability
These sleeves have been government tested and approved under FIPS 201. This is a 3rd party, accredited testing body, so you can rest assured that these sleeves do as they say. In our tests, they were surprisingly durable and resistant to tears. In the even something does happen to your sleeve, you can rest assured that you'll be taken care of. Alpine Rivers has a 365-day money back guarantee, so you will never pay for something that gets damaged too easily.
Travel Sidekick Protector Sleeves
Travel Sidekick started out by promoting their patented material that, at the time, was much more effective than the competition. While the industry as a whole has moved towards 100% reliability,Travel Sidekick still has an edge. But they still have an edge. With their unique designs and catchy graphics, these sleeves will definitely allow you to show off a little more than with competing products.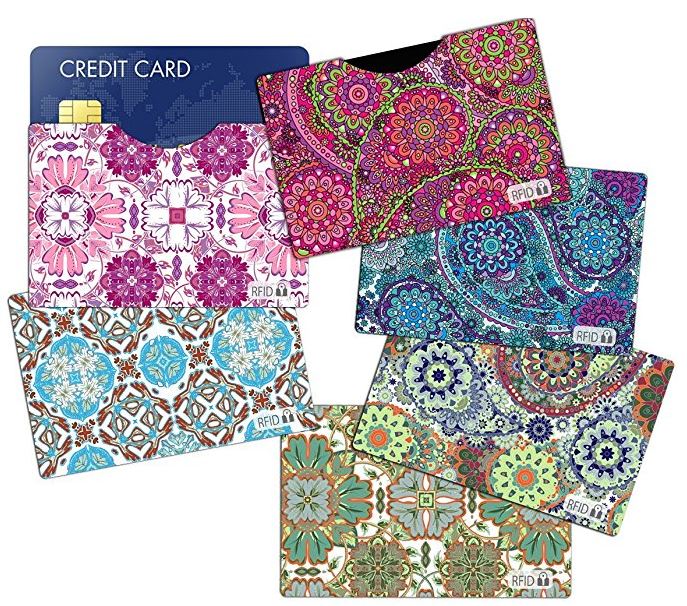 Design
The printed graphics are the biggest selling point of the Travel Sidekick RFID Protector Sleeves. There are three different kits available. The most popular is decorated with vector-graphic flowers. They come in very vibrant colors with a black background. With orange, blue, white, purple, and yellow flowers available, you can pick the one that best matches your sense of style. There are two kits that have the same look, with one opening from the side and the other from the front.
If you're looking for something a little more vibrant than the 8-pack floral design, take a look at the combo pack. Some of these sleeves open from the top, while others open from the bottom. The graphics are similar in design, although they are a little brighter than the stock option.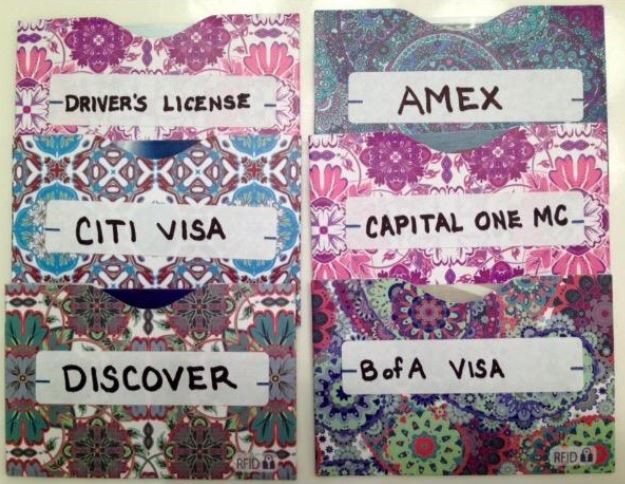 Functionality
These sleeves are still a little thicker, but still fit nicely inside of your wallet. They have a very smooth internal wall, so it's easy to put cards in and pull them out. Due to the additional thickness, these sleeves aren't the ideal choice if you're the type to cram tons of cards into a single slot, but they still worked fine with 8 cards in our single fold wallet.
The sleeves are designed to give as much coverage to the cards as possible. They come all the way to the top of the card, but there is a small cutout allowing you just enough space to get your thumb in and pull the card out.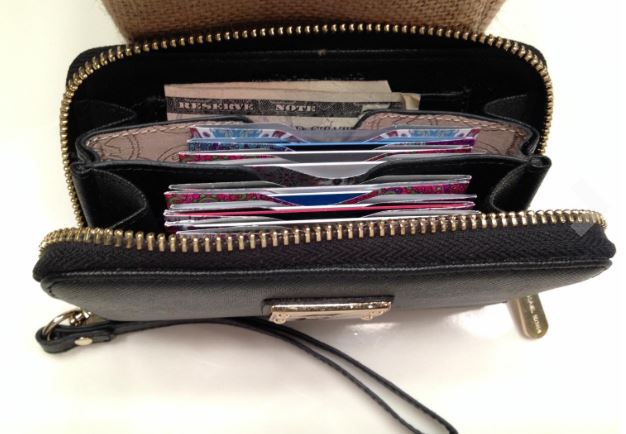 Security and Durability
These sleeves are fully FIPS 201 approved, so you know they've been verified for 100% security. Even at extremely close distances, the RFID signal will not pass through. We tested this by attempting to use tap to pay with the card in the sleeve. It might seem obvious, but some cheap eBay sleeves failed this test. We're happy to report that we found no issues with this option.
Since one of the main selling points of this sleeve is the nice printed graphics, we initially had concerns about the print wearing off. Fortunately, it was printed using a dye sublimation technique, so it doesn't scratch as easily as most printed material.
Protectif RFID Blocking Wallet
Protectif is a company that focuses exclusively on RFID protection products. This wallet takes a different approach from most manufacturers, embedding their technology inside of a stylish wallet.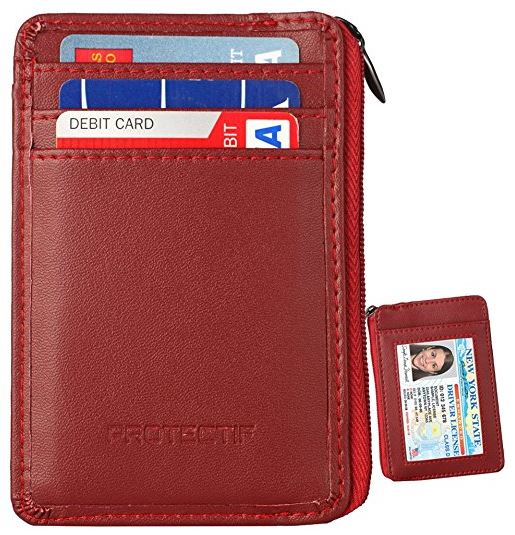 Design
There are two versions of the Protectif RFID Blocking Wallet available. The Super Slim option is similar to the compact wallets that are becoming increasingly popular. It's a single faux-leather card with slots on either side for your cards. If you're anything like us, you probably want something a little more robust. For this reason, we generally recommend the full-size option. The wallet is only about 0.4 inches thick, but can hold quite a bit! You've got three card slots on the front, a windowed slot on the other side for your drivers license, and a zippered coin purse to store your loose change or additional cards. There are several colors to choose from including black, coffee, brown (which looks a lot like real leather) and wine red.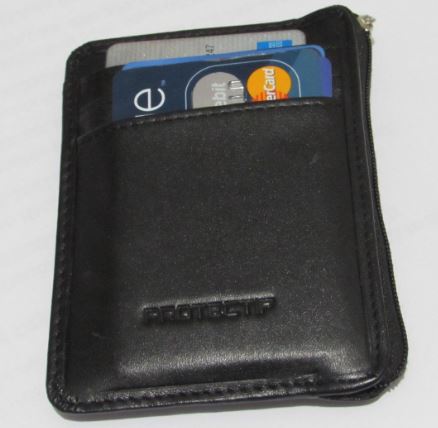 Functionality
The three slots on the front are 100% RFID protected. The same is true for the zippered coin storage section, so if you're the type of person who has a lot of cards you can store them in there. That being said, it's important to remember that the windowed ID card slot is not RFID protected. Fortunately, this isn't a very big deal, as not many identification cards are using RFID.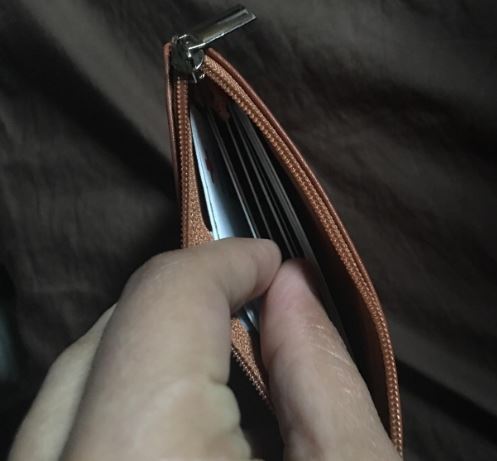 Security and Durability
As you've come to expect, this wallet is fully certified for FIPS 201. But as a fully blown wallet, it offers a lot more protection for your cards. The magnetic stripe and chip are secured from wear and tear, and you've got the ability to store a lot more in this wallet than you do in sleeves. Plus, since the material is embedded into the leather, it will last much longer than any sleeve ever could.
Which RFID Blocking Sleeve is Right for Me?
RFID blocking technology has been slowly improving since it was first released, but today we are lucky enough to have a number of products that are independently certified, and 100% functional. When selecting one, there are two main options you can choose from.
If you're not particularly attached to the wallet you have, we'd usually recommend going with a fully blown wallet that has RFID blocking technology embedded right in it. The Protectif RFID Blocking Wallet is inexpensive, stylish, and incredibly durable. In fact, it isn't any more expensive than the sleeves on it's own, and works just as well.
If you already have a wallet you like, it's time to beef it up with some sleeves. In this area, you have two options. The Alpine Rivers Premium RFID Blocking Sleeve is more of a minimalist looking model, although there are some subtle color choices available. If you need something with a little more pep to it, you may enjoy the floral patterns printed on the Travel Sidekick RFID Protector Sleeves. Both options are available in top loading or side loading options, and you get enough sleeves to cover every card in your wallet!