How wet is it? Anytime you need to carefully monitor the moisture content of some type of material, there's no substitute for a good moisture meter. They're widely used in woodworking, agriculture, building inspection, leatherwork, and countless other industries.
Is there too much moisture in wood flooding? You might be looking at mold or warping. Too much moisture in bailed hay? You could be looking at combustion. Moisture meters can be essential for meeting quality standards, detecting flooding, or even protecting yourself from mold.
Best Digital Moisture Meters
Why digital meters? Pin-type meters are pretty good for measuring loosely packed materials. But when it comes to something tightly packed or entirely solid, like a piece of wood, the pin will do damage to the material it's testing. For a damage-free option, digital readings are the way to go.
With that said, choosing the right meter is about understanding the kinds of materials you'll be working with. That way you end up with a meter that's suited specifically for those materials, which is necessary for a digital moisture meter to perform in the kind of rapid and reliable way we all want our tools to perform.
Materials & Ease of Use
Being made for different types of materials also informs the way in which a meter will measure and present data. For a meter that can test any material, you'll want an instrument that can has a zeroing function and correction feature, so you can cycle new settings for new materials.
On a related note, how quickly can you get your readings done? Does the screen provide good visibility, perhaps with the addition of a backlit display? Are there any menus you have to sort through, and are they easy to navigate? Or do you have to pass through four different options to find one function you're constantly using? These kind of details can quickly add up.
Moisture Range
Moisture meters are capable of reading anywhere between 0.2% and 60% moisture content. Depending on what it is that you're trying to measure, you might need more precision or less precision. For instance, woodworking may require nothing more than detection between 6% and 15%. Because if the wood is wetter than 15%, you can tell if by feeling the grain with your hand.
Measuring depth is another consideration. A pin-less meter will typically measure about ¾" deep, but often do not perform well on thin boards. In order to get measurements for thinner materials, you need to find a digital moisture meter made specifically for that purpose.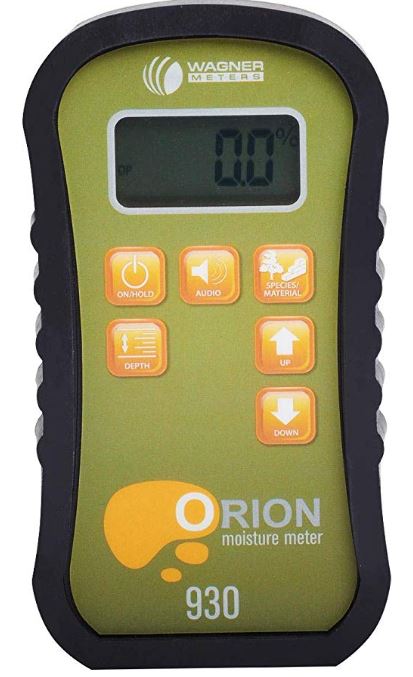 Orion 930 Dual Depth Moisture Meter
Though it might be used for any number of different projects, the Orion 930 was made for professional wood flooring installations. It's also for artisans, woodworkers, and other types of wood fabricators who need highly accurate moisture measurements. Because almost anyone working with wood needs to be vigilant about quality control.
While pin meters require that you to make adjustments to accommodate temperature, Orion's meter lets you get around that entirely. In fact, this meter is almost totally unaffected by changes in temperature. That includes both the temperature of the wood and the environmental temperature.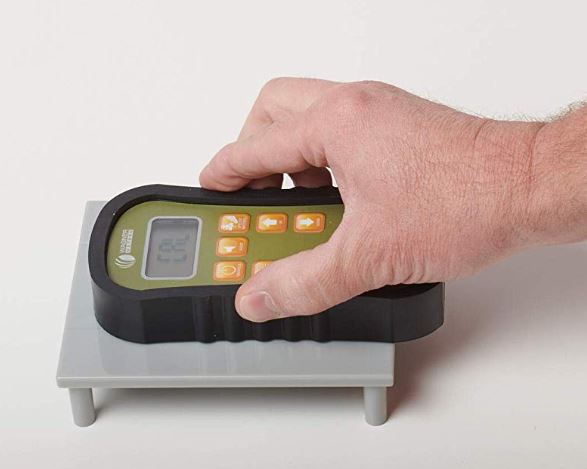 Build & Design
In Orion's long series of moisture meters, each instrument is made with its own unique color scheme. Somehow, the Orion 930 ended up being lime green. It's probably not the most attractive unit in the series, but it's certainly one of the most powerful.
Compared to the 940, the only thing it lacks is data collection features. Compared to the 950, it only lacks Bluetooth support and temperature/humidity sensors. But really, those aren't necessary for a moisture meter like the 930. Not everybody needs Bluetooth, not everybody cares about measuring humidity.
In addition to having a standard ¾" depth measuring mode, the 930 can also be configured to measure non-solid woods like plywood, MDF, and similar particle boards. That's possible because this meter can switch over to a special ¼" measurement mode. Consequently, the Orion can even take on exotic flooring products like bamboo.
The Orion 930 measures roughly 5.8 x 3 x 1 inches, and weighs about half a pound. That weight fluctuates slightly after you shove inside the battery, a single 9V alkaline battery. One 9V battery is included with this kit, but you might want to have a replacement battery on hand anyway. With a good battery, you can get weeks or months of regular measurements. But as is often the case, the included battery is a bit lackluster.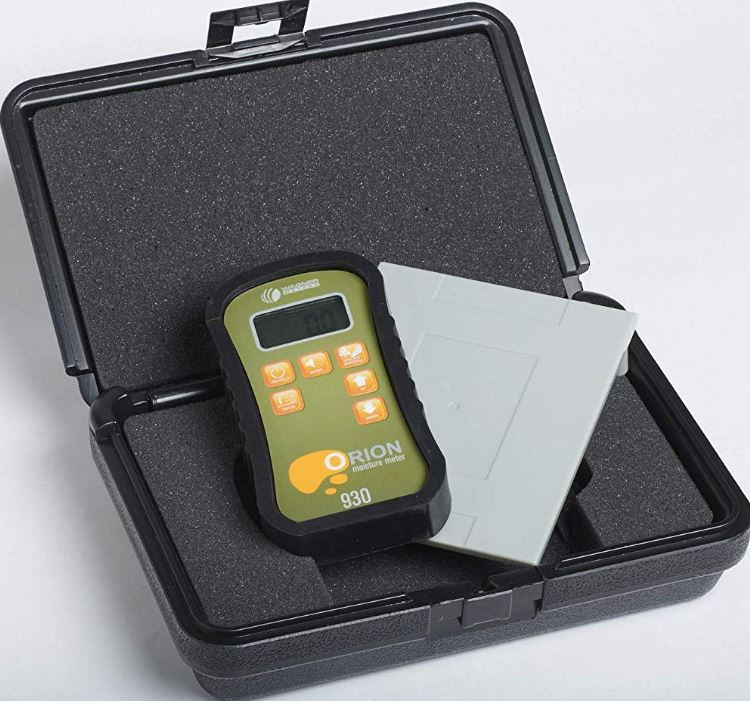 Other Considerations
This meter looks slightly complicated at first. But it actually provides a pretty simple up-down arrow-style interface. That allows you to rapidly set the meter for the specific type of wood you want to measure. And the meter can accommodate basically any hardwood or softwood you want to throw at it.
The 930 includes individually paired calibrators, which allow you to calibrate the meter to factory settings from any location within a couple of seconds. Additionally, the NIST calibrator follows international standards and includes an NIST certificate, which can serve as protection against liability claims.
And last but not least, Wagner Meters offers a seven-year warranty every Orion meter. That's pretty close to a best-in-class warranty, for what is nearly a best-in-class instrument.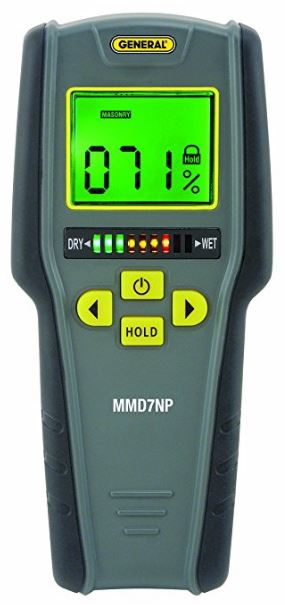 General Tools MMD7NP Moisture Meter
Not everybody needs a world-class instrument. Not everybody wants to pay for one. The General Tools MMD7NP Moisture Meter is a good choice for someone looking for an instrument that's "good enough." Similar to the Orion 930, the General Tools MMD7NP Moisture Meter is another fairly non-invasive instrument.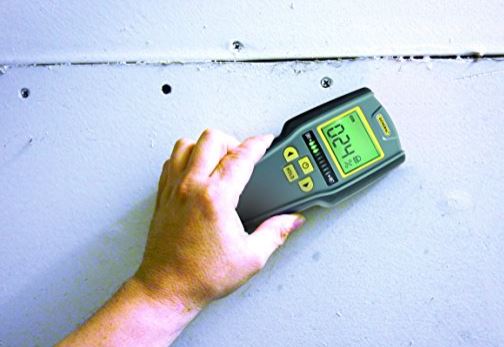 Though this instrument doesn't have nearly as many detection settings as the 930, it's actually pretty great for scanning over big patches of drywall or wood. It's also easy to see how this instrument would be pretty useful for detecting leaks behind walls. Because the MMD7NP was made for craftsman, building inspectors, contractors, and to some extent amateur woodworkers.
Build & Design
The MMD7NP Moisture Meter measures 1.1 x 3 x 6.5 inches, which is a fairly handheld and compact design. The side has a handful of texturized grips, which can help make it a bit easier to hold. But there's no lanyard on the unit, and truthfully, the added grip doesn't help you out that much. Which is why it's probably a good thing this meter was built from ABS plastic, so it won't break apart the first time you drop it.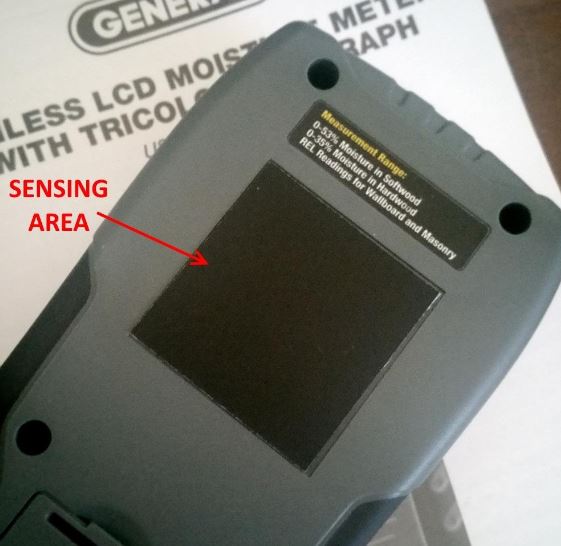 The MMD7NP operates with a 9V battery, which helps power a 2 x 2 LCD. The screen is fully backlit with a colorful and high-contrast shade of green. And it helps make your readings quite clear, even when you're using the instrument in poor lighting conditions.
Beneath the LCD, you'll find a nine LEDs running in a row, indicating the dryness and wetness of the material. So even if you don't have the backlight on, and you're inside a dark environment, you can still get a clear indication of the quantity of moisture you're measuring.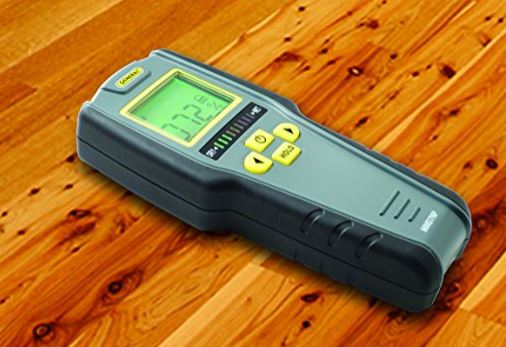 Other Considerations
The meter has separate detection settings for masonry, softwoods, hardwoods, and drywall. For detecting water leakage, that's ideal. Unsurprisingly, the moisture detection feature can measure ¾" deep with its maximum setting. But there's no thinner measurements comparable to the 930. You do get accuracy within 4% of your measurement while using wood, and the wood-working portion of this instrument is actually auto-calibrating. Fairly impressive for this price range.
There's an auto-off function, so if you forget to turn off the instrument, you won't lose your entire battery overnight. This instrument also supports an out-of-range alarm for measurements that can't be taken accurately given the distance of the measurement.
Even if you're not a pro at using a digital moisture meter, you can end up with reliable data. In other words, this tool is basically idiot-proof. To the extent it's not idiot-proof, it does include a user manual, along with a 9V battery, and a one-year warranty.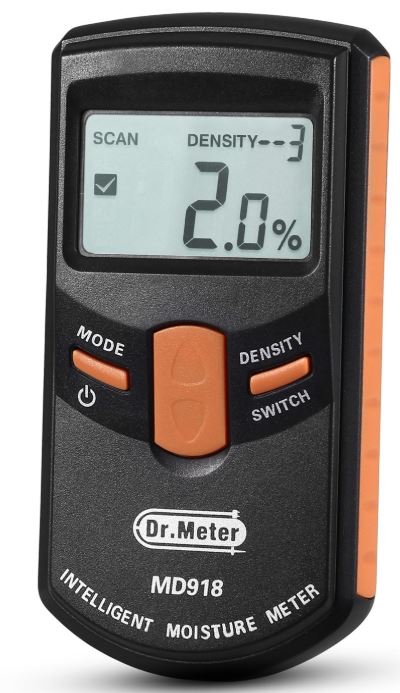 Dr. Meter MD918 Wood Moisture Meter
Sometimes you need an instrument that's a little more advanced than entry-level equipment. Similar to the other digital moisture meters on this list, the Dr. Meter MD918 uses a pin-free design, which makes it non-invasive during measurement. But unlike the MMD7NP, this meter provides a far wider range of settings related to wood measurement. For instance, you can move between ten grades of density, ranging between 4% and 80%.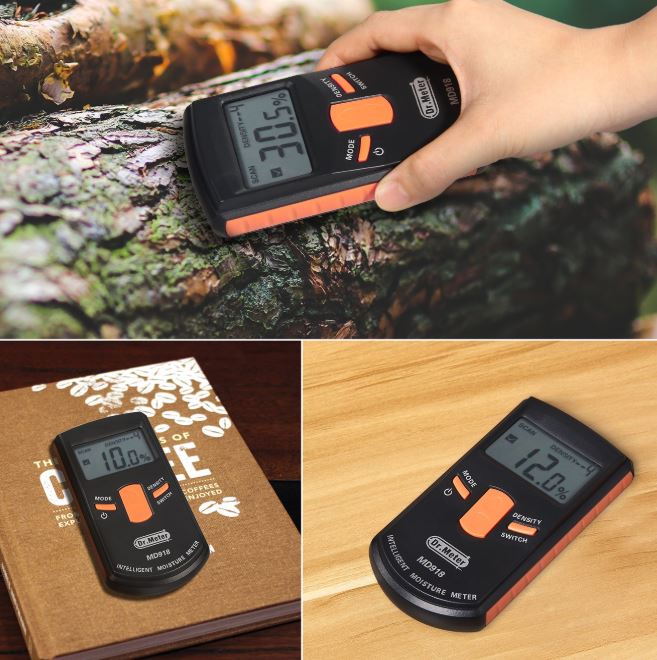 Build & Design
The Dr. Meter MD918 doesn't look like anything special. It measures about 5.1 x 2.6 x 1 inches, and weighs seven ounces when the batteries are inside. Similar to the other instruments on this list, the chassis is primarily made from an impact resistant ABS plastic. Again there's no lanyard or carrying strap, but Dr. Meter has done a much better job than General Tools at giving a useful texturized grip to their instrument.
Measuring about 1 x 2 inches, the display is pretty small, and it's not backlit. Sure, that's great for the battery life, but it's not great for visibility in the dark. Here you'll find information about the measurements you're taking, and whether or not the material you've scanned passes limit tests you've established. The display will also inform you when calibration is necessary, and give you a heads up about low battery life.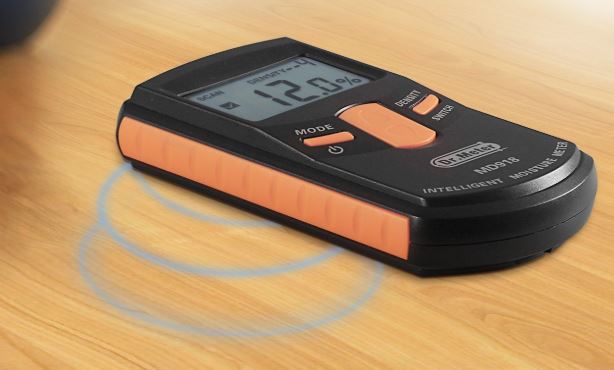 The MD918 uses a black and orange style that's pretty slick looking. The orange isn't entirely for show, either. It's actually a rubberized grip that runs along both sides of the meter. Though it may have been preferable for that grip to cover the front side and backside, too.
Other Considerations
It only looks like the device has three buttons, it actually uses a four button design. The large central button is actually two buttons in disguise. Each of these buttons has a multi-function capacity, which makes things slightly more complicated, but it's nothing that you can't become familiar with after a few minutes with the instrument.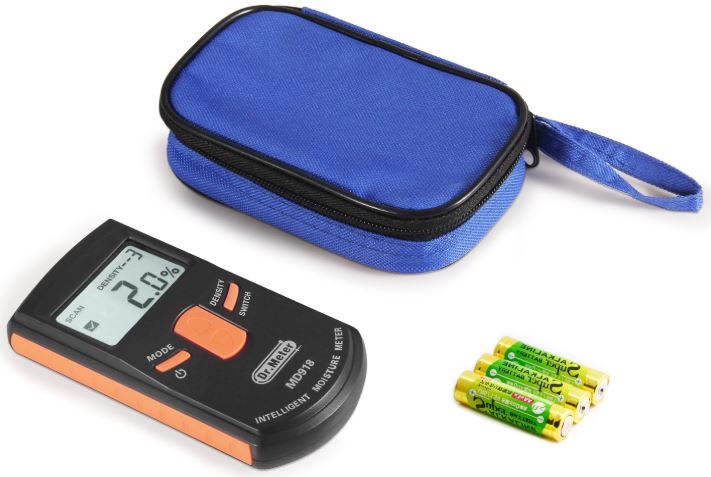 Similar to the Orion 930, this moisture meter was smartly designed with an auto-off function. That way, you don't kill your battery the first time you forget to shut down the instrument. Better still, the auto-off function takes about five minutes to initiate. It's pretty annoying when it only takes 90 seconds or so because then you feel rushed to save your data.
The MD918 includes three AAA batteries, a carrying pouch, and user manual. It also includes a one-year warranty from Dr. Meter. That doesn't quite compare to the seven-year warranty provided by the Orion, but this meter is about one third the cost, so what can you expect.
Best Digital Moisture Meters
The Orion 930 Dual Depth Moisture Meter is a top tier woodworking instrument. It's got an intuitive interface, flawless on-site calibration, and a level of accuracy that's not wholly reflected in its price. Along with an enormous 7-year warranty, this equipment was clearly made to last. That helps make it the right choice for someone working with wood, and measuring both thick and thin materials alike.
The General Tools MMD7NP Moisture Meter is pretty basic. Though it lacks much sophistication, it's perfectly effective for identifying the location of a leak, or otherwise getting solid measurements with levels of accuracy that are in the right ballpark. Though this meter was made for contractors more than woodworkers, it has a couple of settings for both.
Finally, the Dr. Meter MD918 Wood Moisture Meter is one full step above the General Tools MMD7NP. It provides the same non-invasive measurements and similar range of accuracy, but it's got more focus on working with timber. If you don't want to shell out for the 930, but still want some customization options, the MD918 is likely your best bet. can save you a lot of time and money.
Was this helpful? Please consider sharing: