The ability to test moisture levels with a digital moisture meter can be important. Especially when testing wood for things like furniture making, wood burning or cabinetry, measuring how much moisture can ensure your materials are ready to be used.
For example, making a table top with wood that's not dry enough can cause warping, shrinking and cracking, ruining the entire project.
When it comes to building and renovation projects, a quality moisture meter can help identify leaks or other potential issues that need to be addressed. They can also help detect areas that may be prone to mold.
How a Moisture Meter Works for Wood and Other Materials
A moisture meter is essentially a voltmeter with some adaptive circuitry inside. It measures the resistance to electricity moving between two points.
Moisture meters calculate this based on the type of material or wood. In the end, they give you a moisture percentage that's easy to understand.
The two most common types of moisture meters are:
Pin Type: These measure moisture by sticking physical pin probes into the material you want to test. They provide a more specific reading of a narrower surface area than a surface type meter. It's the most invasive type that's a good option for materials that you don't mind poking holes into or that aren't smooth and flat. If you're trying to test wood in wet environments, they're the ideal option.
Surface Type: These detect moisture levels through surface contact. They're just as accurate as a pin type meter in most situations. However, they can be a better option if you need a non-invasive method. Ultimately, they're ideal for builders and renovators since they can also be used as a diagnostic tool to find the source of leaks and areas with high moisture buildup. They can even measure moisture in materials like concrete which wouldn't be possible with a pin type.
Things to Consider When Choosing a Wood Moisture Meter
Build Quality and Materials: It's important to choose a meter that has rugged, robust materials that can stand up to tough environments. If you're testing things like firewood or using it at a worksite, you'll want something that can take a drop and withstand a good amount of abuse. Since it's going to measure moisture, having a weather safe build quality is going to be important.
Accuracy: You'll want a meter that can be accurate with a range of different woods, materials and environments.
Versatility: Rather than having to get a bunch of different tools, you'll want a meter that can work with the widest range of materials and situations. This is important for builders that may need to use it for different diagnostic purposes.
Value: The price of a moisture meter can extend beyond several hundred dollars. It's important to make sure that there's enough value to justify the price tag.
There are numerous options to choose from. To help, this article will go over five of the best digital moisture meters for wood that are currently on the market.
Best Overall: General Tools MMD7NP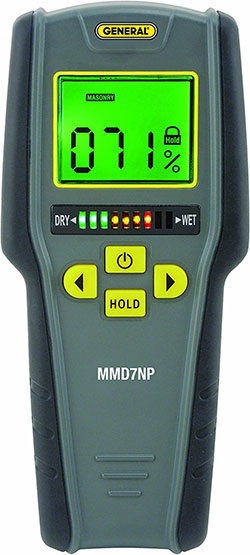 Key Features:
Weight: 4 oz.
Powered by a 9 volt battery.
Pinless.
Digital LCD display.
Tricolor bar graph meter display.
In terms of accuracy, form factor and price point, the General Tools MMD7NP is our best overall pick. It's a pinless meter which eliminates the need to poke holes or mark up the surface that you're trying to test. We found that it does very well with a wide range of surfaces which is impressive considering other units we tested couldn't. In fact, it was able to provide solid accuracy on rougher, more uneven surfaces.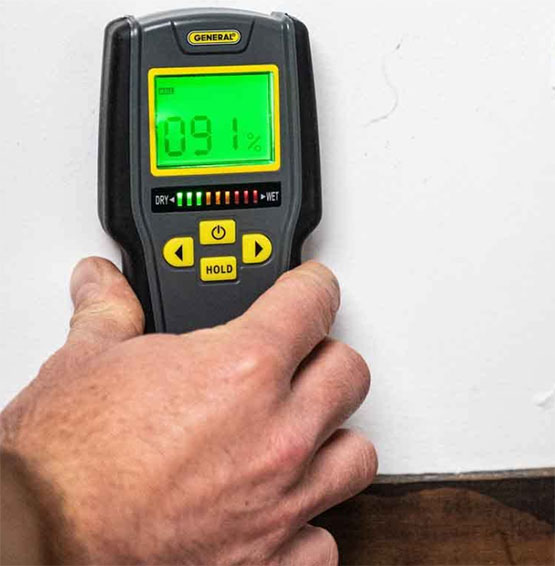 The LCD screen and tricolor bar display are easy to read and give a clear indication of what the current moisture levels are. It comes with an audible alert which is nice to have if you're measuring materials in low visibility. This unit can measure levels up to 19 millimeters into the surface which can help reduce misreads based on surface moisture in wet environments.
It has a broad measurement range of up to 53% for softwood and 35% for hardwood. Even though it's most accurate for wood, this meter does a solid job for a range of different materials including concrete, sheetrock and masonry. For these, it provides a relative reading.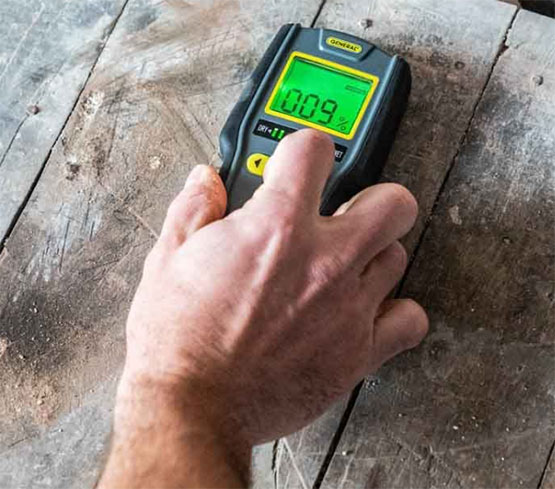 Some users report that it's a great tool to examine wet spots or water stain areas in a house. The General Tools MMD7NP can even do a good job as a mold detector which can be handy for all homeowners. We're also quite impressed with the build quality of this unit. Compared to others at this price point, it uses solid materials that make it feel high quality and resistant to drops and scuffs.
What We Liked:
Solid build quality.
High accuracy for a range of materials and surfaces.
Bright LCD display.
Audible alert comes in handy.
What We Didn't Like:
No way to calibrate for specific types of wood.
Best Runner-Up: Klein Tools ET140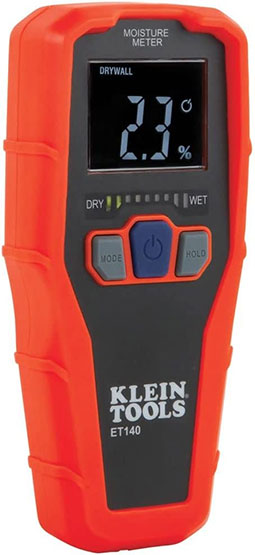 Key Features:
Weight: 7 ounces.
Powered by a 9 volt battery.
Reverse-contrast display.
Nine LED bar graph.
Audible alert.
Pinless meter.
The Klein Tools ET140 is one of the best pinless options we've tested. Like the MMD7NP, it uses EMF technology to penetrate the wood and get a moisture reading. It's designed to measure at a depth of three quarters of an inch which is similar to other models.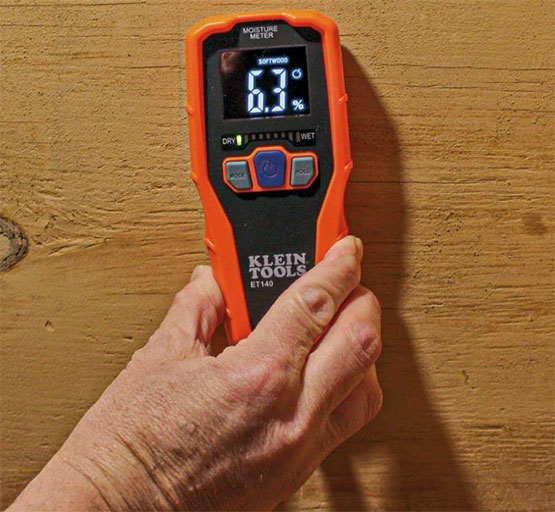 The large display is reverse contrast. We found it to be easily visible in a wide range of settings. The screen is a great option for people that might use it in dark or nighttime conditions. The visual LED bar graph offers a quick read display to figure out if your wood is in an ideal range in multiple areas. This unit is extremely durable and is rated for drops up to two meters. We found the exterior did a good job withstanding scuffs and scrapes as well.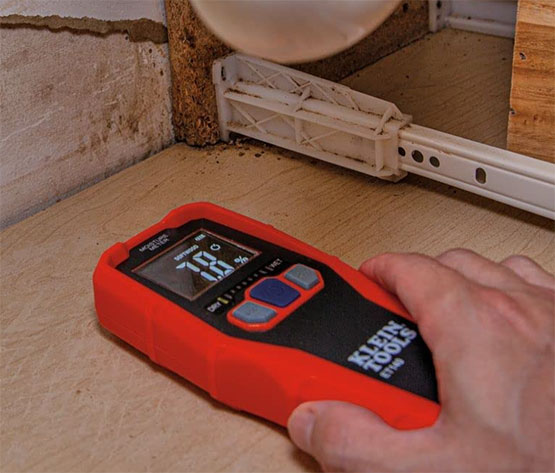 We like the mode function on the Klein Tools ET140. Most units at this price don't give you an ability to toggle between the types of materials you're testing for. We found that while it may offer slightly better accuracy, it can be significant for those that are needing something as accurate as possible in this price range. It also comes with an auto power-off feature which is ideal for preserving the 9 volt battery.
What We Liked:
Reverse contrast display is easy on the eyes.
Two meter drop protection.
Multi-mode button can provide greater accuracy for different materials.
What We Didn't Like:
Customer support can take longer to respond.
Best High-End: Wagner Meters Orion 950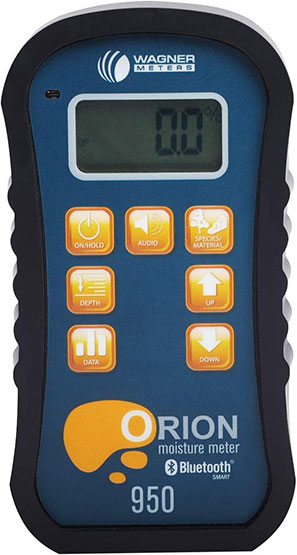 Key Features:
Weight: 1.57 pounds.
Powered by a 9 volt battery.
Pinless meter.
Offers on-site calibration.
Relative moisture mode.
Dual depth measurements.
Bluetooth connection with an app.
The Wagner Meters Orion 950 comes with a hefty price tag but is also one of the most versatile, accurate measuring meters that we've tested. The first thing you'll notice is the build quality. From its form factor to the material choices, this unit feels great in the hands. It weighs 1.57 pounds which may improve the accuracy of its readings due to greater surface contact when resting it on whatever you'd like to test.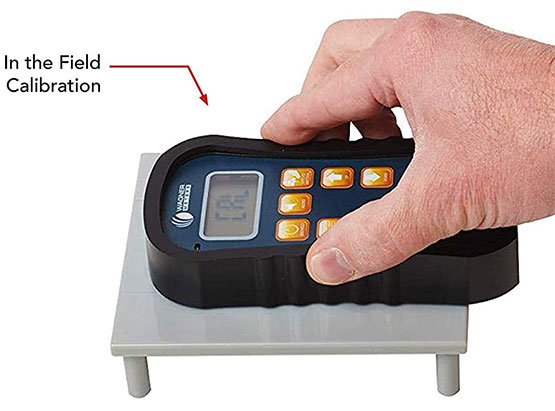 It's ideal for people that work with a wide range of woods that need a high degree of accuracy. The Orion 950 lets you input the specific type of wood you're testing and adjusts its calculations accordingly. This was easy to do and based on many user reports, made a big difference when it came to overall accuracy. It even measures at multiple depths giving you extra data points to hone in on the most accurate reading.
This meter is less susceptible to being affected by wet, high moisture environments than most other meters on the market. In fact, it's also unaffected by ambient temperature which can be a problem for cheaper meters. Our complaint with a lot of other meters is that they don't allow for calibration. This unit provides an on-demand, on-site calibrator that helps to establish a clearer baseline and ultimately results in more-accurate readings.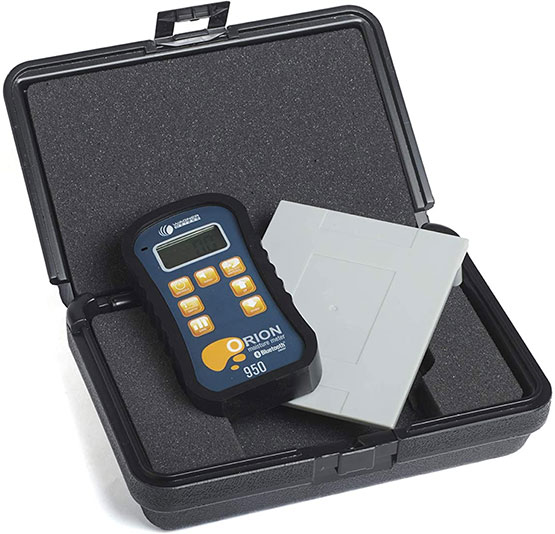 The Orion 950 comes with a hefty price tag but it's definitely one of the most solid, consistent and accurate meters currently available.
What We Liked:
High quality components and excellent build quality.
Bluetooth feature works great with the app.
Measures at multiple depths for greater accuracy.
Works great regardless of the environment.
What We Didn't Like:
Best Budget: Proster Wood Moisture Meter
Key Features:
Weight: 5.9 ounces.
Powered by a 9 volt battery.
Pin-type meter.
The Proster Wood Moisture Meter is one of the best options at a lower price point due to its ability to still deliver accurate readings. In fact, testing revealed it to be as accurate as other options that cost twice as much. Not only that, but it does so with a wide range of materials and environments. It's a popular choice, in part due to its reasonable cost and minimalist design.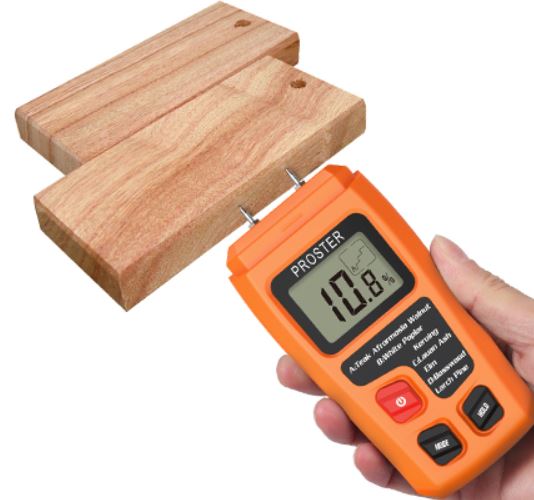 We found that the two pins you use to stick into the test material were sharp enough to penetrate most wood. Even though poking holes to test is not ideal for some people, we found they were small enough where the punctures were less visible.
This unit has four modes that let you select between different classifications of wood to provide greater accuracy. We found that using this feature did provide some improvement to the readings we achieved. The screen is large but isn't backlit so it may be harder to view in dark settings. Unfortunately, it doesn't have an audio feedback feature and there isn't an LED moisture indicator display. However, there's a hold button that can help keep the reading on the screen if you're testing a material out of eyesight or in low visibility.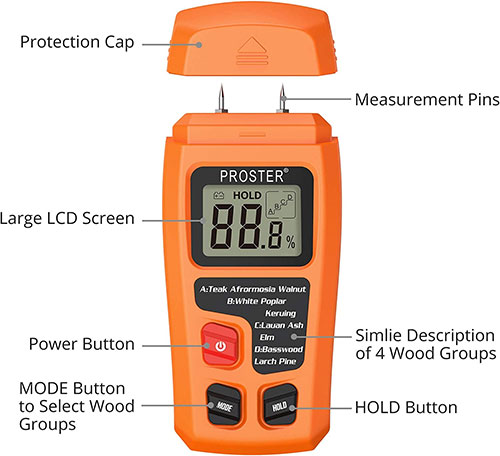 While you won't have some of the convenience features of some more expensive moisture meters, the Proster is one of the most accurate, high quality units at this price point.
What We Liked:
Various modes to optimize for different kinds of wood.
Auto power-off feature great for preserving battery.
Very accurate in most environments.
Very inexpensive.
Extremely compact design.
What We Didn't Like:
LCD screen can be hard to read in dark environments.
Best Alternative: RDINSCOS Wood Moisture Meter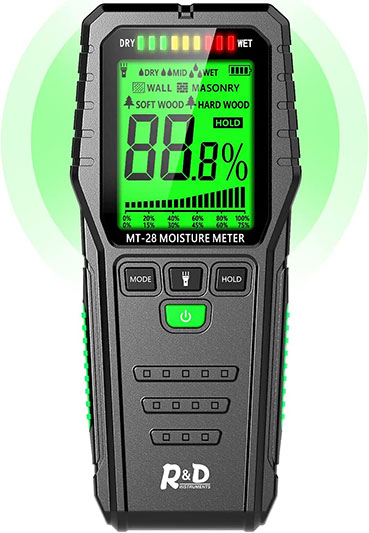 Key Features:
Powered by a 9 volt battery.
Pinless meter.
Audible alert.
This RDINSCOS Wood Moisture Meter is an exciting alternative for those that prefer a more visual display experience. It features a large LCD display where the majority of your information such as moisture percentage, material classification, and even the moisture graph are readily visible. It's backlit which makes it easy to use even in virtually any setting. With one press of the button, the screen will illuminate. The fact that it's button activated means you can save battery since you can activate it only when necessary.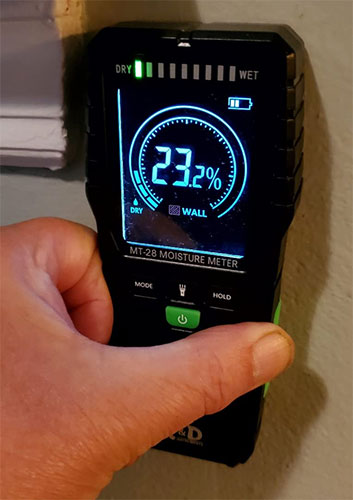 We like the narrower form factor that makes it easier to hold in the hands and to get into tighter spaces if needed. If you're needing a quick reading of something that's out of view, the combination of audible alert and the hold button are great features to make the job easier.
This is a pinless version which makes it more versatile as a diagnostic tool. We found that it provides a high level of accuracy on a wide range of different materials. Since it's non-invasive, it's also ideal for testing things like sheetrock, furniture and molding. Overall, it offers a lot to appreciate and very few drawbacks.
What We Liked:
Modes for different material types.
Large, button activated backlit display.
Loud audible alert.
Great as a diagnostic tool for mold and leaks.
What We Didn't Like:
Screen can get crowded with all the information.
Meet Derek, "TechGuru," a 34-year-old technology enthusiast with a deep passion for tech innovations. With extensive experience, he specializes in gaming hardware and software, and has expertise in gadgets, custom PCs, and audio.
Besides writing about tech and reviewing new products, Derek enjoys traveling, hiking, and photography. Committed to keeping up with the latest industry trends, he aims to guide readers in making informed tech decisions.