These days, more people are working from home and setting their own hours than ever. In part, this is due to the COVID epidemic that's dominated public consciousness for the last six months. But it's also been an ongoing trend before anyone had heard of words like "social distancing" or "herd immunity". It's not hard to understand why. Working at home allows you to set your own schedule, as well as work in comfort. This makes it a more efficient option for parents, or for anyone with a busy lifestyle.
That said, COVID has inevitably accelerated the trend. Even businesses that were opposed to working from home have been forced to get on board. In the process, they've learned that employees are actually more efficient when working remotely. In turn, this has them questioning whether they want to continue renting expensive office space. If workers are just as productive at home, isn't that commercial real estate just a big money sink?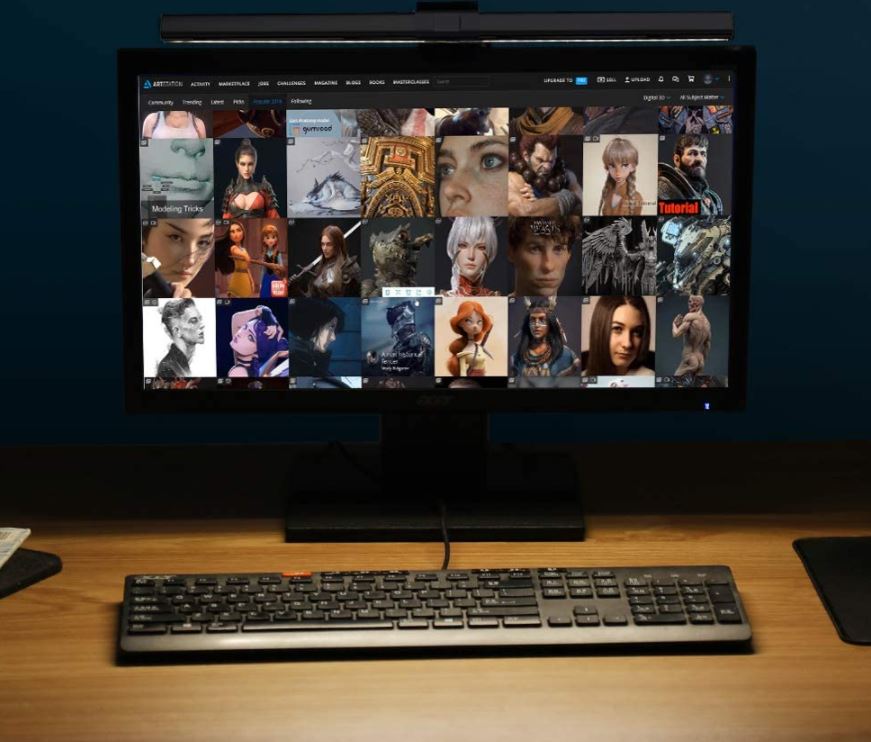 Meanwhile, technology has been making it easier than ever to work from home. If you're following the news, everyone is talking about Zoom. But other tools like Slack, Dropbox, Skype, and Google Drive have been equally influential. With all of this software running in the cloud, working from home is easier than ever before.
That said, if you're setting your own schedule, you're going to end up working in the dark. Without the discipline of a Tibetan monk, you'll either end up working early in the morning or late at night. This can make it difficult to see your keyboard. Unless you're an uber-experienced touch typer, not seeing your keyboard is a non-starter. Worse, staring at a bright screen in a dark room can increase strain on your eyes. This can cause damage over the long term. Increasing foreground light will reduce the apparent screen brightness, reducing strain on your eyes.
In the past, we've reviewed other lighting options, such as desk lamps with built-in cell phone chargers. Now, we're going to look at two different LED lamps for your desktop or laptop monitor. The concept here is simple: a light that shines on your keyboard without creating glare on your screen. Should be easy, right? We're about to find out.
First, we're going to look at the BenQ Screenbar. This is a high-end option that's packed with awesome features. Then, we'll look at the Quntis Computer Monitor Light. It's a narrow, USB-powered lamp with a simple, silicone-padded mounting clamp. Lastly, we'll examine the Quntis e-Reading LED Task Lamp. This is a wider lamp with a larger variety of color options and mounting features. But which one of these is the right monitor lamp for your needs? Let's take a closer look, and see how they compare!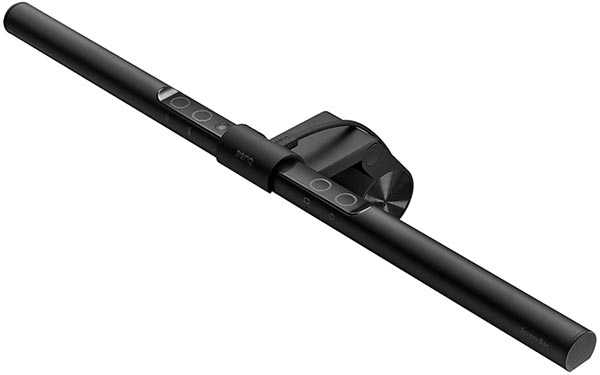 BenQ Screenbar
BenQ is a well-known brand that's been around for over two decades. Simply put, they're not new to the industry. One of their most popular products today is the BenQ Screenbar – an LED monitor light that's packed full of several favorable features.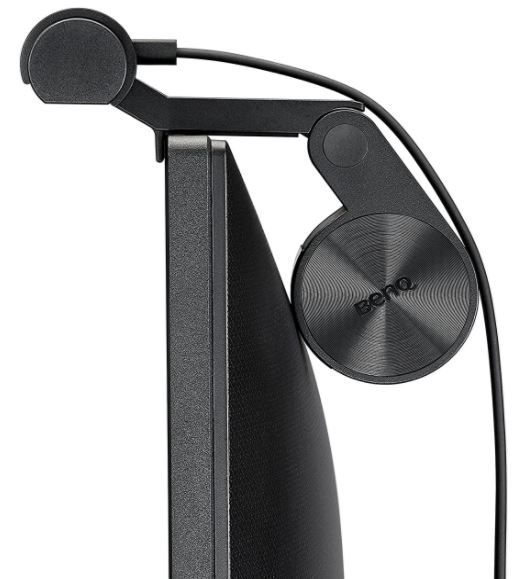 Although originally created for gamers, the BenQ Screenbar is a useful addition to virtually any workstation or PC. Specifically designed to provide a comfortable experience in any dark or dimly-lit room. In fact, although not necessarily required, it pairs perfectly well with RGB accents or any backlight that you may already have in your setup.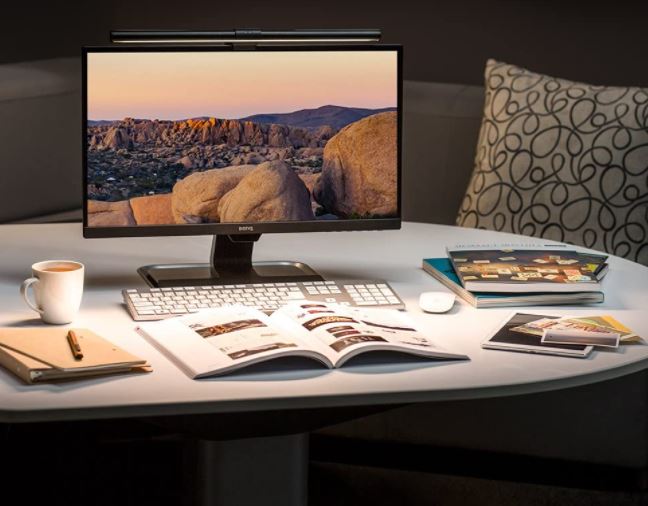 Measuring approximately 18 inches in length, it boasts a built-in weighted clip that rests on the top/back part of your monitor. This way, it's fully compatible with nearly any monitor up to 2 inches in thickness. Best of all, mounting it isn't a permanent – simply rest the screenbar on the top of your monitor and plug it into an available USB port.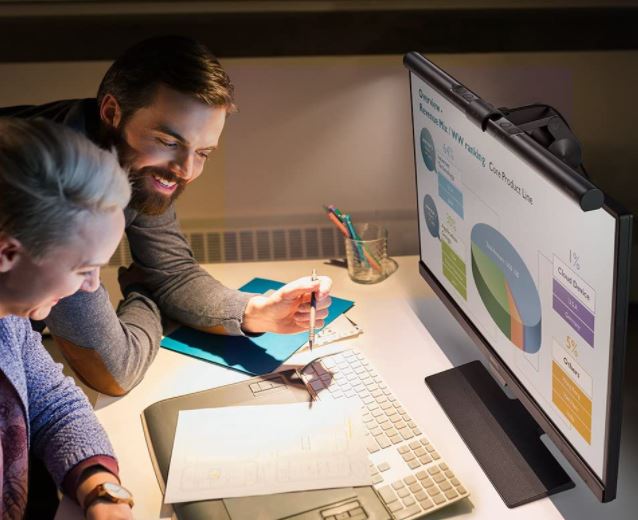 Comprised almost entirely of alumium alloy, the BenQ Screenbar feels solid and high quality to the touch. On top are four distinctive buttons that offer you all the functionality.
From the left, the first button allows you to manually adjust the dimmer. Simply press to toggle between 14 different levels or brightness. And if you can't decide, just press the second button from the right to leave it on "AutoDim" mode. This setting makes it automatically adjust the brightness to the appropriate level, based on your current environment.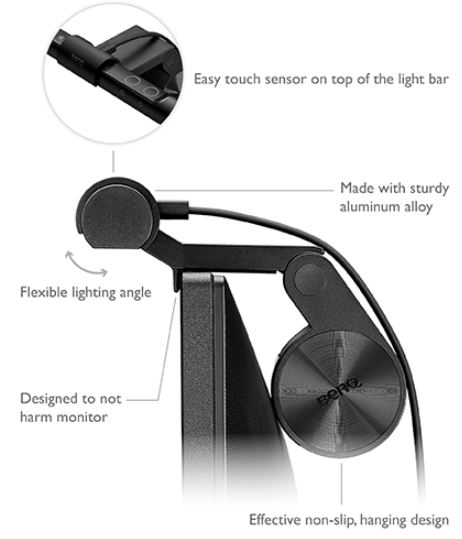 The second button from the left lets you adjust the hue. That is, the color temperature. Select from a "warm" 2700k all the way up to a "cool" 6500k. Between this range, there are 8 different possible selections to make. Typically, warm light is reccomended for relaxing whereas cool light is more-ideal for efficiency and concentration.
Last but not least, the right-most button turns the Screenbar on/off. Oh, and the little light gray circle that may appear as a "3rd button" (from the left) is actually the sensor that detects ambient light. It's used when you activate AutoDim.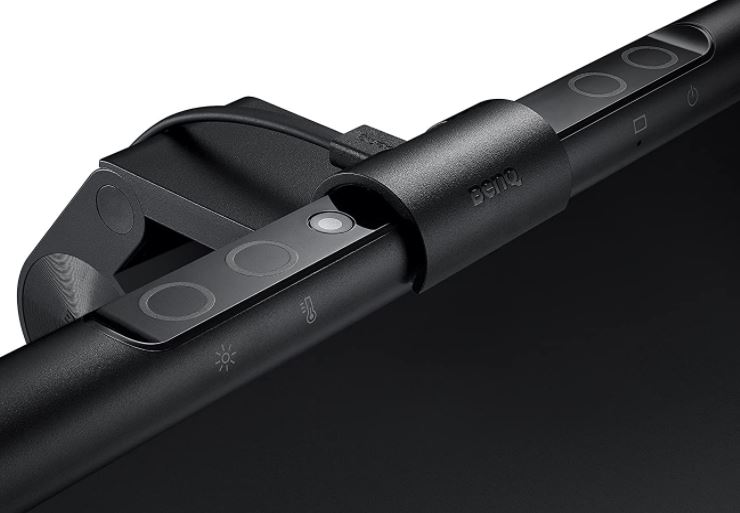 Overall, the BenQ Screenbar seems to offer a great solution to those looking for the best LED lamp for your monitor. It's built nicely, equipped with features that are actually useful and can be used on any monitor without any compatibility concerns. It's also incredibly bright and offers a nice, even "spread" of light on your keyboard and desktop work area. Best of all, there's absolutely no glare issues. In fact, it only seemed to enhance the way the screen looked.
Unfortunately, the Screenbar from BenQ is a bit on the pricier side. At just over $100, it's more of a commitment to buy than other, less-expensive options. However, the $100 is fairly justified simply because you're getting a high-end unit – there's nothing low-quality about it. But also keep in mind that it's only suitable for actual monitors – laptop users should probably look into the BenQ Laptop ScreenBar. This laptop-specific version is quite similar but much more lightweight and portable.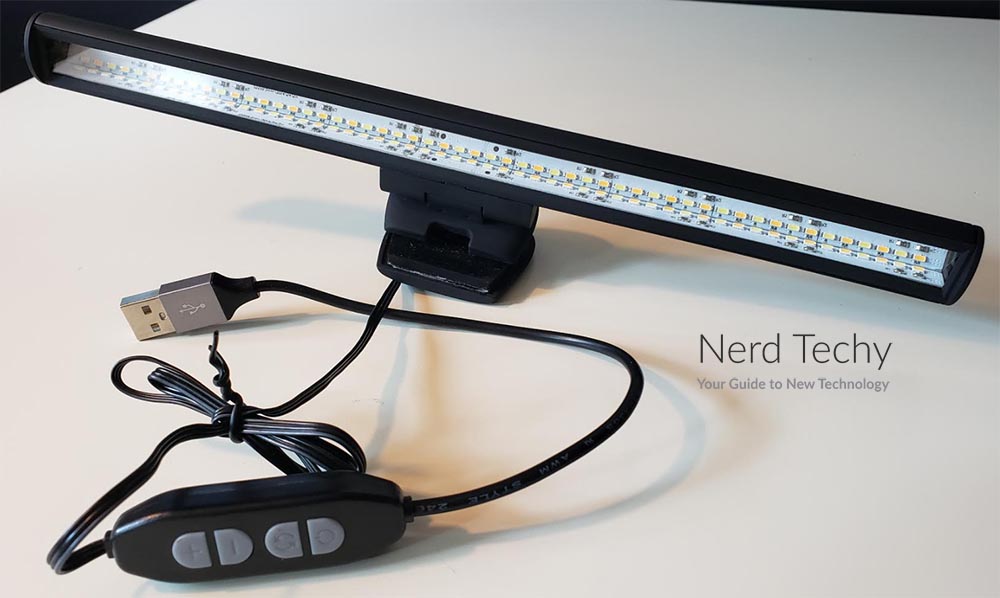 Quntis Computer Monitor Light
When it comes to design, the Quntis Computer Monitor Light (15% Off Code: ST2YEYSU) is as straightforward as they come. It's a simple bar light, attached to a clamp mount, with a USB power cord. At just over 10 inches in width, it's fairly compact, and won't be suitable for very big keyboards. That said, on most small to mid-sized laptops, it's going to be an excellent fit. The housing is constructed from matte black ABS plastic. This ensures minimal highlights, so you won't get distracted from your screen. It also means your light isn't going to turn into a fingerprint magnet. The only decoration on the housing are the words "Quntis" and "Screen Linear" on the top left and right respectively.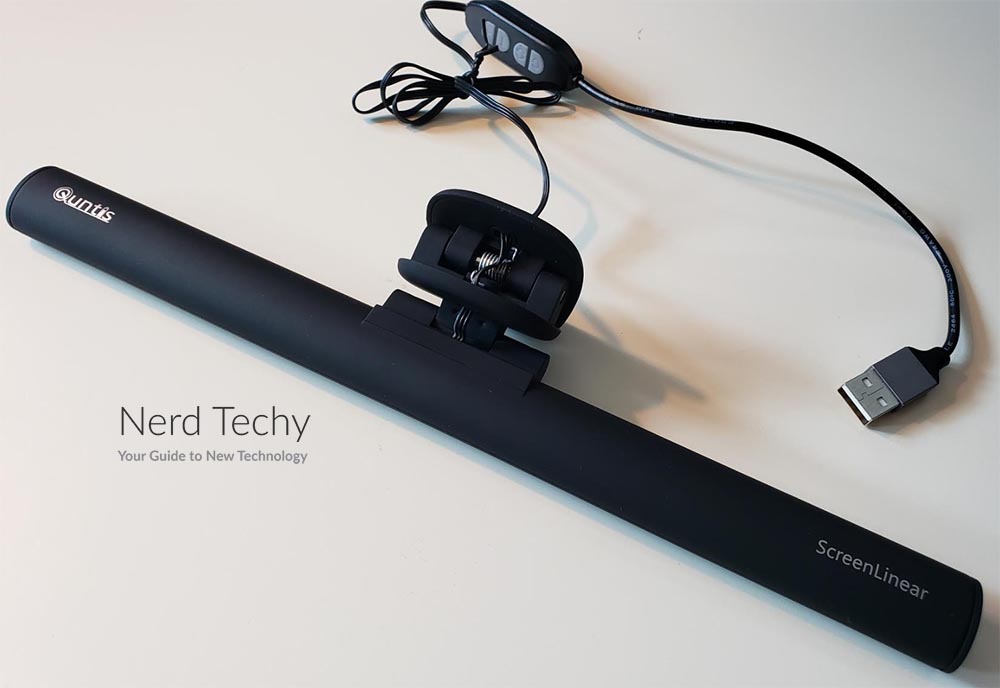 Mounting the Quntis Computer Monitor Light is fairly straightforward. It has a built-in clamp that will latch onto any laptop monitor. The clamp is padded with silicone, so it won't damage delicate surfaces. That said, it's fairly small, so it's ill-suited for clamping onto a desktop monitor. It's only really useful for mounting on a laptop. Then again, this isn't an absurd limitation. As we already mentioned, the light is sized for a small to mid-sized laptop keyboard to begin with.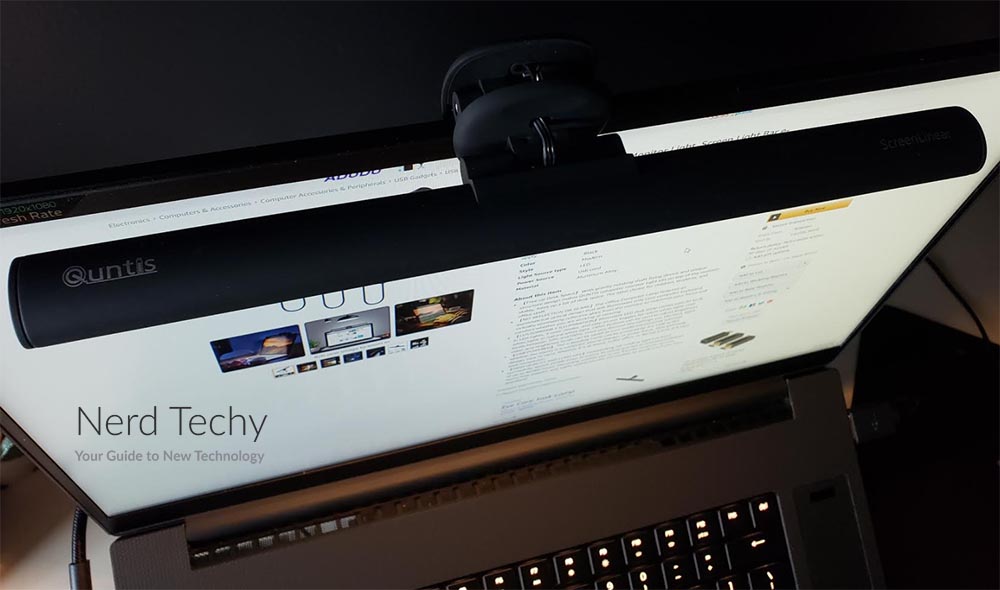 The light itself has an angle of 45 degrees. This makes it just about perfect for your average laptop keyboard. In addition to everything else, the light is hinged where it meets the clamp. This means you can adjust it up or down as needed to get the ideal angle. Moreover, the clip and hinge are reinforced with polycarbonate. This makes them much stronger than ABS plastic, reinforcing the highest-stress parts of the light. The LEDs are rated to last for at least 100,000 hours. This means your light is going to far outlast the laptop you're starting it on.
A simple carrying pouch is included with the kit. It's a simple drawstring pouch, and won't provide crush protection or anything like that. Even so, the soft velvet material will be sufficient for providing scratch protection.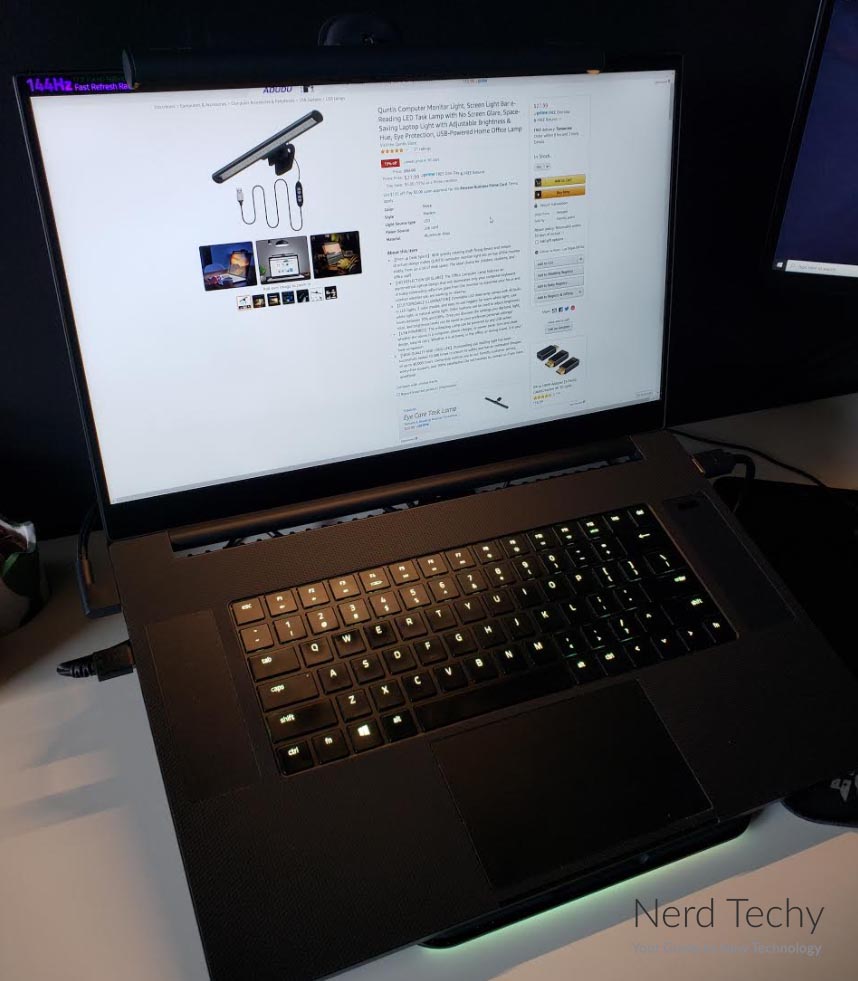 Power Supply and Operation
The Quntis Computer Monitor Light is powered by a simple 5-volt, 5-watt USB cable. This means it can easily be powered by all but the oldest of laptops. Just plug it in, clamp it in place, and you're good to go. As a result, it's as portable as your laptop is. All you have to do is plug it into one of your computer's USB ports. Alternatively, you can use an external AC power supply. This can be useful if you're near an outlet and don't want to unnecessarily drain your battery. But it's not a necessity by any stretch of the imagination.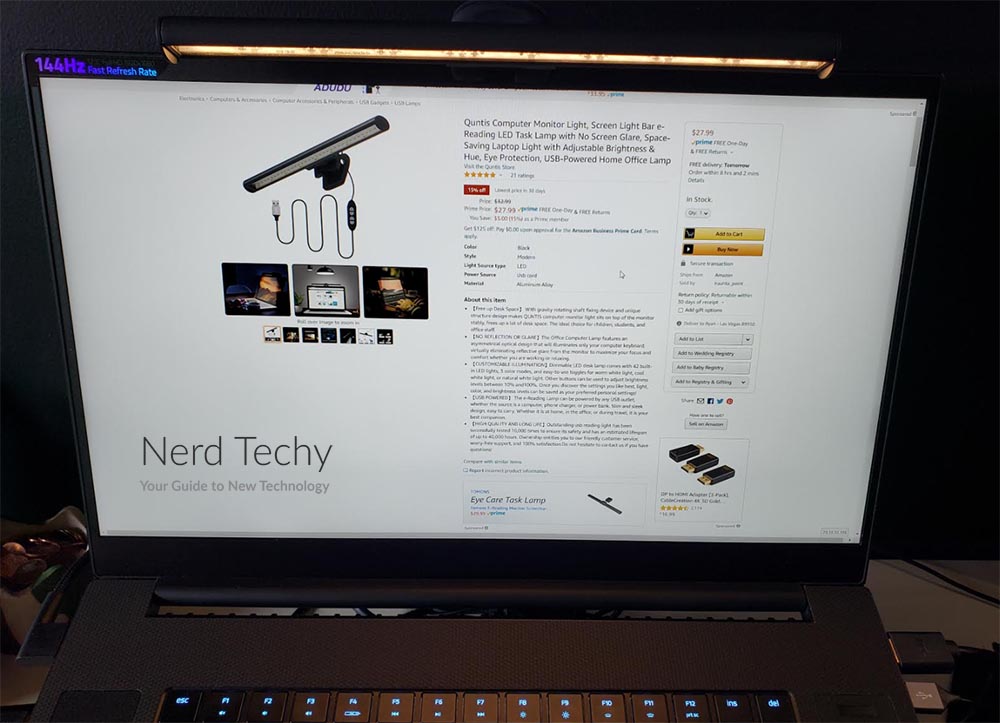 The USB cable sports a small fob that allows you to operate all of the Computer Monitor Light's functions. The top two buttons are used to adjust the brightness up or down. There are ten brightness settings, from very dim to very bright. You can get a little illumination while you're lying in bed, or a lot of light when you're in brighter conditions. The next button controls the color temperature. This is the most innovative function, since it lets you switch between three different color temperatures. You can cycle between white light, warm light, and mixed light with the push of a button. This way, you can easily match the lighting conditions in your room. The bottom button is a basic on/off toggle. This way, you can turn off your light without unplugging it from power.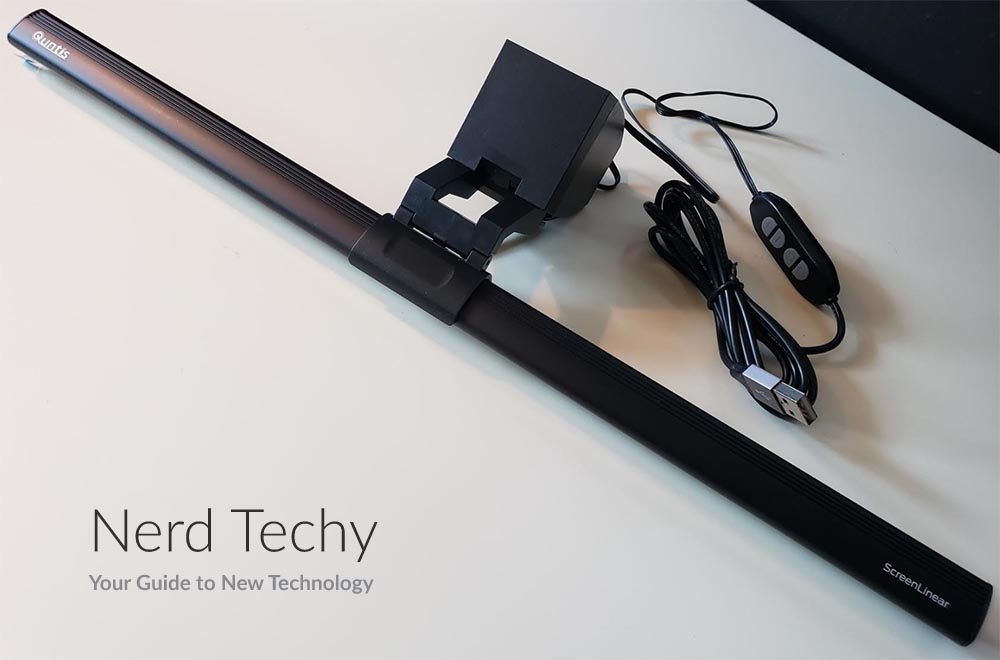 Quntis e-Reading LED Task Lamp
The Quntis e-Reading LED Task Lamp (15% Off Code: 6M8KDO8R) is built for bigger monitors that need a serious, powerful lamp. At just over 17 inches in width, it can easily illuminate full-length keyboards and wide desks. Of course, this size comes with a downside; it's less well suited for travel. Then again, if you need this lamp, your workstation probably isn't portable to begin with. Either way, you're looking at a very rugged option. The e-Reading LED Task Lamp's housing is constructed from a durable aluminum alloy. It has the same easy-to-clean matte finish as the Computer Monitor Light, but it's more rugged.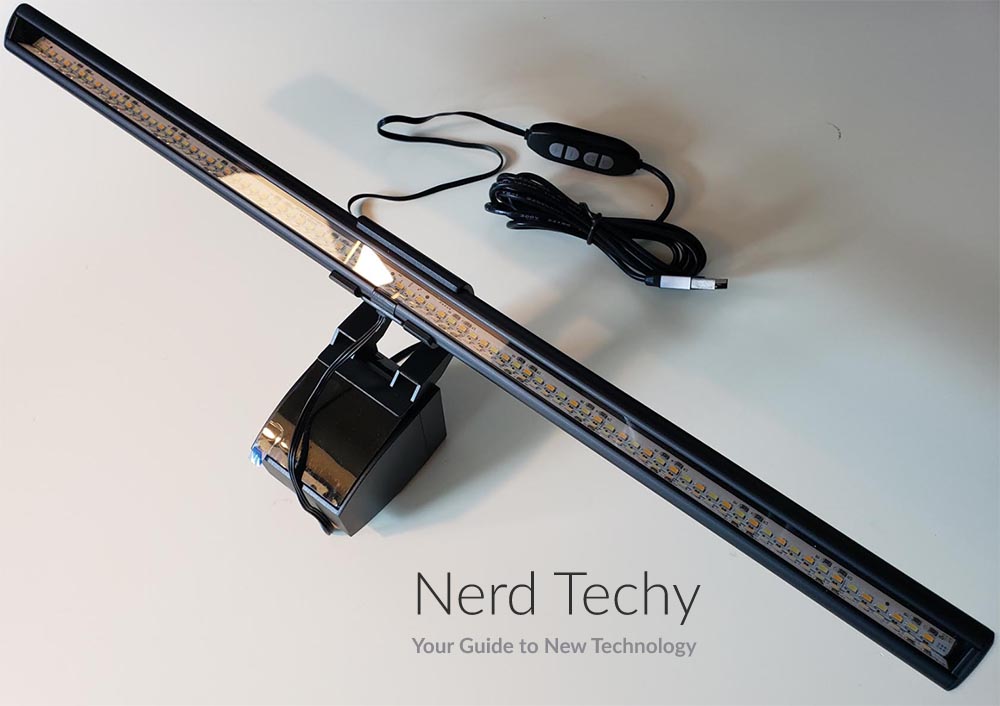 The light is mounted on an aluminum clamp, which mounts directly on your monitor. It's designed to rest easily on a monitor that's between 0.4 and 1.2 inches thick. Once again, this is a poor choice for laptops, since the clamp will be too large. It's really designed for larger machines that need a bigger light to match. There's an optional adhesive on the inside of the clamp. On the one hand, the adhesive will make installation considerably more secure. On the other hand, it will make installation semi-permanent as well. Whether or not you want to use adhesive will depend on what you need.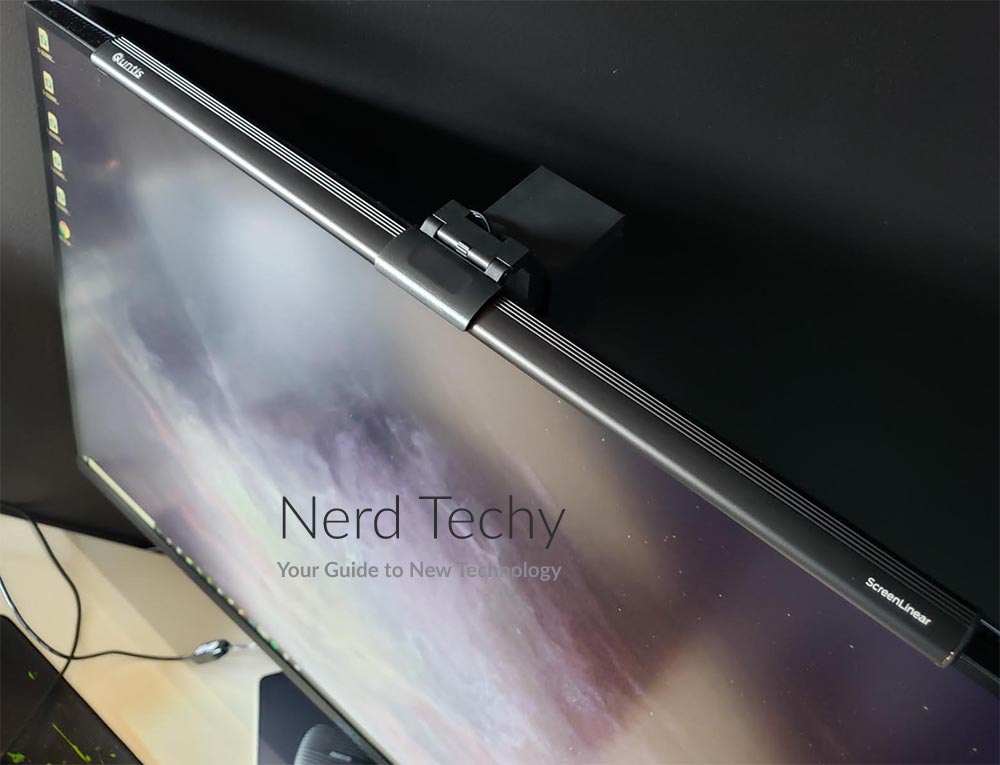 The LEDs on this light are rated for 40,000 hours. This isn't quite as long as the Computer Monitor Light's 100,000 hours. Still, it's enough for several years of use.
Power Supply and Operation
Like the Computer Monitor Light, the e-Reading LED Task Lamp has a built-in USB cord that draws power from your computer. Similarly, it only requires 5 watts of power for operation, so it's compatible with almost any USB port. This makes the e-Reading LED Task Lamp easy to install on virtually any computer.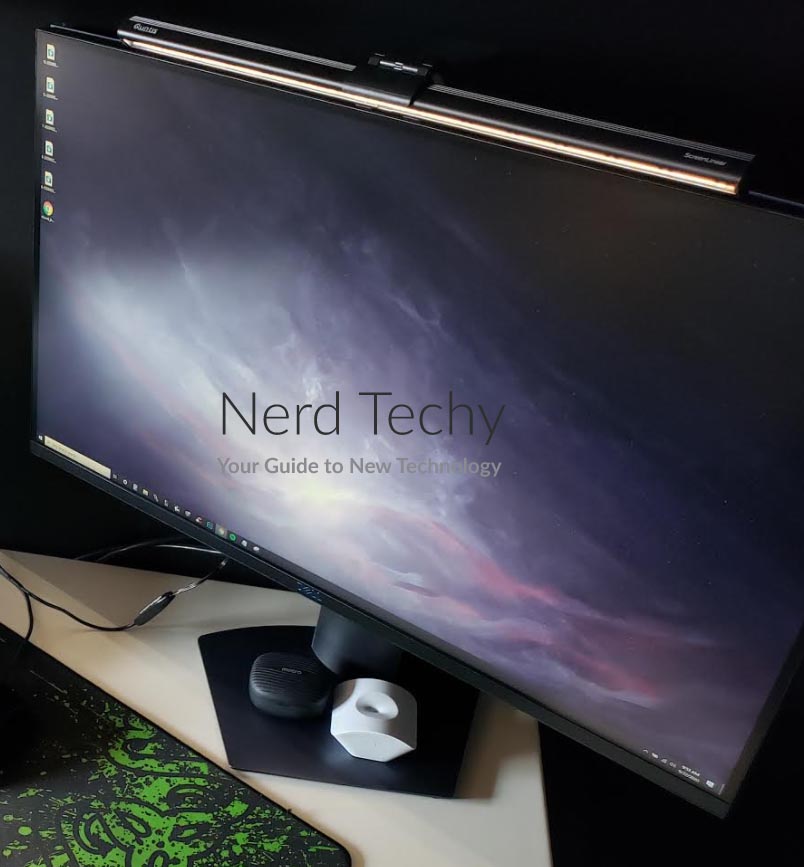 The lights can be adjusted between three different color settings, using the middle button on the cord fob. This makes the e-Reading LED Task Lamp similar to the Computer Monitor Light. However, the color range is slightly wider. On the one hand, this is a minor difference, since there are only three options. On the other hand, it means that you'll be able to match slightly different color temperatures. Which option is "better" depends on which exact color temperatures you need to match.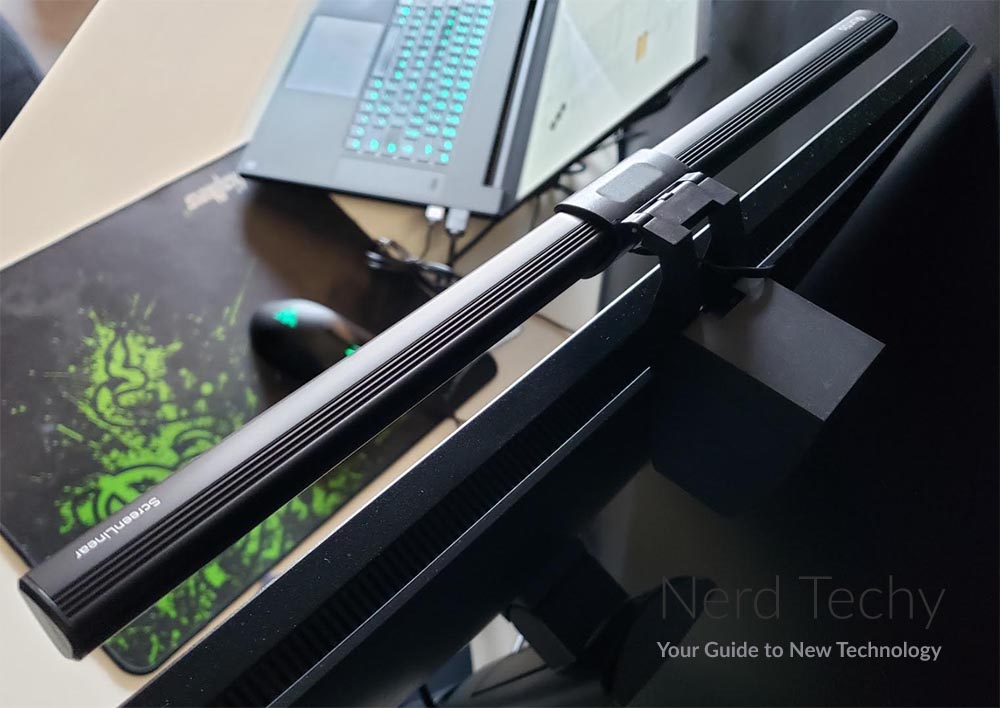 The e-Reading LED Task Lamp can cycle through 10 brightness levels. As a result, it's suitable for use under almost any lighting conditions. Turning it on is very easy, using the button on the fob. This means you don't have to plug and unplug the cord when you need to turn the light off.
Final Verdict
So, which of these USB LED lamps is the best choice for your monitor? Let's start with the BenQ Screenbar. It seems to have all the bells and whistles and an awesome build-quality to go with it. Offering brightness up to 1000 lumens and automatic adjustment settings, it's a sure favorite. On the downside, it comes at a price – it's a bit more expensive than some people may be willing to spend. But if you're looking for "the best", look no further than the Screenbar – that's for sure.
After looking at what BenQ had to offer, we examined two budget-friendly options. Next was the Quntis Computer Monitor Light. It's not the biggest light in the world. In fact, it's one of the smaller lights that you'll find. For desktop users and owners of large laptops, this can be problematic. But for small to mid-sized laptops, this is a blessing. You get all the light you need, without adding extra bulk for travel. Not only that, but the lighting options are quite robust for such a small lamp. You can adjust between 10 different brightness settings, as well as three different color temperatures. For most people, that's going to be more than enough flexibility to achieve ideal lighting conditions.
The Quntis e-Reading LED Task Lamp, on the other hand, is a bit wider, at over 17 inches in width. This makes it better suited for desktops and oversized laptops than run of the mill machines. Then again, if you use a large desktop, you're liable to be very pleased. The lighting options and features are virtually identical to their clip-on version. You get 10 different brightness levels, along with three different color temperatures. In practice, the only significant difference is the size, since a light needs to be the right size for your keyboard. Both lights are very effective in every other respect.