Hitting the open road in your RV or camper can be a great way to explore the world and spend time with those you love. It's a wonderful option to see the sites while keeping costs down and giving you freedom to roam and set up camp.
As your home away from home, it's important to keep your RV or camper secure. You've got a lot of valuables and you want to makes sure you have ease of mind when you leave it to go exploring.
It's a major reason many RV and camper owners have installed security cameras. These devices are an added layer of protection that can shield you and your family from an evolving world and continually changing environment.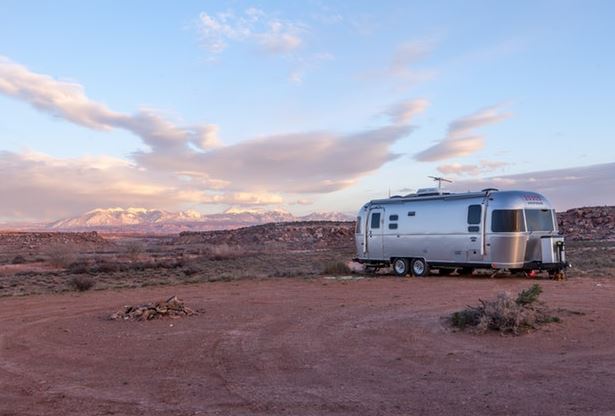 Why RV and Camper Security Cameras are Important
Security cameras aren't just for doorbells and jewelry stores anymore. Especially with RVs, people find themselves in continually changing, unfamiliar environments. It requires owners to be aware whether they are with their camper or away from it.
Although security cameras do a great job keeping you aware of what is happening around your RV, they don't just serve a purpose after the fact. Security cameras are a proactive way to provide a visual deterrent for unwanted characters that come sniffing around. People are less likely to cause trouble when a security camera is around.
Depending on the type you get, security cameras can use their motion detection feature to alert you anytime anything is approaching the campsite. This is a significant feature for those that camp in national parks or other places where animals like bears could be nearby.
Best RV Security Cameras
There are a lot of options when it comes to choosing the best security camera for your RV or camper. In fact, our team reviewed several dozen options from just one retail website alone. To help you weed through the marketing hype and poor quality options, we've compiled a list of the 5 best security cameras for your RV or camper currently on the market.
We've made our decision based on several criteria including:
Ease of Use: The last thing you want to do is try to figure out how to arm your security camera every time you head out. There are some security cameras that are honestly too fancy for their own good making it difficult to operate and impractical. The units we've selected come with an intuitive feature set that is easy to work with.
Connectivity & Reliability: Nothing is worse than needing to review your footage and realizing that your security failed to arm or record. The cameras on this list have proven to be reliable and even offer convenience settings to make sure you have what you need, when you need it. We are fans of easy connectivity. Our team has selected products that provide the fewest amount of steps from capturing to reviewing footage.
Startup Time: While energy efficiency is important especially for battery powered security cameras, it's important that the time to wake up is minimal. Getting the footage you need can be the difference of only a few seconds.
Aesthetics: Cameras should be effective while also enhancing the aesthetics of your RV or camper, not take away from it. The cameras on this list are sleek, minimal and can match a multitude RV models and aesthetics.
Best Overall: Reolink Argus 2E Outdoor Security Camera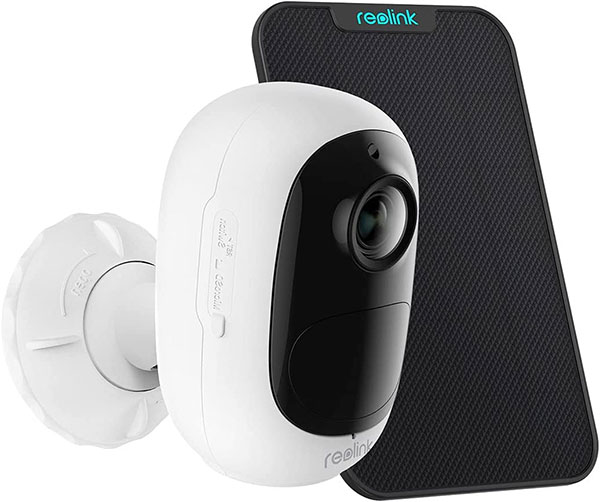 Key Features:
1080P Full HD.
PIR Motion Detection.
Remote Access.
Solar Power Panel.
Expandable Storage Up to 128GB.
2.4Ghz WiFi Connection.
Reolink app connectivity.
2 Year Warranty.
While it was a battle at the top, the Reolink Argus 2E was the clear-cut choice for the best overall security camera for your RV or camper. Established in 2009, Reolink has a great reputation in the worldwide commercial and personal security industry. We were pleasantly surprised to see several commercial-grade features built into this security camera, including its 130 degree field of view and expansive PIR motion detection feature set.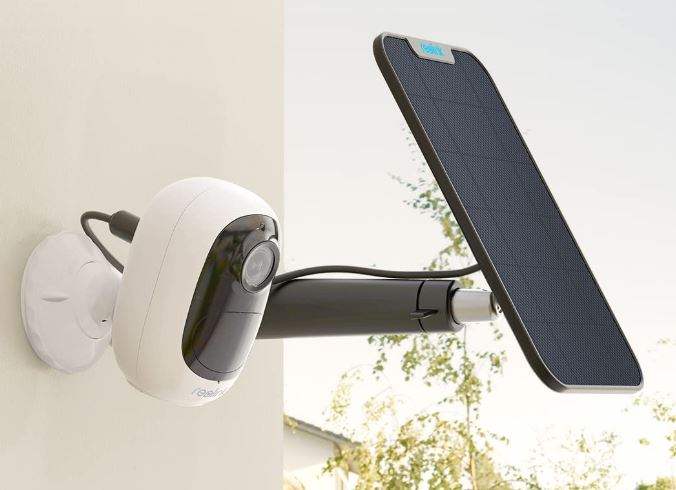 Running on a rechargeable battery and included solar panel make this solution self powered. No need to run wires through your RV to keep going. We found the battery more than capable of lasting through the night hours when the sun goes down. As far as night time functionality, a large image sensor and 1080p resolution make for great night vision footage. The motion detection works very well even in low-light situations.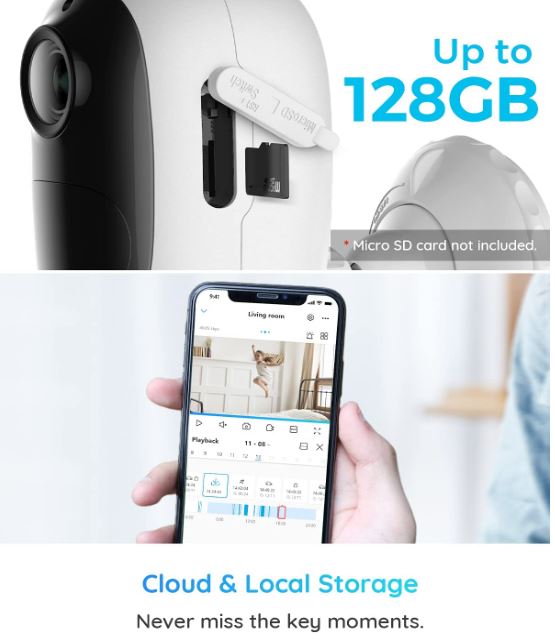 Another outstanding feature is Reolink's smartphone app which lets you access things like two-way speak, multi-user sharing, live view and sound alerts. You can really tell the brand invested heavily in their technology and it's paying off for their customers in a big way.
Another benefit is that all Reolink security cameras are compatible with Alexa. Many users find this setup ideal for placing multiple camera units on the exterior of their RV or camper and monitoring them on one interface.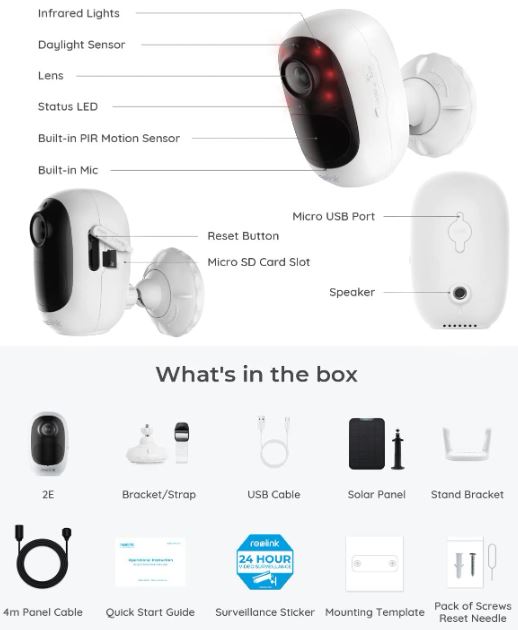 We looked at a lot of user reviews to get a feel for how it performs in the real world. For things like battery life, solar charging and night vision, the features either met or exceeded many people's expectations. For all the reasons we've mentioned and more, the Reolink Argus 2E is our pick for the best overall.
What We Liked:
Solar and battery powered means no wiring needed.
Mobile app is the best security interface we've tested.
Night vision works exceptionally well.
Motion detection excels at avoiding false triggers.
Easy mounting options.
The two-way talk feature is convenient when away from the RV.
128GB of expandable storage space can hold months of footage.
Weatherproof with a 2 year warranty.
Great price for the amount of features.
What We Didn't Like:
Does not operate on a 5Ghz band.
Best Runner-Up: Blink Outdoor Wireless Outdoor Security Camera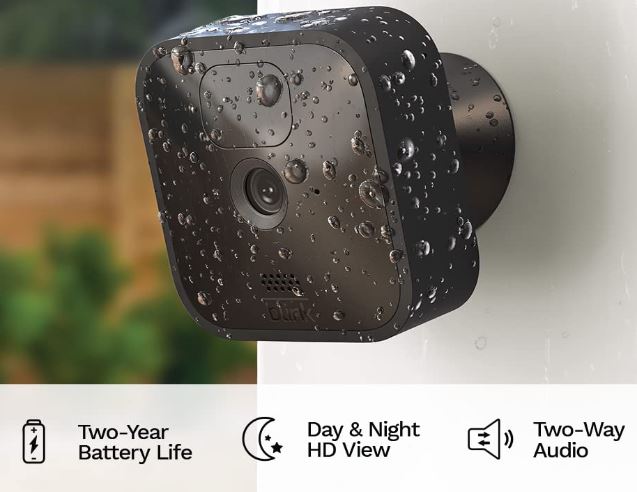 Key Features:
Battery powered.
Weatherproof.
Local and Cloud Based Storage (Additional purchase needed).
Multiple Mounting Options.
Two-Way Talk.
Audio Monitor.
Alexa-Compatible.
Blink Smartphone App for iOS and Android.
The Blink Outdoor wireless security camera is a fantastic runner up to the Reolink. Sometimes it might actually be a better option for your specific situation. The list of cool features is very long but the two major advantages come as battery life and ease of use.

Since Blink is an Amazon company, they are the most compatible with Alexa smart home devices. If you use Alexa products and their smartphone app, this may provide a superior user experience than some of the other options on this list. Next is battery life.
Although all the cameras in our roundup have tremendous battery life, none stack up to the Blink Outdoor security camera. Lasting for an average of two years on a single set of batteries, this camera is one of the longest lasting battery powered units on the market. Even though the price point is reasonable, Blink made sure there are no cut corners in build quality. The weatherproof housing makes the device able to take a lot of weather without affecting its performance.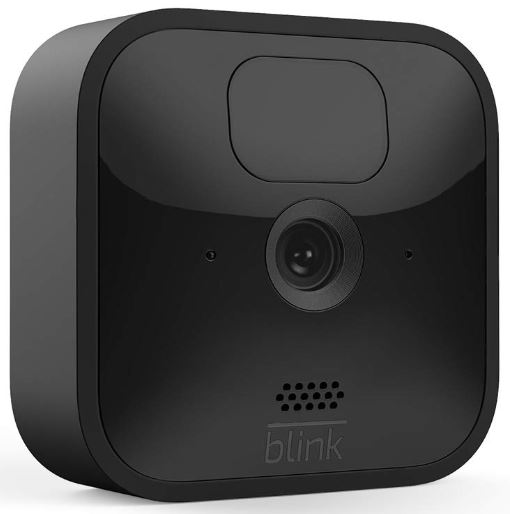 This is an ideal product if you are doing it solo or with a minimal amount of tools. Installation is quick and only requires a screwdriver. Once you've turned on your Blink camera, you can walk through an easy setup wizard inside of the Blink mobile app.
The interface is very simple and even allows you manage and organize multiple properties. Users report setting up two camera groups, one for their home and the other for an RV or Camper. It's a prominent feature that allows you to monitor things from home and the RV.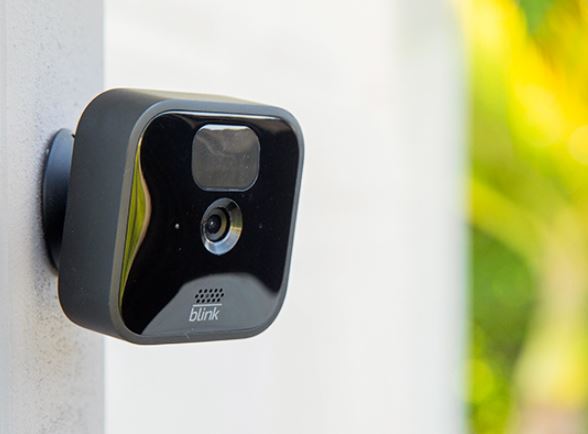 One thing to keep in mind is that if you want to record a local copy of your security footage as opposed to the cloud, you will need to purchase an additional piece of equipment- the Sync Module 2. Of all the security cameras we've tested, this one takes the cake on ease of use.
What We Liked:
Two-way talk.
Audio monitoring.
Cloud and local storage options.
Solid motion detection.
Wide viewing range.
Battery can last up to two years.
Mobile app allows you to group RV cameras onto one interface.
What We Didn't Like:
Night vision could be better.
Best 4G Camera: Reolink Go Plus Cellular Security Camera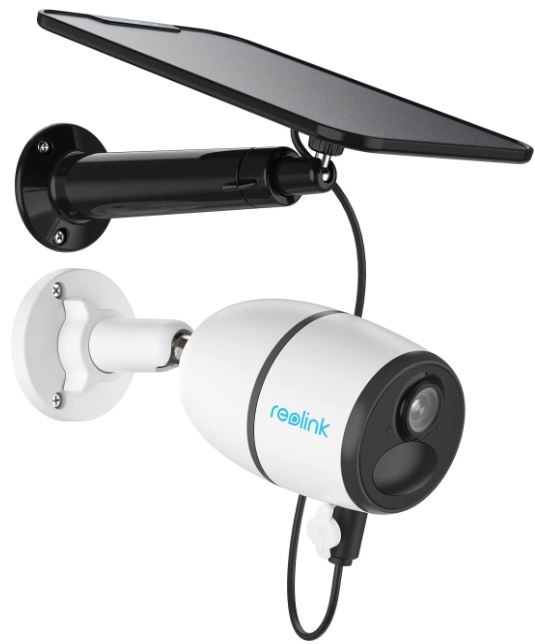 Key Features:
Uses 4G LTE Connectivity.
Extra capacity battery with solar panel.
2K HD Recording with 4MP resolution.
Two-Way Talk.
Smart Detection and Playback.
If your RV or camper does not have access to WiFi or a mobile hotspot, the Reolink Go Plus 4G Security Camera may be the best option for you. A lot of folks prefer to go as off-grid as possible when they go RVing. Rather than trudging through the hassle of trying to bring internet on-board, it might be easier to go with a security camera system that has 4G LTE built in.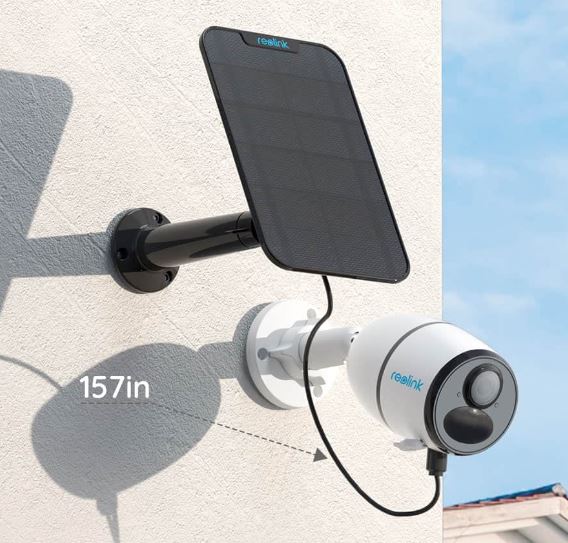 The Go Plus has an extra large capacity battery for extended monitoring. The included solar panel means you won't need to run any power to it. Like others on this list, this model provides motion detection, high definition recording, local and cloud based storage and two-way talk.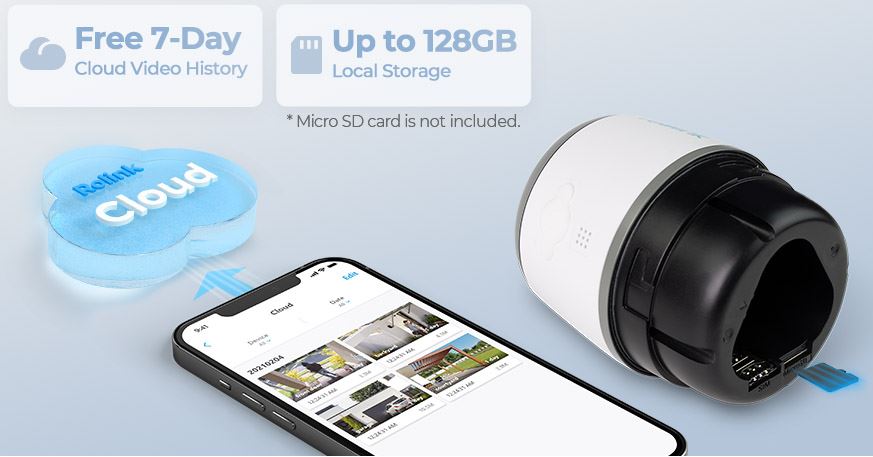 Where it sets itself apart is with its night vision filming. With 4MP of night vision resolution, it offers some of the clearest night time footage on the market. It's weatherproof construction and Reolink technology make it the easy favorite for best 4G security camera.
What We Liked:
Incredible night vision.
Built in 4G makes it self contained and accessible remotely.
Included solar panel.
128GB expandable storage spot.
Two-way talk.
Intuitive Reolink app.
What We Didn't Like:
Expensive.
Motion detection can lag.
Best Total Package: SimpliSafe Wireless Security System (with Outdoor Camera)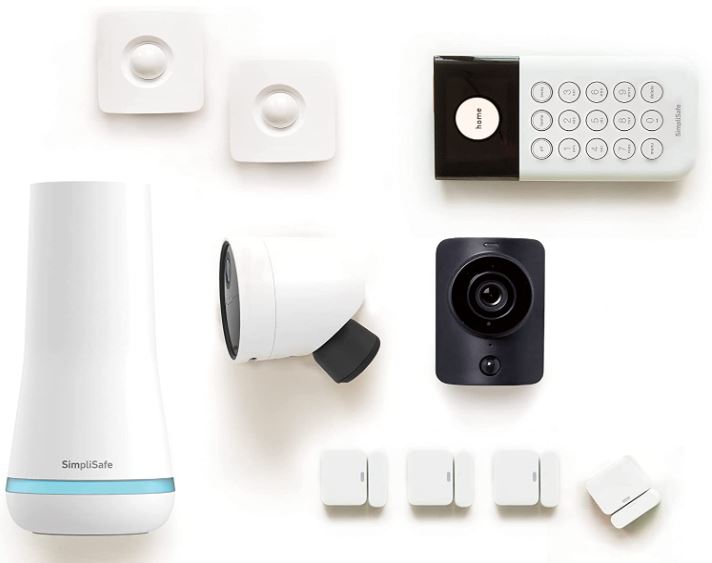 Key Features:
10 Piece Wireless Security Setup.
Optional 24/7 Monitoring.
Alexa and Google Assistant Compatible.
Remote Arm and Disarm Feature.
Connected to Police Response.
Entry Point Sensors.
Detect motion within 30ft.
Weatherproof.
For those that want to provide their loved ones with comprehensive security and protection while traveling by RV, the SimpliSafe Wireless Security System (with Outdoor Camera) is the clear winner.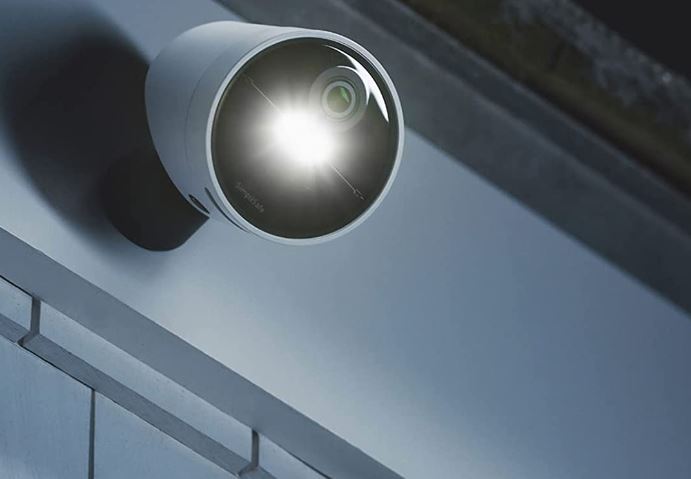 The first thing to keep in mind is that while it is expensive, it's not much more money than some of the other options on this list while providing additional components entry sensors and first responder connectivity.
SimpliSafe has built a strong reputation in the home security space for its affordability, technological features and reliability. Everything in this kit is controllable from the included smartphone app.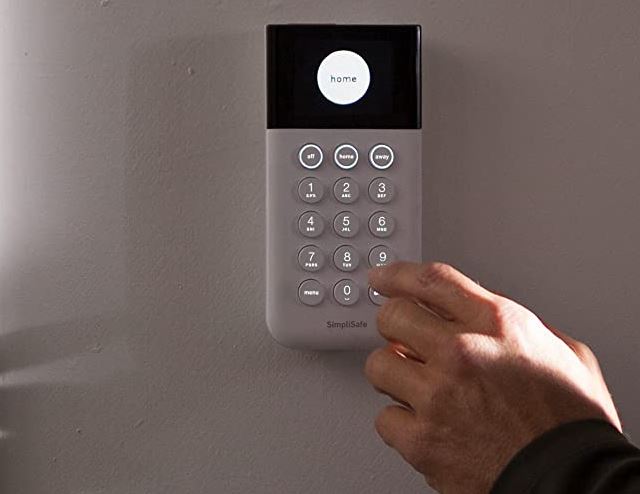 When fully installed, it can notify RV owners of anything approaching while also detecting anyone going in or out. Please keep in mind that this is a total home security system and so you'll want to see this more than a comprehensive security solution as opposed to a simple camera to monitor surroundings.
What We Liked:
Comprehensive security including entry sensors.
1080p HD resolution.
Premium monitoring plans provide extra sets of eyes in the case of a break in.
Cameras are fully weatherproof.
24-hour battery backup.
What We Didn't Like:
Expensive.
Sometimes complicated to set up.
Monthly monitoring fees apply.
Best Alternative: Rohent RV Backup Camera (with monitoring)
Key Features:
7" Screen Monitor Unit with 4 Video Inputs.
LCD Display.
Dual Antenna Design.
Wireless Bluetooth Camera Included.
Fully Waterproof.
The Rohent RV Backup Camera may seem like an odd choice for this list. After all, it is not a traditional security camera. However, when it comes to living out of an RV or camper, space comes at a premium. To help keep things efficient, many owners have used products like this backup camera to double as a security camera when parked.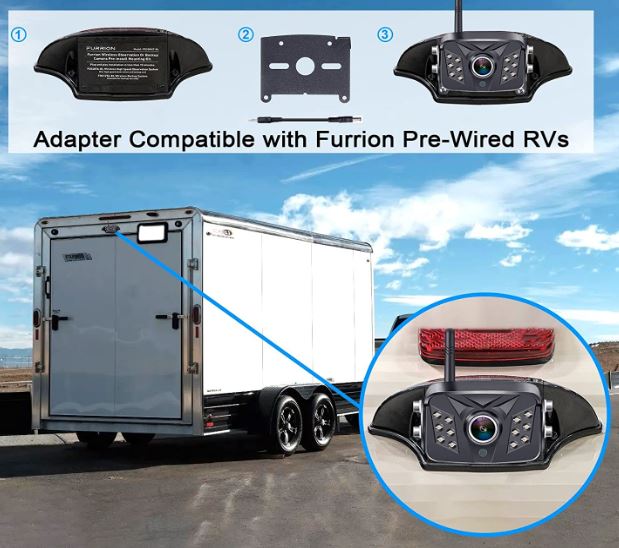 You can place the Bluetooth wireless camera anywhere you like while viewing the feed from the 7" LCD display monitor up to nine hundred and eighty feet away. If you'd like to capture footage while you are away, you can attach a video recorder of any kind into one of the four outputs.
What We Liked:
Doubles as a backup camera and security camera.
Comes with a 7" LCD monitor.
Camera runs on Bluetooth, eliminating the need for WiFi hotspots.
What We Didn't Like:
Cannot access remotely.
Will need to purchase a video recorder to have playback.
Final Thoughts:
As you can see, there are a wide range of options to choose from. The best overall Reolink Argus 2E takes the top spot because of its incredible ease of use and multitude of useful features.
For those looking for maximum battery life and deep Alexa integration, the Blink outdoor security camera is a solid choice. The Reolink Go Plus is a brilliant option if you don't have onboard WiFi. SimpliSafe's security package is second to none for comprehensive RV protection. Lastly, the Rogent RV Backup Camera is ideal to pull double duty if space is limited.
Regardless of what you choose, we are confident that there is a product in this roundup to match your specific needs.
Meet Derek, "TechGuru," a 34-year-old technology enthusiast with a deep passion for tech innovations. With extensive experience, he specializes in gaming hardware and software, and has expertise in gadgets, custom PCs, and audio.
Besides writing about tech and reviewing new products, Derek enjoys traveling, hiking, and photography. Committed to keeping up with the latest industry trends, he aims to guide readers in making informed tech decisions.