SoundPEATS Life
Pros
Great audio for music and phone calls.
Active noise cancellation with transparency mode.
Easy pairing and stable transmission.
Comfortable, ergonomic fit.
Cons
Relatively high latency.
Mediocre battery life.
Only available in black.
Finding a good pair of earbuds can be a challenge. We're not saying there aren't any out there. Unfortunately, the market has been absolutely flooded with earbuds of late. They're cheap to manufacture, and they're an attractive option for startup manufacturers. Run a quick internet search, and there are literally thousands of options.
So, how do you know which wireless buds are worth buying and which ones deserve a hard pass? One way is to stick with a manufacturer you know and trust. This is by no means a guarantee of quality. Even respected, established manufacturers release a stinker from time to time. But at least that way, you're filtering out all the knockoffs and wannabes.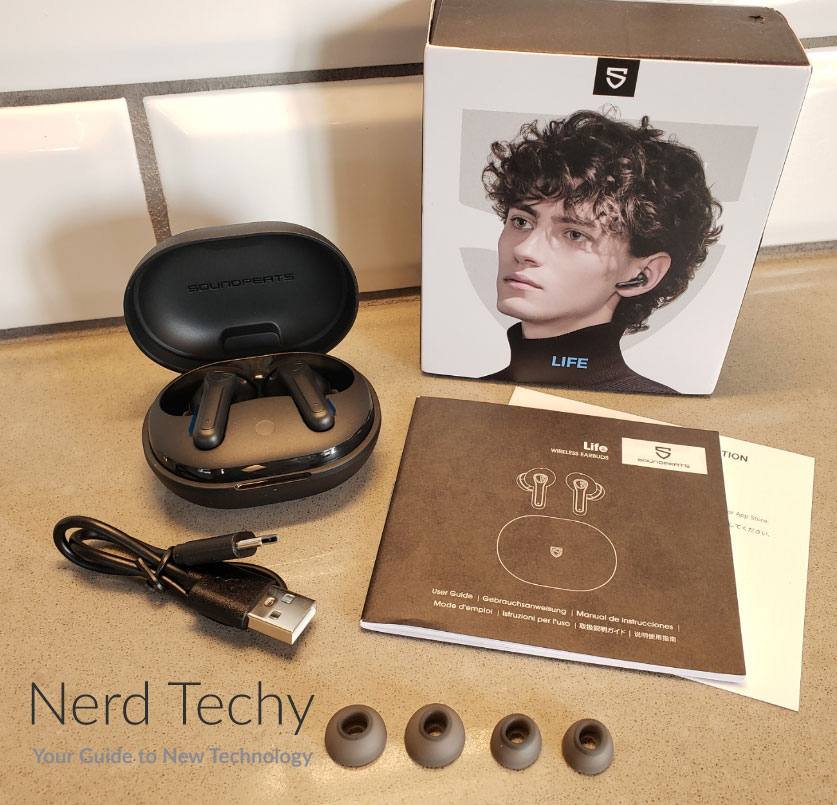 In that spirit, we're about to review the SoundPEATS Life. These earbuds are designed with noisy environments in mind. With active noise cancellation, transparency mode, and environmental noise cancellation, it's perfect for talking and listening in crowded areas. But what else does it have to offer? Let's put it under the microscope and see what we find.
Overall Design
The SoundPEATS Life ANC Wireless Earbuds have an AirPod-Pro style design. They're vertically oriented, with silicone tips and extensions that hang down from your ears. These extension shafts contain the batteries, and make the buds ever so slightly bottom-heavy. As a result, they stay seated in your ears even during exercise. You don't have to worry about them accidentally bouncing out.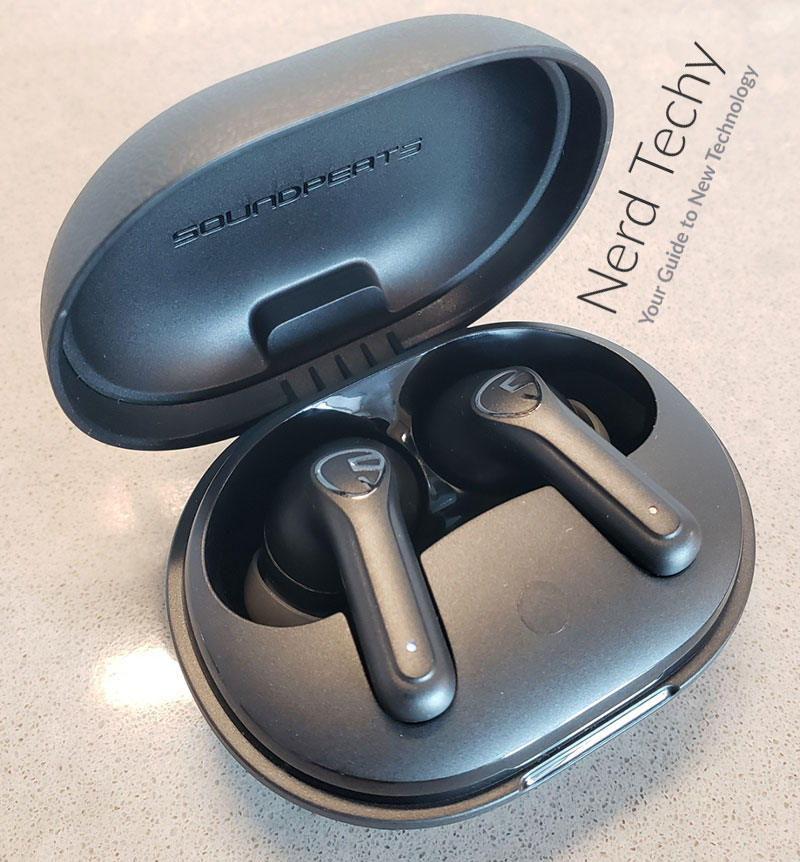 The shells are molded from a matte black ABS plastic. The finish is smooth and easy to wipe down and dust off. They don't collect fingerprints, and you also don't have to worry about moisture. They're IPX4-rated for water-resistance, which means they're splash-proof. We wouldn't wear them in the shower. But sweat, rain, or a damp washcloth are a non-issue.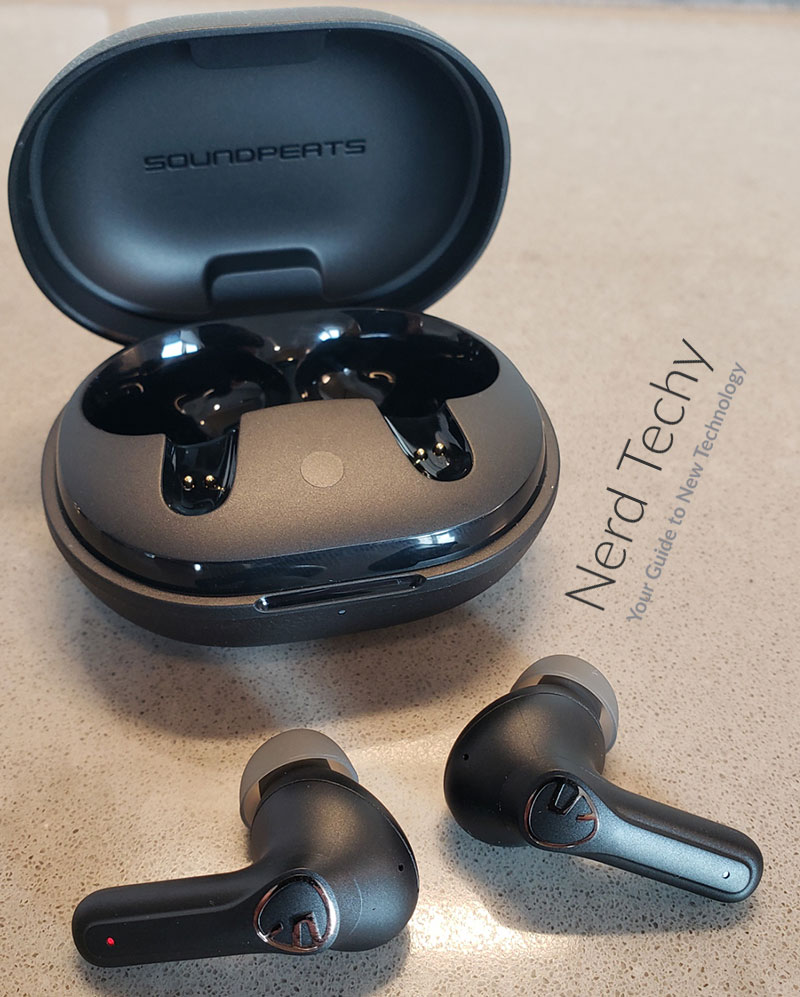 The back of each earbud has a silver SoundPEATS logo. This isn't just a cosmetic touch. The logos function as a set of soft touch buttons that you can use to control your device. You can answer and end phone calls, play and pause your music, and skip tracks. You can even adjust the volume. The only drawback here is the soft touch design. It's easy to accidentally trigger a button while you're handling the earbuds.
The case is flat and oblong, with a clamshell-style design. It's spring-loaded, so it doesn't easily pop open by mistake. And there's a little cutout under the front of the lid so you can pop it open with your thumbnail.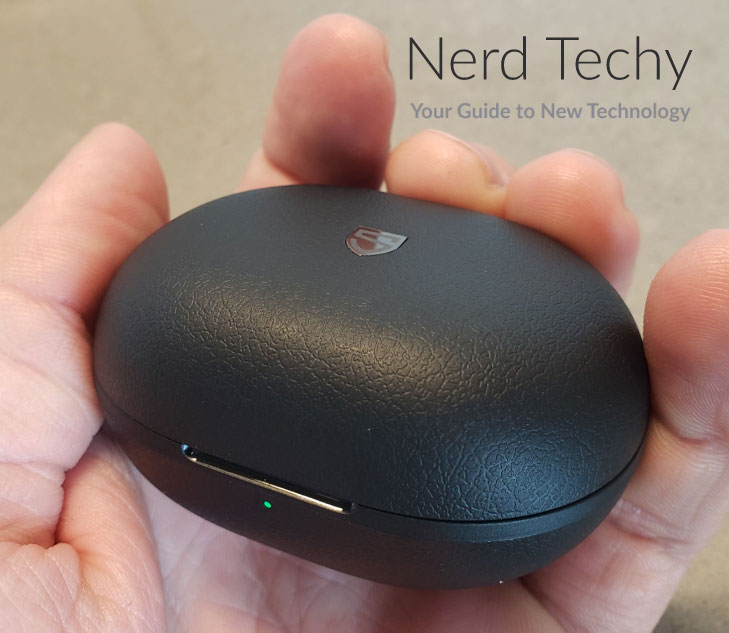 The finish is the same black plastic as the earbud shells, with a bit more texture. There's a USB Type-C charging port on the back. At the front, you'll notice a small green LED that keeps you posted on the charging status. The earbuds themselves fit into little wells and maintain good contact with the charging pins.
Fit and Comfort
The Life ANC earbuds come with three sets of silicone ear tips. The standard, medium tips arrive pre-installed on the buds. The large and small pairs are separate in the package. All are nice and soft, and are flexible enough to fit a range of ear sizes. That said, it really pays to experiment with different sizes.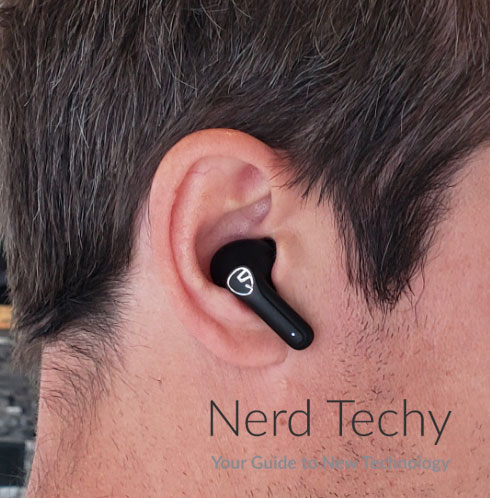 For one thing, you want a firm, secure fit. You don't want to have to worry about your earbuds popping out during physical activity. This can sometimes happen if your tips are too small and don't fit snugly in your ears. At the same time, your earbuds should also be comfortable to wear. You don't want to have to jam a fat set of tips into your ears.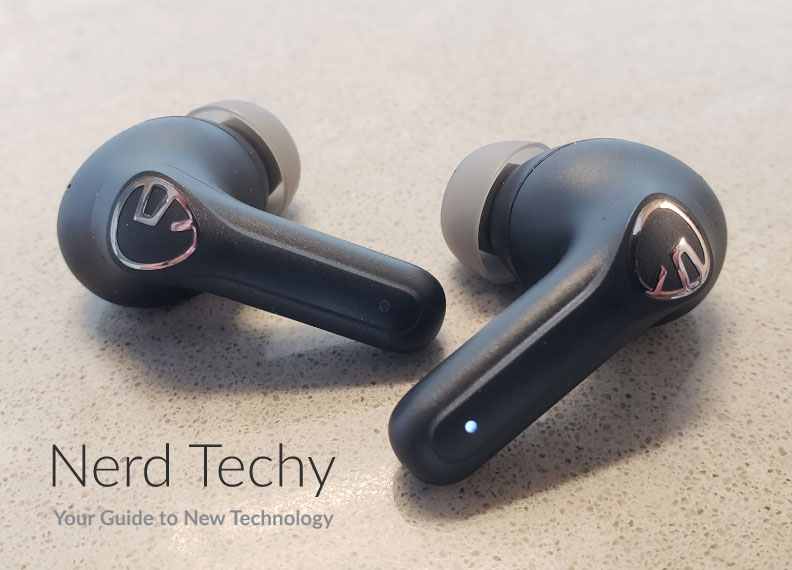 A snug fit also provides a certain level of noise isolation. You won't completely block out outside noise just by using well-fitted ear tips. But you'll significantly cut down on background noise. Most people will be happy with the medium tips. But if you're not 100% happy with the fit, change things up and see what works.
If you want an altogether different fit, take a look at the SoundPEATS Free2 Classic. They're compact, in-ear buds with no external studs. They're IPX8 water-resistant, which means they can withstand full submersion. That said, they're a bit weak on the bass end.
Pairing
The SoundPEATS Life earbuds pair with your phone or other device via the Bluetooth 5.2 protocol. This is the current gold standard for Bluetooth connectivity, with a number of benefits over previous versions.
For one thing, pairing is almost instantaneous, and it's easier to switch between devices. The signal is exceptionally stable, no matter how much you're moving around. You don't have to worry about it cutting out during a workout or dropping your phone calls at random.
For another thing, Bluetooth 5.2 can support high bitrate audio. You can listen to HD music files and not have to worry about any buffering. This is a major upgrade from older Bluetooth versions.
Bluetooth 5.2 is also capable of exceptionally low latency. Many Bluetooth 5.2 earbuds provide completely synchronous audio, perfect for movies and gaming. The Life earbuds even have a special gaming mode that reduces latency even further.
Unfortunately, the rest of the circuitry isn't as effective at latency reduction. The 60ms of latency in gaming mode still leaves the audio noticeably out of synch. You'll notice it when gaming or watching movies, but not otherwise.
For true low-latency earbuds, consider the SoundPEATS Air3 Deluxe. They have virtually zero latency, and you can use them in stereo or mono mode. On the downside, they only have bare plastic tips, not silicone.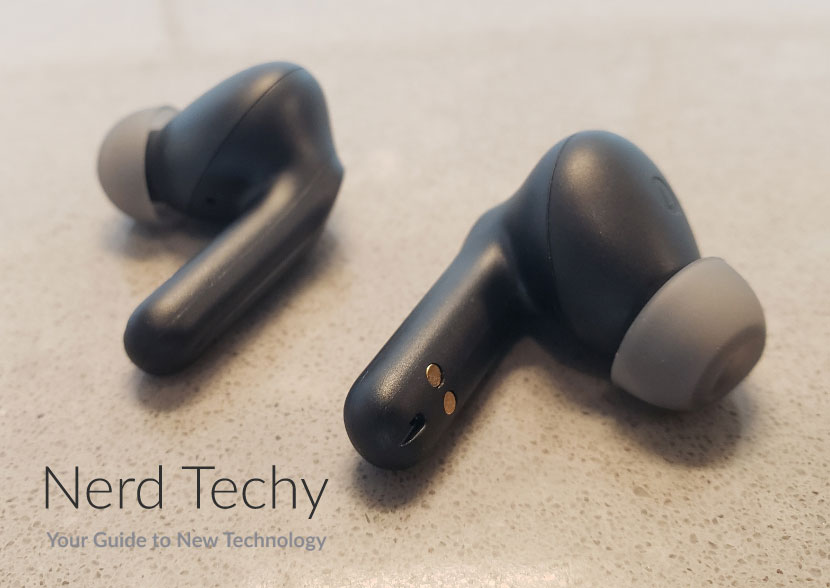 Battery Performance
The SoundPEATS Life ANC buds provide around five hours of playback per charge. This is a manufacturer rating, and we found it to be pretty accurate. That said, it comes with the same caveats as any other manufacturer battery rating.
It's based on playback at half volume, so you'll get shorter performance at higher volumes. Furthermore, the active noise cancellation will significantly reduce the battery life. At full volume with ANC active, three hours of playtime is more realistic.
That said, the case carries enough charge to fully recharge the batteries four times. That's enough for 20 additional hours of playback, according to manufacturer specs. This should be sufficient for most people. But if you like to listen for long stretches at a time, you're going to be disappointed.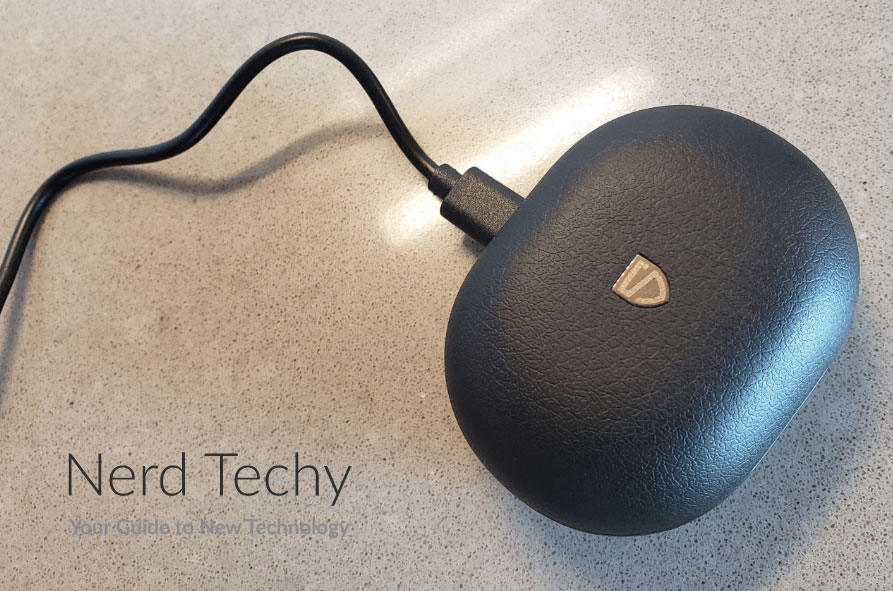 The earbuds will charge in only 90 minutes, which is fairly quick when compared to much of the competition. The case itself charges in two hours when plugged into a USB charging port. A short USB Type-A to Type-C cable is included in the package, so you have everything you need. However, we should stress that it's only a few inches long. There's a good chance you'll want to buy a longer cable.
If you want a longer-lasting battery, check out the SoundPEATS Air3 Pro. They're rated for six hours of battery life, and they definitely last noticeably longer. They also offer very low latency, but the voice quality on phone calls isn't the best.
Audio Quality
The SoundPEATS Life earbuds boast a pair of 12mm drivers that significantly outsize most other earbuds. As a result, they're capable of putting out an impressive amount of volume. This makes them ideal for workouts and other activities where you want to pump up the beat.
Speaking of the beat, the bass is fairly powerful. The frequency response is also solid across the medium and high frequencies, so you get well-rounded audio. And while these are affordable buds, they still provide a reasonably wide soundstage.
The active noise cancellation mode is surprisingly effective. It's capable of reducing background noise volume by as much as 25dB. That's the equivalent of reducing a shout to a whisper. Keep in mind that ANC is not magical. It works best on steady, consistent noise, and not well at all on sharp, sudden sounds.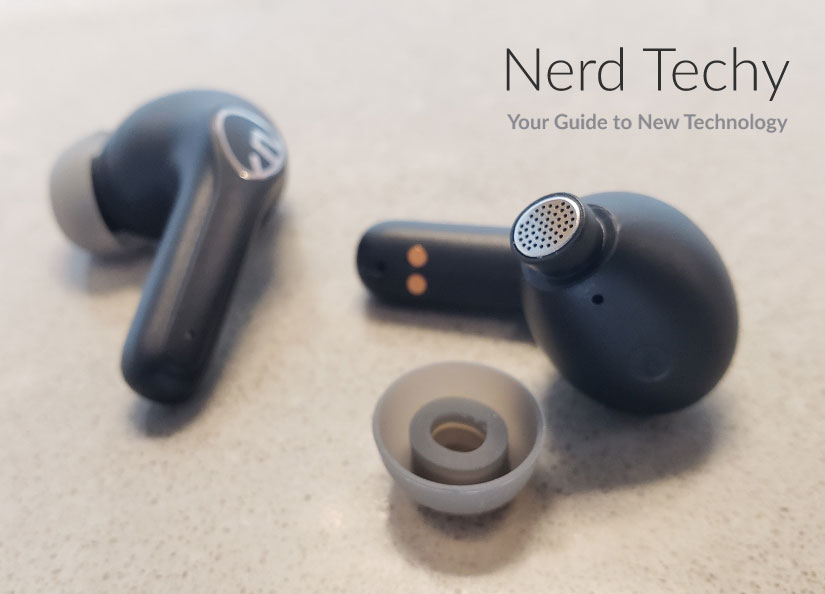 You can also activate transparency mode. This is sort of like a reverse noise cancellation. Instead of reducing outside noise, it actually boosts the levels. It's incredibly useful if you're trying to engage in short social interactions. And it's invaluable if you want to maintain situational awareness. You can take a jog on the side of the road and still keep an ear on traffic.
Finally, these earbuds offer dual mic environmental noise cancellation. This doesn't do anything when you're listening to music. However, it cuts down on background noise when you're having a phone conversation. The person on the other end will be able to hear you clearly, without a bunch of interference.
Extra Features
If you want even more control over your earbuds, you can install the SoundPEATS app. Within the app, you can customize your EQ, adjust the volume, and create your own control scheme. It's particularly handy if you're left-handed, since you can reverse the controls altogether.
In addition, the Life earbuds are compatible with the SoundPEATS Life app. This is a health app that's designed to work with your earbuds and provide useful data. You can track your heart rate, sleep habits, and blood oxygen.
The app logs your daily steps, and estimates walking distance and calories burned. You can keep track of your daily exercise routine, and compile data on a daily, weekly, monthly, or yearly basis. It's not quite as useful as a smart watch, but it's a nice extra feature.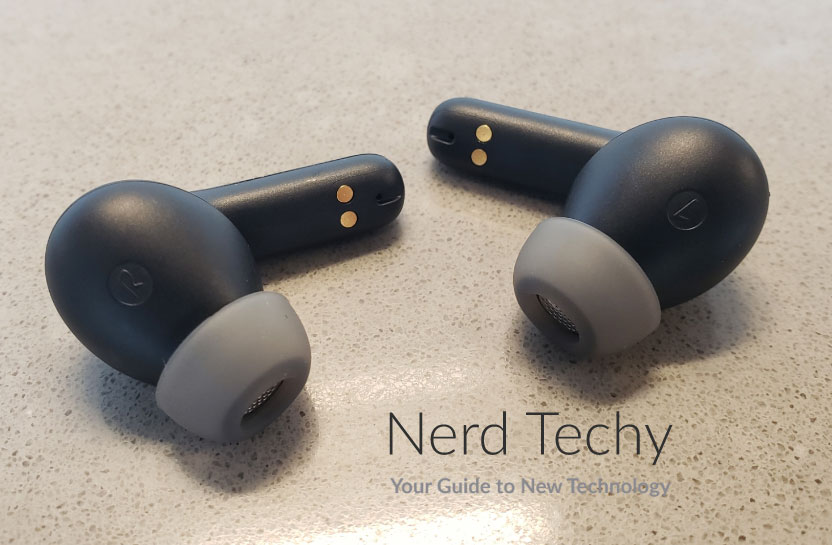 Final Verdict
As you can see, the SoundPEATS Life ANC Wireless Earbuds are a great value at a reasonable price. They're well-engineered, with a quality charging case and ergonomic silicone ear tips. They also utilize Bluetooth 5.2, with easy pairing and an ultra-stable signal.
We had our share of complaints. The latency is higher than we would have liked, and the battery performance is somewhat lackluster. That said, the audio is great, and the ANC function is very effective. Call quality is as good as it gets, and the app offers plenty of advanced controls. All in all, we were happy with what we saw.
Meet Derek, "TechGuru," a 34-year-old technology enthusiast with a deep passion for tech innovations. With extensive experience, he specializes in gaming hardware and software, and has expertise in gadgets, custom PCs, and audio.
Besides writing about tech and reviewing new products, Derek enjoys traveling, hiking, and photography. Committed to keeping up with the latest industry trends, he aims to guide readers in making informed tech decisions.