GEEKOM MiniAir 11
Pros
Very compact, minimalist design.
Can connect to two 4K displays.
Easy to upgrade and expand.
Comes with a carrying pouch.
Fantastic value.
Cons
No dedicated graphics card.
Underwhelming processing power.
Computers have gotten much smaller over the years. The first desktop PCs were awkward juggernauts with large internal components. Eventually, it was possible to make laptops that were fat, awkward, and heavy. But these laptops have gotten slimmer over the years, while desktops have remained big. There are a couple of reasons for this.
To begin with, there's less pressure on manufacturers to shrink desktops. With a laptop, portability is the main selling feature! Manufacturers have a strong incentive to make their laptops as slim and as lightweight as possible. In the desktop market, inertia has taken over, and we continue to see large cases.
But desktops haven't remained large due to inertia alone. There are many parts, like Blu-Ray drives, that require a minimum size for installation. If you want to watch Blu-Ray discs or install older software from a disc, you want a full-sized case.
Desktop owners also like to upgrade their own machines. With a big case, there's plenty of room to work. And you don't have to worry about your case size limiting your component options. Laptop manufacturers don't have to worry about either of those concerns.
But what if you only want to make minimal upgrades and don't need a disc drive? In that case, a mini PC can be a better option. With a mini PC, your computer doesn't take up a ton of space. You can also carry it with you from place to place, much like a laptop. This makes it a much more attractive option for many people.
GEEKOM MiniAir 11 Mini PC
Today, we're going to review the GEEKOM MiniAir 11 Mini PC. This is an ultra-compact computer that can even be VESA-mounted to the back of a monitor. It's a great media machine for watching movies and videos. It's also affordable, and it's great for everyday office work and lightweight gaming.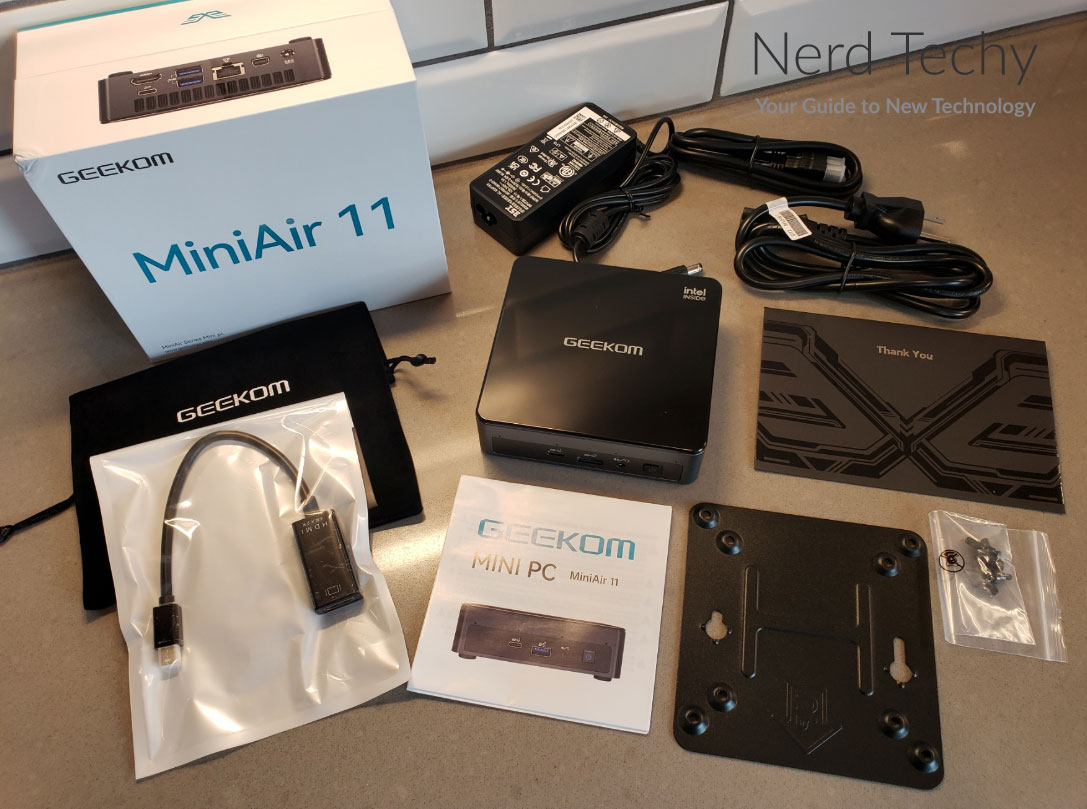 But is this the right mini PC for you? To find out, we'll need to dig deeper into its features and specs. We'll start with the physical design, and how it's built. We'll talk about the various ports, and how you can connect it to other devices. We'll discuss the processor, graphics, RAM, and storage. At the end of the day, we'll have a full picture of how this machine works. Let's begin!
Overall Design
When we say the GEEKOM MiniAir 11 Mini PC is small, we're not kidding. This little beast is only 1.35 inches thick, with a length of 4.4 inches and a width of 4.6 inches. It has a black plastic housing that doesn't look sturdy at first glance. But that's just a veneer over a metal inner frame, so we have no concerns about durability.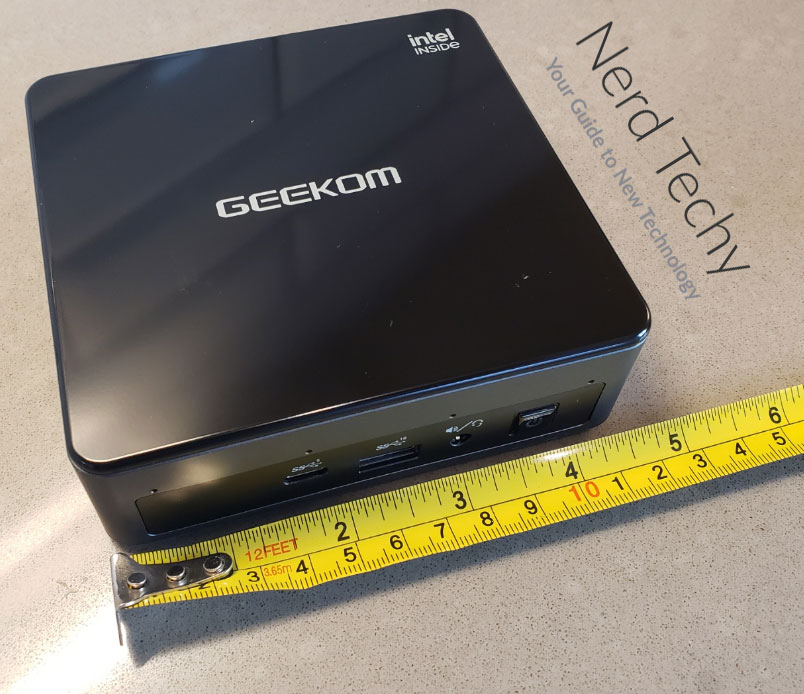 One issue you'll often run into with mini PCs is a loud fan. The housing doesn't have as much room for vents, which requires faster air flow to keep things cool. Thankfully, noise isn't an issue here. If you put the computer under a stress test, the fans will reach a volume of 45.7dB. That's audible, but it's not excessively loud or annoying. And in practice, you won't be putting your computer under maximum stress on a consistent basis.
The kit includes a black metal VESA mounting plate, along with a set of screws. This allows you to attach it to the back of a TV or monitor. If you're using it as a media machine, it will be out of sight and out of mind. If the MiniAir 11 is being used in a public facility, VESA mounting will also make it harder to steal.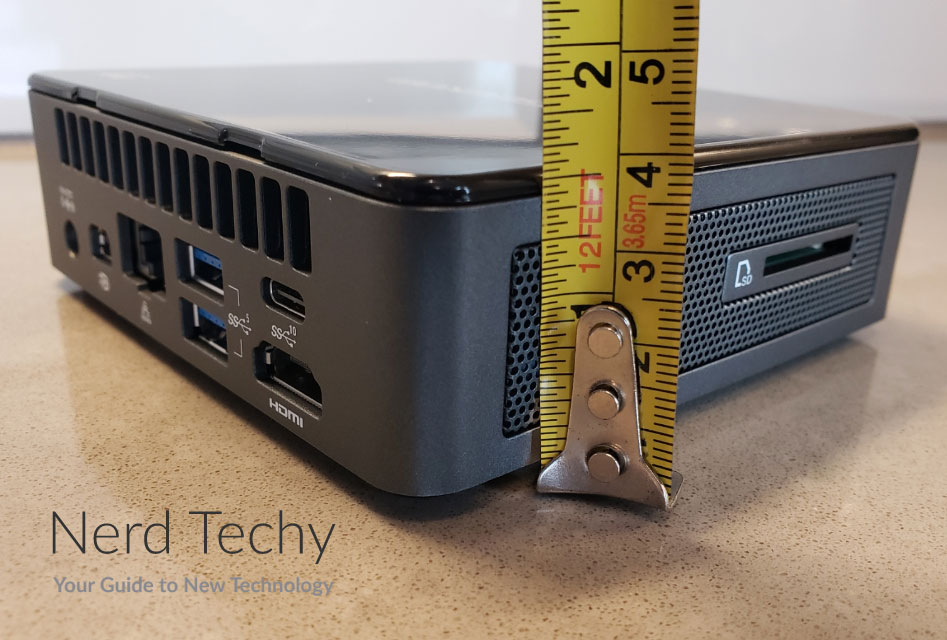 The kit also includes a set of cables to help you get started. There's a power cord and a power supply block. There's also a short HDMI cable, along with a small Mini DisplayPort to HDMI adapter. You even get a little drawstring storage bag.
This Mini PC is protected by a 12-month manufacturer's warranty. If there are defects in parts or assembly, you'll be fully compensated. There's also a 30-day return window so you can try it out and make sure it meets your needs.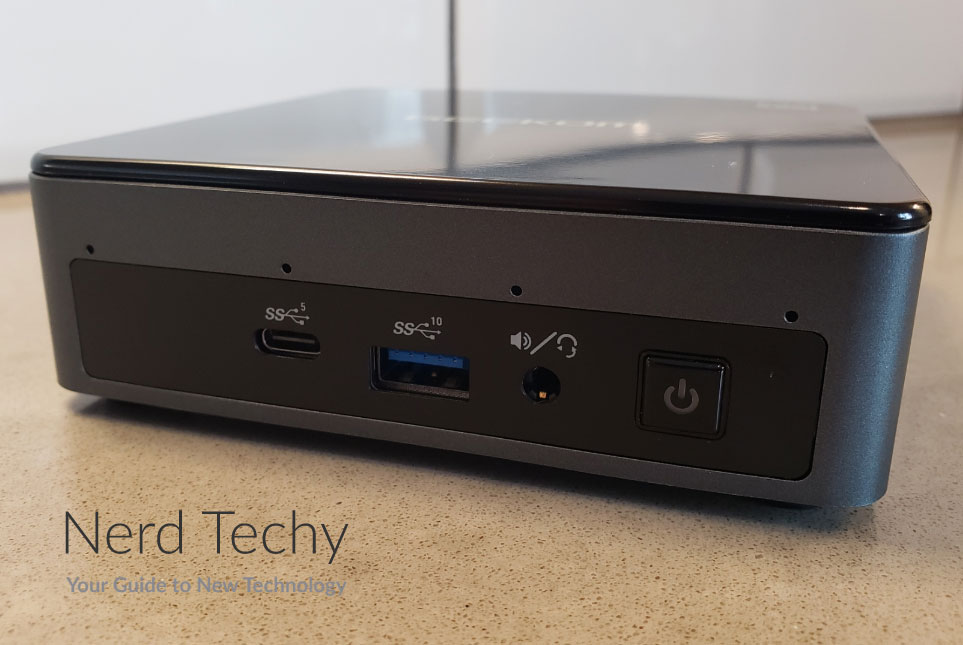 Ports and Connectivity
The power button is located on the front right of the housing. It's square plastic, and provides good tactile response. It also has an attractive blue backlight. Across the rest of the front of the housing, you'll see several ports. At the far left is a USB Type-C port, which provides data only (not power). Next is a USB Type-A port, followed by a 3.5mm aux port next to the power button. This allows you to connect a headset or headphones to the MiniAir 11.
There are several other ports across the back of the housing. At the back left is a barrel-shaped power supply port for connecting the power adapter. This is followed by a Mini DisplayPort, then an Ethernet port for connecting to the web. After that is a pair of USB Type-A ports, stacked one over the other. Next, you'll find the HDMI port, with a second data-only USB Type-C port at the far right.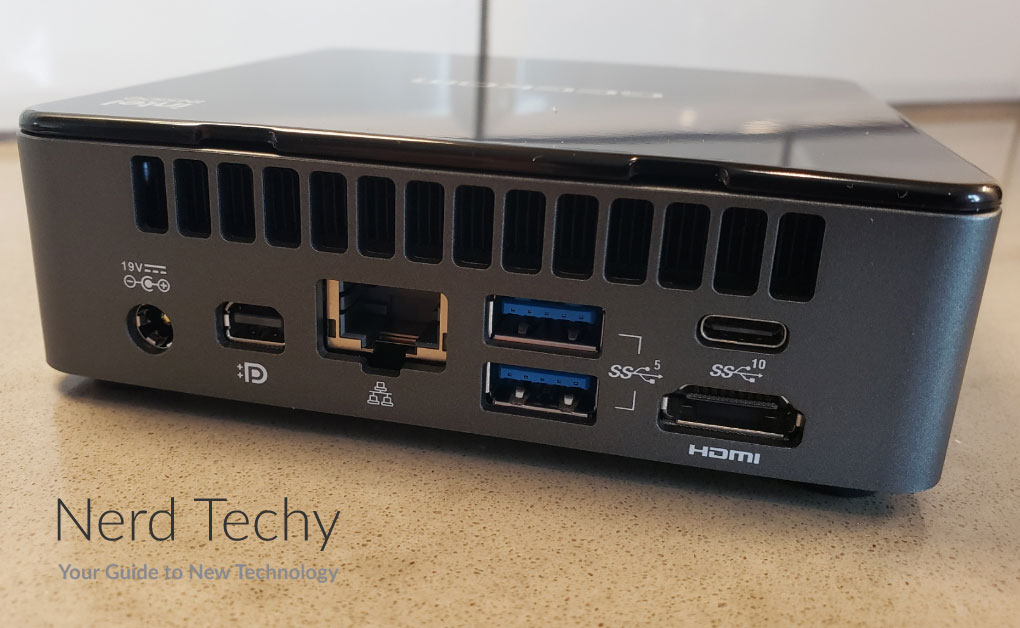 In addition to the wired connections, you'll have a couple of wireless connection options. To begin with, you get dual-band WiFi, so you can connect to your home's WiFi network. There's also a Bluetooth 4.2 card. Bluetooth 4.2 is a bit outdated, but you'll still get good audio and a reasonably low level of latency.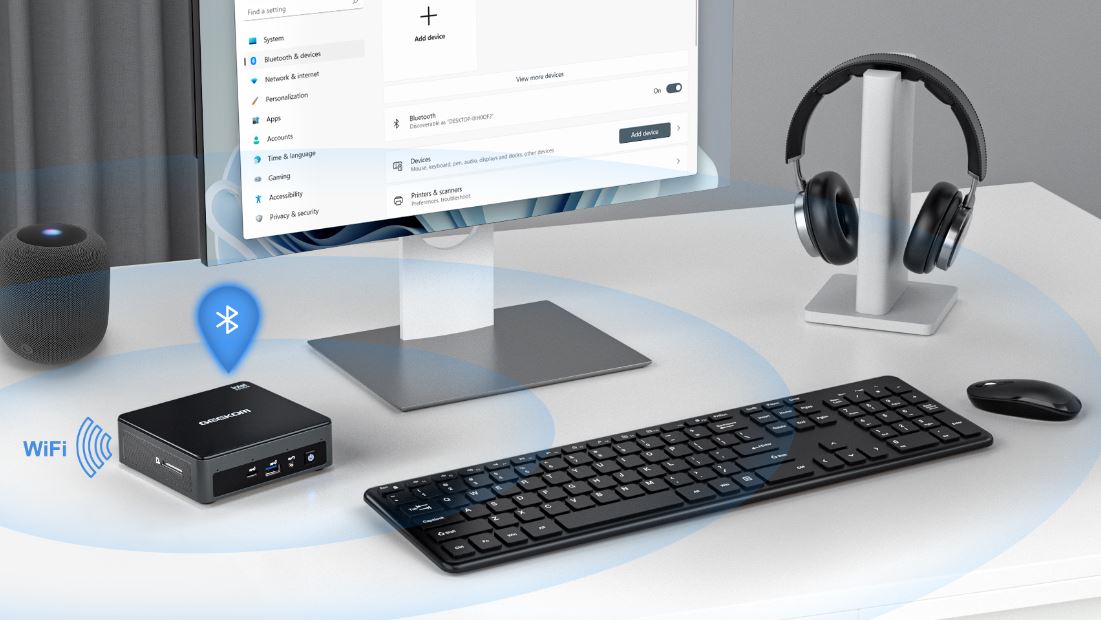 Performance and Graphics
So, what's under the hood? To start with, the processor is an Intel Celeron N095. This is a quad-core processor with 2.0GHz per core. That's not terribly impressive, but we're talking about a very affordable mini PC. You'll be able to run any ordinary office apps, watch movies, and even play a lot of games. You'll run into trouble with applications that put a lot of strain on your processor. GEEKOM claims that you can run Adobe Creative Suite on this machine, but it would run very slowly.
GEEKOM also talks about how their graphics can support two 4K displays. This is true, but it's not as impressive as you might think. Pretty much any graphics card can output video at 4K to two displays. But that's only for recorded video files. We're talking about integrated Intel UHD graphics here, not an actual graphics card. It has a clock speed of 300MHz with a maximum boost speed of 800MHz. Compare that to the NVIDIA GeForce GTX 1050, which is an older video card. It has a clock speed of 1,354MHz, along with 2GB of video RAM.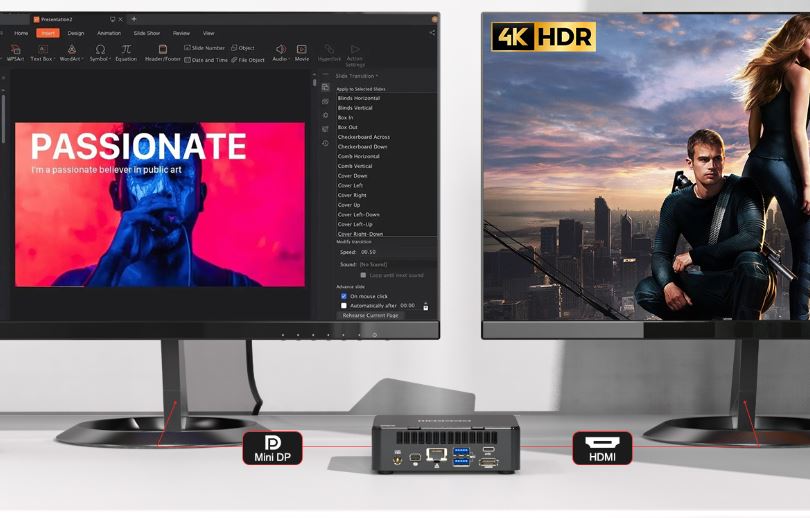 But we should be clear about what we're dealing with. This is a productivity and media machine, not a powerhouse gaming rig. And even so, you can still run some less demanding games like Minecraft and Civilization V. And if you want to play 4K video on two displays simultaneously, you can.
If you want a more powerful mini PC, check out the Aerofara Aero 2. It has a similar size, along with the same integrated Intel graphics. However, it's almost 50% faster, with a 2.9GHz Celeron N5105 processor.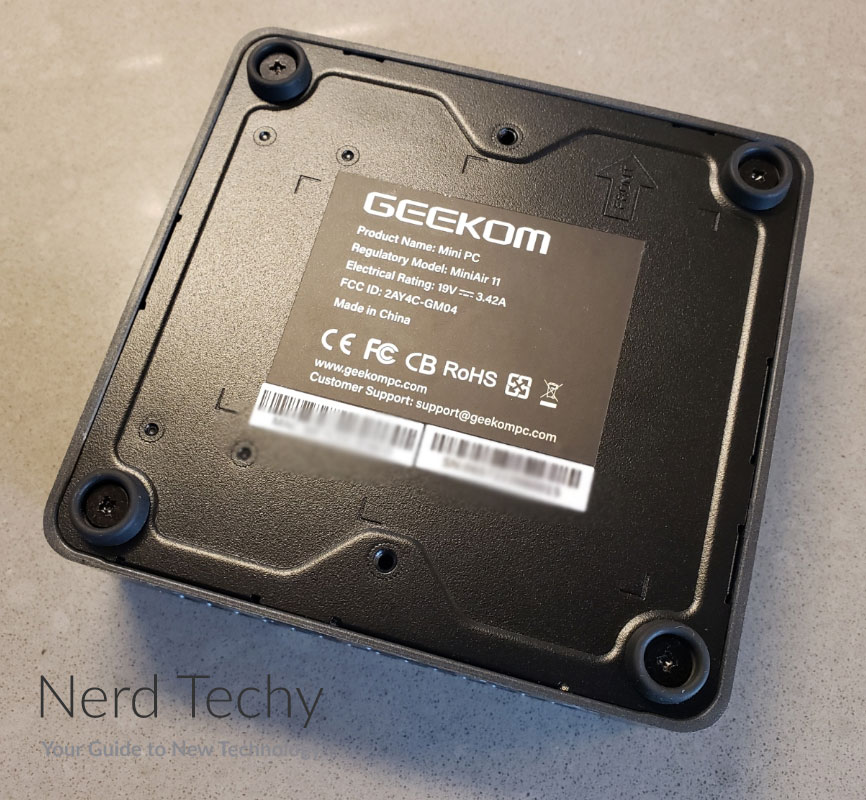 Memory and Storage
The MiniAir 11 Mini PC comes with 8GB of RAM. That's pretty standard on modern computers, and it's enough to do anything the computer is capable of. That said, it uses standard dual-channel DDR4 RAM, so you can upgrade if you want to. If you install a pair of 16GB sticks, you'll have a total of 32GB of RAM. This shouldn't be necessary, but if you're doing RAM-intensive work like video editing, it can be helpful.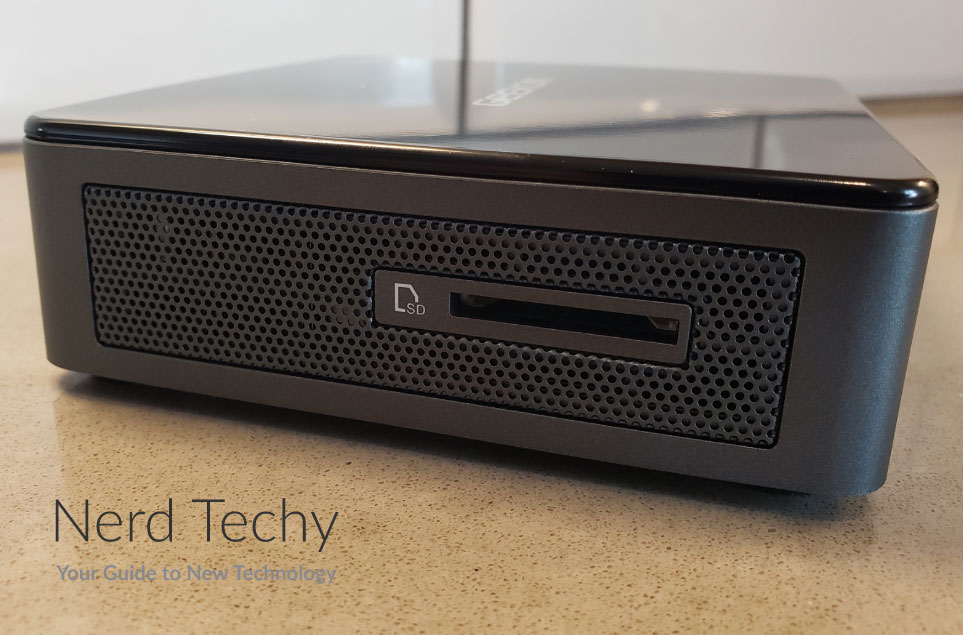 The 256GB M.2 SSD is fast, and has enough capacity for many applications. But once again, you're looking at a standard type of component that can be easily upgrade. The motherboard will support up to a 1TB SSD, which is all you should need on this type of computer. Beyond that, you're typically better off using a cloud storage solution anyway. That way, your data can't get lost to a failed drive.
In addition to the internal SSD, there's an SD card slot on the left side of the housing. This is great for transferring photos and videos from an external camera. However, it can be used for any kind of data transfer.
Extra Features
The MiniAir 11 comes with Windows 11 Pro pre-installed. You won't have to spend extra money for a Windows license or waste time installing the operating system. You just connect the computer to a monitor, turn it on, and go through the setup process. You'll have a fully-functioning computer in less than half an hour.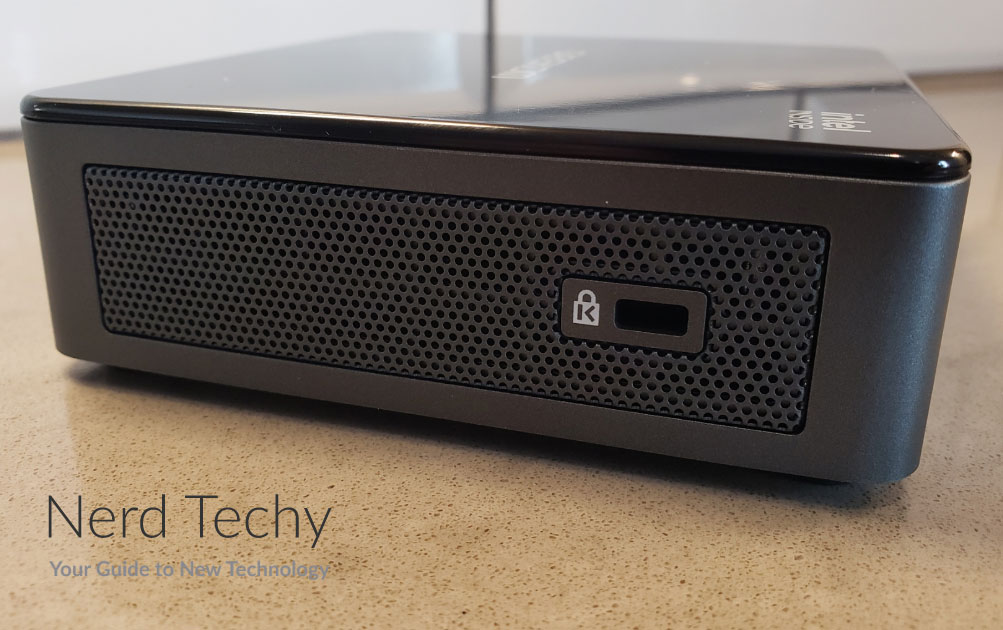 Another thing we liked was the Kensington security slot, located on the right side of the housing. This is a secure metal slot that connects to Kensington's proprietary locking cables. It's a great theft-proofing feature, since you can attach your PC to a table or other heavy object.
If you want an even more robust mini PC, consider the Beelink SER3. A lot of the specs are either identical or close enough as to make no difference. However, the integrated graphics are much improved, and are roughly equivalent to the GeForce GTX 1050. On the downside, it tends to run loud.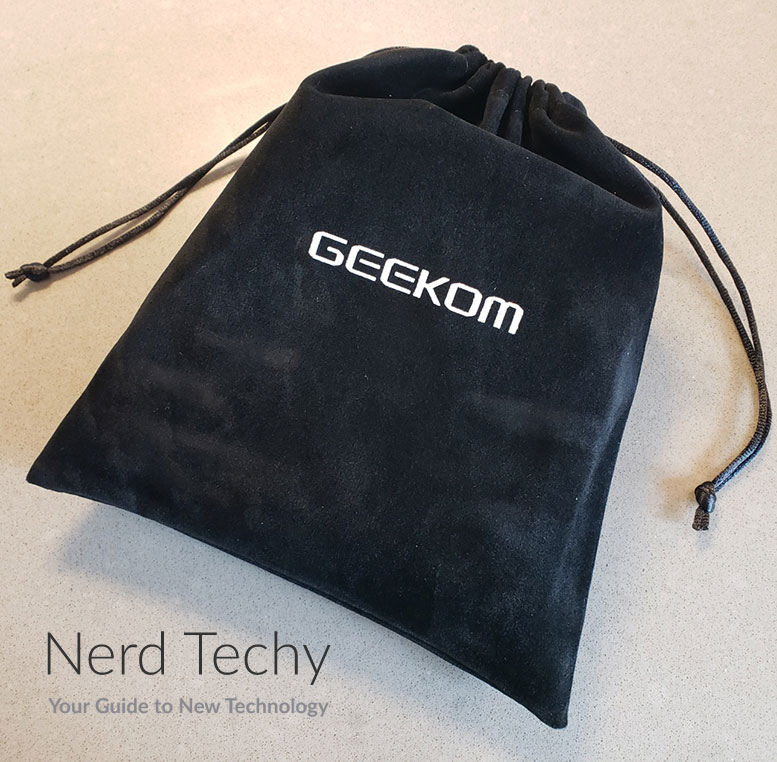 Final Verdict
The GEEKOM MiniAir 11 Mini PC is exactly what you expect from a mini PC. It's hardly a powerhouse, but it's a capable machine that's great for streaming, office work, and more. It's easy to install and set up, and can mount directly on your monitor. It's lightweight and portable, and the fan is reasonably quiet. If you're looking for an effective, affordable mini PC, the MiniAir 11 is a great choice.