LemiPower Station
Pros
Powerful and relatively compact.
Can power 15 devices at once.
Can be used as an uninterruptable power supply.
Charge via AC, DC, USB, or solar.
Touchscreen interface is nicely arranged and easy to use.
Cons
Won't deliver until November.
Companion app is not available.
Somewhat expensive.
Nowadays, we rely on our electronics for more than ever. In many ways, your smartphone, laptop, and tablet are extensions of yourself. These devices have changed how we live our lives. We use apps and electronic communication for just about anything.
But when you go off grid, electricity suddenly becomes a problem. Without anywhere to plug in, you'll soon drain any batteries. A portable power station can solve these issues. With a big battery and several outlets, you can power all your devices.
You can do some of these things with a smaller power bank. But with a full-sized power station, you can run griddles, coolers, projectors, and other useful gadgets. Basically, you can turn an off-grid cabin into an extension of your home.
Speaking of home, that's another place a power bank could be handy. You never know when the next power outage might strike. If your power is off for a day or more, a reserve power supply can keep your fridge running. It's like having a gas generator, but with less weight, less maintenance, and no carbon impact.
Of course, you don't want to buy just any portable power station. You want one with enough power to meet your needs. You need the right combination of power outlets, and it helps if there are plenty of safety features. It's important to do your research, and understand a power station's capabilities before you buy one. That way, you can make sure it will meet your needs.
LemiPower Power Station
Today, we'll be reviewing the LemiPower 1536Wh LiFePO4 Power Station. This is a high-capacity power station with a compact form factor. It can charge up to 15 devices simultaneously, and charge via four different methods. It can even be used as an uninterruptable power supply.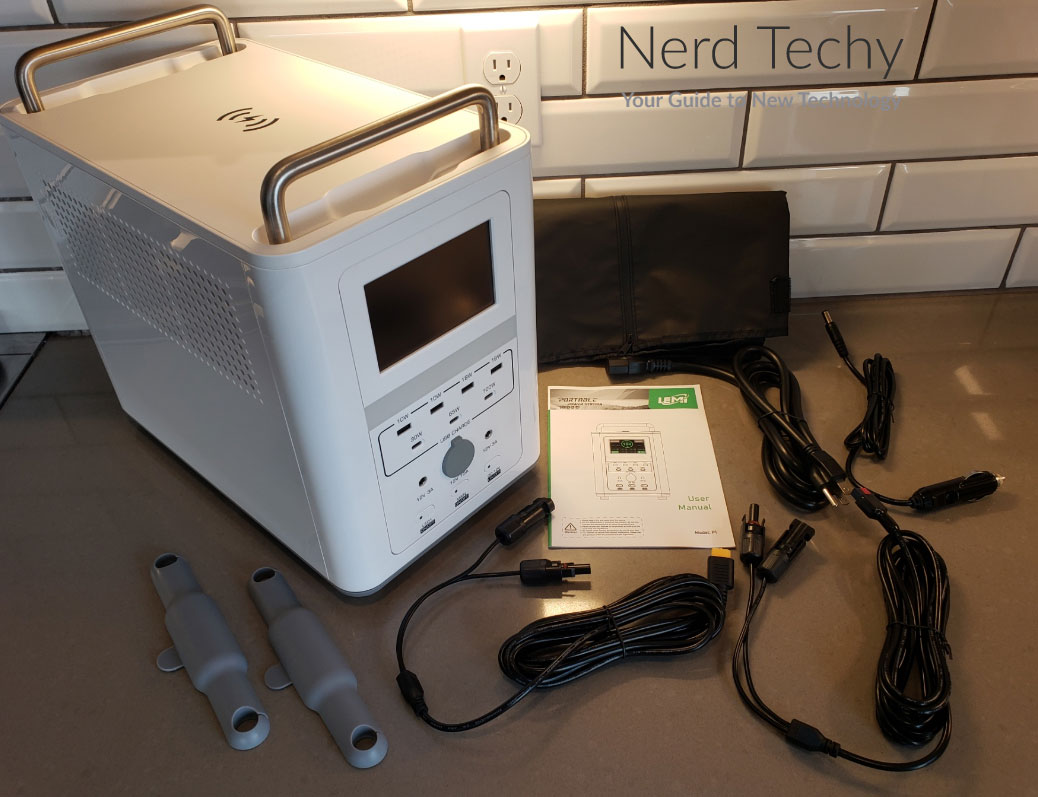 We should note that this power station is brand new to the market. It's a Kickstarter project that just launched a couple of days ago. As a result, there are a few details some consumers may not know. It's also possible that LemiPower may make some tweaks before the final launch.
So, is it worth the investment? Or should you give this power station a pass? To find out, we'll have to take a deep dive into its design, features, and capabilities. Let's get started!
Design & Durability
The LemiPower Power Station is designed to be as compact as possible for the capacity. It has a sturdy plastic housing, with an inner aluminum frame that's both lightweight and durable. The plastic has a semi-matte finish, which makes it easy to keep clean.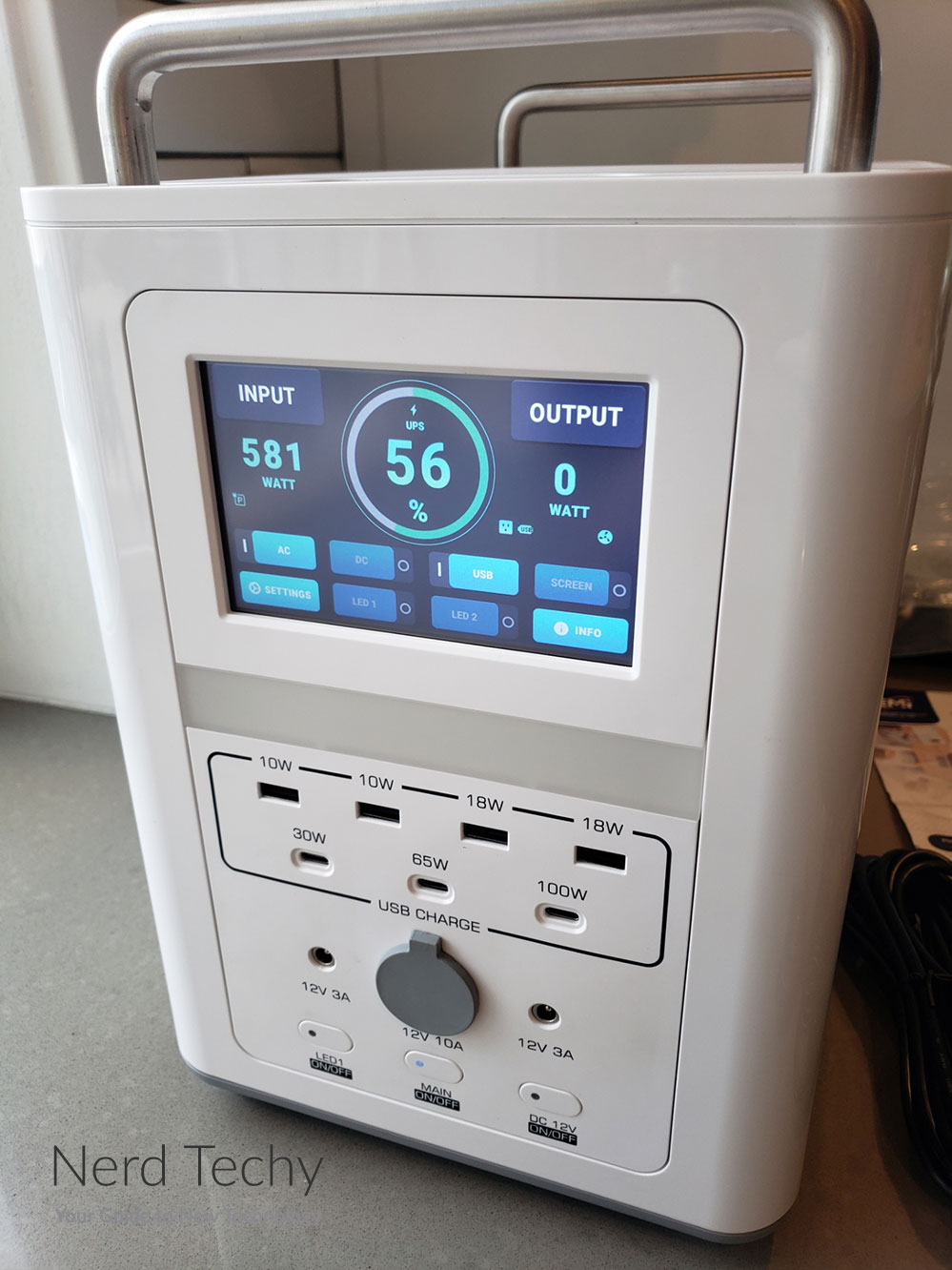 There's a set of four rubber feet at the bottom, which elevate the housing from whatever it's resting on. This way, air can flow under the unit, keeping it cool. The feet also keep the unit from sliding around or scratching delicate surfaces.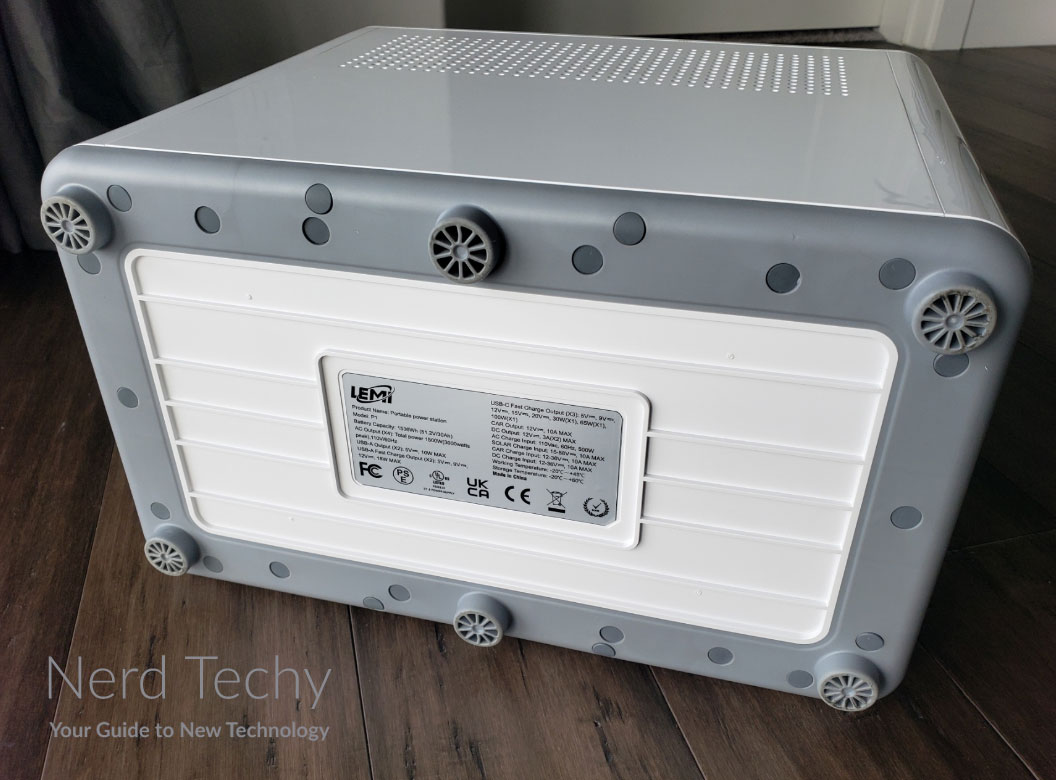 The sides of the housing are vented, which further improves cooling. There's a row of three fans across the top of one side, which draw air into the housing. It then flows out through the other side, continuously expelling heat. The fans aren't terribly loud, but they do a great job of keeping the unit cool.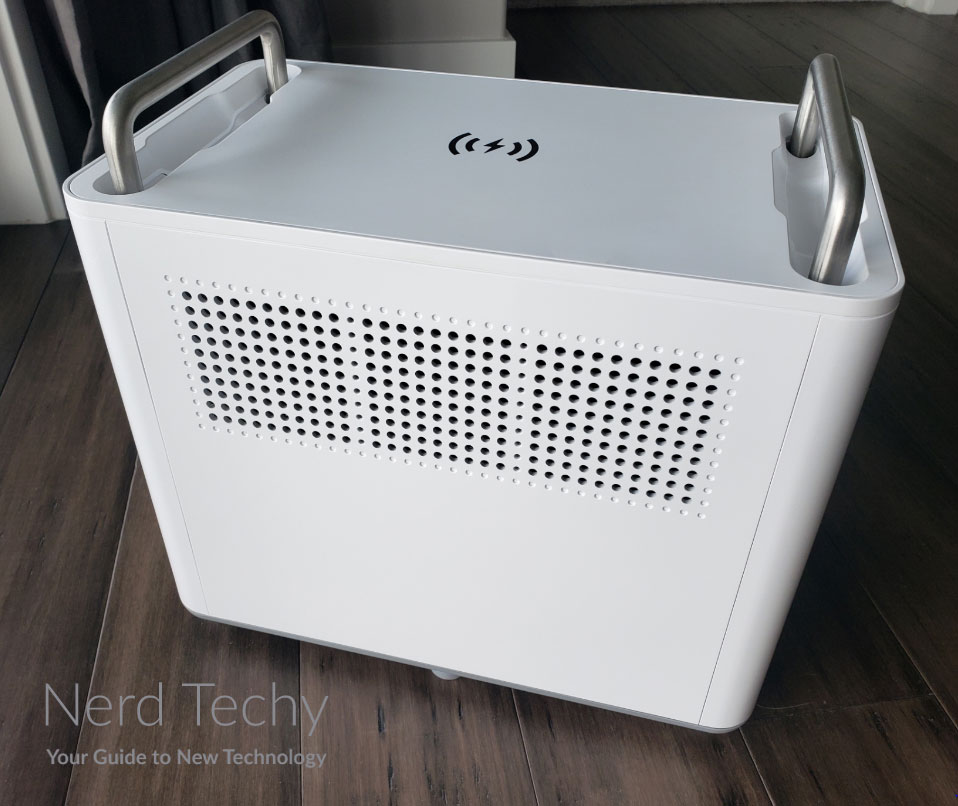 We really liked the aluminum handles, which are built into the top of the housing. You can push them down to hide them, and press again to pop them up. This makes the power station easy to carry around, but also easy to store.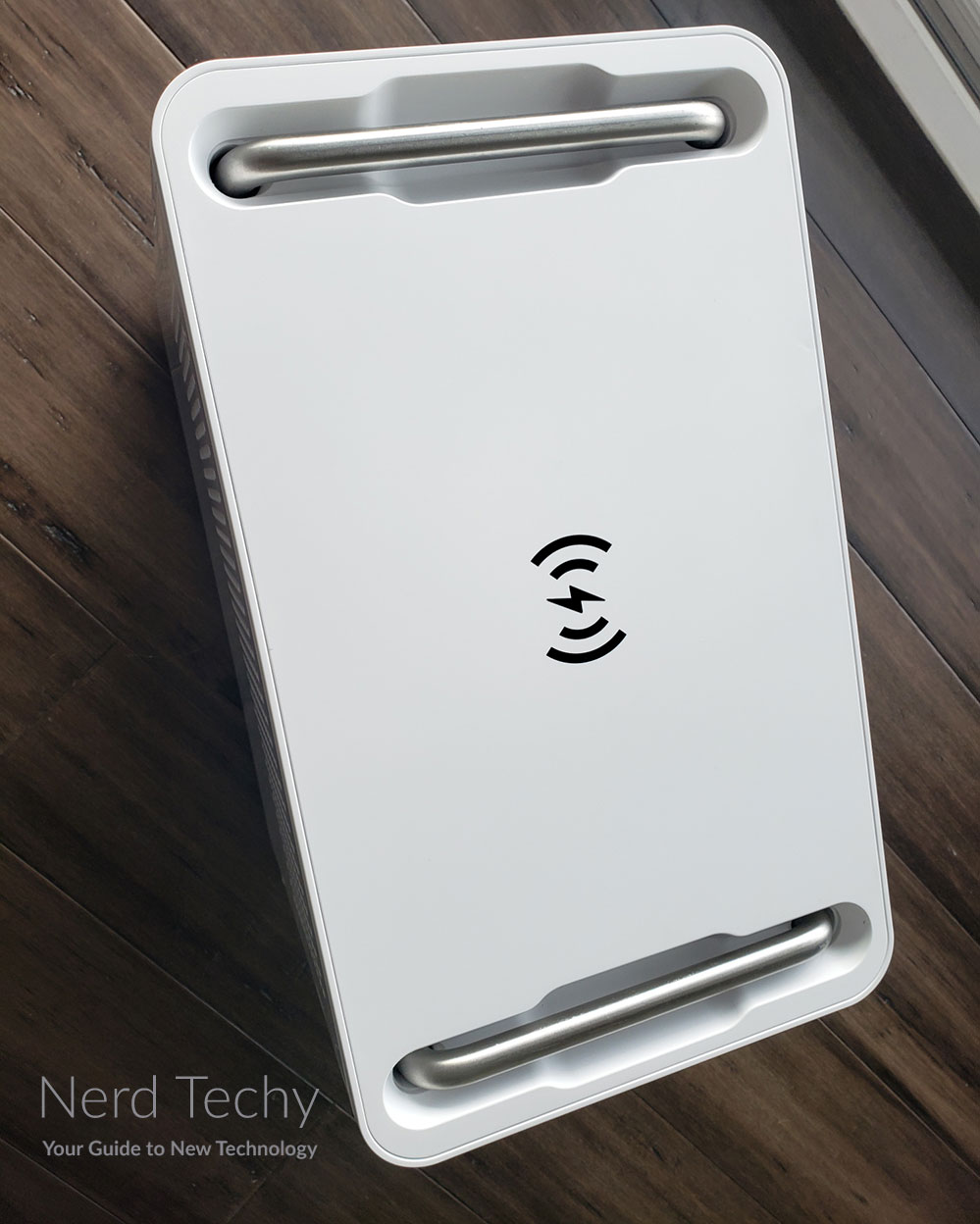 The eight internal battery cells are made with Lithium-Iron Phosphate (LiFePO4) technology. They're rated for 5,000 duty cycles or 10 years, whichever comes first. Even after that much use, they'll still retain 80% of their capacity.
If you need a power station right away, check out the BougeRV 1100Wh Portable Power Station. It has a little over two thirds of the capacity, with slightly fewer outlets. However, it's available immediately, and it's a bit more affordable than the LemiPower.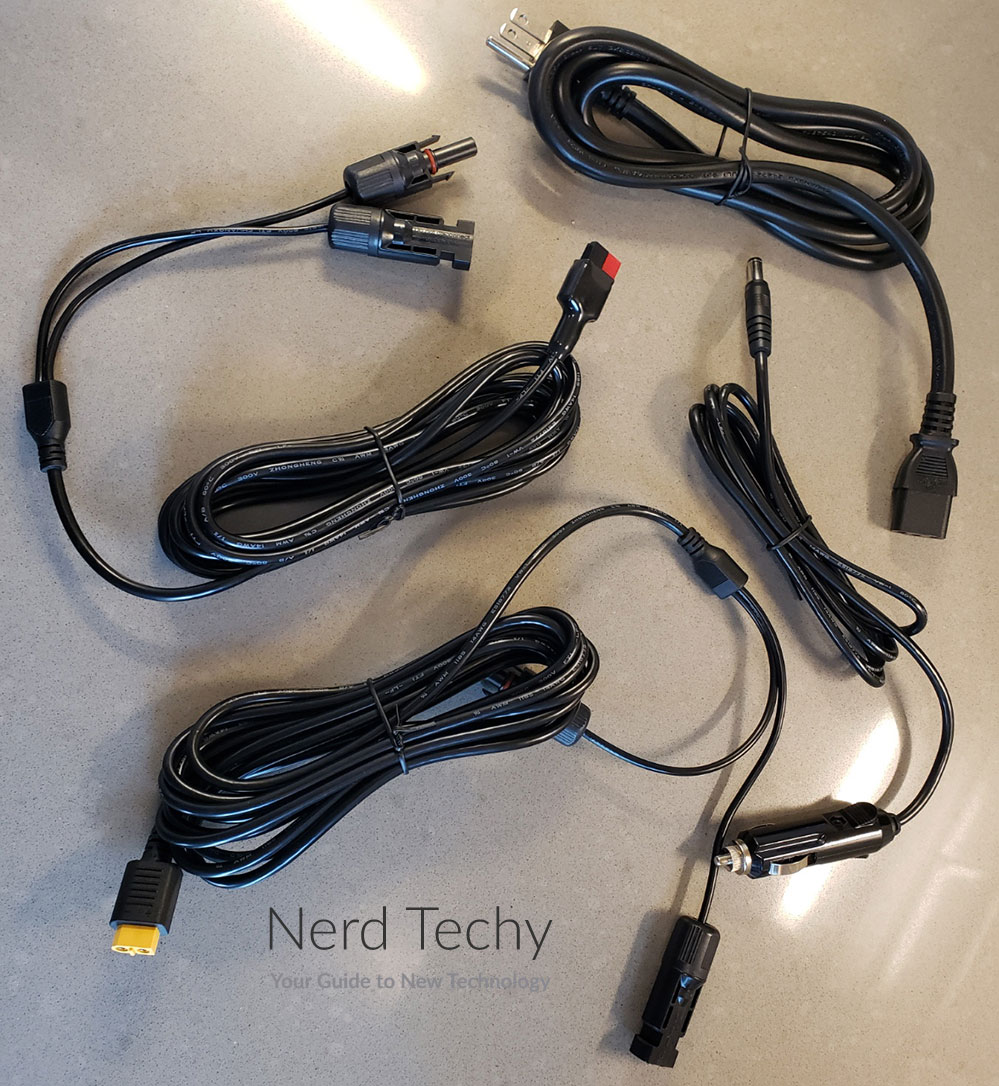 Ports & Display
On the front of the housing, near the top, is an LCD display. It has an attractive blue-on-black design, and shows a ton of information. At the top center of the display is a circle, with the total remaining charge displayed inside as a percentage.
Underneath are eight separate touch-enabled buttons, one for each of the outputs. Although there are physical buttons for each, having them available on the screen is nice. To the top left, you'll see your estimated remaining runtime, based on current power usage. To the top right, you'll see how much wattage is currently flowing out.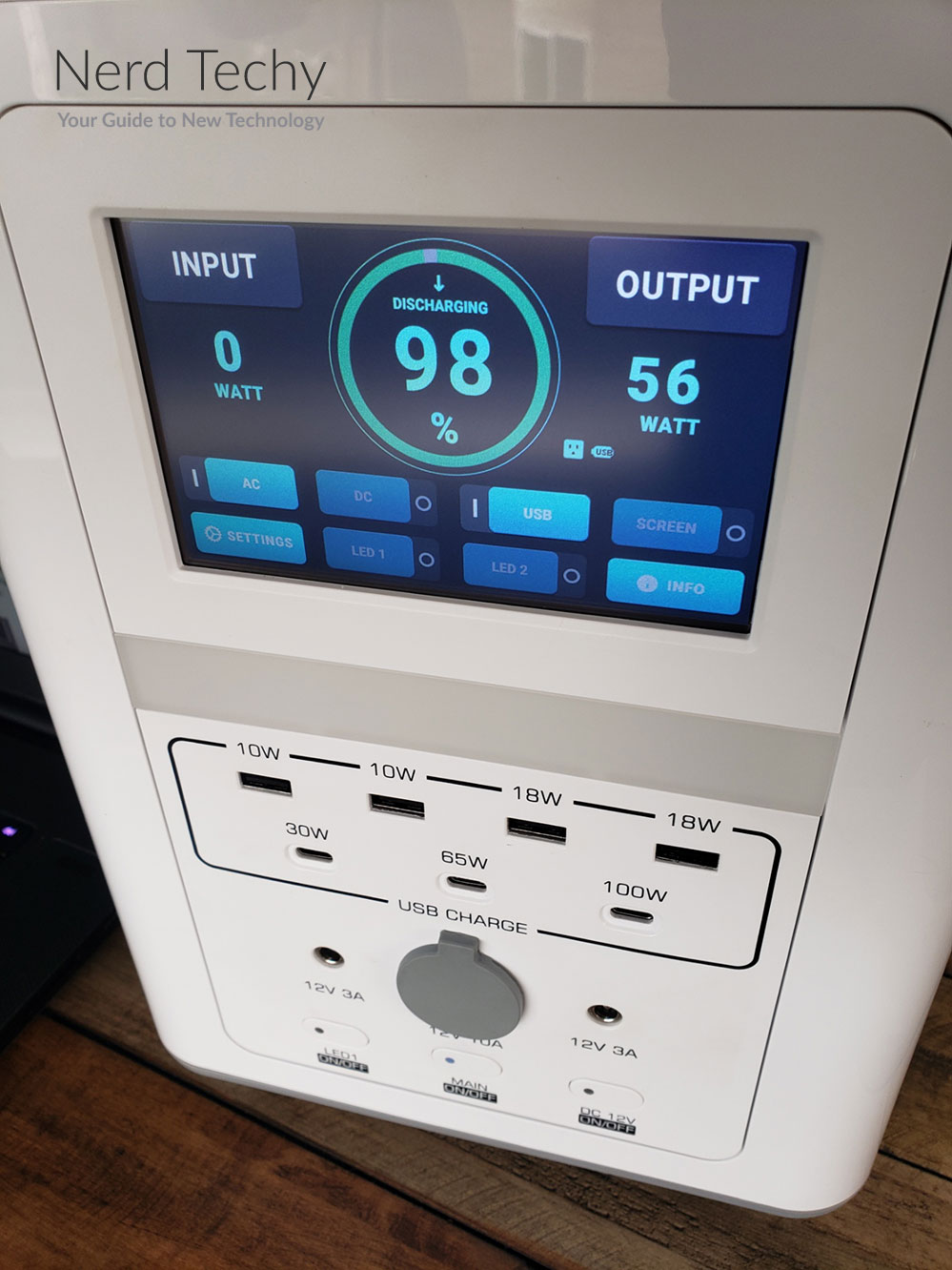 The LCD display is actually a touchscreen. With it, you can cycle through a wide range of settings and parameters that make it easy to take a deep dive into the station. It's actually quite easy to use and very intuitive to the end-user.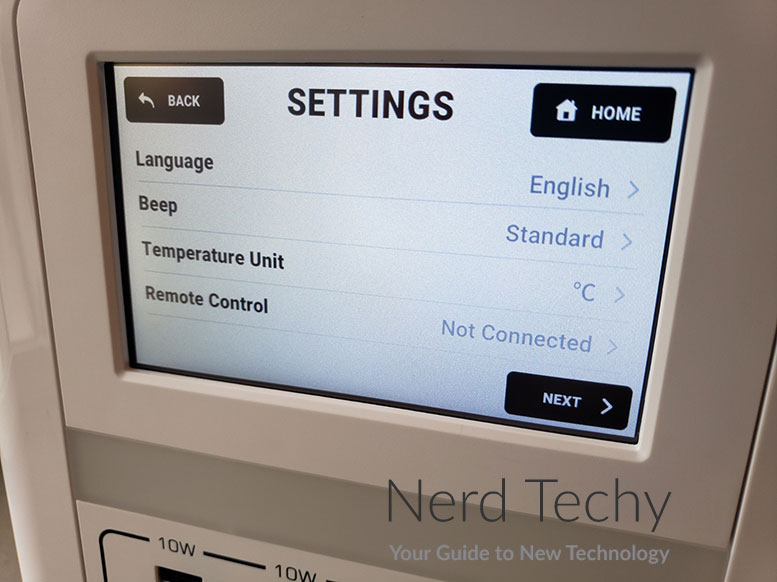 Most of the charging ports are located on the front of the housing. There's a row of four USB Type-A ports directly underneath the display screen. Beneath this is a row of three USB Type-C ports. Underneath the USB ports is a single 12-volt automotive-style outlet, with two barrel-style 12V DC ports to its sides. The top panel of the housing acts as a wireless charging pad.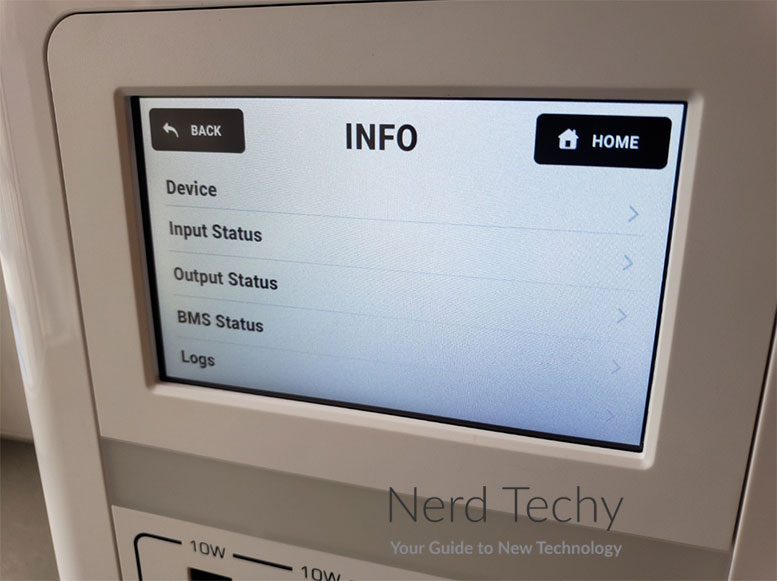 At the bottom of the front panel is a set of control buttons. These allow you to control the USB, DC, and wireless chargers separately. By turning off inactive outlets, you avoid wasted power.
The AC power outlets are located on the back of the housing.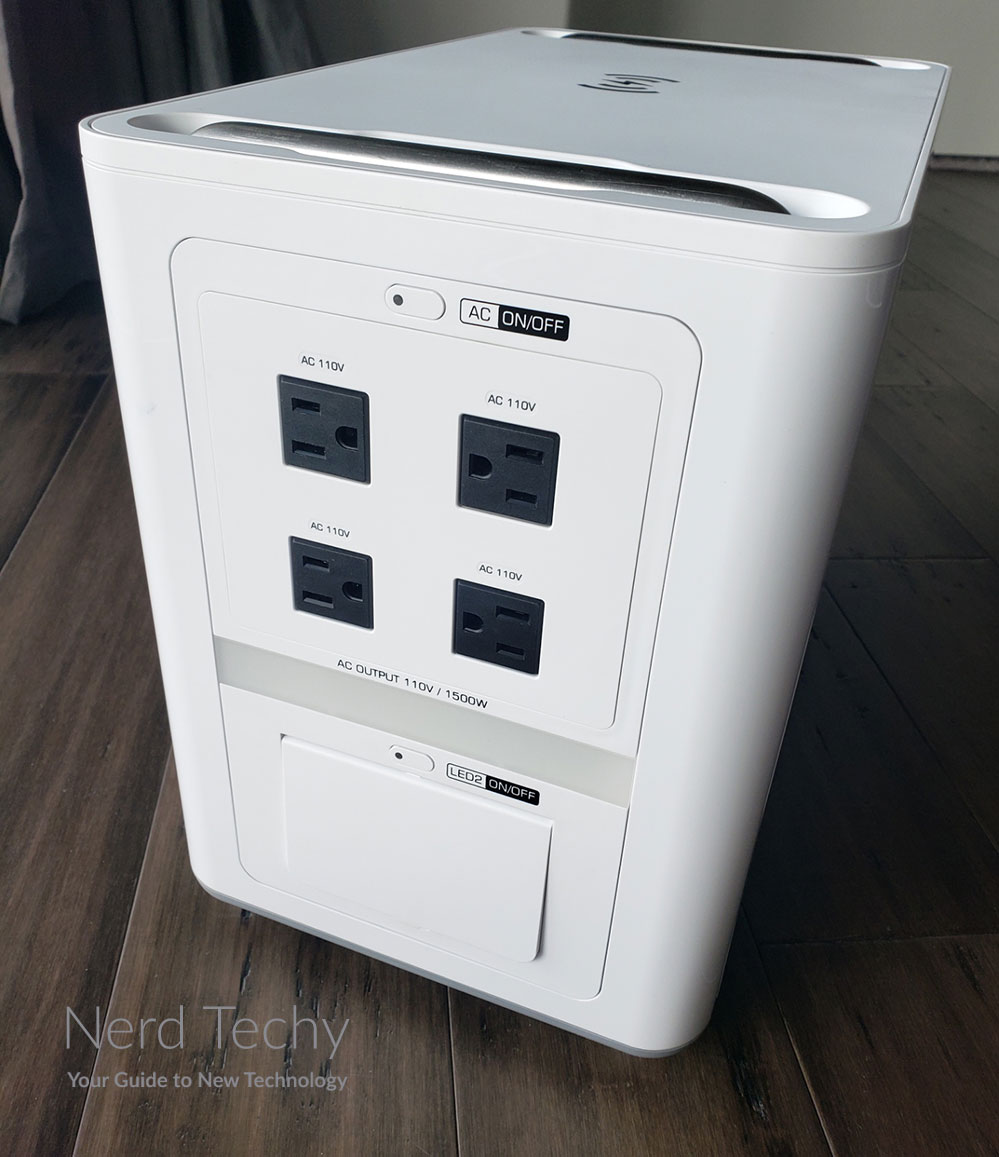 There are four of them, and they're all grounded, which means you can plug in a three-prong device. A separate button just above the outlets turns them on or off. Beneath the AC outlets is a panel, which flips up to reveal the charging ports for the power station itself.
Battery Capacity & Recharging
The internal battery has a capacity of 1,536Wh. Put another way, that's 1,536Wh. If you convert it to milliamp-hours (mAh), it has 307,200mAh of power when delivered at 5 volts. By comparison, the iPhone 13's battery has a capacity of 3,227 mAh. So you could recharge a smartphone over 90 times before you drain the power station.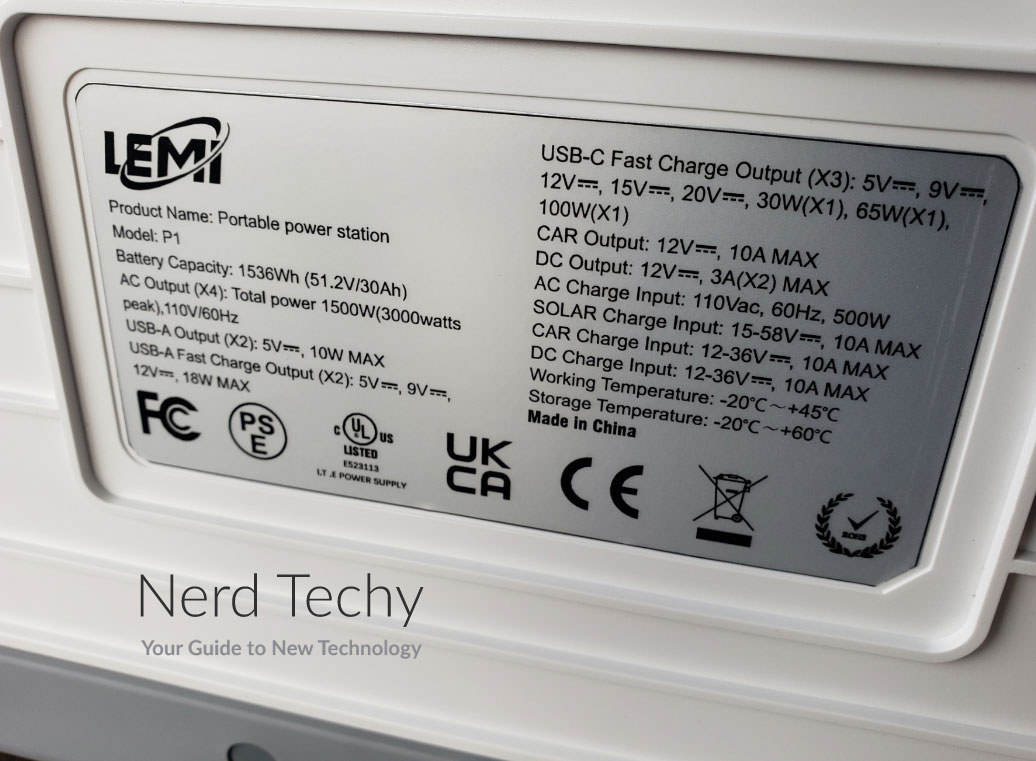 Of course, most people don't buy a power station just to charge their phone. You could do that with a handheld power bank for a fraction of the cost. So what kind of performance can you expect for larger applications? Well, your typical mini fridge draws about 600Wh of power per day. So you could run one for around 2½ days before you drain the battery. You could even run a 1,500-watt space heater for a full hour at maximum power.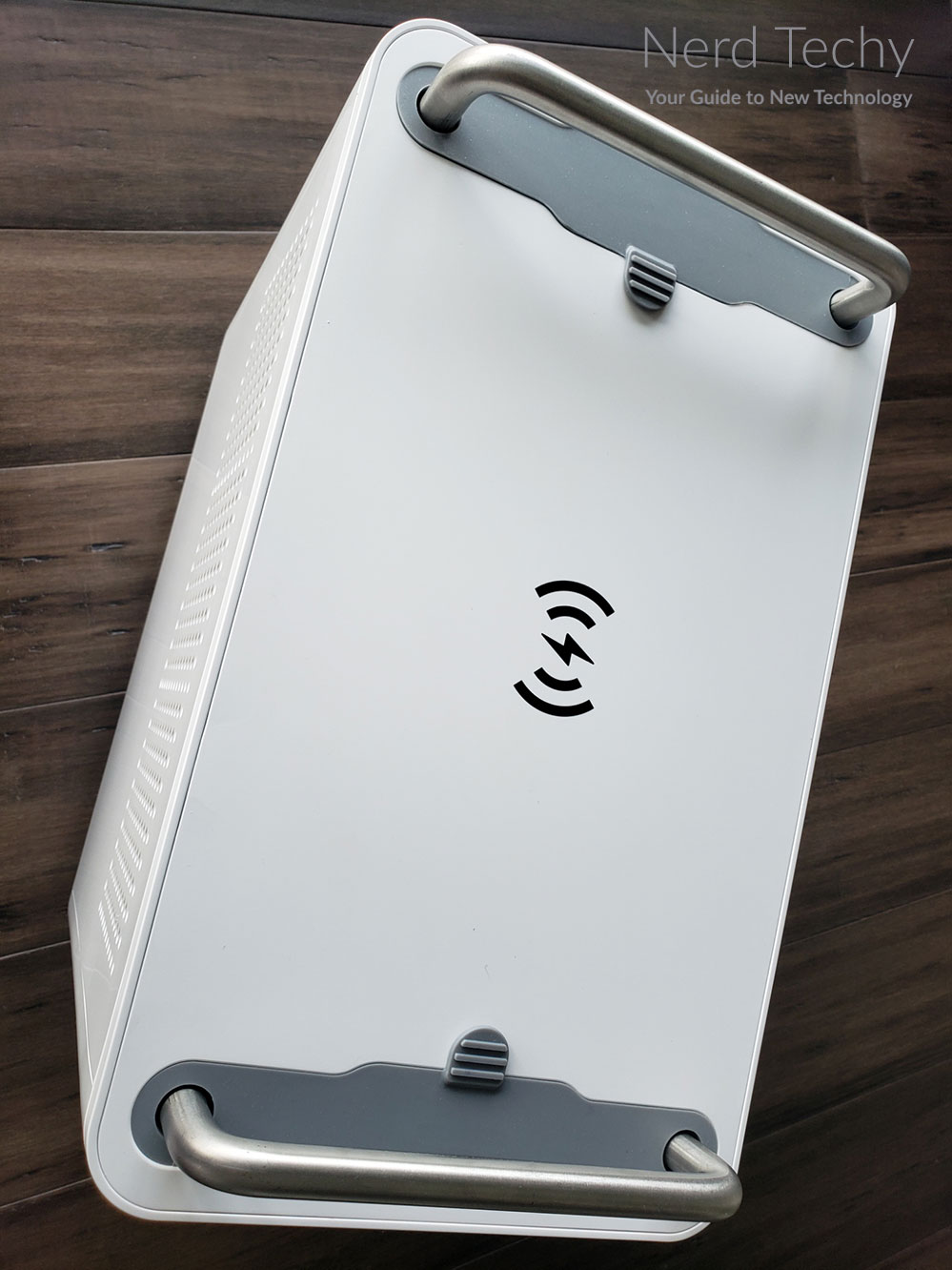 Charging the internal battery is easy. The easiest way is to plug your power bank into a wall outlet. However, it can also be charged in your car using an ordinary DC automotive connection. It supports solar charging, so you can keep it powered with a solar panel while you're off-grid. You can even recharge it via USB. We're honestly not clear why anyone would ever want to use USB for a battery this large. But if you want to try, you're more than welcome to.
As far as charge-times go, the LemiPower Station is decently capable. With a standard AC input of 100-120V, the entire device will go from 0% capacity to 100% capacity in just under 3 hours. DC input is a bit slower; at 12-36V, you can expect it to take 5 hours to re-charge from empty.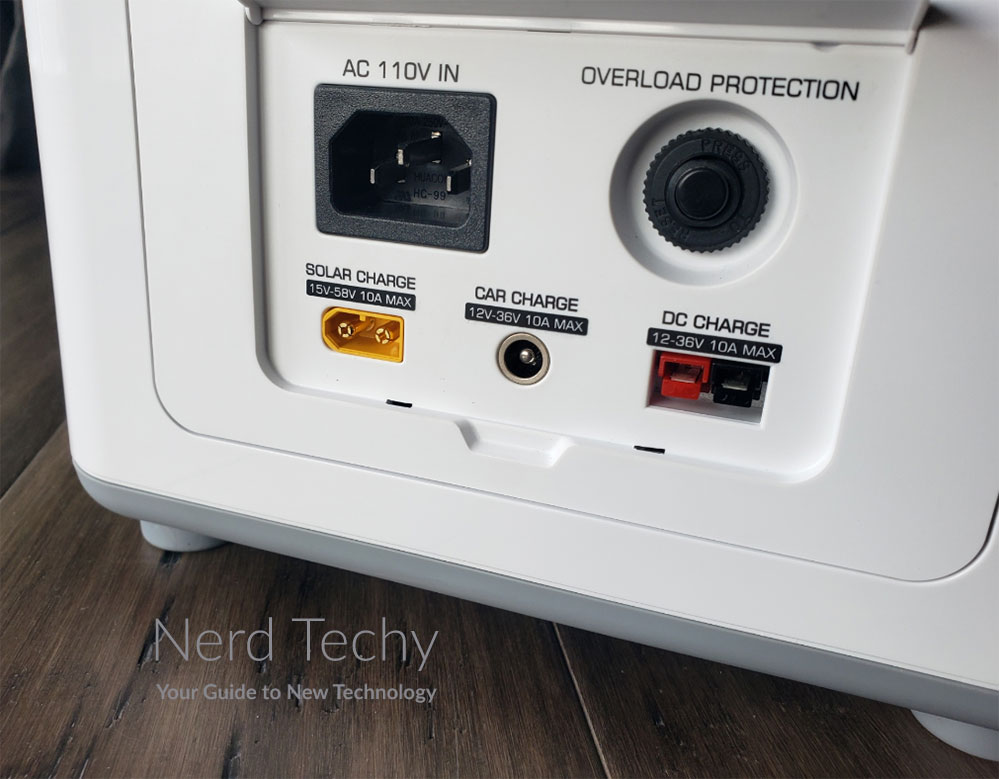 Charging the power station from your vehicle's 12V output at 10A max will take around 6-7 hours. Last but not least, plugging in a solar panel will have many factors at play when it comes to re-charge times. Under ideal conditions and a 10A maximum, in full sun without any interruptions it has the ability to fully re-charge in about 4-6 hours.
If you don't need quite as much capacity, the EBL Voyager 1000 is a good choice. It has 999Wh of power, at a similar size. On the downside, it only has two AC ports, not four. On the upside, you can order one right this second.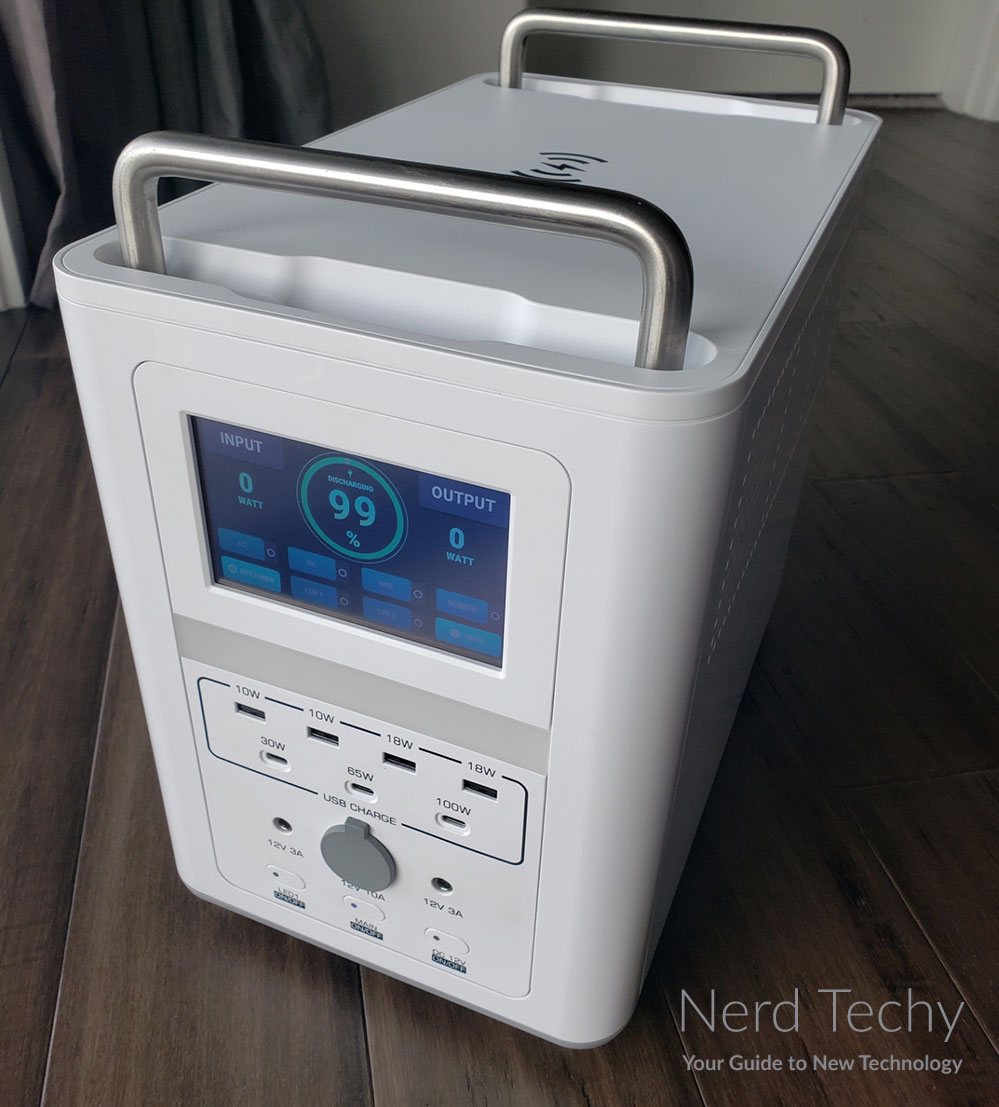 Charging Capabilities
Now that we know how much the batteries hold, we need to know what you can use them for. To begin with, the four AC outlets each provide 110 volts. That's standard North American wall power, so you can plug in anything you can plug into your wall.
The four USB Type-A ports offer different power levels. The two on the left provide 10 watts, slightly less than the standard 12 watts. However, the two on the right provide 18 watts, substantially more. Use the right ports for smartphones and tablets, and the left ports for earbuds and watches.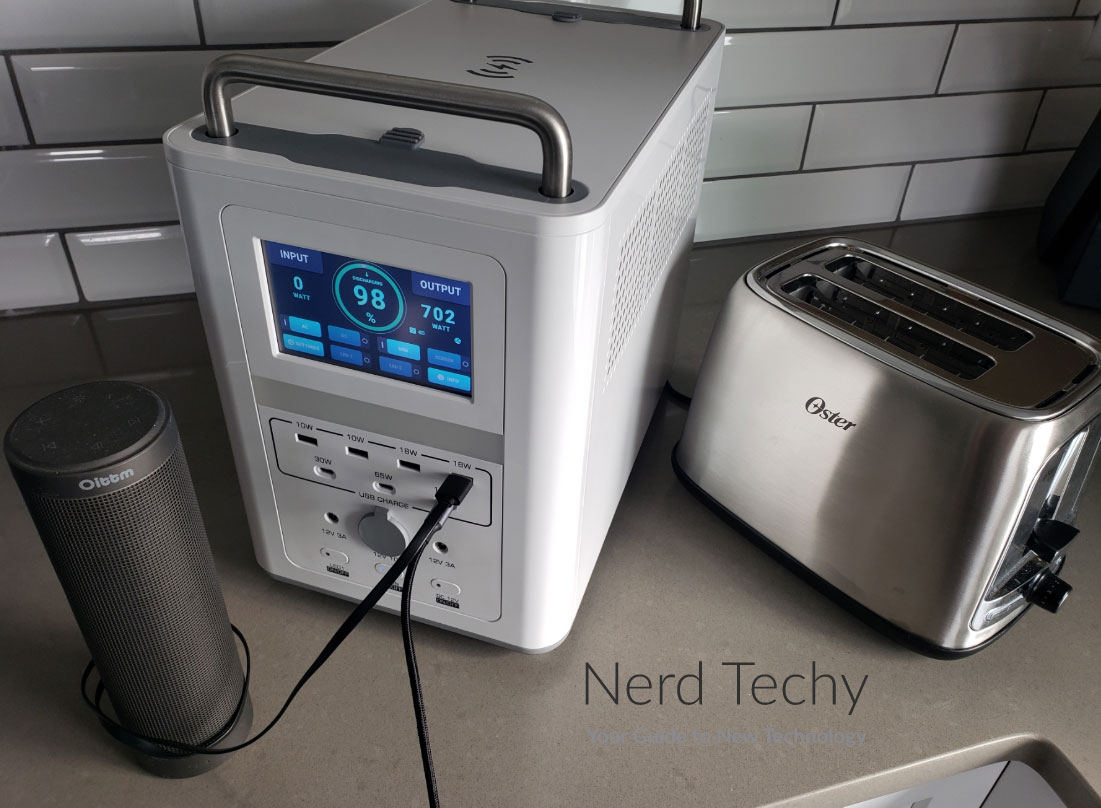 The three USB Type-C PD ports also provide different levels of power. The one on the left provides 30 watts, which is respectable in its own right. The one in the middle provides 65 watts, sufficient for any tablet and many laptops. The one on the right provides 100 watts, the maximum possible for USB Type-C PD.
The AC output is rated for up to 1500W with a surge rating of 3000W. Ultimately, this means that you can power virtually any standard appliance as long as it doesn't draw over 1500W. In our opinion, this is enough for the majority of common household appliances that you likely use on a regular basis. Rice cookers, coffee makers, blenders, etc. are all typically under this threshold. That said, powering low-energy devices like a TV, monitor, projector, laptop, etc. are all easy to do.
If power is your main need, look no further than the Cellpowa 2500. It pairs a 2,500Wh capacity with a maximum power delivery of 2,500 watts and 7,000 watts of surge power. It can also power 15 devices simultaneously, but it's fairly large and heavy.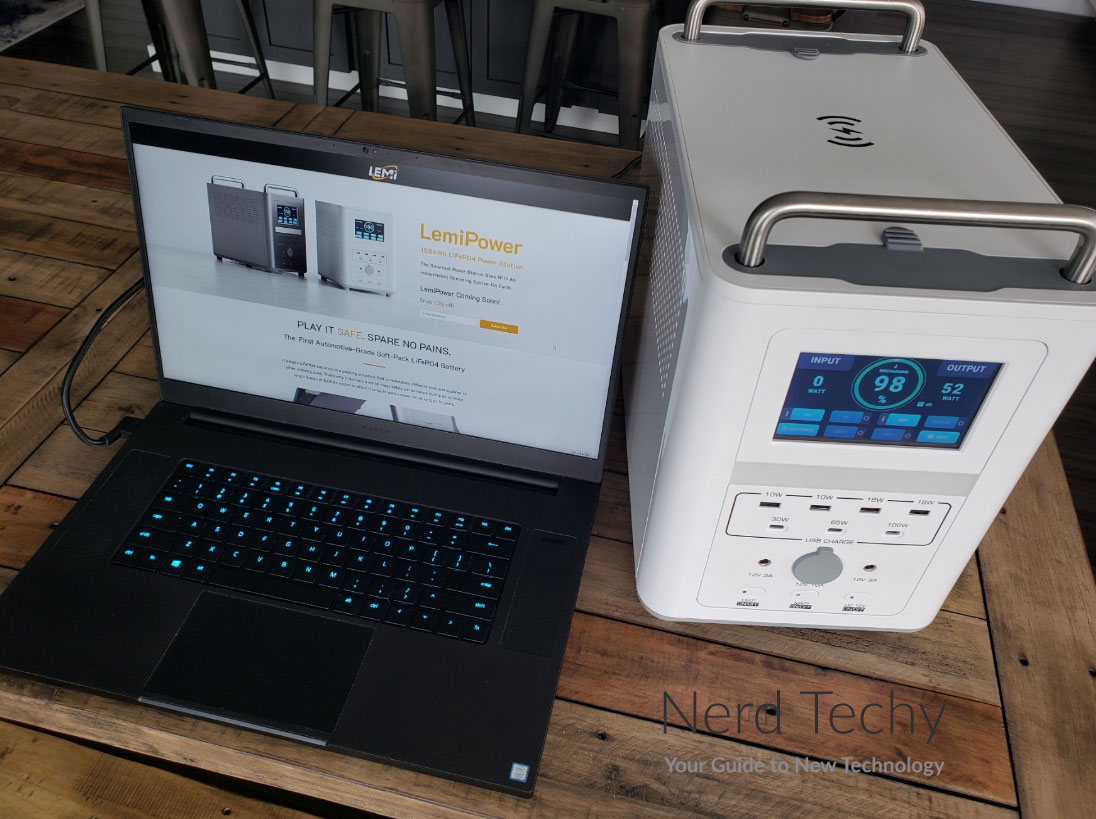 Safety & Extras
The LemiPower power station has a powerful battery management system (BMS) with several protections. It offers over-charge, over-discharge, over-voltage, and over-current protection. It also protects you against short-circuits and overheating. Best of all, there are individual BMS systems for each cell, providing unparalleled protection. You can even view each cell's status via the companion app. However, there aren't many details regarding the app or even the specific name of it. We can only assume it will be released soon.
This power station supports pass-through charging, and can be used as an uninterruptable power system (UPS). In the event that wall power fails, it will automatically turn on and begin delivering power. This makes it suitable for CPAP machines, or anything else you need to keep running during an outage.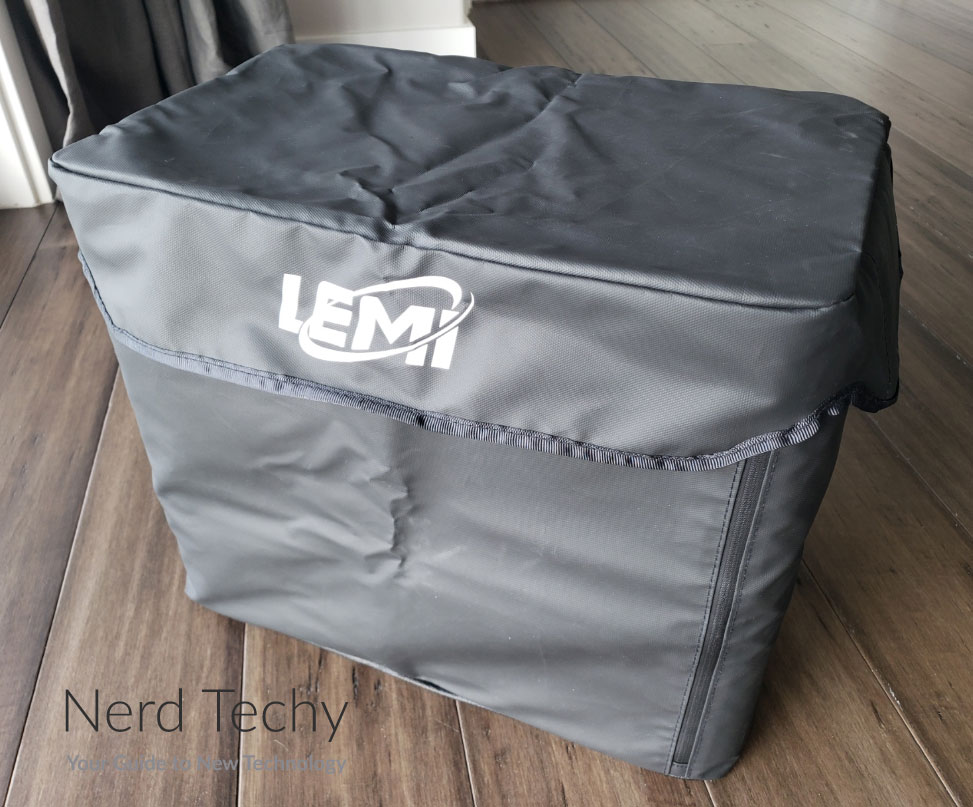 As an added bonus, you get a free carrying bag for the station. It's a bit filmsy and not padded, but it offers a bit of defense against moisture, scratches and abrasions. It closes with a zipper and sports the "Lemi" logo on the front. Yes, it's cheap and basic, but it's a nice little bonus!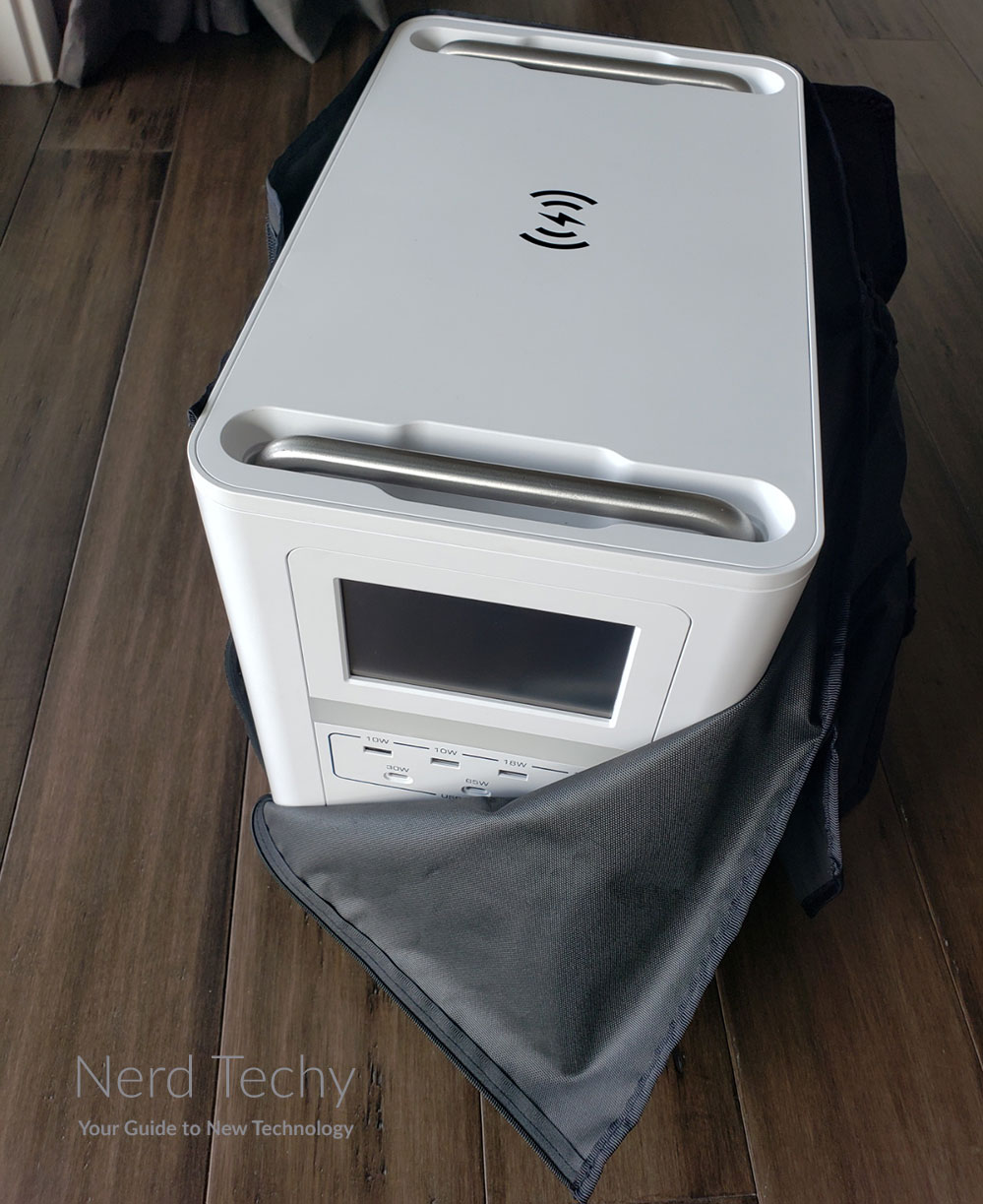 Final Verdict
The LemiPower 1536Wh LiFePO4 Power Station is a well-engineered machine. It provides plenty of juice for all your devices, no matter how powerful they are. It's easy to charge, whether from your wall, your car, or a solar panel. It's also easy to carry around, as well as offering several safety features.
We love the LCD touchscreen and the interface it offers users. Although everything is cleanly outlined on the screen, LemiPower states that it supports app-connectivity. That said, the app doesn't seem to be currently available so we had no way to test it out.
The high capacity output and moderately quick re-charge times are commendable. While it may not be the most expensive or highest capable power station on the market, it brings a lot to the table that we can surely appreciate.
Meet Derek, "TechGuru," a 34-year-old technology enthusiast with a deep passion for tech innovations. With extensive experience, he specializes in gaming hardware and software, and has expertise in gadgets, custom PCs, and audio.
Besides writing about tech and reviewing new products, Derek enjoys traveling, hiking, and photography. Committed to keeping up with the latest industry trends, he aims to guide readers in making informed tech decisions.