ACEMAGICIAN AMR5
Pros
Very fast processor.
Supports WiFi 6 and Bluetooth 5.2.
Easy to add your own upgrades.
Three different operating modes.
Dazzling RGB lighting effects.
Cons
No dedicated graphics card.
Fan can get loud under high demand use.
When you think of a PC, you probably picture a large desktop tower. That's certainly a common design, but it's far from your only option. PC towers were developed back when technology needed more space. Simply put, your motherboard and other components were already as small as they could be.
But it's been more than 40 years since the first home computer. Look at any high-quality laptop, and it's obvious that computers don't have to be enormous. Instead, towers have remained large out of a sort of inertia. At the same time, many manufacturers are creating smaller PCs that perform as well as any full-sized machine.
Today, we'll be reviewing the ACEMAGICIAN AMR5 Gaming Mini PC. This is an ultra-compact computer that's just as capable as a full-sized desktop. It's also easy to upgrade, which is something you can't say for a laptop. But is it the right PC for you? To find out, we'll have to take a closer look at its specs and features. Let's get started!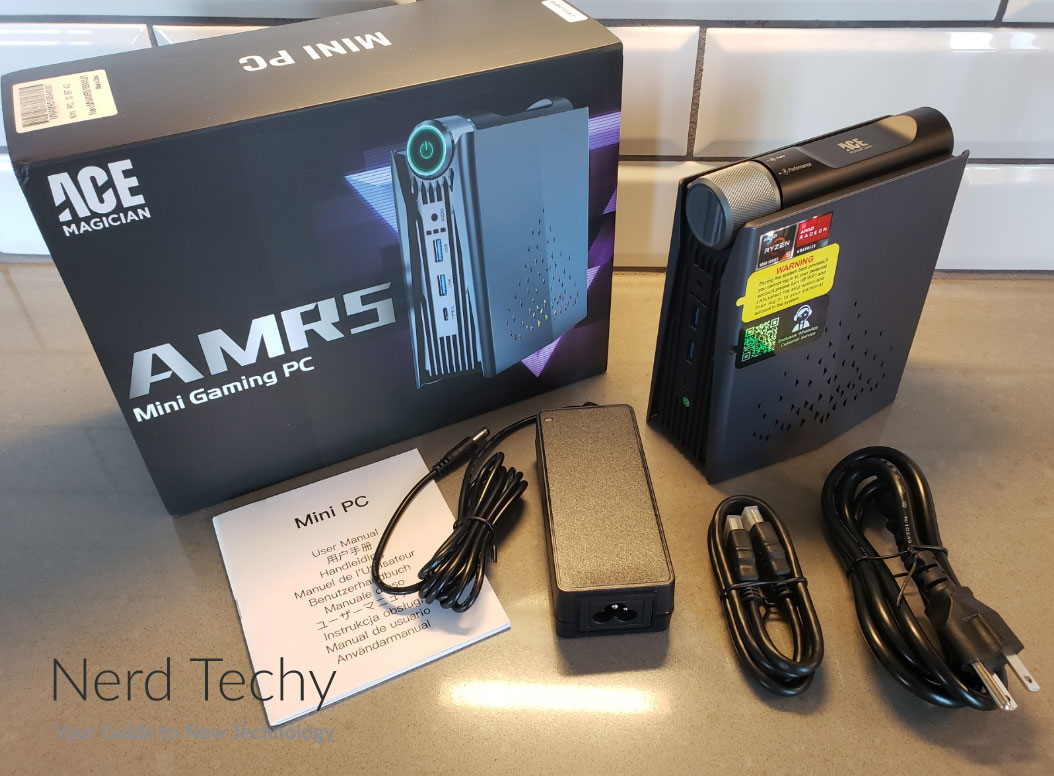 Overall Design
The ACEMAGICIAN AMR5 Gaming Mini PC is as small as they come. It measures only 9.76 inches tall, with a footprint of just 7.48 inches deep and 3.7 inches wide. It's also lightweight, tipping the scales at just 3.26 pounds. If you want a portable desktop computer, it's tough to find one that's smaller or lighter.
The housing is all black, with a plastic front and back panel and aluminum side panels. Instead of being a rectangle, it's slightly wedge-shaped, narrower at the top and broader at the bottom. With the vertical louvers in the front and back, the computer almost looks like a book that's resting spine-up.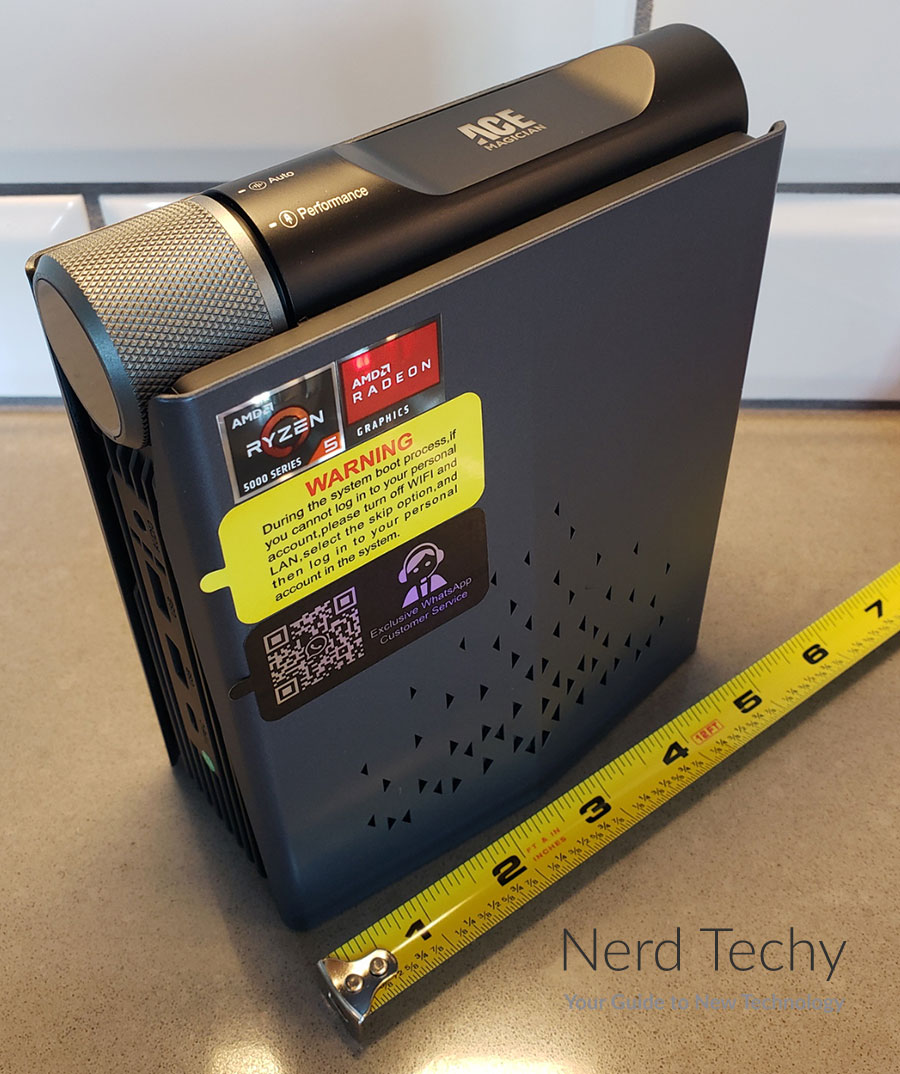 At the top front, you'll find the power button. It's a soft touch-button on the front of a silver aluminum knob. This is the only part of the housing that isn't black, and it's very prominent. We'll talk more in a minute about how the knob works.
In the sides of the housing, you'll see attractive RGB lighting. There's a set of triangular lights, arranged in an irregular pattern in a roughly triangular shape. You can turn them off if you want to save power, or even adjust the color.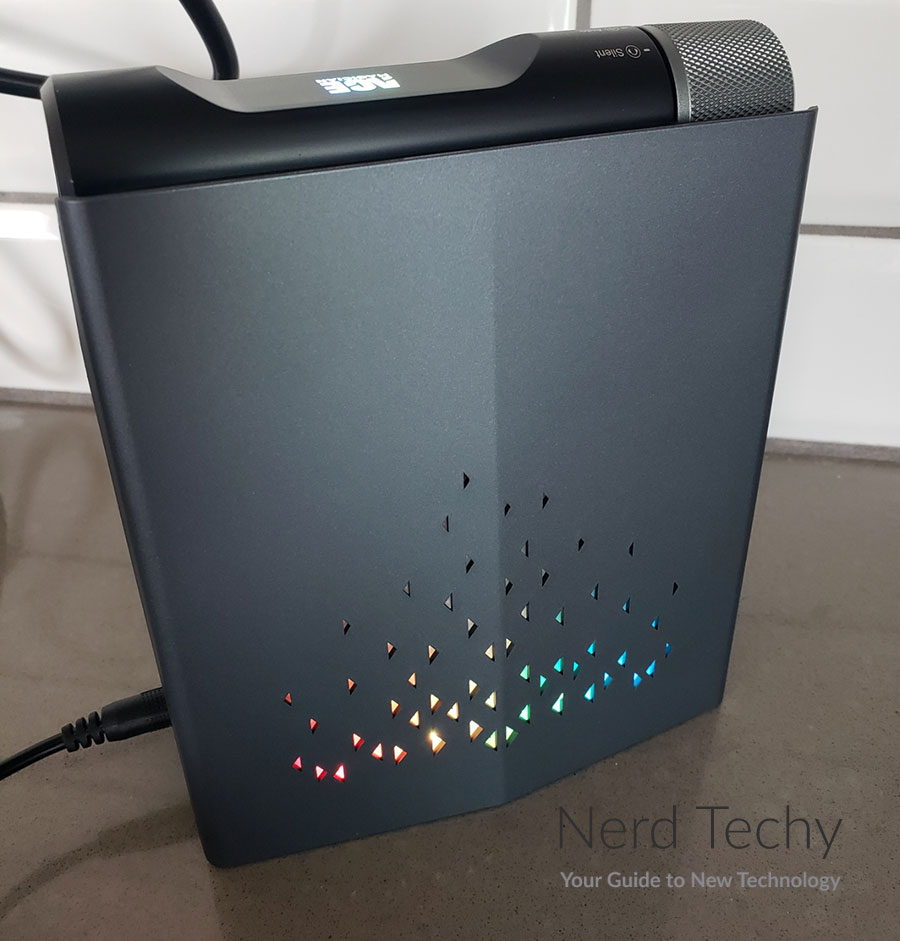 Furthermore, the sides of the housing are magnetic and removable. You don't need any special tools to open up the computer. Just slide open the side panels, and you'll be able to access all the internal components. As a result, it's very easy to perform upgrades and swap in new parts.
Despite its small size, the AMR5 has an efficient, powerful cooling system. An internal copper heat sink draws heat towards the fans, which continually blow air through the housing. Depending on your settings, the fan can be as quiet as 38dB. That's barely louder than a whisper. Then again, it can also get as loud as 46dB. That's quieter than normal conversation, but it's loud enough to be noticeable.
Ports and Connectivity
There are several ways to connect your peripherals, displays, and other devices. To begin with, there's a series of ports running down the front. At the top is a 3.5mm aux port, which can be used for headphones or external speakers. Beneath this, you'll find a pair of USB Type-A ports. These ports have blue internal tabs, so it's easy to orient your plugs. You won't have to guess which way to orient them. At the bottom is a single USB Type-C port.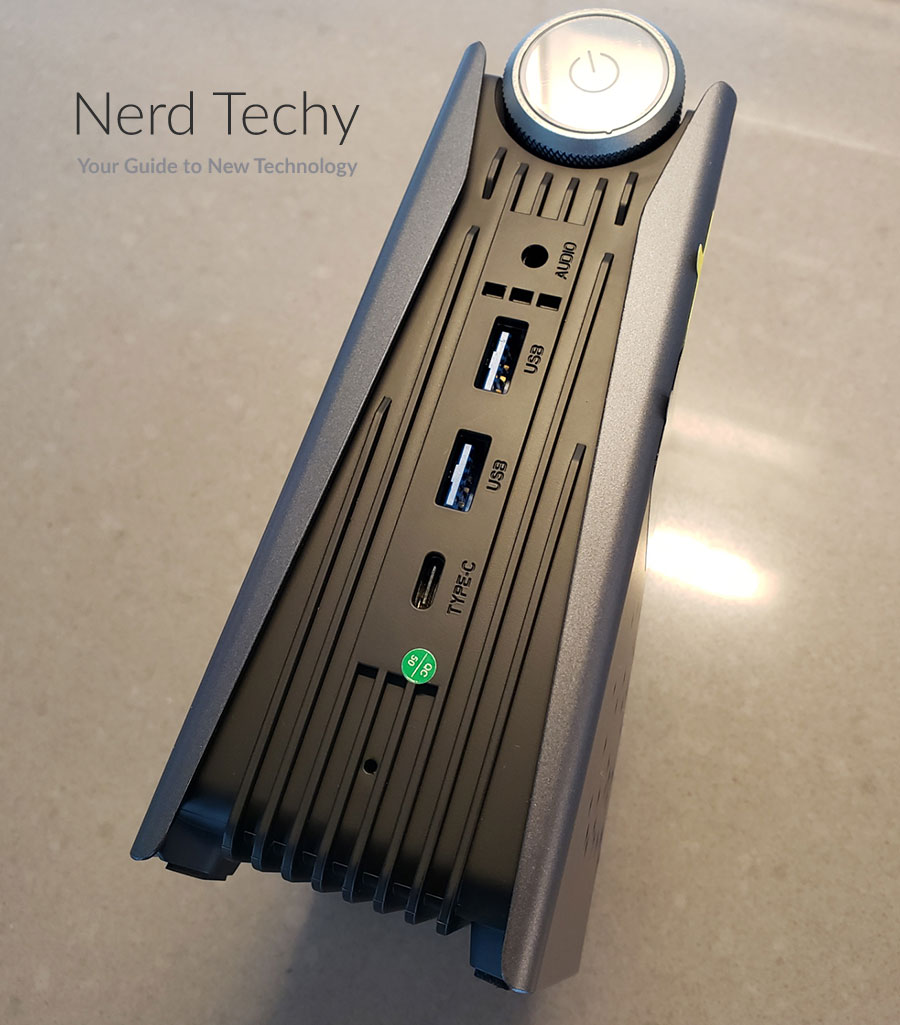 The rest of your ports are located on the back side of the housing. At the top, there's another pair of USB Type-A ports, complete with the requisite blue tabs. Beneath them, you'll see a Display Port connection, followed by an HDMI port. Further down is a Gigabit Ethernet port, so you can make a wired connection to your router. At the bottom is a round DC power port, which accepts the included barrel-style adapter.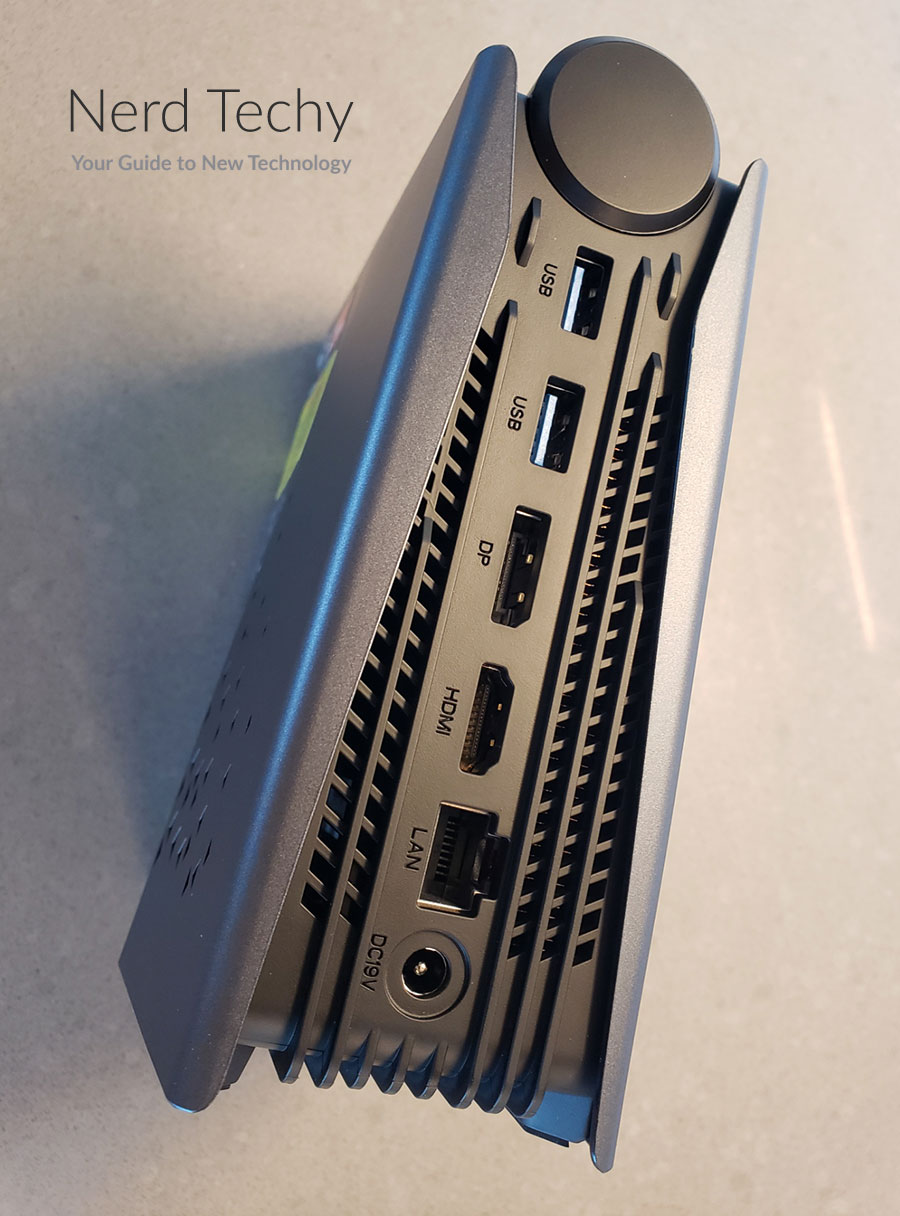 In terms of wireless connectivity, you'll get excellent performance. This computer supports WiFi 6, which is the newest version of the WiFi protocol. With a compatible router, you can get blazing fast connection speeds with a much more stable connection. Just make sure to keep your expectations realistic. Even the fastest wireless connection will have more latency than an Ethernet connection.
In addition, the AMR5 has a Bluetooth 5.2 card. This is the latest and greatest Bluetooth version with a number of improvements over earlier releases. For one thing, the latency is significantly reduced. When you're using Bluetooth earbuds, the audio and video will be in perfect sync. For another thing, the maximum bitrate is higher than Bluetooth 4.2. You can listen to HD music if you want to, which didn't used to be possible via Bluetooth. Finally, the signal is exceptionally stable. You don't have to worry about it cutting in and out as you move around your room.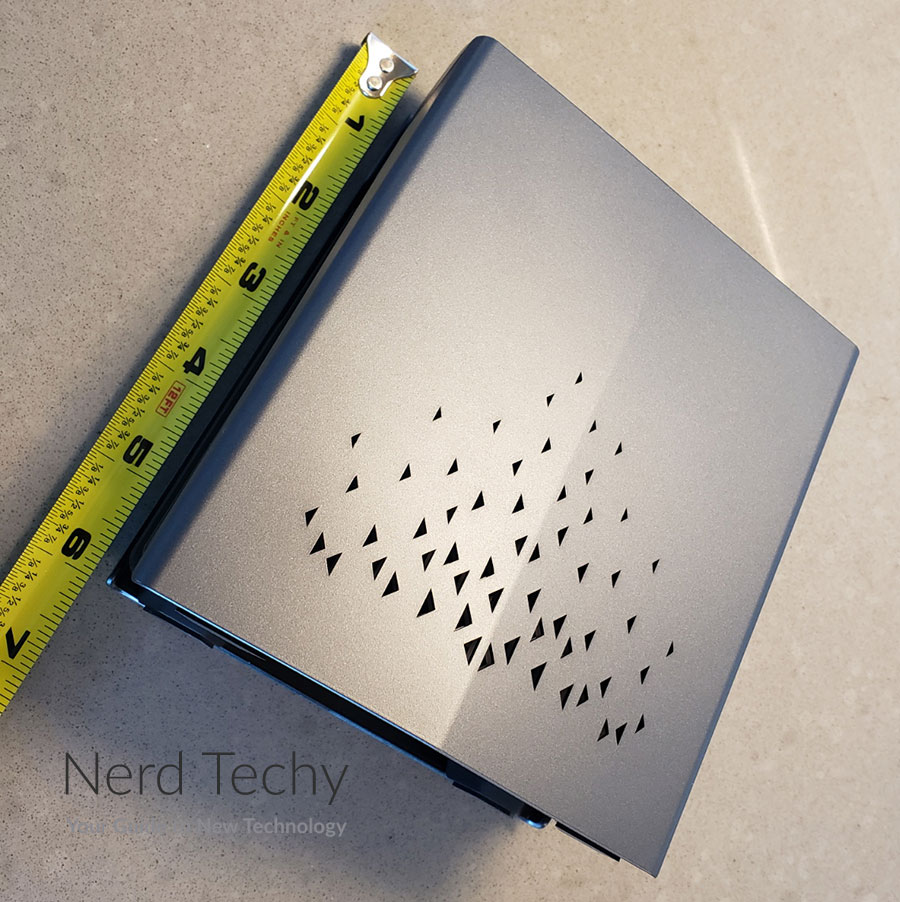 Performance and Graphics
One area where many mini PCs fall short is performance. Manufacturers will often go cheap and use a processor that's nearly obsolete. That's not an issue here. The AMR5 boasts a Ryzen 5 5600U processor, which is one of Ryzen's more powerful laptop processors. This is a six-core CPU with a base clock speed of 2.3GHz. That might sound slow, but you get 4.2GHz of boost speed. That's plenty of power for gaming, emulation, photo editing, and pretty much anything else you'd do at home.
One downside of this computer is the lack of a real graphics card. It's to be expected in a mini PC, but it's still disappointing.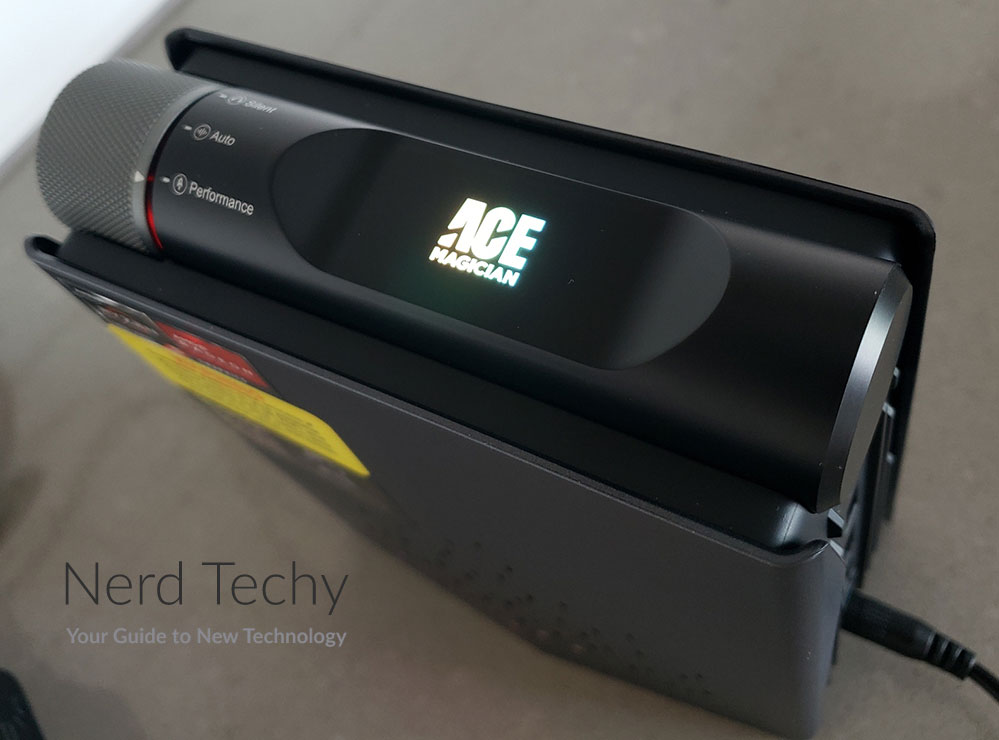 On the plus side, AMD's Radeon RX Vega 7 integrated graphics are actually pretty good. You can run League of Legends at 112 frames per second in 1080p resolution. With the same resolution, you can play Grand Theft Auto V at 58 frames per second. Will you be able to play the latest Call of Duty title at 120 frames per second? No. But for integrated graphics, you're looking at surprisingly strong performance.
For watching movies or video, you'll get even better performance. The Radeon RX Vega 7 graphics support up to 4K video at a rate of 60 FPS. That's something many mini PCs can only dream of.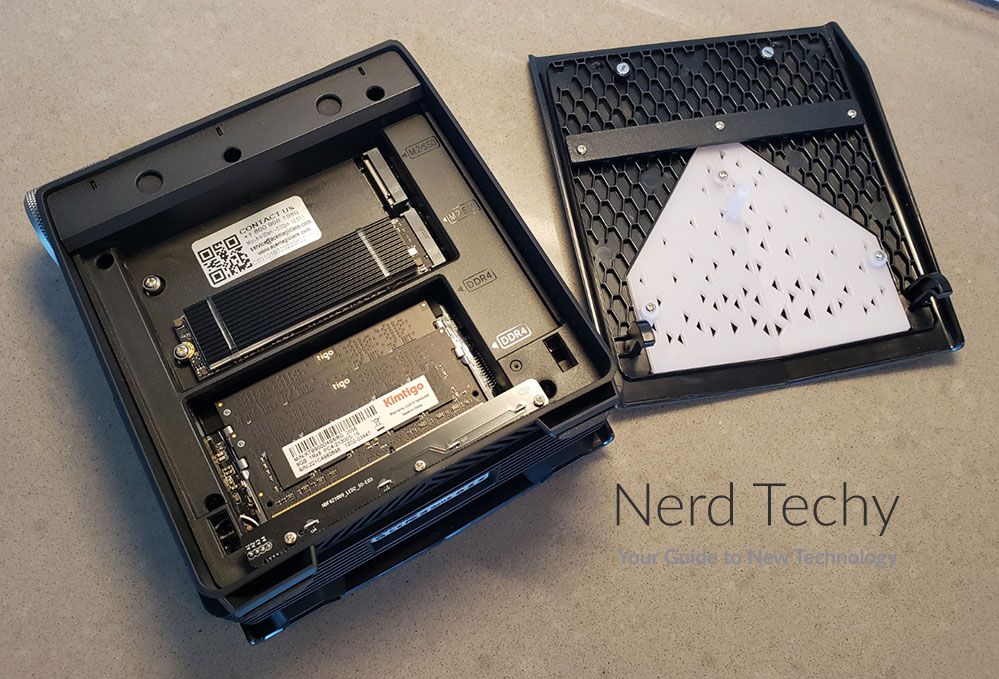 Memory and Storage
The ACEMAGICIAN AMR5 comes with 16GB of RAM. This is dual-channel DDR4 RAM, so it's actually two 8GB sticks. That should be more than enough for most purposes. However, you might be dealing with very large files. In that case, it would make sense to upgrade your RAM. The motherboard will support up to 64GB of RAM, meaning two 32GB sticks. We can't imagine why this would be necessary in a home computer. But if you want to load up on RAM, there's nothing stopping you.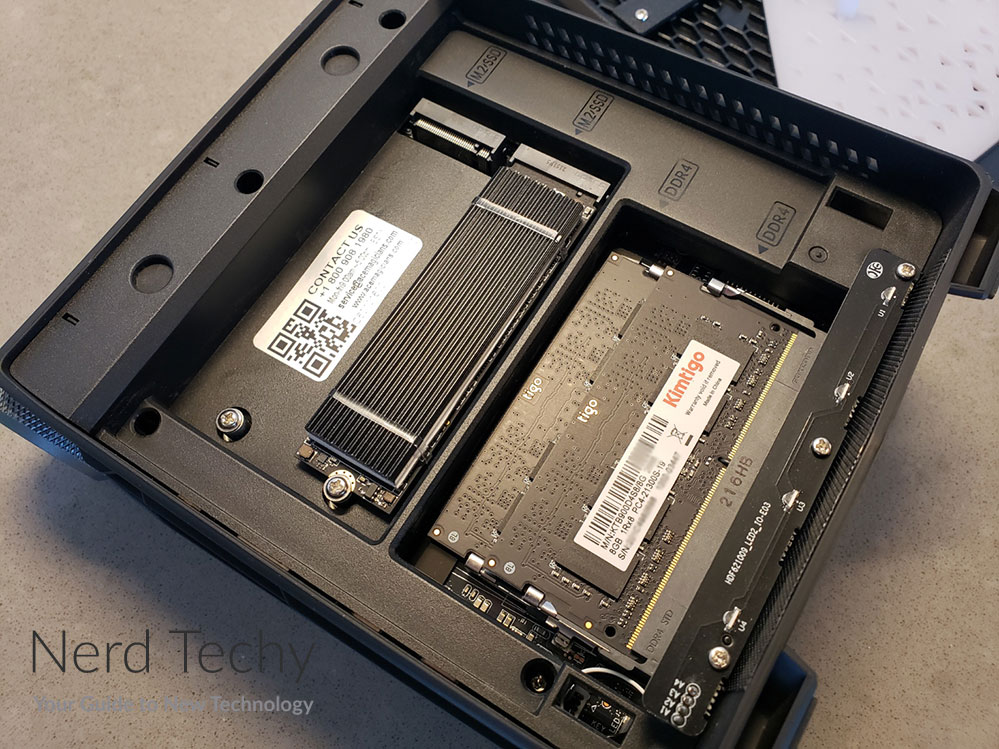 When it comes to storage, we had no complaints. The 512GB SSD loads and saves data very quickly. The computer boots up in a hurry, so you don't have to wait around forever to log in. Whether or not 512GB is enough capacity for you is a different question. It should be fine for most people, but it might not be sufficient if you own a lot of video games. If you want to keep your entire Steam library permanently installed, you're going to want an upgrade. Thankfully, the AMR5 can support up to a 4TB drive. That will satisfy the needs of all but the most storage-hungry users.
Extra Features
The AMR5 comes with Windows 11 pre-installed. You don't have to buy any Windows license or worry about a potential upgrade from Windows 10. You'll have a future-proof system right from the get-go. By the time you're ready to move on from Windows 11, you'll probably want a new PC anyway.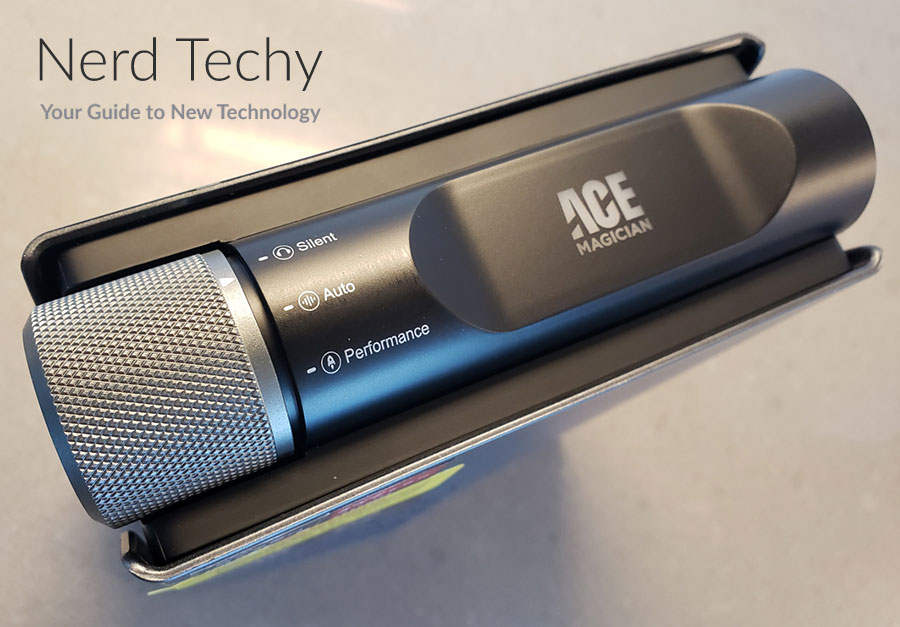 Using the metal knob at the top, you can switch the computer between three different operating modes. In the first mode, "Silent" mode, the fan is at its lowest volume. However, the PC is throttled to between 10 and 15 watts. That's enough for web browsing, emailing, or using YouTube. For other tasks, you can switch to the second, "Auto" mode. This mode ups the wattage to between 15 and 20 watts, and is suitable for most purposes. Turn the knob all the way to the right, and the computer will go into "Performance" mode. This provides up to 25 watts of power, and is the optimal choice for gaming.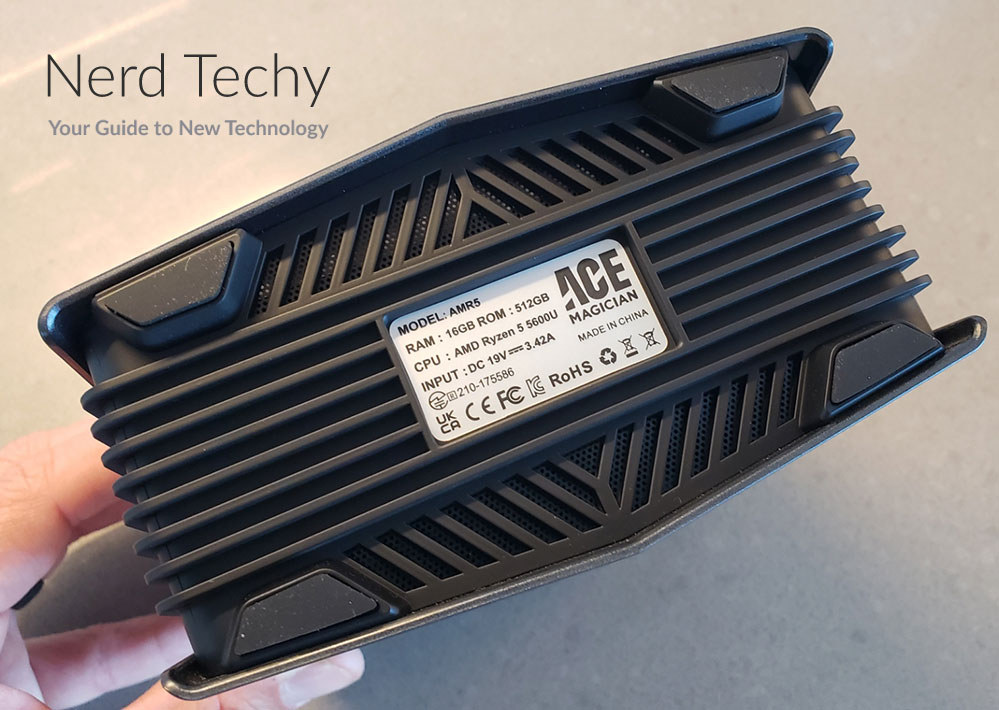 It's easy to tell what mode you're in. The power button on the front of the knob will change color depending on your settings. In Silent mode, the light will glow blue. In Auto mode, it will change to green. Set the computer to Performance mode, and the light will turn red.
You can also adjust the color and pattern of the RGB lights. However, you can't do it with any on-board controls. Instead, you'll have to download ACEMAGICIAN's lighting control app. Thankfully, the app is free, so you don't have to pay extra to control your lights.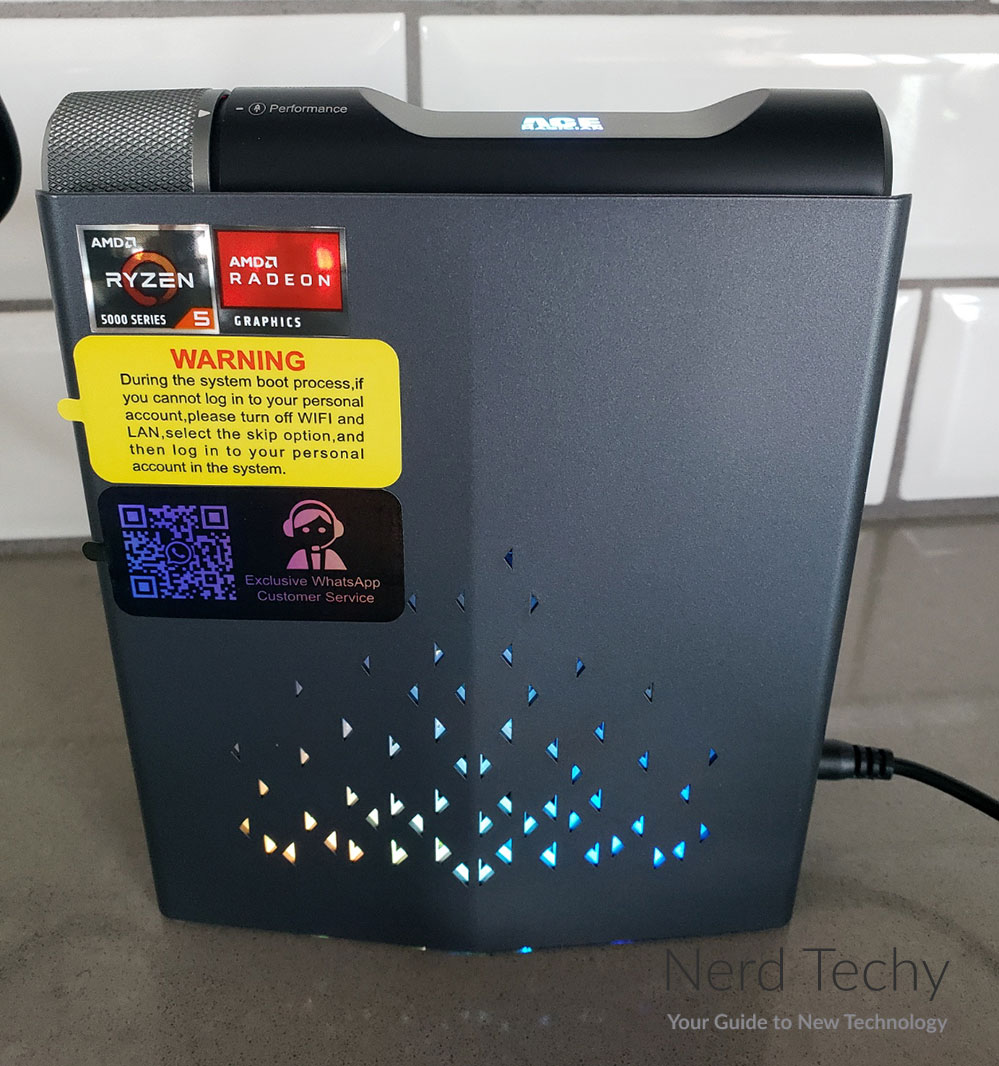 Final Verdict
The ACEMAGICIAN AMR5 Gaming Mini PC is a powerful little machine. While many mini PCs provide limited processing power, the Ryzen 5 5600U processor is pretty robust. With six cores and up to 4.2GHz of turbo speed, the performance is comparable to a high-end desktop.
Nothing is perfect. While the integrated graphics are good for what they are, they're still integrated graphics. You won't get the same rendering capabilities you will from a dedicated GPU.
The rest of the technology is fully up to date. With support for WiFi 6, you'll get the fastest possible wireless connection. And with Bluetooth 5.2, you can game or watch movies without the video and audio desynchronizing. And you can freely walk around the room while you're listening.
The physical design leaves nothing to be desired. The case is compact and attractive, and the control knob is both functional and good-looking. And thanks to the removable side panels, upgrading the internal hardware is a breeze. All things considered, we're big fans.