Yeedi Mop Station Pro
Pros
Powerful dual rotating mop pads.
Self-cleaning washing mop.
Large, 750ml vacuum hopper.
Long-lasting battery.
App is easy to use.
Cons
Pads can be a little hard to remove.
A bit expensive.
Takes up floor space.
If you're looking for the most exciting new technology, it's easy to overlook robotic vacuums. For one thing, they're the opposite of flashy. When was the last time you bragged to your friends about your vacuum cleaner? People tend to talk about "cool" technologies like game consoles or phones, not vacuums.
For another thing, early robot vacuums were somewhat limited in function. The original iRobot Roomba was revolutionary at the time, but it couldn't replace your existing vacuum. It was great for everyday dusting and maintenance, which is all it was really designed for.
Note: At no extra cost to you, we may earn a commission for purchases using our links. Learn more.
Unfortunately, battery and motor technology at the time was less advanced than it is today. You couldn't get enough suction to clean deep pile carpets or even suck up heavier, denser messes.
Another limitation of early robot vacuums was the relatively dumb AI. Compared to modern AI, these vacuums were barely even functional. They couldn't run in a regular, zig-zag pattern. They couldn't map your floor, and they couldn't automatically adjust suction for different surfaces. If you haven't looked at a new robot vacuum in a while, you probably have low expectations.
That's a shame, because robot vacs have come a long way. With modern batteries and motors, you can expect much more suction. You can also expect more smart features like mapping and automatic suction adjustment. These features all make today's robot vacuums far more powerful than their predecessors. If you haven't shopped for one in years, there's no better time than the present!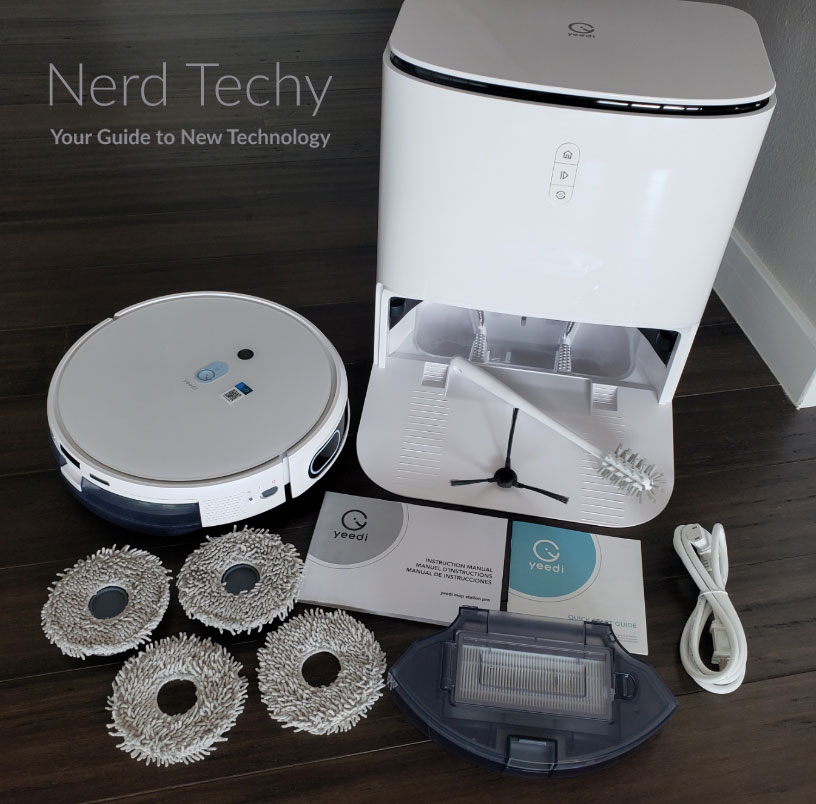 Yeedi Mop Station Pro
We're about to review the Yeedi Mop Station Pro. This is an all-in-one vacuum and mop, with a docking station that automatically cleans your mopping pads. Its battery will last for up to five hours, and can even last for three hours with the mopping function active. And with a powerful app, you'll have plenty of controls at your fingertips.
Of course, those are just a few of the things that go into making a great robot vacuum. But to deliver a fair verdict, we'll have to take a closer look. We'll need to evaluate the physical design, and see how it's constructed. We'll talk about the charging performance, and how easy the vacuum is to use. After examining those and other features, we'll have a full picture of what we're dealing with. Let's begin!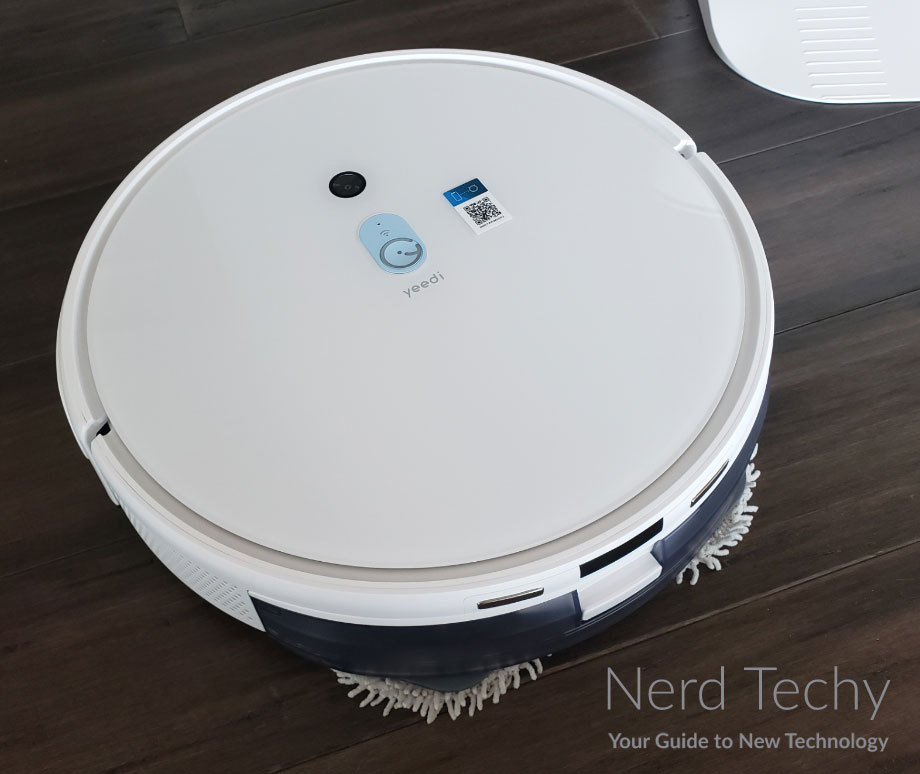 Overall Design
The Yeedi Mop Station Pro has a similar shape to most robot vacuums. It's a flat, circular disc, with a diameter of 13.5 inches. At 3.3 inches tall, it's not incredibly slim. But it's around average for a robot vacuum, and should fit under much of your furniture. For example, it will clean under many sofas, albeit not all of them.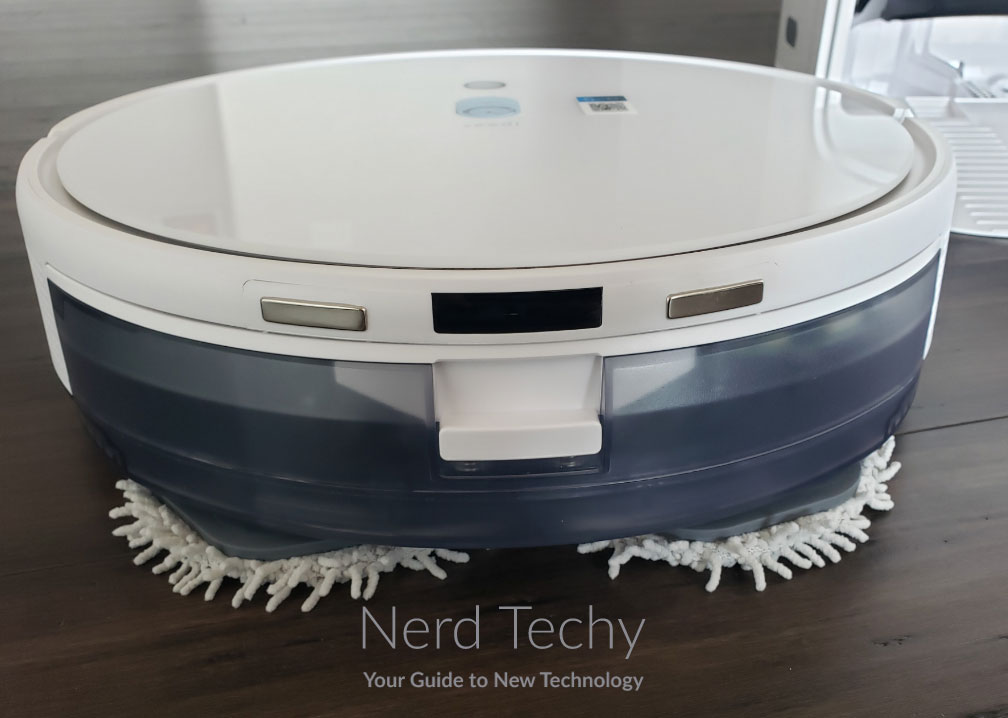 The housing is constructed from a white plastic, which seems reasonably durable. It has a satin finish, striking a good balance between aesthetics and washability. It won't collect fingerprints, and it dusts off easily with a cloth. At the top center is a power button, which initiates a cleaning cycle. A second press will return the vacuum to its base. Just ahead of that is a WiFi button, which is used to pair with your phone's wireless network.
Most of the outside of the housing is occupied by two broad black bars. There's one on the front, and one on the back, with a narrow gap at the sides. These bars are the vacuum's sensors, which it uses to map and navigate the environment.
Along with the vacuum, the kit includes a large oversized charging station. It has an over footprint, with a lid at the top that opens to reveal a pair of water reservoirs. We'll discuss those more momentarily. At the bottom front is a cutout that's slightly taller than the vacuum. That's where your vacuum will sit whenever it's not in operation. Plug the charging station into a wall outlet, and you're all set.
You'll also receive a pair of extra mopping pads, to replace the original pair when they wear down. They're kind-of tough to pry off but they seem to hold firmly attached when installed.
Everything is covered by a 12-month manufacturer's warranty. If anything fails prematurely, you'll get a refund or a replacement. Yeedi also offers a 30-day no-questions-asked return window.
Drive and Brushes
Looking at the bottom of the vacuum, there's a lot going on. At the front is a small wheel that sits in a small sub-housing. This sub-housing is motorized, and turns the wheel to steer the vacuum. The wheel itself is not motorized, but it doesn't need to be. The large, chunky wheels to the sides provide more than enough power to drive the vacuum. They're positioned slightly behind the centerline so you have a nice stable base. And the axles float independently, so you can navigate uneven flooring with ease.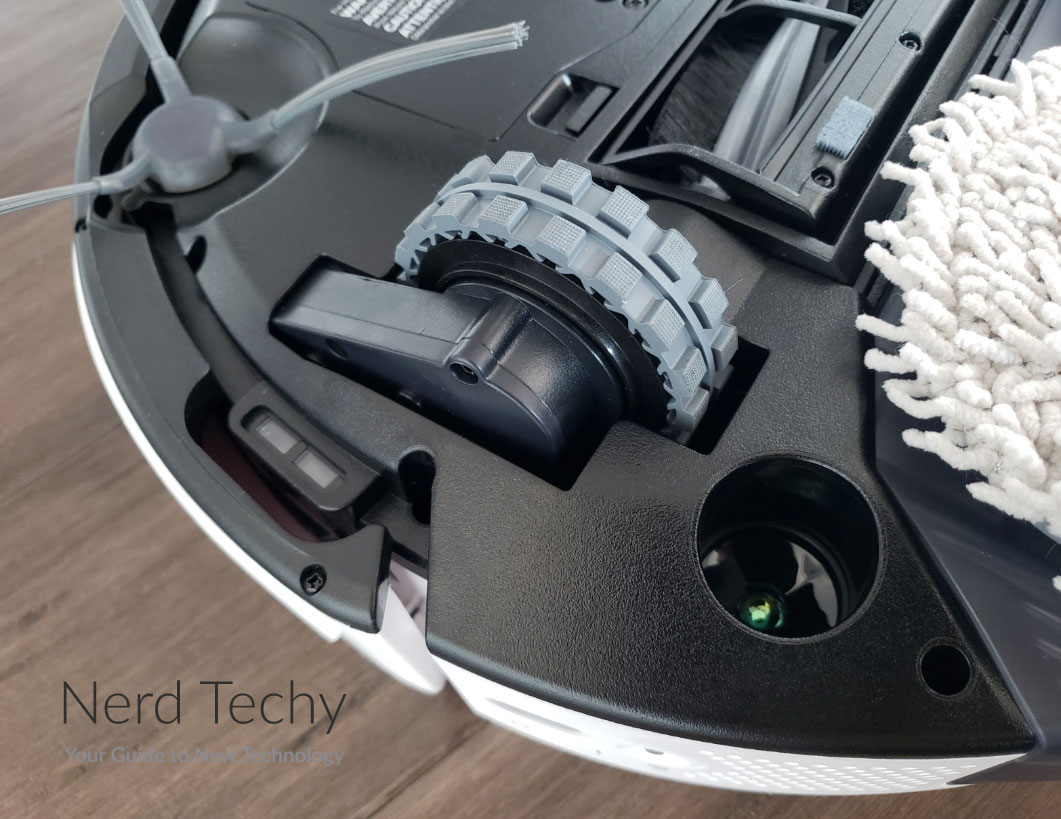 The main roller brush is located just behind the drive wheels. This brush does the bulk of the carpet cleaning, digging down deep into thick carpeting. It also captures dust and other detritus when you vacuum a solid floor. Ahead of this brush, to the right sides of the steering wheel, are a pair of flat, helicopter-style brushes. These rotate slowly towards the center, and help to feed dirt into the main roller. They help the vacuum to cover a wider area, particularly on solid flooring.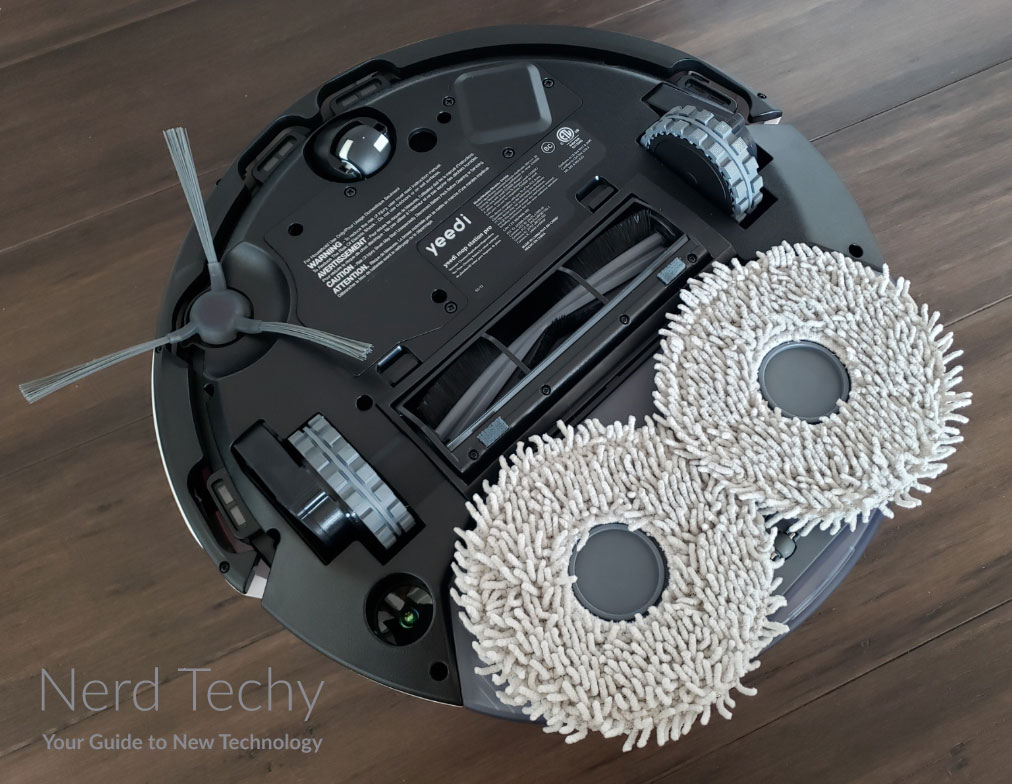 At the back end of the housing is a pair of dense, fluffy mopping pads. They're circular in shape, and rotate in opposite to buff your floor. They're designed to remove caked on dirt and grime that you can't remove with a vacuum.
Cleaning Performance
The Yeedi Mop Station Pro has a variable level of suction. On bare, lightly-soiled floors, it will put out 600 Pascals (Pa) of suction. When there's more dirt or a shallow carpet, it will ramp up to 1,500Pa. On a deep pile carpet or heavily-soiled surface, it will go all the way up to 3,000Pa. That's slightly more than the average robot vacuum's motor, which tops out at 2,700Pa. It's not overly impressive, but it's enough to clean any floor or carpet.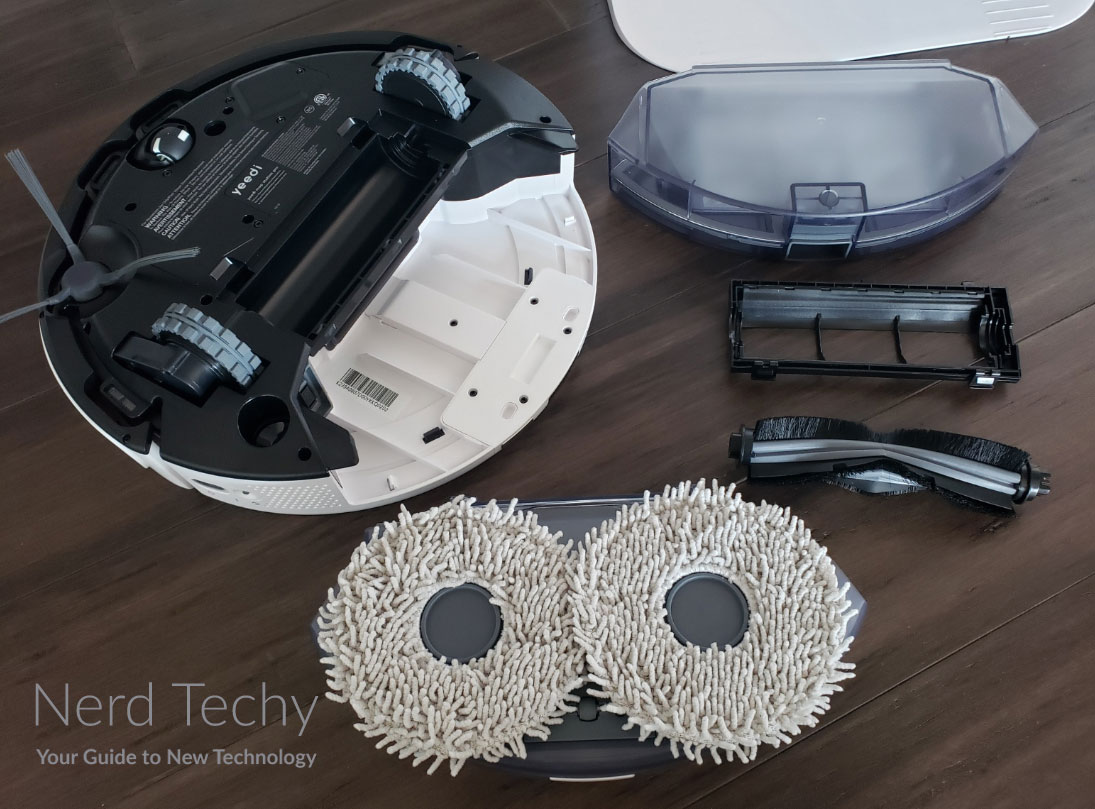 The mopping pads also do their share of the work. They rotate 180 times per minute, or three times per second. The motors also provide downward pressure, so the pads make constant contact with the floor. Better yet, the device automatically returns to the base station after 10 minutes of mopping. There, clean water will flow over the mops and they'll spin furiously. They'll come out completely spotless, ready to clean more of your floor.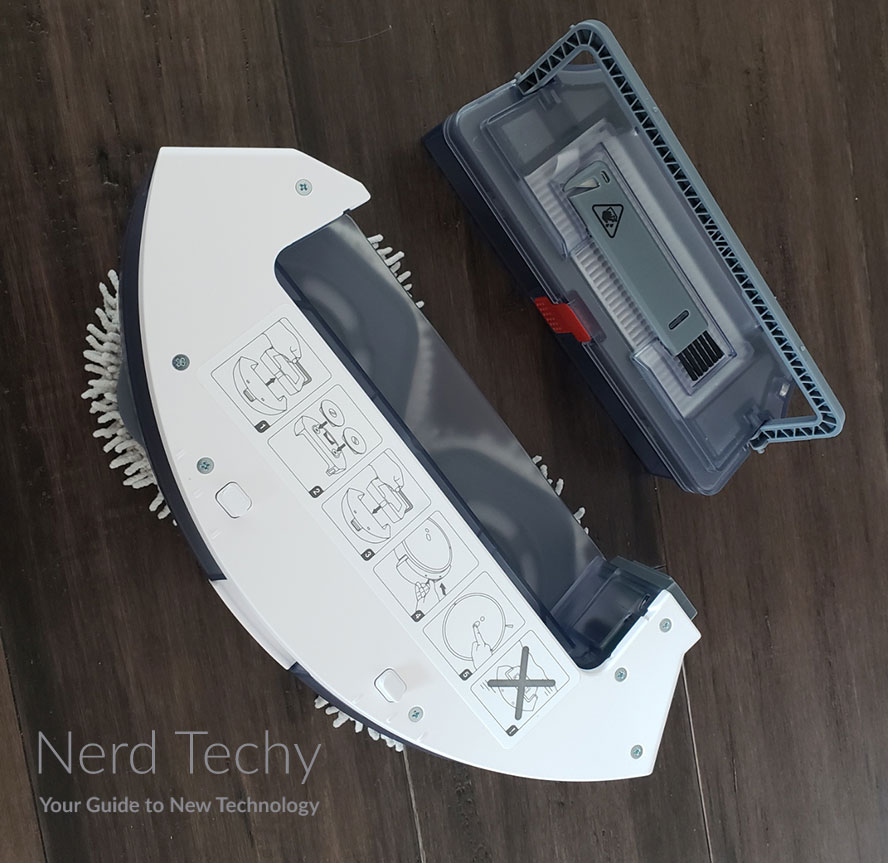 Another thing we liked about this vacuum is how quiet it runs. It's not as if it's totally silent. But you won't have to raise your voice to have a conversation when it's in the room. On the downside, you'll pay a premium for this kind of performance and features.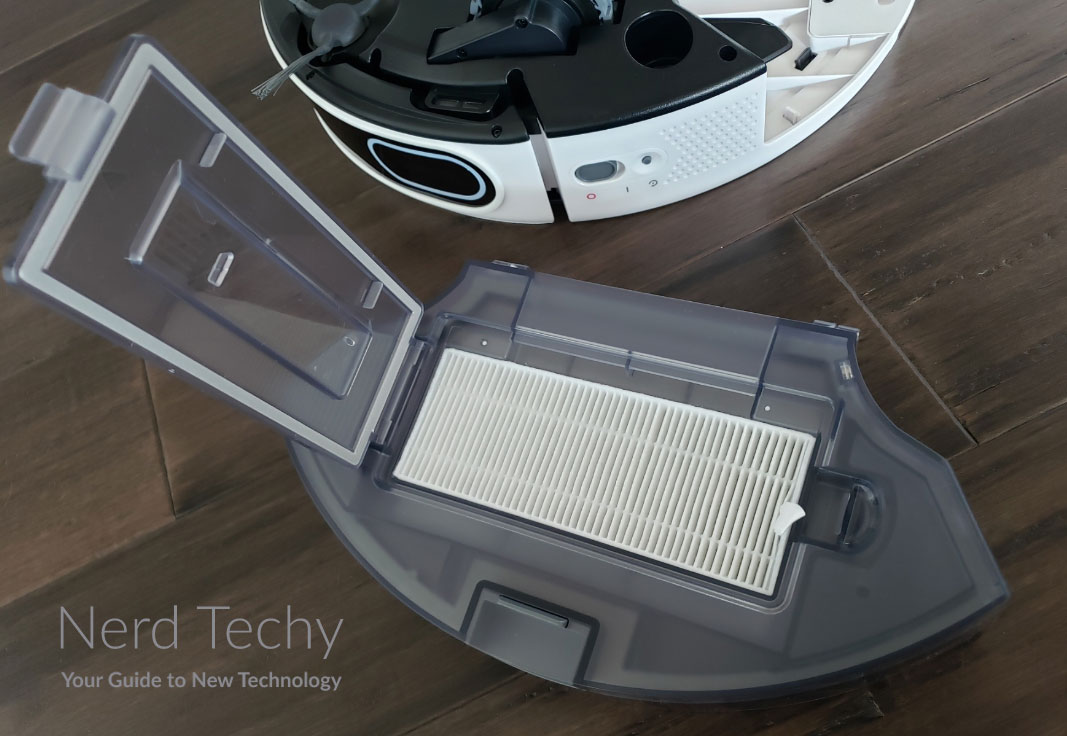 If you want a combination mop and vacuum that's a little more affordable, consider the Yeedi Vac 2 Pro. It's ultra-compact, and offers similar suction power. And while the mopping pad is just a flat, oscillating microfiber cloth, it's still reasonably effective. Not only that, but it's compatible with Yeedi's self-emptying vacuum base. So you can always upgrade it if you want to.
Battery and Charging
The Mop Station Pro has a powerful 5,200mAh battery. This provides enough power to run the vacuum for up to five hours. If you're using the mopping function at the same time, that drops to three hours. But no matter how you cut it, you're looking at a lot more life than the average robotic vacuum. You'll have enough juice to vacuum all but the largest floor plans in a single go.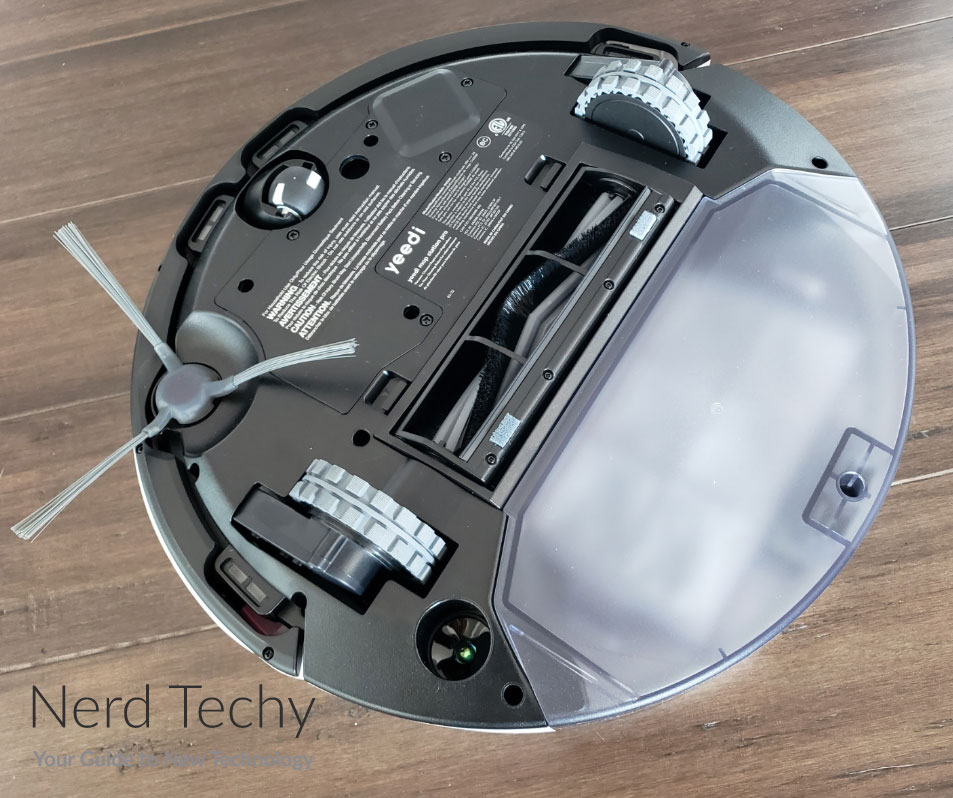 But suppose you have an enormous rancher, and your battery needs a breather. In that case, don't worry. When the charge level starts to get low, the vacuum will automatically drive back to its base. There, it will recharge before returning to work. The charge cycle takes 6 ½ hours, which is a bit long. But your floor will eventually get clean. Besides which, most people will never even experience a dead battery.
This is a ton of battery life. But what if you're looking for even more? In that case, check out the Yeedi Vac Max. It's a vacuum and mop combination that lasts for 200 minutes while both modes are active. It's also not as pricey. Then again, it's not self-cleaning, and the mopping pad is much more basic.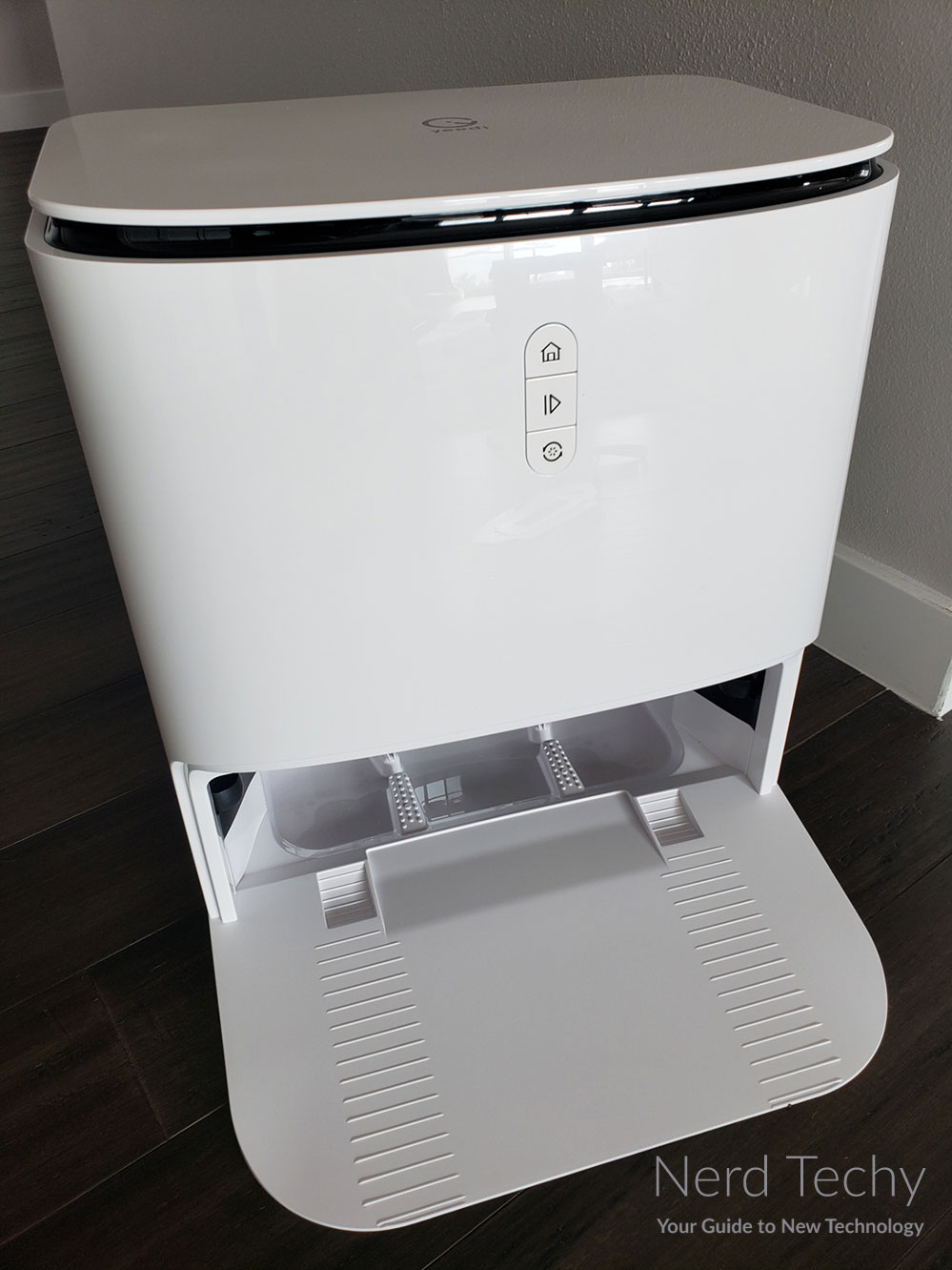 Initial Setup and Base station
Setting up the Mop Station Pro is pretty straightforward. Plug in the base station, put the vacuum inside, and wait for it to fully charge. Then press the cleaning button and watch it go to work. The first time, it may appear to be a bit janky, but there's a reason for this. While it seems to be moving randomly at first, it's actually mapping your floor plan. Once it's done this, it will clean normally on future cleaning cycles, using a standard zig-zag pattern.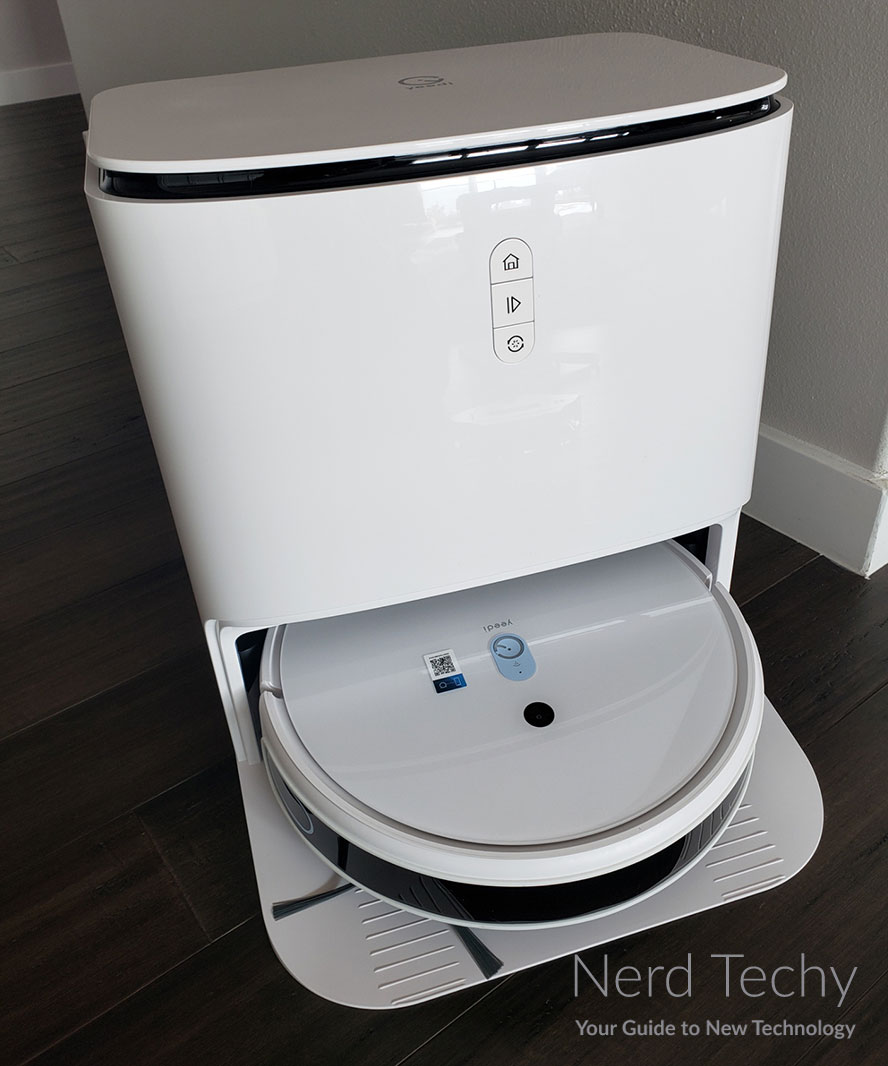 In addition to mapping your home, the vacuum also has an ultrasonic carpet detector. If you're running in mopping mode, it will automatically avoid your carpets and skirt along the edges. When you run the vacuum only, it will clean your carpets as well, and ramp up the vacuum suction power.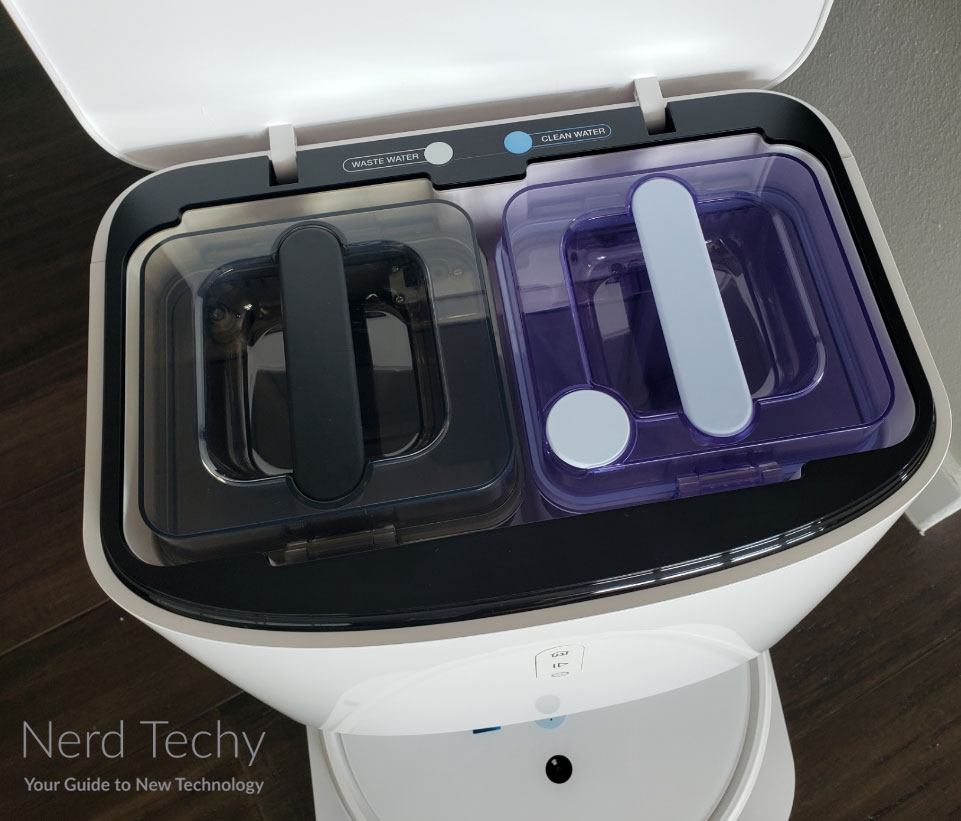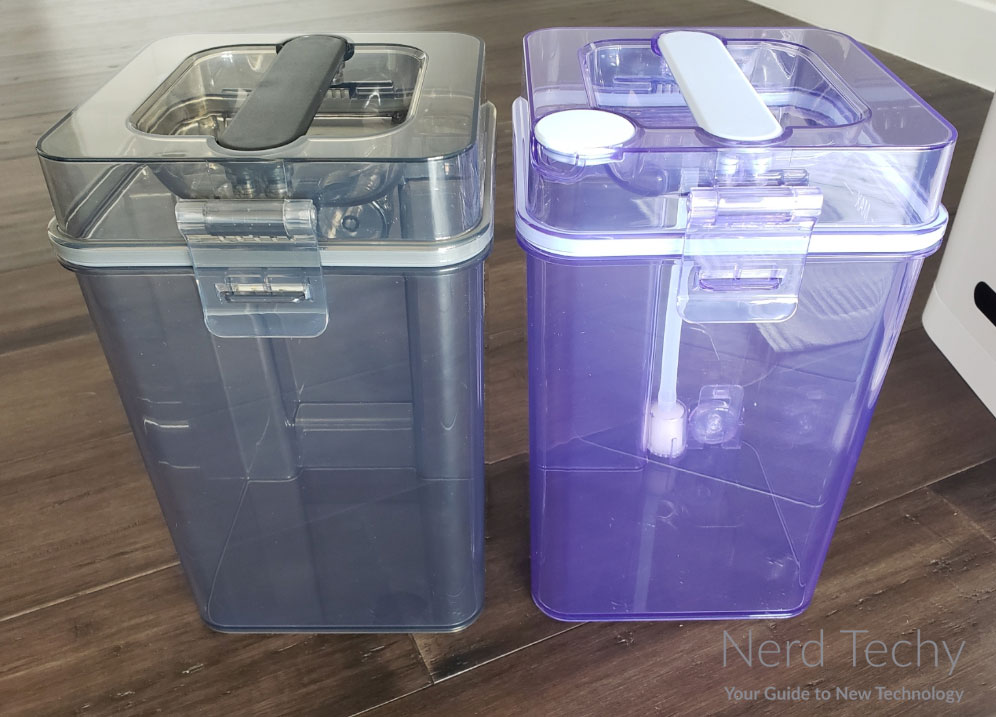 The base station has two tanks inside – one each for clean and dirty water. Each has a capacity of 3.5 liters, enough for several cleanings. Depending on your house, you may get a dozen or more. The dirty water tank is easy to empty, and the clean one fills from the top. There's even a little blow dryer built into the base, which dries your mop pads when you're done cleaning.
The vacuum's dust bin has a capacity of 750ml. That's pretty roomy; the average robot vacuum has a 500ml dust bin. As a result, you won't have to empty it as often as your typical vac.
If you like the concept but prefer a more vacuum-oriented feature set, take a look at the Yeedi Vac Station. It has a near-identical design, except the mop pad is just an oscillating piece of microfiber. And instead of water tanks, the base holds a large vacuum dust bag.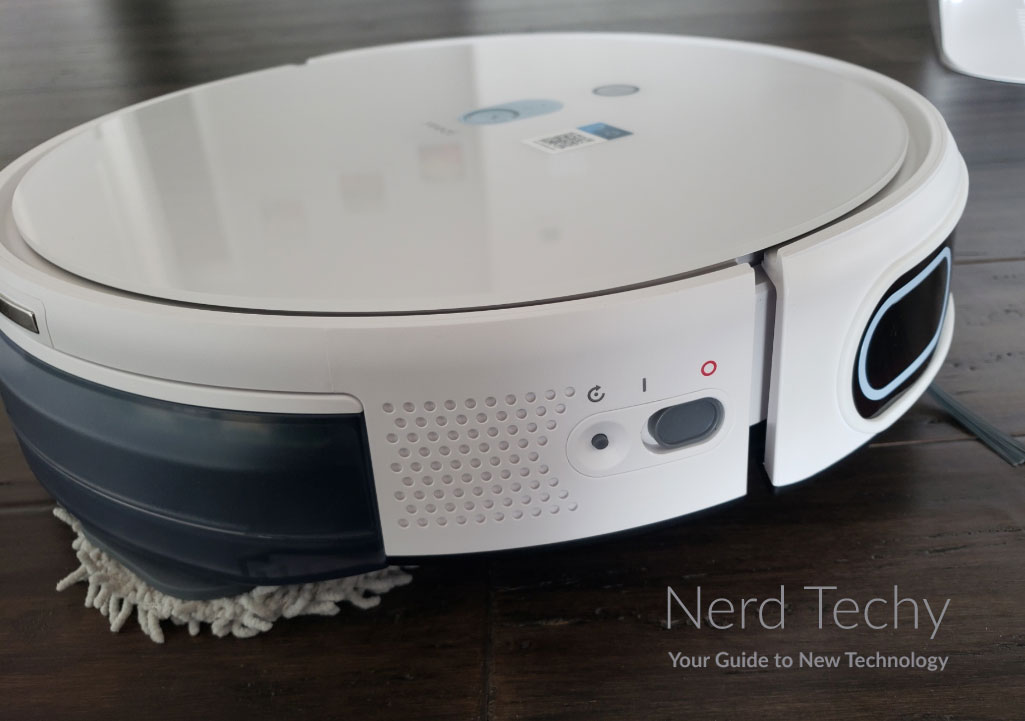 Everyday Operation
If you want more than just the basic start and stop controls, you'll need to install the Yeedi smartphone app. It's free and easy to set up, and unlocks a ton of features. To begin with, once the vacuum has mapped your home, you can view it within the app. With a few taps, you can set your own no-go zones, or specify a specific room to clean.
You can schedule cleanings on a daily or weekly basis. And if you want to clean different rooms at different times, you can. A lot of people clean their bedrooms during the day. Then they have their vacuum clean the rest of the house at night, when it's not in anyone's way. And since it's an app, you can control your vacuum from anywhere in the world.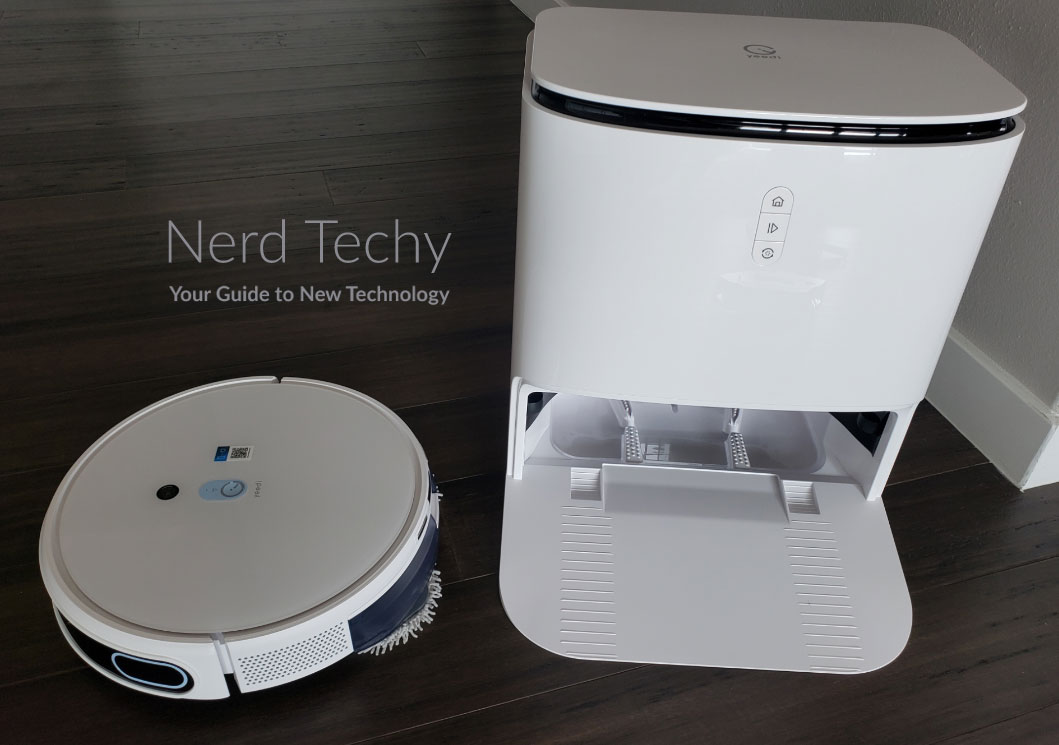 You can also integrate your vacuum with Amazon Alexa or Google Home. That way, you can initiate a cleaning cycle with just a simple voice command.
Final Verdict
As you can see, the Yeedi Mop Station Pro is a well-rounded cleaning machine. With 3,000Pa of suction, the vacuum is strong enough to clean virtually any mess on any surface. And with its rotating mop pads, it's great for removing caked-on dirt.
To be fair, it's not perfect. It's on the expensive side, and the pads can be a bit difficult to remove. But those are minor complaints in the grand scheme of things. The self-cleaning function is well-thought out, and it even dries your pads to keep mold from growing. And with up to five hours of vacuuming per charge, it's suitable for even the biggest houses.
Please consider sharing:
Note: At no extra cost to you, we may earn a commission for purchases using our links. Learn more.