Audio technology has come a long way in recent years. Not long ago, your typical computer microphone was barely suitable for telephone-quality recordings. If you wanted to record high-quality audio, you needed an external audio interface and an XLR mic. This could certainly get you great audio. But you were looking at spending a few hundred dollars at a bare minimum. That's no big deal when you're a professional. But what if you just want to get better-than-average quality? There wasn't really a middle ground. Either you splurged on a professional mic, or you settled for embarrassingly poor audio.
But USB audio has changed that. Now, you can get some pretty impressive audio from just a USB-connected mic. Of course, you still need to be careful to choose the right type of mic. For example, suppose you want a mic that's useful for a standing presentation. In that case, a lavalier mic is the way to go. But if you're sitting down in front of a computer, a condenser mic is typically ideal. These mics provide excellent clarity, in exchange for not being terribly portable. And thanks to improvements in technology, you can get surprisingly good quality at an affordable price.
Today, we're going to review the three best budget microphones under $50. We'll start out with the TONOR TC-777. This is a voice-optimized USB mic with a small tripod and shock mount. Next, we'll take a look at the Mercase USB Condenser Microphone. This is a durable microphone with a metal stand and a 3.5mm audio port for live monitoring. Thirdly, we'll examine the PROAR USB Condenser Microphone. This is a versatile interview mic that can switch between cardioid and bi-directional pickup patterns. So, which one is the best choice for you? To find out, we'll have to dig a little deeper, and see what we unearth. Let's begin!
TONOR TC-777
TONOR is known for manufacturing a number of mics of different types and sizes. We recently reviewed the TONOR TC20, and we were pretty impressed. It's a good quality, affordably-priced XLR mic. But being an XLR mic, it still requires an audio interface. The TONOR TC-777 is similar in many ways, but it's a USB mic, not an XLR mic.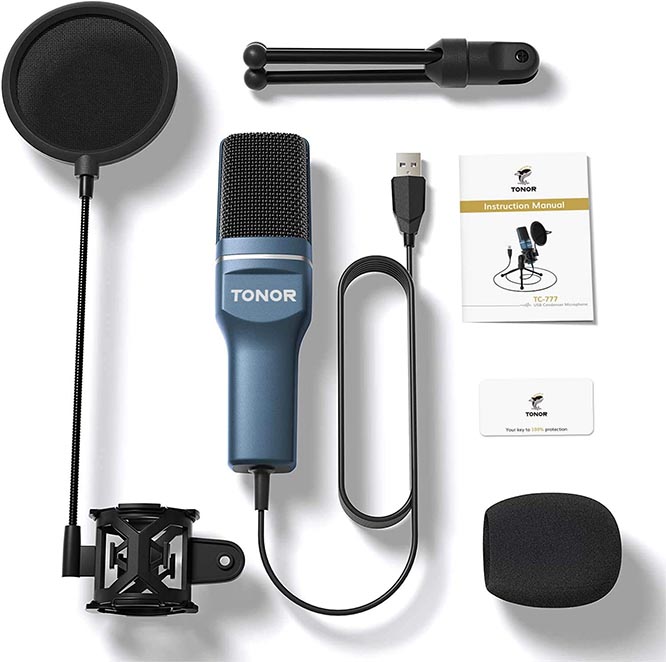 The housing is an attractive midnight blue color, with a rectangular profile. It's wider at the top, where a black metal mesh covers the internal diaphragm. It's banded with the same midnight blue material as the rest of the housing. Just beneath the microphone element itself is a silver band, with the word "TONOR" underneath. Beneath this, the housing slims down to fit inside the shock mount.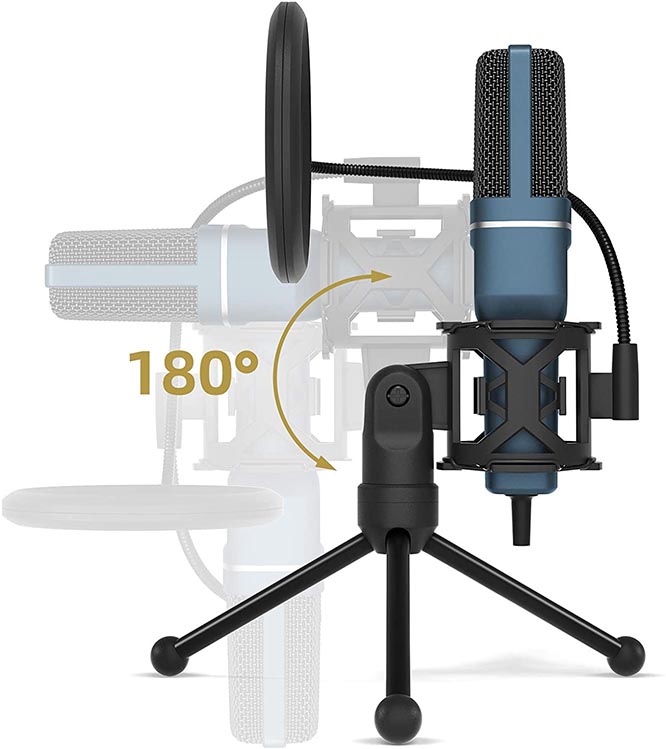 The shock mount consists of an inner bracket, which holds the microphone. This, in turn, floats on a set of rubber bands inside the outer bracket. Because it's not in direct physical contact, it absorbs bumps and other impacts. This helps you to make a clean recording, even if you tend to thump your desk a little. On the front of the shock mount, there's a socket to attach the pop filter, which is included in the kit. It's a standard round pop filter, with a soft fabric mesh and a flexible gooseneck support.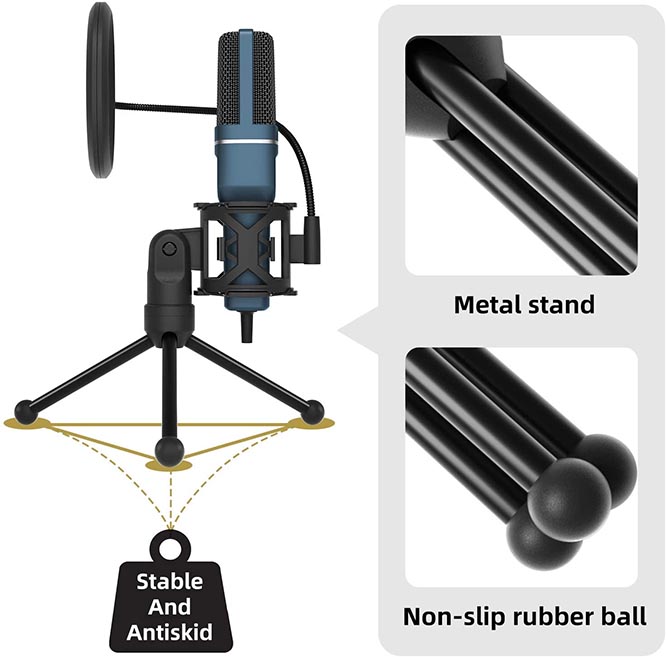 The shock mount, in turn, screws onto the top of a little tripod. The tripod only stands a few inches high, and is designed for desktop use. The top rotates 180 degrees, so you can tilt your mic up and down. At the bottom, the three feet are round and rubbery. This keeps your desk from getting scratched, and also keeps the tripod from sliding around. The shock mount is screwed on to a standard 5/8-inch threaded insert. As such, it can be repositioned on any tripod with that sized insert. If your tripod has a smaller, 3/8-inch insert, you'll need to obtain a 3/8-to-5/8-inch adapter.
Audio Quality and Connectivity
The TONOR TC-777 is optimized specifically for the human voice. While it will pick up sound across a wide frequency band, it's best for 10 to 16KHz. This is where human speech falls, and it's where you'll get the most volume. As a result, this is a great mic for podcasting, video conferencing, or live streaming. It's less effective for recording musical instruments. You just won't get the high or low frequency pickup you need for that kind of recording.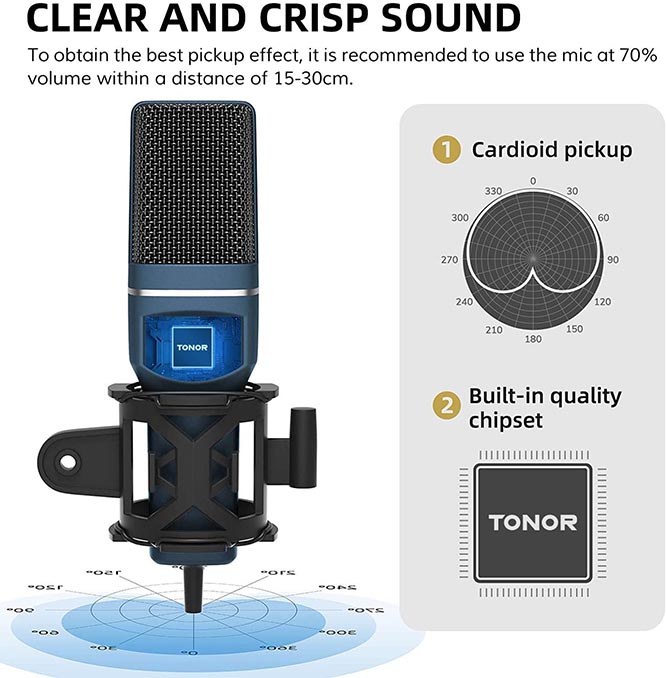 As far as positioning goes, this is a cardioid microphone. "Cardioid" is derived from the Greek word for "heart," the same word that gives us "cardiac exercise." That's because when you draw a graph of the recording power, it looks like a heart. The performance is strongest directly in front of the mic. As you move off to the sides, the recording volume slowly falls off. As you move from the sides around to the back, the volume drops to near zero. This allows you to record comfortably, without picking up a lot of room noise from behind the mic.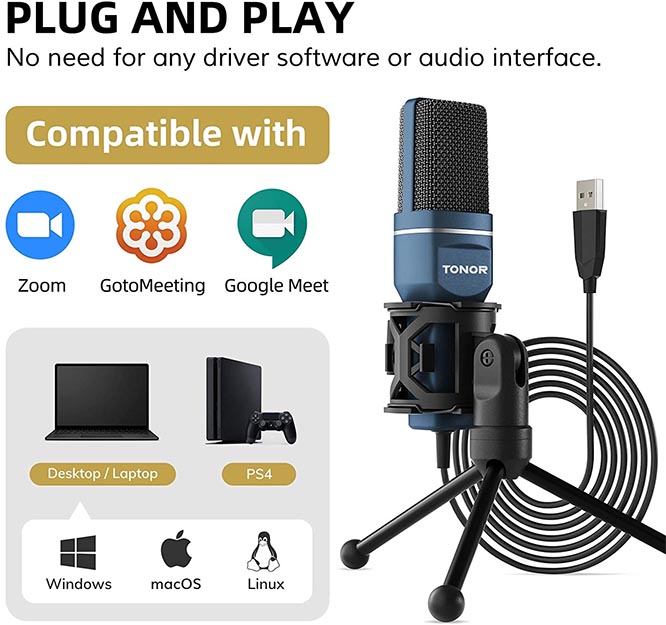 The TC-777 connects to your computer or other recording source via a five-foot USB cord. It will only plug in to a standard "Type-A" USB port. However, it only requires USB 2.0 technology. The result is that you get near-universal plug and play compatibility. Plug it into any PC or Mac computer, and your computer should recognize it instantaneously. You won't have to install any drivers, or do anything else other than start recording.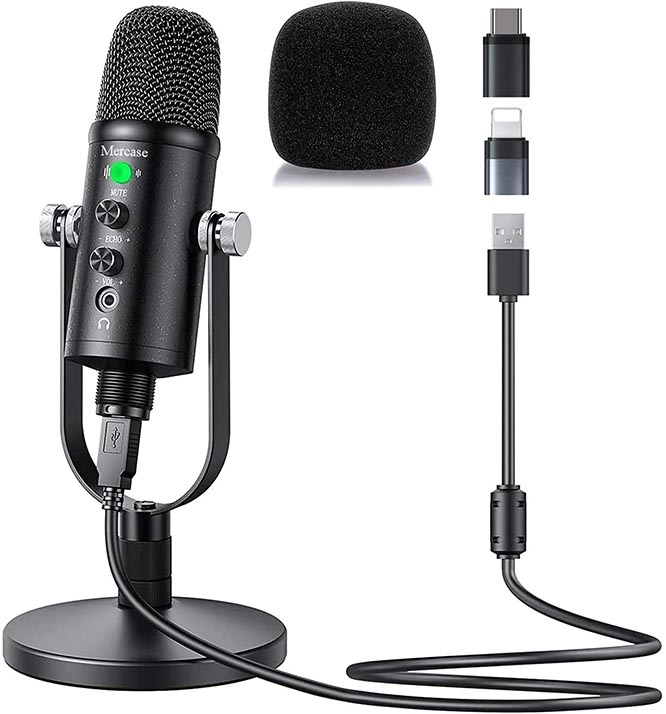 Mercase USB Condenser Microphone
The Mercase USB Condenser Microphone has a slick, all-black design that's easy on the eyes. It has a cylindrical shape, with a metal mesh cover over the diaphragm at the top. The rest of the housing is smooth, with attach points on both sides to mount on the stand. The stand has a forked design, with support arms on both sides of the mic. Where it meets, the mic can pivot back and forth. This gives you the ability to aim it up or down as needed. On the downside, there's no shock mount, so you'll have to be careful about bumps. But the bottom of the mic is threaded, so it can be screwed into a socketed aftermarket mount.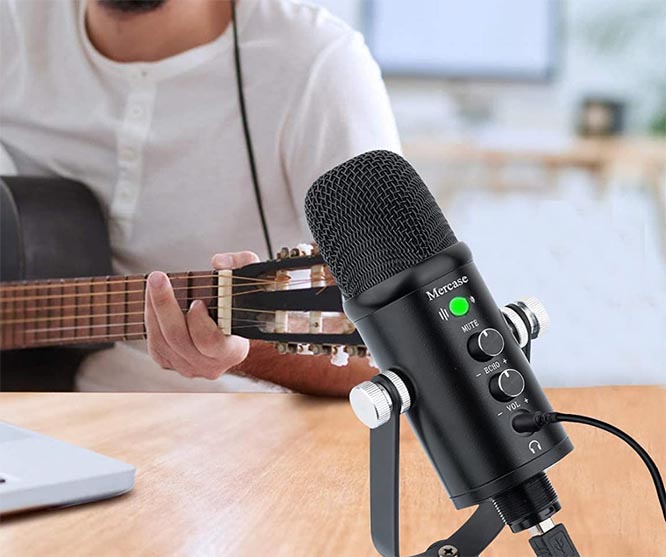 The front of the mic plays host to a handful of useful controls. At the top, there's a mute button, which lights up green when the mic is active. Beneath that, there's a little echo dial. This is similar to the reverb dial on most amps, and it's fairly powerful. Unless you want an echo effect for some reason, you'll want to keep this dial low. The second dial is a volume dial, so you can adjust the mic sensitivity.
Beneath that, there's a 3.5mm earbud jack. This can be used to connect a set of wired headphones, so you can monitor your recording. That way, you'll know if you're having audio issues, or if you're too close or too far from the mic. There's no pop filter included in the kit. That said, there's a little foam cover that can go right over the mic.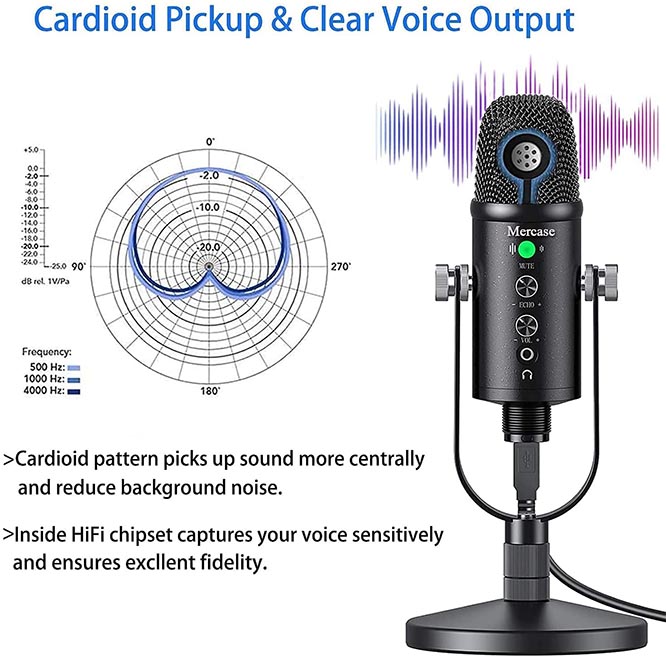 Audio Quality and Connectivity
The Mercase USB mic has reasonably good audio quality, both for voice and instruments. Like the TONOR mic, it has a cardioid pickup pattern, so it works best from the front. The optimal pickup distance is around 7 to 12 inches from the diaphragm, which is a very comfortable distance. But what really makes this mic stand out is the noise cancelling function. If you hold the mute button for a full three seconds, this mode will activate. It's not all-powerful, but it does a good job of eliminating normal room noise, like the sound of air conditioning.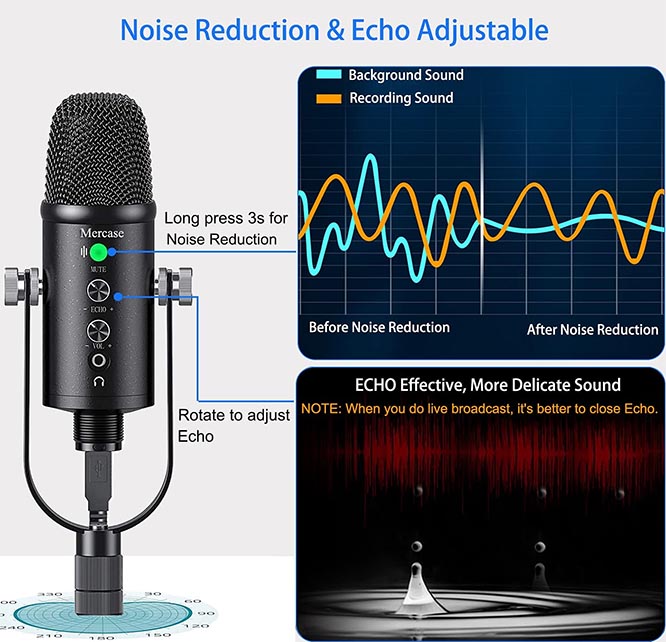 This microphone comes with a 59-inch USB cable, for connecting to your device. The standard tip is a USB Type-A, just like the last microphone. Along the same lines, you can plug into pretty much any PC or Mac, and immediately start recording. But in addition to that, the kit also includes little adapters for USB Type-C and Lighting. This means you can use the mic with an iPhone, or a USB-C-capable Android phone.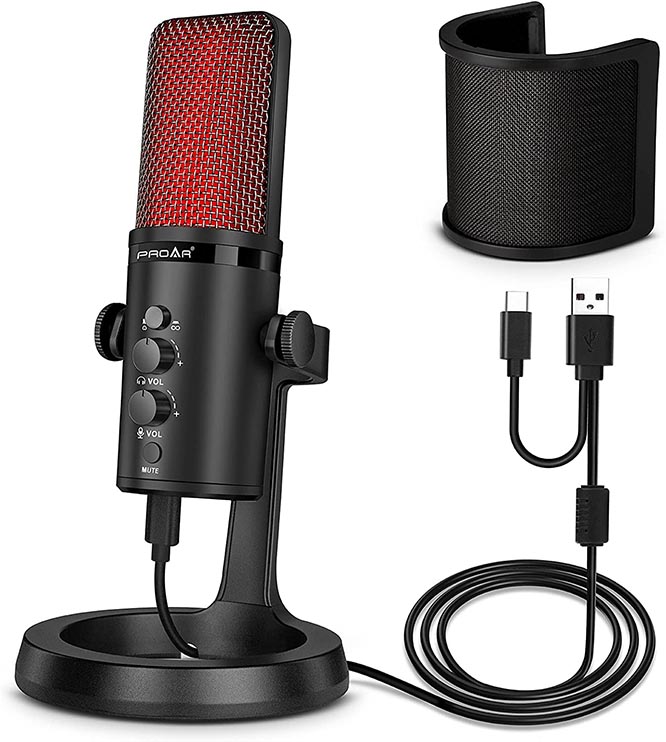 PROAR USB Condenser Microphone
The PROAR USB Condenser Microphone is a wide, oval cylinder with a large diaphragm cover. Like the Mercase mic, it's all black, although the material is plastic rather than metal. That said, it's still reasonably durable. It sits inside a plastic stand, with a similar side support and the ability to tilt freely. There's no shock mount, and you'll be hard-pressed to find a compatible one on the aftermarket. Then again, there's a high-quality pop filter, which mounts on the stand.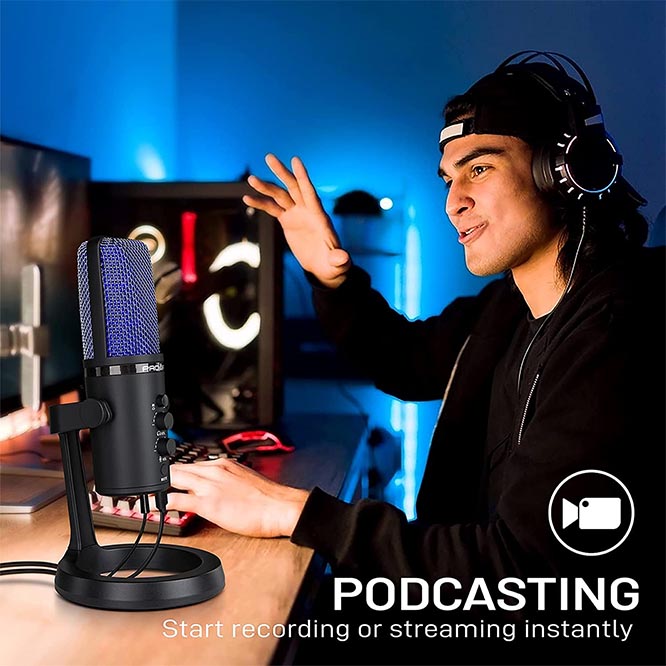 The bottom of the housing has a threaded tripod socket to fit on a 5/8-inch insert. There's also a 3/8-inch screw adapter included in the package. Next to the tripod socket, you'll find a 3.5mm audio jack, which can be used for monitoring. On the front, there's a series of controls. In addition to the mute button, there are separate gain dials for the mic and the monitor. There's also another button to change the pattern, which we'll discuss in a second.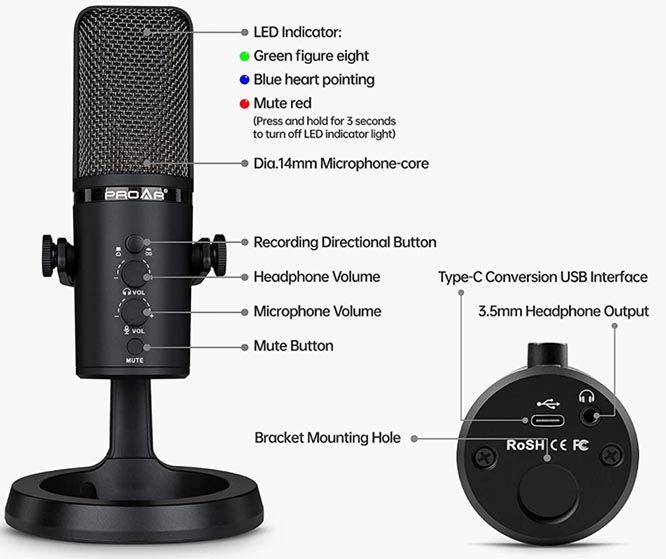 Audio Quality and Connectivity
The PROAR mic has the widest frequency response of all today's mics. It picks up all frequencies equally, from 50Hz all the way up to 18KHz. This gives you enough range to record almost any instrument. Meanwhile, it drops off well before the 20KHz range, where sibilance and hissing become prominent. As a result, this is a very versatile microphone, suitable for many applications. The cable is also nice and long, at more than seven feet. And with dual USB Type-A and Type-C kits, it's plug and play on most devices.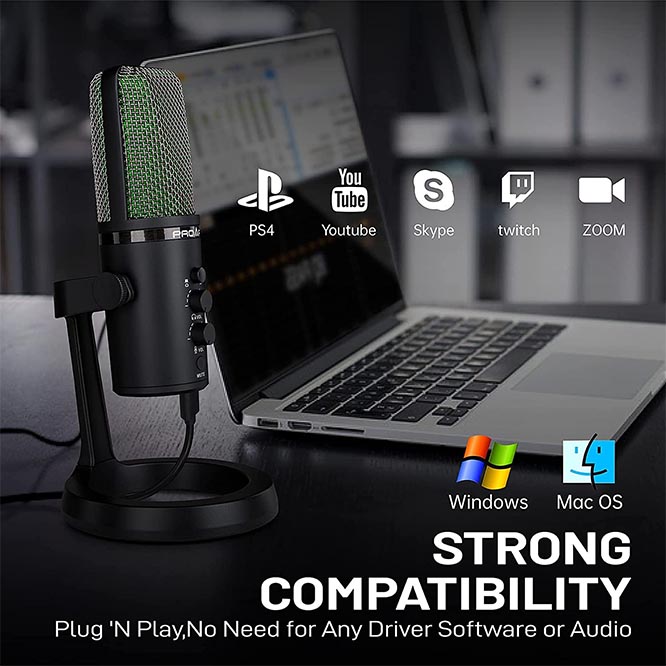 Another thing that makes this mic so versatile is the pickup pattern. By default, it has a cardioid pattern, just like the other two. But when you press the pattern button, the mic will record equally from front and back. The mic's LED lighting will even change color when this happens, going from blue to green. It's worth noting that the audio quality is noticeably better in cardioid mode. But even in bi-directional mode, you're getting good enough quality for the spoken word.
If you're willing to pay more to get better audio quality, check out the Maono PM500S. It's a high-quality XLR mic with ultra-rich audio quality. Just keep in mind that you'll also need a USB audio interface to connect to your PC.
Final Verdict
So, which one of these budget-priced USB condenser microphones is the best of the bunch? As is so often the case, a lot depends on what you need. Let's go over what we've learned.
We started out with the TONOR TC-777. This is probably the most underwhelming of the three in terms of raw audio quality. That said, it has a lot to recommend it, particularly if you're only recording your voice. To begin with, its focus on the 10-16KHz range is ideal for vocal recordings. But it's also the only one of the three to come with a shock mount. If you've ever worked without a shock mount, you know how valuable they are. And with the tripod and pop filter, you're getting a complete kit.
The Mercase USB Condenser Microphone, on the other hand, is the most versatile of the mics. With the adapters and compatibility for multiple systems, you can even use it with your smartphone. And while there's no shock mount, the included metal stand is pretty nice. Add to that a comprehensive set of controls and a 3.5mm monitoring port, and you're well equipped.
In terms of raw audio quality, the PROAR USB Condenser Microphone comes out on top. With its wide range of frequency response, it works equally well for voices and instruments. The stand isn't as well-designed as the others, but it's still reasonably sturdy. We also liked the two different pickup patterns. The bi-directional mode might not sound as nice, but it's still great for interviews.