As cold weather takes center stage, many people are looking for ways to add some warmth into their surroundings. It may not be cost efficient to increase the heat in your entire home or apartment.
For many, the best option comes in the form of a space heater – small, electric powered devices that produce various levels of warmth.
There are some important things to keep in mind when looking for the best low wattage space heater for your space. These factors include:
Quality materials: Whenever you're dealing with something that generates heat, quality materials are essential for performance, durability and safety.
Construction: Space heaters are portable by design. They're a brilliant device that can go with you from room to room. It's important that your unit is constructed well so that performance won't be affected from the occasional bump here and there.
Safety features: It can be hard to remember to turn things off when you are not using them. It can be costly and even dangerous regarding a space heater. Choosing one with a solid set of safety features like auto-off or a timer is worth the extra investment.
Energy efficiency: Many people get space heaters to help save on electricity bills. Be sure to verify that your space heater is energy efficient.
Heat output and performance: Make sure that the unit you pick can produce the amount of heat you are needing for the size space it will be in. There's nothing more frustrating than having an underpowered space heater.
Noise: It's important to select a unit that is the ideal balance of performance and low noise. The last thing you want is a loud space heater that makes it hard to enjoy activities like watching television or talking with friends.
Price/Value: The unit must provide enough features and value to justify the price. While many options are inexpensive, they are still an investment that should last more than a couple of cold seasons.
Low wattage: The advantage of a low wattage space heater is that it reduces the risk of overloading a circuit breaker which can be common in higher wattage devices. That said, having a unit that is too low may not be effective at producing the heat you need. It's important to find the right balance that works for you.
With hundreds of options currently on the market, it's hard to navigate through the options to settle on the right one for your needs. To help, our team of experts have reviewed the lowest-wattage space heaters to find the five best. We've selected them based on the above criteria and how well suited they are to specific situations.
Best Overall Space Heater: Lasko MyHeat Personal Mini Space Heater (200W)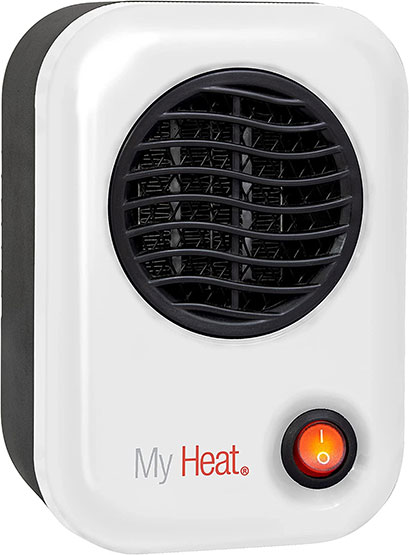 Key Features:
200 watts.
Single speed.
682 BTUs.
6 foot power cord.
Single on/off switch.
Weight: 2.8 pounds.
Dimensions: 3.8 x 4.3 x 6.1 inches.
The Lasko MyHeat Personal Mini Space Heater is one of the latest versions from a company that has a long history. They've demonstrated an ability to produce models that are extremely energy efficient while putting out a sufficient amount of heat. At 682 BTUs, this model puts out a solid amount of heat given its size.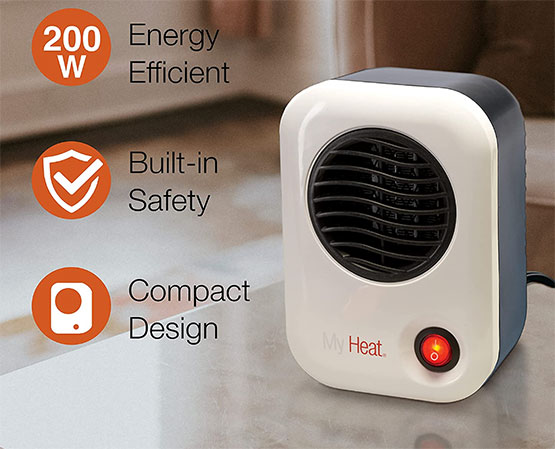 One reason for this is because it uses an efficient ceramic heating element and a small internal electric fan to circulate the heat.
We've selected the Lasko MyHeat because it does a fantastic job providing enough warmth for most people's immediate personal space. Ideal for placement on a tabletop, it has a six-foot power chord that gives you enough length for most situations.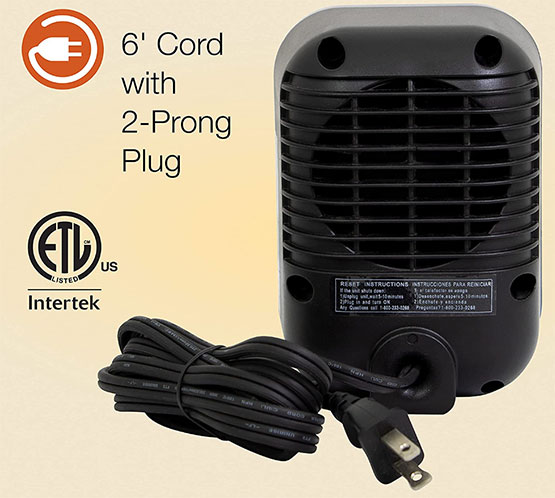 Since it is a single speed unit, it operates off of a single on/off switch. It illuminates red when it is on, which is a good visual indicator if you are trying to see its status from across the room. This is an important feature because this unit is incredibly quiet compared to other low wattage space heaters on the market.
For safety features, the Lasko has an emergency over-temperature shutoff device that will prevent the unit from overheating. This is a good safety feature for peace of mind. As with any space heater, it's important to make sure that it is securely positioned and free of any nearby debris.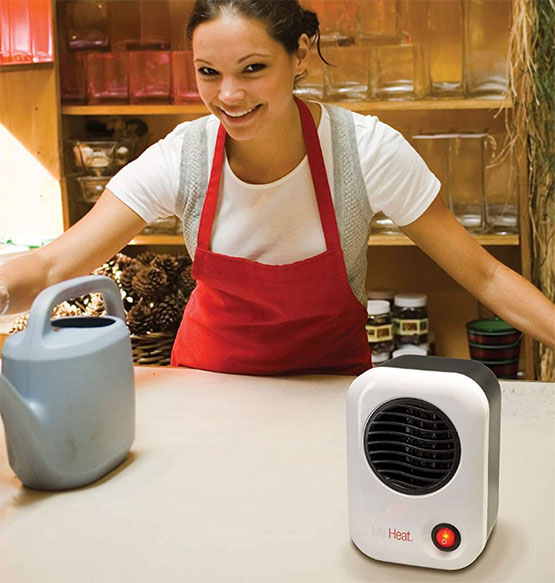 Many real-world users that use it for the intended purpose find this to be an excellent device. Most of them find it ideal as a tabletop heater because of its low noise. The Lasko MyHeat is a solid option if you're looking for a great all-around device.
What We Liked:
Single button operation.
Long 6 foot power cord.
Low noise.
Safety features.
What We Didn't Like:
Best Runner-Up Space Heater: Honeywell HeatBud (250W)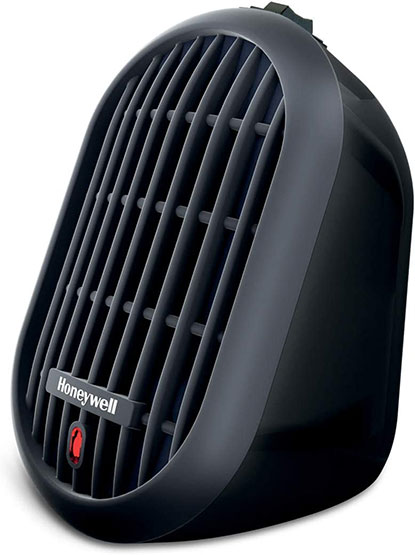 Key Features:
250 watts.
2 heat modes.
Single button operation.
Ceramic heating elements.
Cool touch plastic housing.
Built in tip-over safety feature.
Weight: 1.05 pounds.
Dimensions: 5 x 4 x 7.75 inches.
Honeywell is one of the most respected brands on the market. The HeatBud is one of the most attractive units on this list with a sleek, black rose but form factor. We found it did a great job blending into the decor of different environments. Its small footprint keeps it out of the way while still producing a good amount of heat.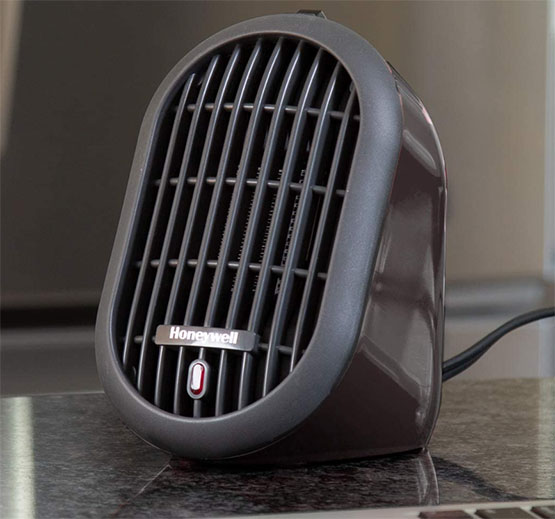 Its wattage is 25% higher than the Lasko at 250 watts. For this reason, it might be a good option for people that need just a little more heat output than the 200 watt MyHeat. To help keep things energy efficient, this unit provides two power settings to choose from. You can access either setting using the single power button on the front. The extra setting provides additional flexibility and is a great way to customize your heating experience.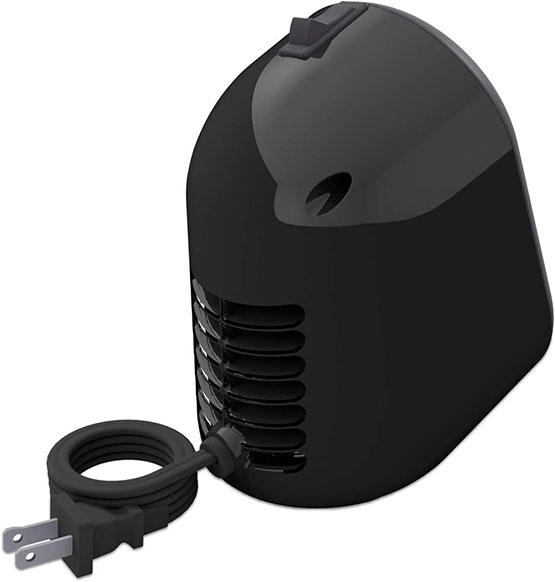 In terms of noise, the Honeywell is noticeably louder than the Lasko. Both use ceramic heating elements but the fan in the HeatBud produces more noise. Even though it's louder, we also found that it was much better at circulating heat. It simply comes down to your priorities.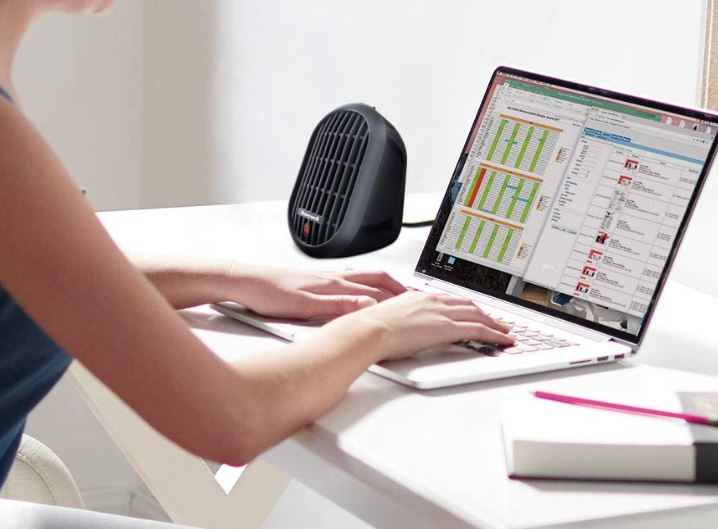 The HeatBud comes with one of the best sets of safety features. Besides a 2x overheat shutoff feature like the Lasko, it also has 360 degree tip-over protection and a cool-to-touch housing. If you have small children or animals, this feature can be important for safety and peace of mind.
What We Liked:
Two heat settings.
Elegant form factor.
360 degree tip-over protection.
Cool exterior housing.
What We Didn't Like:
Fan is louder than the Lasko.
Best 2nd Runner Up: Brightown Small Space Heater (400W)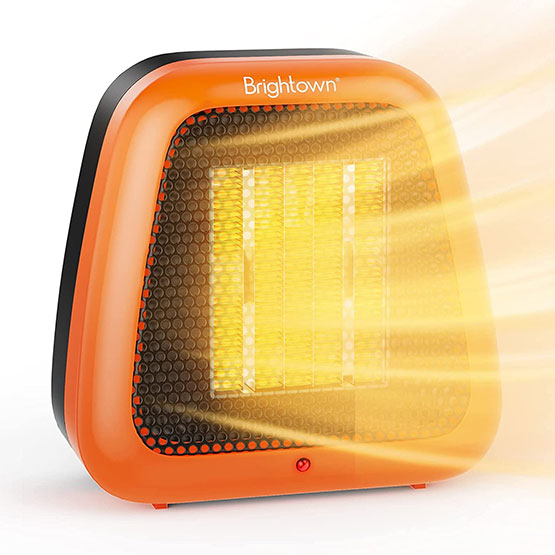 Key Features:
400 watts.
5.5 foot power cord.
Weight: 1.43 pounds.
Dimensions: 6.3 x 3.15 x 6.3 inches.
The Brightown Small Space Heater is our choice for the best alternative because it was designed to stand out as opposed to blend in. Its bright orange color makes it clearly visible even from across the room which can be ideal in certain situations.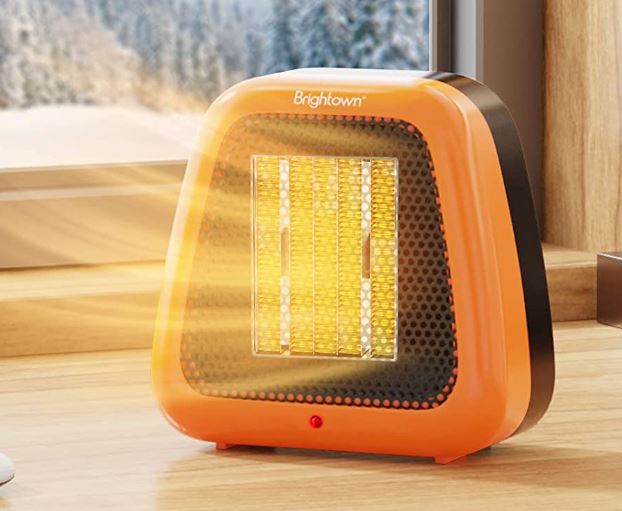 It packs a higher wattage than our previous two choices, twice as much as the Lasko. The literature claims 100 square feet of coverage. Our personal tests and other users found it can heat a 5'x8' space sufficiently and will provide more than enough heat for your immediate personal space even in colder temperatures.
Like our other options, it fits comfortably on a tabletop. Impressively, it only draws 3.63 amps which is very efficient given the heat output. However, there's only a single heat setting on this device which means you will run the full 400 watts every time you turn it on. It's not a deal breaker but can reduce the amount of savings if the temperature in the room doesn't need that much output. A simple fix is to lower the temperature in the room and let the space heater do more of the lifting.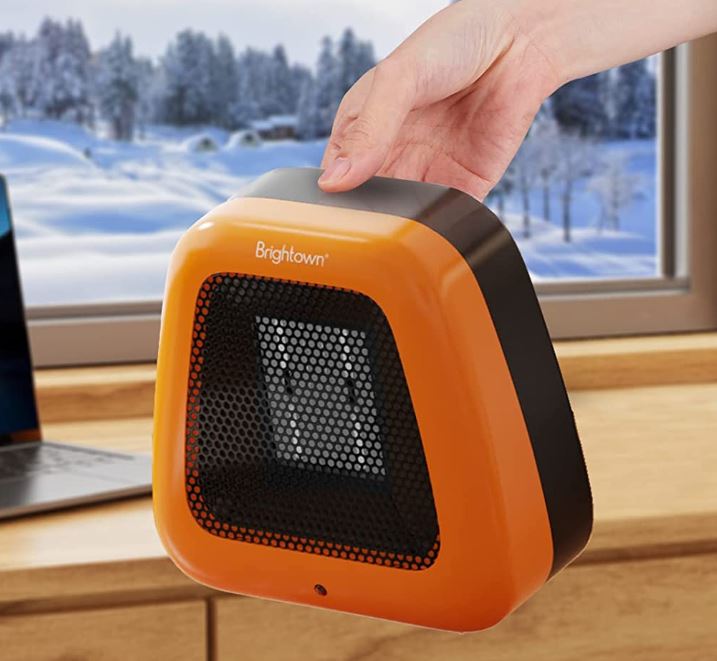 The power cord is on the shorter side, six inches shorter than our best overall option. It might be only a few inches but we found it made it more difficult to get the correct positioning on a taller desk if the outlet was lower to the ground.
Safety features are solid in this space heater. It provides overheat protection like the other units. However, unlike the Honeywell that provides 360 degree tip-over protection, this unit only features front and back protection. Given the form factor of this unit, it's not a deal breaker.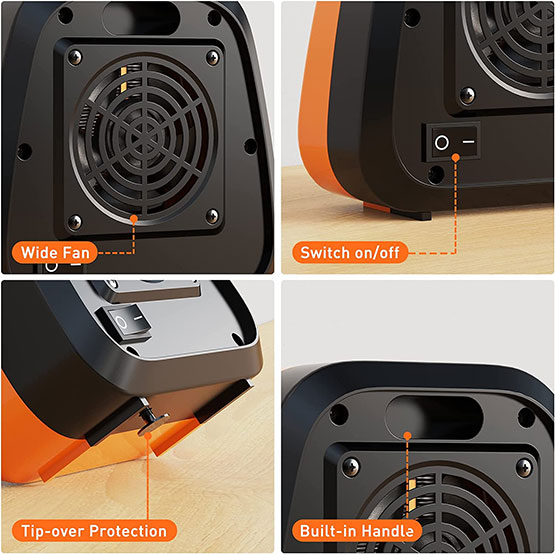 Overall, the Brightown is a great option if you are looking for a little bit more wattage.
What We Liked:
Bright orange where visibility is important.
Low noise at 45dB.
Higher wattage produces more heat.
Only draws 3.63 amps.
What We Didn't Like:
Customer support was slow to respond.
Best Budget: Amazon Basics Personal Mini Heater (500W)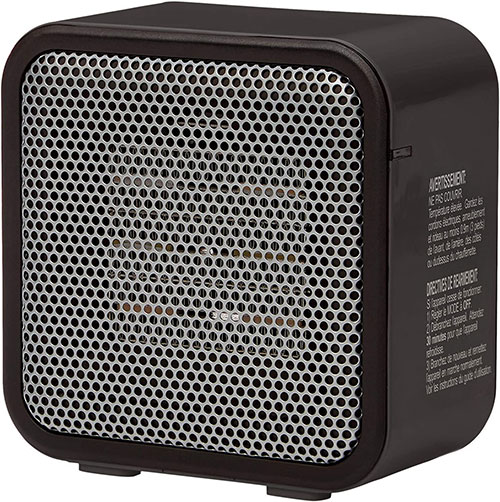 Key Features:
500 watts.
Uses ceramic coils.
4 color options.
Tip-over protection.
Weight: 1.43 pounds.
Dimensions: 5.87 x 3.2 x 6 inches.
The Amazon Basics Personal Mini Heater is a powerful 500 watt space heater at an extremely budget friendly price. As the least expensive option in this article, it has 2.5 times more wattage than the Lasko. Many users remark that this is an ideal wattage for older homes that are more drafty. While this is great if you need that much heat production, it may be overpowered in some situations.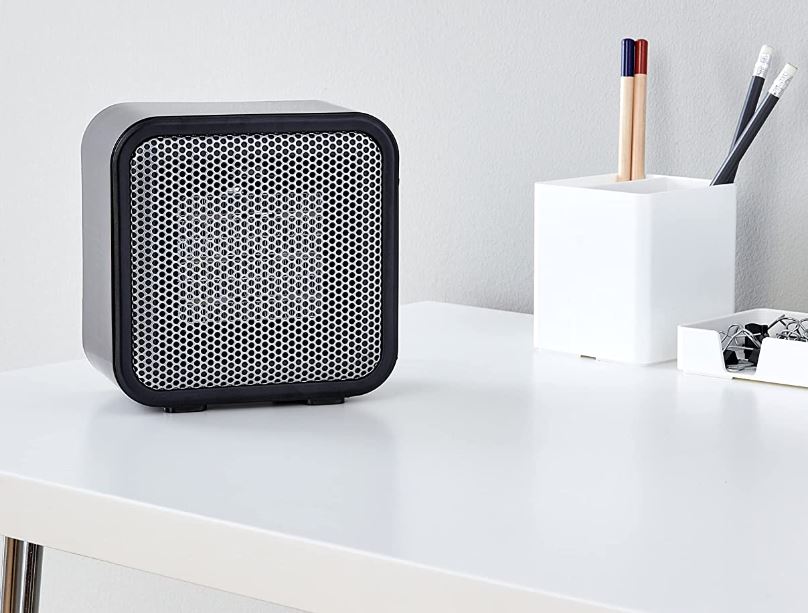 The square size of this unit is very compact and can sit on a desk or table without taking up much space. At only 3.2 inches deep, it's more low profile than some of our other options. Unlike the Honeywell, the Amazon Basics has only one heat setting. One thing that takes some getting used to is that the power button is on the back of the unit. This can be a challenge if you like to turn your heater off every time you leave your desk. It has tip-over protection to provide a little more peace of mind.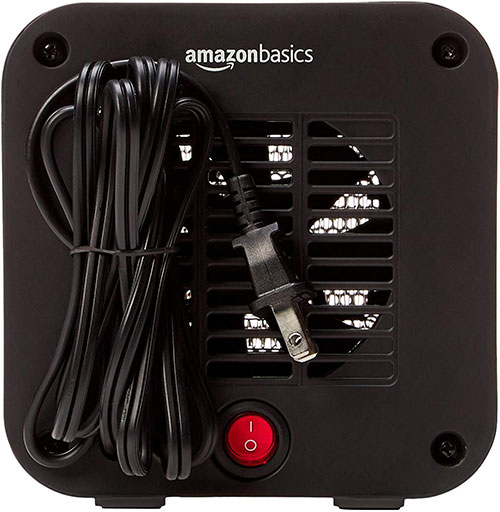 One thing that many users have noticed is how quiet this unit is. Especially with its higher wattage, the powerful internal fan does a great job at silently circulating the air. Coming in four different colors, this unit is a great budget-friendly option.
What We Liked:
Sleek form factor.
Powerful 500 watt heat output.
Budget friendly.
Tip-over safety feature.
Multiple color options.
What We Didn't Like:
Power button is on the back.
Power cord could be longer.
Best Alternative: Vornado VH202 (750W)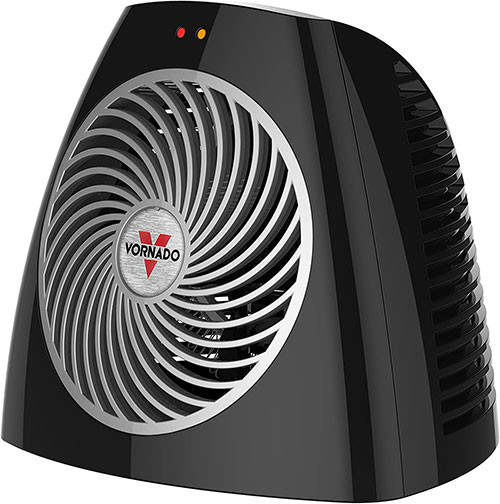 Key Features:
750 watts.
Vortex air circulation technology.
2 comfort heat settings (375w and 750w).
3 year warranty.
Weight: 1.9 pounds.
Dimensions: 7.2 x 7.9 x 7.1 inches.
The Vornado NH202 is the personal model of their line of vortex space heaters. It's a great alternative because of the unique way it generates and distributes heat. Where our other featured devices use the fan simply for heat circulation, the Vornado uses deep angled fan blades to help increase heat production. The result is a more powerful unit with only slightly more energy usage.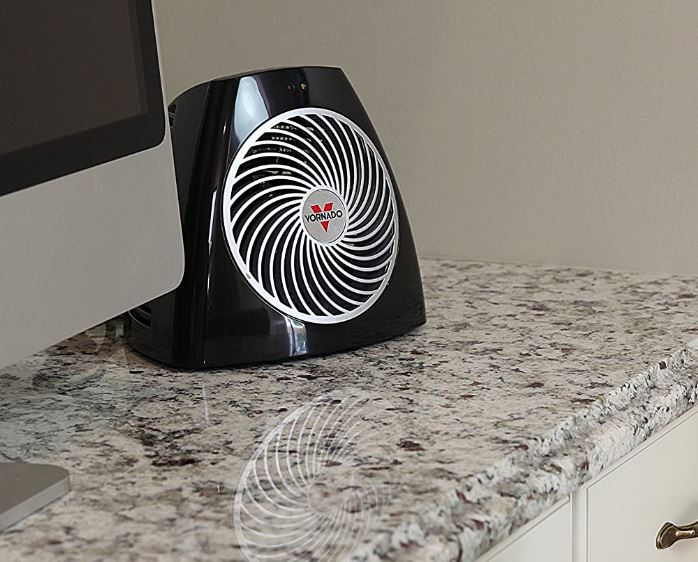 One of the best features of this space heater is the double heat setting. When you don't need the entire 700 watt output, you can set it on the lower 350 watt setting for more energy savings. In both settings, the Vornado was very silent. There are two switches on this unit. One is for on/off and the other to adjust the heater settings from low to high. They are located just below the handle for simple operation.
The fan blades and the internal heating component produce a wrap effect. Because of its larger size and design, it can be placed in multiple areas such as a tabletop or under a desk. We were impressed at how this personal space heater could provide heat to the entirety of our body while seated.
Overall, the Vornado NH202 is a powerful personal heater that can also help heat the rest of a small room if needed. Its unique heat distribution technology helps to provide a more even experience.
What We Liked:
Powerful heat output.
Dual heat settings.
Energy efficient even with a higher wattage.
Can be placed on the floor and on a table.
Quiet
What We Didn't Like:
More expensive than most competitors.
Final Thoughts
There are many options for low wattage space heaters. If you're considering one of the units we've featured in this article but are still unsure, let's go over a few things that may help make it easier.
First, take inventory of your personal situation including your heat preferences, where you will use it most and the temperature of your environment. This will help determine whether you will need a higher wattage unit or a lower one.
Taking stock of your environment will also help you choose a unit that will work in your space. For example, if you have a lot of things by your feet at your desk, it might be best to go with a tabletop option like the Lasko or Honeywell. However, if you want whole body coverage and have room under your desk, the power and versatility of the Vornado NH202 may be a better fit.
A space heater should fit your needs and priorities, not the other way around.